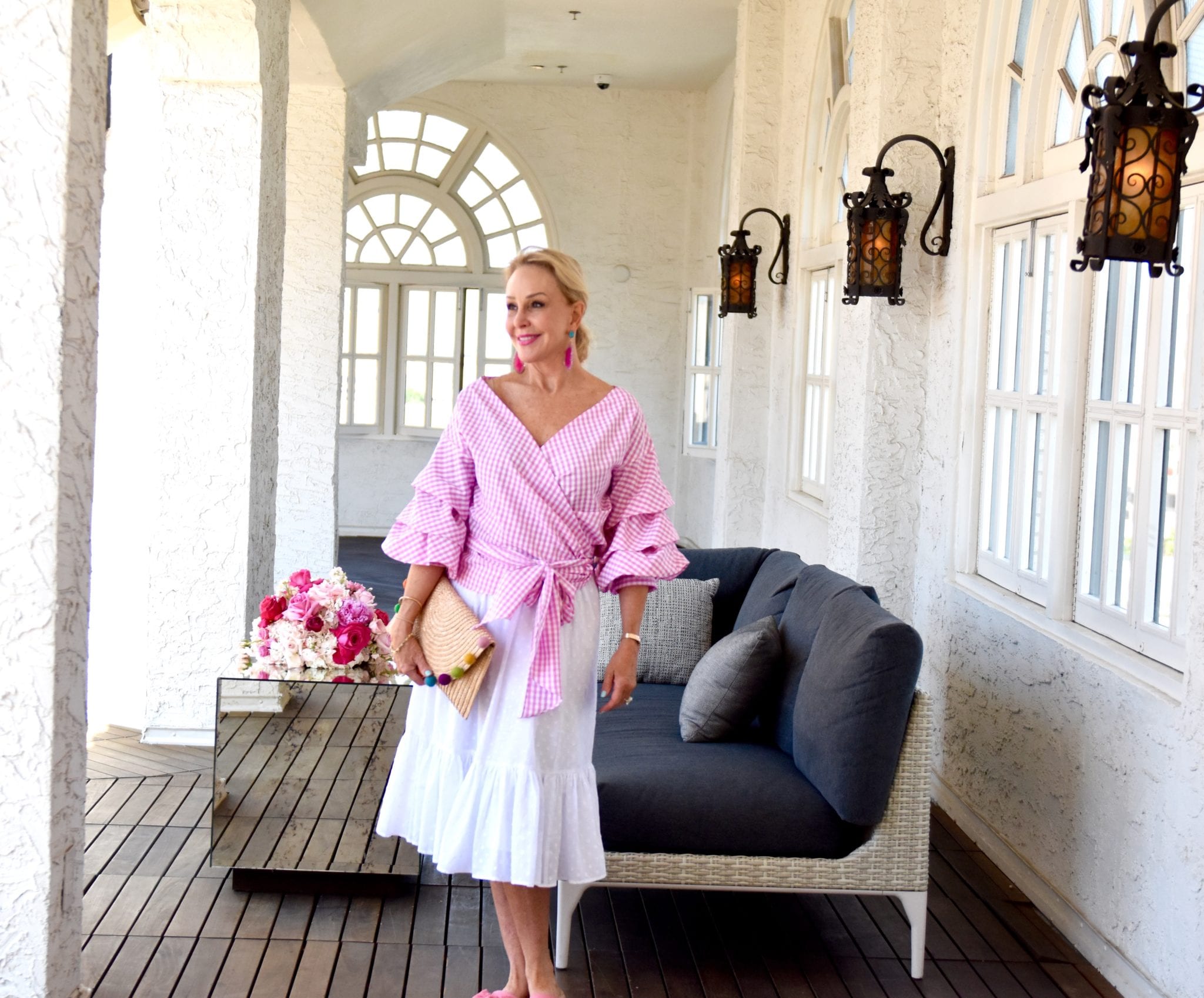 As style trends go in and out of fashion, so do fabrics. Today we are talking about the history of gingham summer fabric trend and yes, I have done it before and doing it again. Like the pom pom's gingham is definitely another one of my obsessions lately.
Depending on how old you are will depend on how many seasons in your life that you have worn gingham. I can remember as a little girl wearing cute little smocked summer dresses that my grandmother would make. Are any of you old enough to remember those days? I am so thankful that smocking has survived through the centuries and the decades as gingham has. Even though gingham was ever fashionable in the 50's, I will say that the trend has never been stronger than it is now.
History of gingham fabric
Gingham was first seen as a stripe in 17th century Europe after being developed in India. A century later the fabric was produced in the mills in Manchester, England where the check surfaced and was often in blue & white. Later it showed up in the US becoming related to our red, white & blue national colors where it has become an iconic fabric.
Gingham has also been associated with the Hillbilly looks by Elly May Clampett of the Beverly Hillbillies, Daisy Dukes of Dukes of Hazzard's and not to forget Dorothy's blue and white pinafore dress in Wizard of OZ . Now we have come full circle where gingham is being designed into cute off the should tops and dresses as well as lux skinny pants and maxi dresses by upscale designers. We are seeing gingham clothing, shoes, handbags, towels, sofas, chairs, curtains, wall paper and more designed by the likes of Ralph Lauren and Tommy Hilfiger profiling the epitome of All-American style. Many of us are using it as a country living fabric for homes and second homes.  Read this story all about gingham from Country Living and Town & Country magazines! It says it all!!  To me, gingham screams CHARM……American charm!
SCROLL ON DOWN FOR A SELECTION OF OUR FAVORITE GINGHAM PICKS

Outfit Roundups
                                                                                                                                                                                                   

Thanks to the St Anthony Hotel in San Antonio, TX for this amazing backdrop for our photoshoot! Stay tuned for the entire story about this fabulous historic Texas hotel.
OUTFIT DETAILS
Check out some of our favorite gingham items below. To shop, just click the photo!
TOPS
DRESSES
SHOES, ACCESSORIES & HOME
SHESHE'S TIDBITS
We just made it to Montrose, Colorado where we will spend most of the summer with the exceptions of some quick side trips. I am looking forward to lots of walking, fishing, hiking, biking and just enjoying the great outdoors!! We are now live on  SnapChat and Instastories. Don't miss the fun. If you don't know how to do Instastories and Snapchat, then stay tuned as we have a series of tutorials planned soon for those of you that are feeling left out of the digital social world. I will say that you can get by without it all, but after you understand it's benefits, then you will love it so much.
Gala's, weddings, graduations, or just everyday wear…..we have fashion suggestions for you, so stay tuned. Be sure to check out ShopSheShe at the top in the menu bar. Hover over and choose the category in the drop down. We try to keep it up to date with the latest and greatest for all budgets. Subscribe and then you won't miss a post. Simply enter your email in the pop up box when you come to this site or at the top of this page in the subscribe box.
Welcome new readers. We are a fashion/travel/lifestyle blog. We talk about anything and everything, from fashion, travel, health issues to even an occasional recipe. If there is a topic that you are interested in, then let us know. We will do our best to bring that story to you. Have a great great week sweet friends and thank you for following along. Without you, we could not continue on this crazy fun journey!
Share the post "History of Gingham | Been There | Doing It Again"