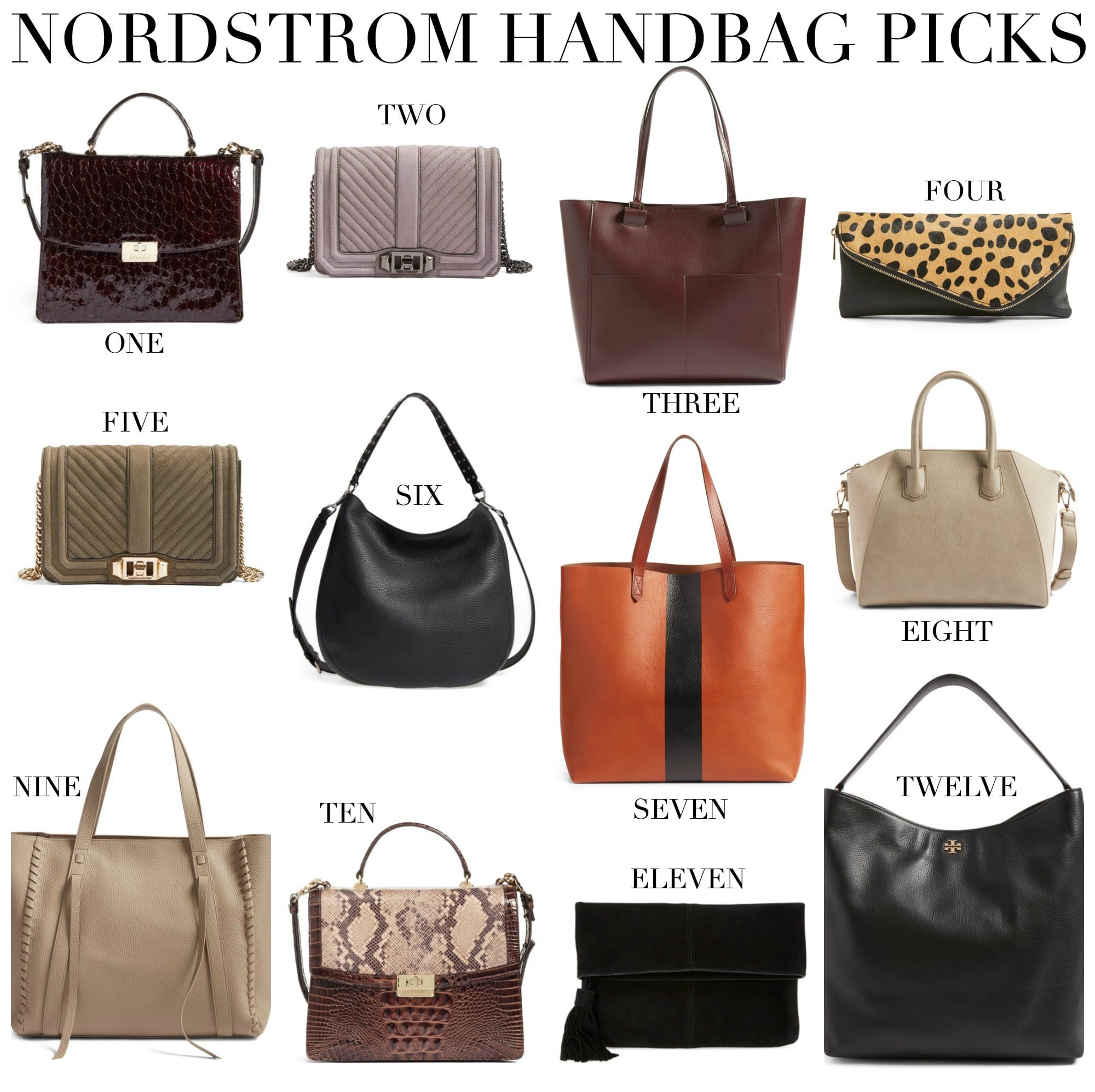 One of my favorite categories is handbags.…how about you? Today, I am calling all bag ladies because we have picked about 30 of our top sale handbags from the Nordstrom Anniversary Sale. Remember that these are brand new styles for fall and prices will go back up to regular retail August 7th.
Our Handbag Review
one | The velvet trend is huge for fall in clothing as well as handbags. This bag has a beautiful classic shape that can be carried as a handbag or a shoulder bag
two & five | I love these Chanel inspired shapes that Rebecca Minkoff does. I have about 3 bags similar to these. They are classically timeless.
three | This is the best faux leather tote I have seen in a while and for $39.90 it is a not brainer. I love the wine color of this bag.
four | Leopard just never goes out of style and I always recommend a leopard clutch as a staple for your wardrobe. You will carry it for years.
six | This hobo style bag is another classic basic for your wardrobe. You will never regret owning and investing in leather classics from Rebecca Minkoff.
seven | This tote comes in 3 color ways and has been the most popular moderately priced leather tote in the sale this season. It is large enough for almost any of your needs without being too big to carry.
eight | A great knock off of a designer bag. I had to look twice to see if it was a Givenchy…..yes and at $52.90 it is big bang for your buck!!!
nine | I luvvvvv this tote by Allsants. The laced whipped stitching around the edges give this an elevated casual look. It has been a blogger favorite this season.
ten | If you aren't familiar with Brahmin, then just know that this brand has some of the most beautiful leathers and styles. I always do a double take when I see one of their bags in a store.
eleven | Another great classic clutch. The suede fabrication can take this clutch from a casual day look to an after five bag.
twelve | We love Tory Burch leather goods. In fact we love anything Tory Burch, so how about another investment bag classic hobo on sale!!
ONE | TWO | THREE | FOUR | FIVE
SIX | SEVEN | EIGHT | NINE |
TEN | ELEVEN | TWELVE
More of Our Favorites
SHESHE'S TIDBITS
Stay tuned for more SheShe's picks until August 6th when this sale ends. We have home, men's, plus size, beauty and more picks coming your way. Please refer to the Nordstrom Shop in the menu bar on the far right. We will do our best to keep those items up to date. Thing are selling out faster than I have ever seen them this year!!
Gala's, weddings, graduations, or just everyday wear…..we have fashion suggestions for you, so stay tuned. Be sure to check out ShopSheShe and the Nordstrom Sale tabs at the top in the menu bar. Hover over and choose the category in the drop down. We try to keep it up to date with the latest and greatest for all budgets. Subscribe here and then you won't miss a post. Simply enter your email in the pop up box when you come to this site or at the top of this page in the subscribe box.
Welcome new readers. We are a fashion/travel/lifestyle blog. We talk about anything and everything, from fashion, travel, health issues to even an occasional recipe. If there is a topic that you are interested in, then let us know. We will do our best to bring that story to you. Have a great great week sweet friends and thank you for following along. Without you, we could not continue on this crazy fun journey!
Share the post "Calling All Bag Ladies | Our Top Handbags | Nordstrom Anniversary Sale"