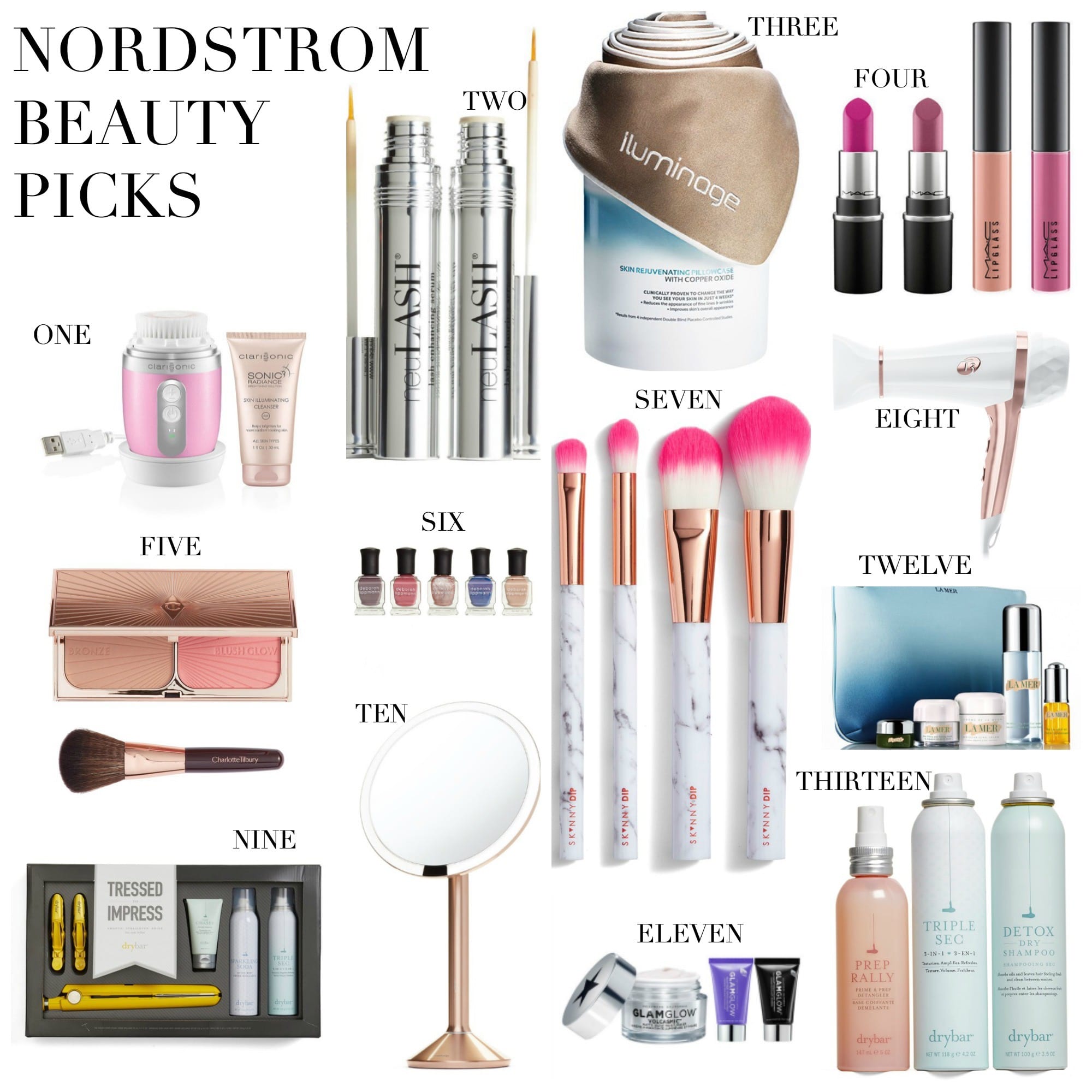 Beauty products rarely go on sale, but every year the Nordstrom Anniversary Sale brings in a lot of special values from their different beauty brands that make it worth it to stock up on your favorites and maybe try out some new products.
Do you know that beauty is the one category that keeps growing exponentially, even during downturns in the economy? That bit of info was said to me about a year and a half ago by one of the top CEO's in the fashion industry for over 30 years. Why? Because we are all searching for that magic potion that changes or hides so many of our flaws. We all want to be beautiful and feel beautiful.
It wasn't until I became a blogger that I really began to appreciate good beauty products and their affect on the way I look and the confidence it gives me. Here, we have selected just a few really great products that we like, but there are so many more that offer Gift With Purchase or a special package offering.
Some of Our Beauty Picks
one | I have been using the Clairisonic facial cleansing system for several years now and they keep improving on the technology. I can't even imagine going back to my old Buff Puff days. Using the Clairisonic System should be part of your daily routine.
two | The Nu Lash enhancing system is my latest beauty crush and guess what? It works!! It is an investment, but aren't our lashes worth it? I have used Latisse, a prescription formula for several years that also worked, but a hassle to always have to get the script from a doctor. I have tried a few other lash growing formula's but this one works the best. They are offering a travel size and regular size for the price of one. I ordered a 3 month supply so that I could get 3 travel sizes for free.
three | The Iluminage Skin Rejuvenating pillow is another layer of protection for your face. It has been clinically proven  that it reduces the appearance of wrinkles for smoother, younger-looking skin in as little as four weeks. Do any of you sleep with your face smashed into your pillow? If you do then this pillow will help
four | Mac is one of my favorite lip products and this mini lip kit is perfect for your purse or travel bag.
five | I am loving anything Charlotte Tilbury comes out with. The daughter of an artist, Charlotte took that same artistic gene and became a famous makeup artist in the nineties working with some of the most famous models in the world, so what better person to develop her own line. This 2 in one Bronze & Blush Glow Set is perfect to reduce the amount of compacts in your makeup drawer or travel bag. It goes on the skin so beautifully.
six | This is a great little mini garden inspired nail polish set by Deborah Lipmann. She always does beautiful colors and her polish stays on for more than a day or two.
seven | A four piece professional makeup brush set. This set would be really nice displayed on your makeup vanity, plus the natural hair makes makeup go on so much more even and smooth.
eight | This is a light weight hair dryer  that generates ion-enriched air for healthier hair. If you live in a dry climate, color or bleach your hair and you are over 40 then you should be using a hair dryer with these features.
nine | These are hair styling products that work together to smooth and straighten the hair. A no brainer……
ten | I have this lighted mirror and luvvvvv it!! Yes a little pricey but you never have to worry about turning it off because it goes off as soon as you walk away. It also has great magnification. A must for these old eyes.
eleven | Youth Contour & Glow set. Did you say youth??? I have not used this before, but I did order it. I spend the summers in Colorado where it is very dry and this serum has a hydrating formula.
twelve | OMG when I saw this special I got so excited. La Mer is one of the best beauty brands for skin care on the market today. I only use one product of theirs at this time, but I did order this set so I can try some other serums. It is like gold!
thirteen | These 3 dry shampoo products are favorites for those in the know. I have recently struggled with a lot of breakage due to very dry hair, processed hair and other factors. I use the detox dry shampoo to avoid over shampooing. I love this product. It is also handy while traveling.
ONE | TWO | THREE | FOUR | FIVE | SIX |
SEVEN | EIGHT | NINE | TEN | ELEVEN |
MORE BEAUTY SPECIALS (click the category below)
Fragrance
Gifts with Purchase
Hair Care 
Makeup
Skin Care
Tools & Devices
 SHESHE'S TIDBITS
Stay tuned for JTV jewelry. How I style hoop earrings. Also more SheShe's picks and our Colorado home Master Bathroom reveal.  We have home, men's, plus size, and more of our sale favorites coming your way. Please refer to the Nordstrom Shop in the menu bar (at the top of this page) on the far right. We will do our best to keep those items up to date. Thing are selling out faster than I have ever seen them this year!!
Gala's, weddings, graduations, or just everyday wear…..we have fashion suggestions for you, so stay tuned. Be sure to check out ShopSheShe and the Nordstrom Sale tabs at the top in the menu bar. Hover over and choose the category in the drop down. We try to keep it up to date with the latest and greatest for all budgets. Subscribe here and then you won't miss a post. Simply enter your email in the pop up box when you come to this site or at the top of this page in the subscribe box.
Welcome new readers. We are a fashion/travel/lifestyle blog. We talk about anything and everything, from fashion, travel, health issues to even an occasional recipe. If there is a topic that you are interested in, then let us know. We will do our best to bring that story to you. Have a great great week sweet friends and thank you for following along. Without you, we could not continue on this crazy fun journey!
Share the post "Beauty Deals & Steals | Nordstrom Anniversary Sale 2017"