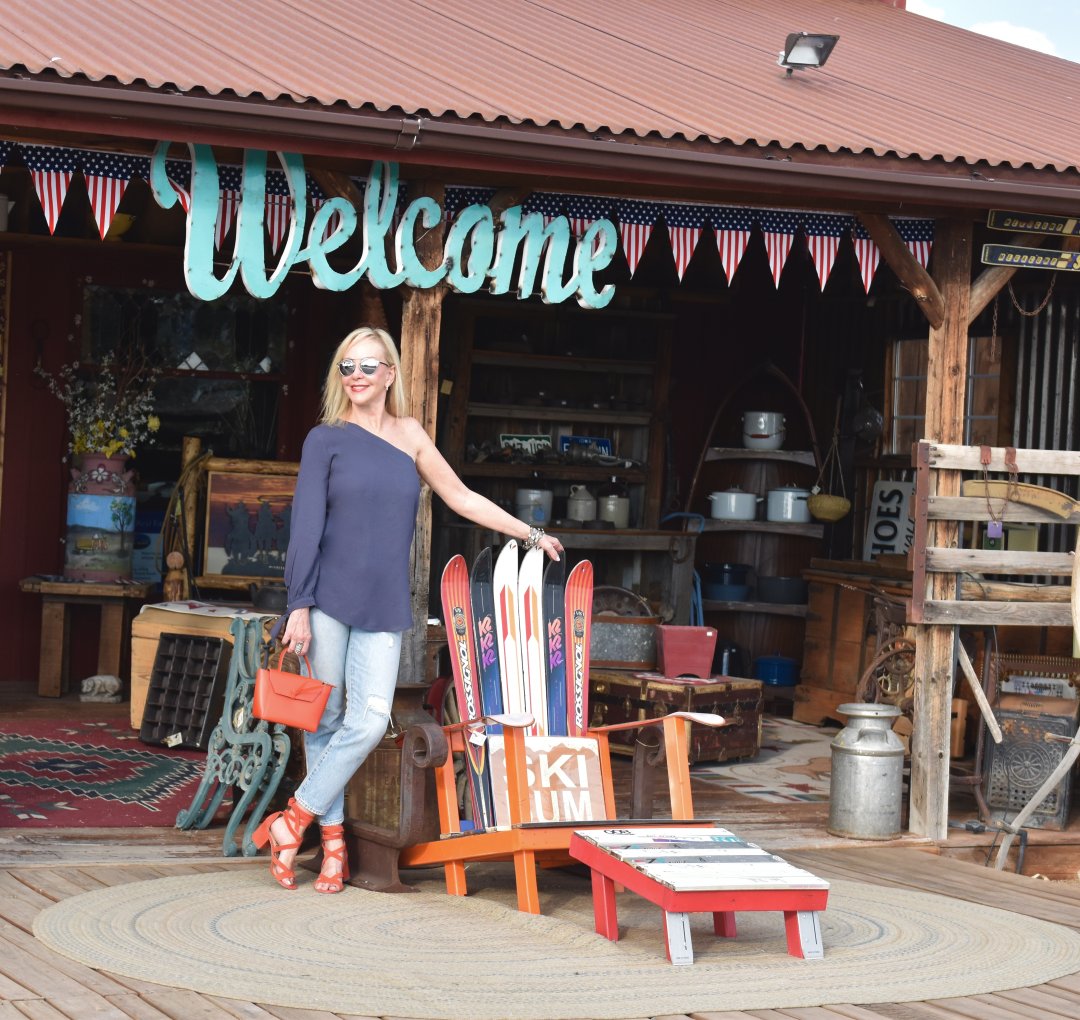 This post was sponsored by JTV.com. I was paid for this post and received JTV.com jewelry pieces as compensation.
I am so happy today to share my favorite style of earrings with you. I have 2 pairs of classic hoop earrings that I selected from JTV.com's line up of hoop earrings and show you 3 ways on how I would style them. Hoops are always trending in the jewelry category and they never go out of style.
First of all, what girl wouldn't wear hoop earrings. I have been wearing them since I got my ears pierced at 18 years old in 1973. My first pair was a small gold hoop and would you believe that I still have that pair of earrings. I love hoops because they are classic, versatile and can be worn casually with your jeans or dressed up for a cocktail look. I have so many hoop earrings that I can't even count. I never pass them on or give them away because they are timeless.
History of the Hoop Earring
As the case in trends, many have long histories. The hoop earring actually goes all the way back to 2600BC from the Sumerians. In my life I have seen the hoop trend big time since the 60's and it hasn't let up. If you are old enough to remember Cher's big hoops, then Madonna turned the hoop into a huge door knocker, but the real revolution came also in the 1960's from women of color who claimed the large hoop earring that comes from the deep history of their culture. If you do more research you will find that the hoop earring was a popular accessory in many cultures. I tripped across a couple of articles about the history of the hoop earring that you might enjoy reading.
https://i-d.vice.com/en_us/article/who-owns-hoop-earrings
http://www.abc10.com/news/do-hoop-earrings-belong-to-women-of-color/422942293
Styling My Hoops 3 Ways
1.)  My first look is a casual look with trending one shoulder top and destroyed light wash jeans. I chose a small white hoop earrings from JTV.com, of course. Sometimes when I am traveling, I don't want to take a suitcase full of large costume earrings, so I always like to throw 2 or 3 pairs of fine jewelry earrings into my travel case that can work back with my outfits. These small but beautiful white diamond earring hoops could absolutely go with anything. There have a hinged closure with .45ctw round and baguette diamonds set in rhodium over sterling silver. It also has a beautiful matching ring.
I could most definitely wear them with my workout clothes, jeans, dress, suits or a cocktail look. Really anything….. The floral design gives these classic hoops a very feminine feel and if you have a petite frame, this size is perfect for you, especially if large earrings aren't your thing.
I added some bangles on my sleeveless arm because a necklace with the asymmetrical neckline would not work as well. As much as I love accessories, I always try to abide by the "less is best rule". I rarely wear a necklace, earrings and bracelets at the same time. If you have been following me for a while then you know that I love color, so hence the accents in the bright orange bag and suede block heel sandals to liven up this neutral outfit.
scroll down for next outfit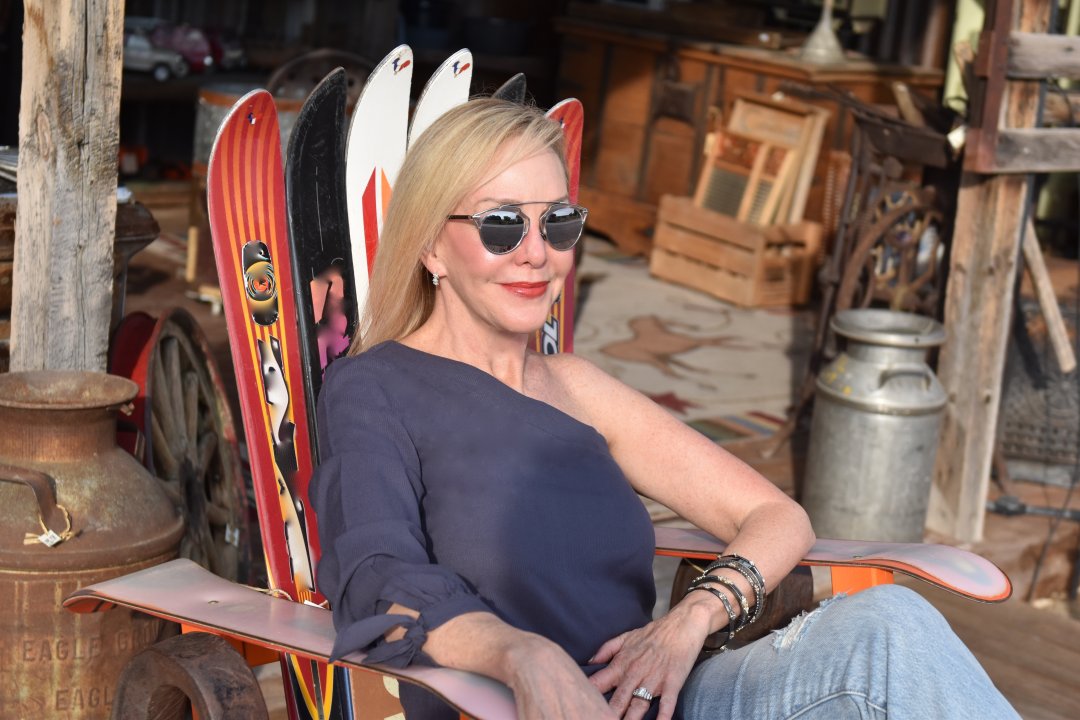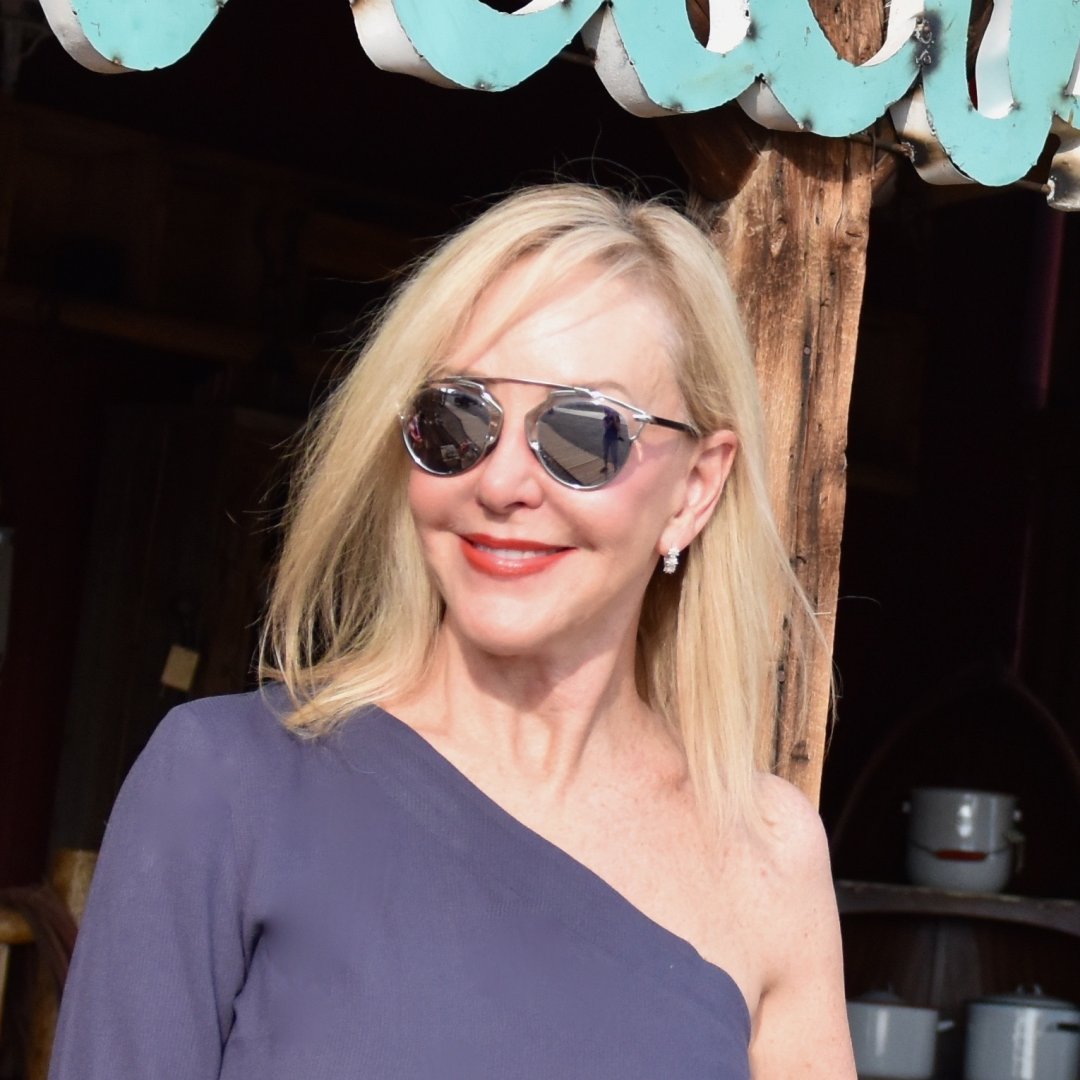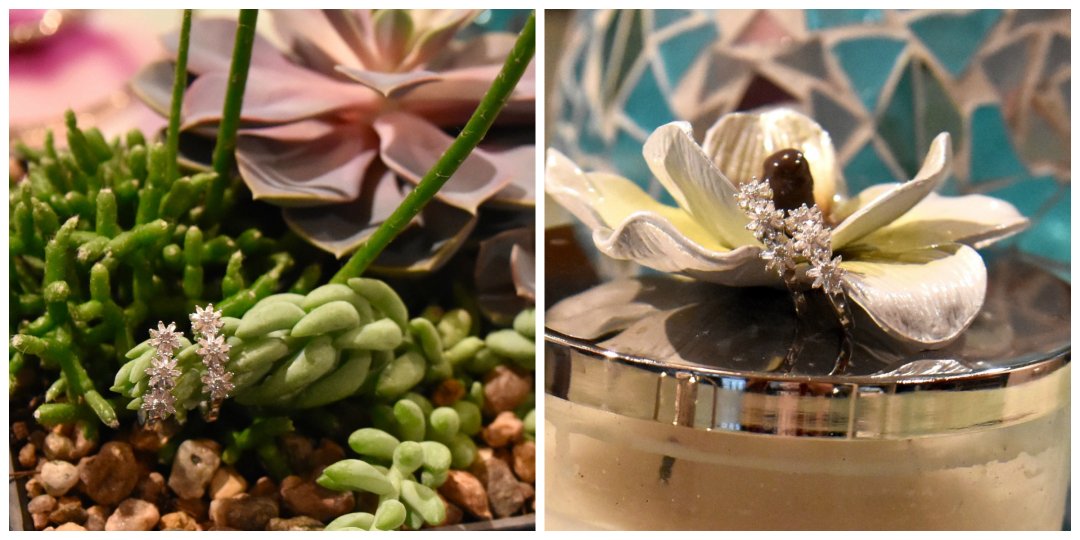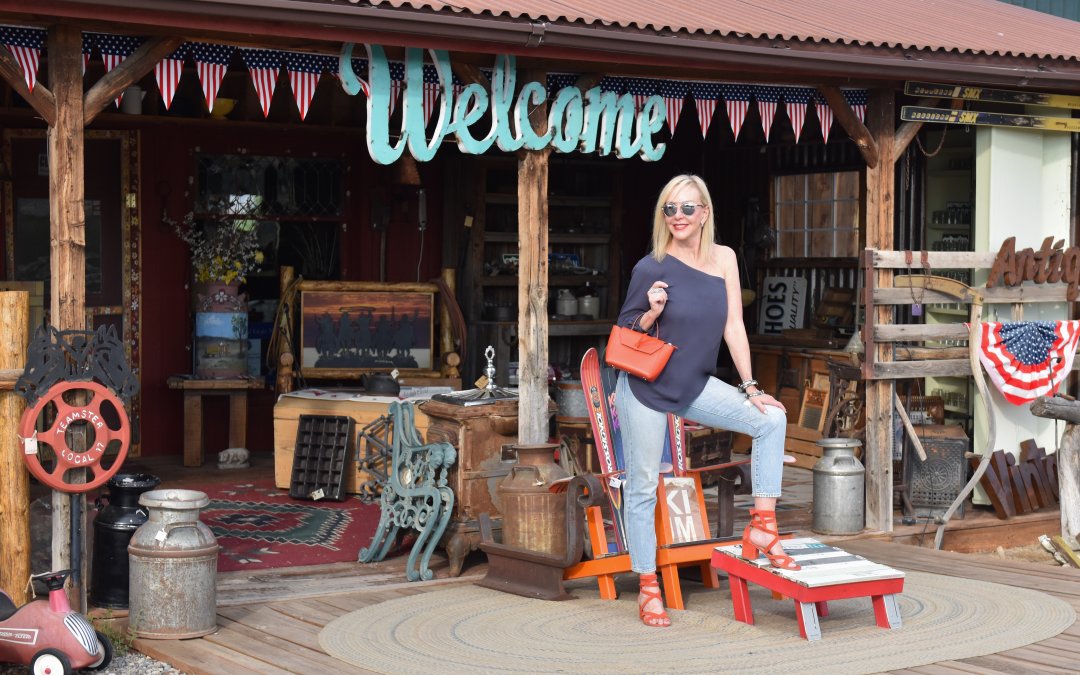 Outfit Details
These affiliate links are not associated with JTV.com
2.)  My second look is this artist smock dress/tunic. It is another classic that deserves the right accessories, so I chose these gorgeous champagne diamond hoop earrings. They will also pair well with the bold horn necklace. These hoops are round champagne diamonds at 3.00ctw They have the inside outside setting in yellow gold that make them sparkle every way your head turns. If you are wondering about the size, they measure approximately 1 & 1/2″ L x 1/8″ W and has saddleback closures. They are not too big, but yet make a statement with any outfit. Be sure to scroll down and see another way that I styled these earrings.
Below are photos of both styles. How about those earrings on my longhorn friend? Can you find the earrings on the right? They are camouflaged among the succulent. I sure do love the artistic part of what I do.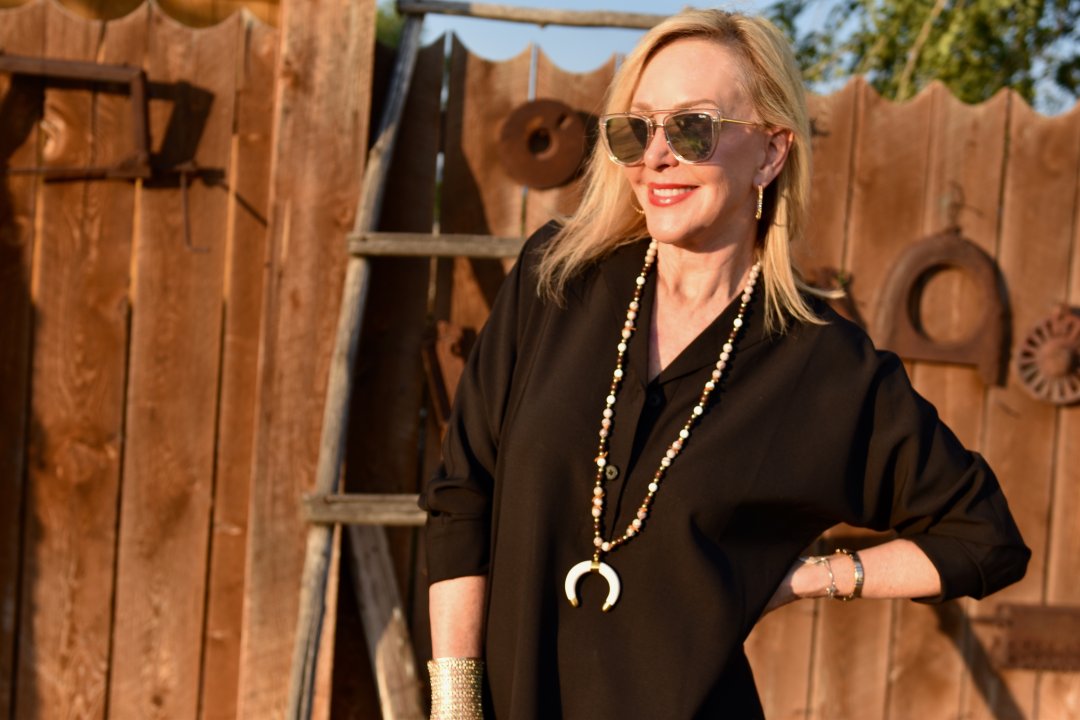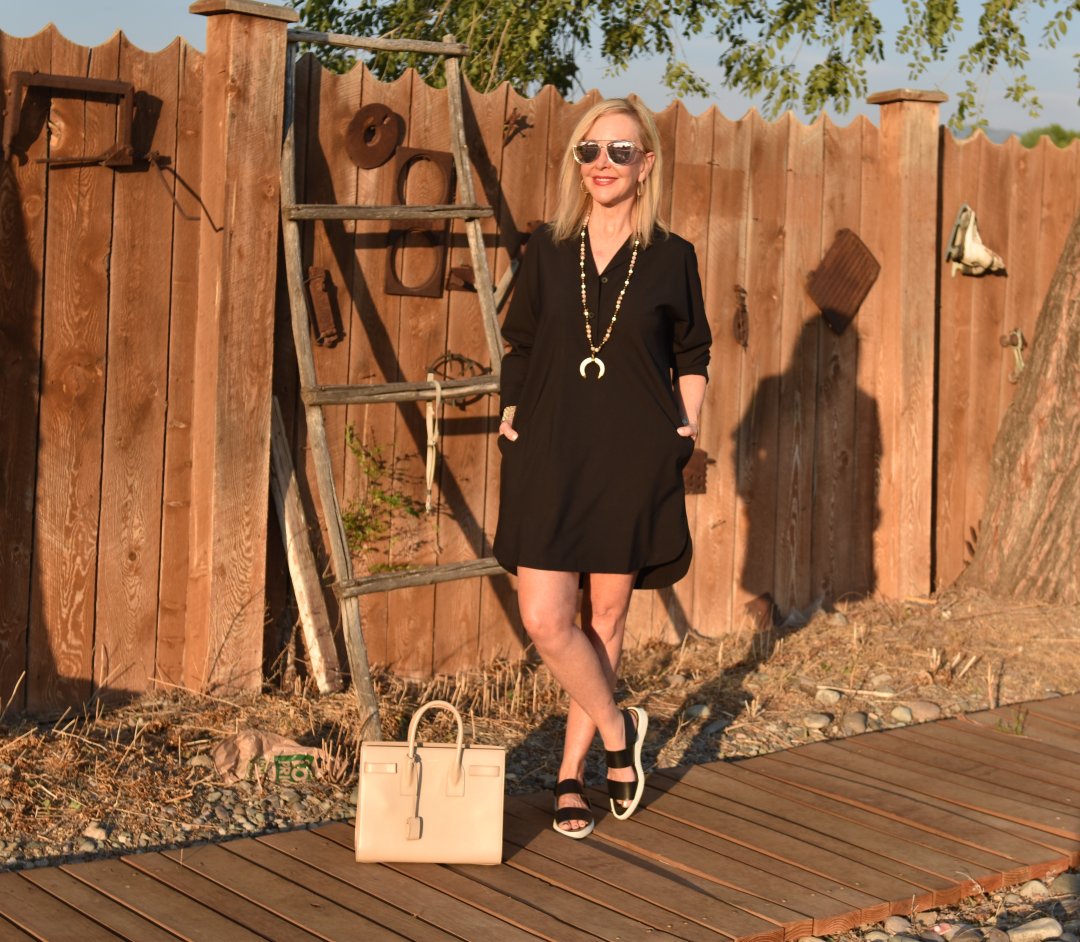 Outfit Details
These affiliate links are not associated with JTV.com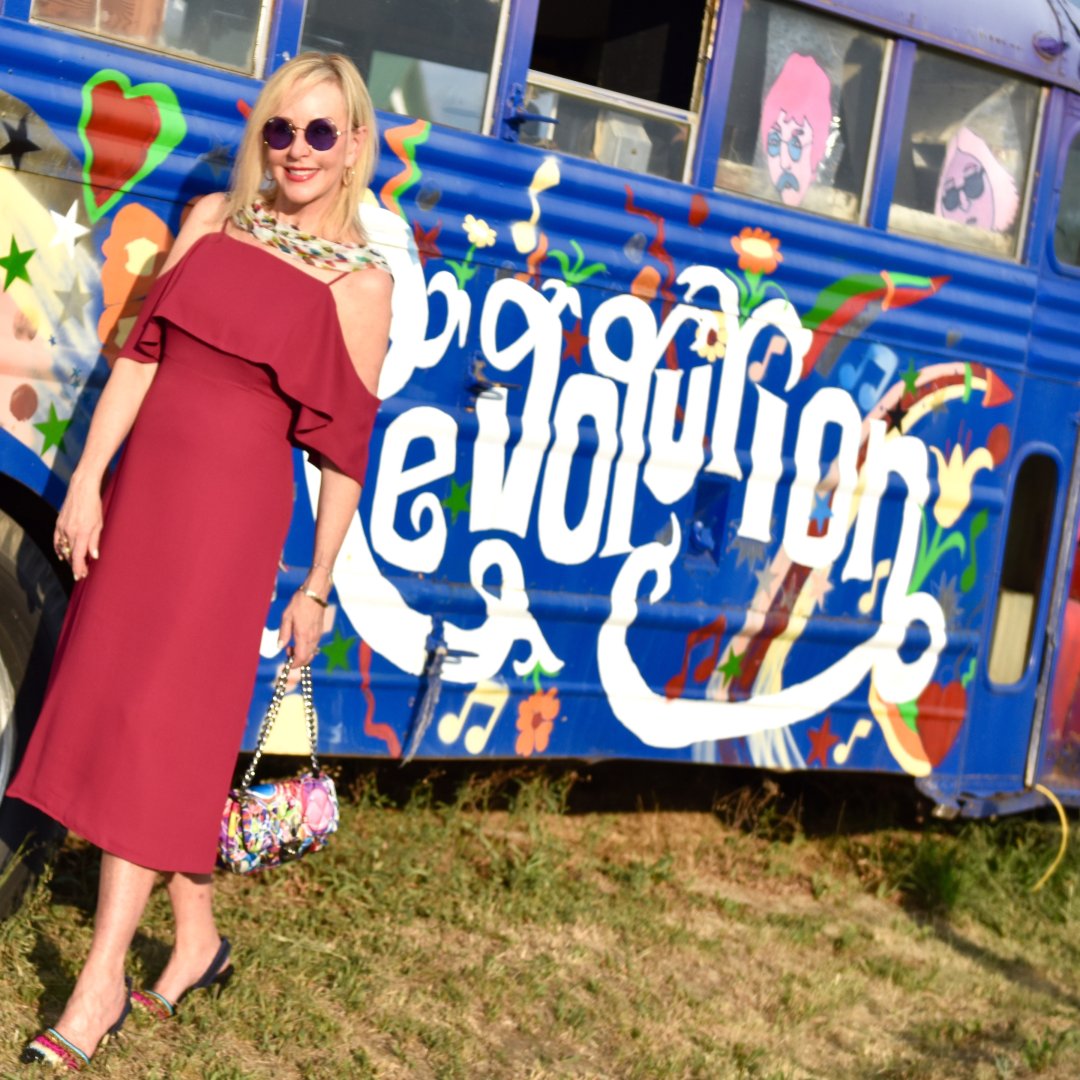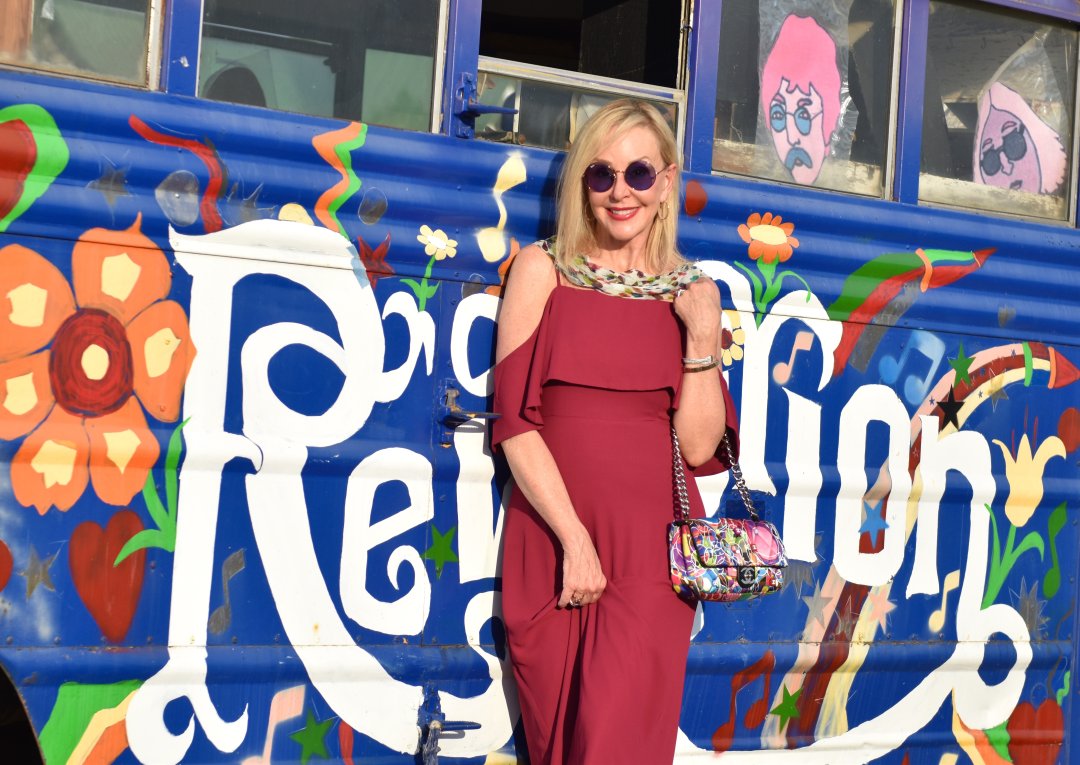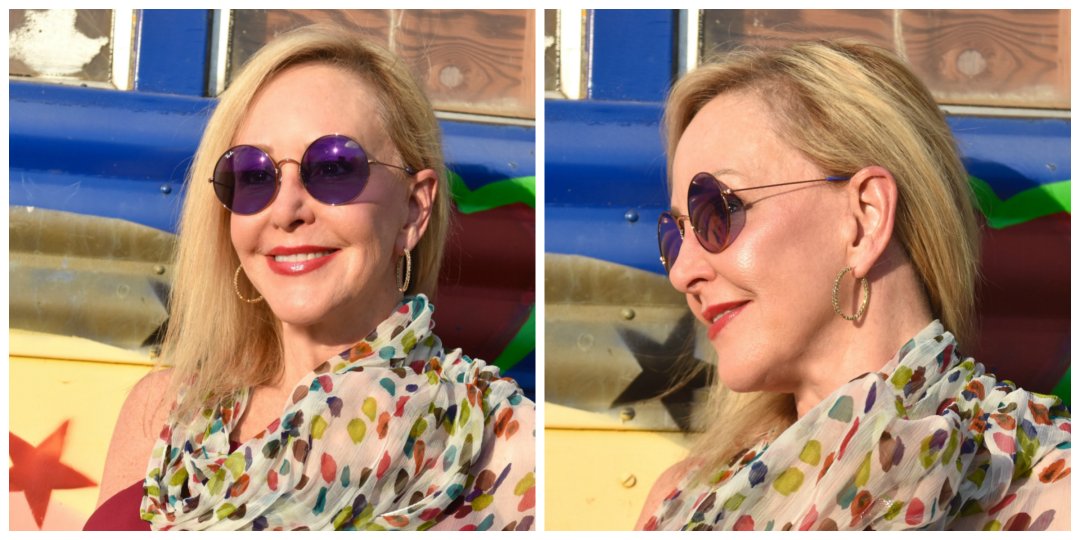 These amazing classic hoop earrings are just fabulous. What can I say???? How about the diamond champagne hoops with this dress? Because the hoops are neutral, they work great with this bold color and gives the whole outfit that elevated feel of elegance which gives us more confidence as we walk into a room. Every time I wear these hoops whether they are worn with jeans or a dress, I feel really good. They are a statement all in their own!
Below, I have pretty photos of the hoops as well as this gold bamboo bracelet and the gold Greek Key Necklace that I wore in this post back in May. The multi stone adjustable bracelet ( photographed with champagne diamond hoops below ) that I wore in this post last fall has been a piece that I wear every day layered with my watch.
In Conclusion
I want to thank JTV.com for again allowing me to share my love of jewelry with my readers. After 3 blog posts and an amazing visit to the Jewelry Television Headquarters in Knoxville, Tennessee last November, I really do feel privileged to represent this amazing company, even though it is in just a small way.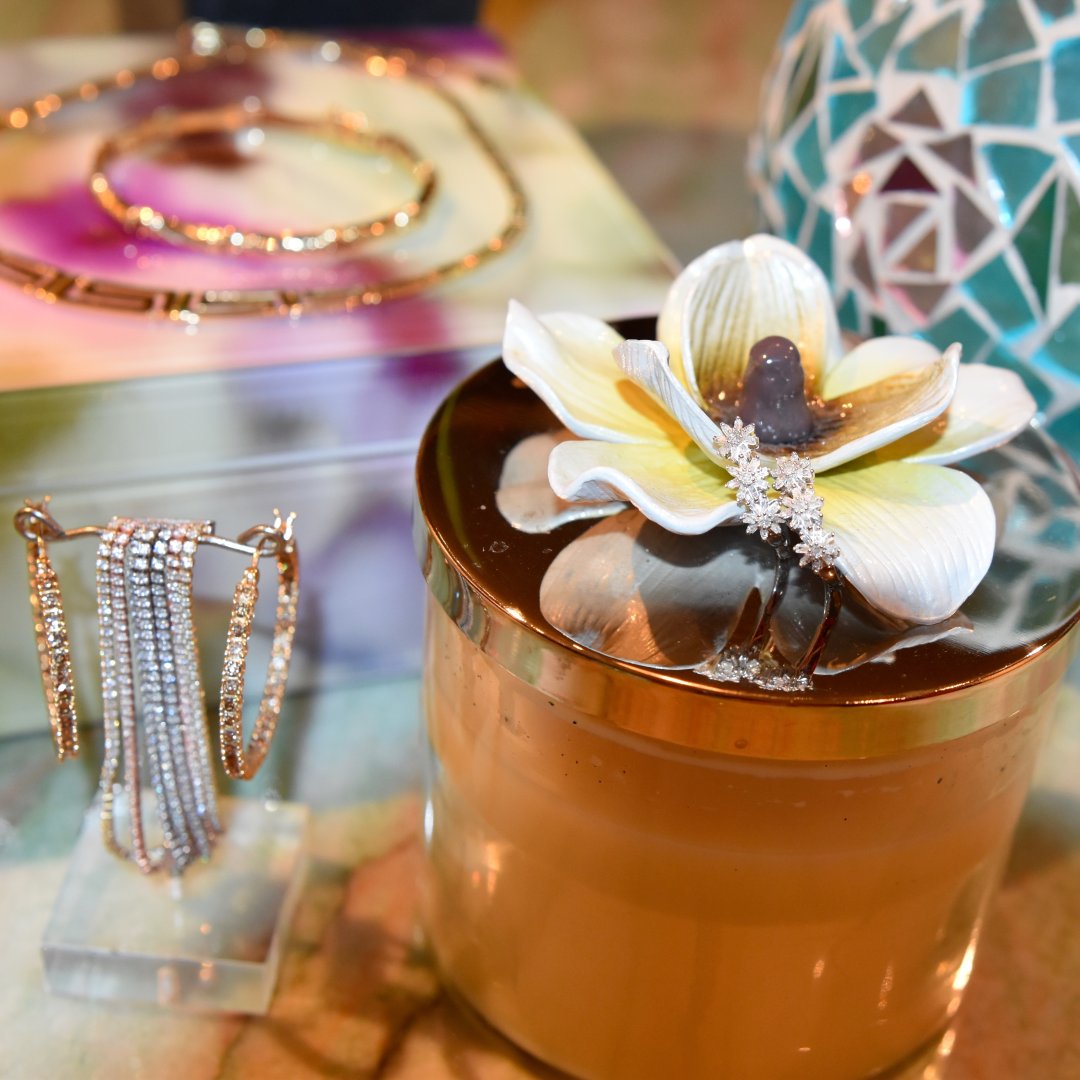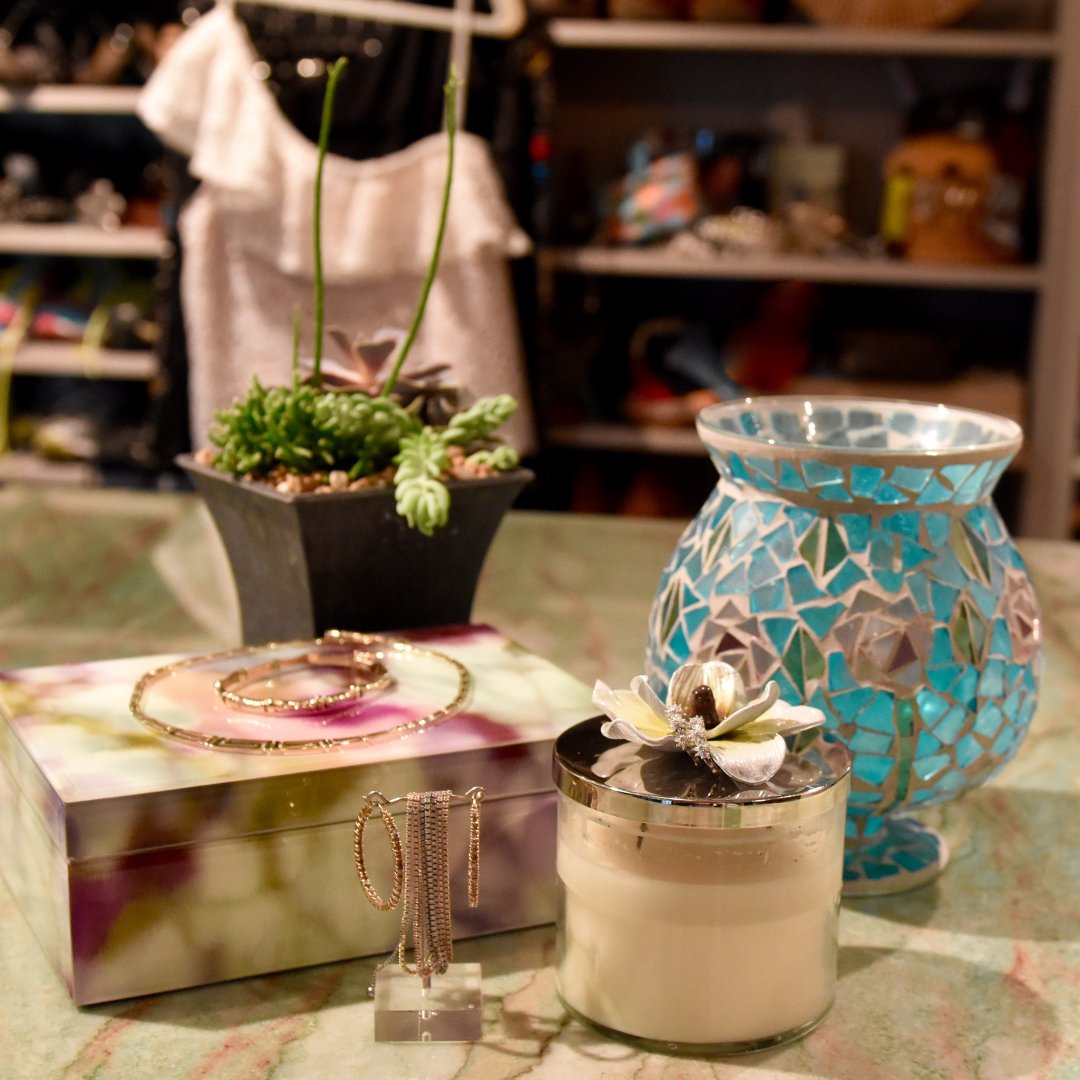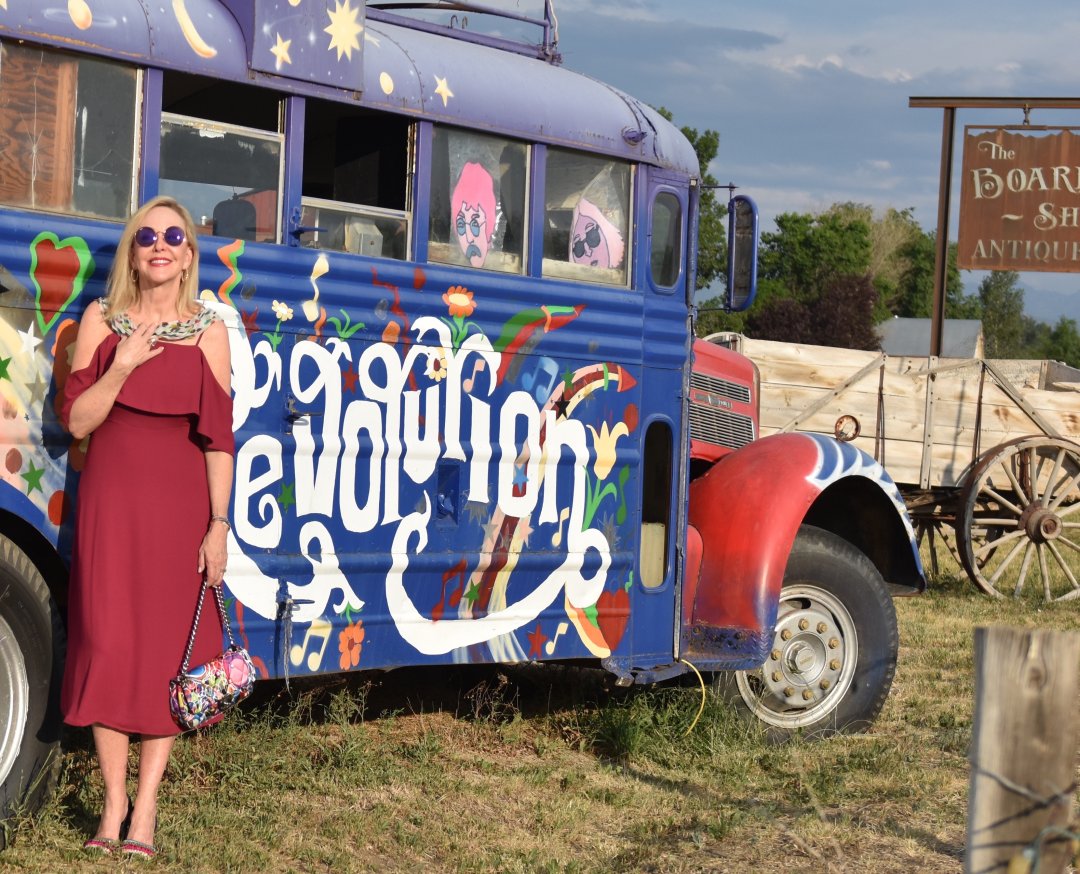 These affiliate links are not associated with JTV.com
SHESHE'S TIDBITS
Gala's, weddings, graduations, or just everyday wear…..we have fashion suggestions for you, so stay tuned. Be sure to check out ShopSheShe at the top in the menu bar. Hover over and choose the category in the drop down. We try to keep it up to date with the latest and greatest for all budgets. Subscribe and then you won't miss a post. Simply enter your email in the pop up box when you come to this site or at the top of this page in the subscribe box.
Welcome new readers. We are a fashion/travel/lifestyle blog. We talk about anything and everything, from fashion, travel, health issues to even an occasional recipe. If there is a topic that you are interested in, then let us know. We will do our best to bring that story to you. Have a great great week sweet friends and thank you for following along. Without you, we could not continue on this crazy fun journey!
**My blog may contain links to other websites. I am not responsible for the privacy policies of those other websites. When you click on a link, your information may be collected by those websites so I encourage you to read their privacy policies. The affiliate links above and below are not associated with JTV.com