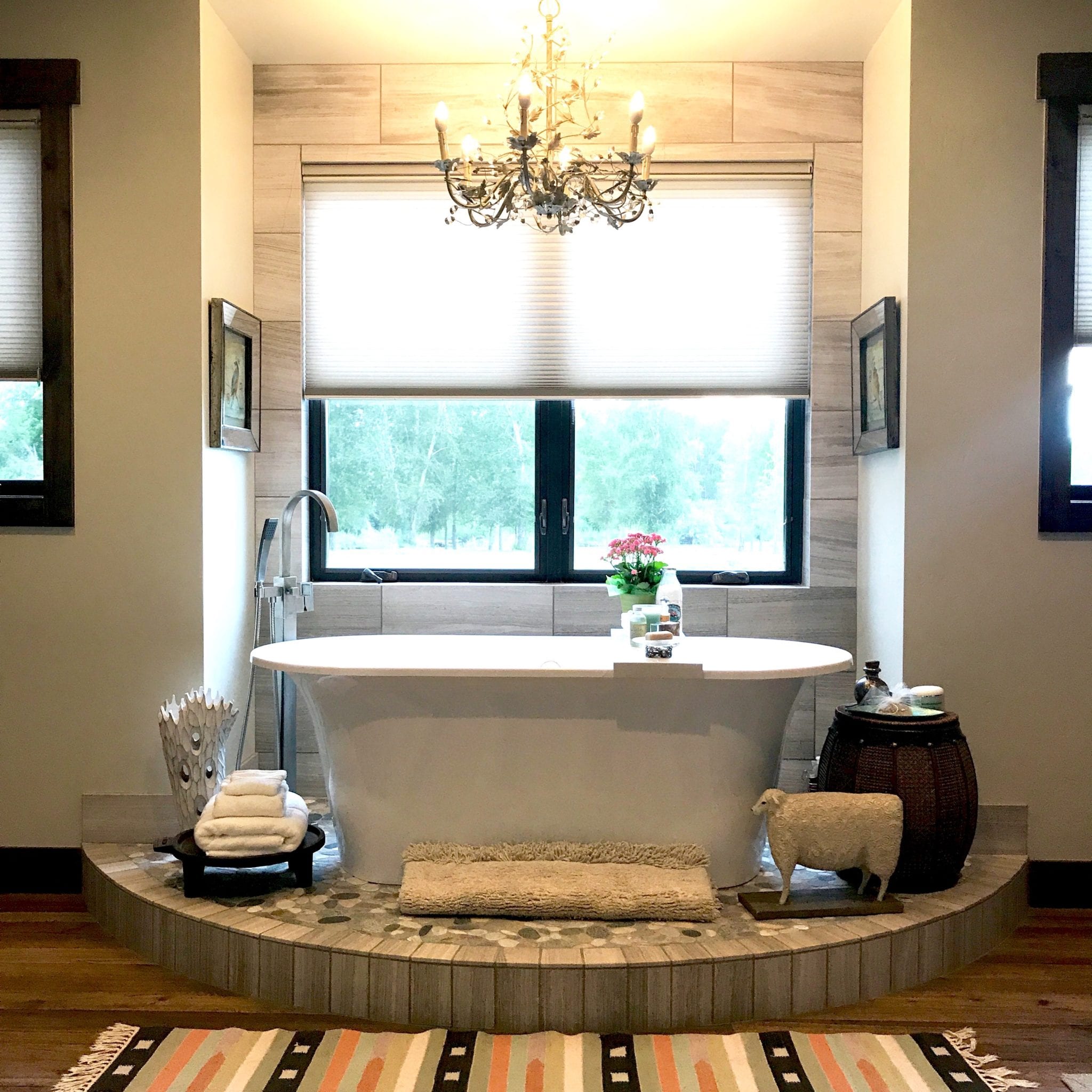 A little over a year ago we finished our home on the Uncompahgre River just south of Montrose, Colorado and just north east of Telluride. Today, I am finally ready for the master bathroom reveal. Earlier this year we shared with you the bunk room which was my favorite room to design and decorate.
Since we only spend summers in Colorado and maybe a week after Christmas, it has taken us longer to finish all of the details. I can say that we are now about 98% finished. Do we ever completely finish a project like this? I think there is always something to do.
How To Plan Your Master Bath 
Set a budget
Style | rustic, modern, transitional contemporary, victorian, etc.
Sinks | 2 sinks or 1 sink
Tub with shower or separate tub and separate shower
Tub | Free standing or built in | brand
Plumbing fixtures | Type of shower heads, finish (brushed nickel, polished nickel, copper, antique brass )
Materials for shower | tile, rock, travertine, etc.
Materials for cabinets | Wood and type of wood (oak, alder, pine, cypress), melamine, metal, painted or stained.
1 or 2 toilettes? Separate toilette room or toilette in main part of bathroom. Brand of toilette.
Vanity | Linen cabinet/closet | Counter height
Material for counter tops & shower bench | granite, quartz, quartzite, metal, concrete, tile, etc
Flooring | wood, tile, stone, or a combination.
Lighting | Sconces, chandeliers, recessed cans, cove lights, ceiling fans, etc.
Wall textures | Paint colors | Wall paper
Our Master Bath Details
Having built 2 homes from scratch and remodeled 5 projects, I was aware of how fast the dollars can add up. I recommend taking my list above and fill in the blanks with your wish list, then find what you want. After all that is done, then that is pretty much your budget. Believe me, unless you have unlimited funds with no budget, you will have sticker shock for sure. After you get over your disappointment, then decide where you can cut back.
When we were coming up with our ideas, we knew that we wanted a transitional contemporary, but we wanted it to have a Colorado mountain feel. I call our style Rustic Mountain Modern. That means clean lines with mixed rustic and contemporary finishes. That being said we wanted rustic wood floors and cabinets, but added modern plumbing fixtures, quartz counter tops with simple edges. We used grey toned travertine tile in the shower to cool the warm tones of the woods. When I found this beautiful spa green & brown quartz for the sink vanities, I knew it would go with the natural environment just outside the large window over the bathtub.
I am a bathtub girl, so SheShe got her way and I got my beautiful free standing tub elevated on a curved platform in the center of the bathroom making it the focal point as you walk in. I designed the bath tray on top and found remnant quartz at a local fabricator and he made it for me for only $130 materials and labor
I added an extra brushed nickel shower head in the shower. One rain head ( comes out of the ceiling) and one hand held mounted on the wall. This is great for cleaning the shower or even washing your dog. The bench at one end is great for shaving legs or just taking a load off and we decided to make a clear glass window bringing in the beautiful natural light. On the floor of the shower we used a pebble rock mixed with the rectangle travertine tile, still keeping with the mountain and river feel.
I love having our vanities opposite each other. That way we never get in each others space. I was lucky to buy a truck load of reclaimed wood and large wood beams for a $1.25 a linear ft. The going rate at the time of building was about $5.00 a linear foot and I will tell you that we used almost all of it. The remainder I sold back to the guy I bought it from for the same price he sold it to me. In this load of wood was a bunch of pecky cypress. This is a unique warm colored wood that has pockets or recesses that gives the finish a beautiful look. We had enough  of the pecky cypress wood to do the master bathroom cabinets and guest powder room. Be sure to look at all the photos of the cabinets.
For lighting, I found this chandelier to go over the bathtub that had little leafs and pretty crystals made to look like flower buds. The tricky part is that we have to put the light a certain height above the tub. Do you know why???? Well, water (in tub) and electricity (light) do not mix. Very dangerous. With the elevated tub, we were pushing the limit breaking the code. We installed a flush mount light to meet the code and replaced it with the chandelier after the inspection. Shhhhhhush, don't tell anyone.
Finally, I will say that I shopped around a lot to find great deals on everything. I found some especially good deals on hardware on the internet. I do not recommend buying plumbing fixtures on the internet, because you will not get a good warranty should something goes wrong. I like doing business with the local plumbing store as they will also install for you.
So, I hope you have enjoyed  what I did here. The most important thing is that you like your space and it meets your tastes and your budget. Just remember, that you can create a beautiful functional space without breaking the bank. It just takes time to do the research. Make sure that you have a plan in mind first before you start on your new master bath.
BATHROOM DECOR IDEAS
SHESHE'S TIDBITS
Nordstrom sale is still going on. Did you know that they have a whole section of goods for the home? Click here to check out the home sale items.
The Nordstrom sale is over in 5 days. There are still a lot of great merchandise left to snag up. You can refer to our Fall Haul here for our favorites in several categories.
Gala's, weddings, graduations, or just everyday wear…..we have fashion suggestions for you, so stay tuned. Be sure to check out ShopSheShe and the Nordstrom Sale tabs at the top in the menu bar. Hover over and choose the category in the drop down. We try to keep it up to date with the latest and greatest for all budgets. Subscribe here and then you won't miss a post. Simply enter your email in the pop up box when you come to this site or at the top of this page in the subscribe box.
WELCOME new readers. We are a fashion/travel/lifestyle blog. We talk about anything and everything, from fashion, travel, health issues to even an occasional recipe. If there is a topic that you are interested in, then let us know. We will do our best to bring that story to you. Have a great great week sweet friends and thank you for following along. Without you, we could not continue on this crazy fun journey!