I have recently heard so much about a better way to enhance eyebrows than the old tattooing way of years past. Today, I am excited to share with you my microblading experience with Brows by Britteny in Houston, TX and everything that you need to know about the procedure.
About 8 years ago I did the early version of this procedure. It was ok, but my brows have faded to almost nothing. The photo below is what my brows looked like before microblading and you can see that the brow on the right still has a little color from years ago but has become very spotty. The brow on the left has all but faded out, so I have been filling in with a brow pencil to make them match.
BEFORE
FIRST STEP // MEASURE
As all of the steps are important, I think that the measuring part is the most important. It is really interesting how she goes about this. In the photo below, you can see that she takes a heavy ply thread that she marks up. Then she makes several markings on my face with the thread in order to connect lines to line up the correct brow space in which she works the etching.
After measuring, Brittany showed me that my brows were uneven. I guess I have been plucking them uneven for years. When she drew on the pattern, it scared me because it looked like she was going to make these HUGE eyebrows across my face. Not so, it just appeared that way. You will see at the beginning of the video.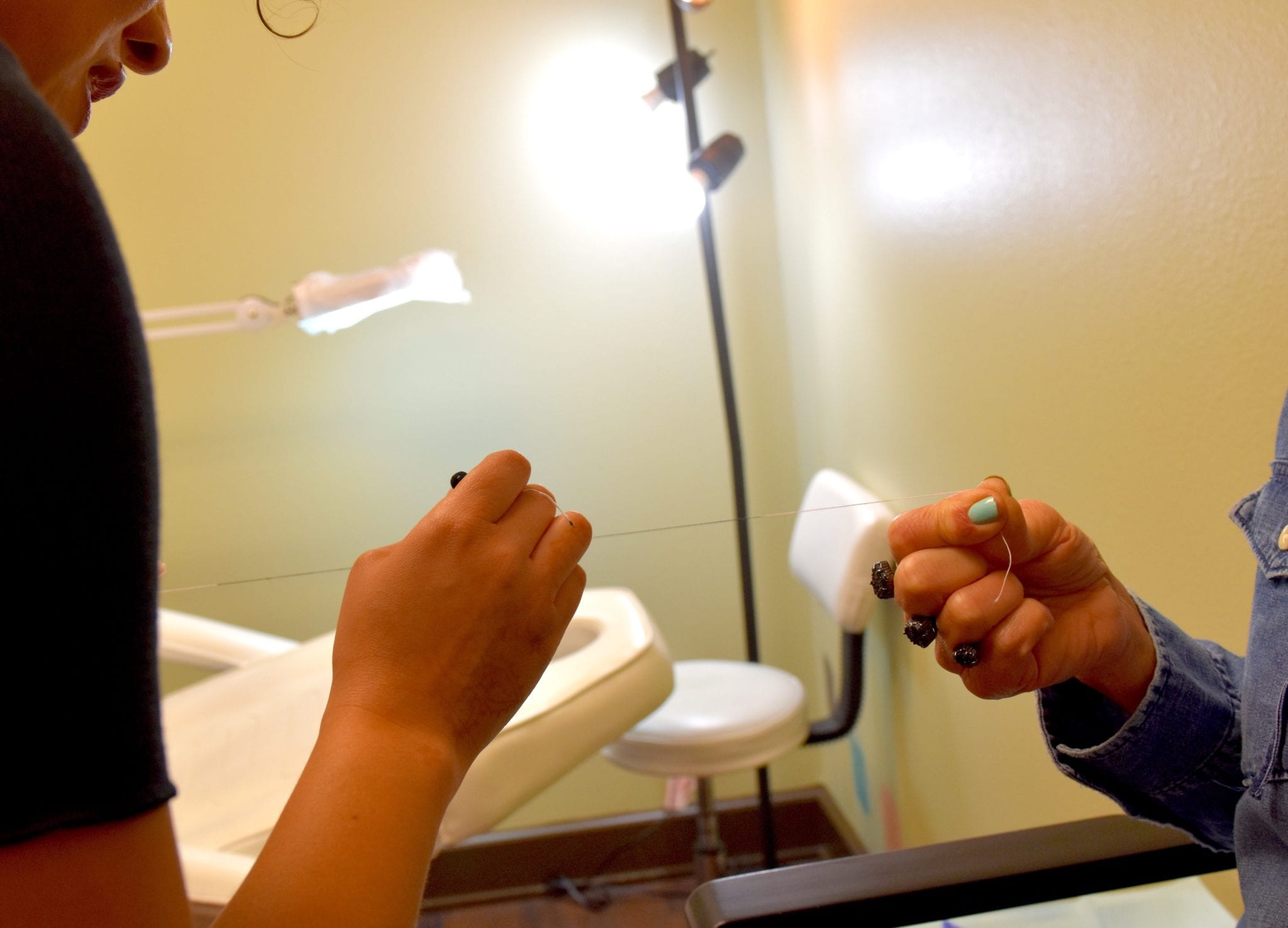 I forgot to mention that I was numbed up with a numbing cream about 30 minutes before we started. So, to answer the next question is "does it hurt?" No, it did not hurt. It felt like and sounded like scratching as she etched into the dermas. It does penetrate the skin, but it is much less invasive than tattooing. I am the biggest baby on the planet, so if I can do this then I know that you can do it too. I also had no pain after leaving the salon.
For the next 10 days I was told not to get my brows wet or wipe them. Brittany recommended using Aquaphor to protect the brows while they heal and can be purchased at Walgreen's or a similar type store. It is a clear gel similar to Vaseline, but will not draw out the new pigment like Vaseline will. It is important to keep the brows from drying out. When you shower just use extra gel and it will keep them from getting wet.
In one month, I will return for my microblading touch up. Be sure to find out the cost of the entire package that includes the follow up when you are considering a service from any one else. After researching around Houston, Brows by Brittany has the best prices for the high quality service that you will receive. If you go into the inner loop, you will spend at least 50% more. Brittany can be reached by text 281-965-1005. You can check her out on her Instagram page @browsbybritteny where you can see many of her before and afters.
I am sooo excited about the results. Just one less thing I will have to do when I wake up in the morning.
I would love to know if you have had this done on your own eyebrows. If you are on Instagram, we are doing a microblading procedure giveaway with @browsbybritteny. Head on over to @shesheshow, view the IG video and try your luck! It ends Friday March 24th and winner will be announced on Sunday the 26th.
HAVE A GREAT WEEK AND FOR SOME….SPRING BREAK!!1
WHAT I WORE
SHESHE'S TIDBITS
So what do ya think???? Do you like the videos? Do you like beauty treatments like this? I hope so, because I am working on a lot of content in the beauty category. Meanwhile, coming up I have another recipe….yah……
This Thursday March 23rd I will be at Chico's Town & Country for a Best Friends Style Event. We will help you with all of your spring fashion needs and updates to your wardrobes. Everything in thing in the store is 25% off all week long. I do hope to see you there.
If you like videos then go to our YouTube channel and subscribe. We put a lot of them here on the blog but sometimes not. You might like videos more enjoy videos
Share the post "My Microblading Experience + Everything You Need To Know"