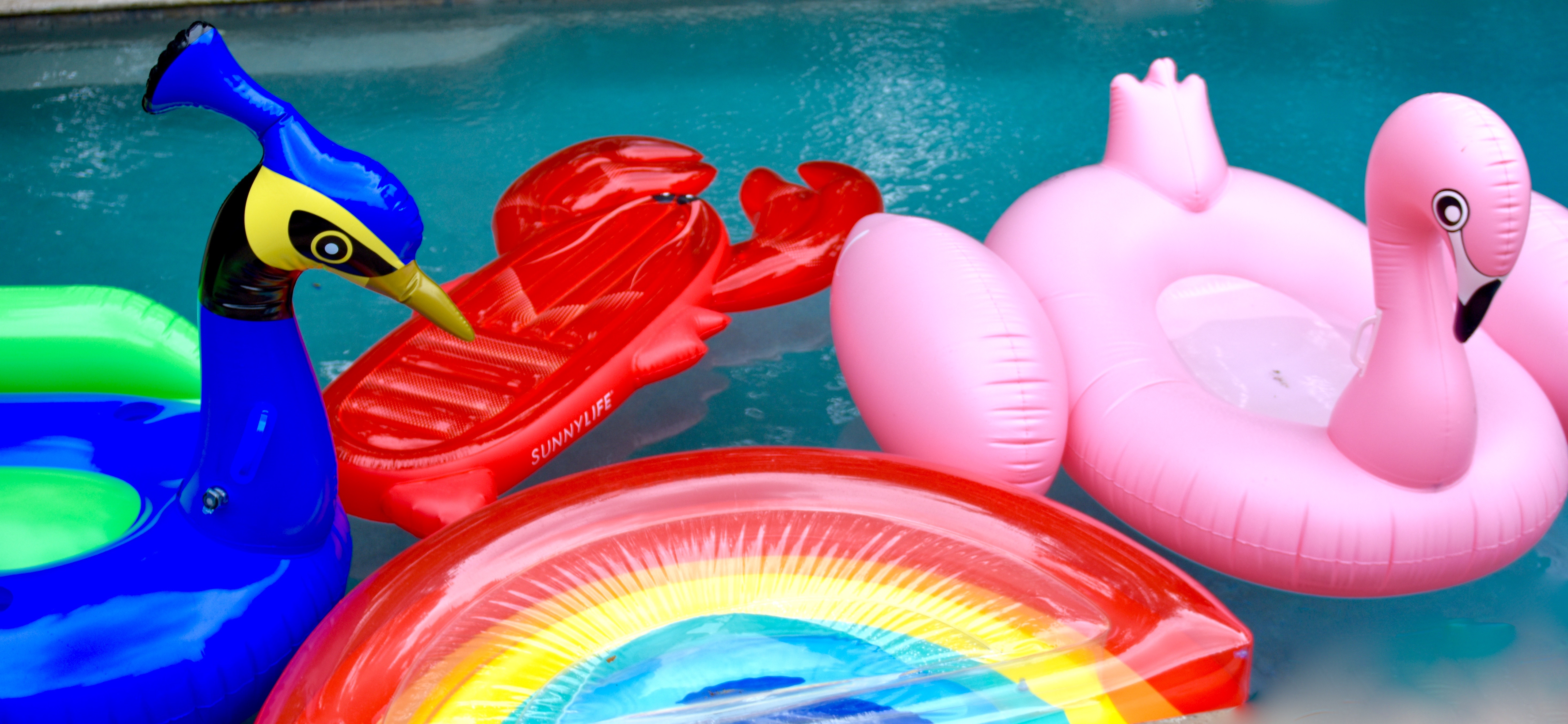 Flo the Flamingo was so lonely last year so we added to our back yard family and now we have a pool party. To help you start your own water park, we have hunted down the cutest pool floats for you.
Memorial weekend in one week. Have you made your plans? Do you have a pool in your back yard? Have you got your back yard and pool ready for the fun??? Do you have some cool pool floats? If not, then it's time and we have your summer pool party inspo right here.
So ya met Flo last year and now it's time for us to introduce you to her new companions. It appears we have some flirtations going on already……
Paco the Peacock– Paco struck me as the one to reign and keep the girls orderly. Sometimes we look outside and he is spinning  around like a crazy man. I think Flo does that to him.
Rainey the Rainbow– Just makes us happy. Rainbows most always come after the rain and everything seems so fresh and alive.
Lolly the Lobster-One of my favorite summer foods. She reminds me of salt water and the beach, which I sooo love.
Flo the Flamingo– And we all love Flo…..she is my favorite color and she is just so feminine and the sweetest.
I hope that by now you have a smile on your face. I am totally cracking up just writing this post. We would love to know which pool floats are your favorites!
LOVE IS IN THE AIR

SHESHE'S TIDBITS
Memorial weekend in one week. What are your plans? I am headed to Tennessee to visit my sweet mother, my sisters and their families. My youngest sister has a newly built cabin on Tellico Lake just south of Knoxville, so you know where I will be. Yep, I will be on one of these rafts floating around like a wanna be mermaid taking a much needed break. I sure hope some good BBQ or fried catfish is on the menu. Doesn't that sound fantastic? I can't wait!!
Gala's, weddings, graduations, or just everyday wear…..we have fashion suggestions for you, so stay tuned. Be sure to check out ShopSheShe at the top in the menu bar. Hover over and choose the category in the drop down. We try to keep it up to date with the latest and greatest for all budgets. Subscribe and then you won't miss a post. Simply enter your email in the pop up box when you come to this site or at the top of this page in the subscribe box.
Welcome new readers. We are a fashion/travel/lifestyle blog. We talk about anything and everything, from fashion, travel, health issues to even an occasional recipe. If there is a topic that you are interested in, then let us know. We will do our best to bring that story to you. Have a great great week sweet friends and thank you for following along. Without you, we could not continue on this crazy fun journey!