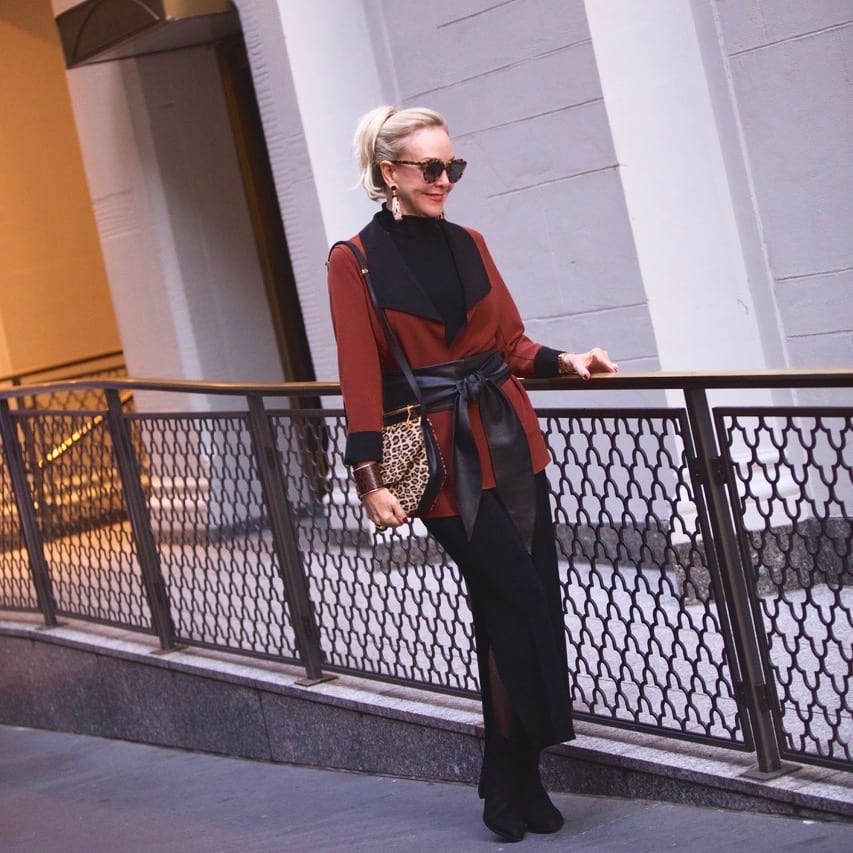 This post was sponsored by Chicos. Although I was compensated for this post, all of my comments are my own.
I am super excited to share and celebrate the 20th anniversary of Chicos Travelers Collection. Yes, for 20 years this category in the Chicos line up has been a favorite of their customers. Why??? The fabrics and designs work for everyone. Be sure to go here to read a quick story about the origin and journey of Travelers.
When I was selecting an outfit for this post, I considered a style that was versatile and contemporary as well as pieces that I would wear together or break up and style with other items from my wardrobe. Here I have shown this maxi column dress with the trending kimono jacket. The jacket is belted with the obi belt, but on down through my photos, you can see that is looks great without a belt.
I would wear this jacket over black jeans or a black leather pant or skirt. Take note that it is reversible like many of their jackets in this category are. That is what I call a twofer (two in one).
I absolutely love this classic, contemporary column dress. I could pack this dress for a trip to NY or Europe and throw in stylish sneakers for a day of touring, a bootie with a heel for a dinner out or how about a glitzy pump for that elevated evening look. You can't wear these fabrics out either….just wash in the hotel sink, hang to dry and off you go again.
The sky is the limit with all of the styling options. I am the accessory queen ya know. Here, I am wearing the trending leopard print leather tassel earrings with a wide leather cuff. The obi belt would also be great around the waist of this dress. For evening I would reverse the jacket to black for a more dramatic look and add a glitzy statement earring and bracelet. I also love a large square scarf folded on the diagonal. Try adding one tied around your neck, shoulders or even the waist and it would change it all up.
So, with these items and your favorite jeans and a Travelers tank top, you have at least 8 looks.
If you would rather not wear a maxi dress, there are 3 or 4 more styles that would also work for any occasion. You can see our top 20 picks at the end of this post and you can see the entire Travelers Collection here. If you have never shopped at Chicos, then take it from me….they are designing styles that work for the millennials as well as their grandmothers. Read this post that I did back in the spring. You will learn all about the history of this company.
Shop the Post




OUR TOP 20 FAVORITE TRAVELERS PIECES
SHESHE'S TIDBITS
For the first time in a while I had a couple of days at home to rest, rejuvenate and gear up for more travel. Headed up to a little town near Brownwood, TX to look at a ranch that my husband is buying. He dangled a carrot in front of my face in order to recruit me to makes some updates and decorate the ranch house. Oh dang those carrots…… I think this is my 8th project that has to do with building a house or remodeling. Every time, I say that it's the last time. Oh well, it looks like that carrot is too good to pass up. Ha Ha!!
Then on the 23rd we will go back to Eagle Dawn in Colorado for a week to tie up some loose ends for the winter and see the beautiful change of the leaves. I always love this time of year in Colorado. Stay tuned on Instastories for snippets of our crazy life.
Gala's, weddings, graduations, holidays or just everyday wear…..we have fashion suggestions for you, so stay tuned. Be sure to check out ShopSheShe  tab at the top in the menu bar. Hover over and choose the category in the drop down. We try to keep it up to date with the latest and greatest for all budgets. Subscribe here and then you won't miss a post. Simply enter your email in the pop up box when you come to this site or at the top of this page in the subscribe box.
WELCOME new readers. We are a fashion/travel/lifestyle blog. We talk about anything and everything, from fashion, travel, health issues to even an occasional recipe. If there is a topic that you are interested in, then let us know. We will do our best to bring that story to you. Have a great great week sweet friends and thank you for following along. Without you, we could not continue on this crazy fun journey!