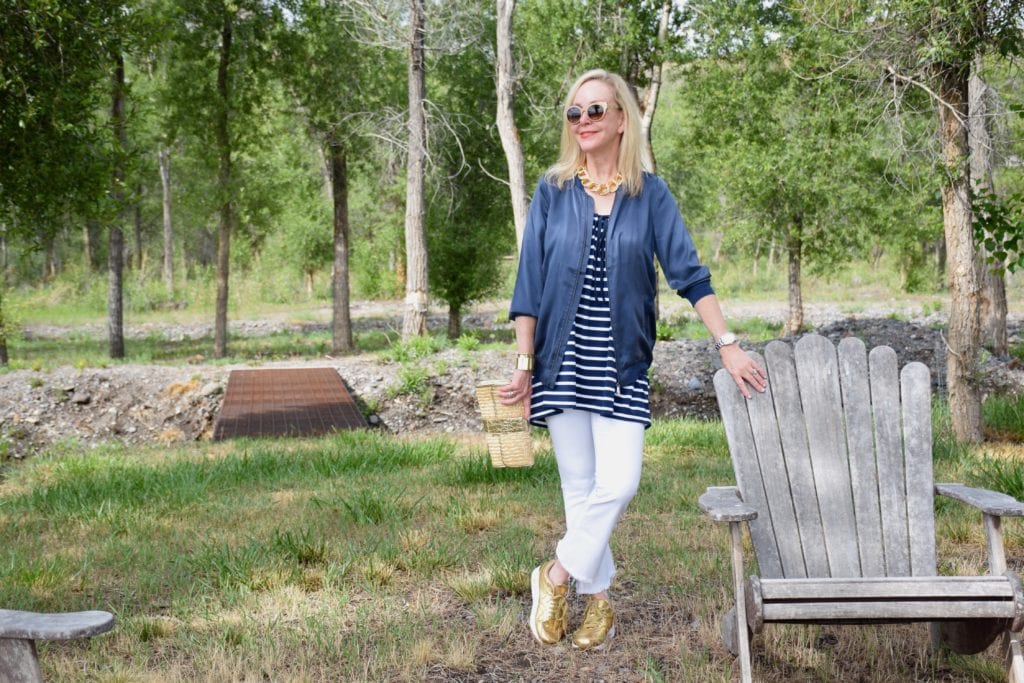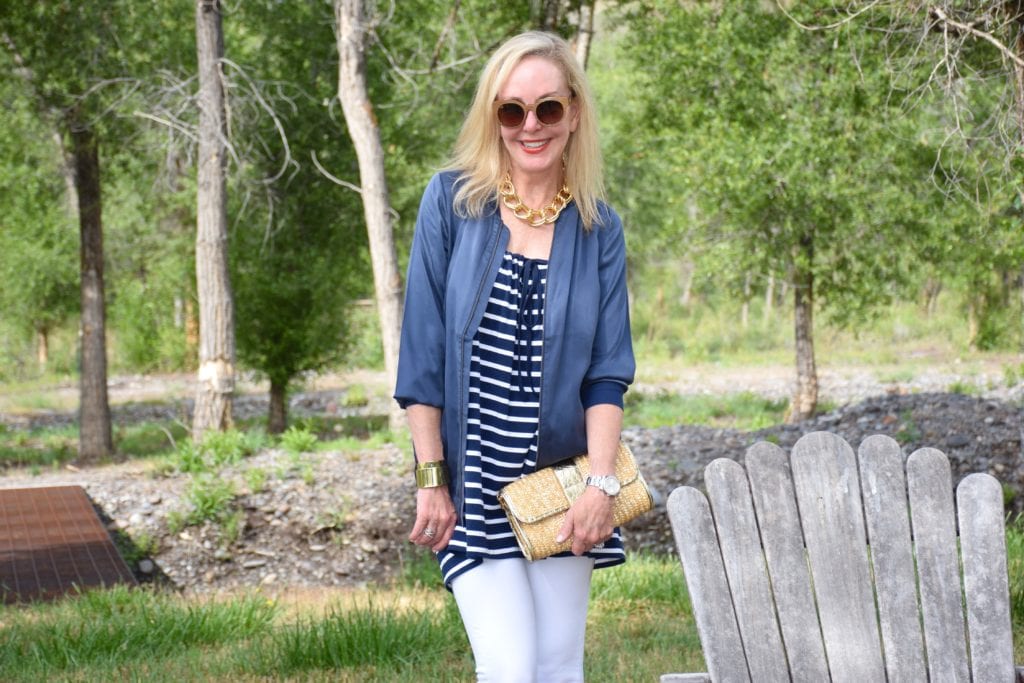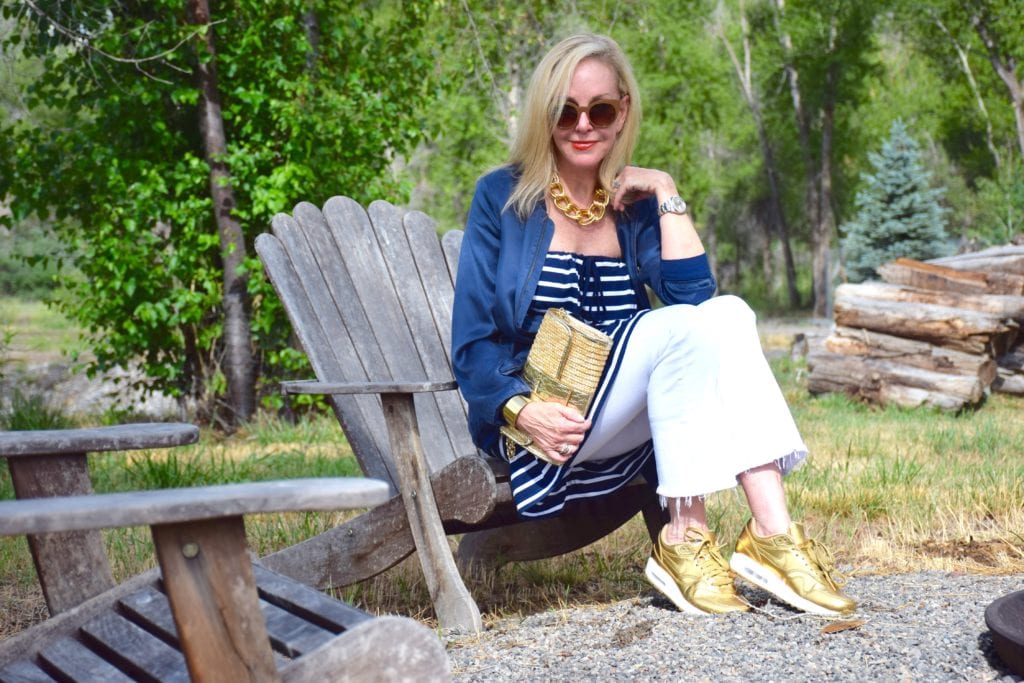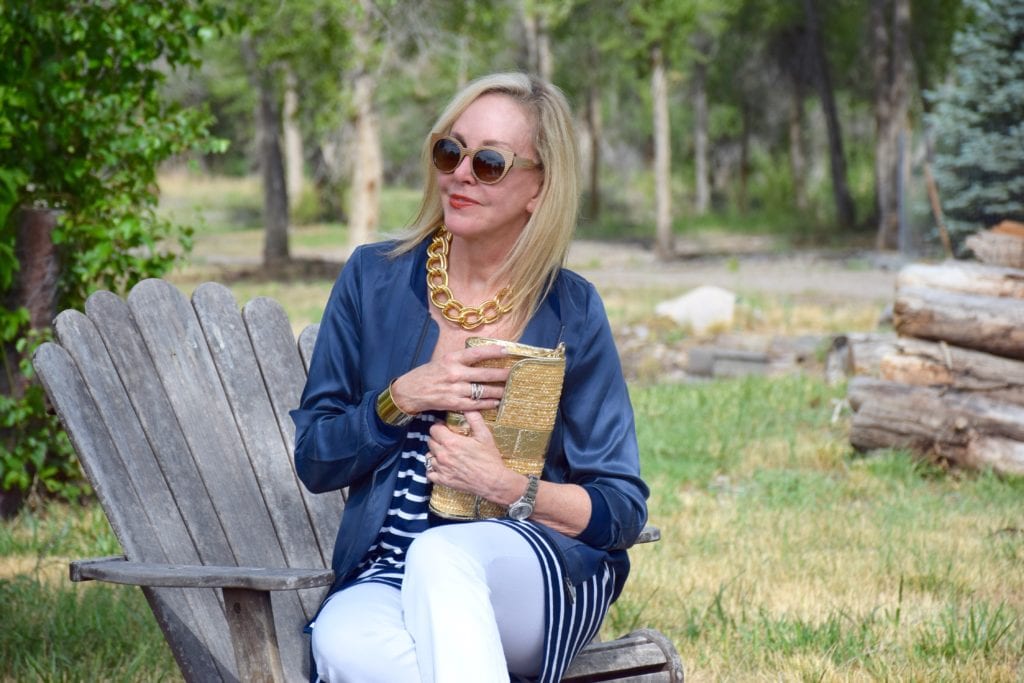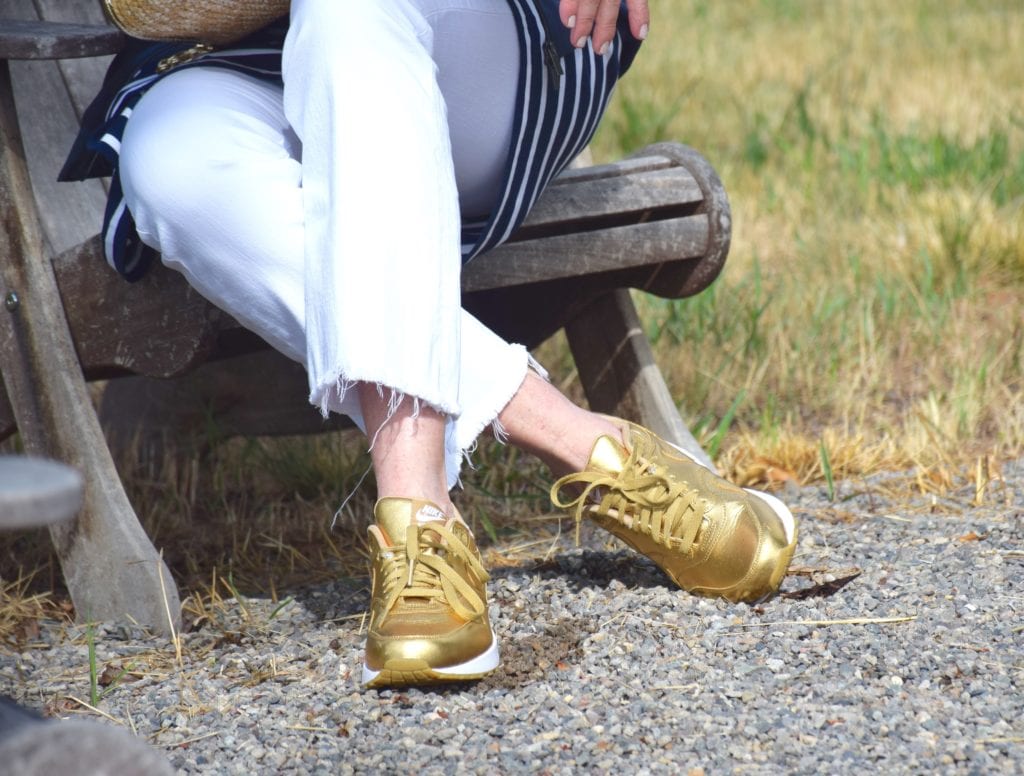 Trending: The Bomber Jacket & My 38 Pics For You
One of the biggest trends moving forward for Fall/Winter 2016 is the bomber jacket. I saw it coming last Fall/Winter, then we saw it more from designers in the spring and now it will be a full blown trend for Fall/Winter16. So you don't have to do all of the shopping, I have done it for you. Check out my top 38 pics from all price points at the end of this post.
The bomber jacket has really cool historical roots and was first seen as a uniform jacket for pilots back in World War II. It gravitated to the airline industry and today we still call it the pilot bomber jacket. I actually have a black leather pilot bomber jacket from the days when I was flying airplanes for a living (see My Aviation Journey here) and my dad had an army green one issued by the Air National Guard. Guess what???? It is in my closet as part of my closet collections. Yaassss!! Sometimes you might find the real McCoy at a vintage resale shop or even on Ebay. Over the years I have worn mine as a fashion statement piece. I will for sure be sporting it around this fall and I will photograph it at a later date as there will be more bomber jackets popping up for you to drool over from designers as we move into the cooler temps.
To make this oldie but goodie trend new and fresh, the designers have added colorful motif's, some fitted but now I am seeing several oversized styles like the one I am wearing here. I know for many of us the looser fit is so much easier to wear and so much more comfortable. Hear me now…..the jacket trend is loosening up.
The bomber jacket that I am wearing here is from www.Yummielife.com by Heather Thomson. Heather Thomson was called out by her Real Housewives of New York City cast mates for her eternal smile, but it's really real. She brims with positive energy, which has helped her bring her revolutionary brand of wardrobe essentials and fashion to life. The beautiful grape colored robe that I wore in a recent beauty post is also by Yummie. It is so soft and luxurious that I just want to live in it all day long.
I have another post a little later that will show how she brings unique clothing for practical but luxurious use.
Another part of this post is this cute striped top under my bomber jacket. This top by Your Summer Skin was part of my Fourth of July post where I wore is as a wrap and a scarf. It is a very versatile piece. I haven't tried it but you could probably wear it as a little summer skirt because it has the draw string. As a reminder, Summer Skin is a clothing line that has been developed to protect the skin from the damaging exposure from the sun using an SPF in its fabrications. Go here to read about Summer and her fashionable clothing to incorporate into your wardrobe. They are great to take on sunny vacays or just around and about town for some summer fun. She has an amazing story. Being a poster child of sun abuse, her story and clothing line resonates with me!!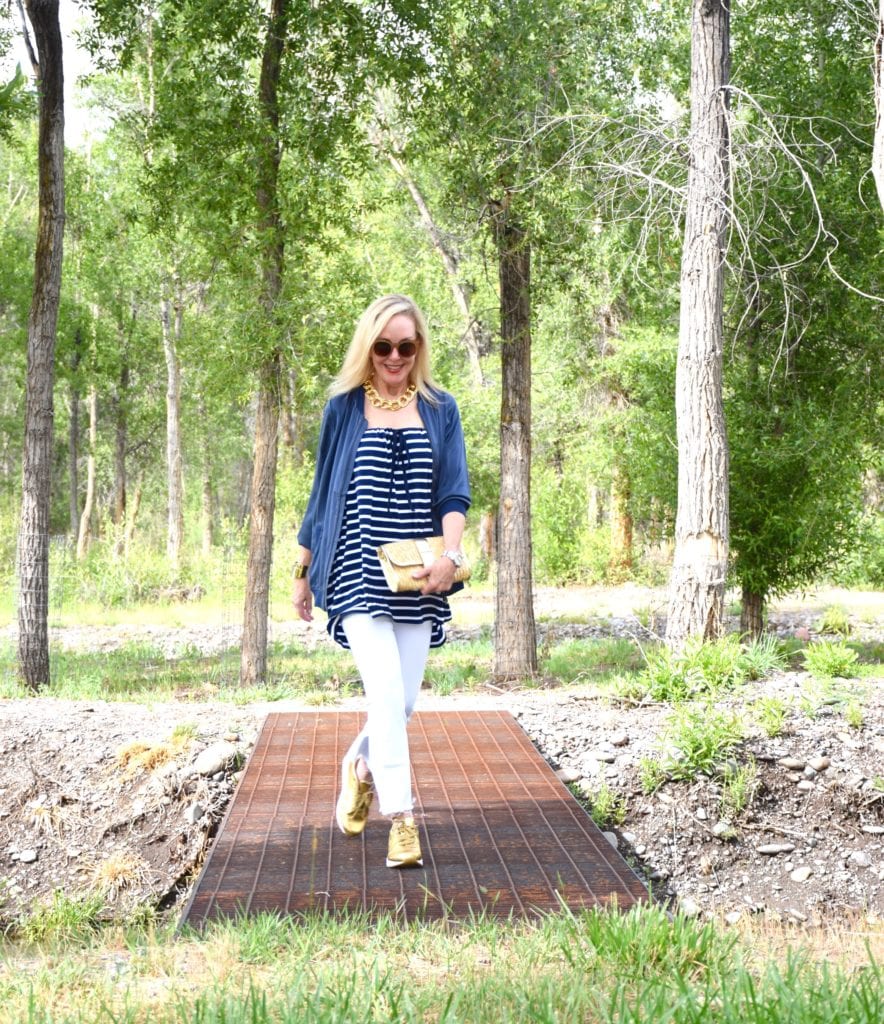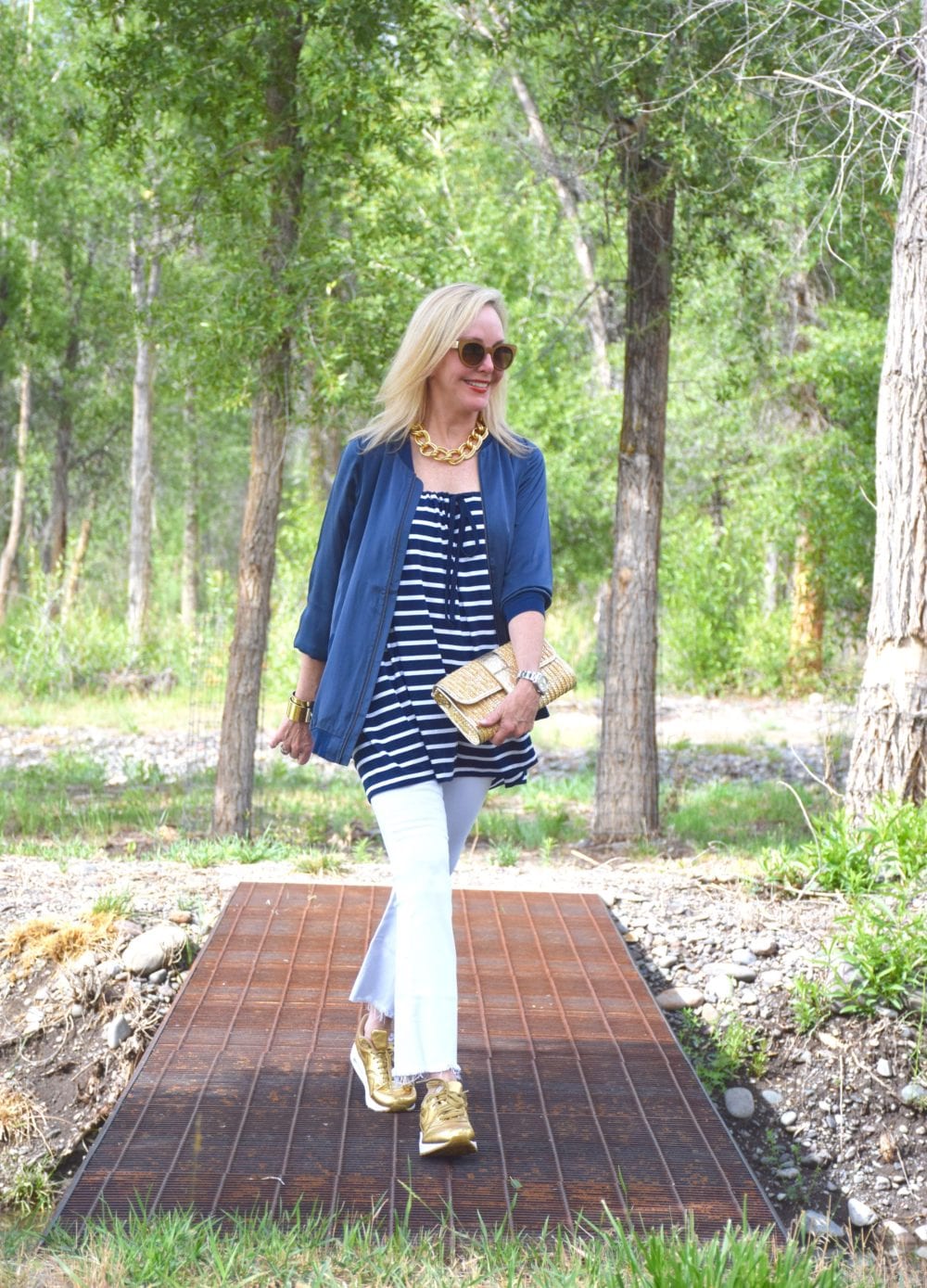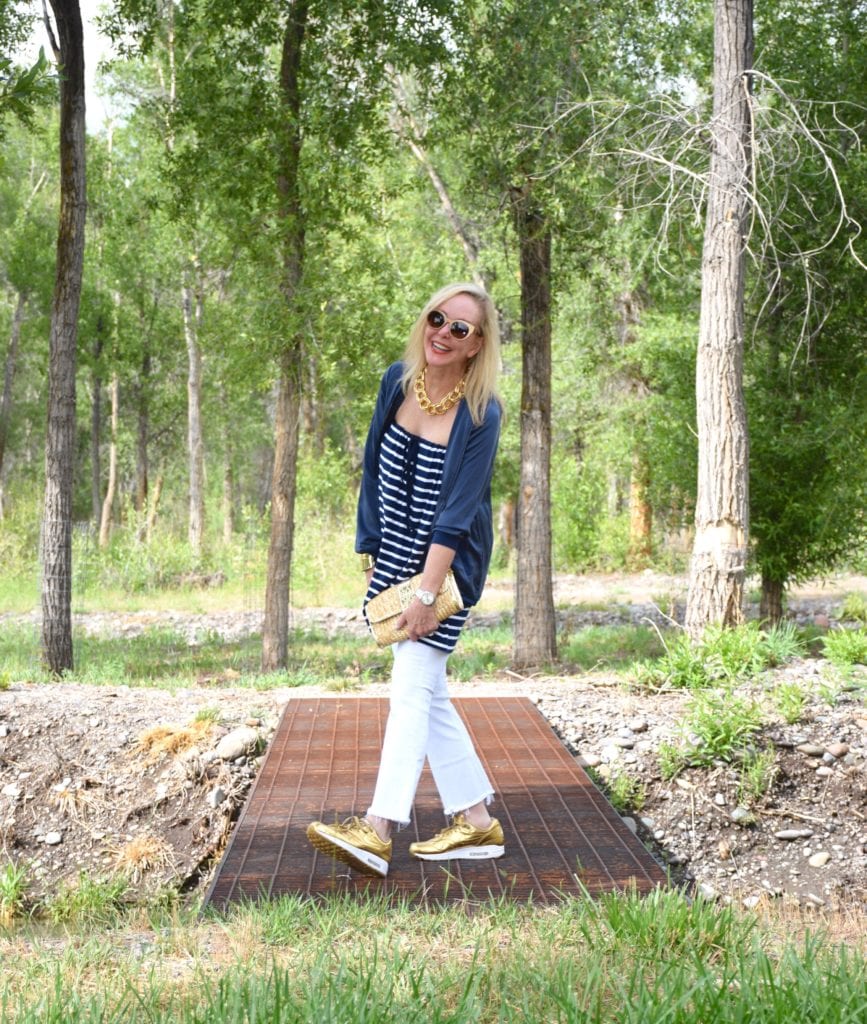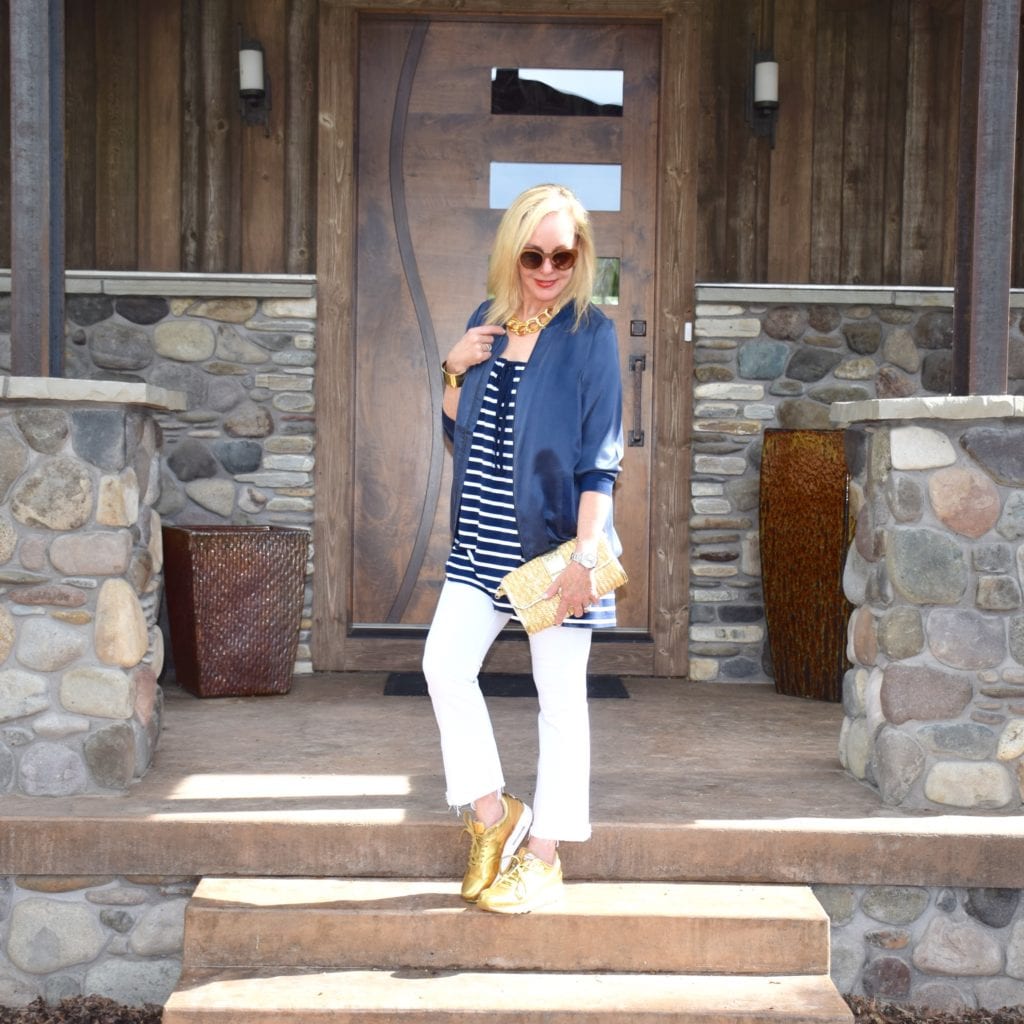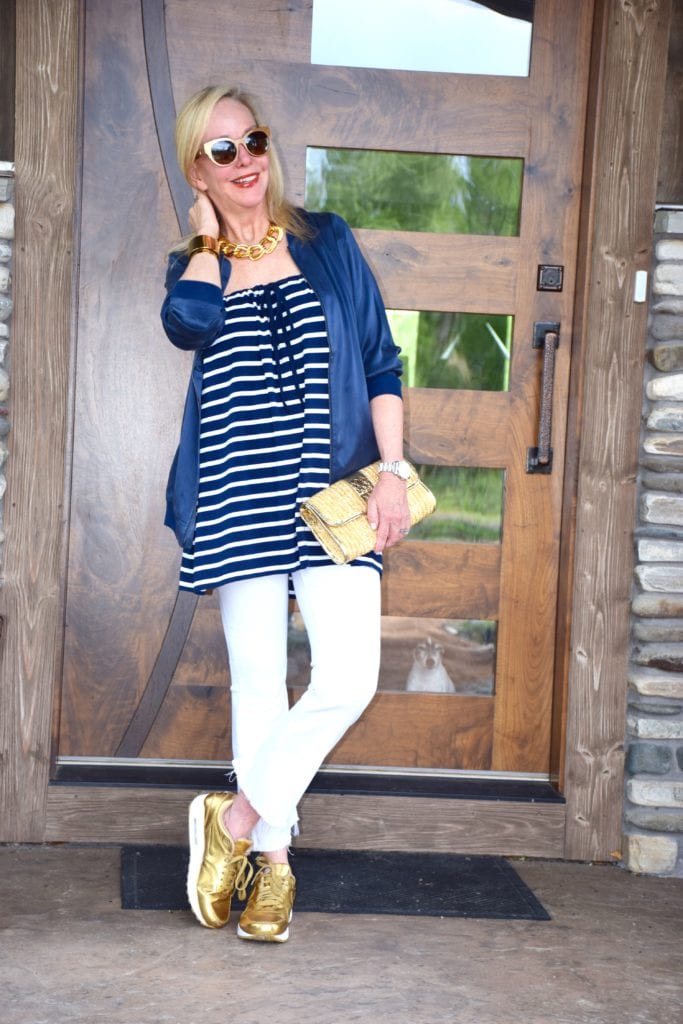 ***Just click on the photo that you like and it will take you to the website for you to shop.
Splurge

Deal

SHOP THE POST
Bomber Jacket c/o Yummie by Heather Thomson | Striped convertible scarf/wrap/ top by Summer Skin c/o |Rag & Bone White denim flared crops | Gold Nike Sneakers | Gold tone chain necklace c/o Moon and Lola | Gold tone cuff | An old clutch but similar here | Caroline Abram sunglasses c/o The Eye Gallery Houston | Lips: Mac |

STAY TUNED…TOMORROW START EARLY ACCESS FOR NORDSTROM'S 2106 ANNIVERSARY SALE
I will be giving you all of the info you need over the next 3 weeks to maximize your dollars during this sale as well as my pics in all of the categories. It is such a fun time of year to prepare for the fall. If you don't have a Nordstrom debit or credit card then go here to apply. The sale opens to the public on July 22nd, but I will tell you the really great stuff sells out fast so you might just want to at least get a debit card so you can start shopping now. You can get all of the Nordstrom rewards with both cards which is really great when you get money in the mail to spend on future purchases!!! Happy Shopping!!