Today we are talking whitewater rafting with Rigs In Ridgeway Colorado. Above left to right: Maaike van Oosterom from the Netherlands, Don and Andrea Lessard with children Audrey, Mathew and Nathan from Colorado Springs. Tom in the back ground, SheShe, Suzanne and Shae and Nick Maedel from Los Angeles. A very diverse group that just met for the first time, but we all had a blast!!

Eagle Dawn River Ranch just south of Montrose, Colorado…above and below.

Norman and miss 'Pippa' above. Can you see Pippa? Center left of photo.

An old duck blind above…..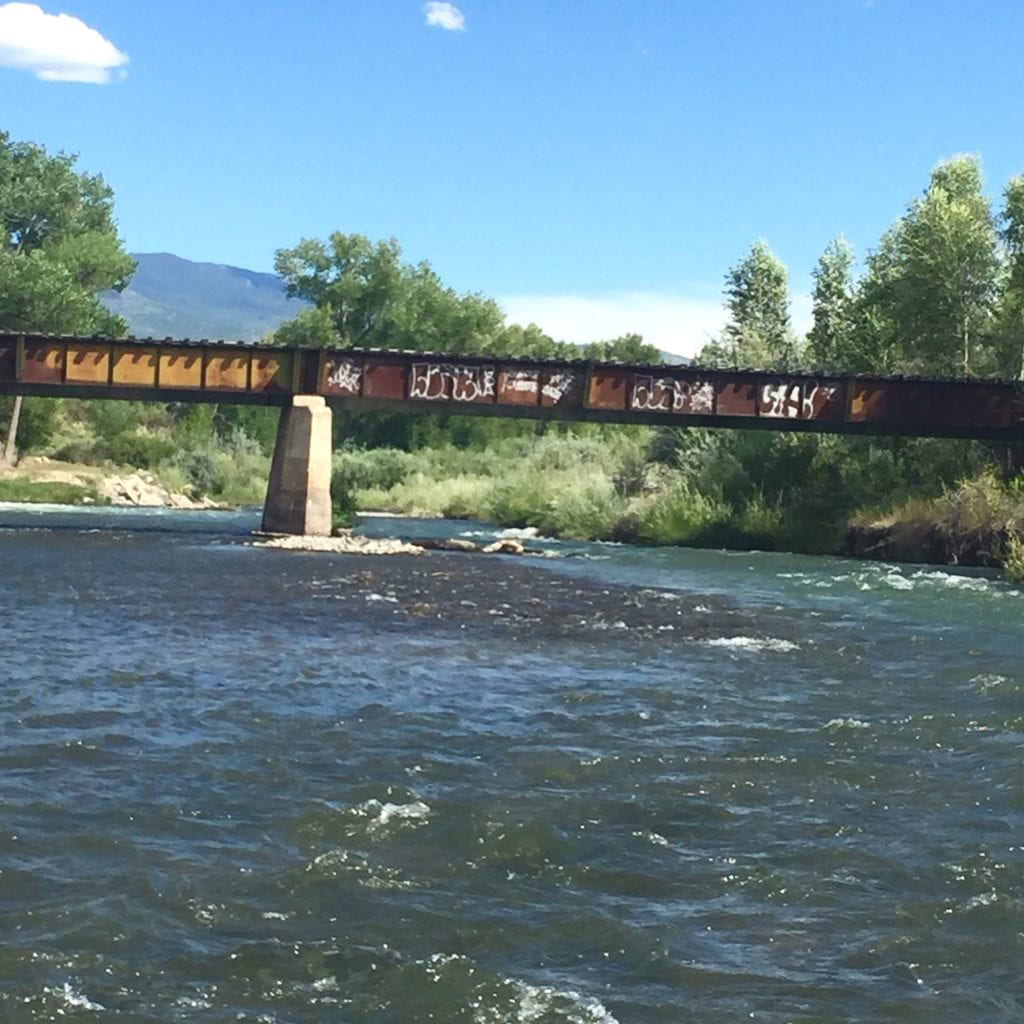 Where the canal dumps into the river. Very wild so we had to keep our distance. The canal is used for irrigation.
Take out time with our fantastic guide Tom above and below my rowing partner Suzanne who also happens to be my stepdaughter.

Since Norman and completed our house on the Uncompahgre River just south of Montrose, Colorado, we have been enjoying rafting with Rigs Adventure Company in Ridgway, CO just 20 minutes south from our river house.
A family business since 2001 Rigs has several outdoor adventures that they book that also include guided fly fishing , photo tours, kayaking, river tubing and more but we especially like the Uncompahgre whitewater rafting trip because it takes us right by our house. It is about a 10 mile trip that takes about 2 hours. Perfect for a morning or afternoon experience. Every day Rigs rafts float by by our place filled with friends and families soaking up the Colorado way of life. I always try to run out the door and wave. They know us well!!
Both summers, Norman and Pippa come out to the edge of our property with camera in hand to snap our crazy antics as we float by. The photos of the house were actually made last year before we planted trees and finished our landscape. I didn't get any recent photos of the house this year because I was trying to do Snapchat while going through the rapids. There are especially a lot by our house.
After the snow run off from the mountains in late spring, the river gets really high and can be dangerous if you don't abide by the rules. It isn't a very wide river but the velocity of water running at these peak times can make one pay attention. Before we load into our respective rafts we all gather on the bank for some 'paddle talk'. This is the time where our guide goes over all of the rules and teaches us river commands for us to use as he calls them out. Some of the important things to know are:
Bump-turn in to the boat.
Really tight life jackets to help pull in in case someone goes over.
T Grip at end of paddle also helps to pull someone in.
Stay calm
White water swimmer position/ feet first down stream.
Look for rocks.
The strainer is a big tree in the river that catches debris and limbs. Get away from it or turn over on to your stomach and push up on strainer. Very important so you don't get pulled under.
High side is when the raft gets pushed up on a rock. Everyone go to the high side of raft so it doesn't turn over.
I know this sounds a little scary if you have never done this but this is great information to keep a situation from getting out of hand. Follow the rules and listen to the commands and all will be good.
On the trip that I just took, the mom in the other boat fell out as they went down a pretty good rapid. She did exactly what she was taught and they were able to pull her out with no problem. She just got wet in the very cold mountain water. It will definitely get your heart pumping when you see someone go out. That is why our life jackets must be tight. The guide grabs the shoulders and pulls you in the boat. It doesn't happen often but knowing what to do will be the key to survival.
I will have to say that all of the guides at Rigs Adventure Company are highly trained, very experienced and are prepared for their guest. They also have big personalities. They want to give you a fun exciting, but safe adventure.
If you are planning a trip to the Western Slope of Colorado and you are looking for a fun day on the water then go to Rigs Adventure Company and book your trip. There is a great airport in Montrose which is only about 30 minutes away. It is also within a 40 minute drive from the very cool mountain town Telluride and only 20 minutes from Ouray, Colorado.
After your trip and you are transported back to Rigs shop, stick around and have lunch or dinner. There are several cute and really delicious restaurants in Ridgway. My favorite is Anne's food truck!!
Hope you enjoyed the beautiful photos of your raft trip today with us and Rigs Adventure Company. This trip is such a great way to see all kinds of wildlife, natural landscapes, beautiful homes and more. Stick around as I have more of our summer adventures to share with you.
SHOP MY RECREATION LOOK

SHESHE'S TIDBITS:
Next adventure I will take you on is a little scenic hike.
If you haven't subscribed to SheShe Show then put your email in the pop up box when you come to any page on the website, then every time I post you will get a notification right into your inbox. That way you do not have to follow.