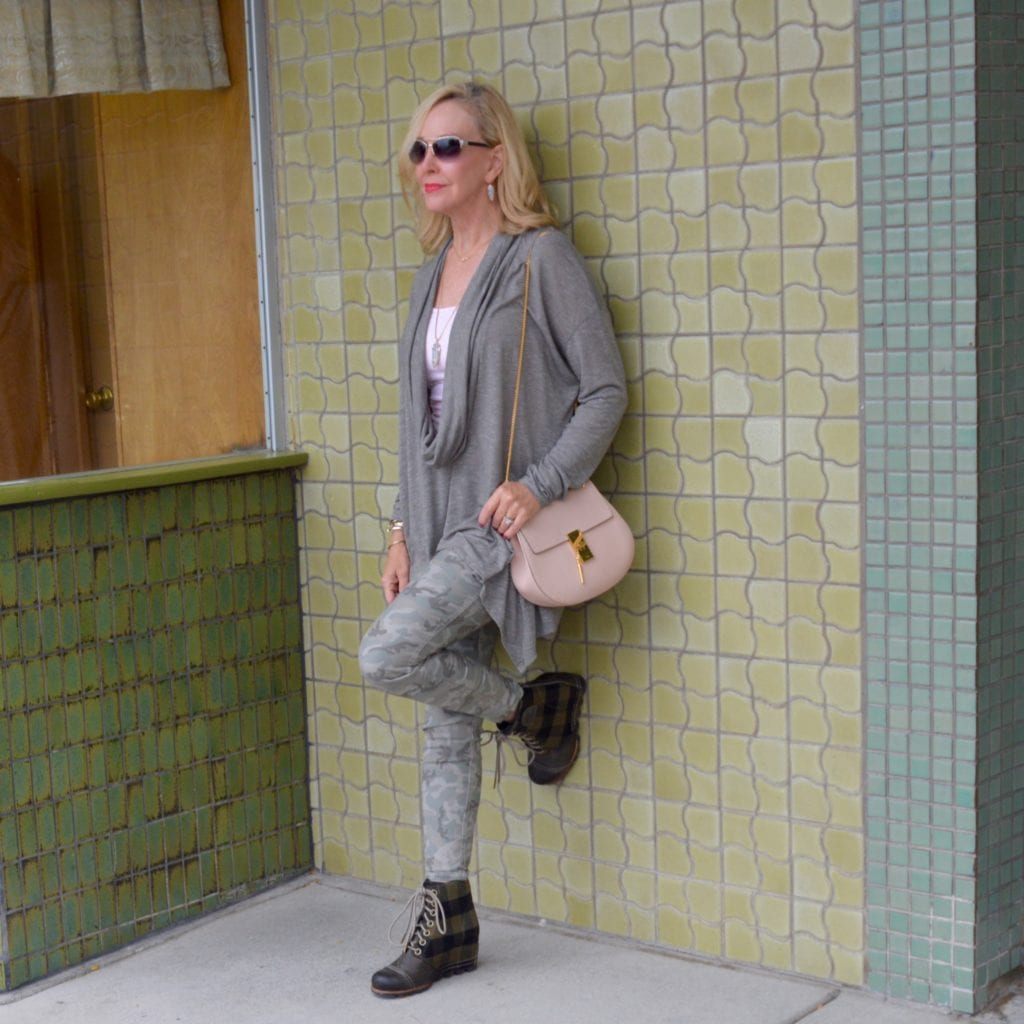 So sorry I am late getting this post out. I have been getting read to leave for New York Fashion Week on Friday. I have all kinds of cute outfits to show off while I am there. But first, Tips On How To Wear Camouflage!
Camouflage prints in pants and shirts have been trending for a long time but this season I am seeing a lot more of this look. I expect to see some of this print in at fashion week. I actually own 2 pair of camo pants, a couple of t shirts, a skirt, and bomber jacket. I added a couple of new pieces this season, but other camo from seasons past.
So many of you are thinking about how to wear camo without looking like you are part of the military or you are the great huntress. You might even think that it is too young for you. Am I right??? Well, I have a few pointers to make your camo prints look hip, edgy or stylish without looking like you borrowed from your daughters closet.
Please friends over 40, don't get caught in the idea that you are too old to wear camouflage prints. It is all in your head…. so change that doubt into confidence and you are all of the sudden the cutest hippest over 40, 50, 60, 70+ fashionista!!
Staying fashionable takes years off your age. Just don't wear a mini skirt or plunging necklines with camo, then you will be safe. Take a walk on the wild side!!!
SHOP MY LOOK
Michael Stars Brooklyn tunic | Tribal camo pants c/o SheShe Boutique, similar here and here | Sorel booties | Kendra Scott necklace, earrings, Kasey pendant necklace, bracelet

SHESHE'S TIDBITS
I am preparing to attend NYFW ( New York Fashion Week ). I leave Saturday, so my blogs will be up as I can get time to put them up. My calendar is packed.
Please download the Snapchat app into your phone. It is so easy to use, then add me in by snapping my code in the sidebar of the home page of my blog. All of the fun and shenanigans will be happening there as well as snaps from the shows. It is so much fun!!!
More summer outdoor adventures coming up.