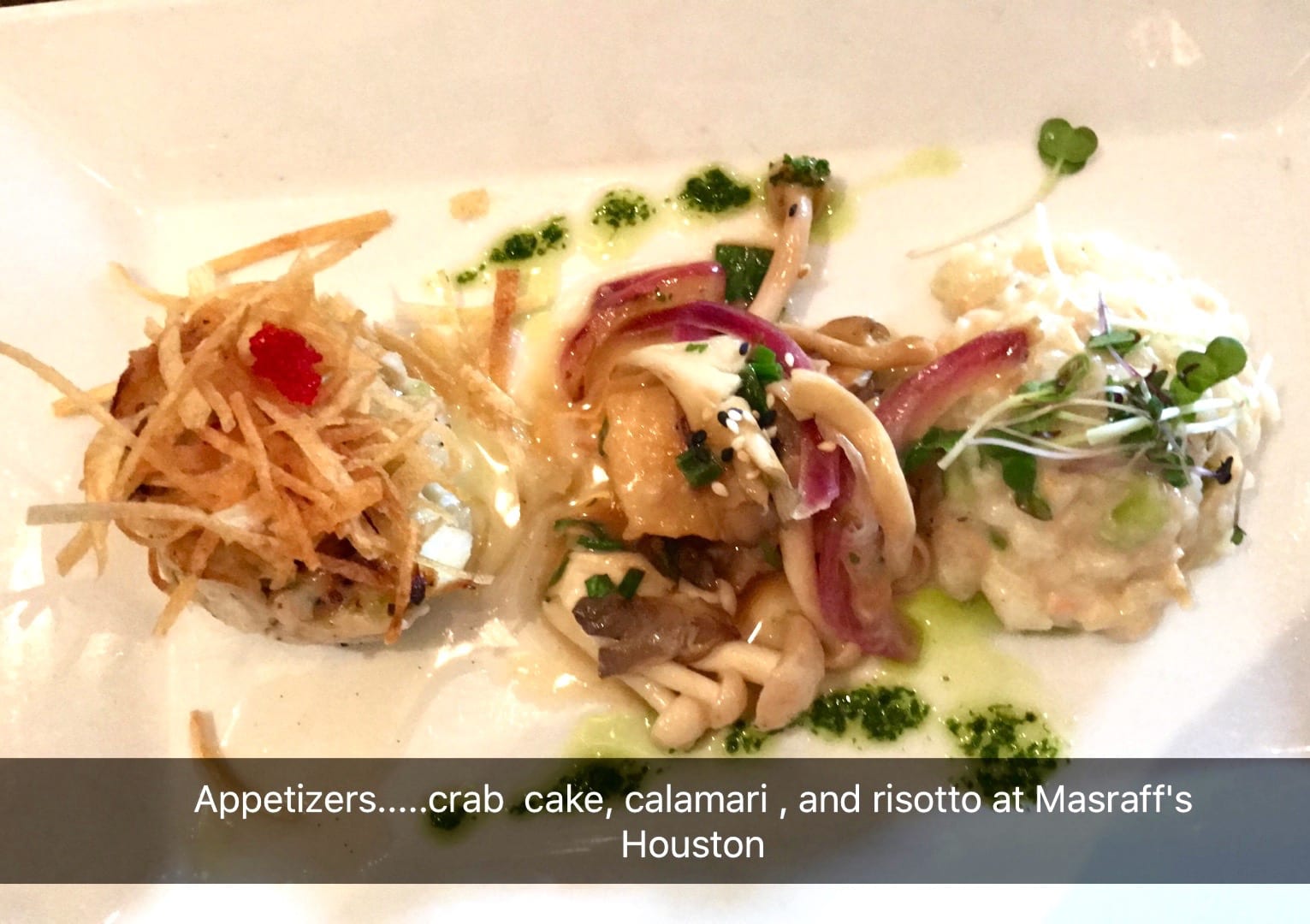 Dining Divas excited to review Masraff's Restaurant in Houston, Texas.
For a few years now I have been lunching around the city of Houston with 6 other beautiful women that we call the Dining Divas. We started with 10 but due to life changes we have lost 3 of our ladies. The concept is to have a monthly dining experience where every month a different Diva gets to pick the restaurant of her choice and she is the hostess for the luncheon. The month of September was hosted by Diva Gloria Wong and she selected the upscale Masraff's, an uptown restaurant.
The Divas loved dining at Masraff's, an upscale, highly rated Zagat contemporary American restaurant, and 2014 Diner's Choice Open Table winner. Upon arrival, the Divas loved the beautiful red mini roses centerpiece surrounded by pretty gift bags on the table. Everyone had fun dining around the round table with booth seating. It wasn't long before the Divas were sipping on the Chardonnay and Pinto Grigio wines and tasting the complimentary breads and olives preset on the table. A trio of appetizers was served to everyone. We all raved on the presentation!!! The appetizers were so delicious and the risotto being the best ever!!!
APPETIZERS:
Baked Jumbo Lump Crab Cake (bourbon & vanilla reduction and citrus beurre blanc, whole grain mustard aioli)
Garlic Seared Calamari (flour dusted fried and sautéed in beurre blanc with red onions, garlic roasted mushrooms and sweet soy reduction)
Chef's Risotto du Jour (with smoked salmon, poached asparagus, roasted garlic, lemon, brie and parmesan cheeses)
 THE DINING DIVAS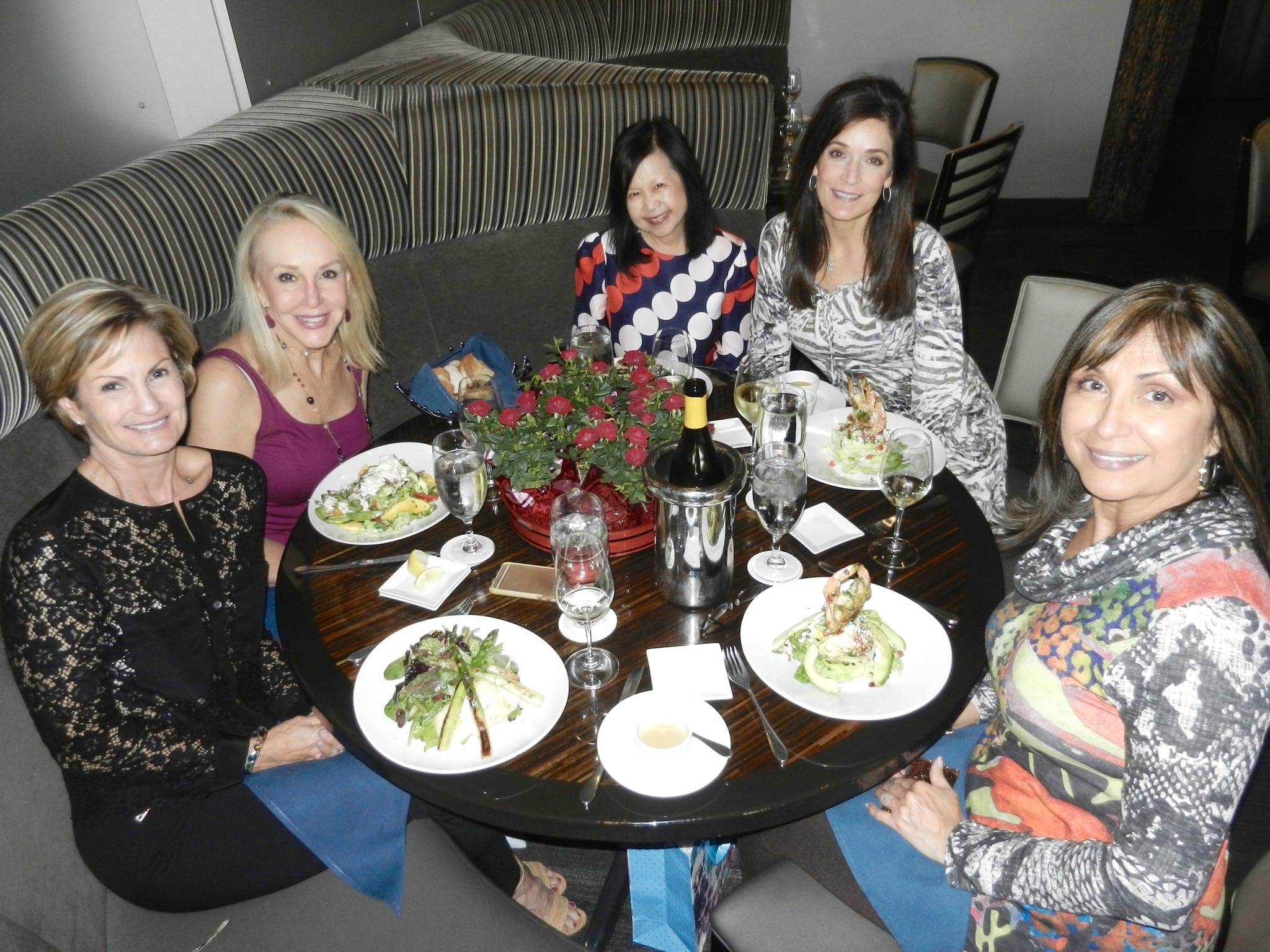 Jan, Sheree, Gloria, Mary, and Angie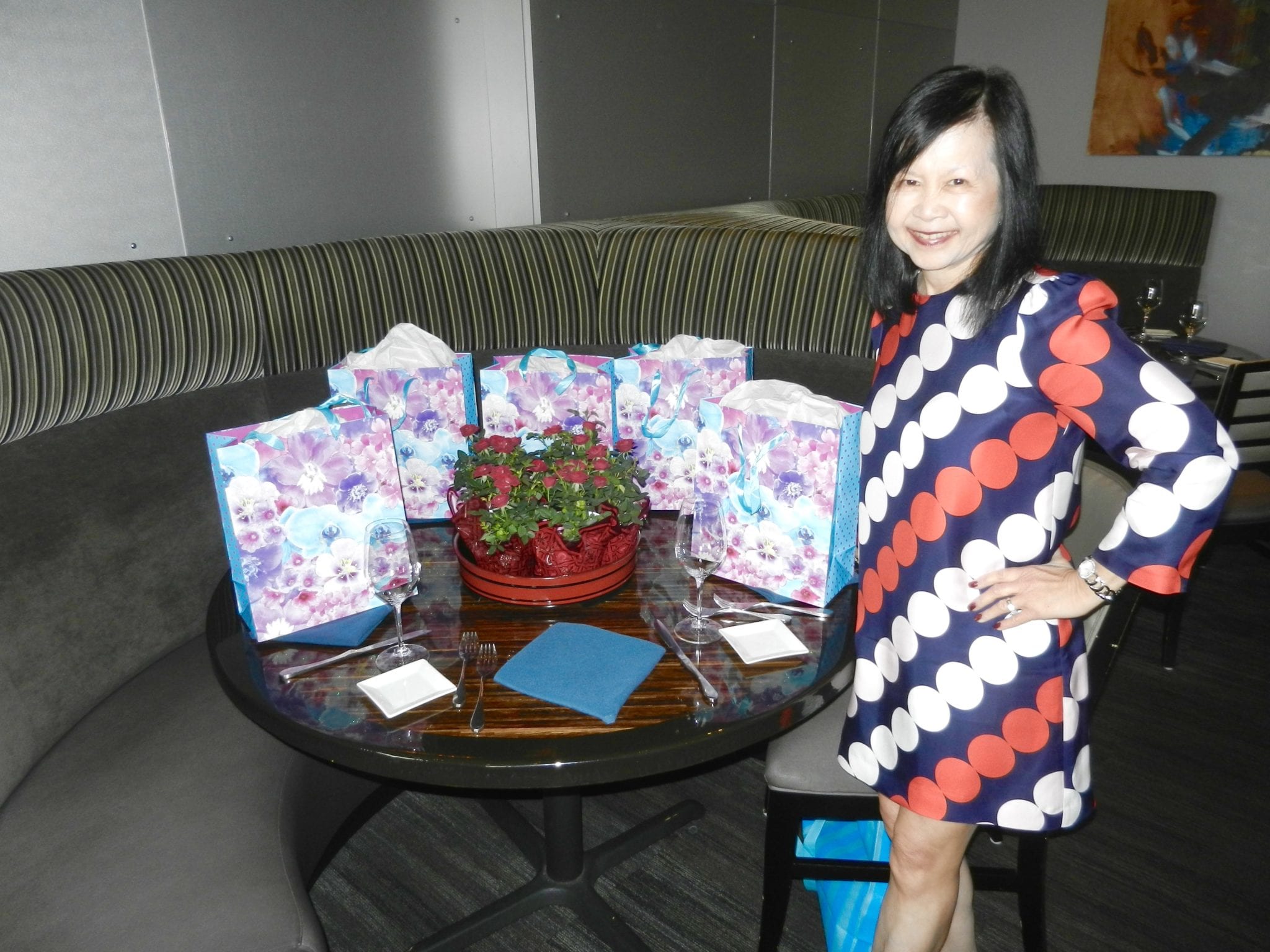 ENTREES SELECTED BY DIVAS:
Herb Crusted Ahi Tuna-baby spinach, apple bacon, goat cheese, red onion, cherry tomatoes, garlic dressing.
Pan Seared Halibut with mixed green salad, garlic vinaigrette, buttered poached asparagus, sauces on the side, foie gras beurre blanc.
Crab Salad lightly dressed with lemon
Grilled Shrimp Salad- butter lettuce, cucumber-tomato relish, feta, cheese, aged Masraff's honey mustard balsamic, shallots (avocado added per diva request)
*****Masraff's is known for serving top, fresh seafood and the tuna having been shipped from Hawaii, too !!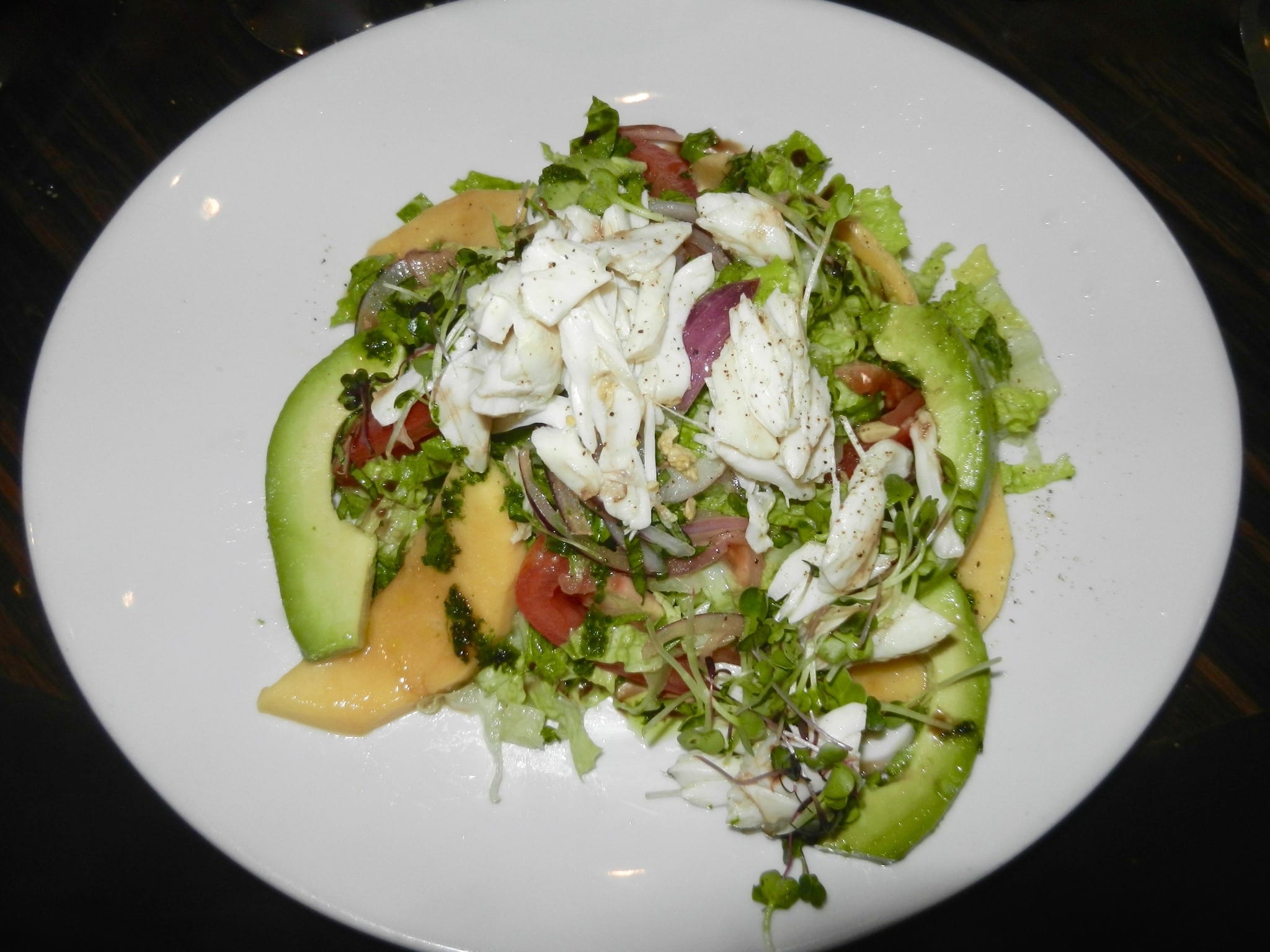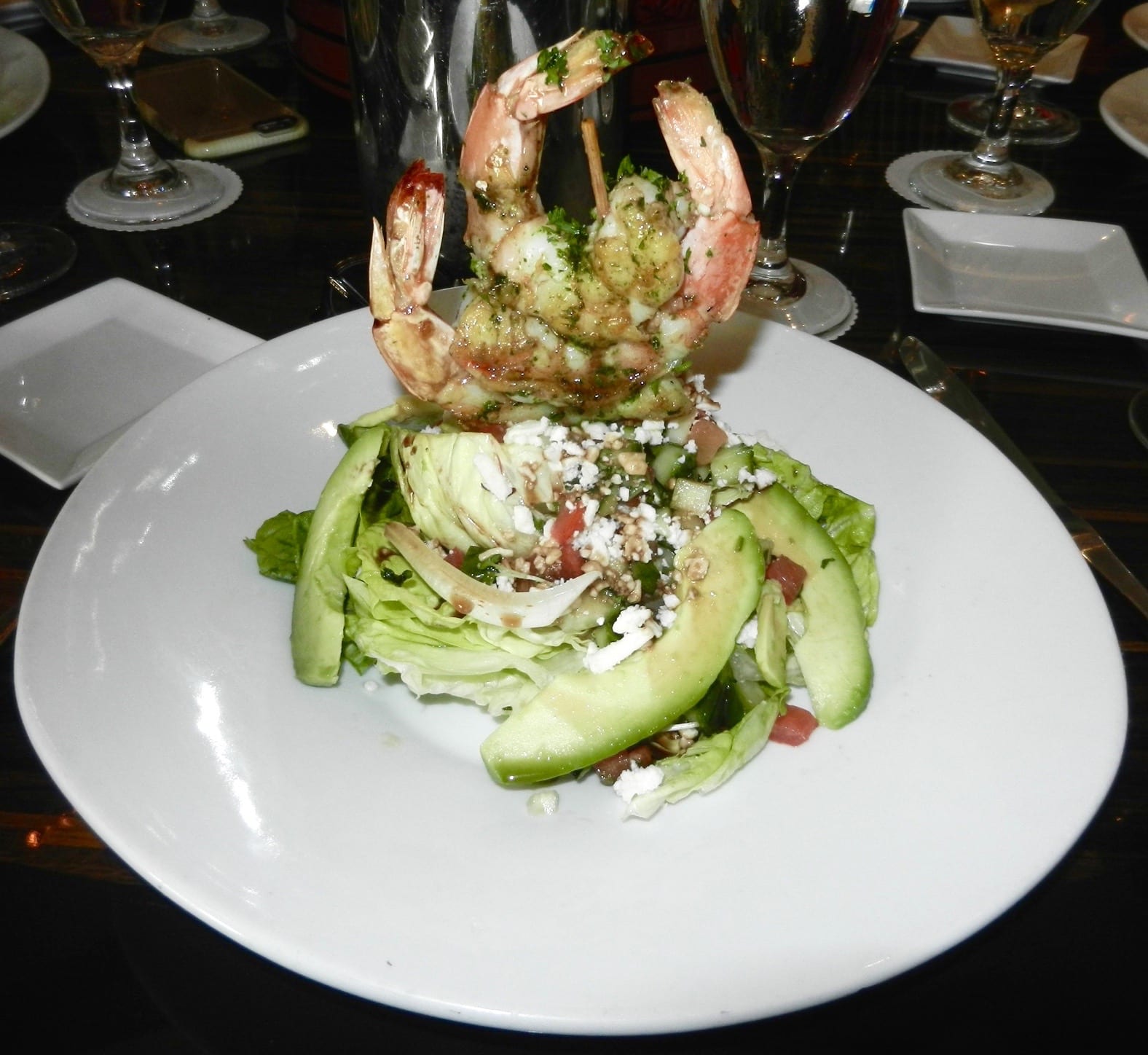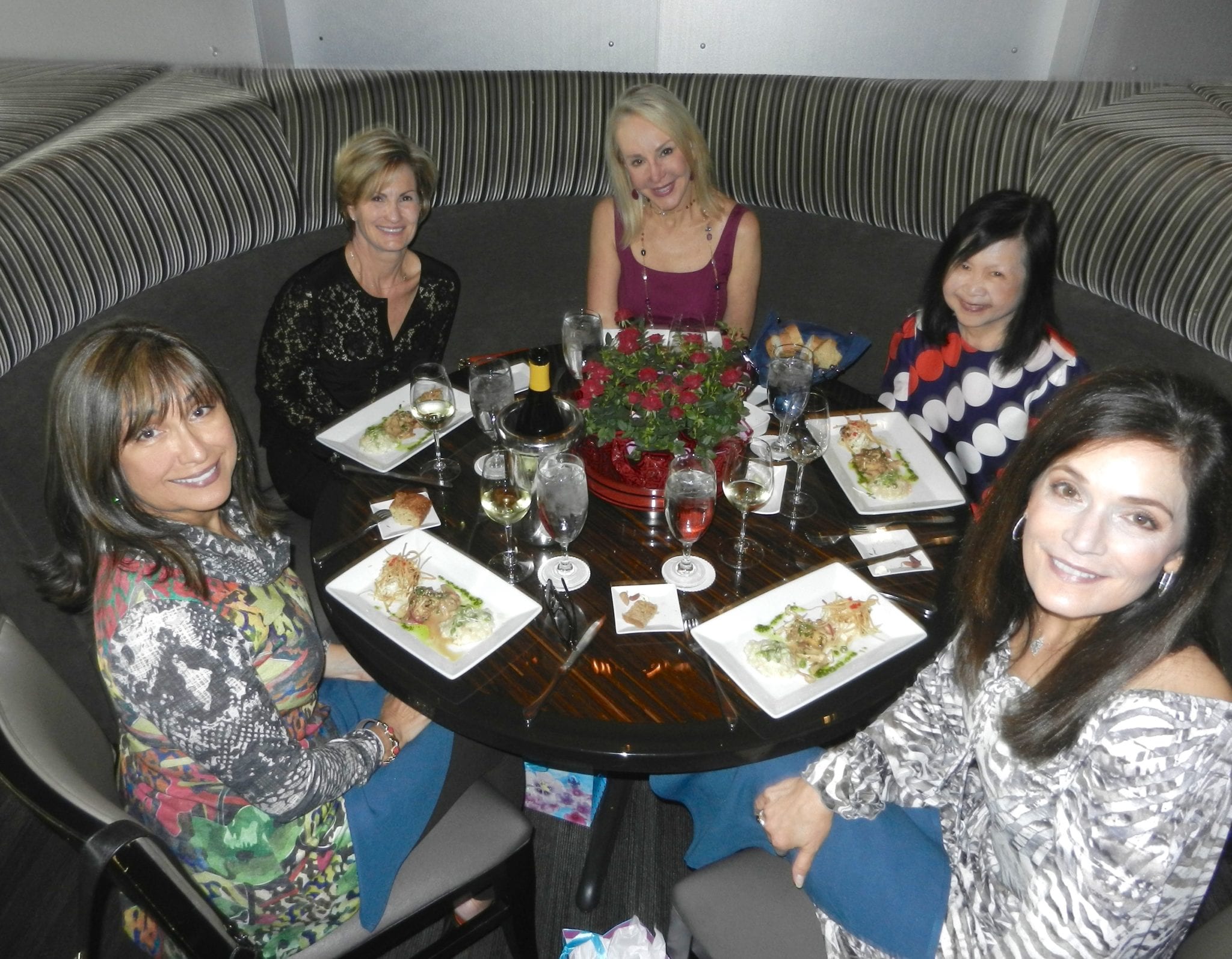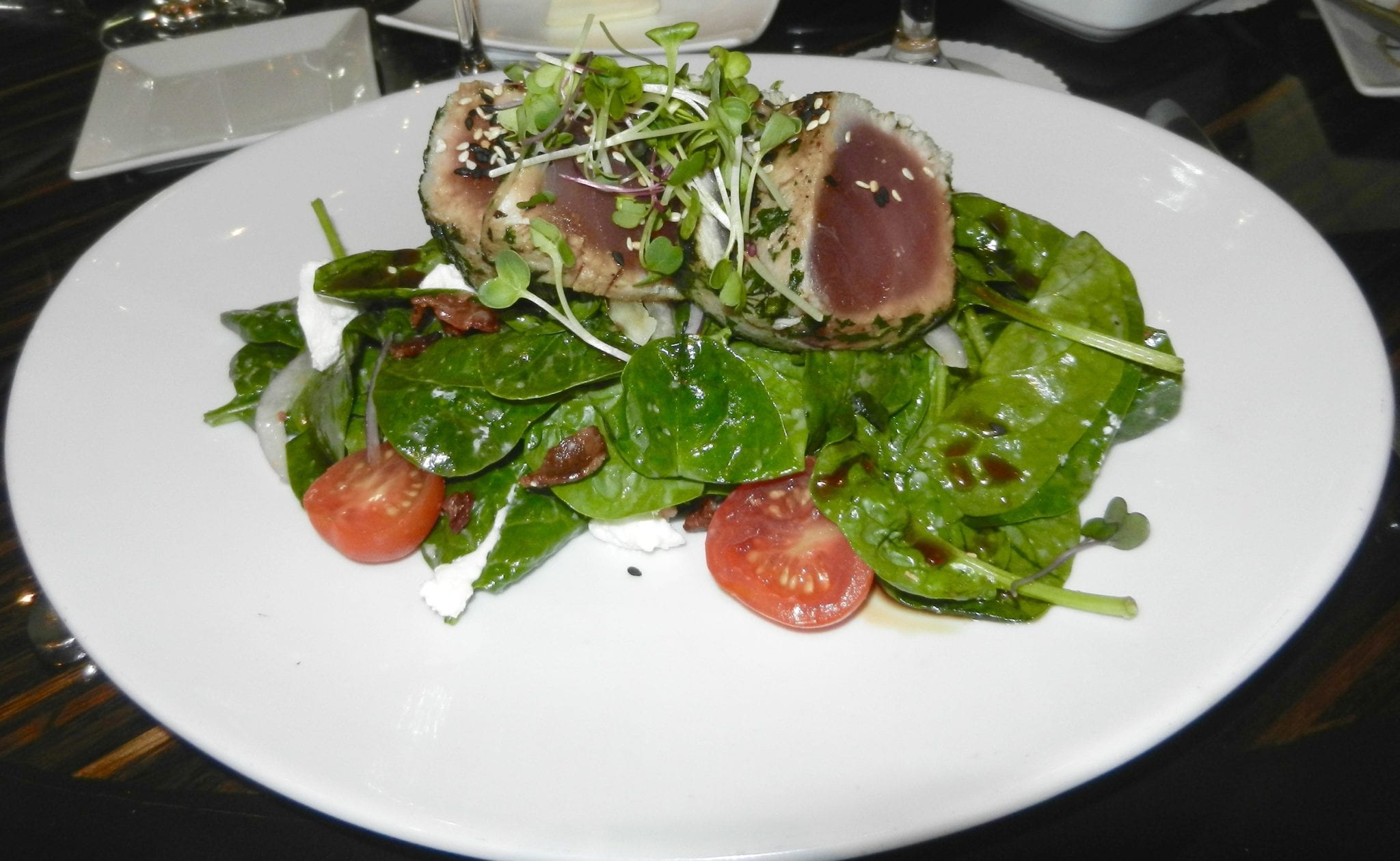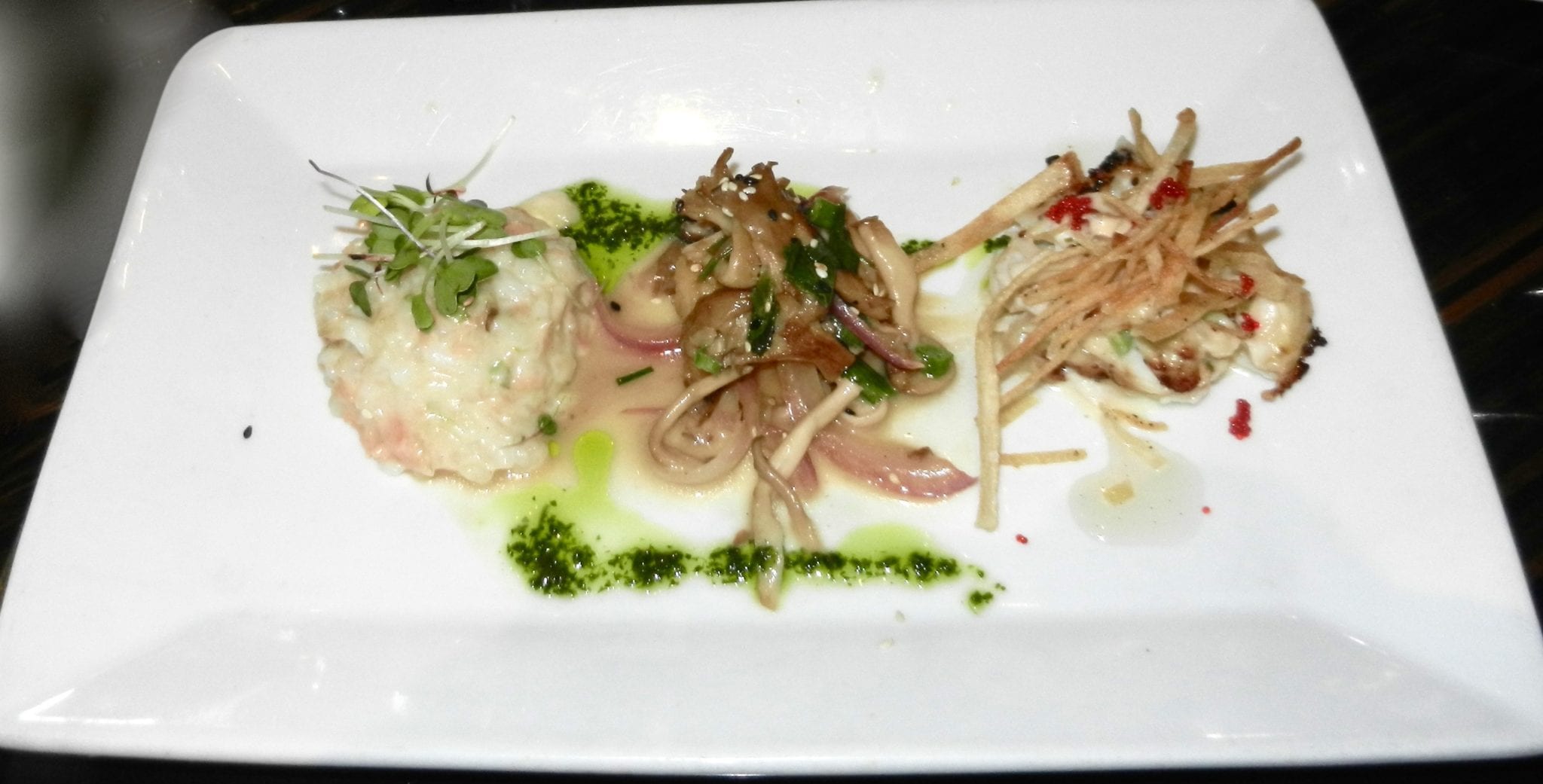 THE DIVAS ENJOYED TASTING FOUR DELICIOUS & AWESOME DESSERTS!
Warm Double Chocolate Fondant with vanilla bean ice cream and cream anglaise  (complimentary)
Butter Roasted Pear Cream Brûlée and Wole Berry Sauce
Warm Butterscotch Bread Pudding with butterscotch sauce and vanilla bean ice cream
Chocolate Mousse Napoleon with berry, infused whipped cream and chocolate trull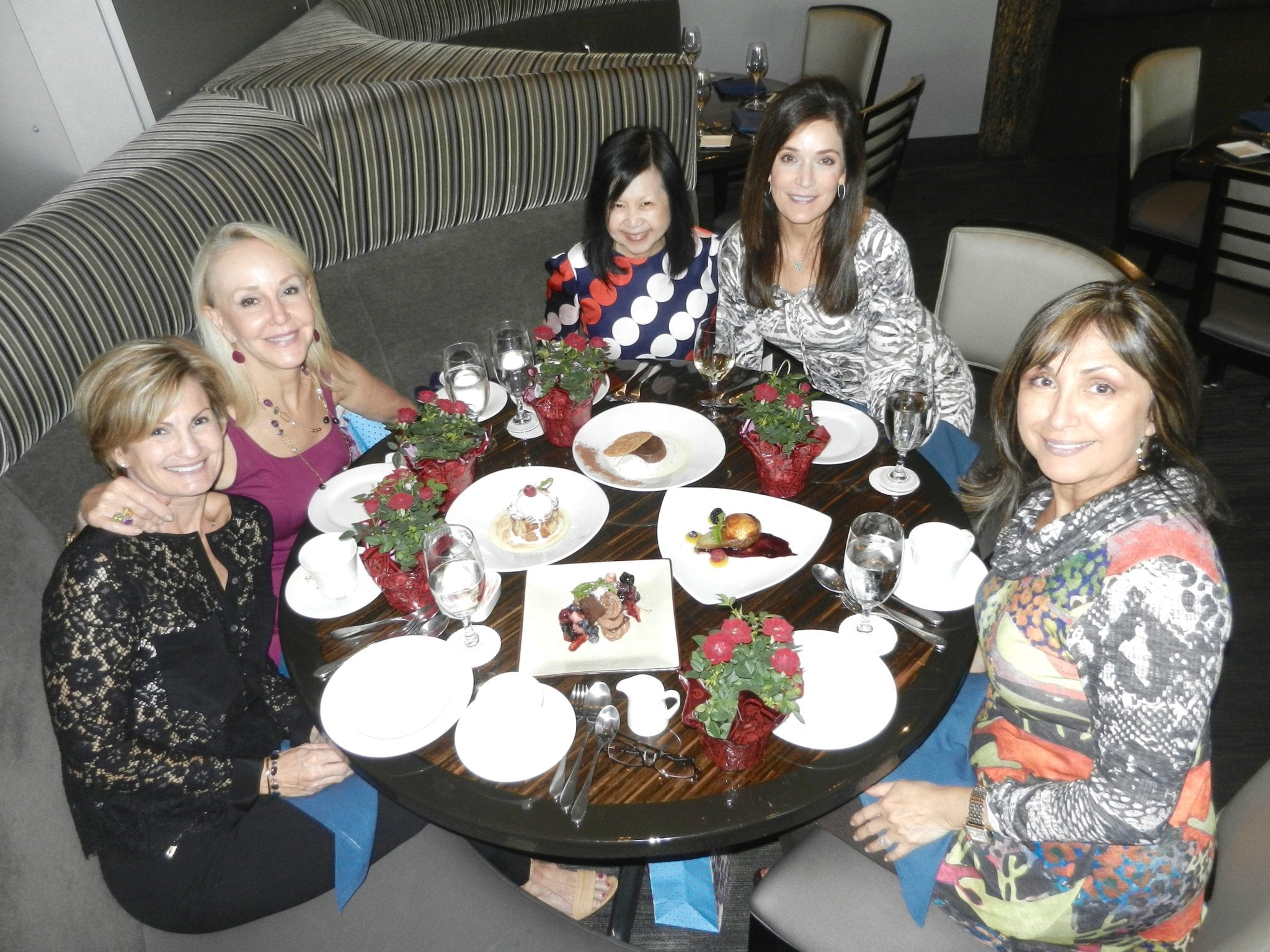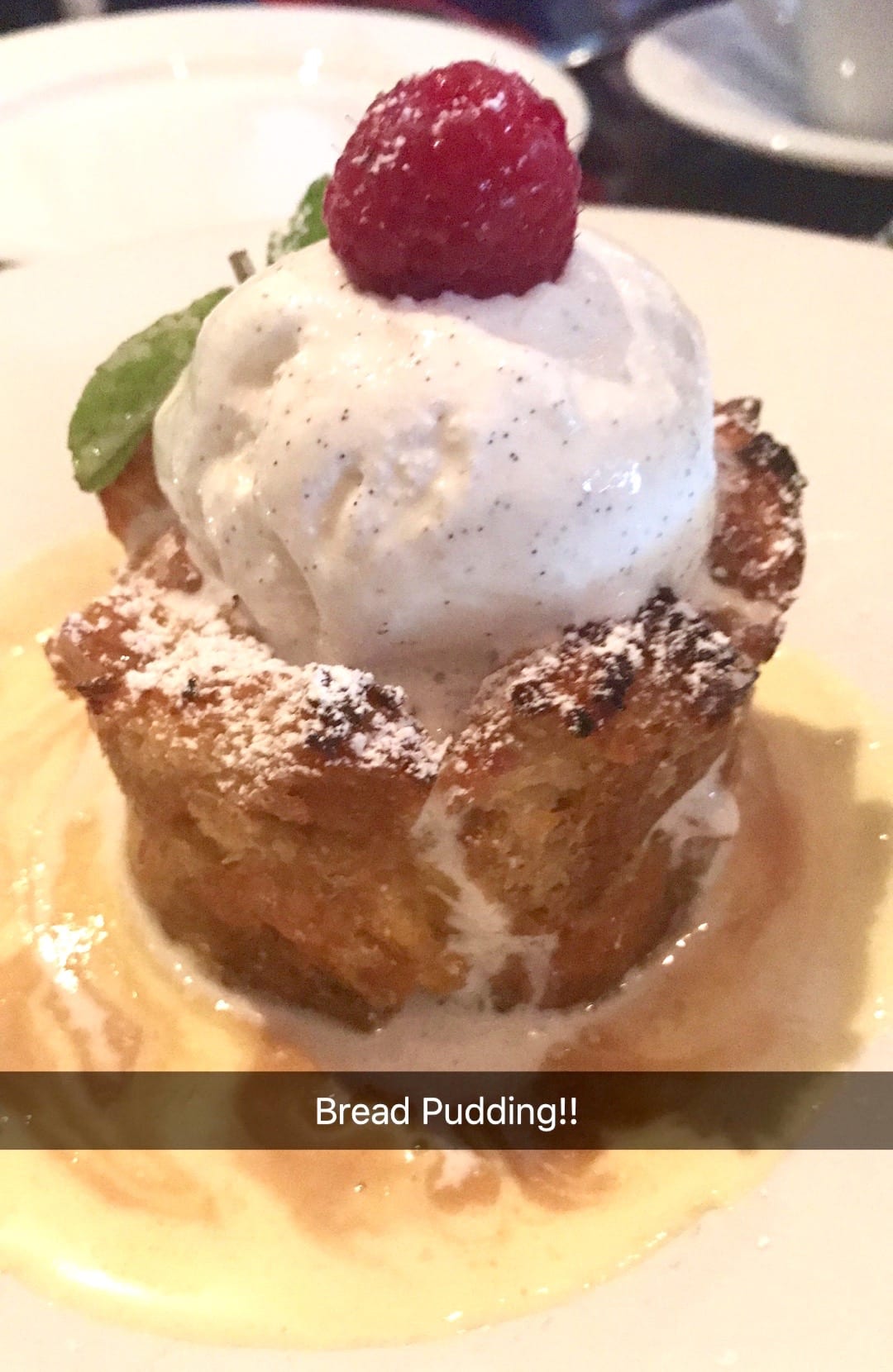 Everyone was thrilled to meet handsome and very charming Russell Masraff. Russell and his father, Tony are the proprietors of this wonderful restaurant. Also, the Divas enjoyed meeting Executive Chef Jonathan Salgado and General Manger Brian Maier. Kenneth, the server did and outstanding job overseeing our table and taking many photos for us.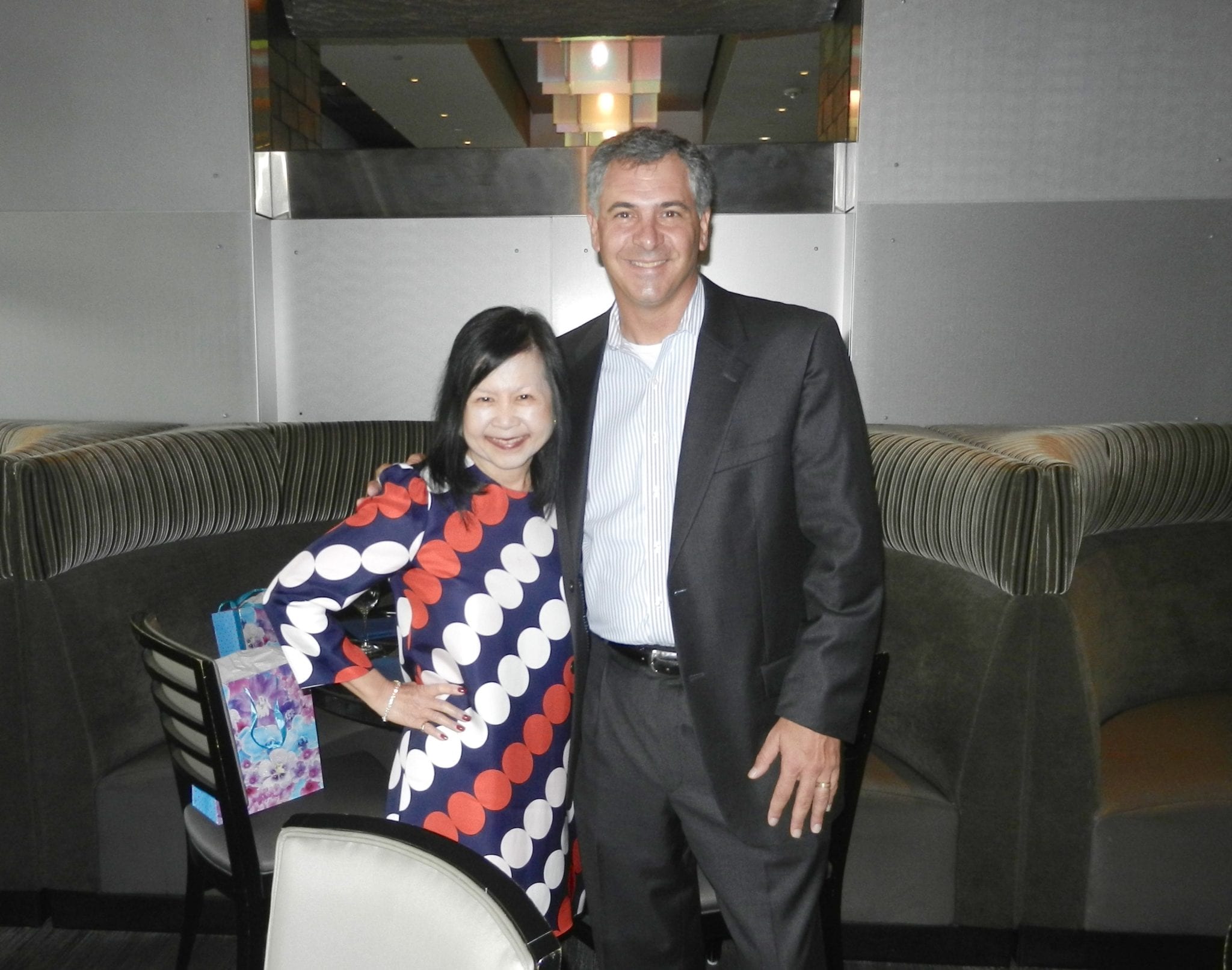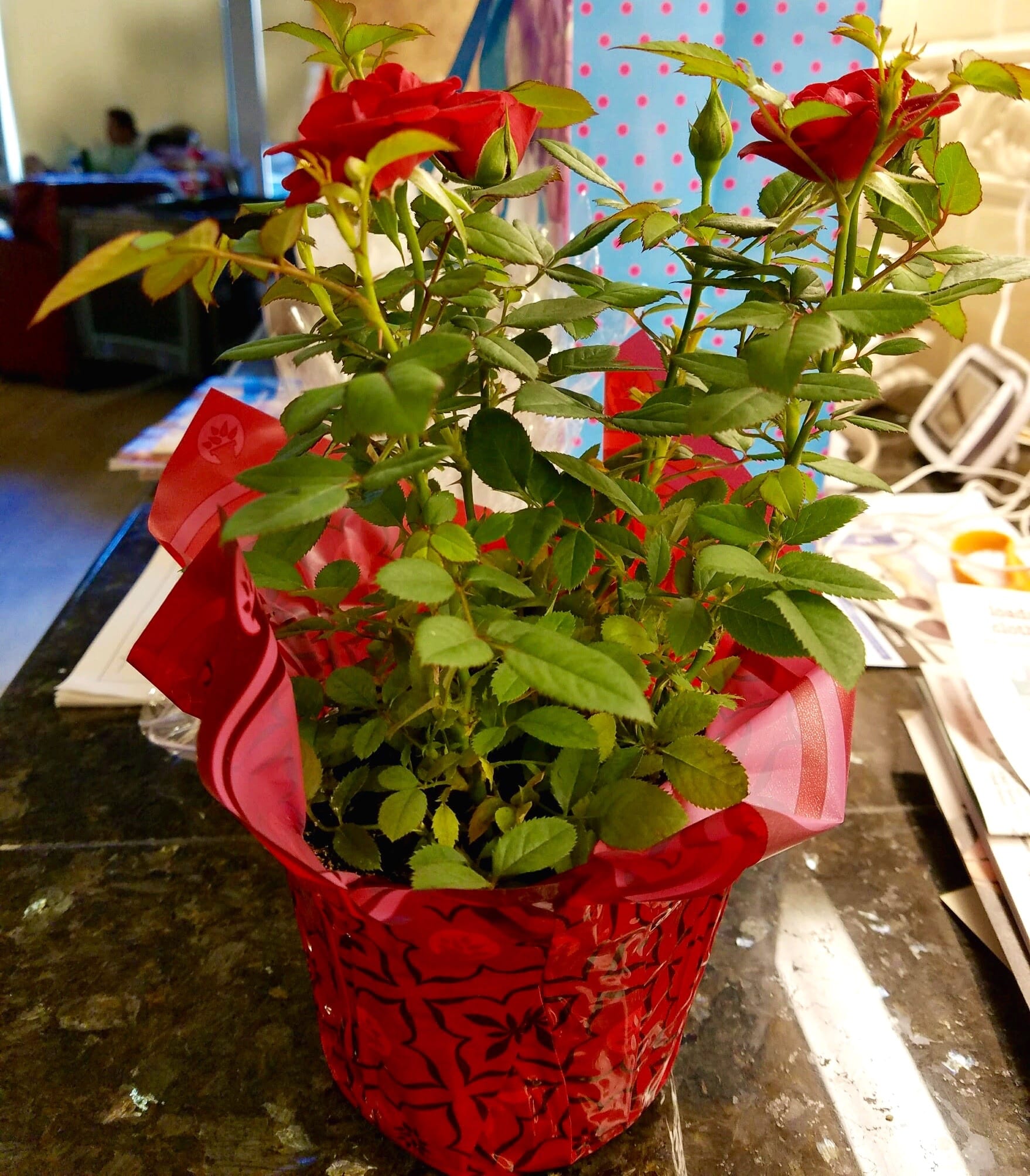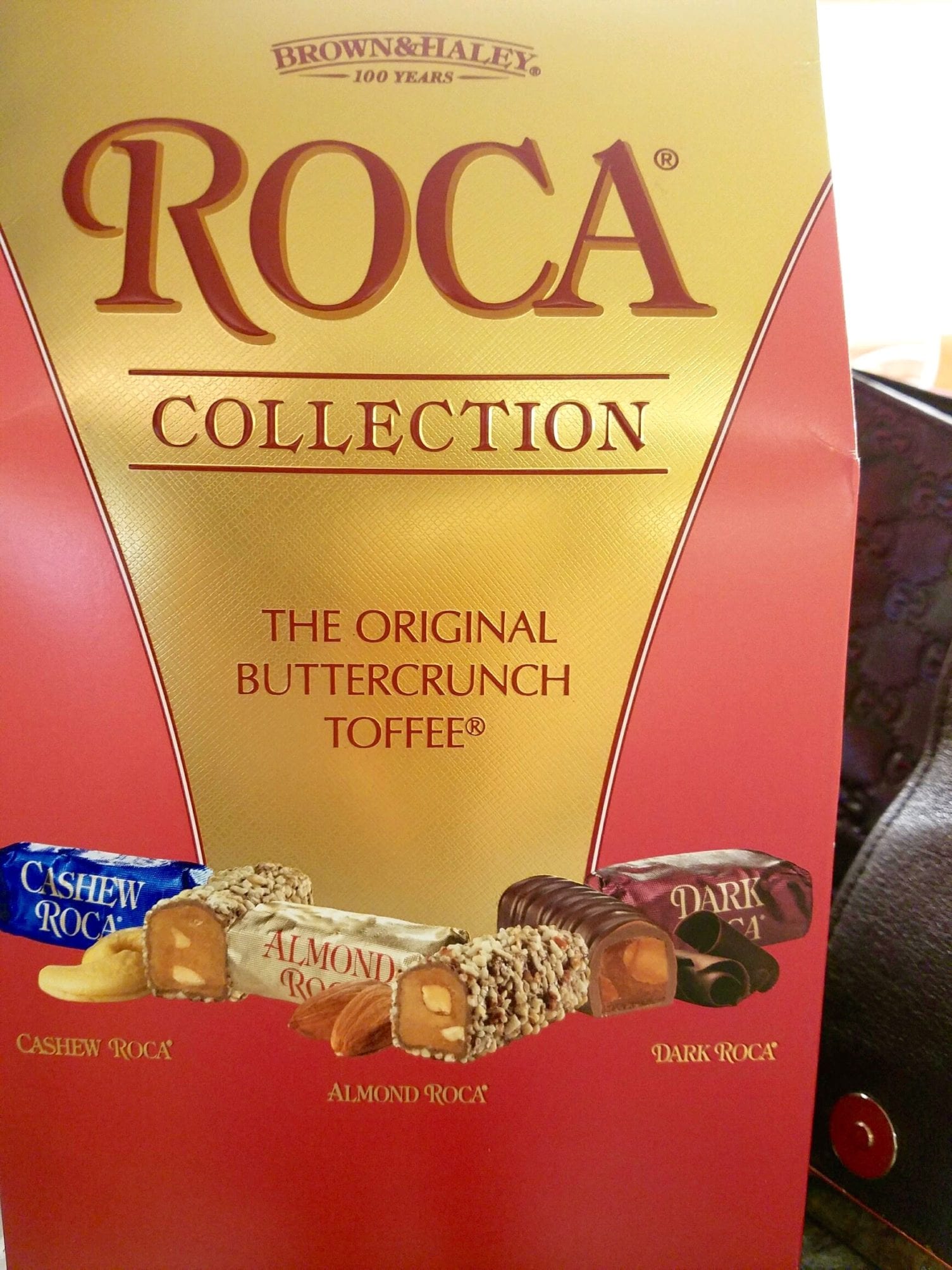 A complimentary wrapped tray of truffles were given to each of us to take home. What a "sweet" surprise!!!
Before we left, our hostess with the mostess gave us one of the mini rose plants (a part of the centerpiece) and a gift bag that had the "ROCA Collection of the Original Buttercrunch Toffee" candy (one of Gloria's favorite candy).
Gloria also enjoyed providing the wine, trio of appetizers, the desserts, mini rose plant and ROCA collection for everyone.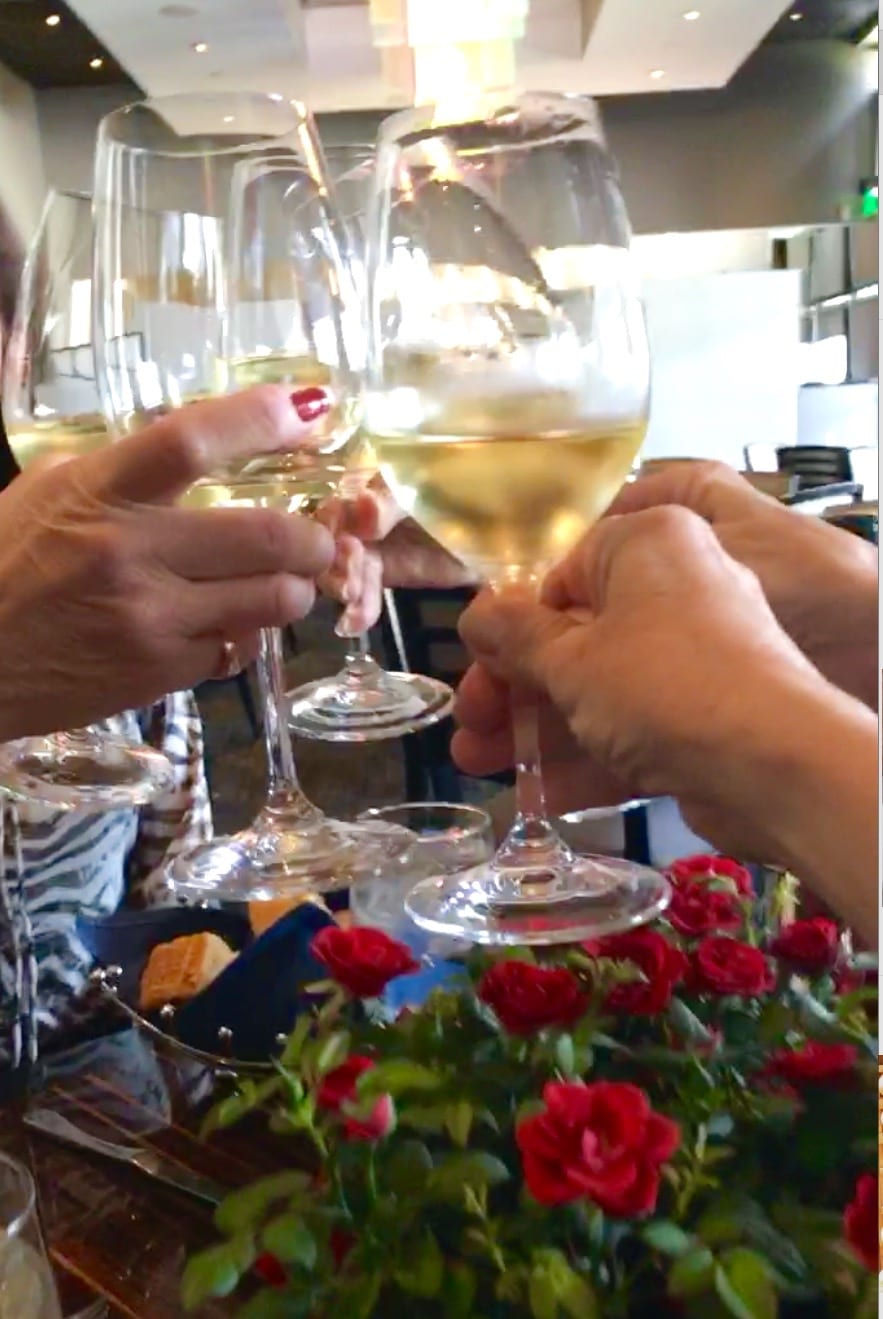 WOW! What a fabulous September dining experience and warm welcome by Russell Masraff and his wonderful staff!! The Dining Divas will enjoy dining at Masraff's again!!!
Thank you to Gloria for contributing to this blog post!
SHESHE'S TIDBITS:
Masraff's is located at 1753 Post Oak Blvd. Houston, TX, very near the Galleria of Houston. Go to www.masraffs.com to book a reservation.
Unfortunately I was unable to make this months luncheon, but thanks to Gloria I will be able to report back because she is an awesome reporter, so stay turned….. I heard it was amazing.