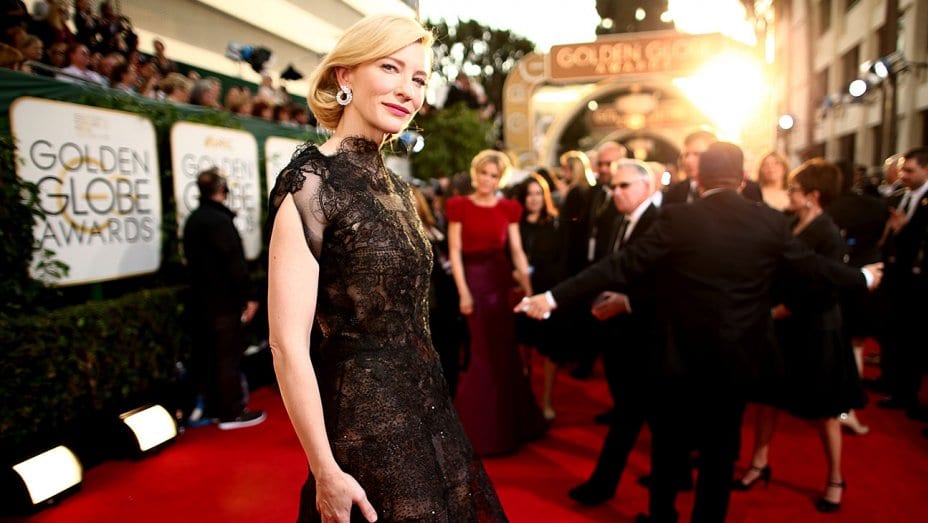 It is FINALLY awards season again, and this year we're starting with the Golden Globes. The Globes will be broadcasted on Sunday, January 7th at 8 p.m. ET (which means 7 p.m. for us Texas folk) on NBC. Seth Meyers is hosting (yay!) and the night promises to be full of gowns, glitz and glam…along with the actual award winners being announced.  Below we've broken down all you need to know about the Golden Globes, as well as our picks for the big winners this year. Make sure to let us know what your favorites are from film and television this year, and your guesses for the gowns that will make the best-dressed list tomorrow (we'll do a post here…so your input is of the highest importance!)
 WHO VOTES?
The Golden Globes are not "industry voters," which means the voters on these awards aren't necessarily film critics. The Golden Globes are awarded by the Hollywood Foreign Press Association, a group of writers who initially started the award ceremony back in 1943.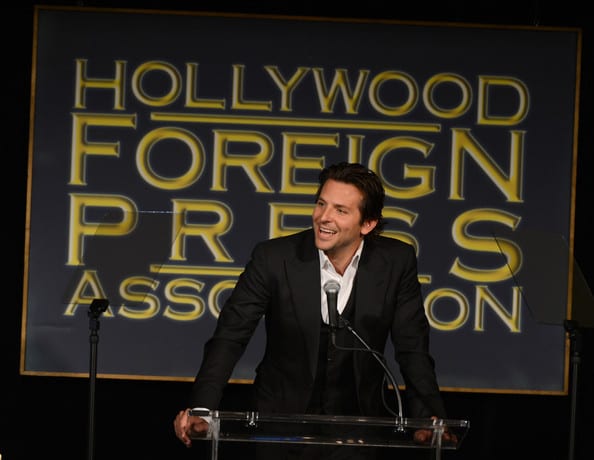 HOW DOES IT WORK?
There are plentyyyy of categories in this awards ceremony. Unlike many other shows, these awards feature both film and television accolades.
FILM
Perhaps the most and talked about category, best motion picture, is divided into several genres; drama, musical or comedy, animated, and foreign language. For the drama and musical/comedy genres, an award for best actor and best actress are given as well. After all of these awards are given out (a grand total of 8 awards) the remaining categories highlight the top supporting actors and actresses, directors, screenplay, original scores and original songs.
TELEVISION
The TV branch of the Globes is set up similarly to film branch. Television series' are divided into drama, musical or comedy and what is known as the "limited series or motion picture" category which this year features shows like Big Little Lies and Fargo. Like the film section, the top show will be awarded in this category as well as the best actor and actress in each. After these awards are all given (9 in total), the best supporting actor and actresses are announced and the television category is concluded.
WHO IS NOMINATED
Here are just a few of the nominees for the more talked-about categories at the Globes.
DRAMATIC FILM: Call Me By Your Name, Dunkirk, The Post, The Shape of Water, Three Billboards
ACTRESS: Jessica Chastain (Molly's Game), Sally Hawkins (The Shape of Water), Frances McDormand (Three Billboards), Meryl Streep (The Post)
ACTOR: Timothee Chalamet (Call Me By Your Name), Daniel Day-Lewis (Phantom Thread), Tom Hanks (The Post), Gary Oldman (Darkest Hour), Denzel Washington (Roman J. Israel)
COMEDIC/MUSICAL FILM: The Disaster Artist, Get Out, The Greatest Showman, I Tonya, Lady Bird
ACTRESS: Judi Dench (Victoria & Abdul), Helen Mirren (The Leisure Seeker), Margot Robbie (I, Tonya), Saroirse Ronan (Lady Bird), Emma Stone (Battle of the Sexes)
ACTOR: Steve Carrel (Battle of the Sexes), Ansel Elgort (Baby Driver), James Franco (The Disaster Artist), Hugh Jackman (The Greatest Showman), Daniel Kaluuya (Get Out)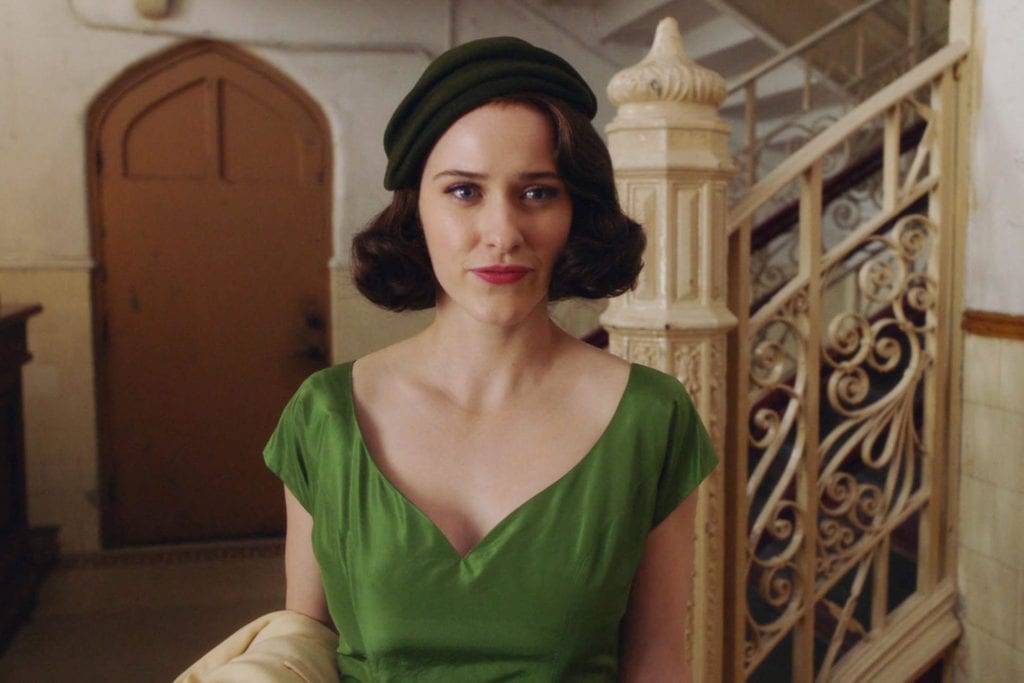 TV COMEDY: Black-Ish, The Marvleous Mrs. Maisel, Master of None, Smilf, Will & Grace
ACTRESS: Pamela Adlon (Better Things), Alison Brie (Glow), Rachel Brosnahan (The Marvelous Mrs. Maisel), Issa Rae (Insecure), Frankie Shaw (Smilf)
ACTOR: Anthony Anderson (Black-Ish), Aziz Ansari (Master of None), Kevin Bacon (I Love Dick), William H. Macy (Shameless), Eric McCormack (Will & Grace)
TV DRAMA: The Crown, Game of Thrones, The Handmaid's Tale, Stranger Things, This Is Us
ACTRESS: Caitorina Balfe (Outlander), Claire Foy (The Crown), Maggie Gyllenhal (The Deuce), Katherine Langford (13 Reasons Why), Elisabeth Moss (The Handmaid's Tale)
ACTOR: Jason Bateman (Ozark), Sterling K. Brown (This Is Us), Freddie Highmore (The Good Doctor), Bob Odenkirk (Better Call Saul), Live Schreiber (Ray Donovan)
SO….WHO IS GOING TO WIN?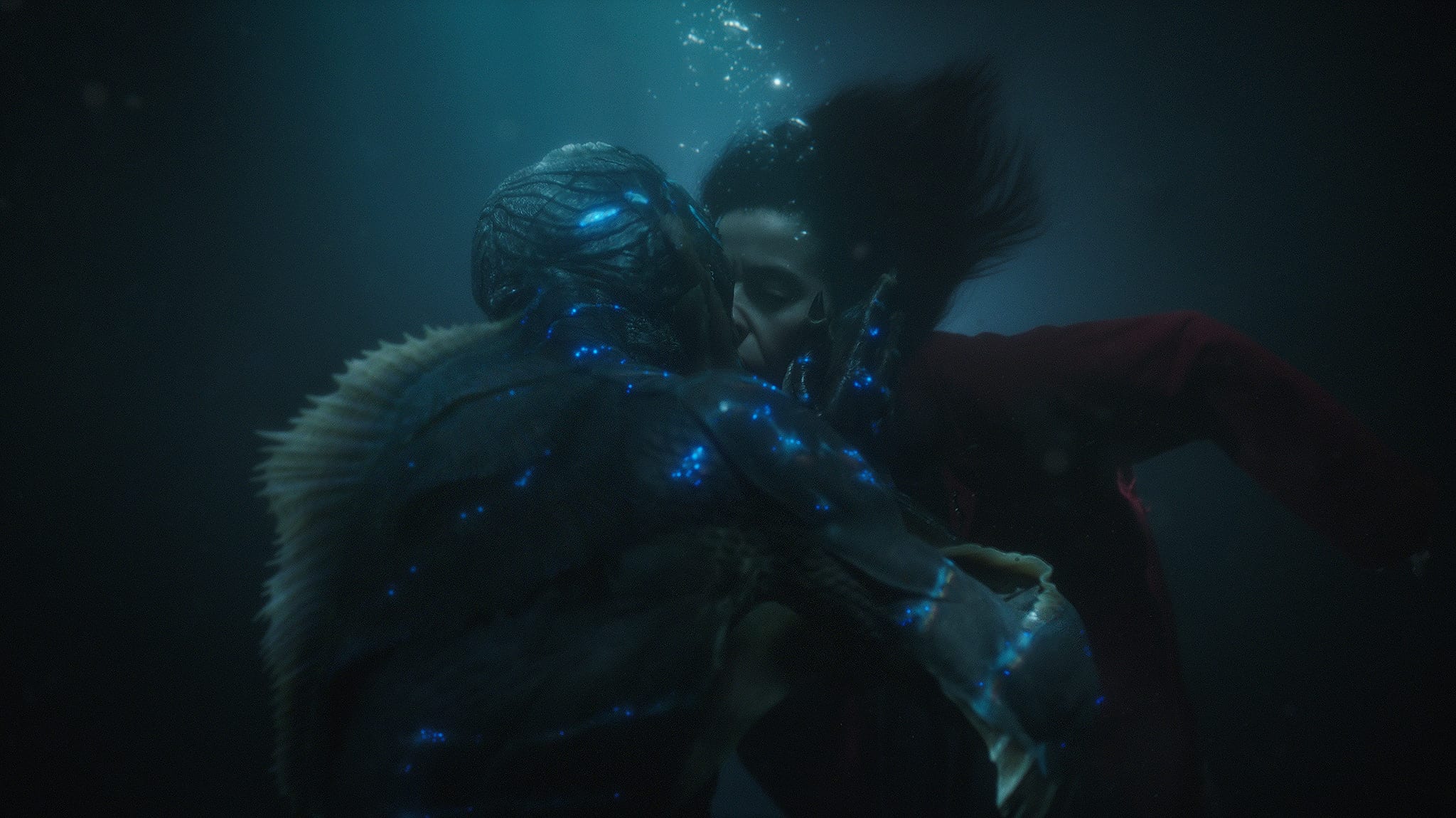 Vanity Fair and TIME are both predicting The Shape of Water to take the cake this year, winning the award for best dramatic movie. Meryl Streep and Gary Oldman are both favored to win their categories in the drama section. On the Gold Men Podcast by Vanity Fair, Lady Bird and Get Out were discussed as the clear front-runners in their division, even though the films could not be more different. For actress in a musical/comedy movie, Saroise Ronan is favored although Margot Robbie's performance in I, Tonya might win her the award. For actor, James Franco from The Disaster Artist's won Vanity Fair and TIME's bid despite it's late release date.
For TV, female frontrunner television shows might just be the big winners this year. Handmaid's Tale is expected to win for the  dramatic category, and The Marvelous Mrs. Maisel for comedy. Elizabeth Moss from the Handmaid's Tale is predicted to win best actress in a drama series, and Sterling K. Brown from This Is Us is expected to receive the dramatic actor award. For comedy, Aziz Ansari (Master of None) and Issa Rae (Insecure) are leading the predictions for best actor and actress.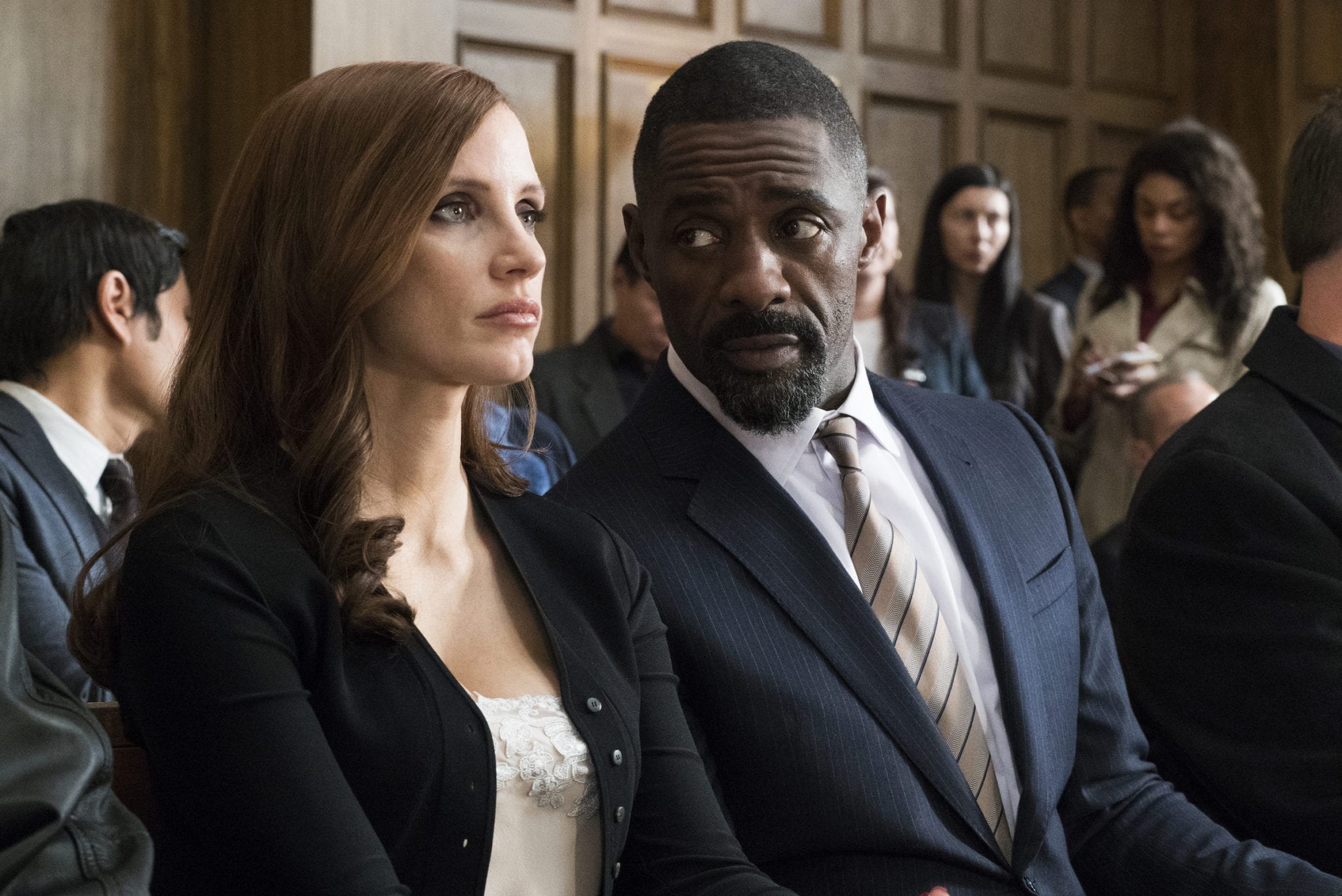 SHESHE'S PICKS:
If I had to guess for best movie, it would be The Post. I haven't seen it yet, but compared to the other movies in this category this film seems to be the perfect blend of history (The Pentagon Papers), highly acclaimed actors (Tom Hanks and Meryl Streep), and top-notch cinematography. I did love Dunkirk, but there's something about the Streep/Hanks combo that can't be ignored.
Molly's Game was my favorite film so far this year, and although it wasn't nominated for the best film I will be rooting for Jessica Chastain to win best actress. The film focused on the true story of a former Olympic skier turned poker-professional that found herself in the middle of a high-powered and highly-publicized trial with some of Hollywood's finest…and believe me when I say it is a must see this season.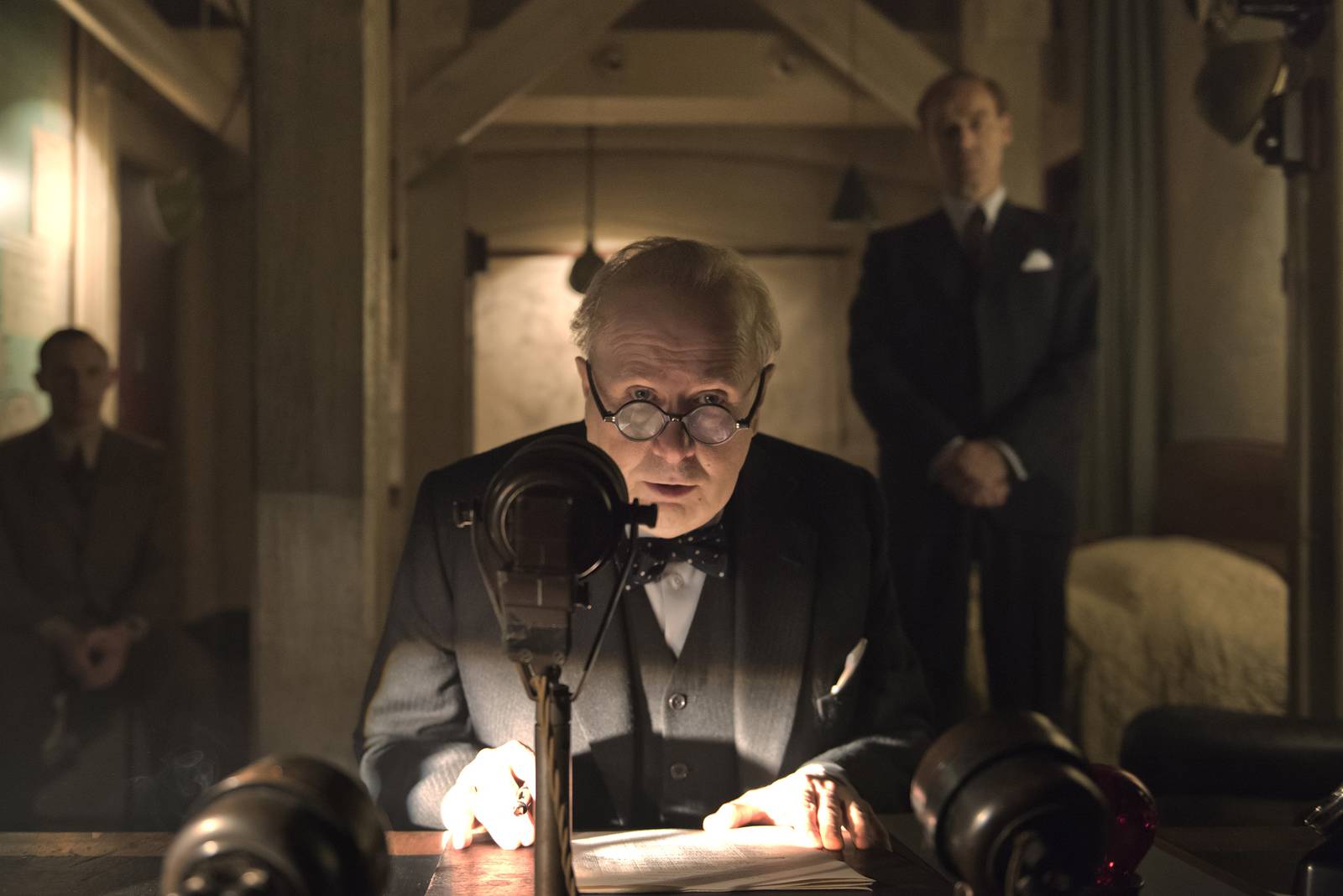 The Darkest Hour tells the story of Winston Churchill in WWII, and truly is hinged on the performance of Gary Oldman as Churchill. His unchanging dialect and body language throughout the entire film tells perfectly the story of overwhelming pressure on Churchill. This was during one of the most intense periods of history.
For comedy I would go with I, Tonya and Margot Robbie for best actress, just because the film is so intriguing. The untold side of this infamous story, the film sheds light on the context of Tonya Harding's attack on Nancy Kerrigan in the 1994 Olympic games.
James Franco is also getting tons of attention for his comedic role in The Disaster Artist, and honestly I love most things he does.
Elizabeth Moss (formerly from one of my all-time favorites Mad Men) leads Handmaid's Tale brilliantly. I'm really hoping she's the winner in this category, although I might be biased from her former day's at Sterling Cooper advertising agency.
Although I love Jason Bateman and his SNL sense of humor, Sterling K. Brown from This Is Us has my bid for the actor category. You just can't deny his talent.
The Marvelous Mrs. Maisel was one of the best, if not the best, TV shows this year. This Amazon series is all about marriage, comedy and Rachel Broshnahan losing one and finding the other. If you haven't seen it yet…go now!
Big Little Lies is another favorite (as I mentioned in this article from a few months ago), and Nicole Kidman (who is nominated for best actress in a limited series alongside her co-star Reese Witherspoon) has my vote as well. Her character endures painful abuse throughout the 7-episode series on HBO and does so (somehow) with a blend of grace and unwavering strength. I have also heard great things about The Sinner, so I wouldn't be surprised if that one took the cake.
SHESHE'S TIDBITS
New plans for 2018 SheShe Show posts…..
NEW up this week on ShopSheShe: Resort Roundup located to the far right in the top Menu Bar. Simply click and shop. So many of you will be traveling south to get the heck out of dodge….time to leave snow and frigid temps….right? Check out all of our picks for a resort refresh to your travel bag.
On Tuesday's and/or Wednesday's, we will be doing SheShe's Showcase. We will have lots of fashion, travel, home and collaborations with brands and also includes beauty.
We will be continuing Weekend Wanderings on Saturdays with all kinds of good stuff. Great reads, sports, current events and more are just a few topics. We hope you are enjoying some of our weekend posts.
Friday Favorite Fun Finds is coming soon. We are working on a few key outside contributors to bring in food recipes, DIY projects, and more…..so stay tuned as we make this happen.
And last, we will be striving to save Thursdays for our YouTube post called The Show, which will also be posted here on the blog. Unfortunately due to a malfunction when filming, The Show will be posted tomorrow.
Sunday's are for miscellaneous posts. It would be fun to have a name here as well. We would love to hear your thoughts.
If we get good at staying ahead, then you can expect to have at least 4 days a week of content from us. 
Gala's, weddings, graduations, holidays or just everyday wear…..we have fashion suggestions for you, so stay tuned. Be sure to check out  ShopSheShe  tab at the top in the menu bar. Hover over and choose the category in the drop down. We try to keep it up to date with the latest and greatest for all budgets. Subscribe here and then you won't miss a post. Simply enter your email in the pop up box when you come to this site or at the top of this page in the subscribe box.
WELCOME new readers. We are a fashion/travel/lifestyle blog. We talk about anything and everything, from fashion, travel, health issues to even an occasional recipe. If there is a topic that you are interested in, then let us know. We will do our best to bring that story to you. Have a great great week sweet friends and thank you for following along. Without you, we could not continue on this crazy fun journey!