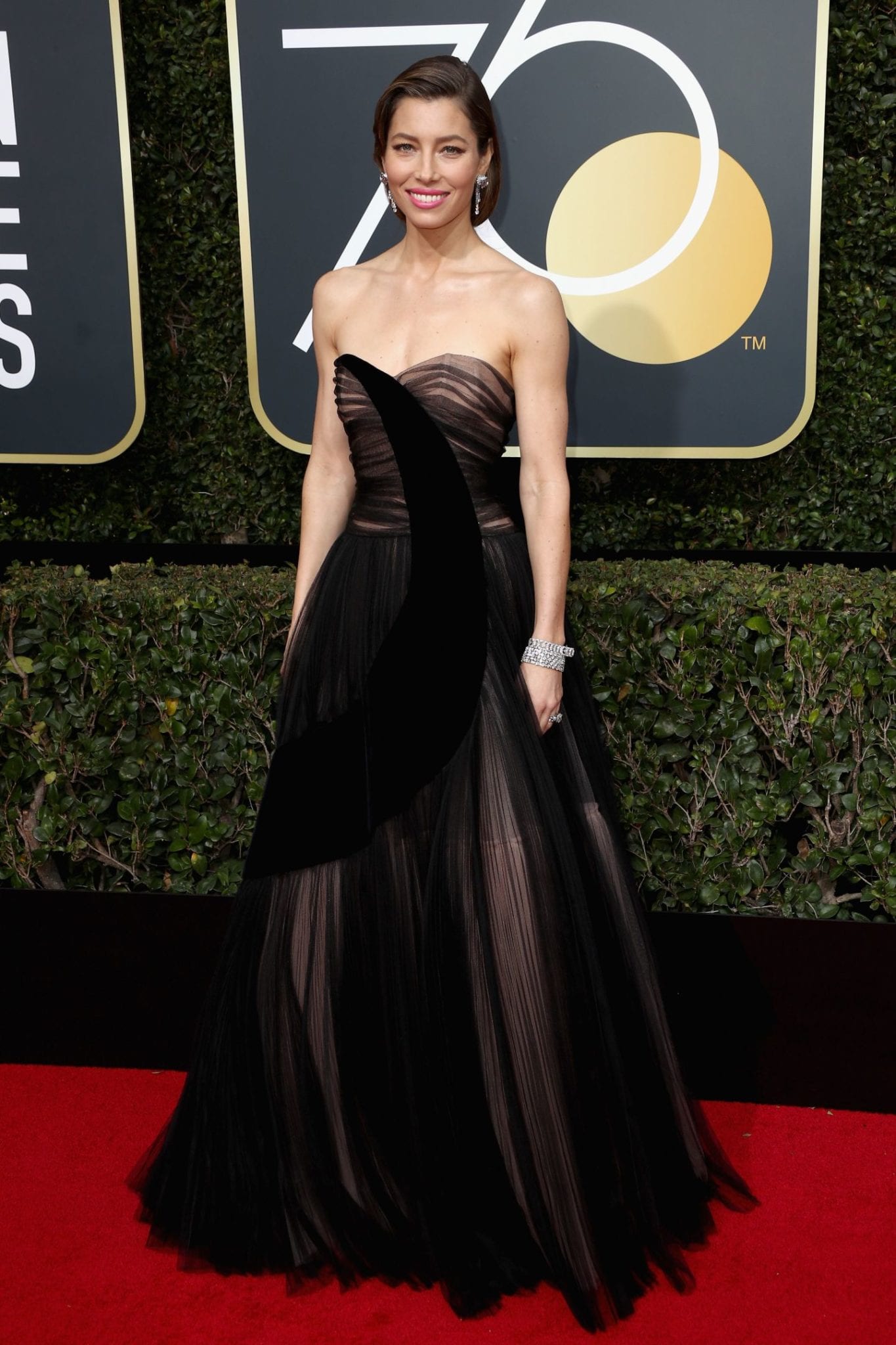 Our Favorite Golden Globes Dress:
Jessica Biel (The Sinner)
Wearing: Dior. Besides just how INCREDIBLE this new-mom looks (look at those sculpted arms!) this draped ball gown stole the competition in my opinion. Paired with a sweet pink lip, Biel stunned on the carpet and throughout the night. 
Happy Monday to all! If you read this article from Saturday, you know that we've had the Golden Globes on our mind this weekend. Last night was the big night for glitz and glam and gowns galore…with Hollywood all gathered together to celebrate film and television.
If you watched the Globes, chances are you noticed the color on everyone's mind: BLACK. Stars dressed in all black to support the Time's Up movement, started by a coalition of prominent women in film/TV to stand up against sexual harassment and misconduct. The movement was started in response to the "#metoo" hashtag, which enabled women to tell their own stories (via social media) of abuse and mistreatment amidst scandals from high-powered figures like Harvey Weinstein and Kevin Spacey.
Needless to say, color took a back seat to the greater purpose involved in the night. But even with the black pattern, stars managed to wow us with their elaborate gowns and glamorous looks. Below we've broken down our top 10 favorite picks from the night because after all, you know what they say- black is the new….black?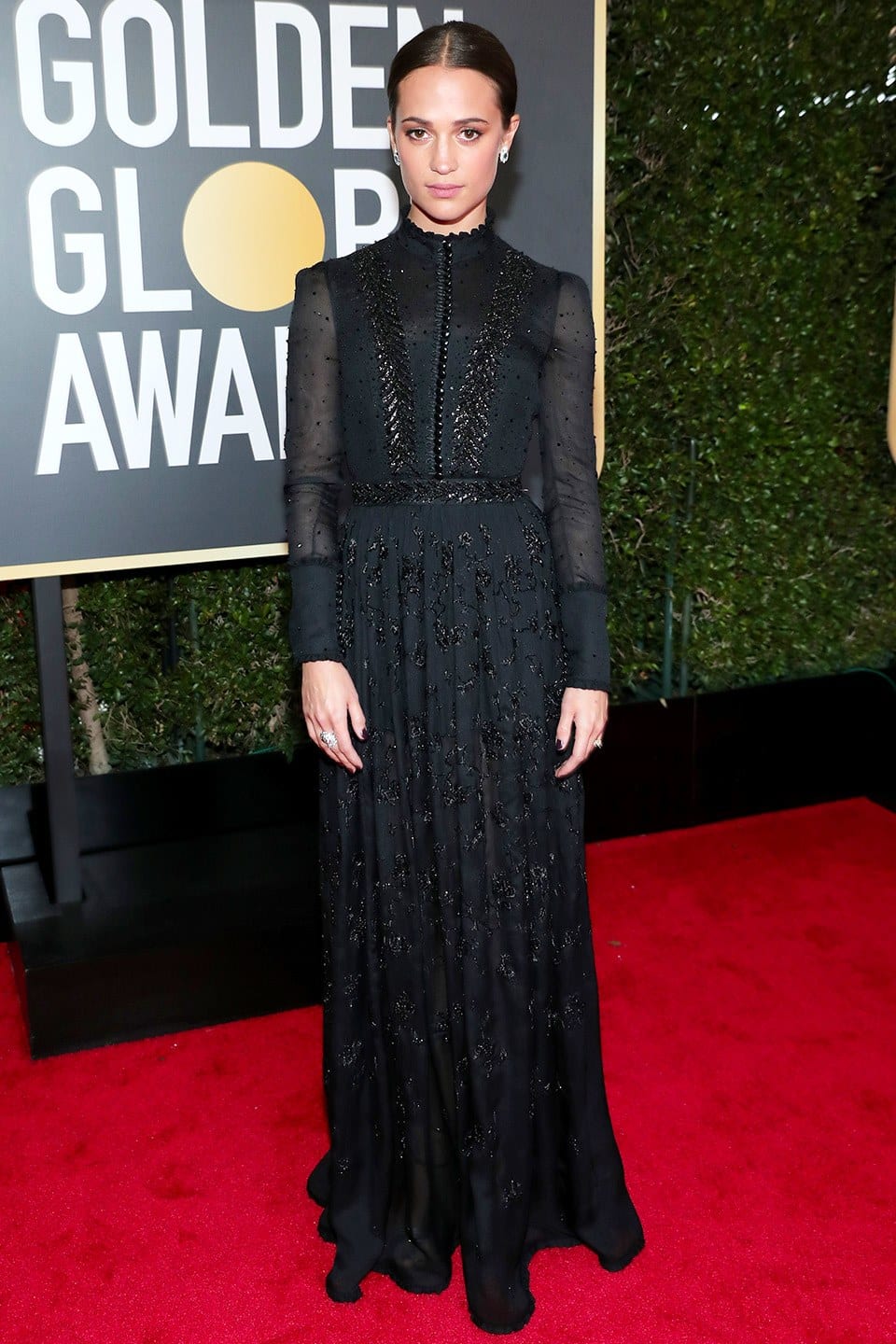 Alicia Vikander (presenter)
Wearing: Louis Vuitton. Vikander's pinned-back hair and diamond earrings were the perfect pairing to this backless Louis Vuitton gown.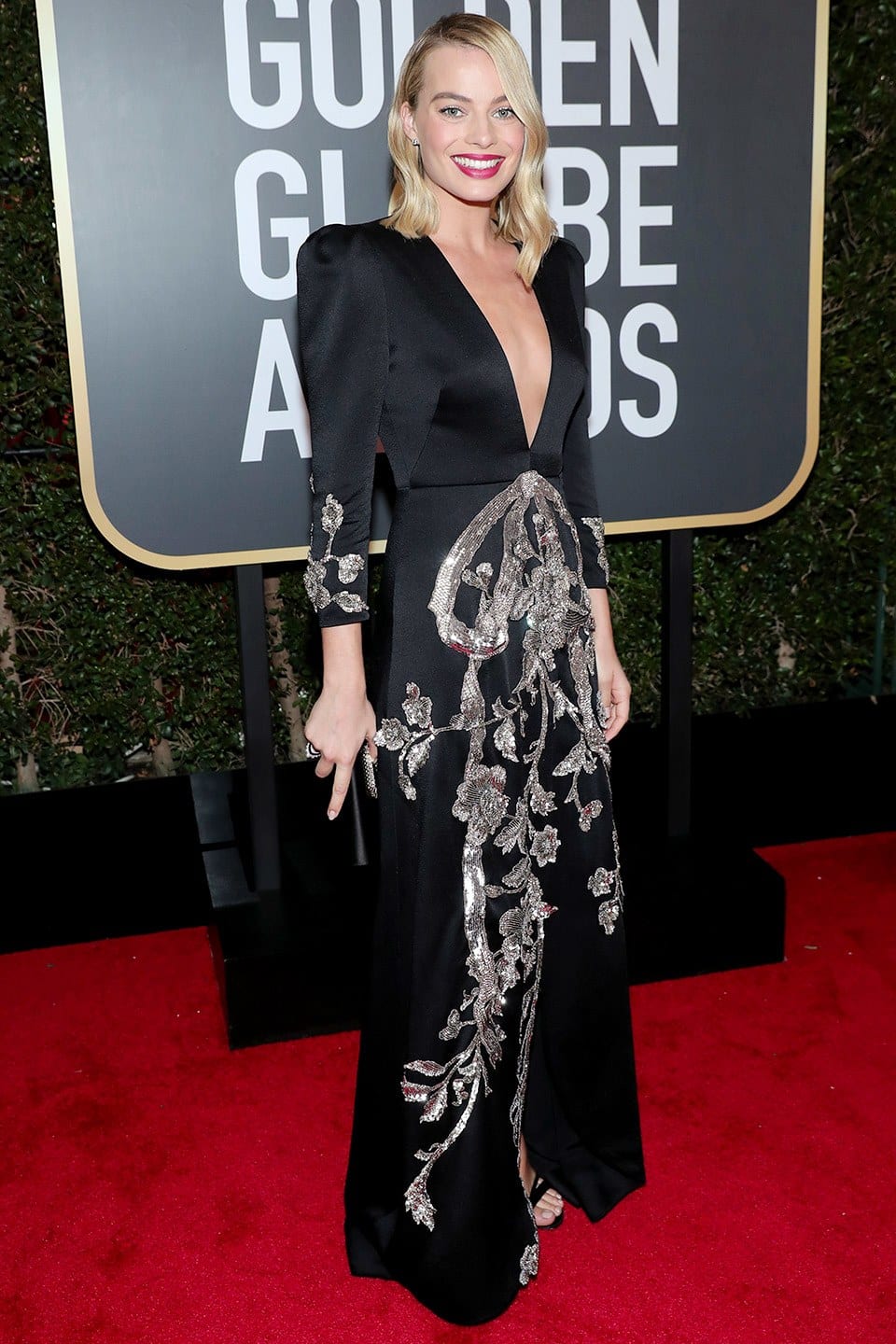 Margot Robbie (I, Tonya)
Wearing: Gucci. The deep v-neck and sequins on this gown gave Robbie the wow-factor….as if her natural beauty didn't already do the job.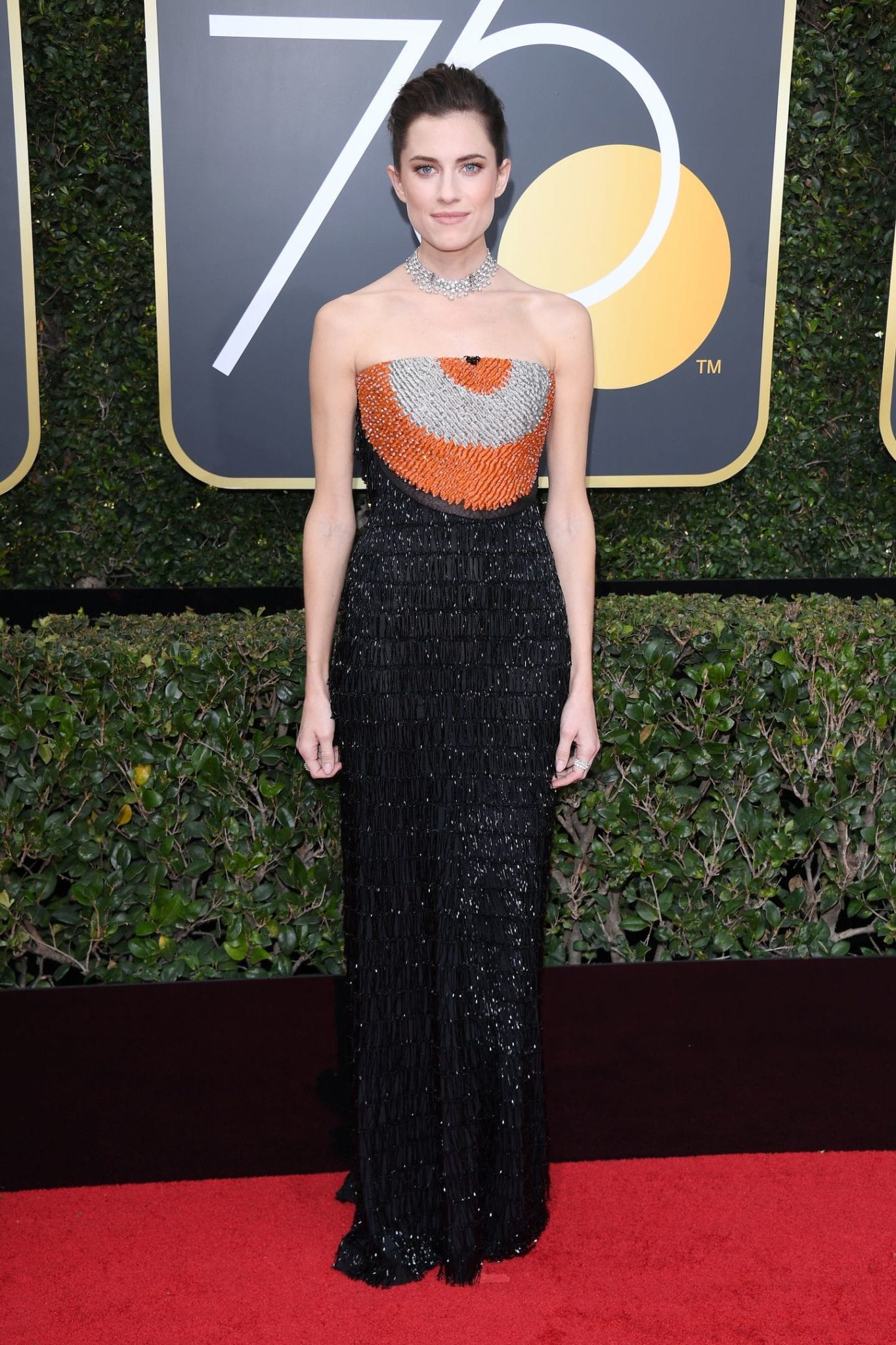 Allison Williams
Wearing: Blanca Blanco. This dress is causing quite the stir, landing Williams on some worst-dressed lists. I personally love this tight-fitting gown and the creative pop of orange.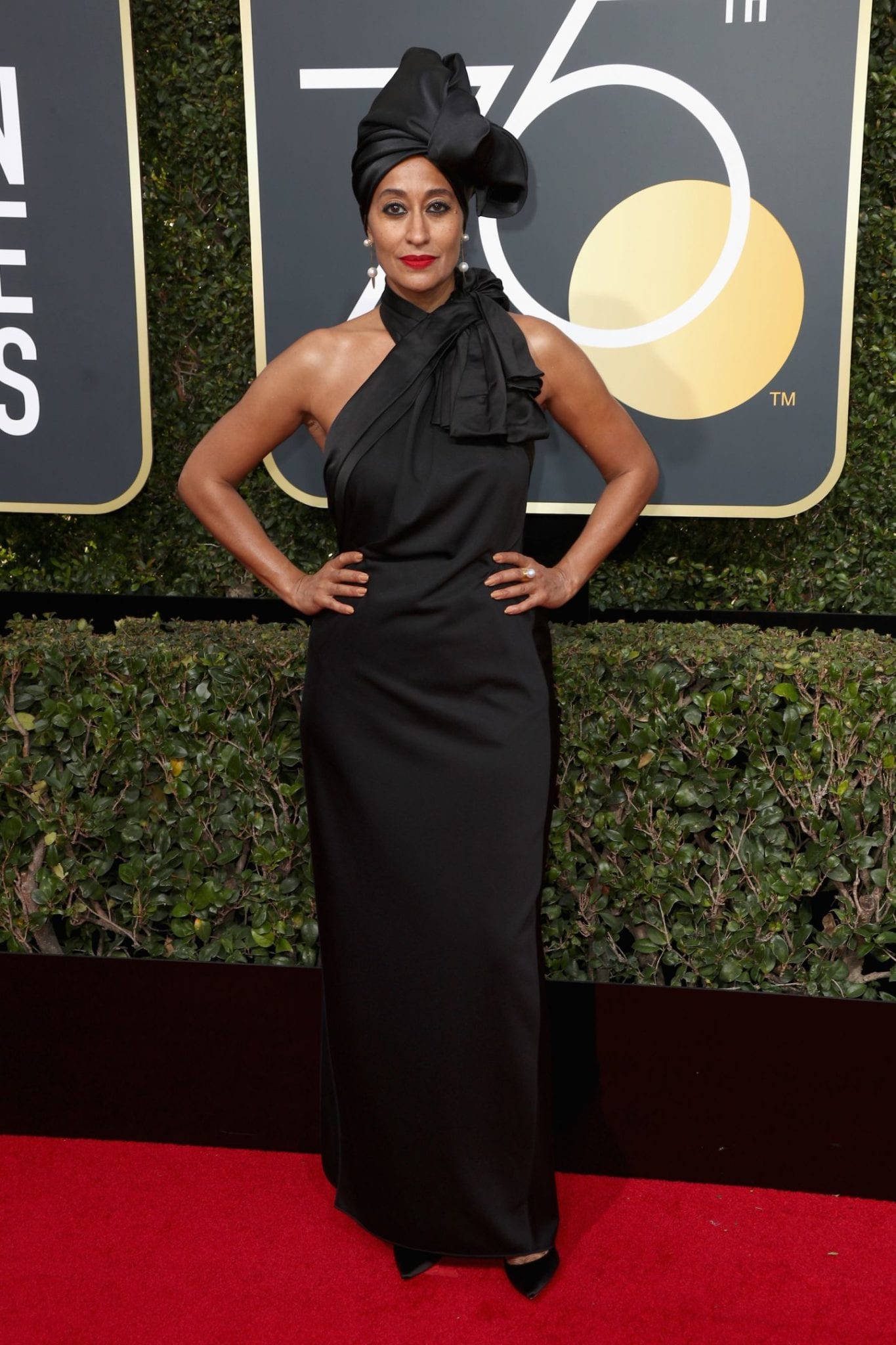 Tracee Ellis Ross (blackish)
Wearing: Marc Jacobs. A high neck and silk pairing is always a win in my book. The pearl ring and dangle earrings are also high-notes of this look.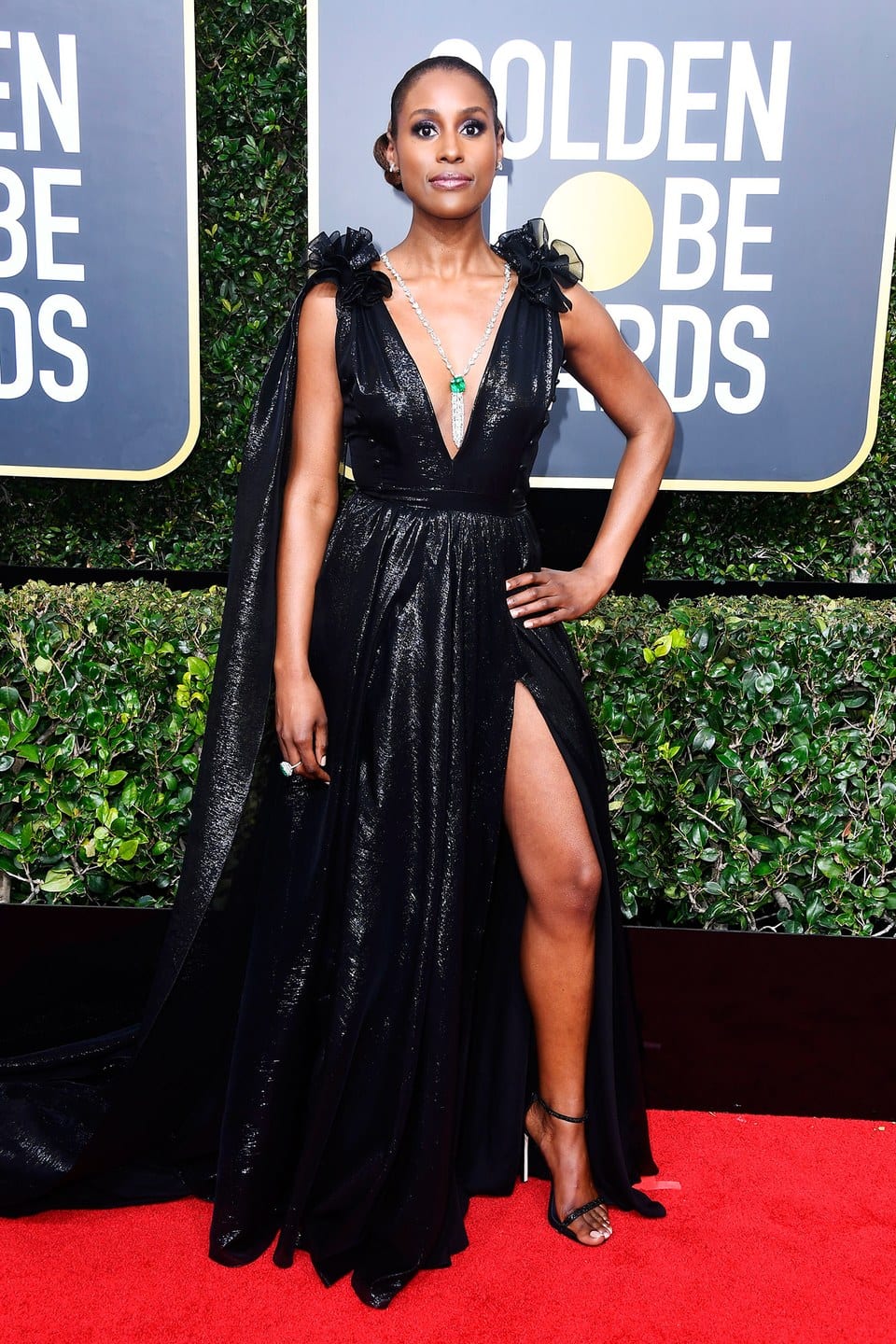 Issa Rae (Insecure)
Wearing: Prabal Gurung. I have always been a sucker for a pop of emerald. Rae's long emerald necklace was just the cherry on top of this beautiful v-neck, shoulder detailed look.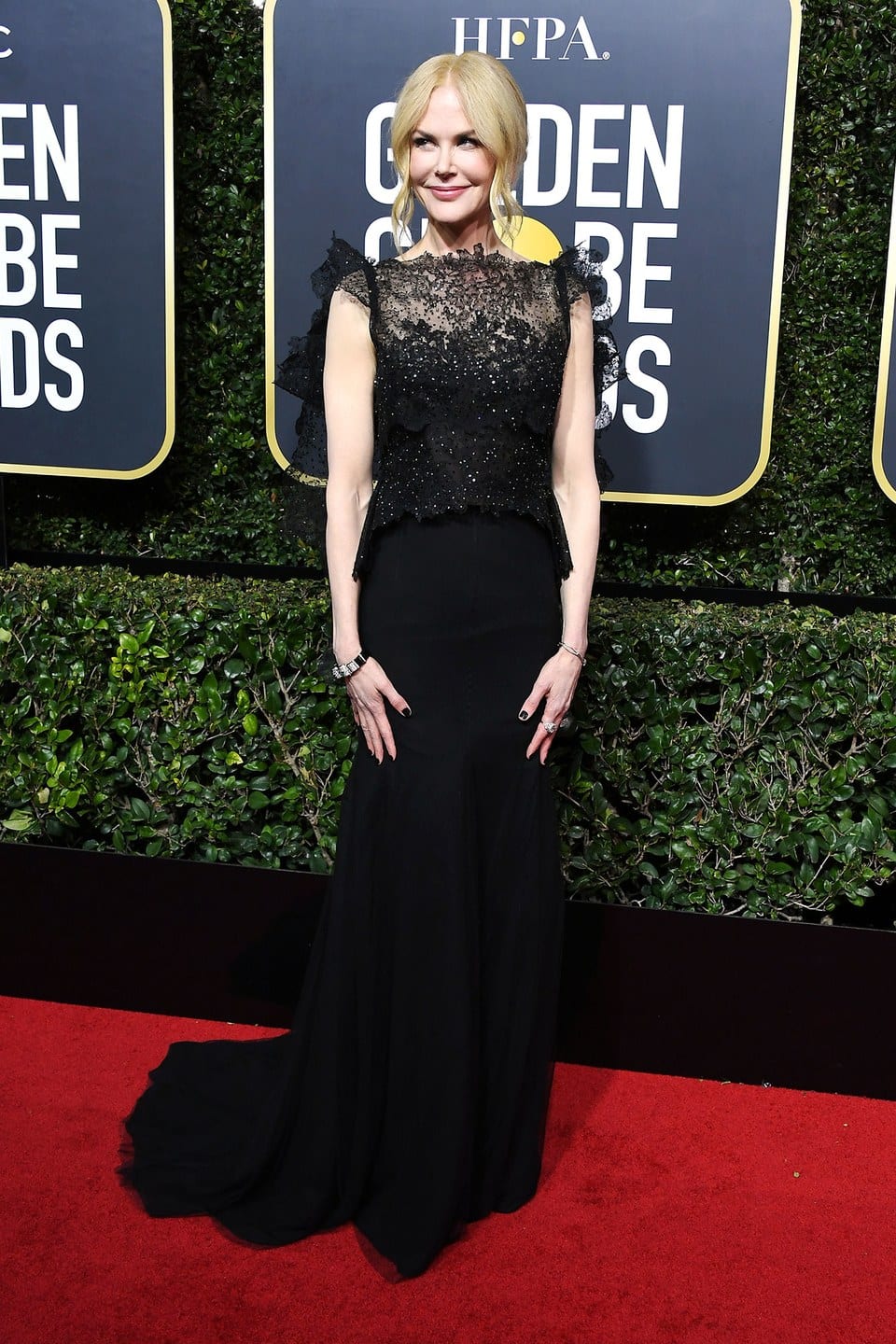 Nicole Kidman (Big Little Lies)
Wearing: Givenchy. Nicole Kidman was the big winner last night, winning best supporting actress in a limited TV series for her role in Big Little Lies. The lace detailing on this gown was also a winner- especially paired with the shoulder tulle ruffles.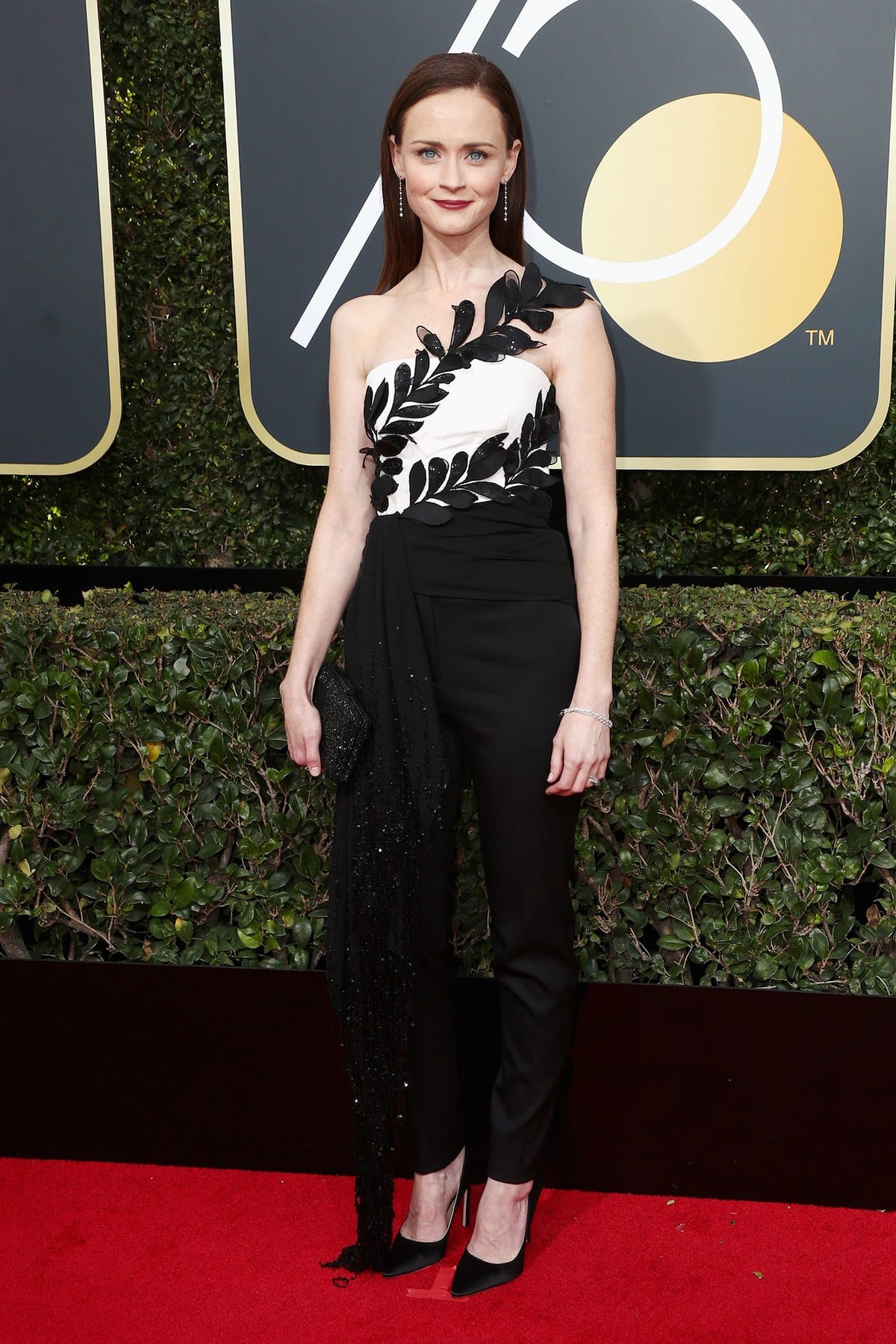 Alexis Bledel
Wearing:  Oscar de la Renta. How do y'all feel about this look? It's been facing some mixed reviews, but I personally love this jumpsuit. It gives a little bit of white covered by the ivy-esque detailing, which I think was a youthful and refreshing alternative to the normal gowns seen at the Globes.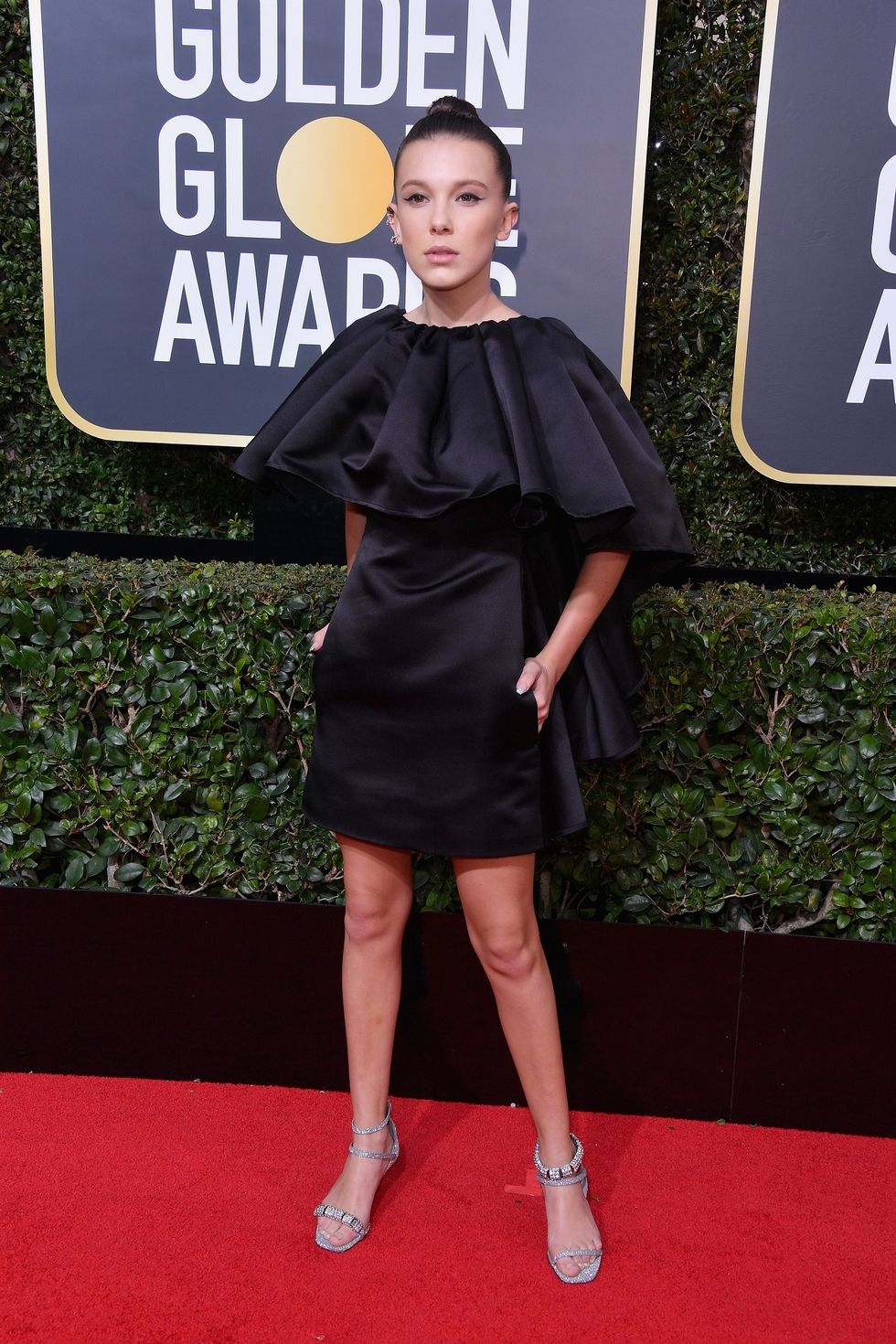 Milly Bobby Brown (Stranger Things)
Wearing:  Calvin Klein. Milly Bobby Brown's mini-dress had alllll the ruffles and pockets- two of my favorite things. I loved the short hem-line of this dress, and of course the sequin anklet that I will be copying ASAP.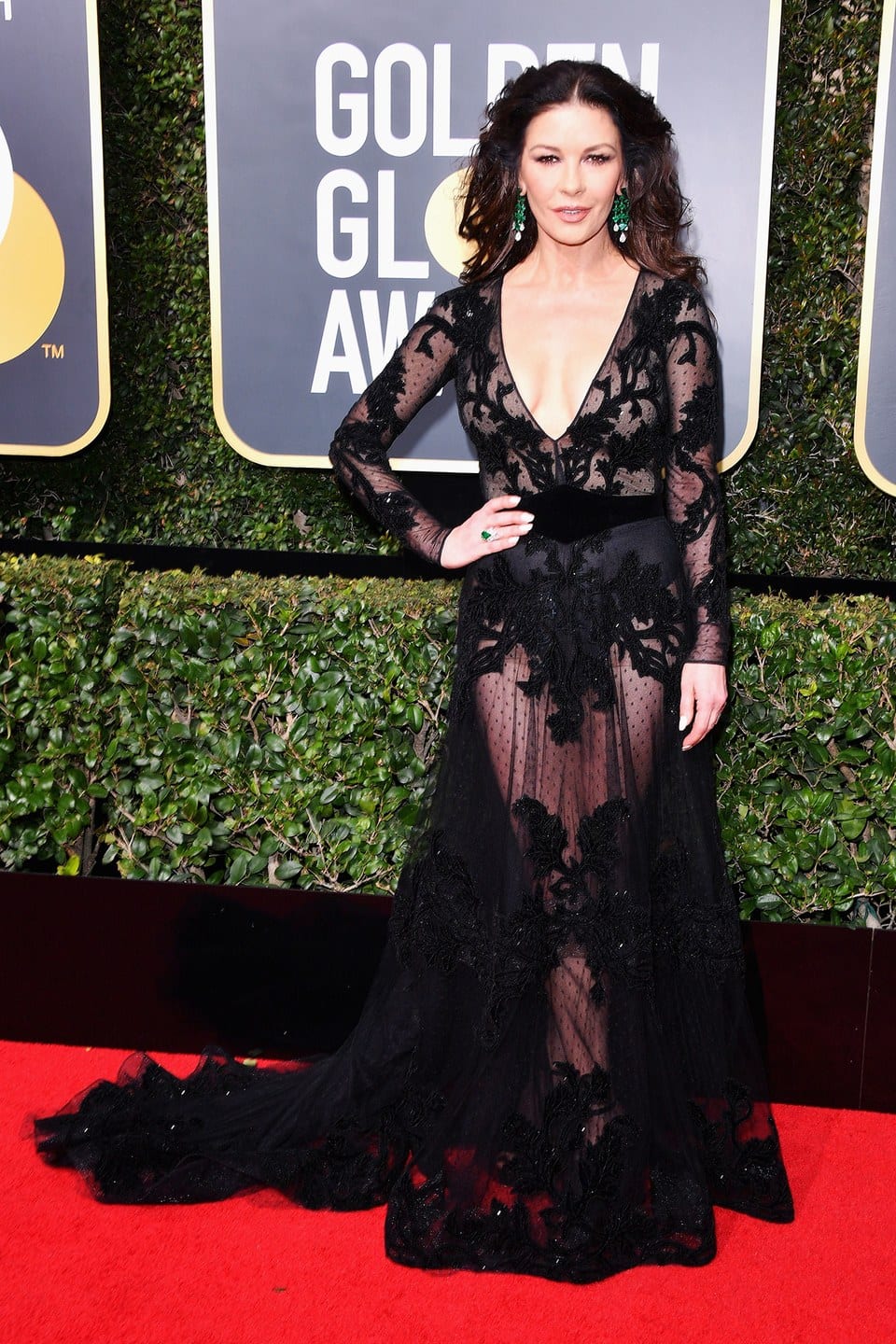 Catherina Zeta-Jones (presenter)
Wearing:  Zuhair Murad. Ending the list today is the stunning Catherine Zeta-Jones in this playfully see-through gown. The leotard shape brings some youthful energy, matched with the elegance of (my favorite!) emerald jewels. PS- does this woman ever age?! 
There you have it everyone- the 10 best Golden Globes looks of 2018! What a night for fashion- an art form that was used to stand up for a movement so much larger than any of the awards given last night. Be sure to comment your favorite looks from the Globes carpet, and start your countdown for the next awards show this season!