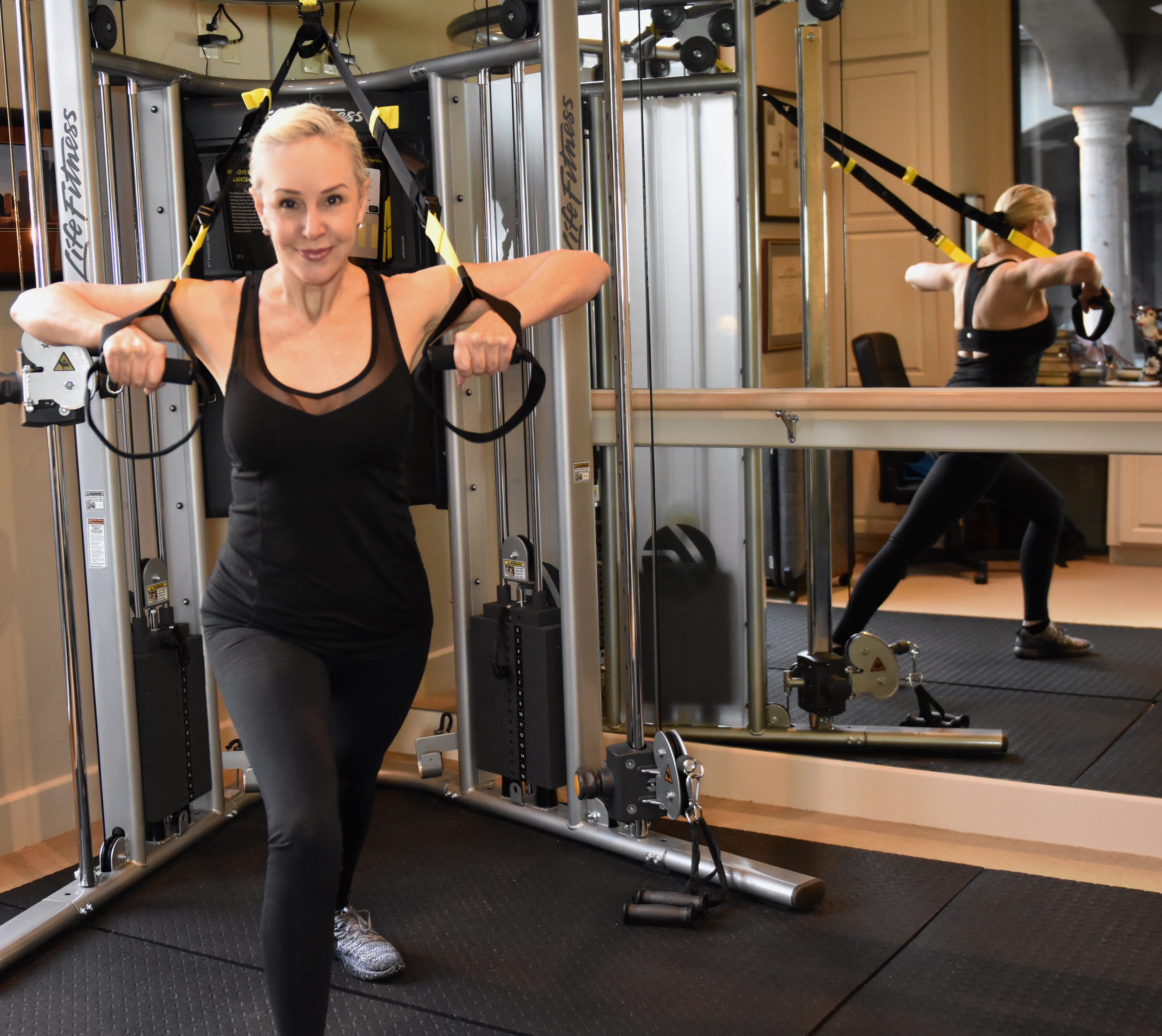 Well we're almost at the end of January which means we're coming up on one whole month of New Year's resolutions. How are you all doing with your goals? For many of us, fitness goals were a huge part of our resolutions. If you're anything like me, you know how hard it is to stay motivated (especially when it's so cold out…and your warm bed sounds so much better). To fight this February fatigue, we're giving you allllll the tips and trends for keeping your fitness goals this year….and the years to come! This advice is specifically tailored for women over 40, but can of course be applied to those of any age. Enjoy! 
Tip: Relax while running
I have always wanted to become a long distance runner. Running is one of the best things you can do for your body, but for many of us is a source of loathing. I did some research on how to become a better distance runner, and combat my own hesitations. One of the most interesting ideas I found was to drop this pre-conceived need to increase mileage with every workout. This article by Women's Health says  "to get better, you don't have to continually increase (mileage). In fact, if you've hit a happy place of around three to four miles three or four times a week, that's a great range for maintaining fitness." They go on to suggest increasing intensity instead of distance, or even running at different intervals (changing speed) to reach this same goal.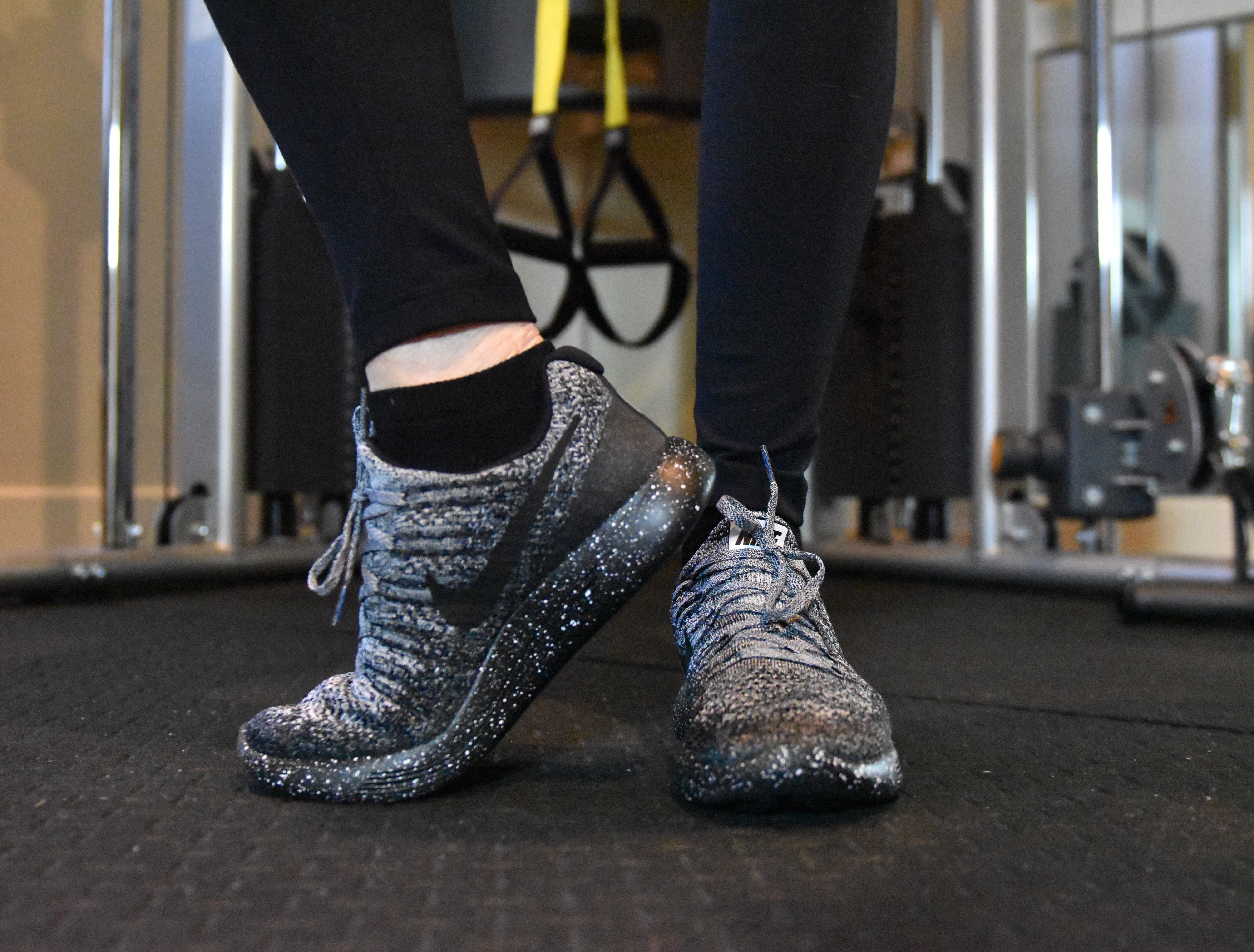 Trend: Orange Theory
Did you know Orange Theory was the fastest growing female-run company of 2017? According to this article by Business Insider, "Orange Theory's group workout classes are 60 minutes long and focus on high-intensity interval training. In each class, you'll cycle through workouts on a treadmill, on a rower, and on the floor." All I know is I hear RAVE reviews from everyone I talk to, who say this class is a perfect combination of cardio and creative movements that can be tailored for any fitness level.
Tip: Eat five times a day
Don't be alarmed…you did indeed read this right! Nutritionists across the country are encouraging 3 meals a day WITH 2 snacks in between. Besides just increasing metabolism, "you'll have a steady stream of energy; plus, less food more often isn't as taxing on your digestive system as three big meals," according to this this article. So what are some healthy snack ideas? This article by Real Simple tracked some nutritionist in their own day-to-day routines, to see what they chose to snack on. What did they find? Cottage cheese with fresh fruit, roasted chickpeas, tuna and nut butter where among the most unique choices.
Trend: Pre-shower routines
I know this one sounds odd, but this method of fitness is allll over Pinterest for those of us without time to make it to a gym. While letting the bathroom get extra steamy, doing a quick 5 minute toning workout can make sure you get at least a little fitness into your busy schedule. Researchers say that it takes 21 days to truly make something a habit, so working this in before your showers over the next 3 weeks might just be the perfect fitness hack. PS: Check out this shower session, which requires no weights or equipment!
Tip: Follow, follow, follow!
If you're a social media junkie like me, following fitness and food accounts can be such a great way to accumulate new workout regimens or recipes ideas. This list contains great over-40 accounts to follow, which just scratch the surface of all the "fitstagrams" out there. With this being said, be careful when viewing these accounts. Remember the goal is to be inspired, and not to compare yourself with their every workout and meal. Every body is different, and every body deserves to be celebrated!
As far as nutrition goes, follow food related TV shows and cookbooks. This will encourage you to stay in and cook, avoiding the over-sized portions we love so much at our favorite restaurants.
Note: tag a workout or even diet buddy in these posts, which will encourage you both to stick to your goals while trying something new!
Trend: Chicory root fiber
According to the Washington Post, chicory root fiber will be one of the largest nutrition trends in 2018. "It's fantastic to introduce healthy bacteria into your digestive tract, but you also need to provide the right fuel to help those good bacteria thrive. That's where probiotics come in." This can be found in select nutrition bars, yogurt, oatmeal and smoothies.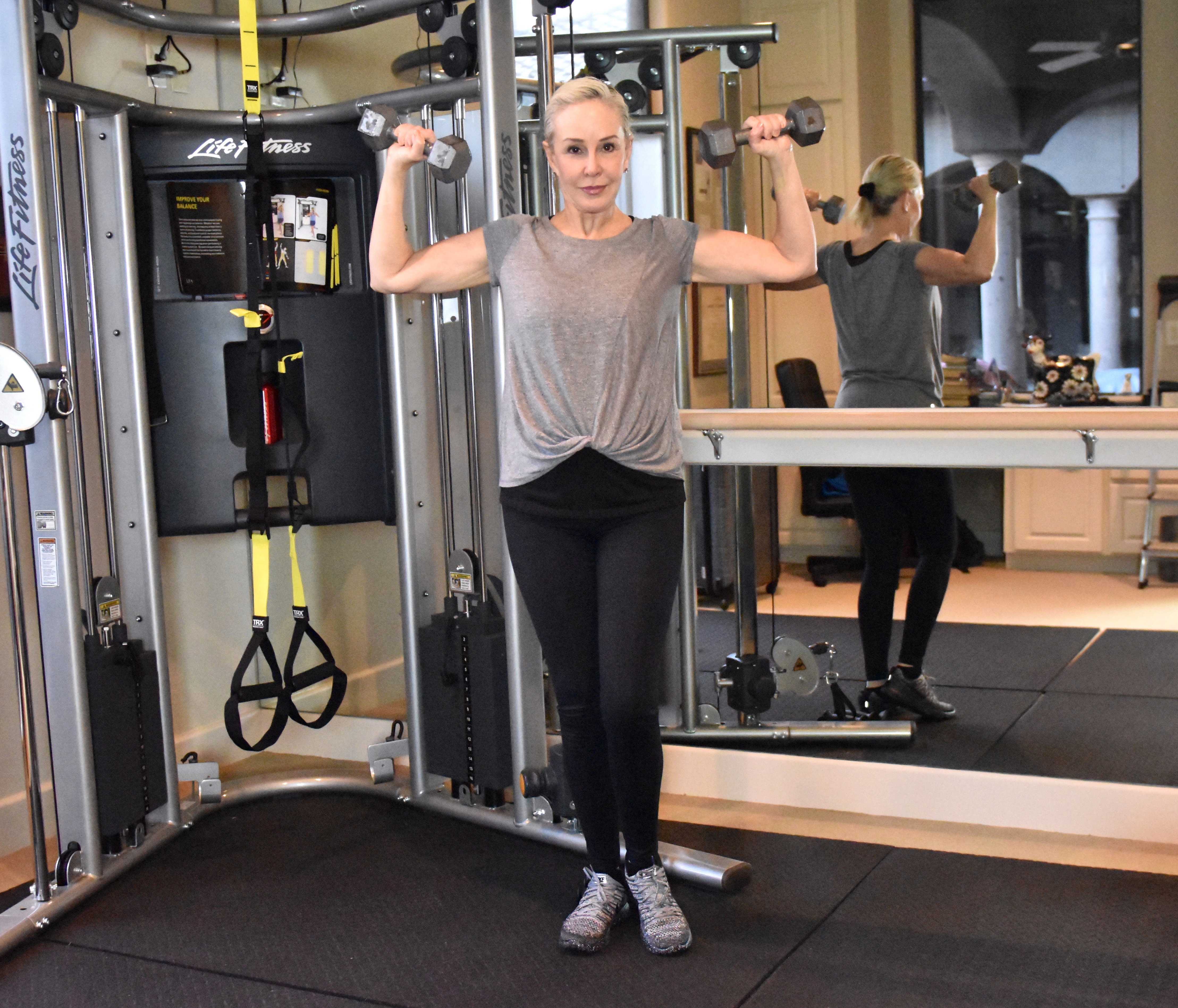 Tip: Bring on the burpees
Danica Patrick, the superstar NASCAR driver and new author of a fitness book, sat down with ABC News to share her biggest tips for 2018. According to Patrick, burpees are one of the most effective full-body workouts for achieving the high-intensity cardio and toning we're always wanting…and slightly scared of. She even said she once did 500 burpees for an out of town workout when she couldn't access a gym. I'm not quite sure I'm at that level yet, but never say never ……right?
Trend: Barree & Ballet
Pure Barre has been a huge fitness company for years now, encouraging women across the nation to drop the weights and find a ballet bar. But this barre style of workout class is known to be perfect for women over 40, because it is low intensity and utilizes a ballet barre for support nearly the entire time. This article from Time highlights the "targeting (of) the "support and steady" muscles that run close to your bones and tie into your core and spine—the ones most of us neglect when we spend a lot of time sitting or engaged in forward and backward activities like running."
What are your tips and tricks to keep your fitness goals? Let us know in the comments, and have a wonderful workout…and weekend!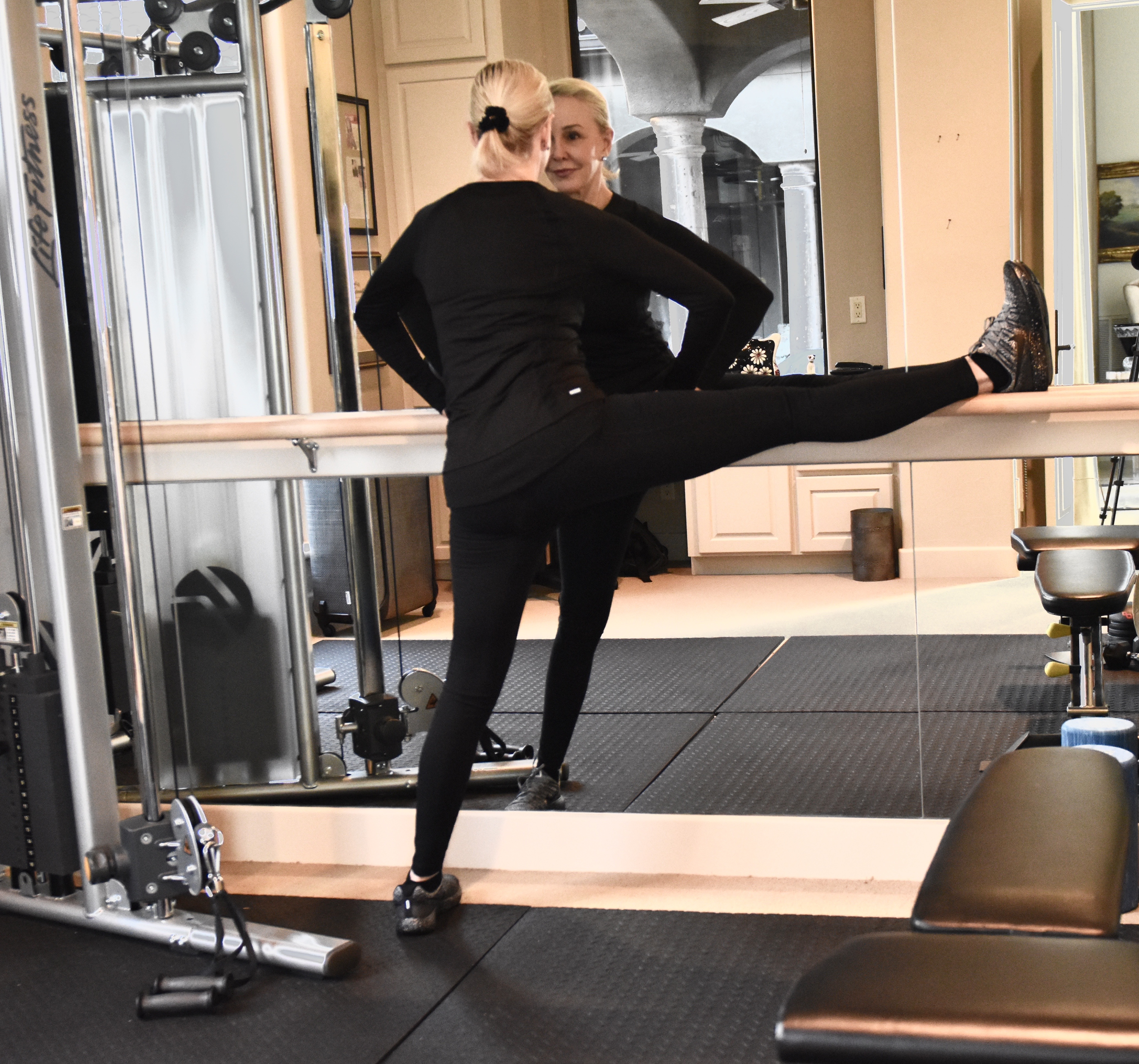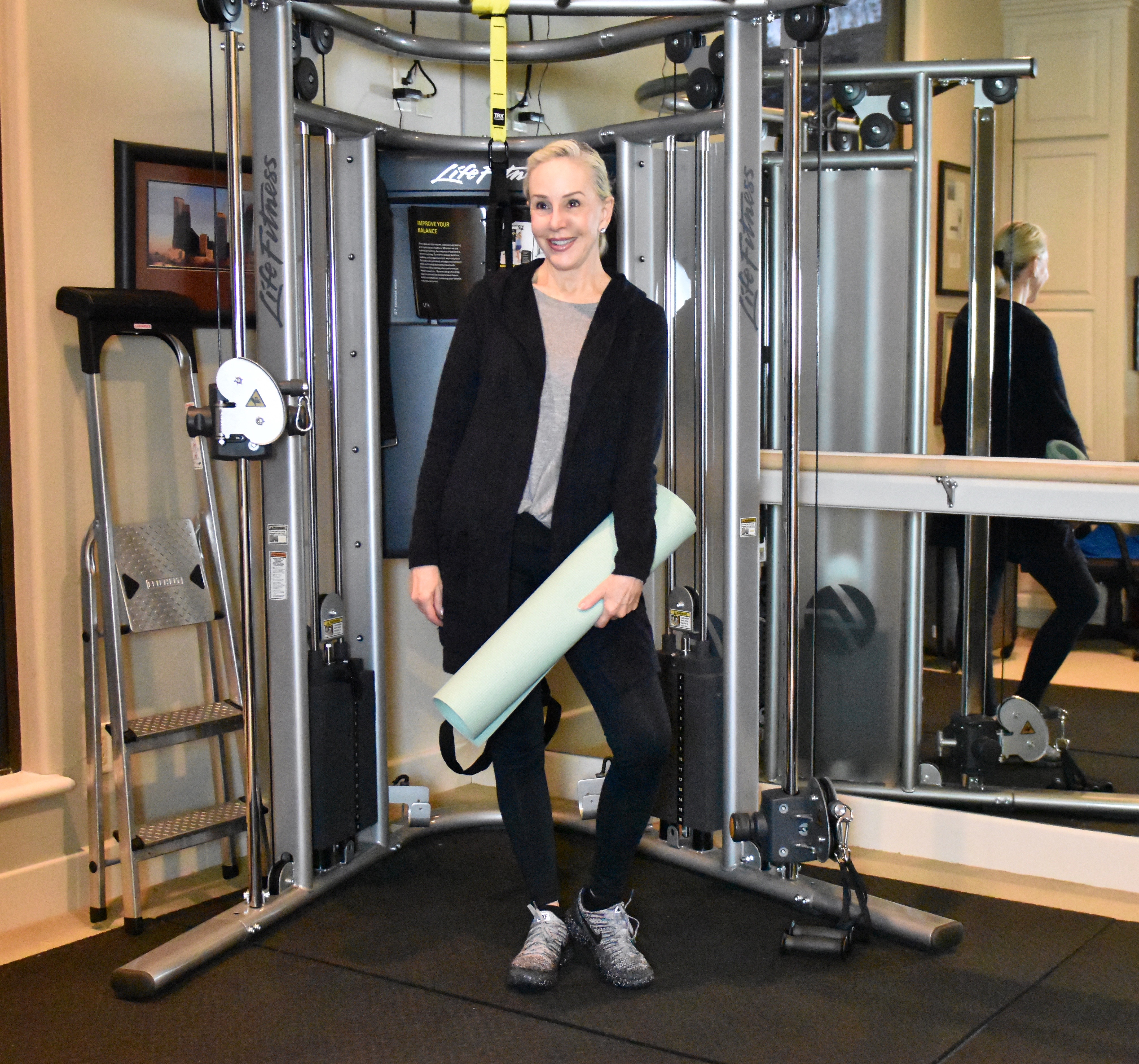 by Delaney Sanders & SheShe
Outfit Details
Everything Fitness
SHESHE'S TIDBITS
Finally getting my health back. It's been a tough winter for this girl.
We have more fun things coming up. Valentines Day is on our heels. Have you started thinking about everything LOVE? This week look for our first collage with great ideas for gifts and what to wear during the season of love!
Gala's, weddings, graduations, holidays or just everyday wear…..we have fashion suggestions for you, so stay tuned. Be sure to check out  ShopSheShe  tab at the top in the menu bar. Hover over and choose the category in the drop down. We try to keep it up to date with the latest and greatest for all budgets. Subscribe here and then you won't miss a post. Simply enter your email in the pop up box when you come to this site or at the top of this page in the subscribe box.
WELCOME new readers. We are a fashion/travel/lifestyle blog. We talk about anything and everything, from fashion, travel, health issues to even an occasional recipe. If there is a topic that you are interested in, then let us know. We will do our best to bring that story to you. Have a great great week sweet friends and thank you for following along. Without you, we could not continue on this crazy fun journey!
Share the post "SheShe's Showcase | Beach-Worthy Resort Wear"