/>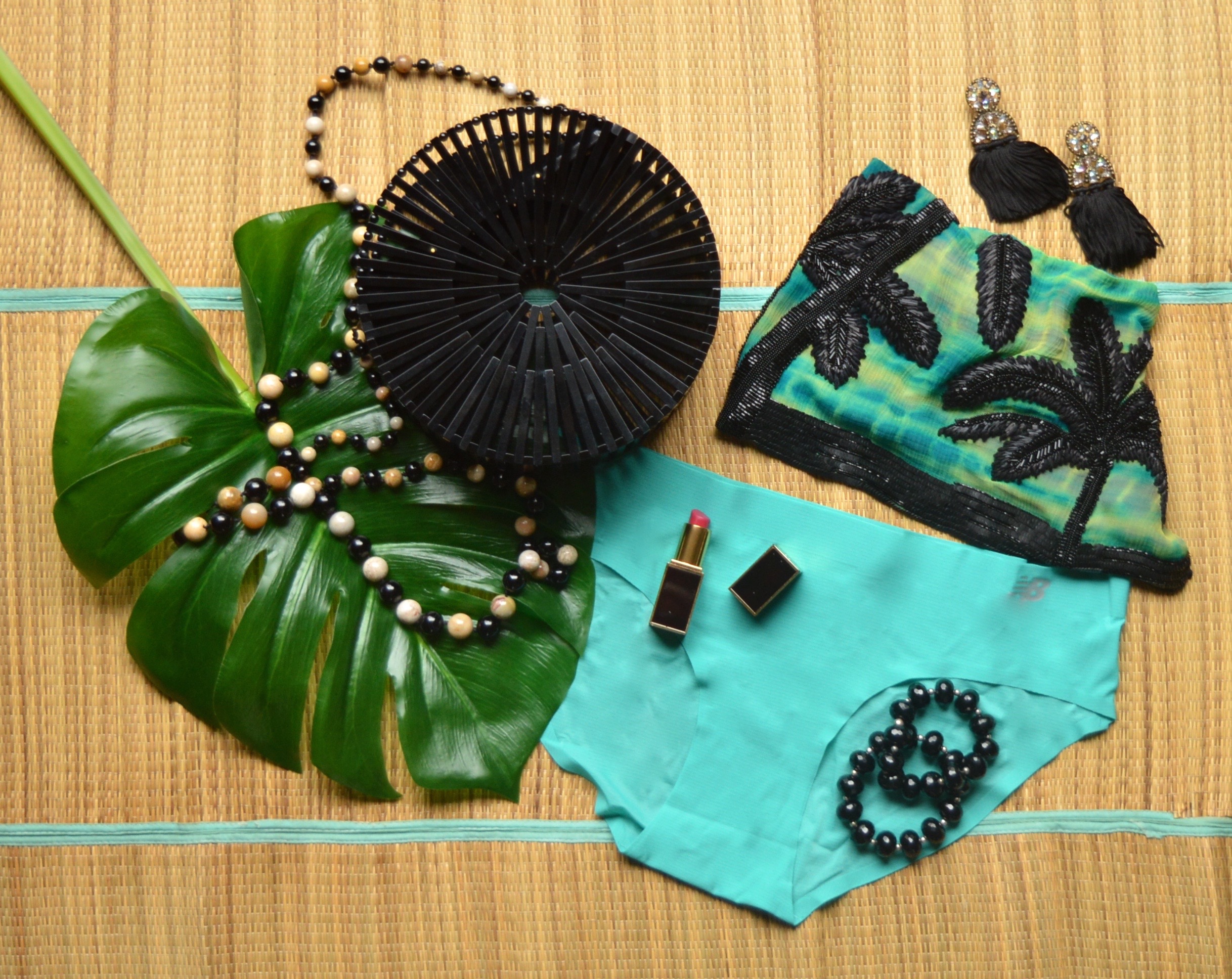 9
This post is sponsored by Kohls. I was paid for this post and received the included intimates as compensation.
It wasn't until I was nearly 40 years old that I understood the importance of making my undergarments as good and important as my daily curated outfits. I also had never been fitted for a bra and I was totally wearing the wrong size. I can't tell you what a difference it made in my confidence when I updated my intimates drawer with the right fit and better quality bras and panties. So, today we encourage you to take a peek into your intimates drawer and determine if you need a refresh and then head over the Kohl's Semi Annual Intimate Sale for some great steals and deals.
In the following photos, I am sharing with you some of my picks that I have chosen to keep me feeling good and confident in all of my life's activities.
Photo #1 (above) Panties…..it's time ladies. These women's New Balance hipster panties feature super lightweight and moisture-wicking performance technology with fused seams for breathability and reduced chafing. I wanted these to wear under my leggings during my workouts. I normally wear my lace thongs for every day, but this style works so much better for my moderate impact workouts. They are seamless, so they won't show through and with the moisture-wicking technology, they dry fast.
Photo #2 (below) This seamless panty by Warner's is great to wear under your more fitted pants and dresses. They are soft but yet offer that extra touch to smooth out your shape.These panties are seamless with a wide band that helps prevent that muffin top that we all despise. These panties are a less binding option for a shapewear type of garment.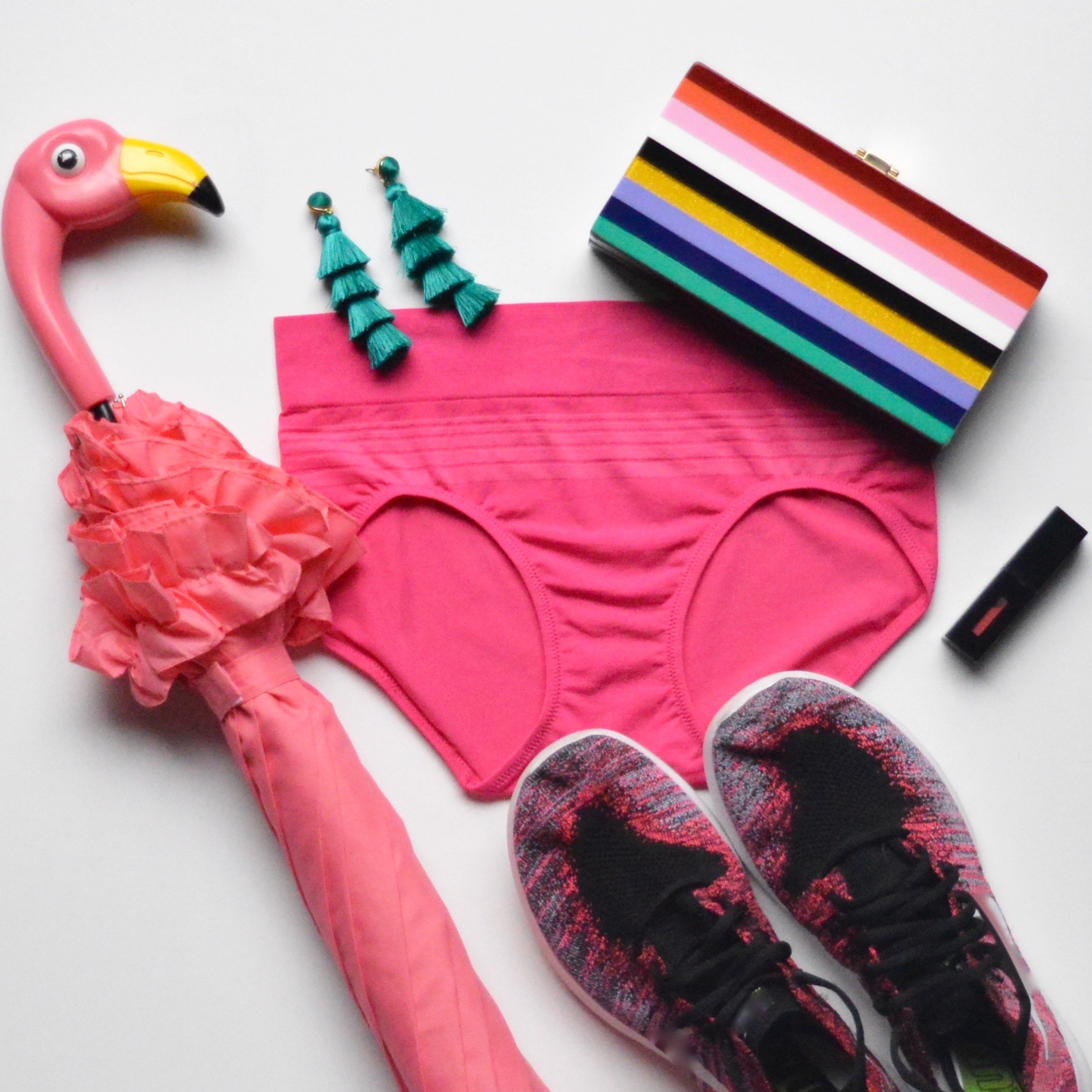 Photo #3 Panties….Last by not least, is my very favorite style of panties…..the Maidenform lace thong. I know, I know, some of you never could get used to wearing this style of panty and maybe some of you have never even tried. I will say that they do take a little getting used to, but once you do, you will never go back except for a panty for working out or shapewear to wear with your fitted pants and dresses. Wear them every day for 2 weeks and you will be good. This Maidenform 4 pack is the deal of the day and will help you kick-start this new habit wearing very pretty lace thong panties.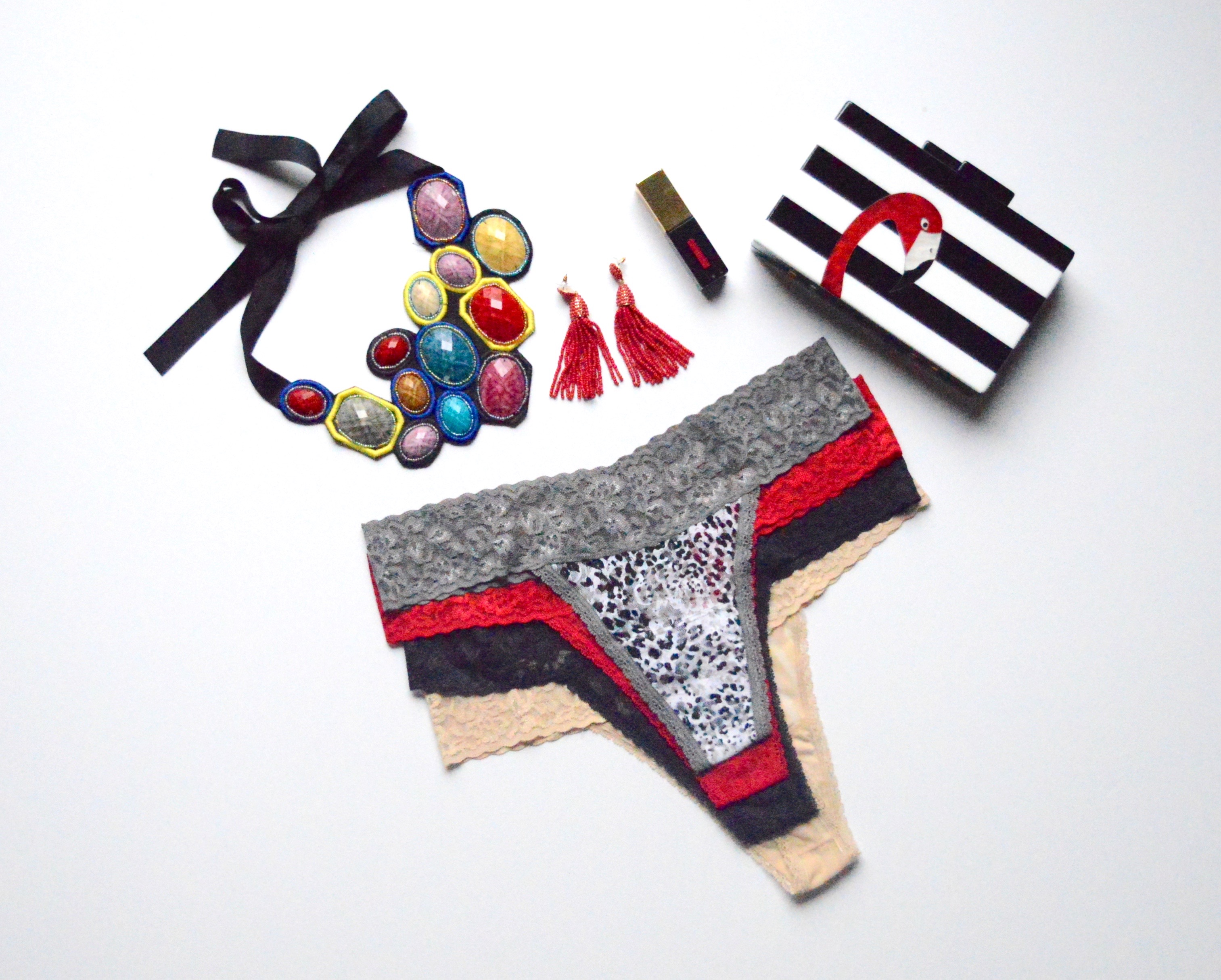 Photos  4,5 & 6 Bras….. I particularly love keeping some colorful fun styles of sports bras on hand. This fuchsia colored style by Jockey is made of a soft jersey fabric with a mesh insert for ventilation. I wear mine for my moderate exercises as well as for a fashion piece under more revealing tops. It too has the wicking technology and also has removable bra cups. This Ambition Racerback style comes in two other colors and can be worn alone or under your favorite tank tops or fashion tops.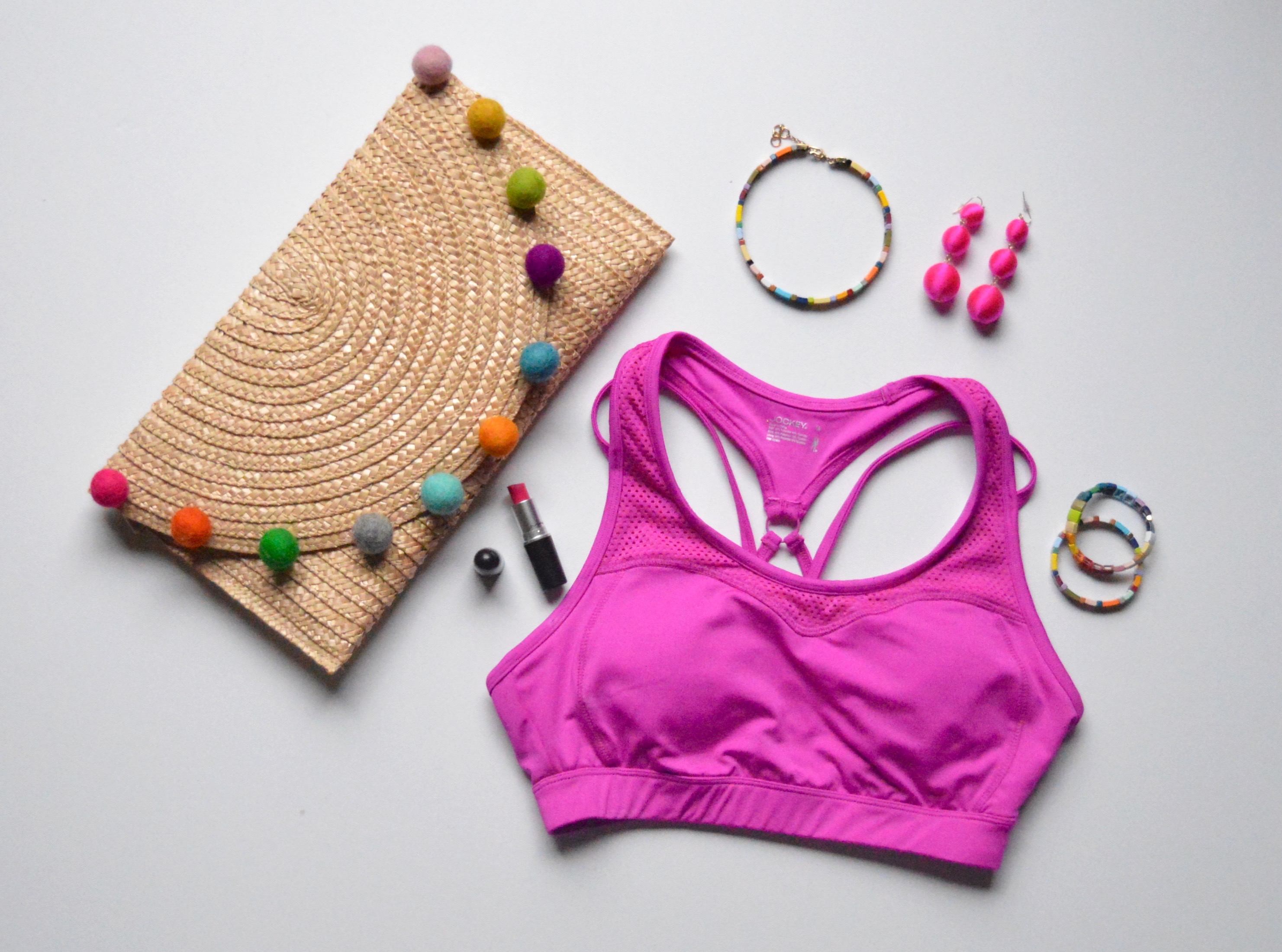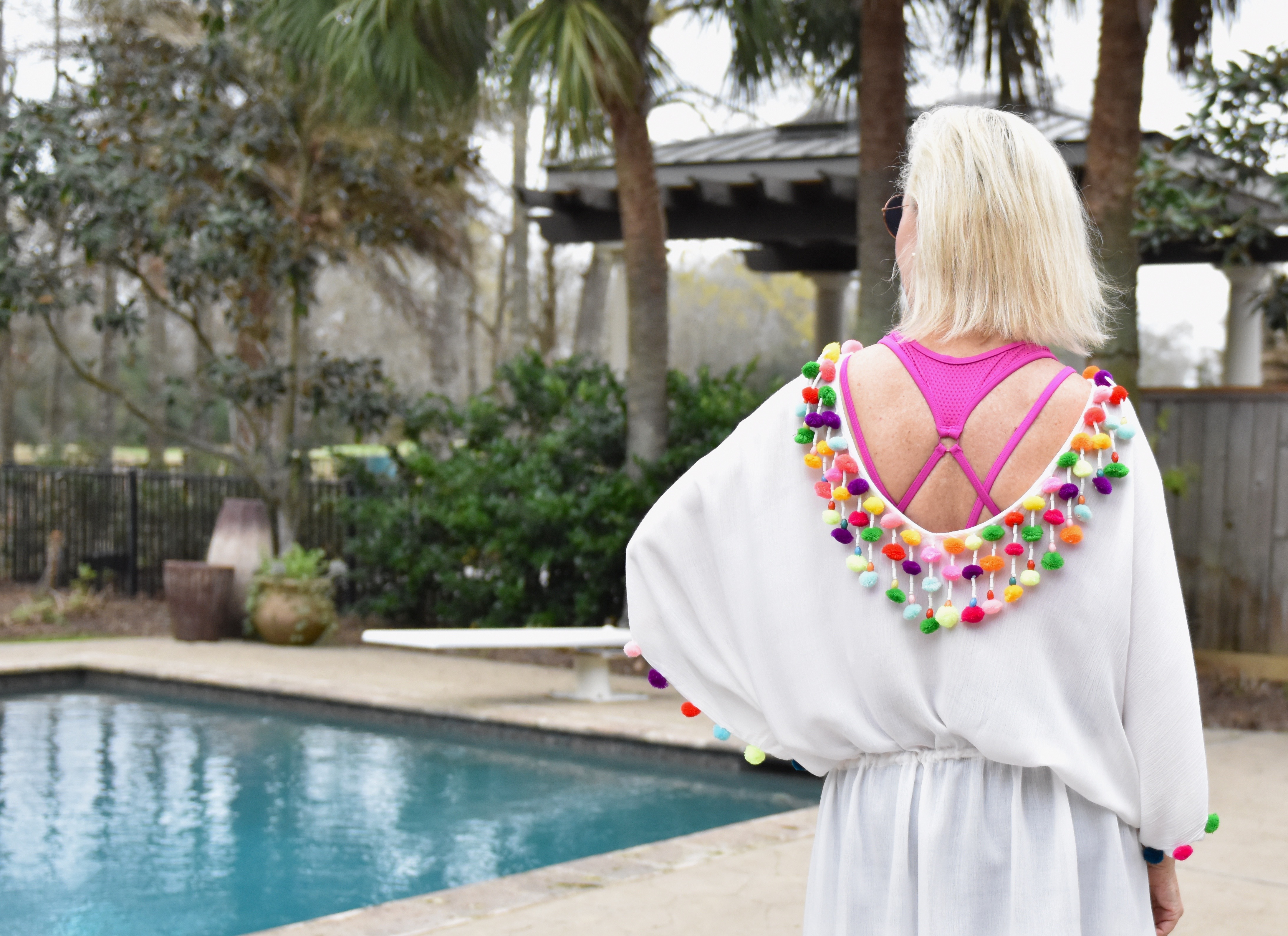 Photo #7 & 8  Bras (below) As summer approaches, I find that I wear more t-shirts and lighter weight tops. The t-shirt bra shown below is the perfect bra to wear under your sweaters and these types of fabrics. I know that lace bras are very pretty, but they are so not practical for knits , so I would highly recommend adding a smooth cup t-shirt bra so that you will feel confident that you have a smooth fit to your tops and dresses. In the last photo, I am wearing a spring knit tunic dress and the t-shirt bra. You can see how smooth the dress lays over the bra.
Several times a year, I find that I am need of a strapless bra. The strapless bra pictured also has convertible straps that can be used for your racer back and halter style dresses & tops. This particular bra has full coverage featuring a liquid satin fabric for a sleek smooth appearance. With the stay in place silicon, you can feel confident that the girls will stay in place.
Kohl's carries so any more name brands that I bet you didn't know about. Bali, Vanity Fair, Hanes,Tek Gear, Fila and Champion to name just a few can make your day filled with confidence.
Before you order your bras, I must ask…..Have you ever been fitted by a professional bra fitter? If not, Kohl's has developed the Bra Fit Quiz. It can help you find the right style and bra fit. Remember, it is good to get remeasured every year as your body is ever changing. Weight gains, having babies, increased fitness levels will all change the way your bras fit.
I took the quiz and I am still wearing the correct size for most brands. I did learn a few tips to help me recognize any changes in my bra fit. Now you should take the quiz and report back to us by leaving your results in the comment box on this page below.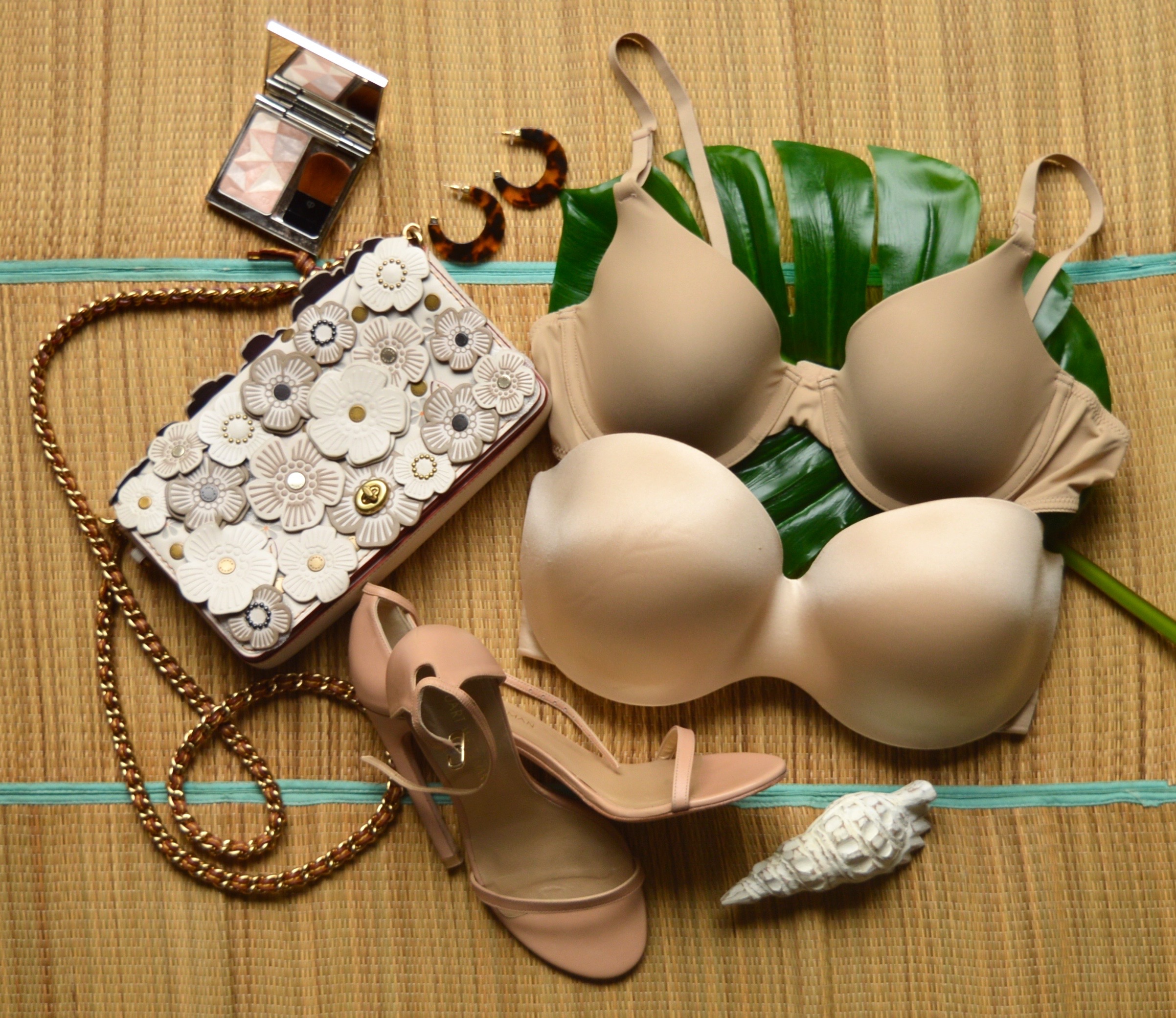 While reading about my new intimate choices, have you been thinking about what you need to buy to give your intimates collection a refresh? Right now would be a great time, because Kohl's is having their Semi Annual Intimates sale.Between now and March 18th get $10 off $40 intimates (with promo code INTIMATES10, General Semi-Annual Intimates Event 3/2 – 3/26, and $19.99 Bonus Buy Bras now until 3/11. (these are 12 bras featured as top customer-rated.)
These affiliate links are not associated with Kohl's
Photo #1 Details
Photo #2 Details
Photo #3
Photo #4, 5 & 6 Detail5
Photo #7 & 8
SHESHE'S TIDBITS
 Gala's, weddings, graduations, holidays or just everyday wear…..we have fashion suggestions for you, so stay tuned. Be sure to check out  ShopSheShe  tab at the top in the menu bar. Hover over and choose the category in the drop down. We try to keep it up to date with the latest and greatest for all budgets. Subscribe here and then you won't miss a post. Simply enter your email in the pop up box when you come to this site or at the top of this page in the subscribe box.
WELCOME new readers. We are a fashion/travel/lifestyle blog. We talk about anything and everything, from fashion, travel, health issues to even an occasional recipe. If there is a topic that you are interested in, then let us know. We will do our best to bring that story to you. Have a great great week sweet friends and thank you for following along. Without you, we could not continue on this crazy fun journey!
My blog may contain links to other websites. I am not responsible for the privacy policies of those other websites. When you click on a link, your information may be collected by those websites so I encourage you to read their privacy policies.