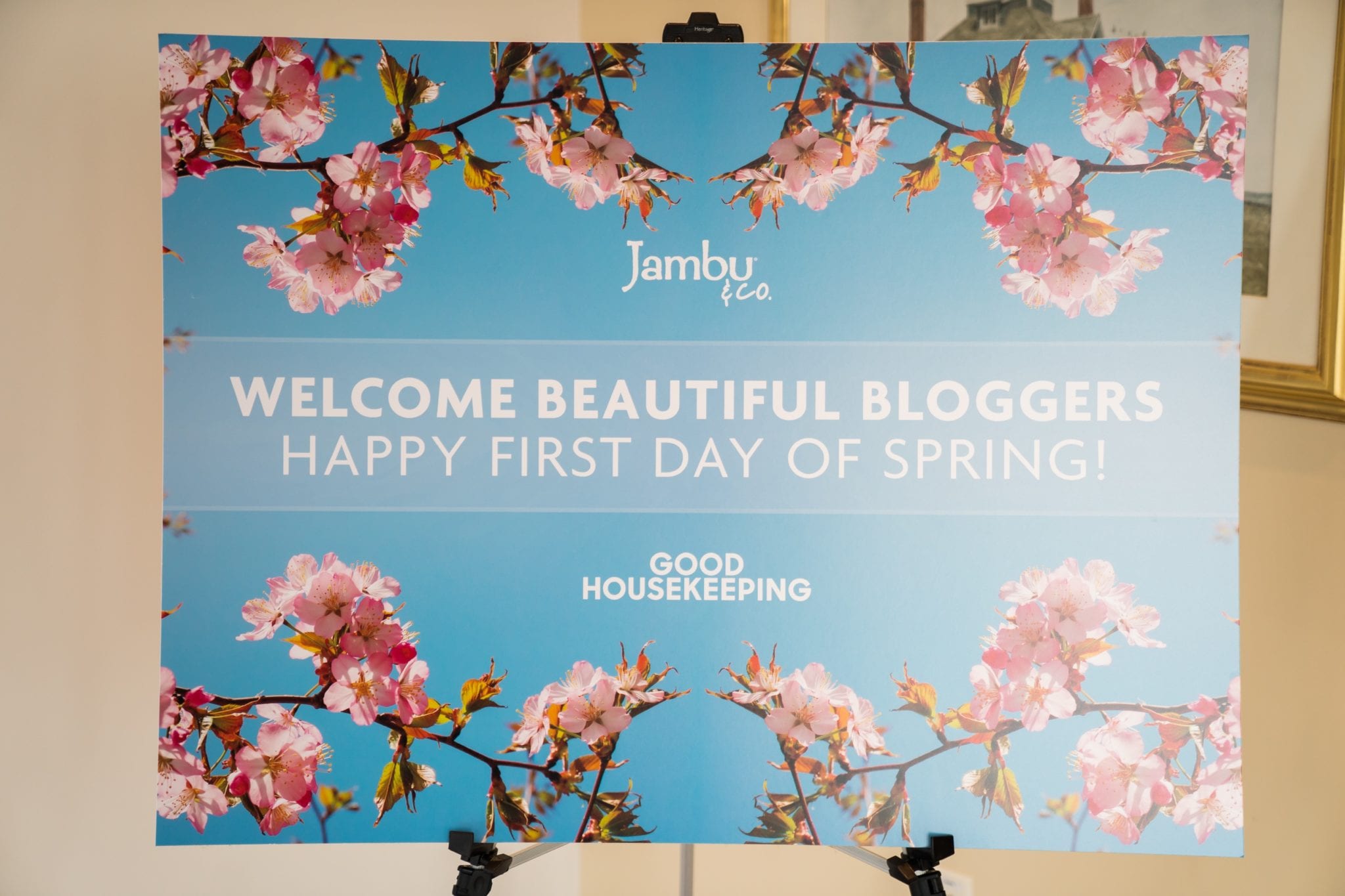 This post was brought to you in partnership with Jambu Footwear Company and Good Housekeeping
I couldn't be more excited to share a highlight of my life today with you. Since I was a little girl, I have read Good Housekeeping Magazine and just recently I was invited to part of an elite group of bloggers to represent Jambu & Co in New York City to visit and spend the day at the Good Housekeeping Institue. I cannot even begin to explain all of the good times we had while we were in NYC!!
On March 18, I checked into the Viceroy Hotel on 57th between right in the heart of midtown NYC. I made one mistake and did not bring a coat. WHAT was I thinking. In my defense, I left 80 degrees Houston weather and the forecast in NY was to be in the lower 40's so I thought that with a little layering I could get by with a leather moto jacket and a scarf. WRONG!! I headed right out and found my way to Zara and found me a darling light blue coat on sale for $45. I stopped by a street vendor and got me a cap and glove. Now, I thought I was in heaven!!
Our first meeting with our hostesses from Jambu was at a very cool restaurant called the BEAUTY & ESSEX located in the Soho area of NYC. What a cool restaurant! I have a couple of photos towards the bottom of the photos.
The next day we met up for a morning breakfast at Norma's right next door to our hotel located at the Parker Hotel. It was soooo good! Then we left and off to the Hearst Tower where we started our tour with the wonderful folks at the Good Housekeeping Institute. There were 6 bloggers plus our hostesses from Jambu Mary Grace and Yetzalee and we were all decked out in our Jambu footwear. We toured beauty labs, test kitchens, and much more.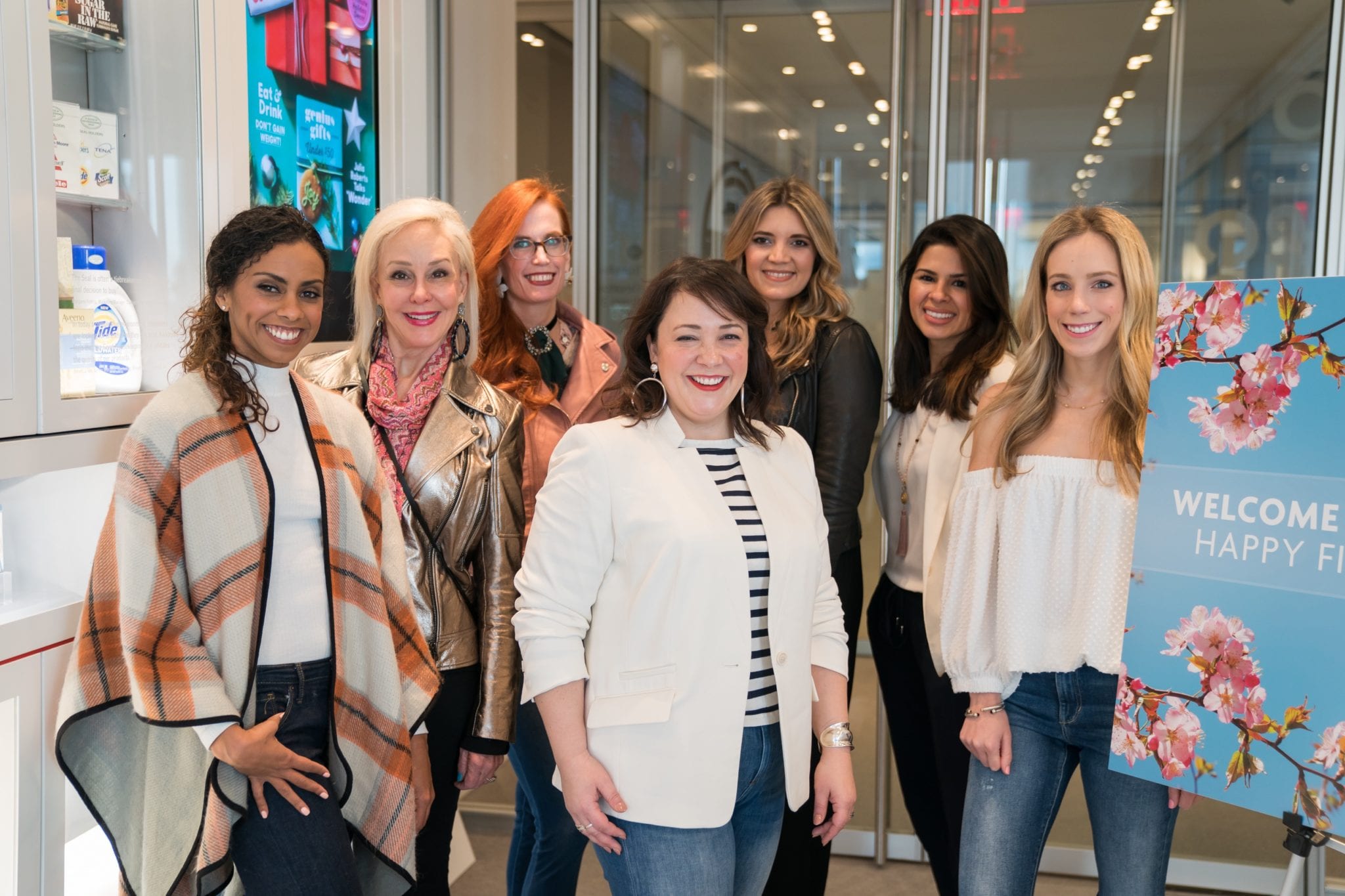 From left to right: Brianna of Milk + Honey Travels, Sheree of SheSheShow, Jess of Elegantly Dressed and Stylish, me, Lauren of By Lauren M, Yetzalee from Jambu, and Katie of Katie's Bliss
First of all, I had NO idea what all Good Housekeeping really has in their arsenal. For a 100 years they have been coming into our homes and now their online presence brings a whole new customer.They review all kinds of products and I know now that I can search all kinds of things to get their best offer online where there is a whole new generation of customers. Consumer reports just went on the back burner with me.
So, enter Jambu Footwear. Good Housekeeping runs products through rigorous testing to give products their Good Housekeeping Seal of Approval. For about 5 years now, Jambu & Co. has had several of their styles that have hit the bar and made that mark. What does that mean? Well, they test their shoes for durability, rain resistance, comfort and more and must meet certain standards. It is truly bragging rights when a product gets this stamp and you can be sure that you that product is backed and warranted by Good Housekeeping up to 2 years.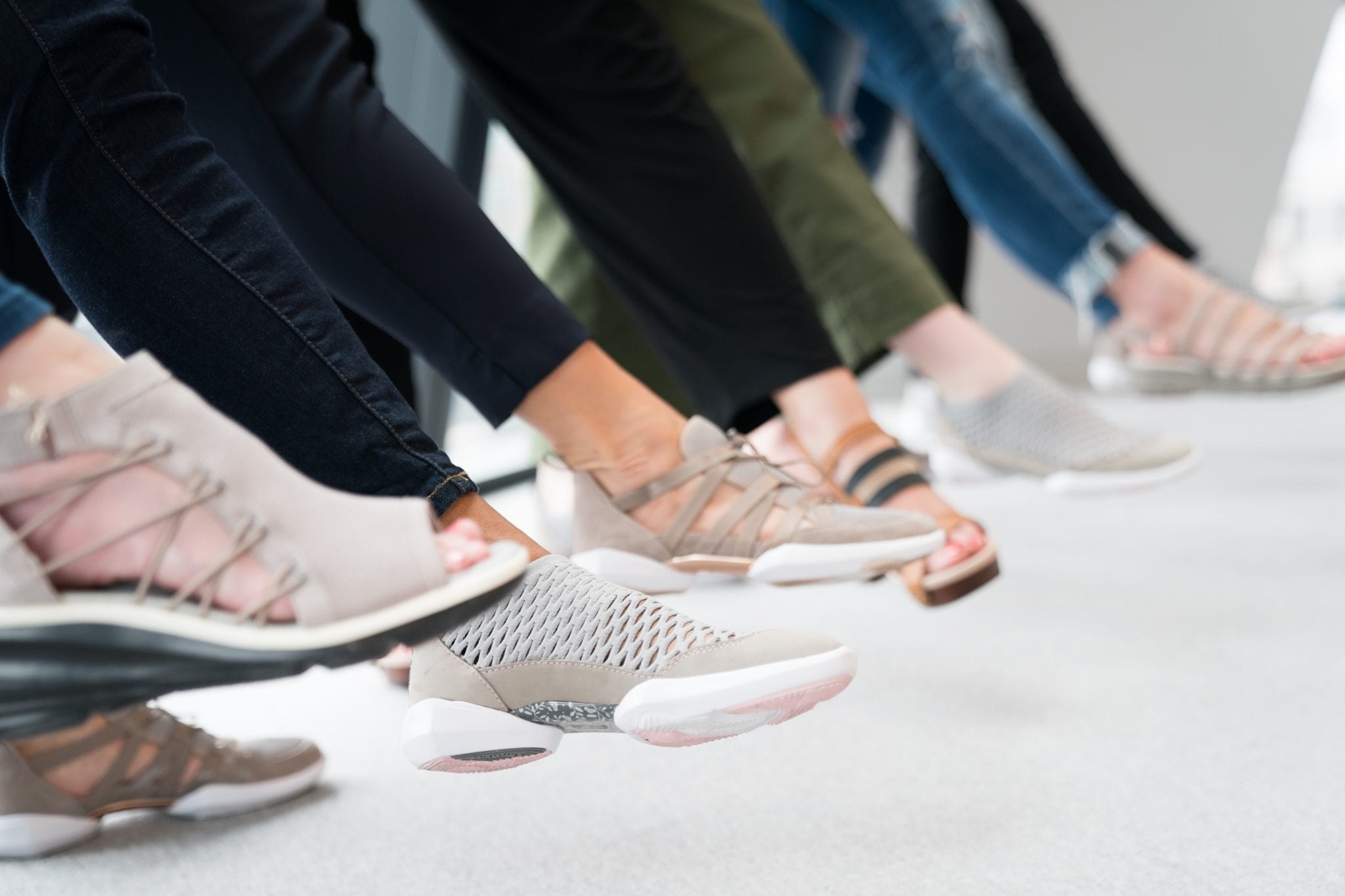 Jambu sent all 6 of the attending bloggers 2 pairs of shoes for us to wear and review. I chose a sneaker called the Dory and a chunky heel gladiator style sandal called the Sugar Too. My sneaker the Dory was popular because a couple of the other girls chose this same style. My red suede sandal, the Sugar Too was sooo comfy, even walking all over the city!! They do run a little on the large side, but once I got the size right then all was in the comfort zone. The only problem I had, was it was unseasonably cold while we were in NYC, so I had to wear socks with my shoes. Believe it or not, I might have started a new trend with my fun socks worn with my spring sneakers and sandals. Ha Ha!!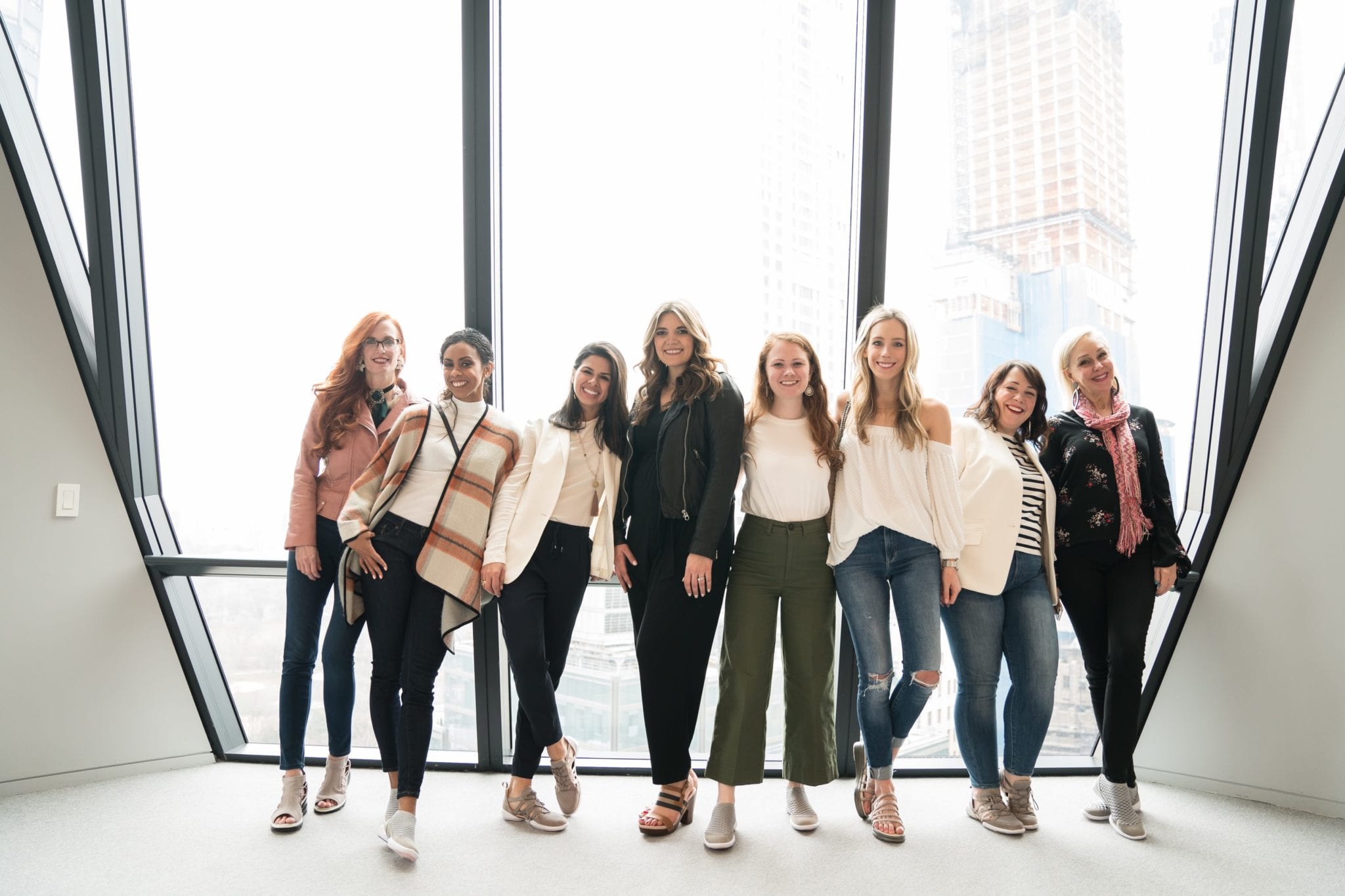 After our tour, we ended up in the President's Room. This room was named because all but the last 2of our presidents have dined there as well all of the first ladies since FDR. We had a small reception there with a sangria toast to our new friendships and this is where we first got acquainted with the fashion editors of Good Housekeeping. We also had the privilege of joining them at lunch in the President's Dining room. I was seated across from Style Director Lori Bergamotto ( you may have seen her on GMA, Windy Williams & the Today Show ) and have my luck sitting to my right was Fashion Director of Hearst's Lifestyle Group Kristen Saladino. With her amazing resume, she was able to share with confidence topics like fashion, social media and current trends.
What a beautiful lunch where we had a healthy salad, a chicken dish and their famous Pop Over bread that sent me over the moon. They prepared a question and answer with the 2 style icons that were so interesting as they answered exactly the same on most questions.
After our lovely lunch and time with all the beauties from Good Housekeeping, we were presented with a beautiful bag of goodies from brands that Good House Keeping stands behind. I love to find bargain brands that are highly rated!!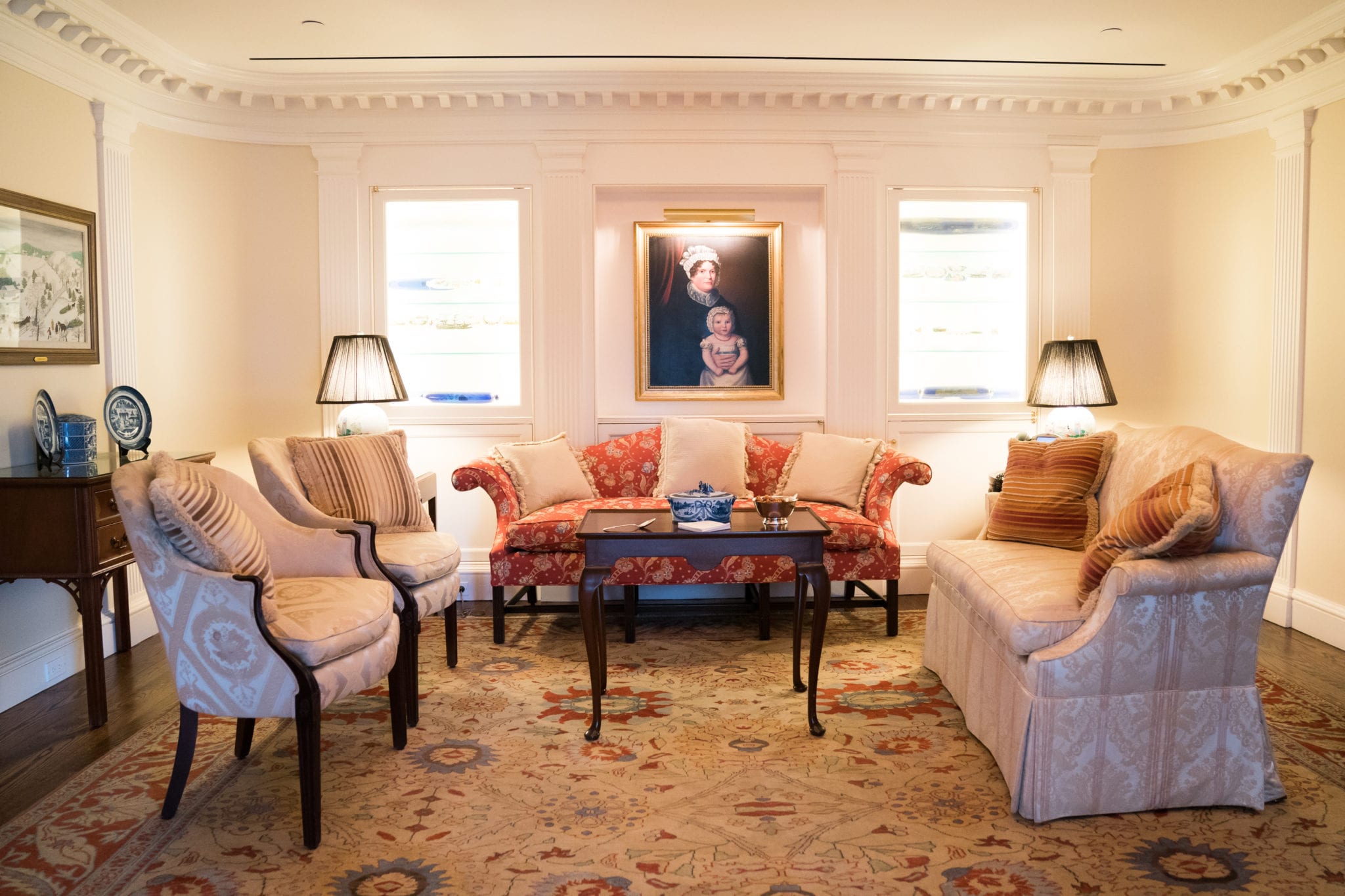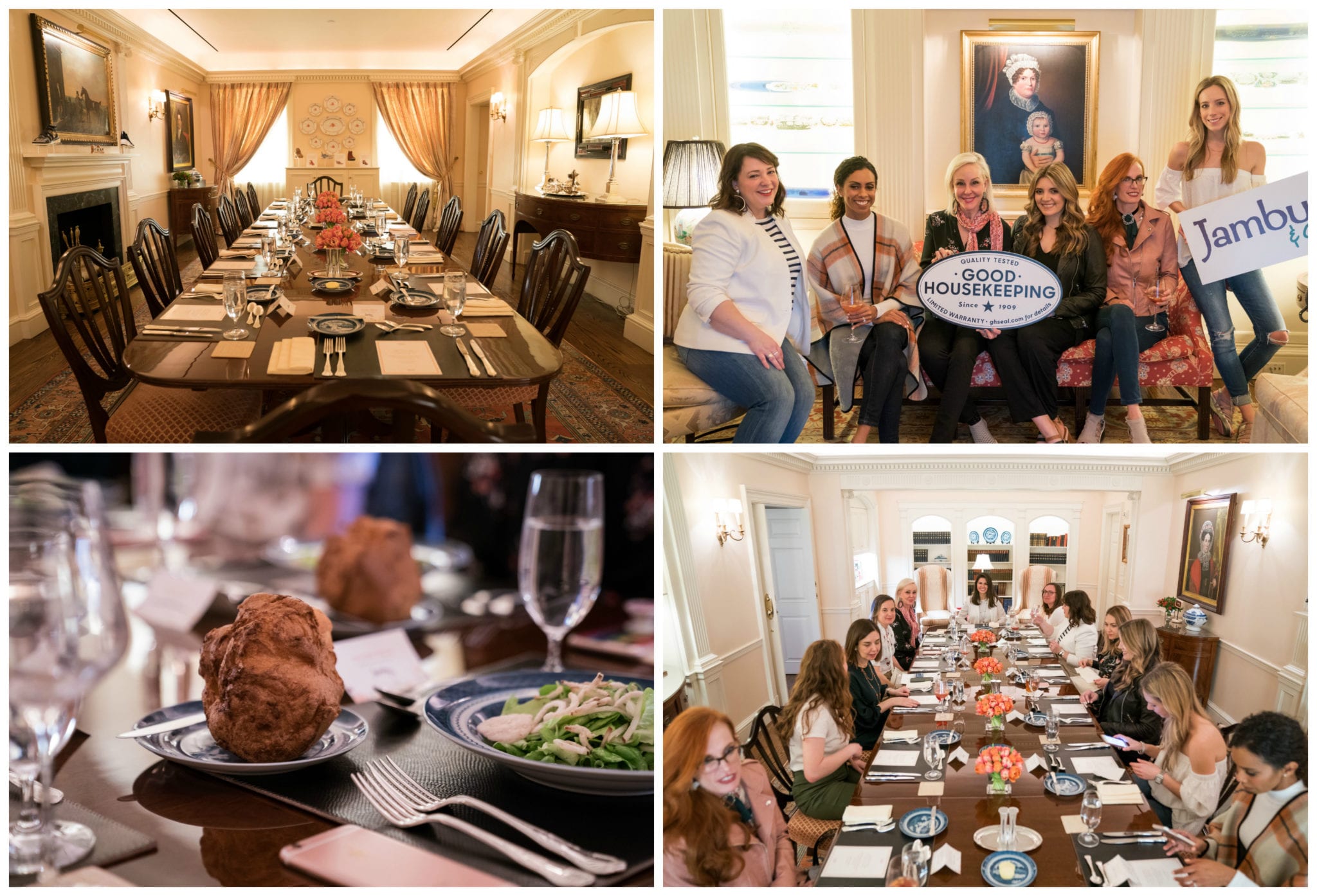 Next Stop: Grand Central Station
After a cold windy walk and wearing, of course, our comfy Jambu footwear, we started our very interesting tour around Grand Central Station. Owned by the Vanderbilt family and now leased to the NYC Subway System, we got the amazing history of this amazing building. What history!! Our tour director was so informed and obviously loves what he does. I felt like I had stepped back in time, at least for about an hour!.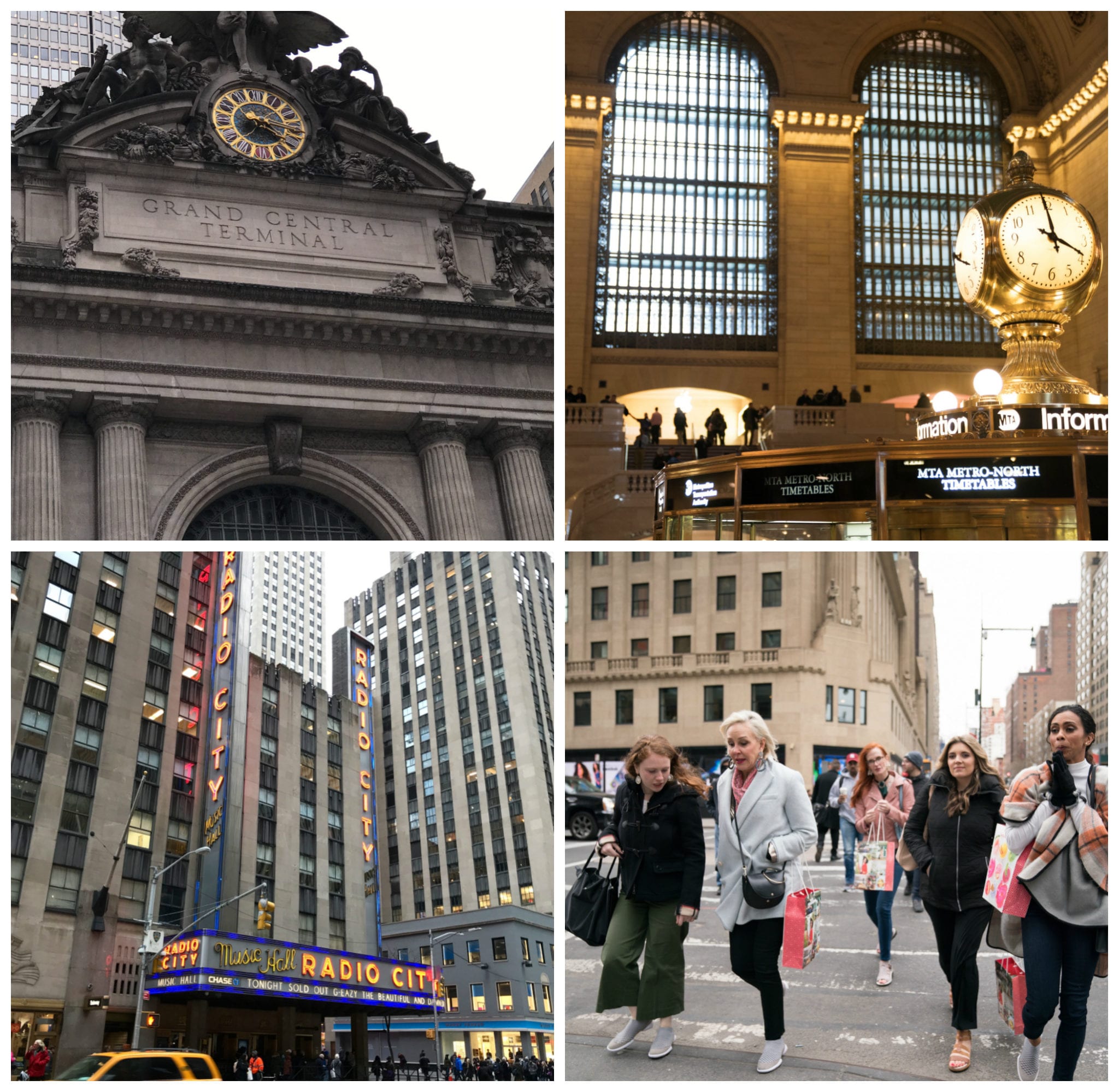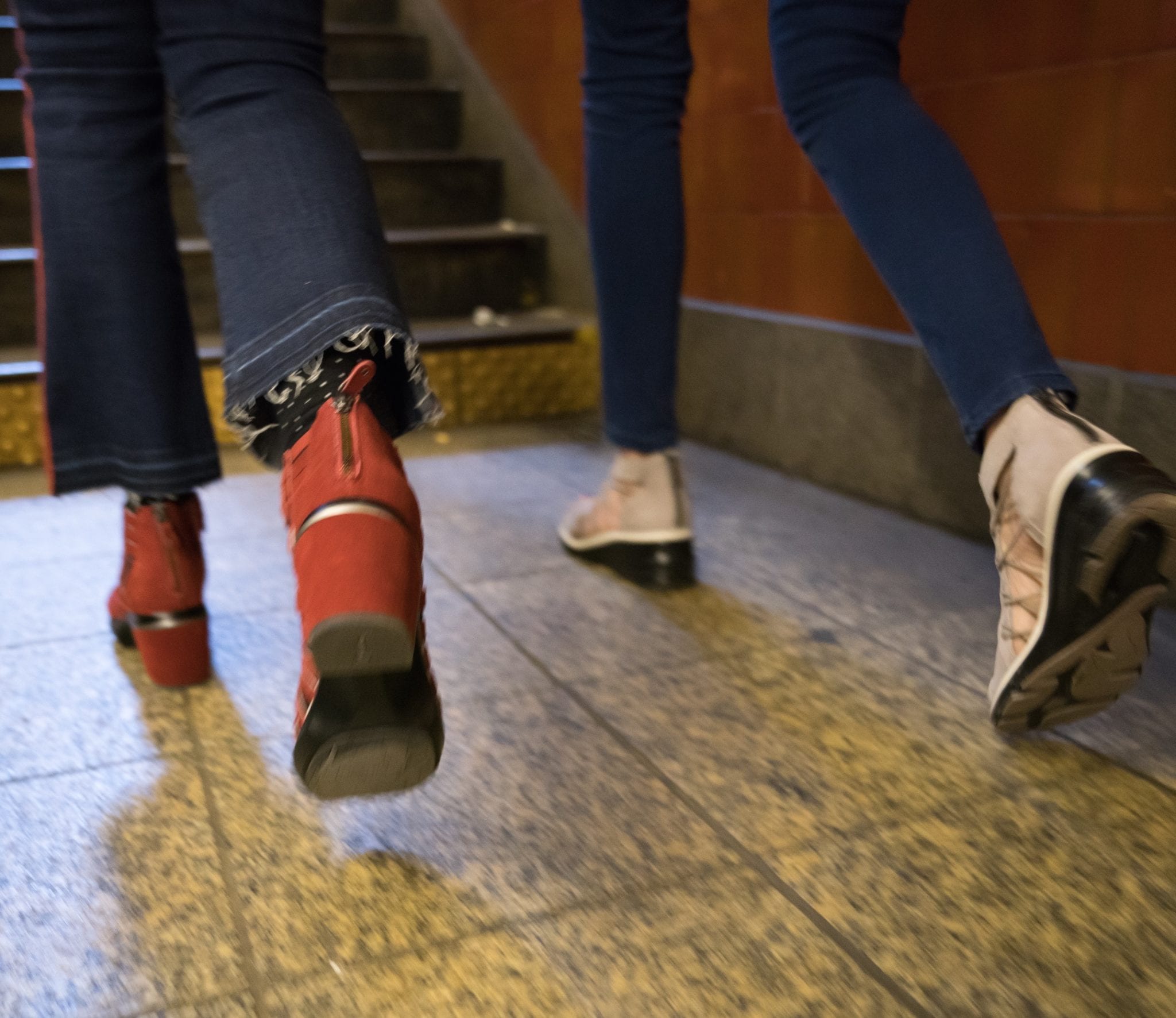 Farewell Dinner: Opry
What was planned to be dinner at this cool dinner club on Broadway called Ellen's Stardust Diner, ended up at the Opry Restaurant because the Stardust had a long wait list and we had to wait outside in the cold? We all opted for plan B. We all enjoyed some country southern food, which served us up well after our long day.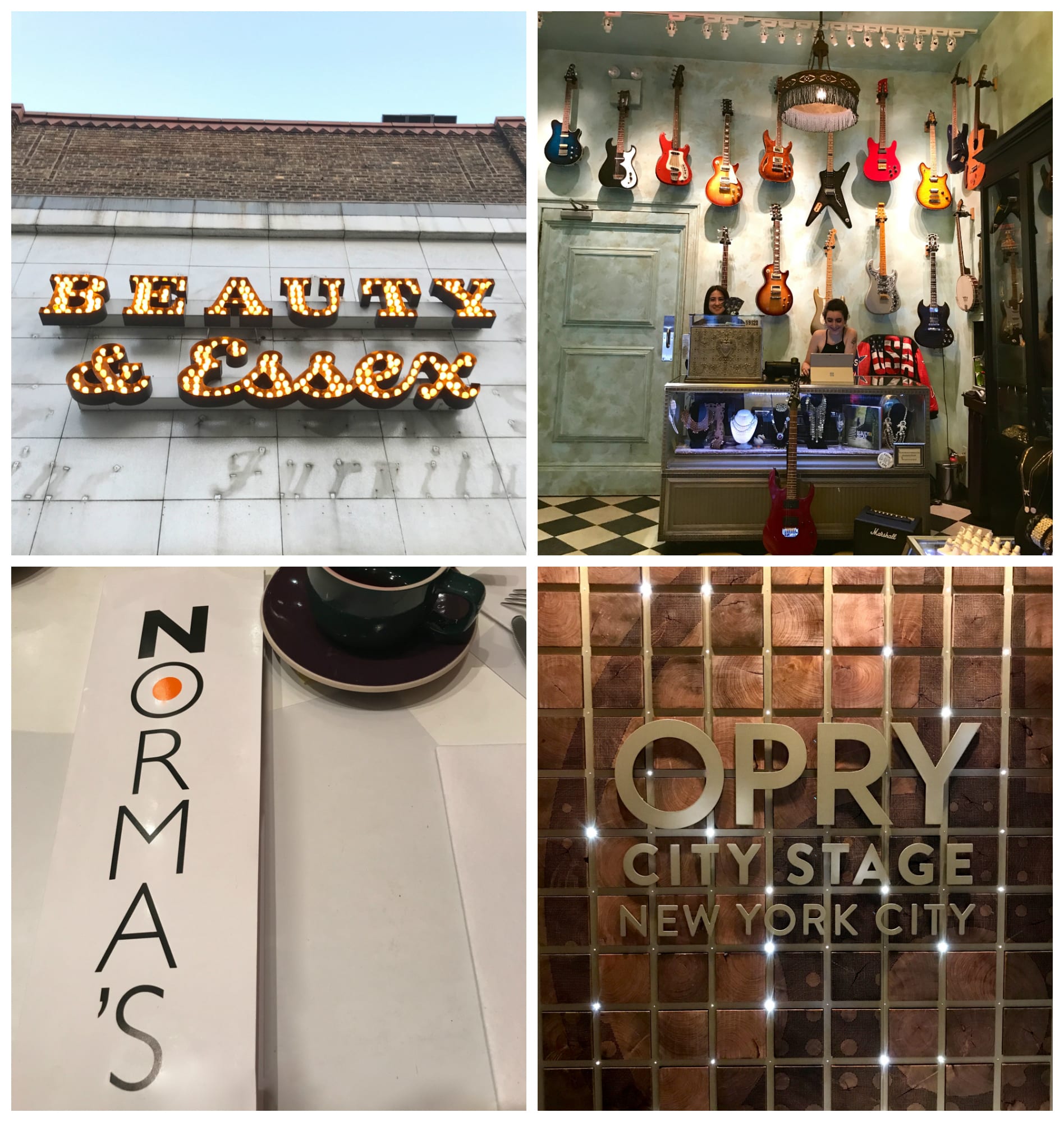 Photographer
I could not sign off today without singing my praises for our wonderful photographer. He was with us the entire day where he worked hard to capture each one of us, in our own style wearing our Jambu footwear.
Final Thoughts
First and foremost a Big Thank You to Jambu & Co. company, our hostesses Yetzalee and May Grace. They were the dream team for sure! Even when about 3 or 4 of us had our flights canceled due to a big spring snow storm, they made sure that we were all taken care of. Secondly, thanks to Good Housekeeping Institution and all of their team that shared this amazing place with us and allowed us the special treat of dining in the Presidents Dining Room with a few of their special editors and VP's.
I had another "time of my life" experience last week and I am so glad to discover a great lifestyle footwear brand call JAMBU!!
Need to Know: Jambu is offering a 20% off any Jambu.com purchase now and until June 30th with the promo code SHESHE18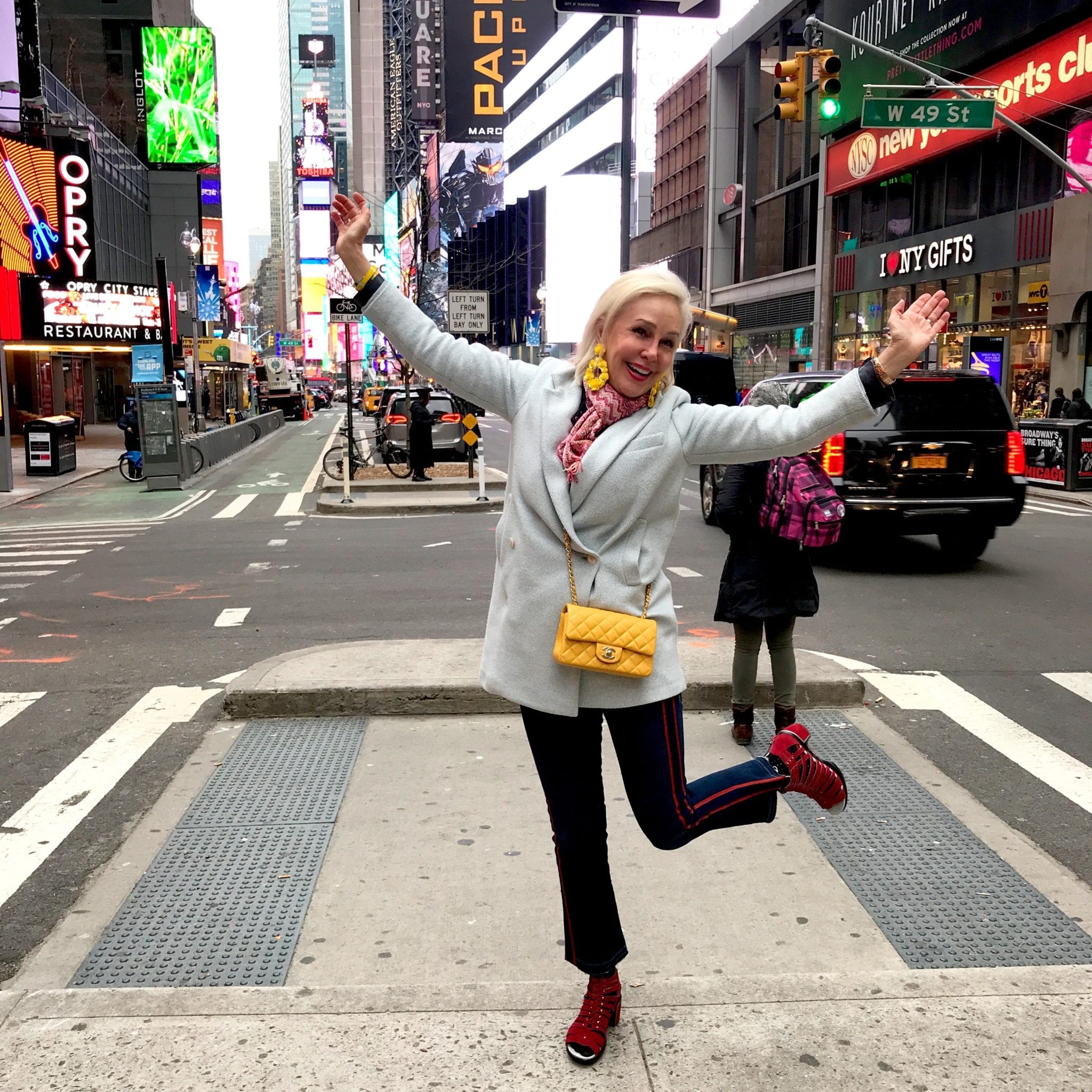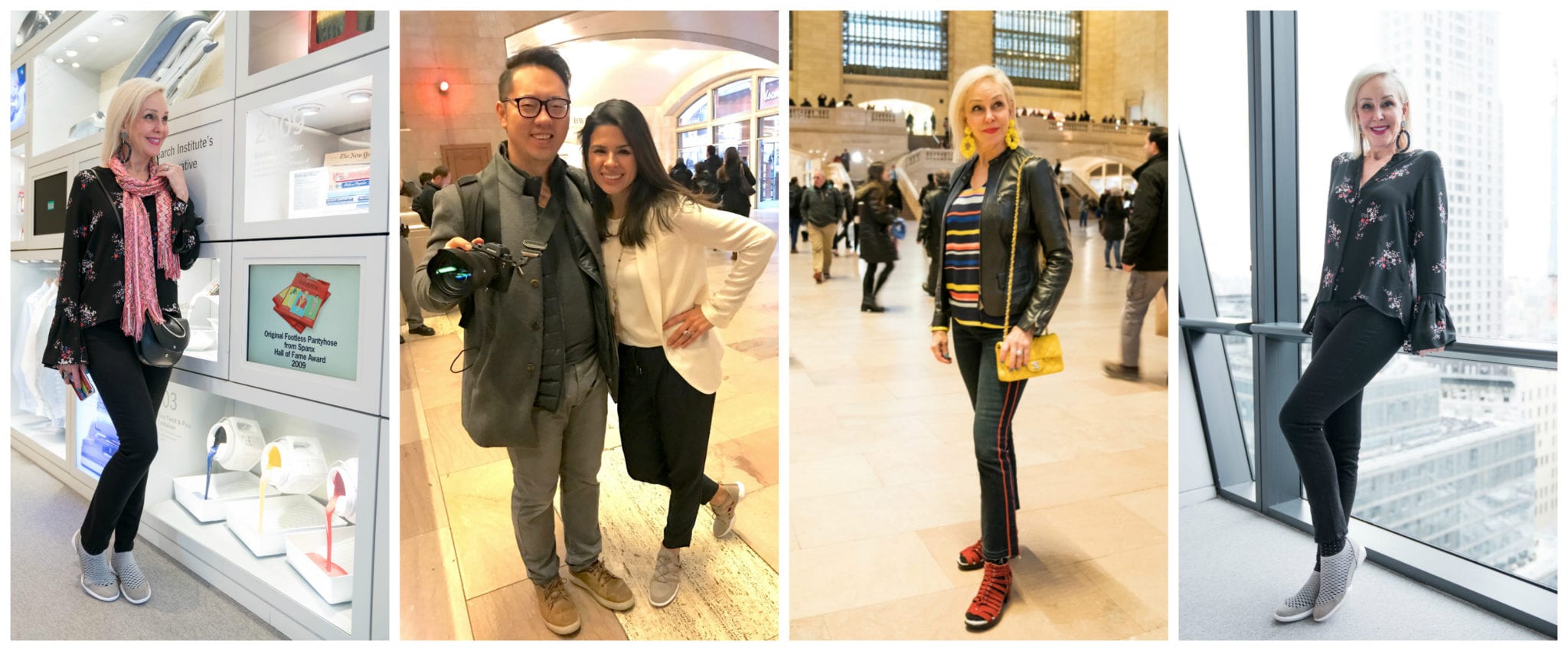 Outfit Details (above)
I paired my Dory sneakers in light grey with my black Paige Jeans and black floral blouse for the tour. My leather jacket is sold out but this one is similar for only $128.These sneaks would be the perfect summer shoe to wear on any trip. They are light so easy to pack. My Sugar Too suede sandals were perfect with my Veronica Beard jeans and this striped top. great for my photo shoots and dinners out. For southern girls, these red suede sandals work almost year around. Oh and not to forget my light blue Zara coat that I snatched up!
SHESHE'S TIDBIT
We go to Sanibel Island on Tuesday and close on our new vacation home. This is a dream for me and my family. There will be lots of things to discover and we just heard that VP Pence will be on the island for a week. Maybe we can do some shelling together. Ha Ha!
Gala's, weddings, graduations, holidays or just everyday wear…..we have fashion suggestions for you, so stay tuned. Be sure to check out ShopSheShe tab at the top of the menu bar. Hover over and choose the category in the drop down. We try to keep it up to date with the latest and greatest for all budgets. Subscribe here and then you won't miss a post. Simply enter your email in the pop-up box when you come to this site or at the top of this page in the subscribe box.
WELCOME new readers. We are a fashion/travel/lifestyle blog. We talk about anything and everything, from fashion, travel, health issues to even an occasional recipe. If there is a topic that you are interested in, then let us know. We will do our best to bring that story to you. Have a great week sweet friends and thank you for following along. Without you, we could not continue on this crazy journey!