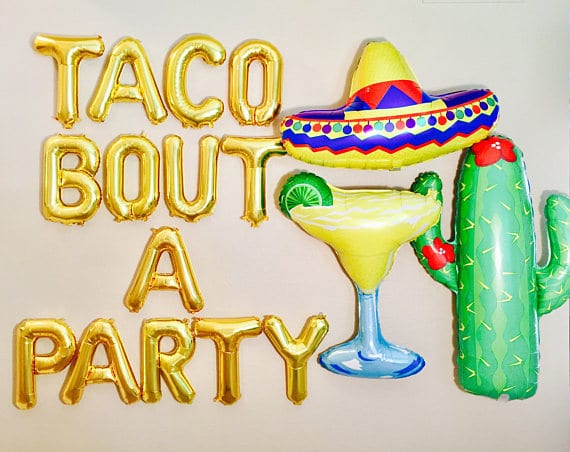 Happpppy weekend everyone! With the end of April quickly approaching (hard to believe, I know) it seems like the right time to talk about the festive holiday right around the corner- CINCO DE MAYO! Cinco de Mayo has always been a favorite holiday for me…mainly because of the queso, bright colors, and Mexican food…so today we're breaking down all the best recipes, decorations and outfit ideas for this celebratory day. Enjoy!
PS: How cute are these balloons from Etsy? Perfect for your fiesta!
History
According to Time Magazine, "Cinco de Mayo honors the anniversary of the May 5, 1862 Battle of Puebla. The clash, which took place during the French-Mexican war, featured a vastly outnumbered Mexican army and their unlikely victory over Napoleon III's troops." Many people mistake this day to be Mexican Independence Day, which actually occurs in September, but Cinco de Mayo is celebrated here in the US as a general day of appreciation for Mexican-American culture and history.
Recipes
Sara Haas, RDN, is a food and nutrition expert with formal training in the culinary arts…and just published a cookbook that happens to have TWO delicious taco recipes that we just have to share. These are great because they offer a substitute from the boring ground beef taco trend, and substitute this meat for ingredients that are much more exciting. Bring these to your Cinco de Mayo celebration and you'll be sure to be everyone's favorite guest 🙂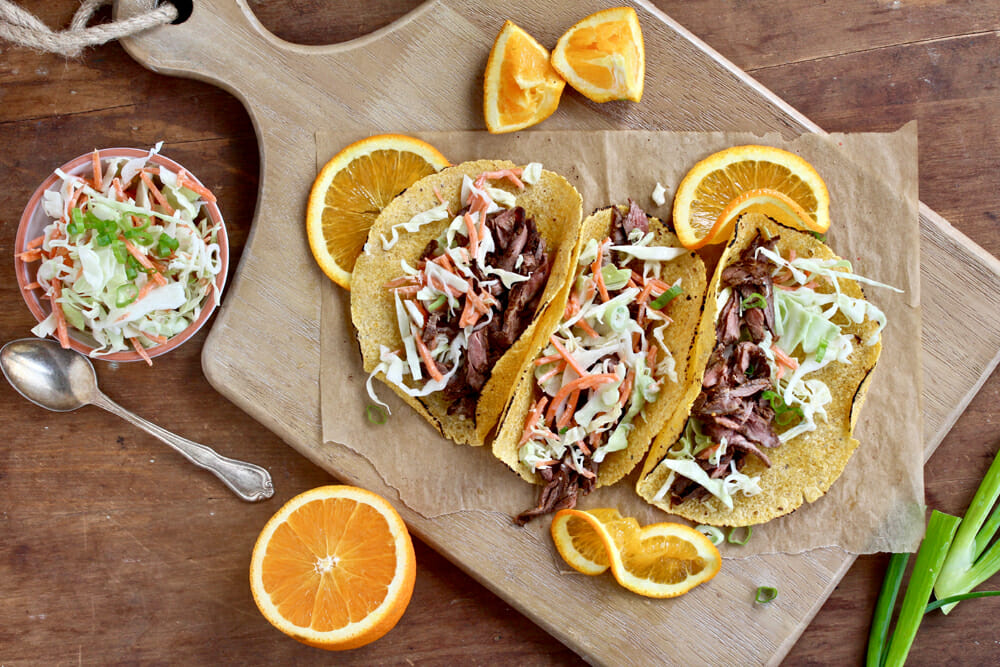 Recipe #1: BBQ Skirt Steak Tacos
Servings: 4
Ingredients
8 flour tortillas, warmed
For the rub:
2 teaspoons ground cumin
1 teaspoon chili powder
1 tablespoon packed brown sugar
½ teaspoon kosher salt
½ teaspoon Hungarian paprika
¼ teaspoon ground cloves
1 pound skirt steak, trimmed
For the slaw:
2 tablespoons plain Greek yogurt
1 teaspoon apple cider vinegar
1 tablespoon fresh orange juice
2 medium carrots, shredded
2 cups shredded green cabbage
2 green onions, thinly sliced
⅛ teaspoon kosher salt
Directions
In a small bowl combine the cumin, chili powder, brown sugar, salt, paprika, and cloves for the rub. Rub steak all over with the spice mixture and let sit for 30 minutes or up to 1 hour in the fridge. Combine the yogurt, apple cider vinegar, and orange juice in a medium mixing bowl. Add the shredded carrot, cabbage, and green onion and toss to coat to complete the slaw. Season to taste with salt and black pepper. Cover and refrigerate until ready to serve. For the steak, preheat the grill to high heat or set a grill pan over medium-high heat. If using a grill, clean the grill grates and brush them with oil. If using a grill pan, coat pan lightly with oil. Once hot, add the steak and cook the steak for 4 to 5 minutes on each side, or until the desired degree of doneness. Let steak rest 10 minutes. Slice against the grain and serve in warmed tortillas topped with slaw.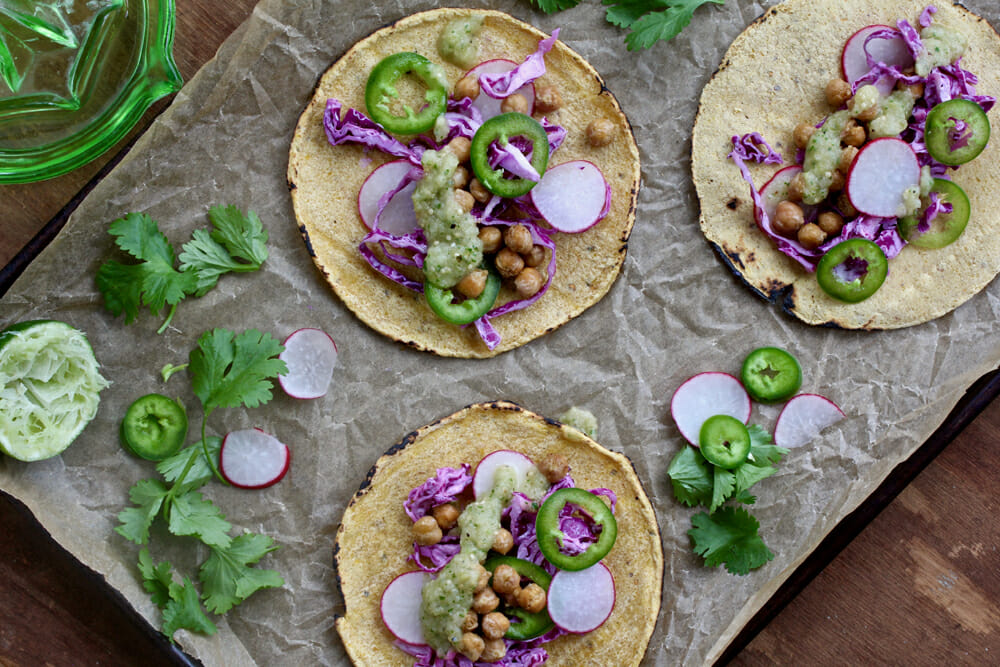 Recipe #2: Cumin Chickpea Tacos
Servings: 8
Ingredients
16 (6-inch) corn tortillas, warmed
For the salsa:
1 pound tomatillos, skins removed and washed
1 small white onion, chopped
2 cloves garlic, skins removed
2 teaspoons extra-virgin olive oil
½ lime, juiced
¼ cup lightly packed cilantro
For the chickpeas:
1 (15.5-ounce) can chickpeas, drained, rinsed and patted dry
1 tablespoon extra-virgin olive oil
1 teaspoon ground cumin
¼ teaspoon kosher salt
1 teaspoon fresh lime juice
For the cabbage slaw:
¼ cup plain Greek yogurt
Zest and juice of 1 lime
¼ teaspoon kosher salt
½ head purple cabbage, thinly sliced
1 jalapeño, thinly sliced
Directions
Position oven racks about 6 inches from the heating element and preheat the broiler. Line a rimmed baking sheet or broiler pan with foil and coat with nonstick cooking spray. Quarter the tomatillos and add them to a bowl along with the onion, garlic, and olive oil. Toss to coat. Spread mixture out onto the prepared baking sheet. Broil 4 minutes, stir, then broil 2 more minutes. Stir again and broil an additional 2 minutes, or until tomatillos and onion are blistered and browned. Remove and cool slightly before transferring to a blender or the bowl of a food processor. Add the lime juice and cilantro and puree until smooth to complete the salsa. Season with salt to taste, if desired. Set a large, non-stick pan over medium-high heat and add the oil. Add the chickpeas and cook, stirring often, until toasted, about 2 to 3 minutes. Add the cumin and cook 1 more minute. Remove from heat and stir in the salt and lime juice. Combine the yogurt, lime juice, zest, and salt in the bottom of a mixing bowl. Add the cabbage and jalapeño and toss to combine to finish the slaw. Serve chickpeas with warmed tortillas, then top with salsa and cabbage slaw.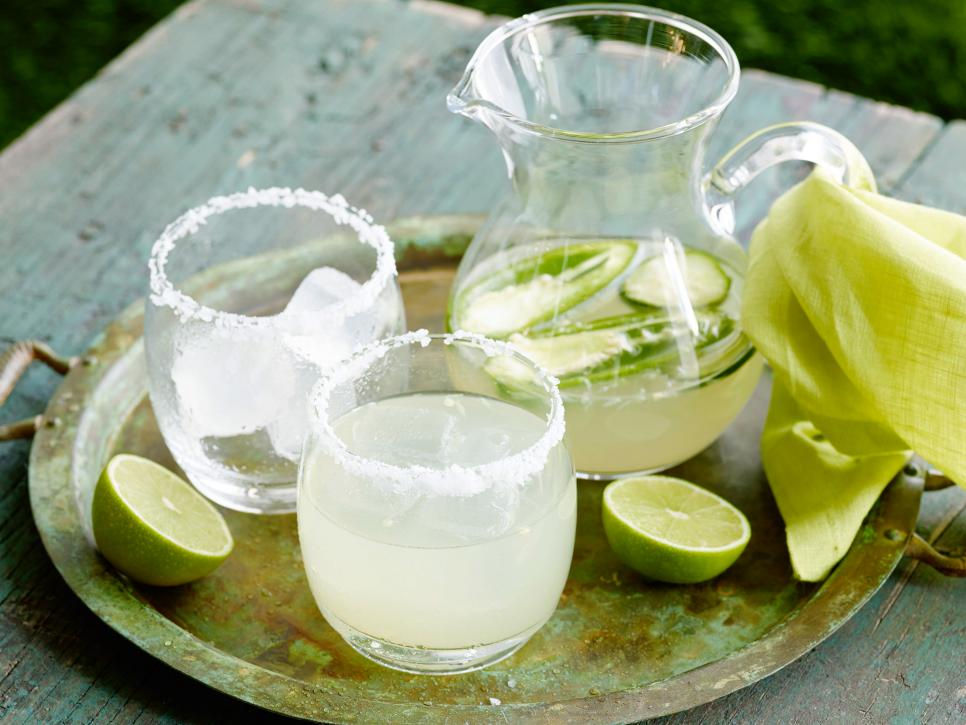 Also, check this article from the Cooking Channel out for some delicious margarita recipes. It's a list of 28 unique Mexican margarita ideas- so if the tacos didn't make you the MVP of the night…these certainly will. Read it here.
Festive Outfits
There you have it, everyone! Let us know what your plans are for Cinco de Mayo, and make sure to let us know if you try any of these recipes or outfit ideas. Wishing you a wonderful day full of tacos, margaritas and plenty of fun in the sun!
Dresses
Earrings
Handbags
Sandals
SHESHE'S TIDBITS
 Gala's, weddings, graduations, holidays or just everyday wear…..we have fashion suggestions for you, so stay tuned. Be sure to check out ShopSheShe tab at the top of the menu bar. Hover over and choose the category in the drop down. We try to keep it up to date with the latest and greatest for all budgets. Subscribe here and then you won't miss a post. Simply enter your email in the pop-up box when you come to this site or at the top of this page in the subscribe box.
WELCOME new readers. We are a fashion/travel/lifestyle blog. We talk about anything and everything, from fashion, travel, health issues to even an occasional recipe. If there is a topic that you are interested in, then let us know. We will do our best to bring that story to you. Have a great week sweet friends and thank you for following along. Without you, we could not continue on this crazy journey!