With graduation season quickly approaching, it can be hard to find time to pick out the perfect gift for the grad in your life. We thought we'd make things easier by giving our top picks for the very best graduation gifts this season. Below are our picks for girls, and if you keep scrolling you'll see the picks for guy grads shortly after. Let us know what you're buying the grad in your life, and enjoy the celebrations to come!
This is the first year in the last 10 years that we do not have a graduation to attend. That doesn't mean we are done, but just a breather. Besides our own families, we must get 6-10 graduation announcements every year plus wedding showers and baby showers. So many times we get invitations to graduations and weddings of people that we don't even know. What is the proper etiquette? I don't want to be rude, but if I don't know them then do I send them a gift? What would you do in this situation?
Click on any of the items in the collage below to shop.
GIFTS FOR HER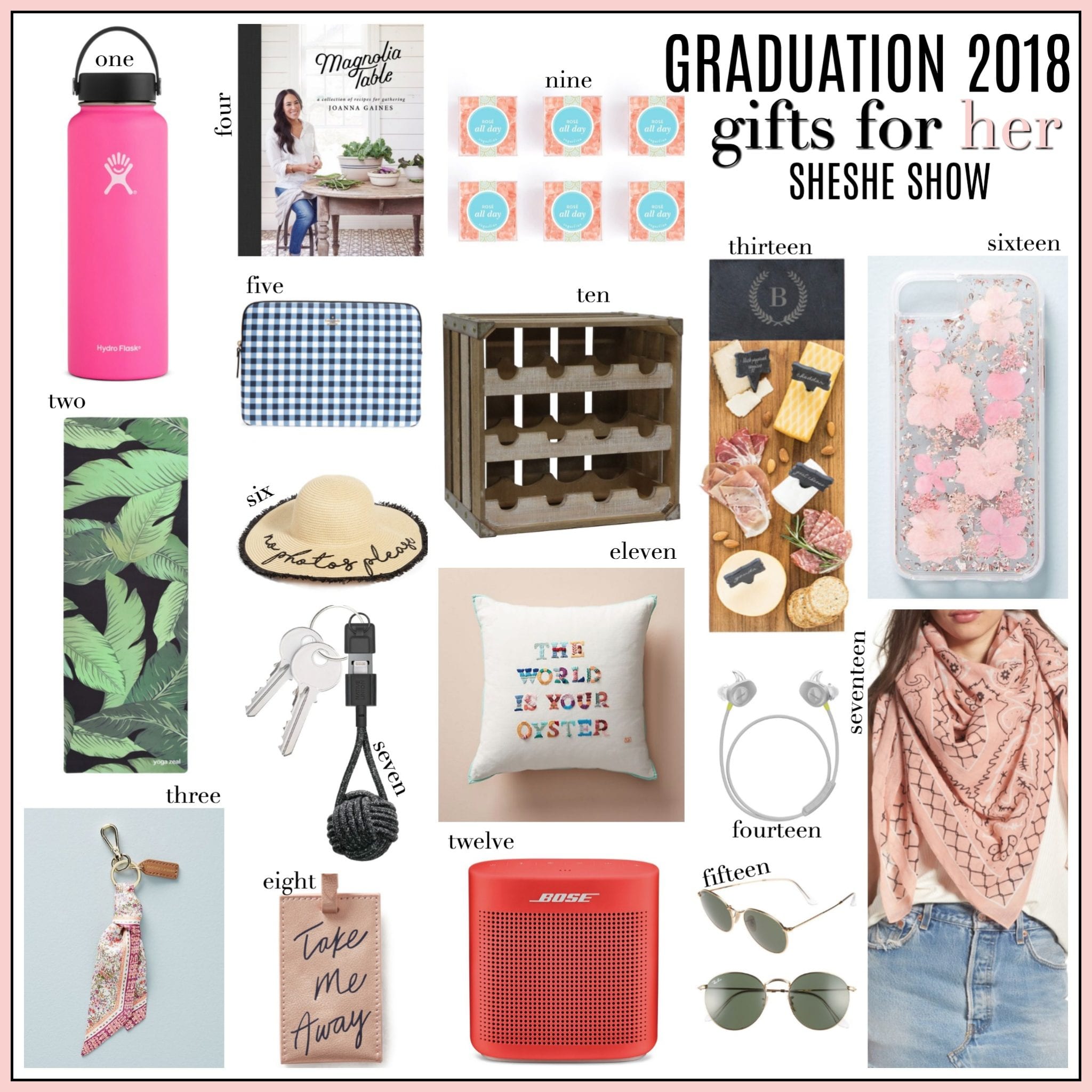 one // two // three // four // five // six // seven // eight // nine // ten // eleven // twelve // thirteen // fourteen // fifteen // sixteen // seventeen
GIFTS FOR HIM
TOP TECH GIFTS
TOP APPAREL and LIFESTYLE GIFTS
TOP BACHELOR PAD GIFTS
SHESHE'S TIDBITS
Tomorrow ready or not my youngest sister and her family arrive at Casa Frede a la Sanibel. I am so sad because the weather is terrible and it doesn't look good for the next week. Hopefully, there will be breaks in the weather to slip in some beach time, but regardless we will have fun going to the shell museum, the lighthouse, cute shops, boutiques and more.
 Gala's, weddings, graduations, holidays or just everyday wear…..we have fashion suggestions for you, so stay tuned. Be sure to check out ShopSheShe tab at the top of the menu bar. Hover over and choose the category in the drop down. We try to keep it up to date with the latest and greatest for all budgets. Subscribe here and then you won't miss a post. Simply enter your email in the pop-up box when you come to this site or at the top of this page in the subscribe box.
WELCOME new readers. We are a fashion/travel/lifestyle blog. We talk about anything and everything, from fashion, travel, health issues to even an occasional recipe. If there is a topic that you are interested in, then let us know. We will do our best to bring that story to you. Have a great week sweet friends and thank you for following along. Without you, we could not continue on this crazy journey!
Enjoy the rest of your weekend, and congratulate the grad in your life!