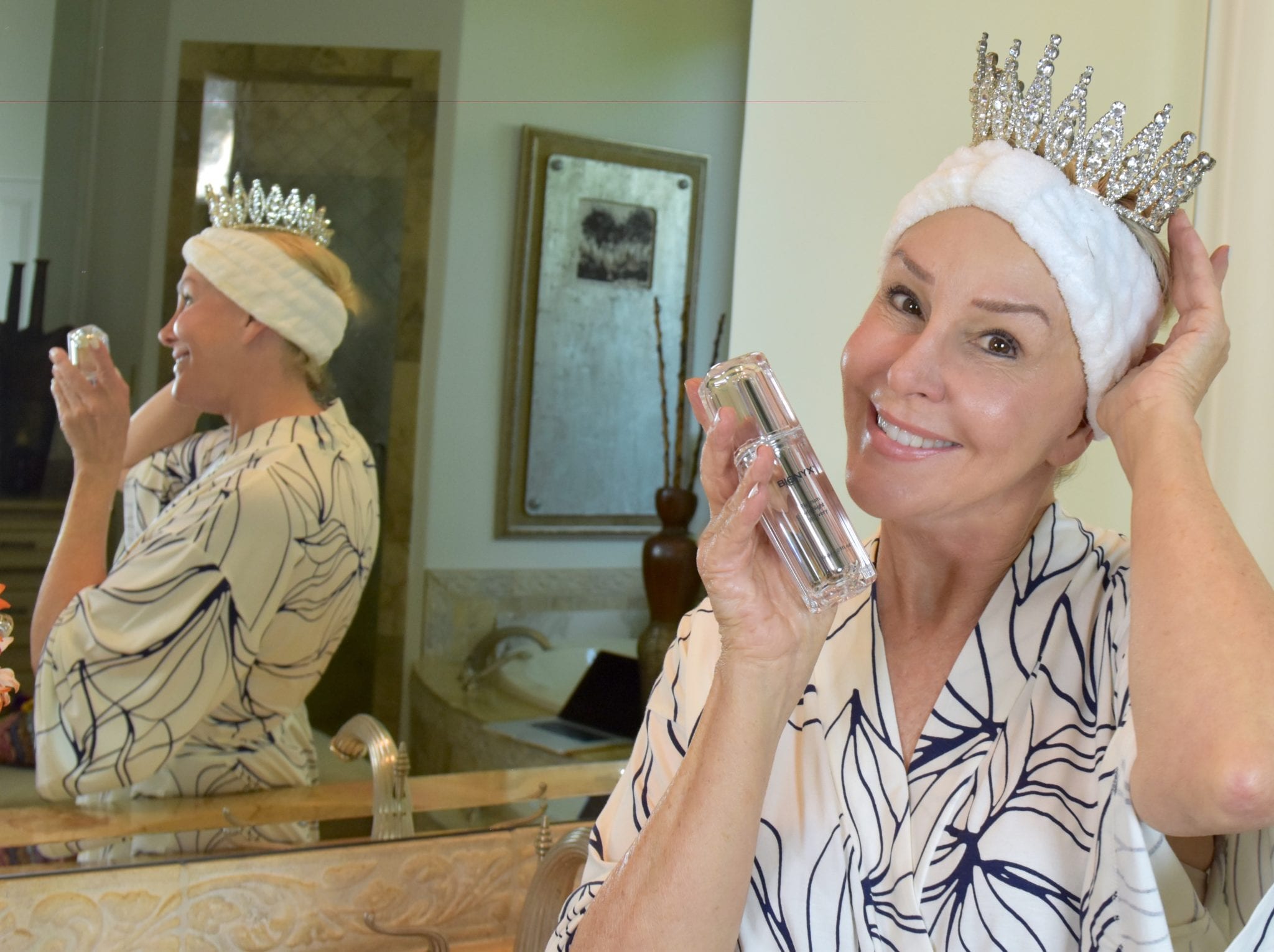 This post is sponsored by Bionyx. I was paid for this post and received the included skin care products as compensation.
I am often asked how I keep my skin glowing. First of all, I think that we are all our own worst critics so I certainly don't see my skin in a glowing way. As I am constantly looking for ways to keep looking youthful, I find better and better products. Researchers and scientists are making huge strides with their studies in how and why the skin ages. We all want the magic potion for staying young, so today, we are so excited to introduce a luxury line of beauty products called Bionyx , a skin care brand fit for a queen!
As we get older, our bodies go through all kinds of changes and one is that everything starts drying out, especially after menopause. Our hormones are also a key factor in regards to skin. When the skin is dry, it is usually when we have dead skin cells and if they aren't removed then our skin looks dull and starts to wrinkle. Of course, moisturizer and makeup can help, but it is only a band-aid.  The best way to improve the health and looks of our skin is to be consistent with a daily skincare routine.
I have been doing a daily skin care routine for 35 years. When I was in flight attendant training, we had grueling sessions with our beauty instructor Kathryn and we called her classes the Charm Farm. As tough as she was, I will say that she instilled or should I say brainwashed, great daily beauty habits. Flight attendants definitely need good beauty routines to keep up with all the environmental and physical stresses in their daily work lives. Back in the day, smoking was allowed in the cabin of the airplane. Ugh….hard to believe that I lived through that time.
Now, at 63 years young I am always looking for the latest and greatest in skin care. Enter Bionyx, a luxury skin care routine that can help improve the texture and lines on your face in no time. What makes Bionyx the opulent brand that it is? They don't hesitate to use the best and most beneficial ingredients available never compromising luxury.
The premiere ingredient that sets them apart from other beauty brands is the colloidal platinum with its natural anti-oxidants. The benefits of this natural metal are absolutely mind-boggling. Especially when combined with all of the other ingredients that we talk about below.
So let's now learn about these ingredients.
INGREDIENTS
DMAE- Found in Platinum Line Filler | Platinum Redefining Serum, this or dimethylaminoethanol, is known to have a firming effect on your face and neck tissues. DMAE helps in reducing age spot and wrinkles around the mouth and eye area. Not only does it boosts the effectiveness of other antioxidants but it acts as a membrane stabilizer. This is why you would want to pay the extra dollars for a skincare product.
COLLAGEN- Found In: Platinum Facial & Eye Mask Routine | Platinum Redefining Serum, a protein that helps your bones, cartilage, and connective tissues accounts for a third of the proteins in your body. Less collagen = dehydration, less flexibility, and elasticity of the skin. As we age we lose collagen, so adding in a topical collagen just might be one of the answers we look for in reducing the effects of aging.
PALMITOYL TETRAPEPTIDE-7  –Found In: Platinum Advanced Eye Cream | Platinum Intense Eye Serum helps with anti-aging in increasing the production of collagen. It also improves lightening of the skin as well as helps to smooth the skin and reduces wrinkles.
RETINYL PALMITATE- Found In: Platinum Line Filler | Platinum Refining Thermal Mask, a derivate of vitamin A that does so much. I have used a form of Retinyl for over 30 years. It definitely is proven to reduce lines and wrinkles, increases the production of collagen, diminishes the signs of various skin conditions such as acne, promotes and even skin tone and minimizes pores.
CUCUMIS SATIVIS FRUIT EXTRACTP – Found In:  Platinum Line Filler, a cucumber extract, that helps to calm irritated skin and also helps to reduce puffiness. Ingredients potassium, magnesium, and silica are known for reducing wrinkles and fines lines.
HOW TO USE
We all have different skin types, so the products we use may differ. Please consult the Bionyx beauty experts to help you in designing the unique product regime for your specific skin care need to give you your optimum results.
BEAUTY TIPS
Just a few tips on how to make your products work best for you.
Cleanse your skin before you do anything.
Facial masks should be done right after cleansing. I think that once or twice a week is enough but I know girls that do them more often.
Application process: always use your lighter serums first then do your creams.
SKIN CARE ROUTINE
Yes, I do have a routine in the morning, but I don't overuse my product. I believe in the following steps recommended by Bionyx, but more than anything, I recommend adding a really good sunscreen.
Morning 
Platinum Milk Cleanser for cleansing
Platinum Redefining Serum
Scroll down…..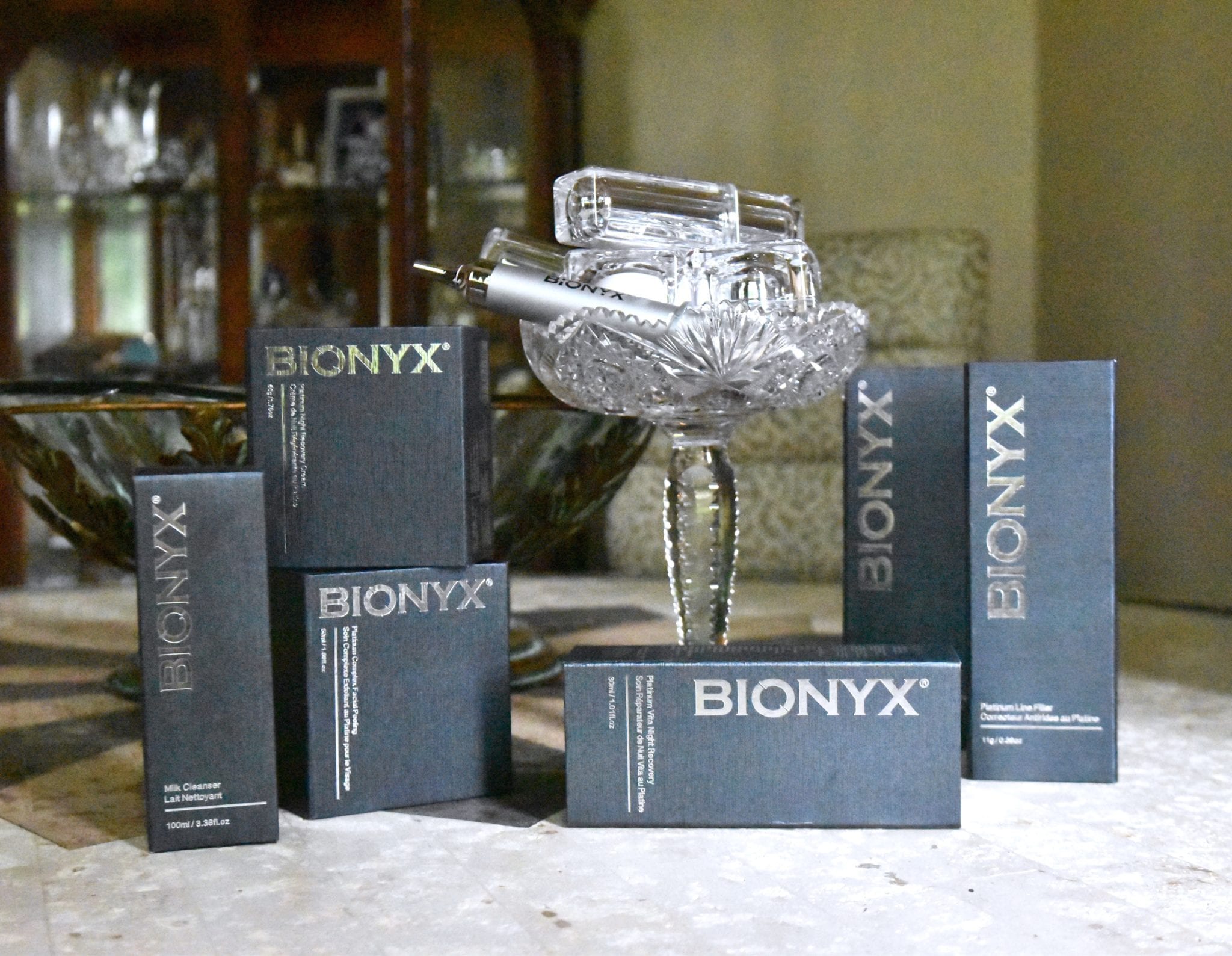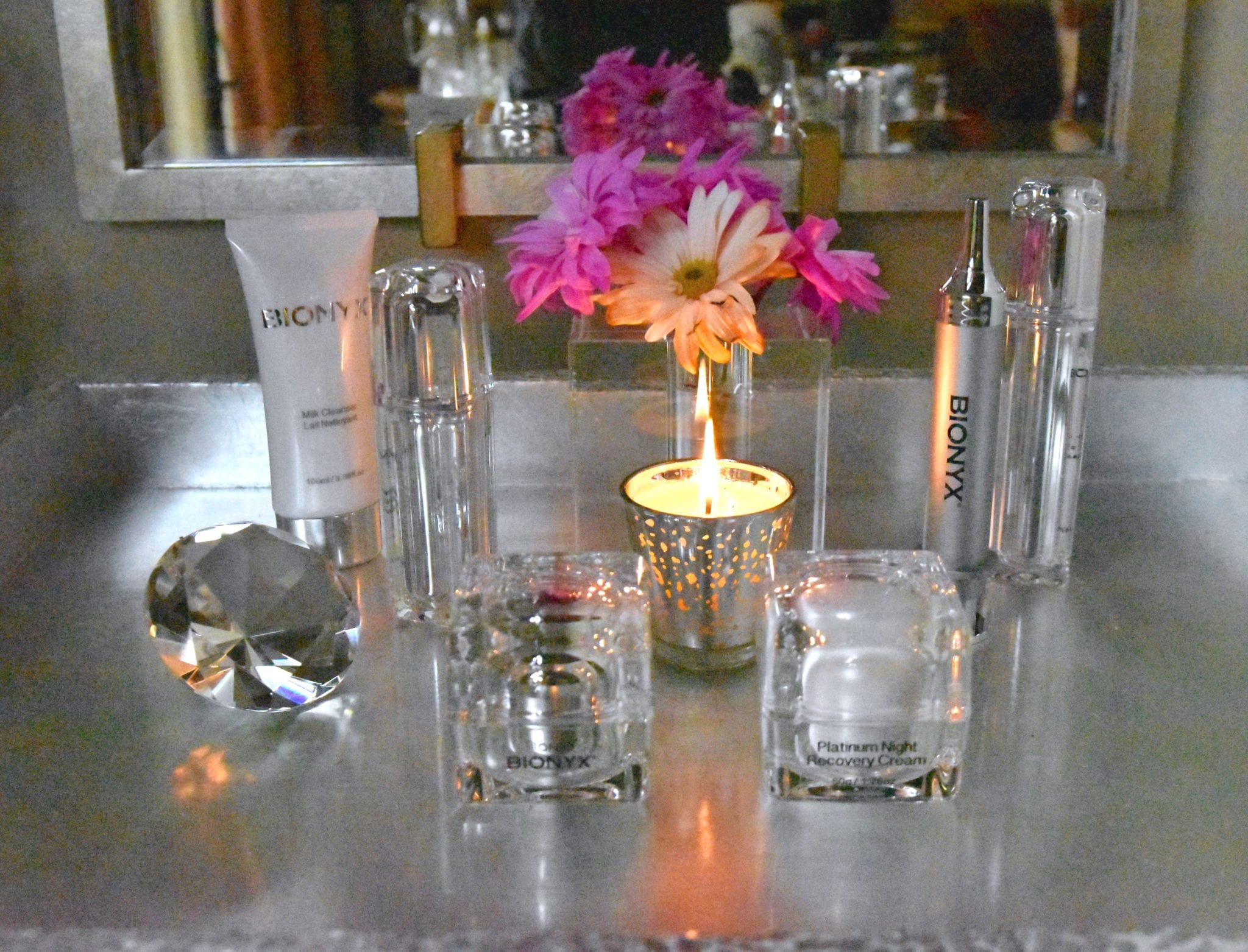 Night Time
The following photo is going through my night time regime, so follow along. It isn't too much different than what I do for daytime. I will eliminate the sunscreen and add my favorite product for my daily routine and that is the Vita Platinum Night Time Recovery.
Weekly Skin Care
Complex Facial Peeling (Every Week)
Facial & Eye Mask Routine (Every Other Week)
Refining Thermal Mask (Every Other Week)
Line Filler (Once a Month)
Now follow along as I take you through my night time Bionyx skincare routine.
CLEANSING
In the next photo, I am starting the process with the cleansing process using the Milk Cleanser. This cleanser is designed for sensitive skin. Full of vitamin C, E and jojoba will make your skin feel so soft and clean.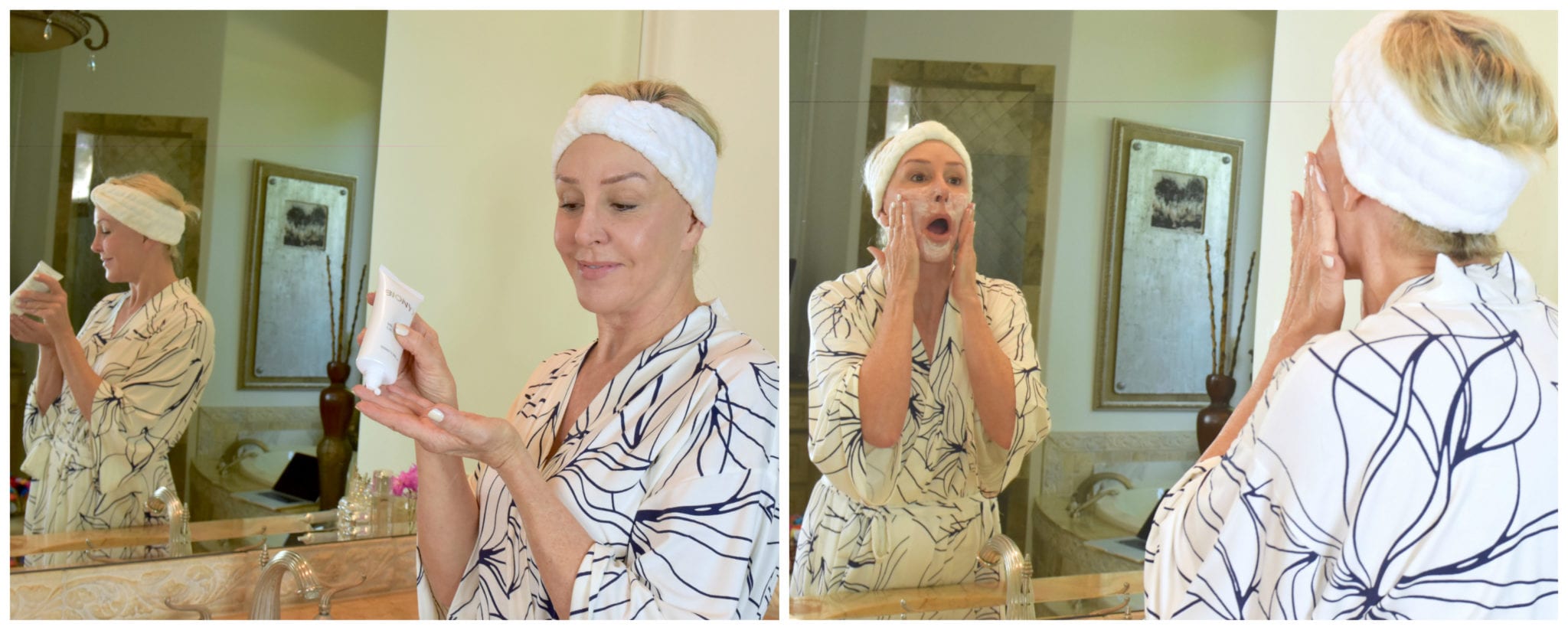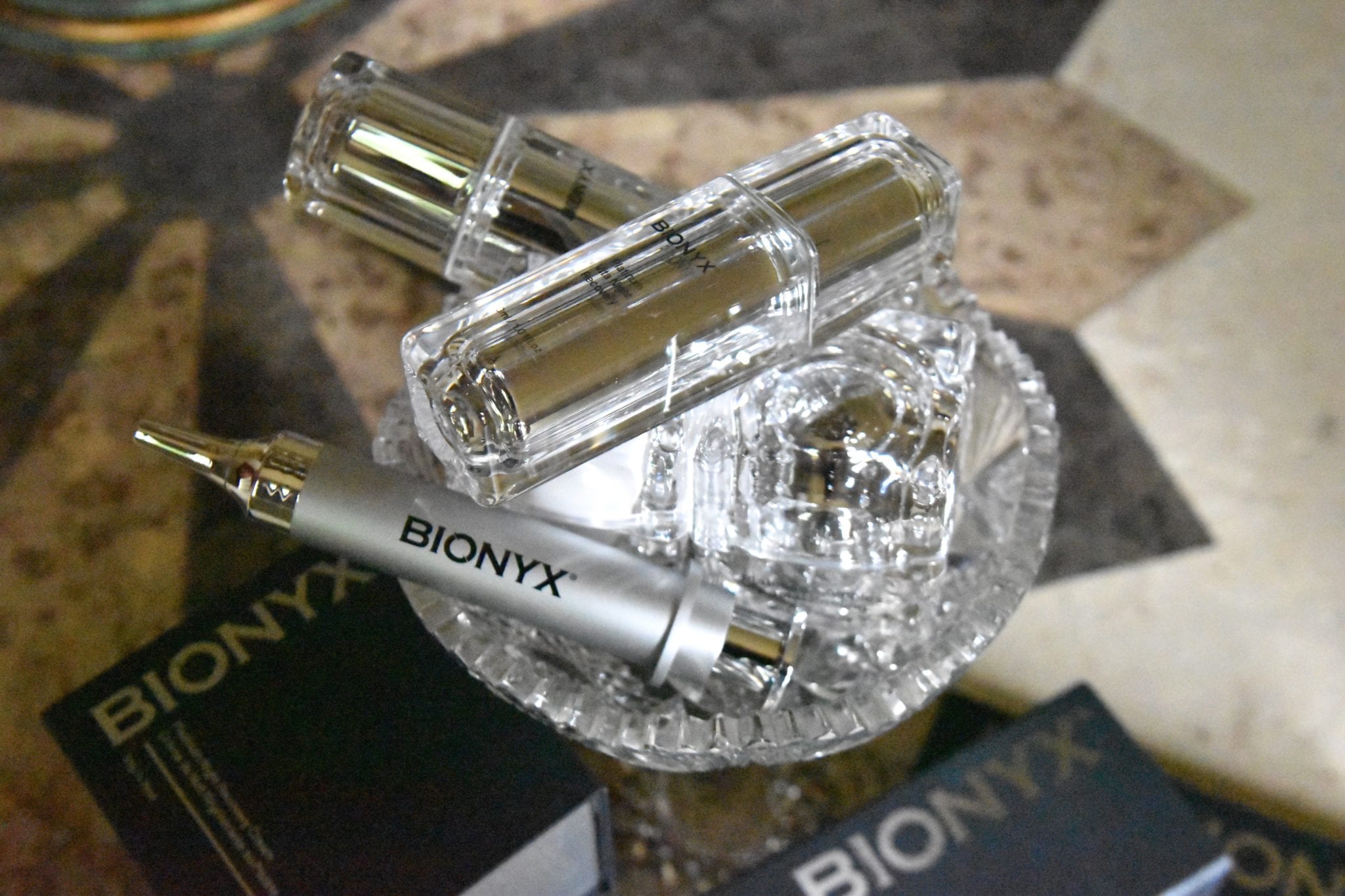 FILLER: Platinum Line Filler
Yes, this is a pricey serum, but the ingredients are the best there are and since you will only use it once a week, it will last a very long time. Ladies, this stuff is like gold….no I mean Platinum. Ha Ha! To use apply a drop of the solution to a dry and clean face, directly onto wrinkles. Gently tap excess product until fully absorbed. Do not go beyond the wrinkle line.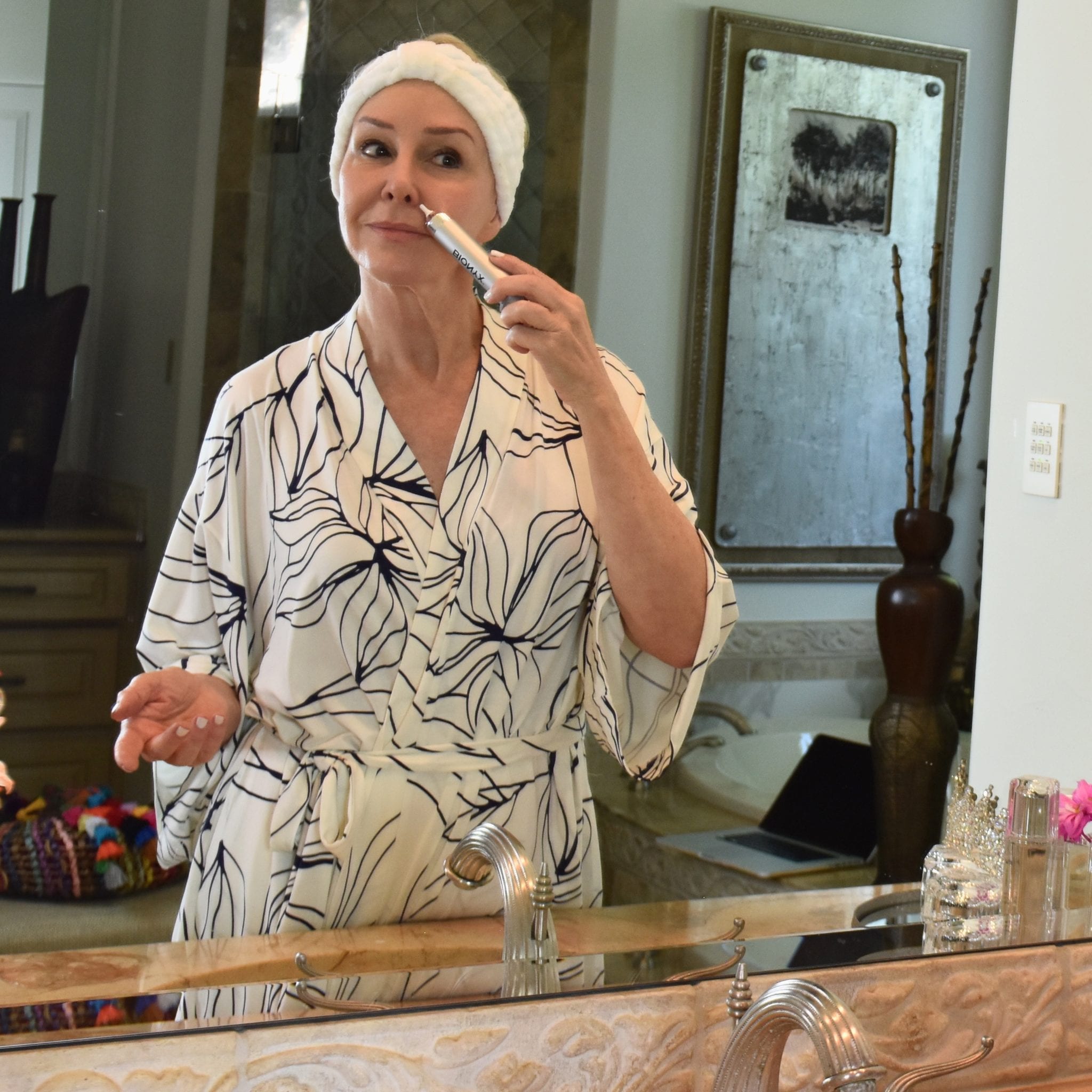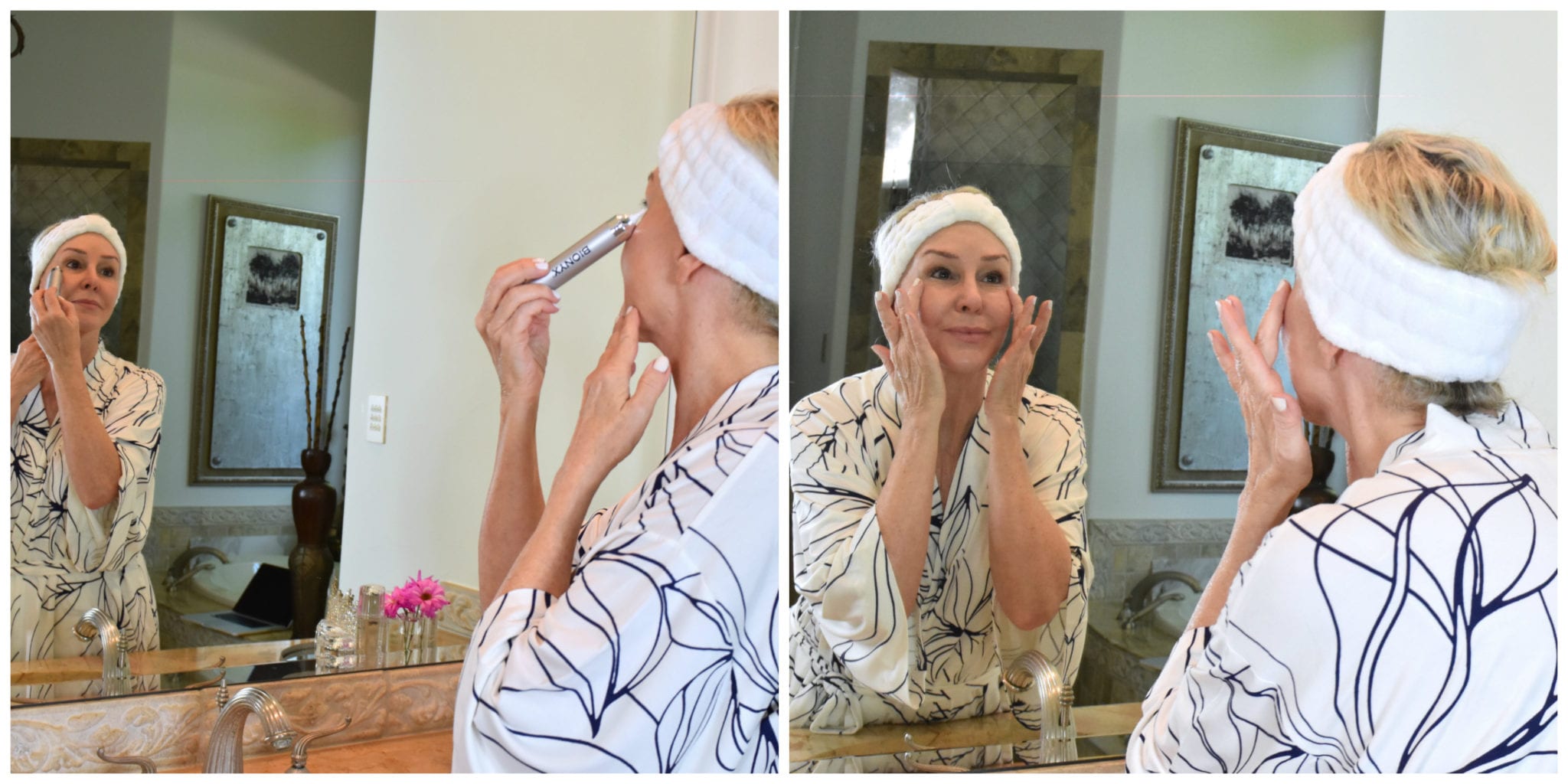 I rarely ever go to bed without using eye cream. Those crows feet come from skin dehydration, sun exposure, and other environmental elements. My makeup goes on so much better if my skin is hydrated. This product has all of the ingredients to reduce my fine lines, reduce puffiness and give the appearance that I have had a good nights sleep. Use in the morning and at night by gently massaging into the corners of the eye and the orbital bone. Once you are feeling results then you can use once a day.

Platinum Vita Night Recovery Cream
Every product is awesome on its own, but they are designed to work together to give you maximum benefits. Think of your skin care routines as a recipe for beautiful skin. If you leave an ingredient out then the results just are not as good. This is why you do not want to leave out the Vita Night Recovery Cream. I put it on right after I do my eye cream and I follow up with either the Platinum Day or Night Cream. The creams act as a sealer for all of the other wonderful active ingredients that you have already applied to give you that finished beautiful glow.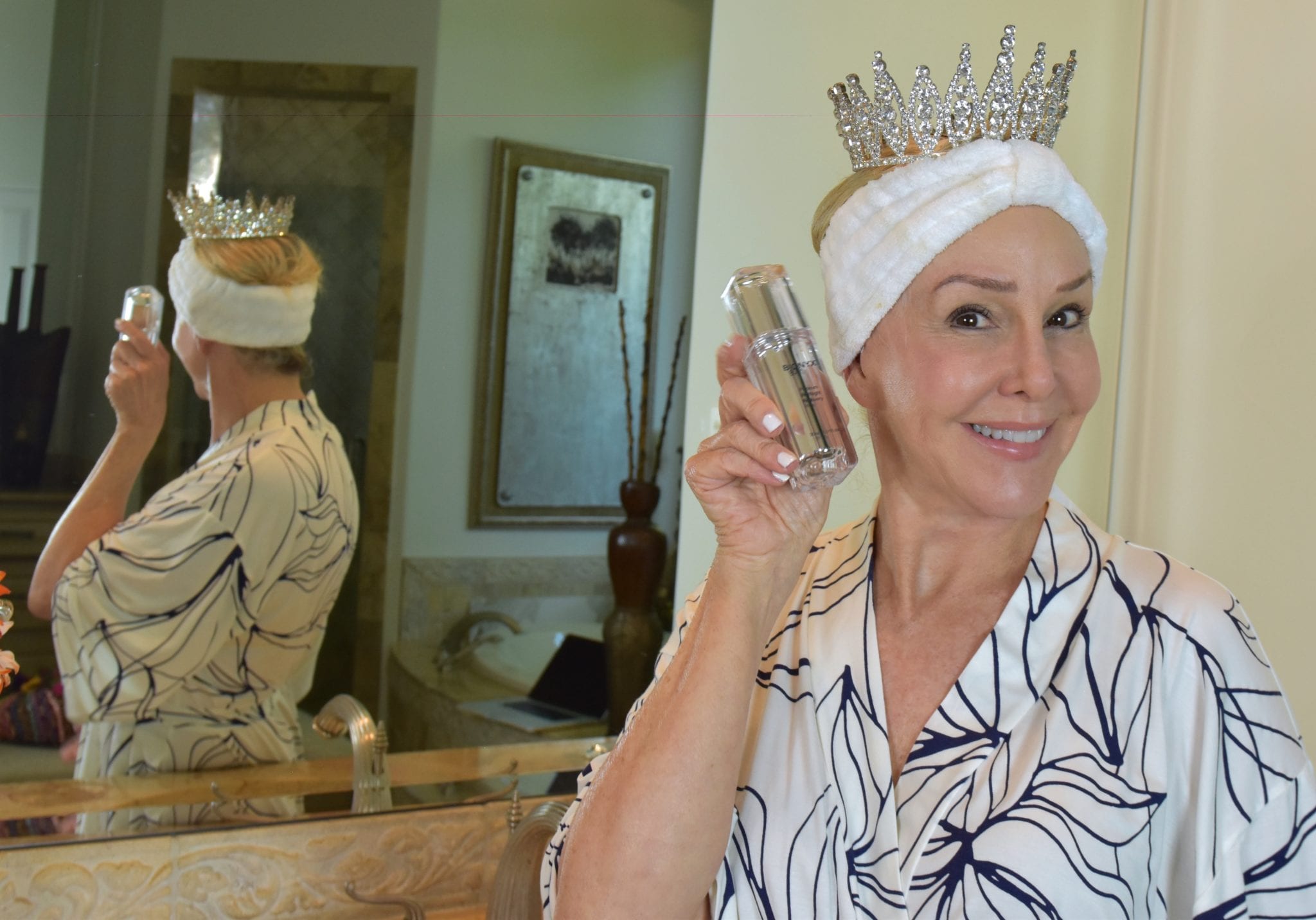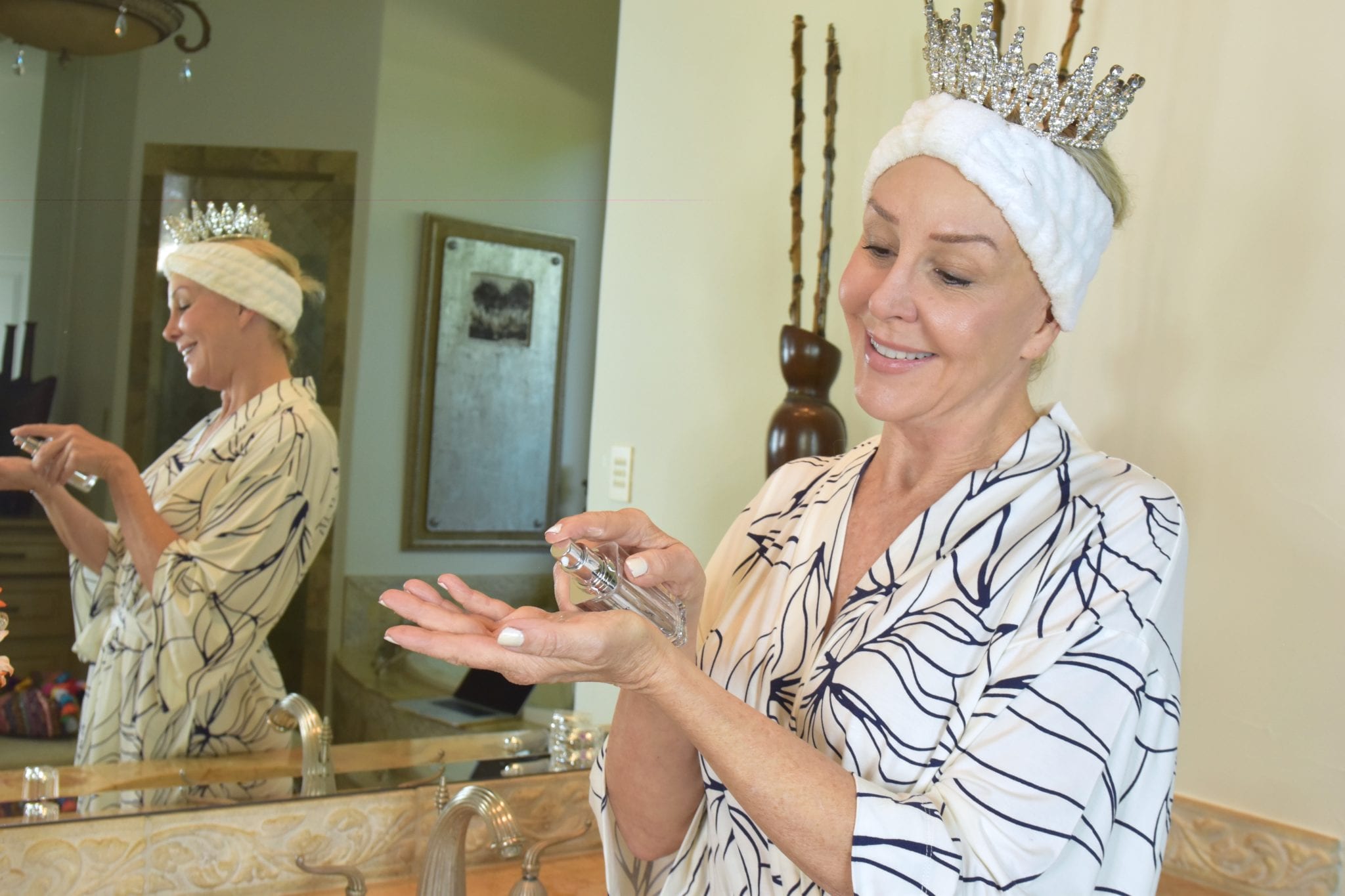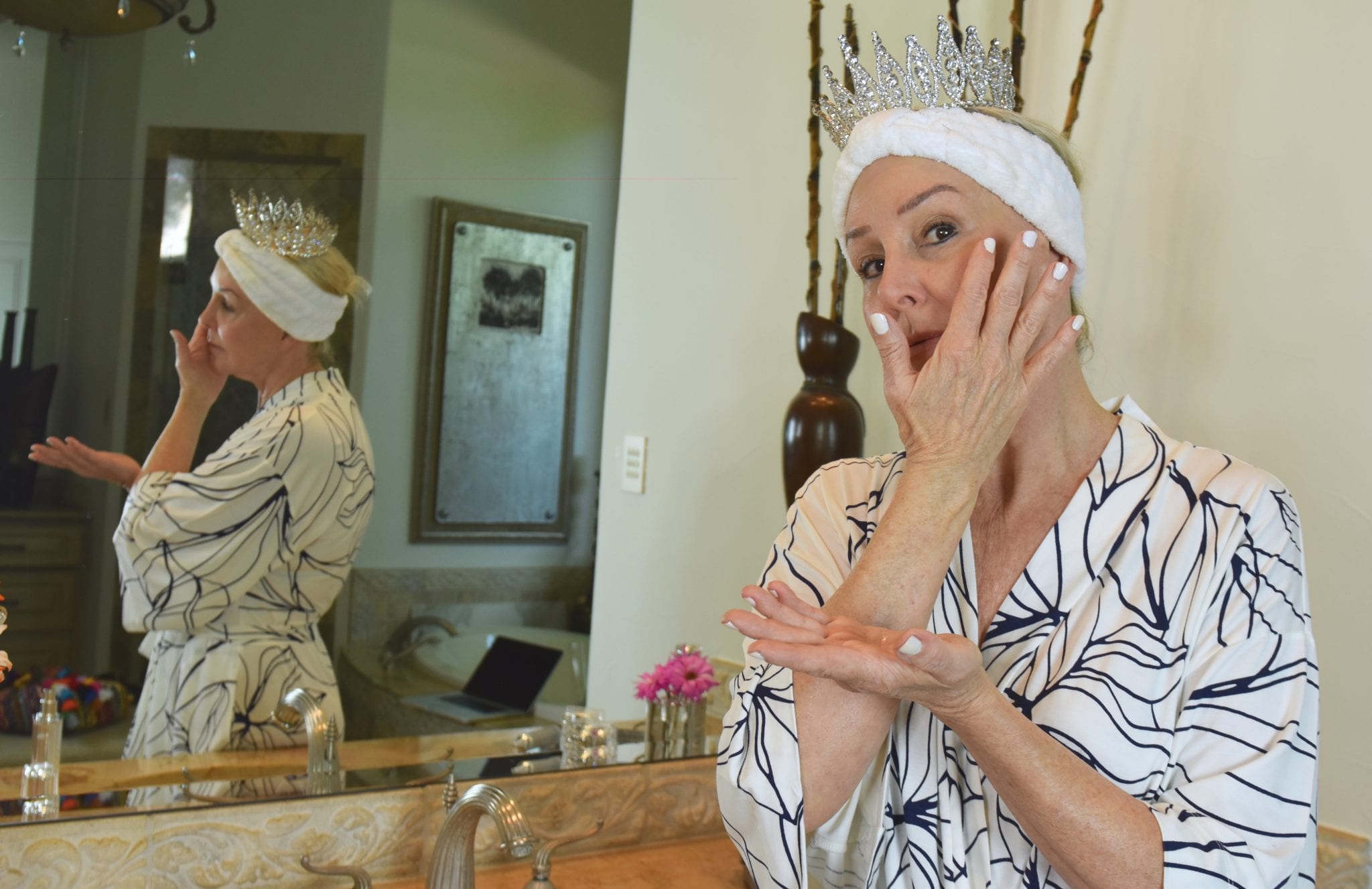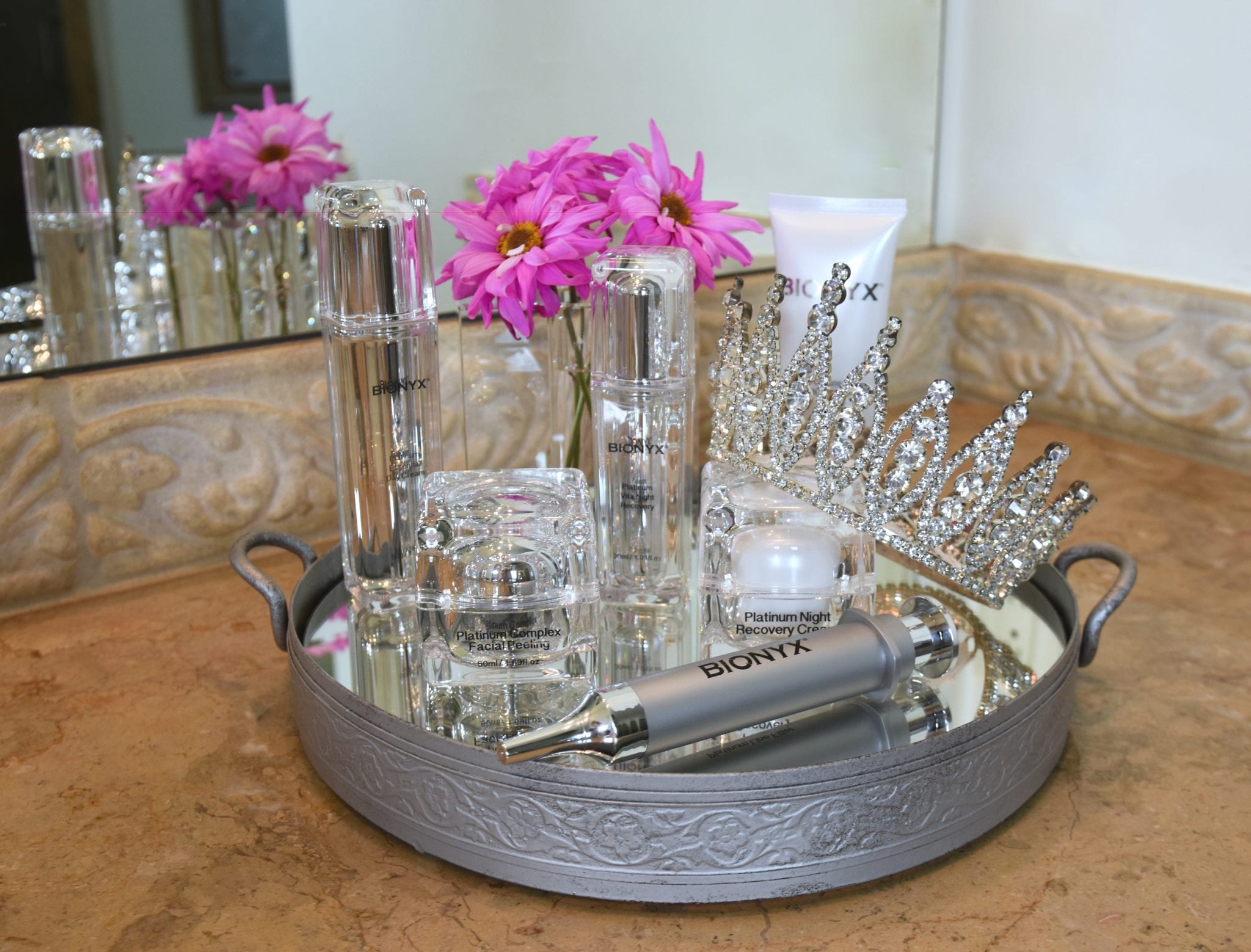 To summarize– If you are willing to open up your purse for a really good chance to improve the looks of your skin, then I stand behind everything that the Bionyx collection of products claim they do. Get with one of their experts to guide you on what products are the right recipe for your skin. Follow the directions and be consistent with your daily, weekly and monthly routines and I promise you will see results.
You deserve to look and feel like a queen.
Be sure to follow Bionyx on Facebook and Instagram.
Shop The Post
SHESHE'S TIDBITS
My sister and her family just arrived on Sanibel Island. The rain stayed away long enough for some play time on the beach. Tonight we are going to Doc Fords, a casual local restaurant on the island.
Gala's, weddings, graduations, holidays or just everyday wear…..we have fashion suggestions for you, so stay tuned. Be sure to check out ShopSheShe tab at the top of the menu bar. Hover over and choose the category in the drop down. We try to keep it up to date with the latest and greatest for all budgets. Subscribe here and then you won't miss a post. Simply enter your email in the pop-up box when you come to this site or at the top of this page in the subscribe box.
WELCOME new readers. We are a fashion/travel/lifestyle blog. We talk about anything and everything, from fashion, travel, health issues to even an occasional recipe. If there is a topic that you are interested in, then let us know. We will do our best to bring that story to you. Have a great week sweet friends and thank you for following along. Without you, we could not continue on this crazy journey!