This post is sponsored by Soma Intimates. I was paid for this post and received the included pajamas as compensation.
Who doesn't love to make their wardrobes work for them? Better yet, your pajamas wardrobe? I have never spent a lot of money on pajamas so when I do a refresh I want them to work for me in more than just to sleep in. Today I have partnered with Soma Intimates my go-to intimates brand to share mix and match pajama looks from their Cool Nights Collections that can take you from the bedroom, the bathroom, the living room, the laundry room and even that girl's trip with just a few pieces.
I am a very hot-blooded creature so I cannot wear heavy clothing to bed at night but when I have a guest in the house I want to make sure that when I go out to the coffee bar I am properly covered without getting dressed for the day.
I am having such a moment with the kimono styles this year. I have collected them for years because they are so versatile. They can be worn as a robe, over a dress, or as a duster over a jumpsuit, jeans, or even shorts. Wearing them over your pajamas does a great job to elevate your night/morning look. It also is so nice to have when you have company wandering around your home or when on a fun girls trip where you will be staying up late laughing and sharing stories.
Shortie Pajamas
I am wearing this kimono over a 2 pc monochromatic tank and shorts set. This is what I typically sleep in because they are so cool to sleep in. My husband gets colder the older he gets and I get hotter. Can any of you relate? Isn't the kimono so chic over my shortie pajamas? It can also be worn over the crop style pajama pants that I am wearing in the next 2 photos.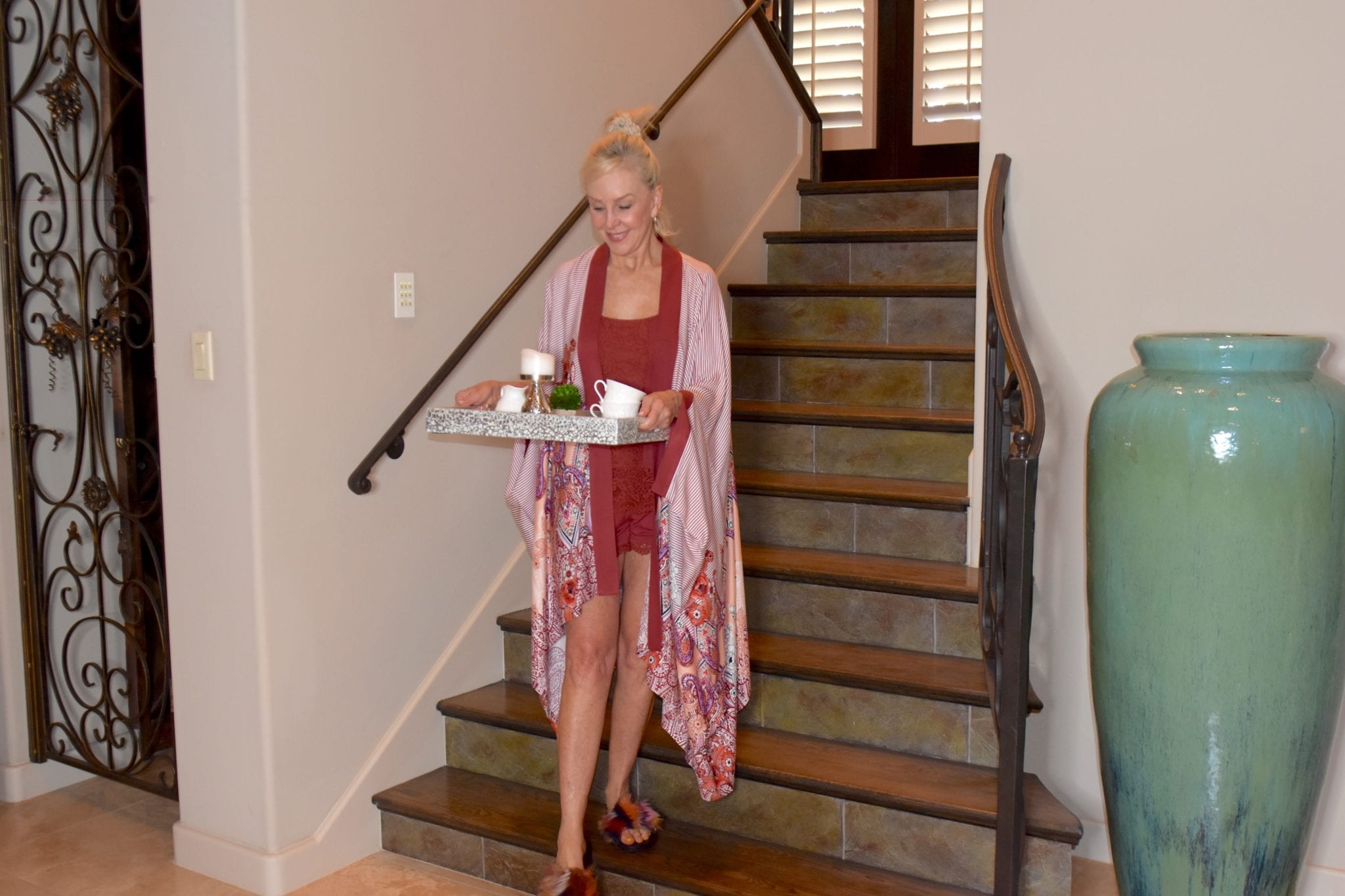 2 Piece Stripe Crop & Tank Set
This is a style that I would wear when I have a guest in the house or if I was on a girls trip. It is also super great for just lounging while working in bed with my bestie "Miss Pippa". The solid tank that I am wearing above is also a way to change it up and again the kimono is awesome over the stripes!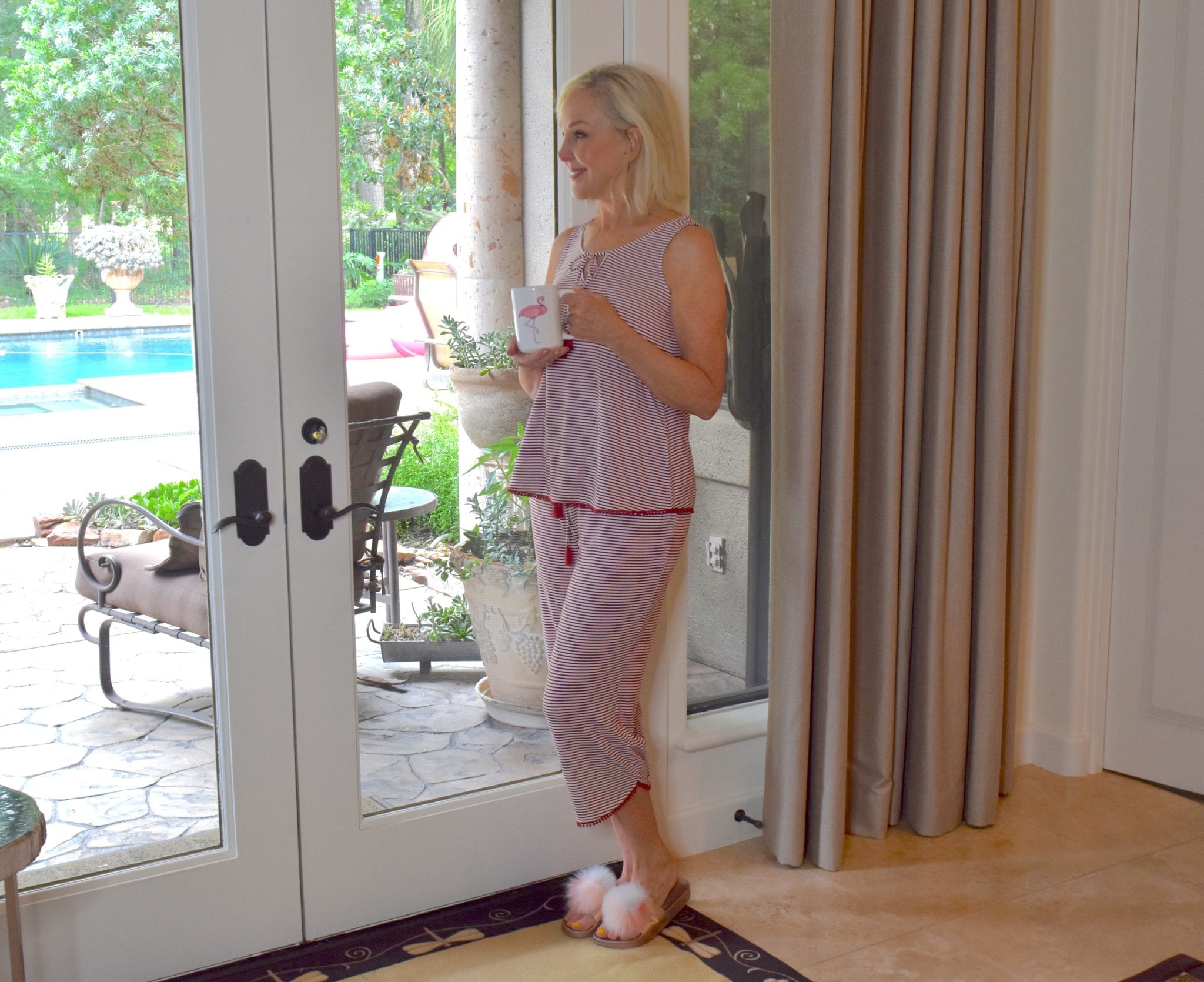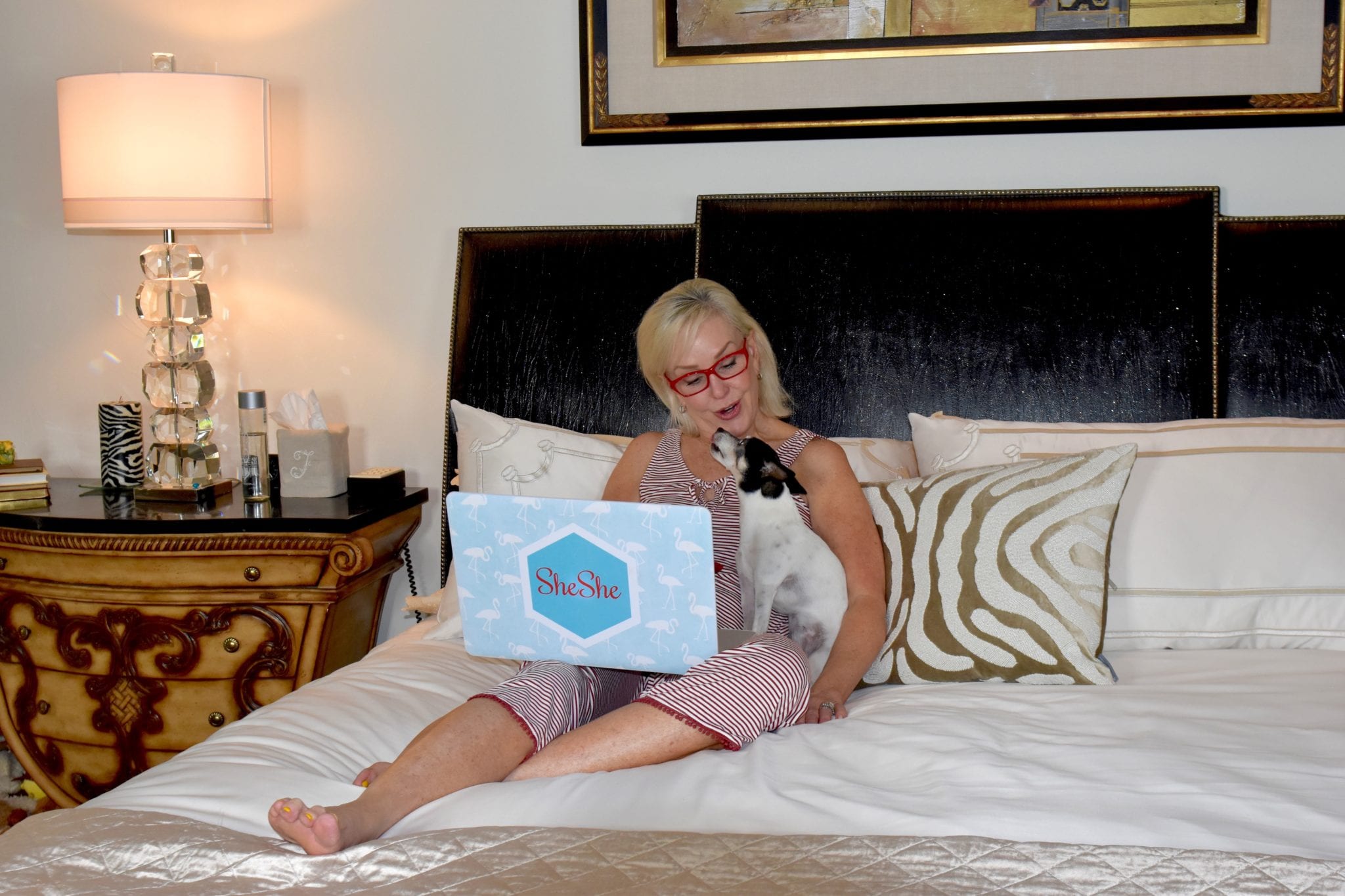 MIX IT UP

Not into all stripes or all monochromatic? Then mix it up for a different look or style that might work better for you. I love having all of these pieces in my pajama drawer. That way I don't get sick and tired of wearing the same pj's the same way over and over again. I actually have about 6 different looks with just 2 sets and a kimono and can be worn for different occasions.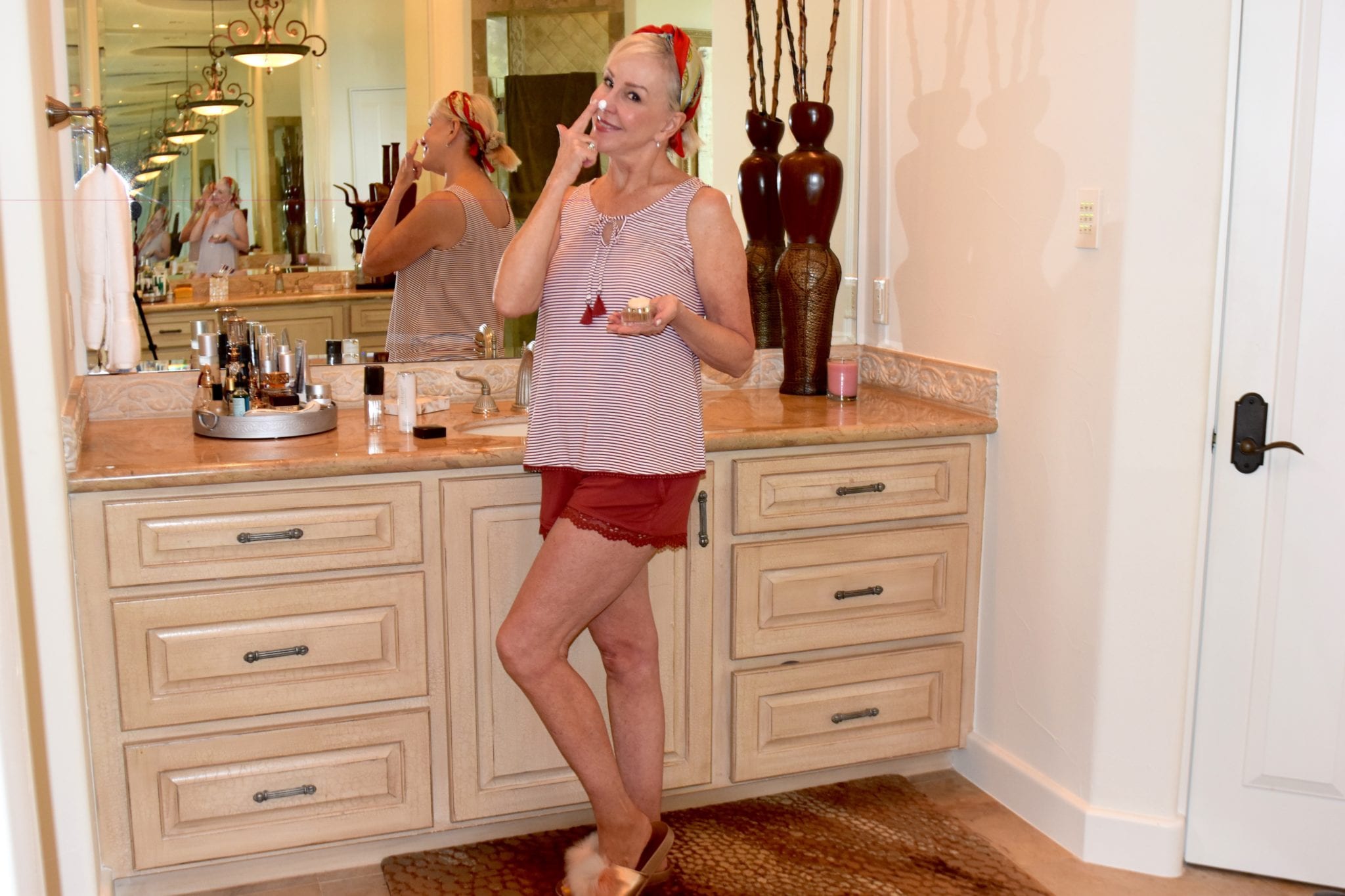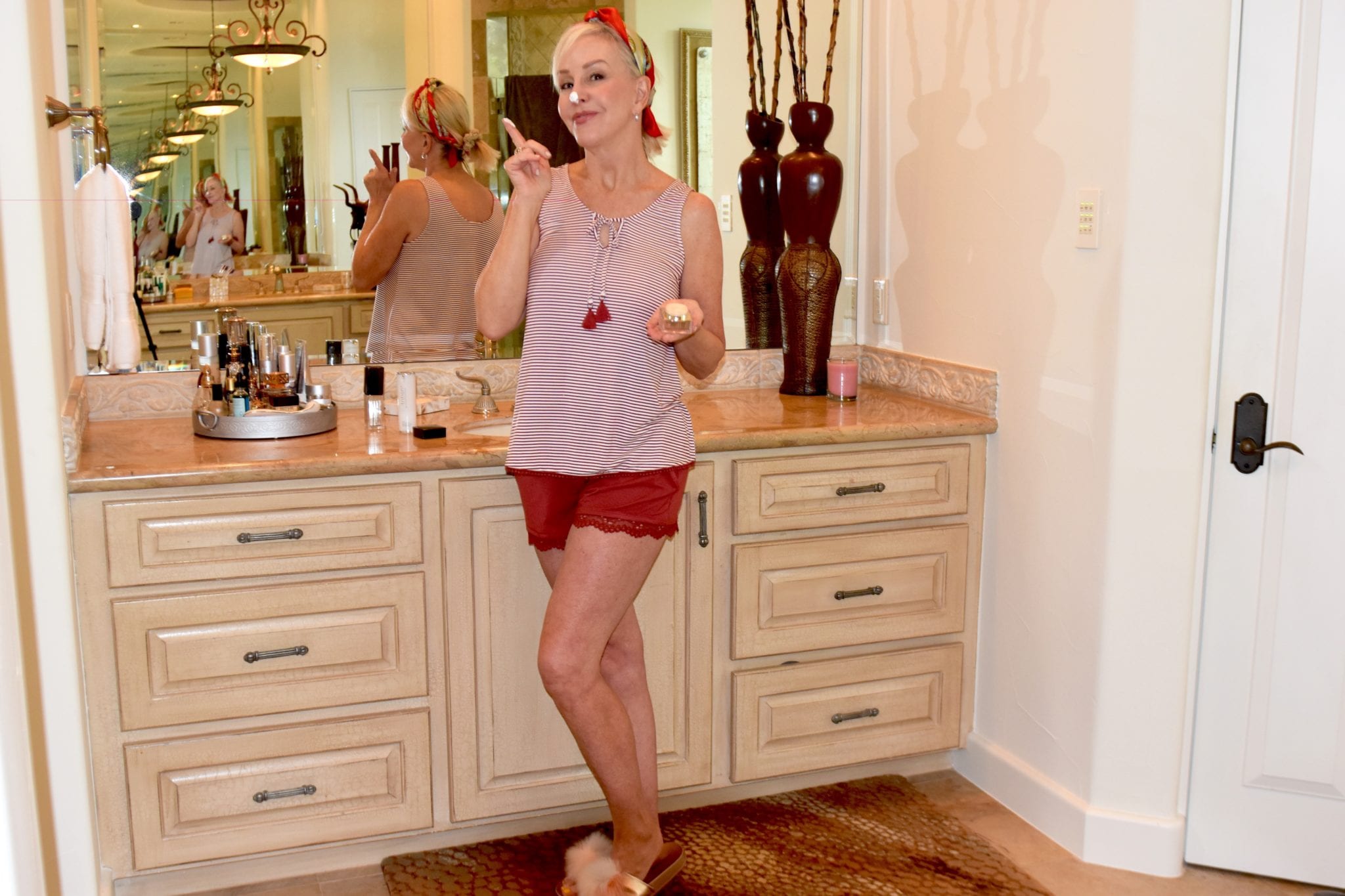 In Conclusion
The gist of my story here is to wear what you are comfortable in, but know that you can stretch your looks by adding a couple more pieces so that you can sleep well and then look proper and chic when you need to. Soma Intimates and their really cool line called Cool Nights has so many mix and match styles and prints. Throw away those old ratty pj's and get your COOL on with a Soma's Cool Nights Collection.
Shop The Post
MIX AND MATCH OPTIONS

SHESHE'S TIDBITS
We are now back at our place on Sanibel Island. Getting back my island groove for sure. You can follow all the fun on Instastories. Coming up this week is a recap of our Summer Sips event at Houston Galleria's Del Frisco. A great restaurant to try when in Houston. Also, stay tuned for my collaboration with www.hhandr.com in Santa Fe, NM. You will not want to miss it!
Gala's, weddings, graduations, holidays or just everyday wear…..we have fashion suggestions for you, so stay tuned. Be sure to check out ShopSheShe tab at the top of the menu bar. Hover over and choose the category in the drop down. We try to keep it up to date with the latest and greatest for all budgets. Subscribe here and then you won't miss a post. Simply enter your email in the pop-up box when you come to this site or at the top of this page in the subscribe box.
WELCOME new readers. We are a fashion/travel/lifestyle blog. We talk about anything and everything, from fashion, travel, health issues to even an occasional recipe. If there is a topic that you are interested in, then let us know. We will do our best to bring that story to you. Have a great week sweet friends and thank you for following along. Without you, we could not continue on this crazy journey!