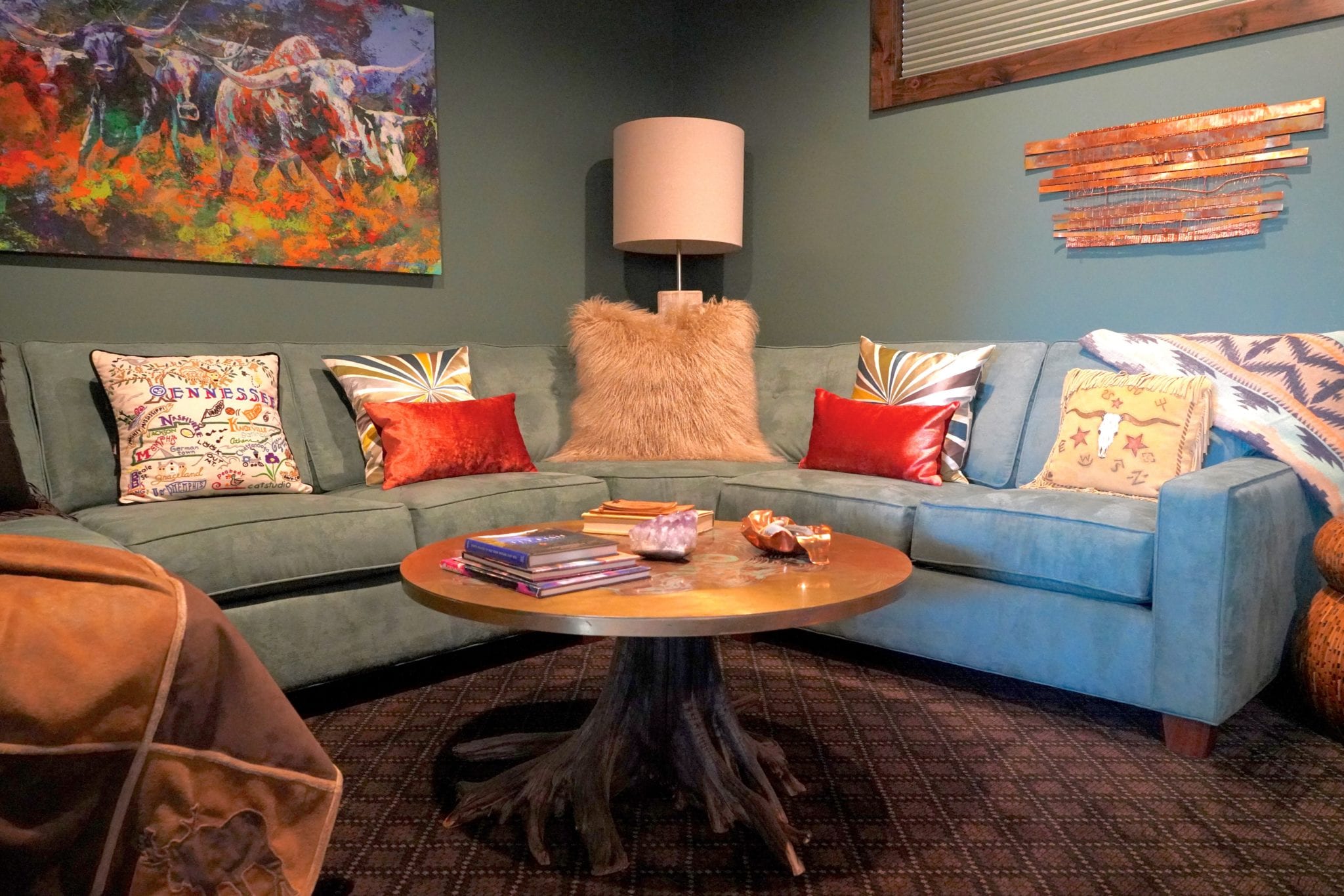 I have been posting rooms from our Colorado home as they have been finished so today I am sharing how I decorated our cozy mountain modern tv room.
We have owned property near Montrose, CO. for 24 years. Our first place was a high mountain ranch that we enjoyed for 20 years. After deciding to make a change and leave the high altitude of the mountains we headed down to the valley just south of Montrose. After looking at a lot of properties we found 12 acres with 1/4 mile of river on the Uncompahgre River and built a house from the ground up that was finished in late 2015.
This home has an open floor plan with the kitchen, dining and living area all in one, so I felt we needed a little cozy tv room. I had the sofa that was in our Austin, TX home that we brought up. I knew the dimensions of it during the design phase so I made sure that our tv room had the exact measurements so we could use it.
So what makes a mountain modern tv room? All of your choices culminate in the making of the style of room you want. I love an eclectic room because I think it makes it more interesting to the eye. Below are ways to achieve a mountain modern tv room.
How to Decorate a Mountain Modern TV Room
The shape of the sectional or sofa The squared off arms and back of sofa give it a more modern contemporary look rather than a rolled arm. Also, the fixed cushions and no skirting.
The artwork does not have a frame giving it a more modern feel. The copper wall hanging is obviously artsy and contemporary.
Pillows should be sleek in modern prints and/or leather western style with fringe. Mix it up with texture and prints.
Coffee Table & Side Tables I love mixing textures. We took this brass table top that went with a tree stump that we left in Austin and had a base made in Montrose. Darrin of Distinctive Wood Products in Montrose, CO and I collaborated together to make our front door and also make the table base. It was from a cypress tree that Darrin brought back from his father's farm in Kansas. These 2 textures together placed in the center of the room make for an interesting focal point.
Lighting Always a way to take your room to the style you want it to go. I found these sconces in silver metal that look like tree bark. The color and design give it a more contemporary feel and the bark bring in the mountain look. The pole lamp behind the sofa has a drum-shaped shade instead of the tent style shade and last the recessed lighting keeps the room clean of too much clutter.
Accessories This is where I think the personal touch comes to play. I always love to collect unique pieces so here you will see several antiques. ( the pipe collection, amethyst geode, Indian tools, Cowboy and Indian figures, unique western picture frames, vase with peacock feathers, vase with bamboo poles, vintage books, driftwood that I found and more.
In Conclusion:
If you can do a special door then you can add more dimension to a room. I love unique doors. In the very last photo, you will see the sliding barn door from the great room leading into the tv room. Darrin and I also came up with this style to look rustic mountain but added the modern hardware for the cleaner look.
I think that the biggest mistake when decorating is that there is too much copycatting and there is no originality or reflection of the owners.  The key to a great room is to choose a style direction and then finish it off with your personality with art and accessories. Make it yours!!
I won't be linking anything here today to shop because most of everything in this room was curated through collections and custom works. Coming soon we will be sharing our guest bedrooms. We posted our master bathroom and bunkroom last summer.  You really don't want to miss the bunkroom!!
SHESHE'S TIDBITS
Next up is transitional dressing, taking summer into fall even when it will be very hot in so many places.
Gala's, weddings, graduations, holidays or just everyday wear…..we have fashion suggestions for you, so stay tuned. Be sure to check out ShopSheShe tab at the top in the menu bar. Hover over and choose the category in the drop down. We try to keep it up to date with the latest and greatest for all budgets. Subscribe here and then you won't miss a post. Simply enter your email in the pop-up box when you come to this site or at the top of this page in the subscribe box.
WELCOME new readers. We are a fashion/travel/lifestyle blog. We talk about anything and everything, from fashion, travel, health issues to even an occasional recipe. If there is a topic that you are interested in, then let us know. We will do our best to bring that story to you. Have a great week sweet friends and thank you for following along. Without you, we could not continue on this crazy fun journey!