This post is sponsored by Chico's. I received a 3 day trip to Chico's Headquarters as compensation.
For about 15 years I have been a Chico's fan. I would go into the store to buy something for my mom and would leave with a cute item piece or a couple of pieces of their fabulous jewelry for myself. When I was asked to work with them about a year and a half ago as an influencer, I was so excited. Since then I have done many projects helping Chico's launch or promote new product lines that help women young or old with figure issues as well as highlight their colorful collections. When I got the invite with other influencers to share in their 35-year anniversary celebration I was more than honored and even more than excited!!
I only knew of 3 or 4 ladies from around the country that were going, so when we all showed up for our first-night reception on the beach, it was like meeting 10 other best new friends plus seeing and meeting our beautiful Chico's marketing team in a whole new light.
When I got to my room I had the best goodies waiting on me. Let's see….delicious chocolates, a waterproof cell phone case, a generous Chicos Gift Card, Soma pineapple PJ's and my favorite was a wide-brimmed hat with my @shesheshow embroidered on it.
DAY 1 | EVENING RECEPTION AT THE PINK SHELL RESORT ON FORT MEYERS BEACH
Some ladies arriving early enough to get unpacked and rested up and others flying in and barely making it for the meet and greet. It was a beautiful evening on the beach at the beautiful Pink Shell Resort on Fort Meyers Beach. You could see Sanibel just a short distance away from the beach. We had lovely Carribean music and delicious appetizers with, of course, cocktails under a thatched hut and the soft powdery sand beneath our feet.
A lovely photographer was everywhere we turned to capture the nights special moments. Watching the amazing sunset was a treat for all!!.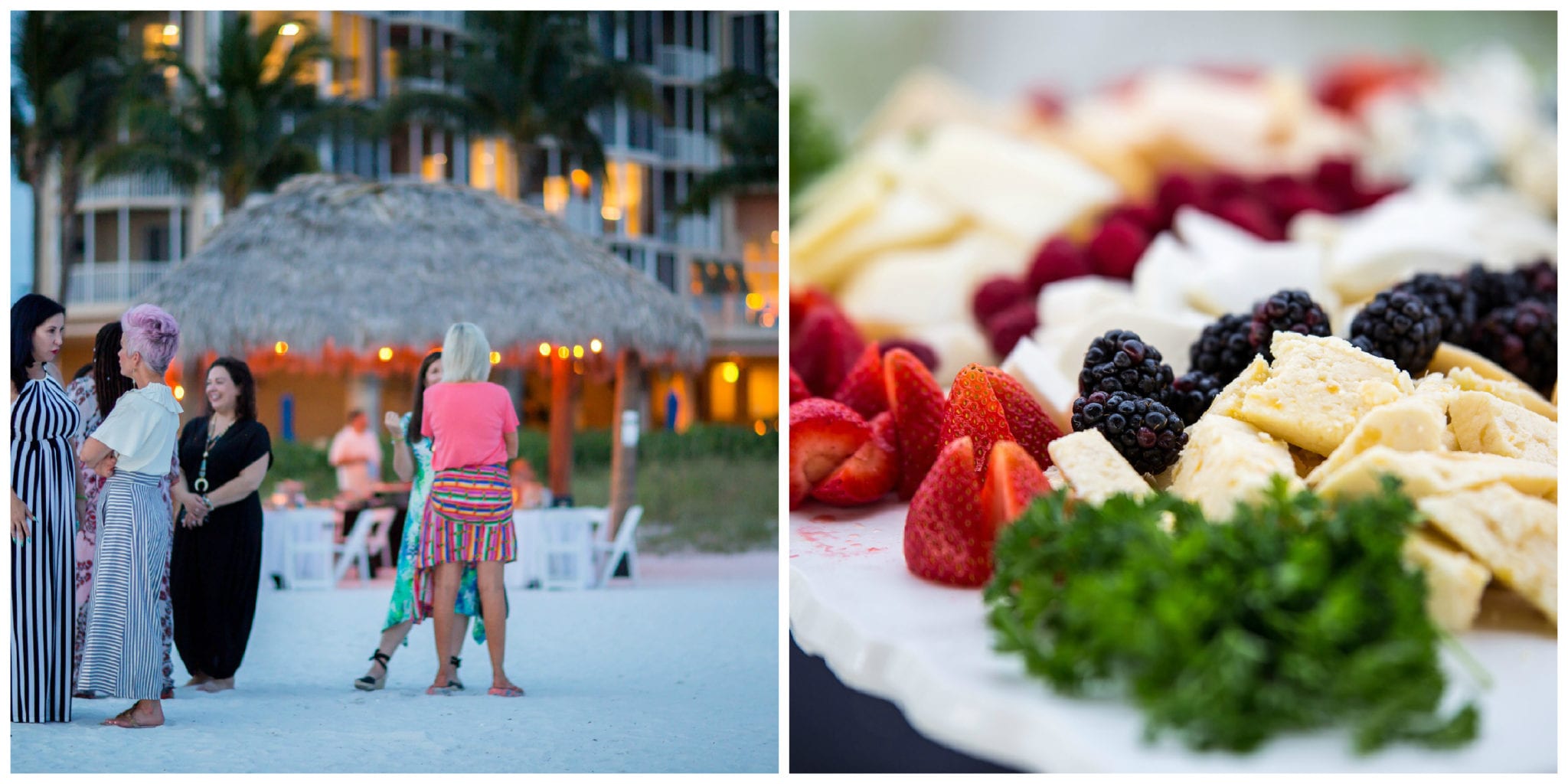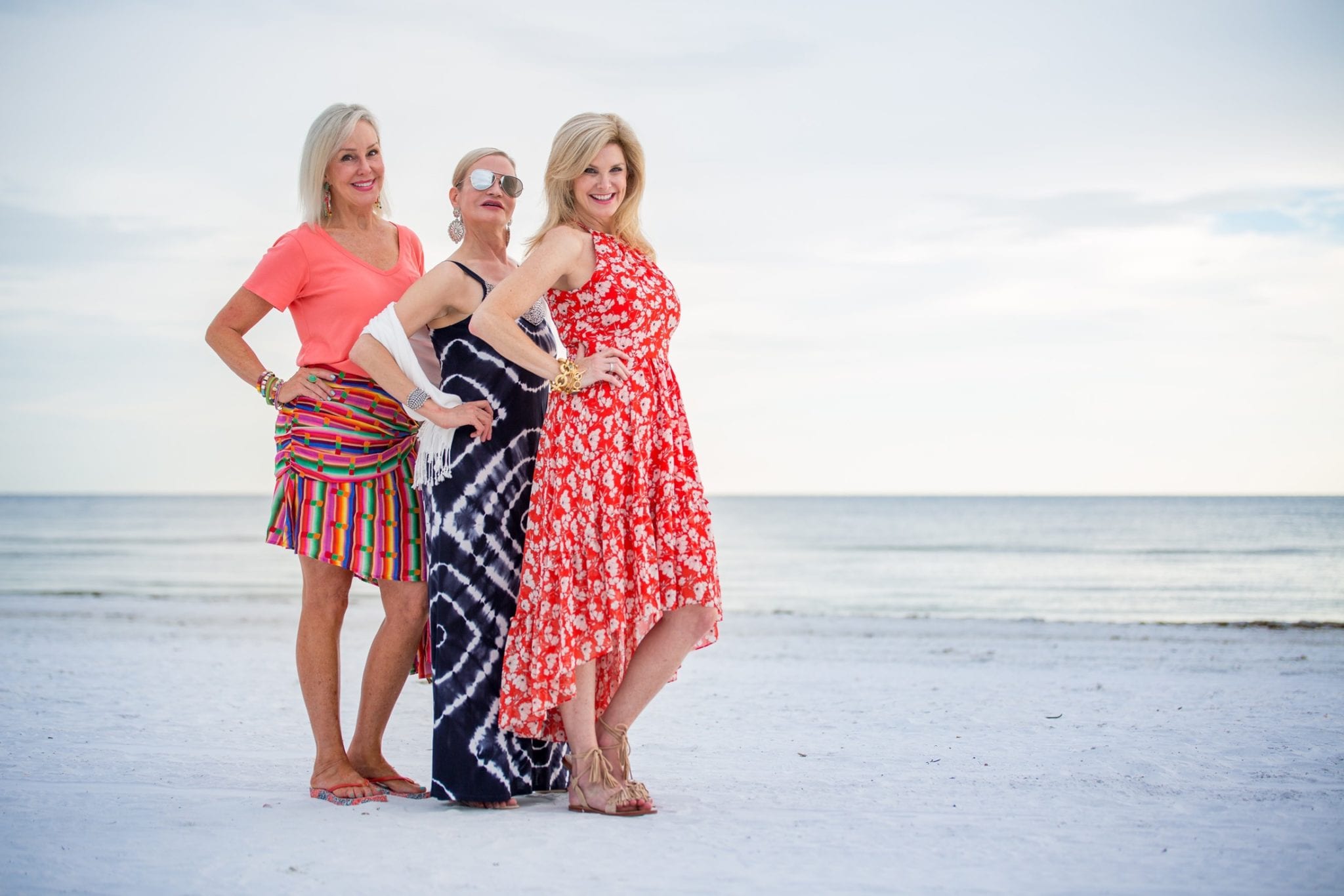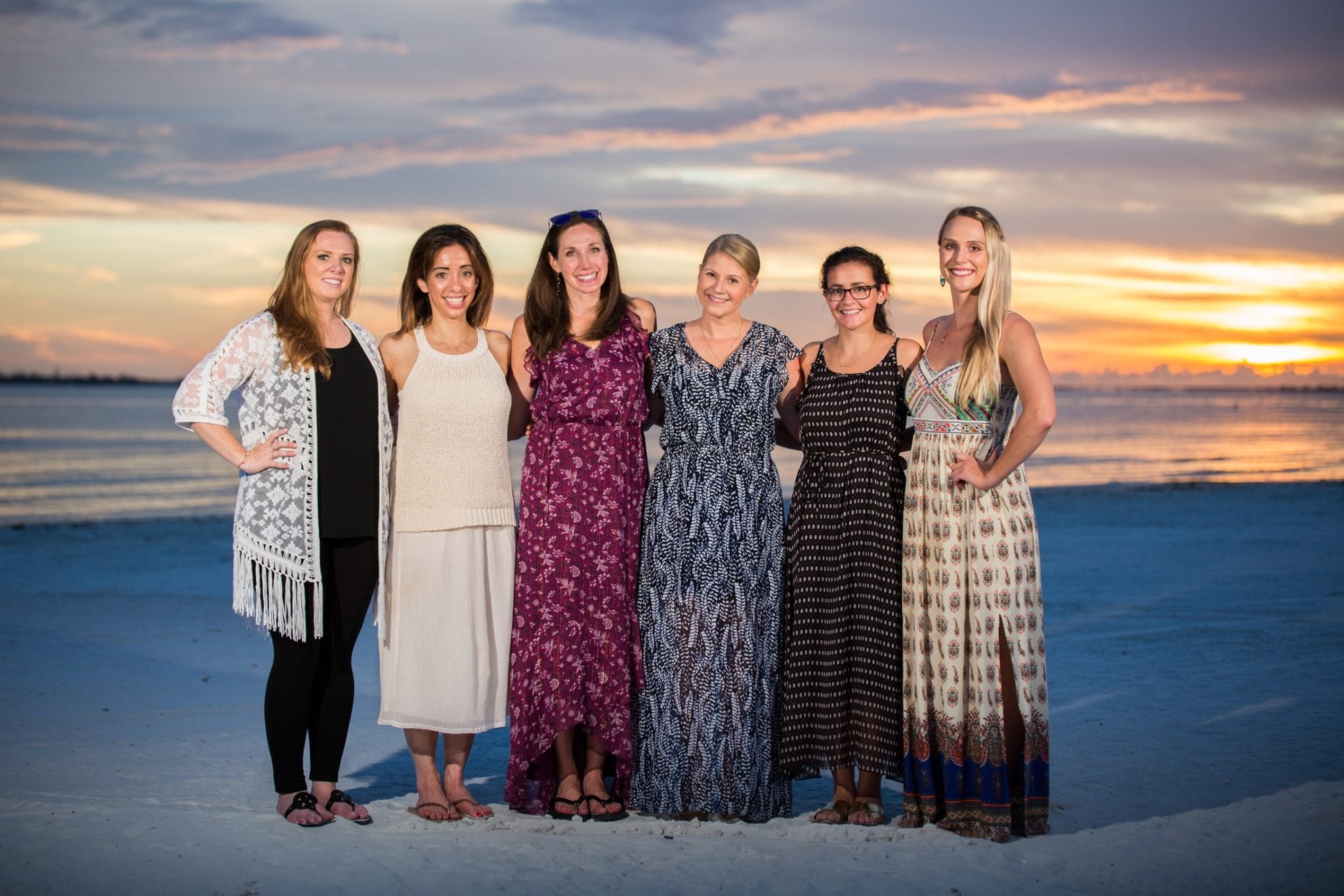 Chico's marketing team are the best team to work with. These ladies are all so special. They are from the Chico's parent company, Chico's, Soma Intimates, and White House Black Market. Did you know that Soma and White House Black Market are under the Chico's brand umbrella?  A package deal for sure!!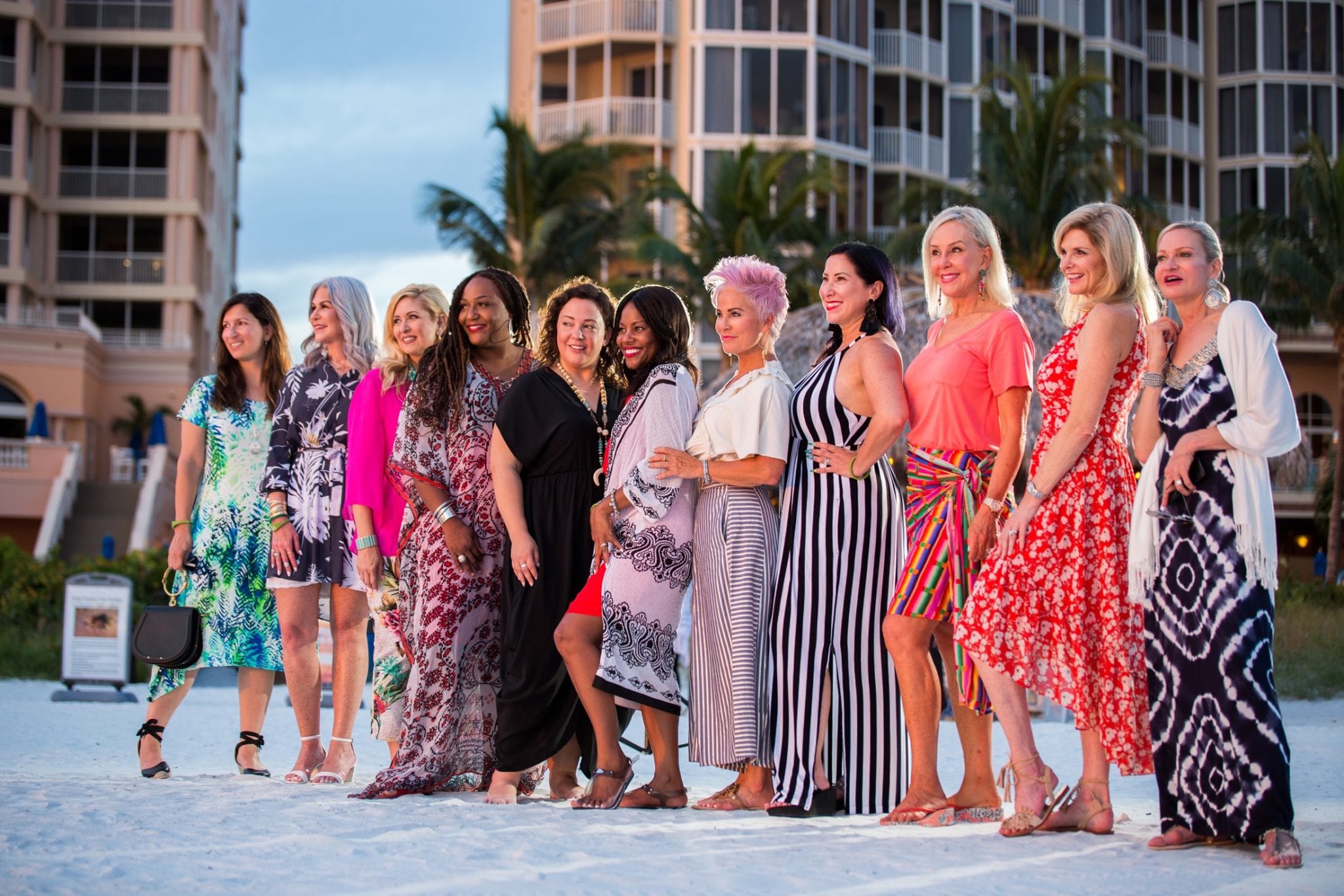 From left to right: @bayareafashionista @thesilverstyllist, @southernblondechic @iamnikkifree @wardrob_oxygen, @therealchiclife @chicover50 @romyraves @shesheshow @tanyafosterblog and @moreturquoise
MY OUTFIT DETAILS
DAY 2 | CHICO'S HEADQUARTERS TOUR 
Up early to meet our trolley for a short ride to Chico's campus. I had the opportunity to visit their headquarters back in February, but we got a really close up tour of all the departments on this tour as well as spend time with VP of Marketing, Chico's brand President and CEO. What a treat to meet this all-woman team of women!
After congregating in the main foyer and reception of the first building built, we then started our tour with the first stop in the art department. Chico's has their own in-house artists and design team that create their own fabrics. Since I was a textiles major, this department fascinated me so much. I bet you think they just buy their fabrics off a bolt in some Asian market. WRONG!!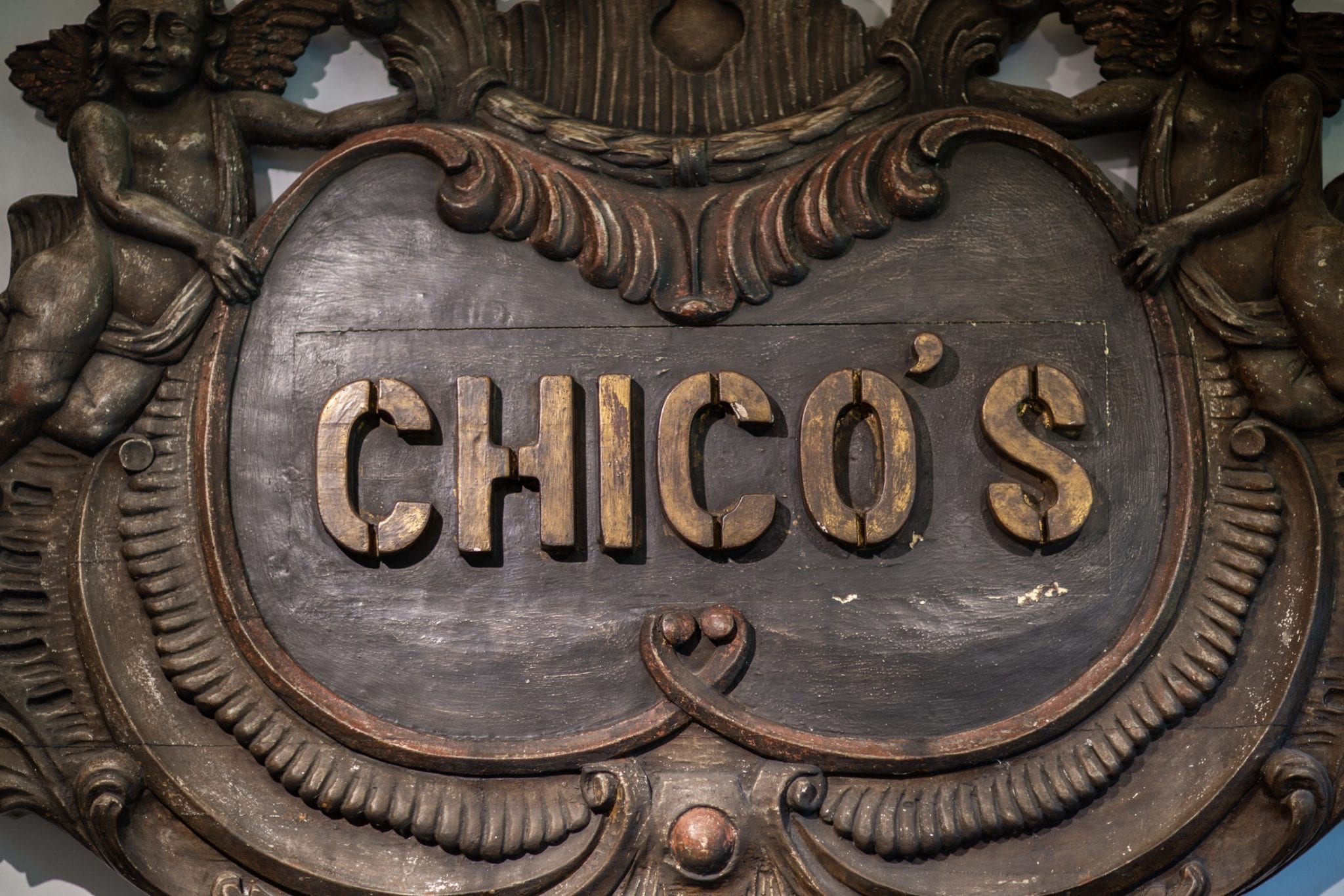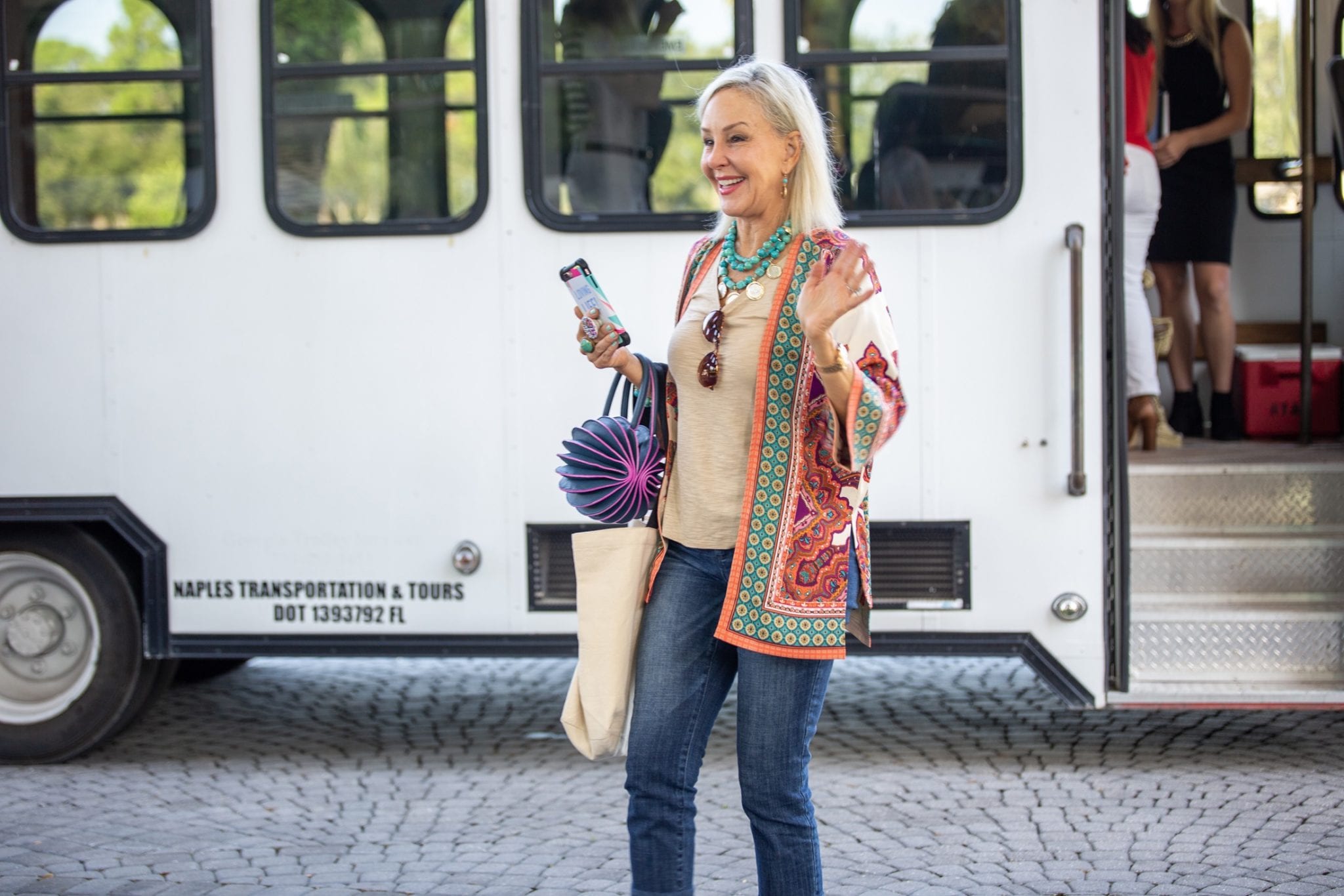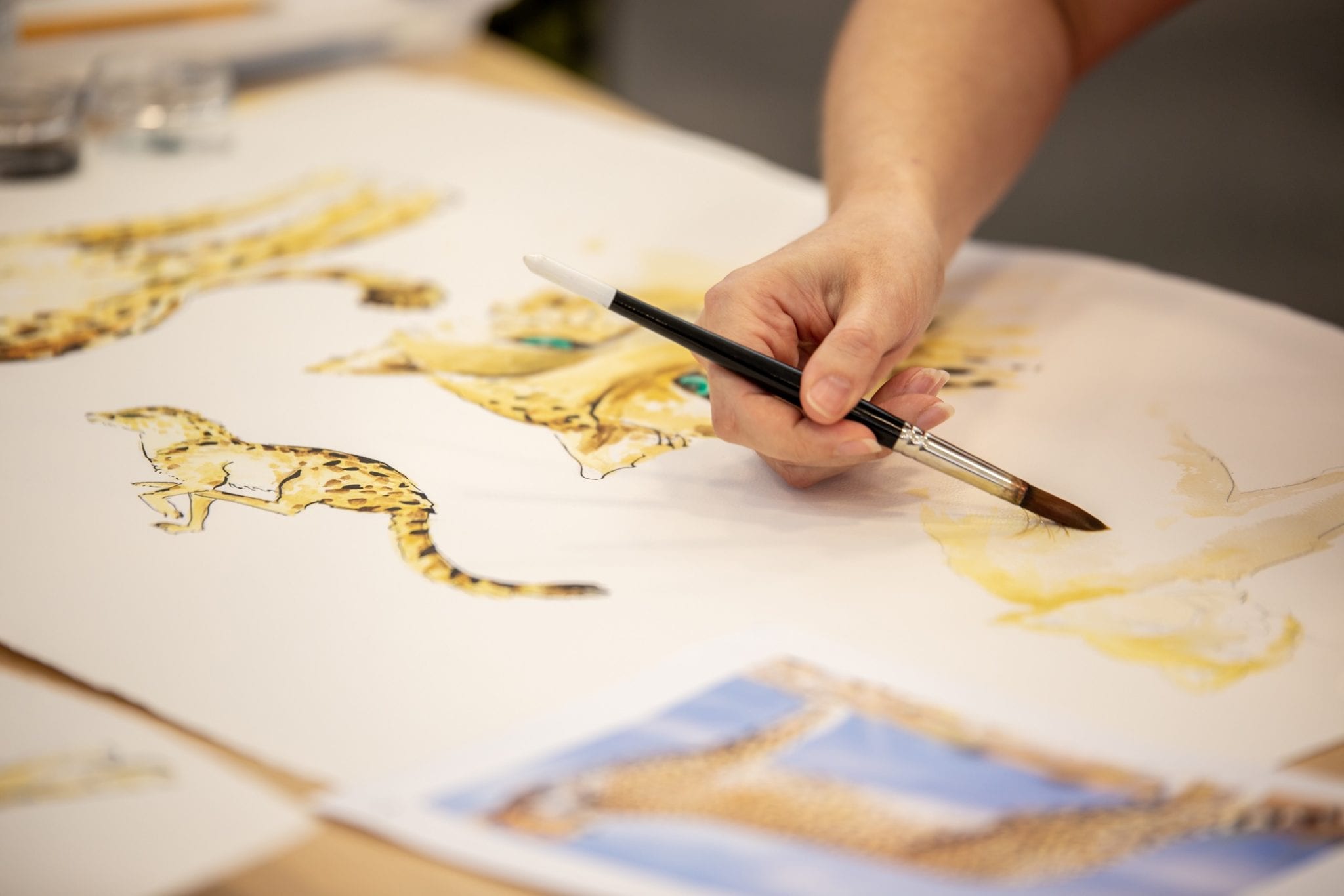 Next stop the fit department. Their fit model is not a 6′ size 2 girl but a real size 8 lady. They fit her and then adjust sizing up and down based on a researched scale of American women. They now have new technology that is over the top in producing sizes.
After this visit, we then headed to the mock store where they set up a scenario of how their hundreds of stores nationwide should look. They will photograph this setup and send out to the stores as a floorplan to follow.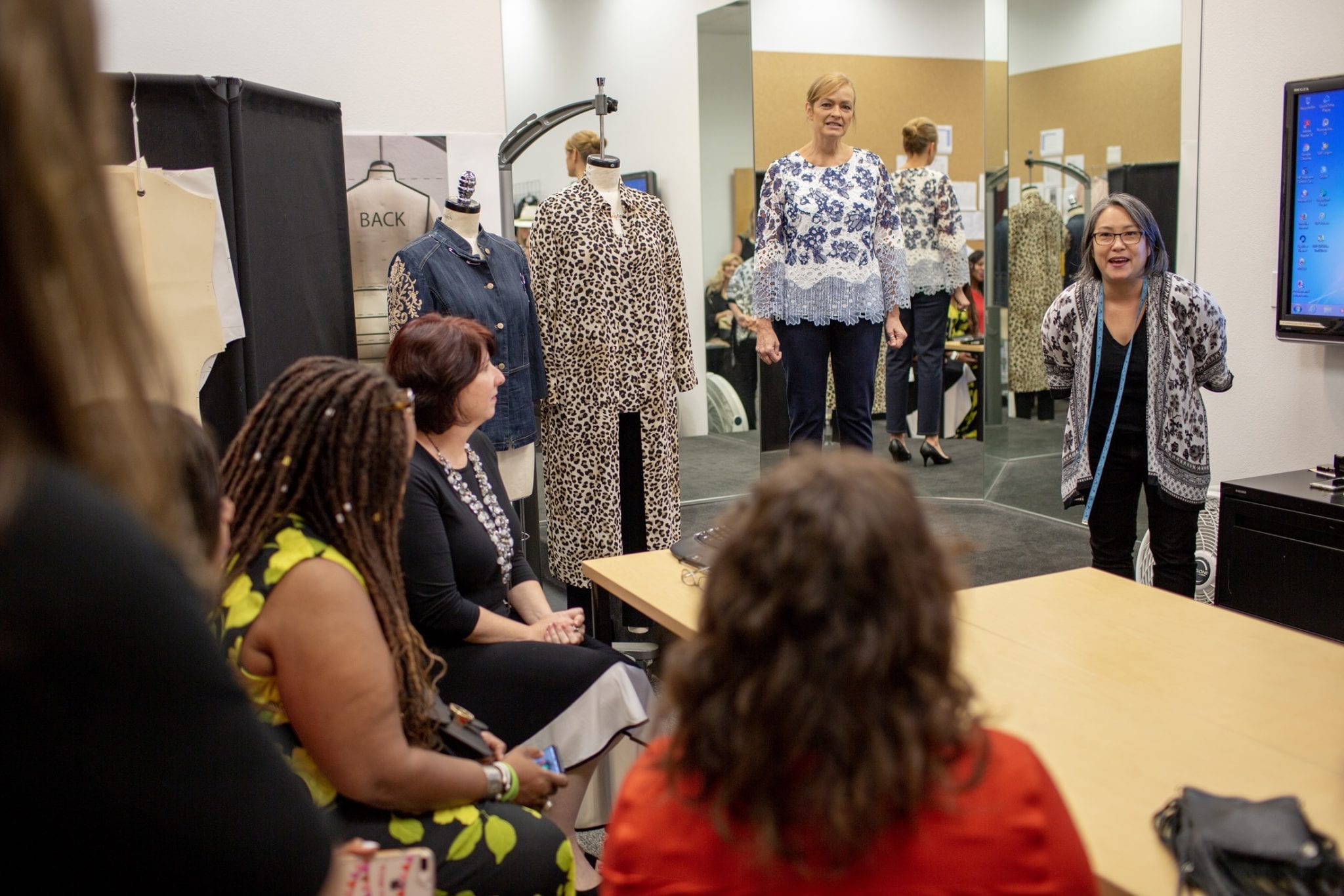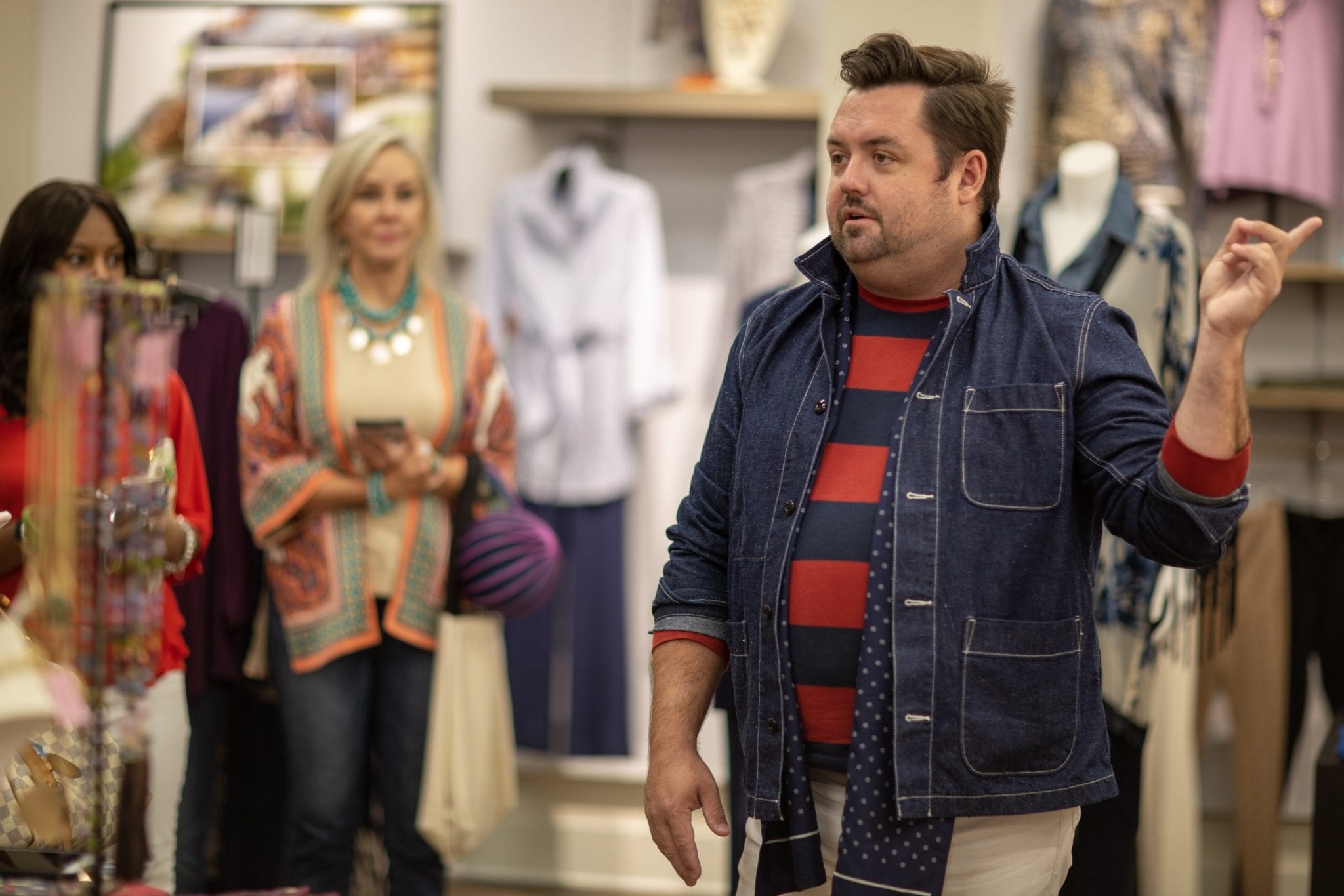 As you know already, this is Chico's 35 year anniversary. They started as a Mexican Folk art store in 1983. You can read all about its beginnings here. It is really an American success story beginning right on Sanibel Island, Florida.
FUN FACT: We bought a vacation home on Sanibel Island in April. I discovered it by learning all about the beginnings of Chico's for a blog post. We had never vacationed there much less been to Sanibel.  I just knew it must be special. My marketing contact Jennifer referred us to the best realtor ever and the rest is history!!
BELOW: Sneak Peak at this amazing embroidered jacket that will be launched in October as part of their 35-year Anniversary Collection. We saw the rest of the collection too and it was AMAZING!!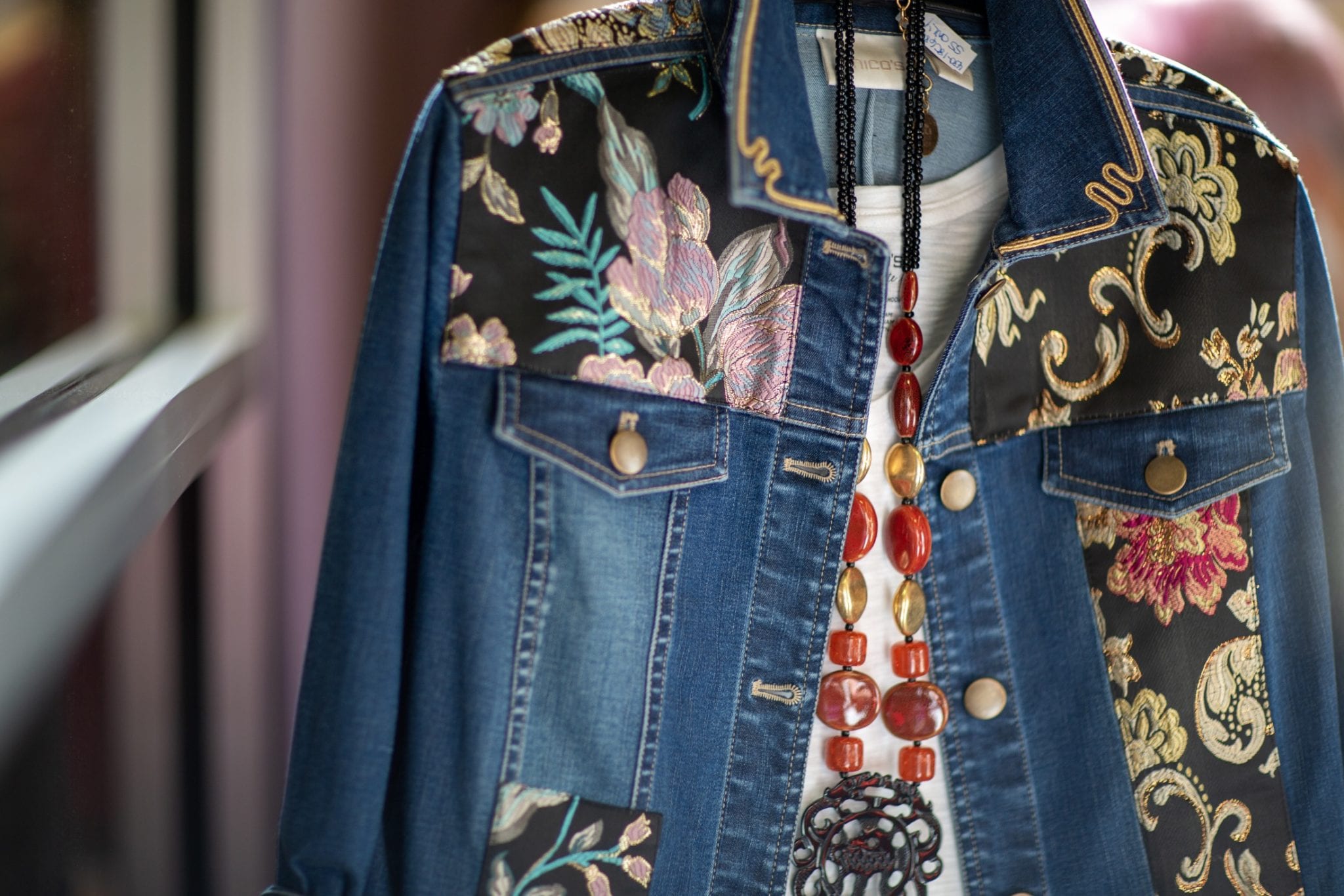 WORKING LUNCH AT CHICO'S HEADQUARTERS WITH TOP EXECS
After our tour, we had a delicious lunch on campus with Chico's marketing VP Shelagh Stoneham and also got some special time with Chico's brand president Diane Ellis. While there, the Chico's SEO stopped by for a surprise visit. So very exciting to share our ideas with these awesome women.
This was an energetic feisty bunch of influencers that couldn't wait to share what we know out in the field of fashion. Our hostesses were taking notes as fast as they could……almost getting writers cramp. We certainly gave them a lot of good information for their own roundtable discussions. I love how they listened to us!!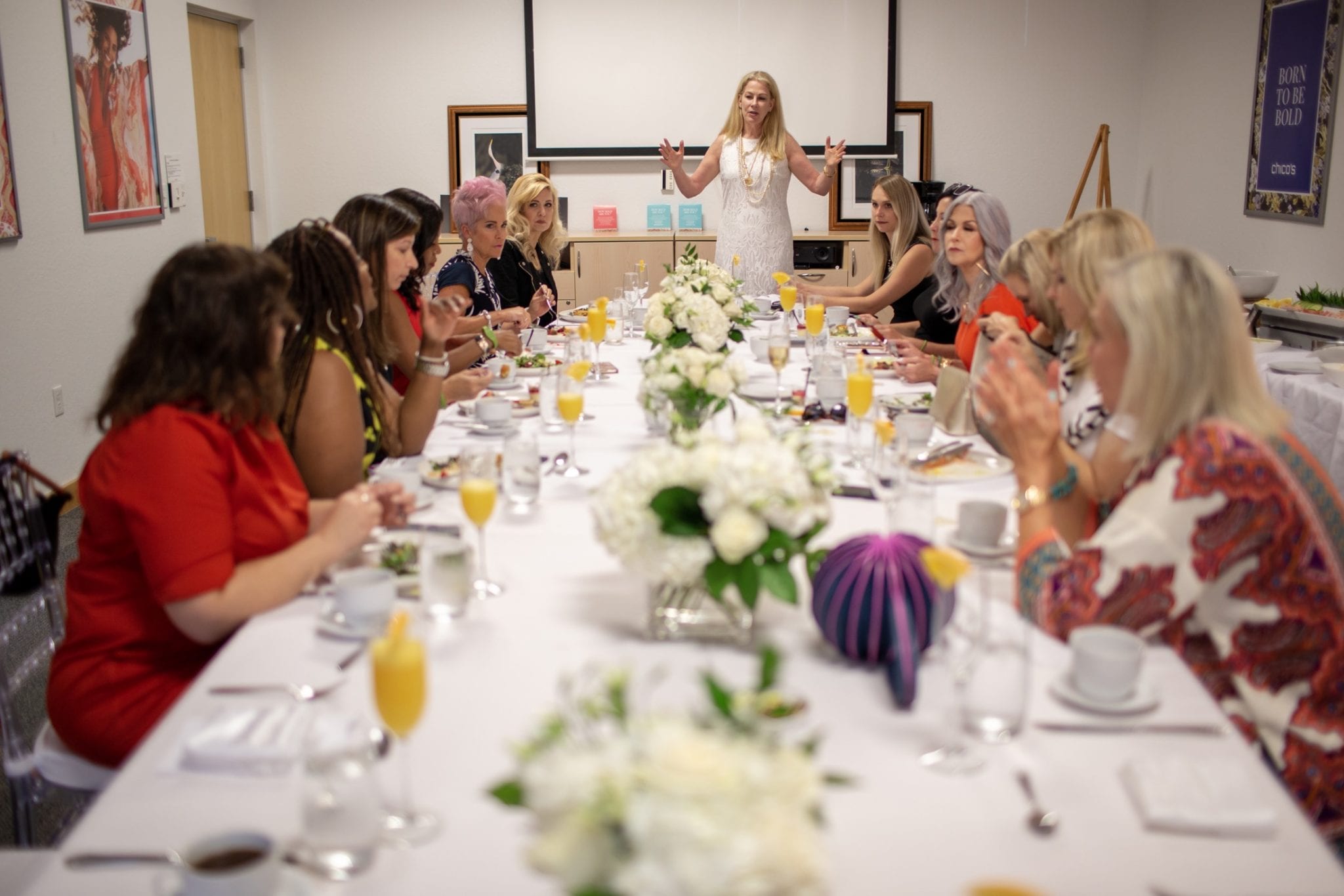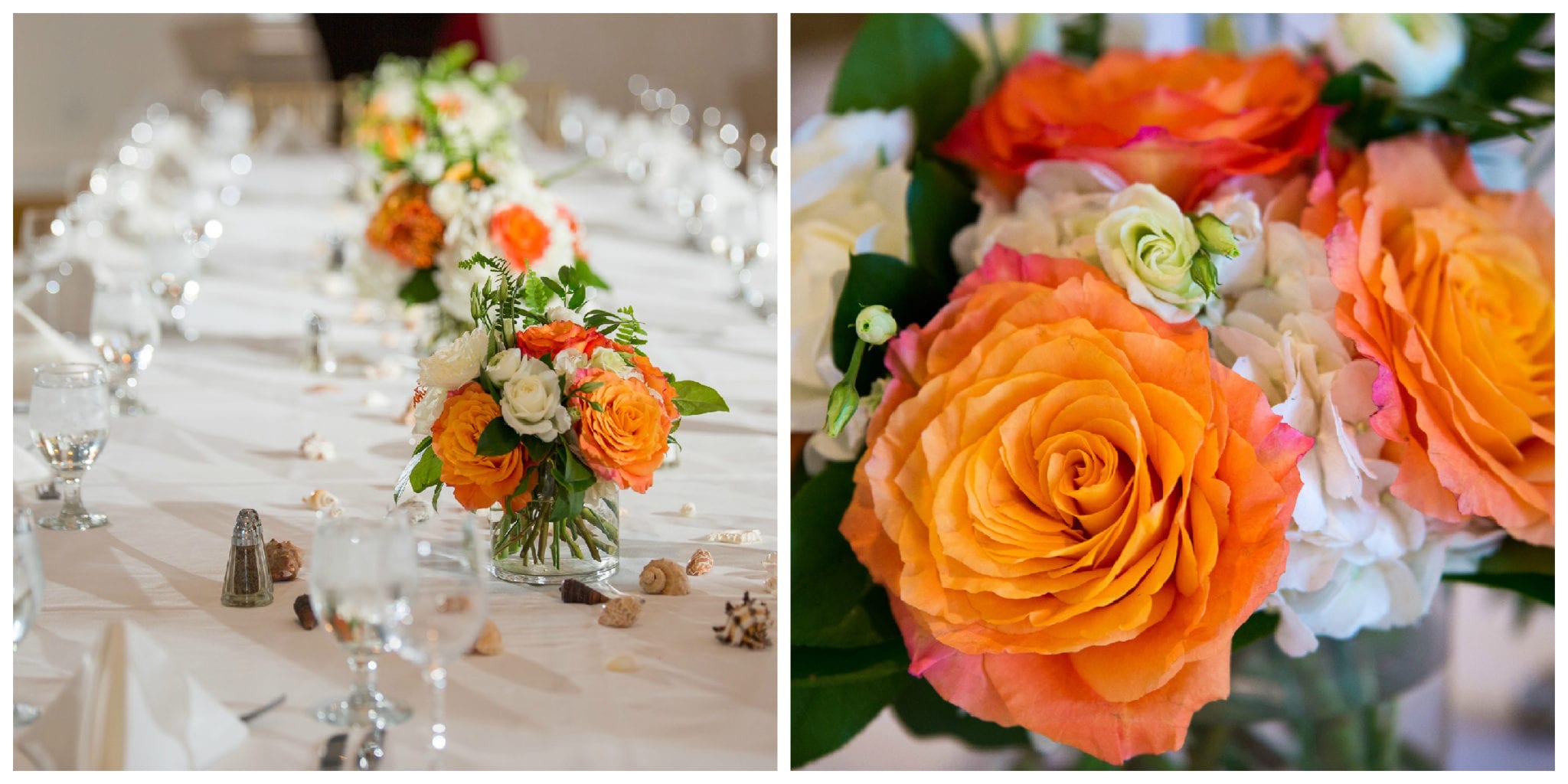 Left to right (above) Shelagh Stoneham Chico's VP of Marketing, me, Shauna @chicover50, Barbi @southernblondechic & Diane Ellis, Chico's brand president.
SHOPPING TRIP TO ORIGINAL CHICO'S ON SANIBEL ISLAND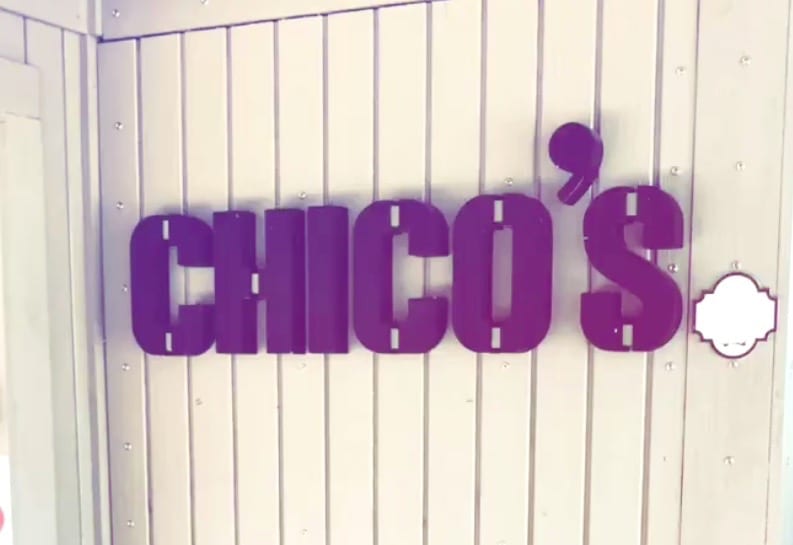 While on Sanibel looking at homes to possibly buy, I did take time out to visit the Original Chico's store. I had the opportunity to forge an ongoing friendship with longtime manager Deana. See our reunion in the photo below. She is the sweetest and she knows how to run this historical boutique!
We all had our gift card in our purse burning a hole until we spent it. We had so much fun running around the store to find the perfect item to go with our existing wardrobes. The great thing about shopping with a Chico's in-store stylist is that they will create a profile for you so that every time you are in the store, they will have your sizes and history. You can even book your own personal time with a stylist!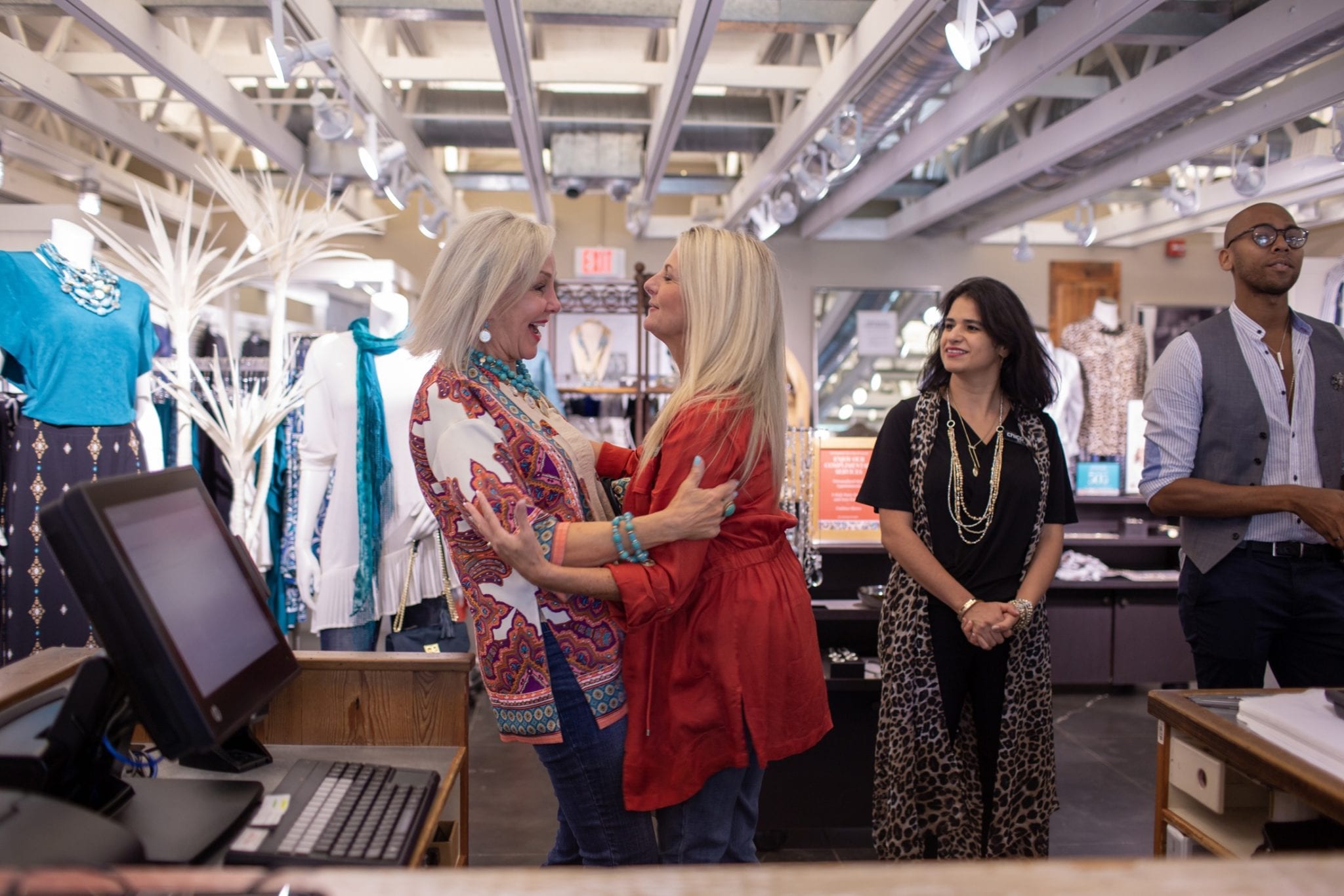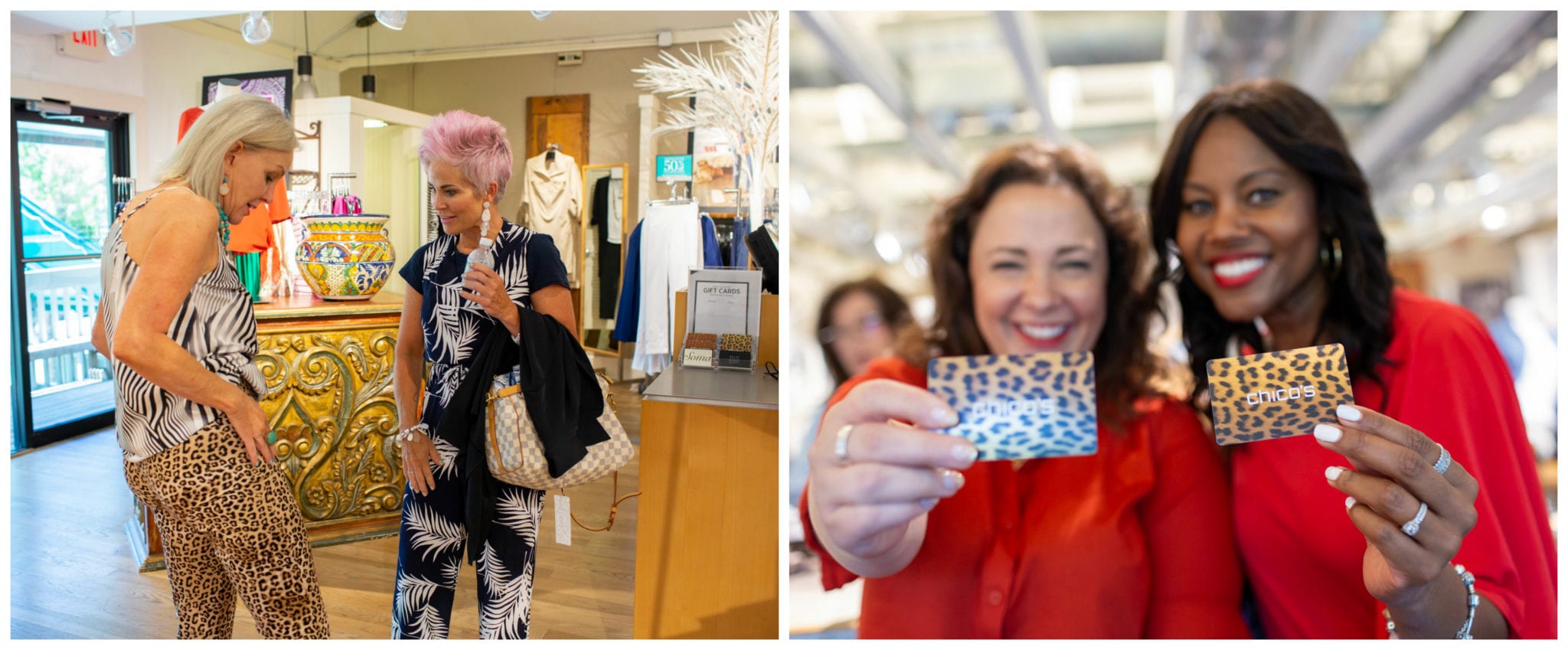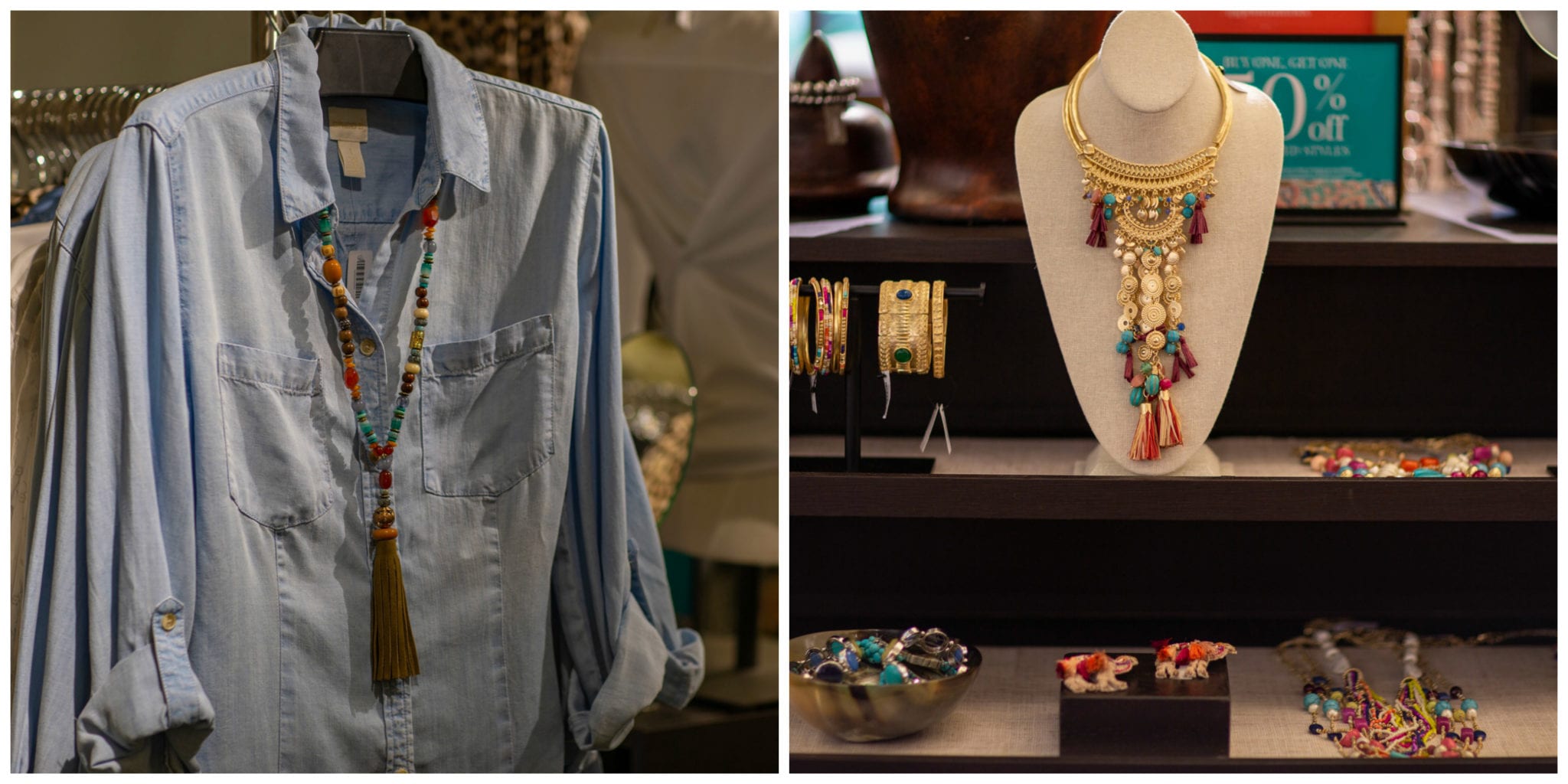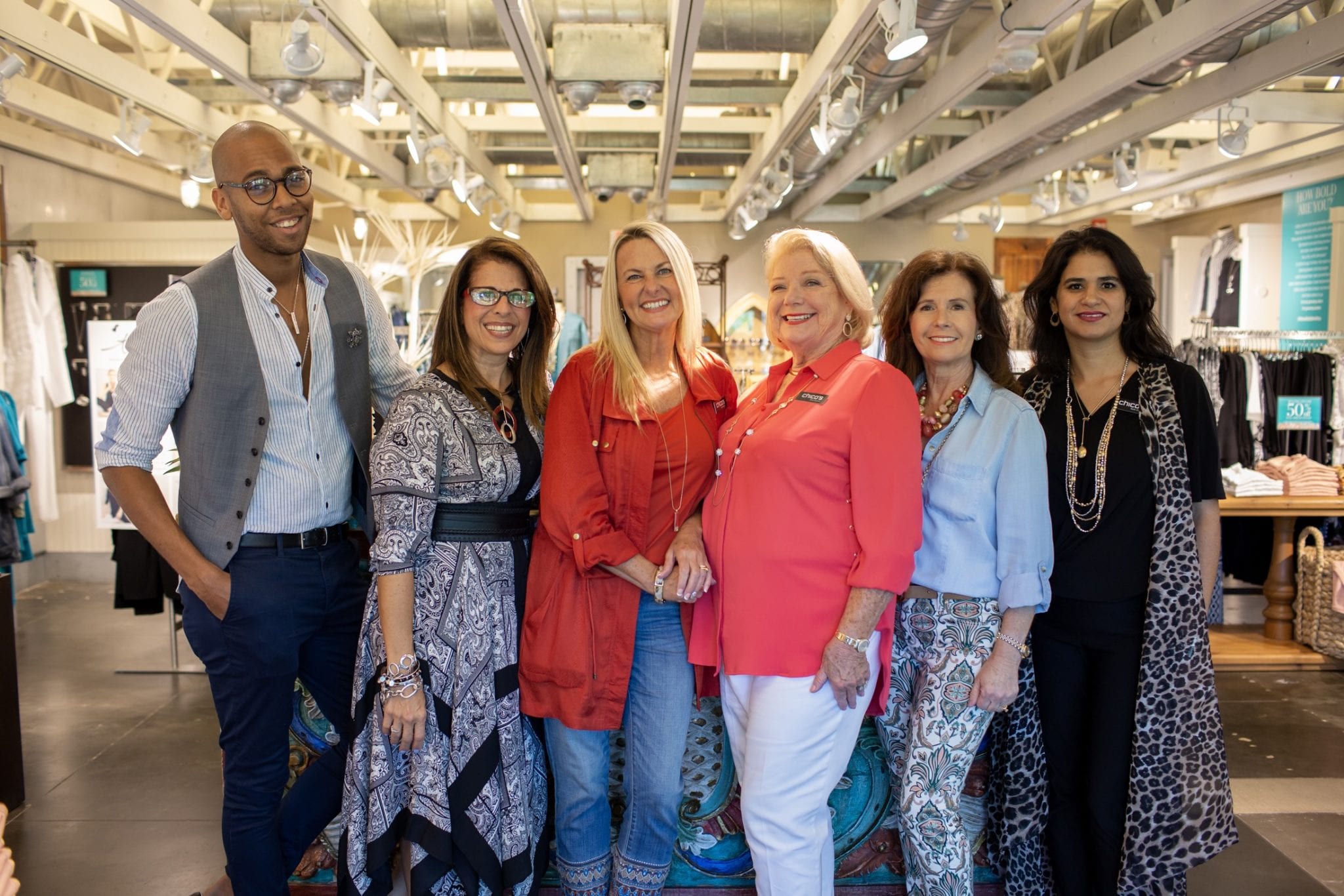 Chico's original store manager, staff, district manager and retired district manager.
I spent all and more of my gift card. I love my new leopard pants. After all, the leopard is a huge trend this fall season. ( I never knew that it wasn't a trend). I also needed a new light denim shirt that I happened to hone in on as well as a great white camisole and gorgeous scarf. I am not an outfit kind of girl. I love to find item pieces that I can restyle over and over.
MY PURCHASES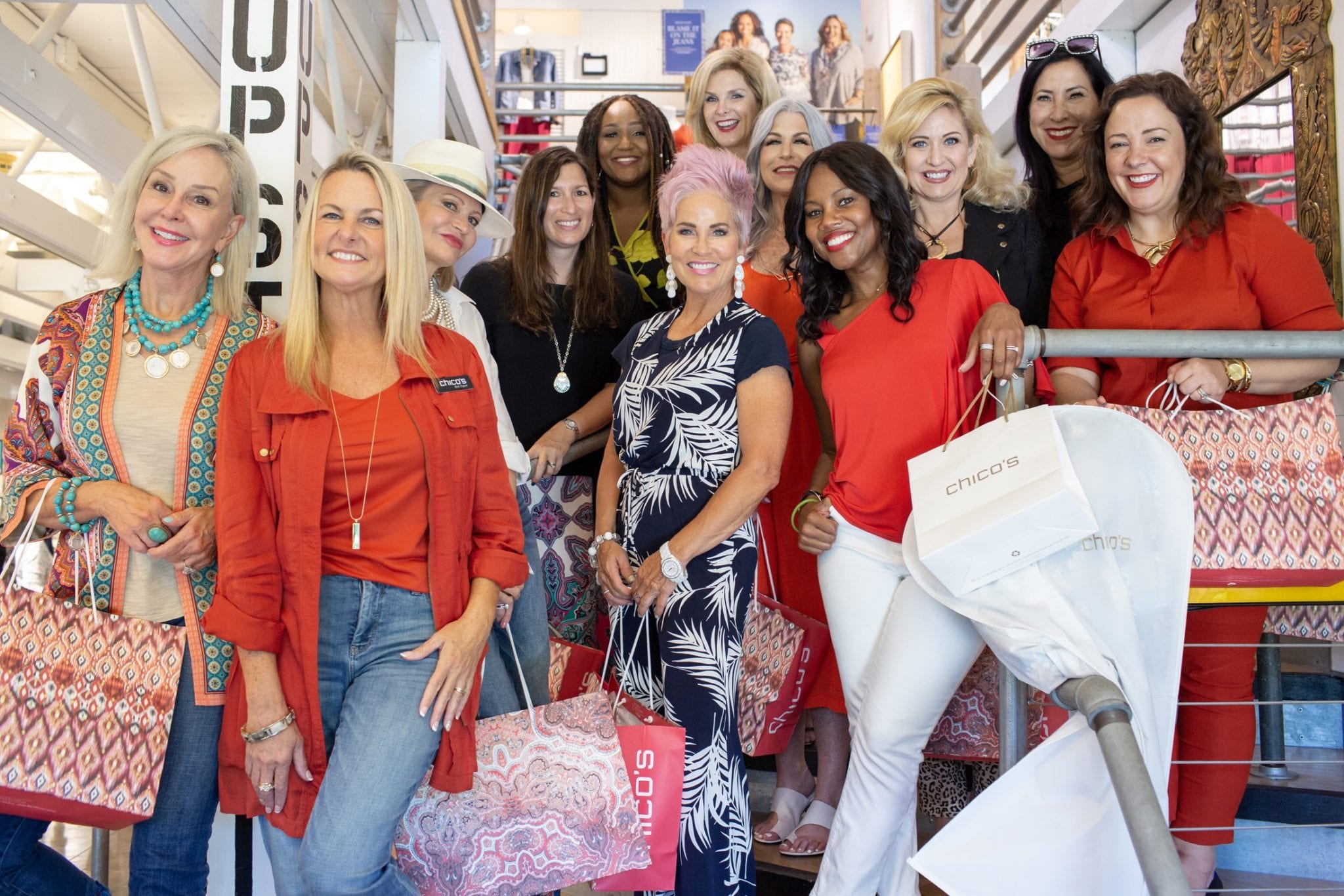 MY OUTFIT DETAILS
Most items I am wearing are sold out, but I linked similar styles


COCKTAIL DINNER & SUNSET CRUISE
We started with a cocktail time and a lovely dinner in the ballroom at the Pink Shell Resort. Photos made, friendships secured, delicious food served with lots of chatter in the room made for a memorable evening. We couldn't linger too long because we had a sunset cruise to catch.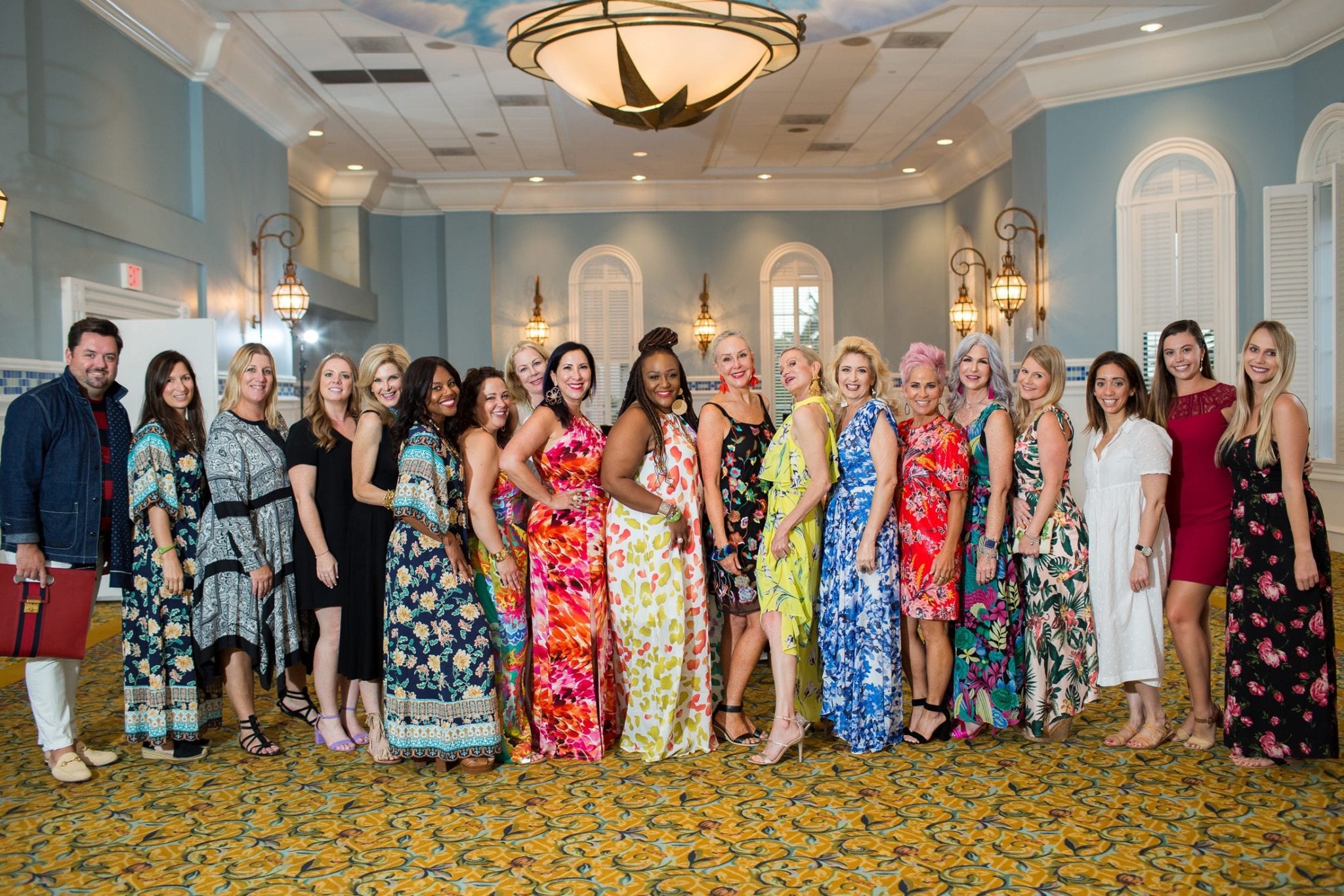 THE CHICO'S TRIBE  (a color & bold I might add)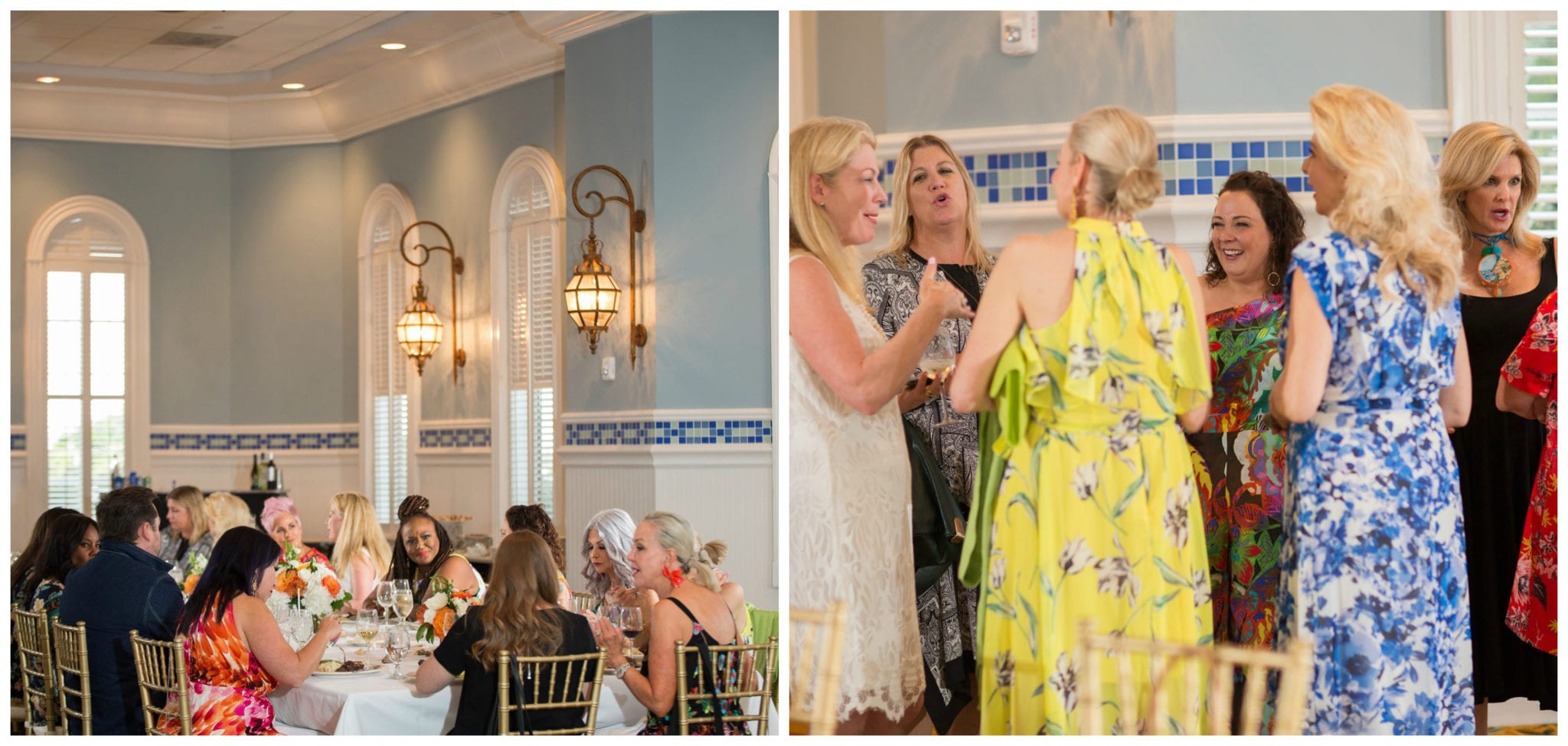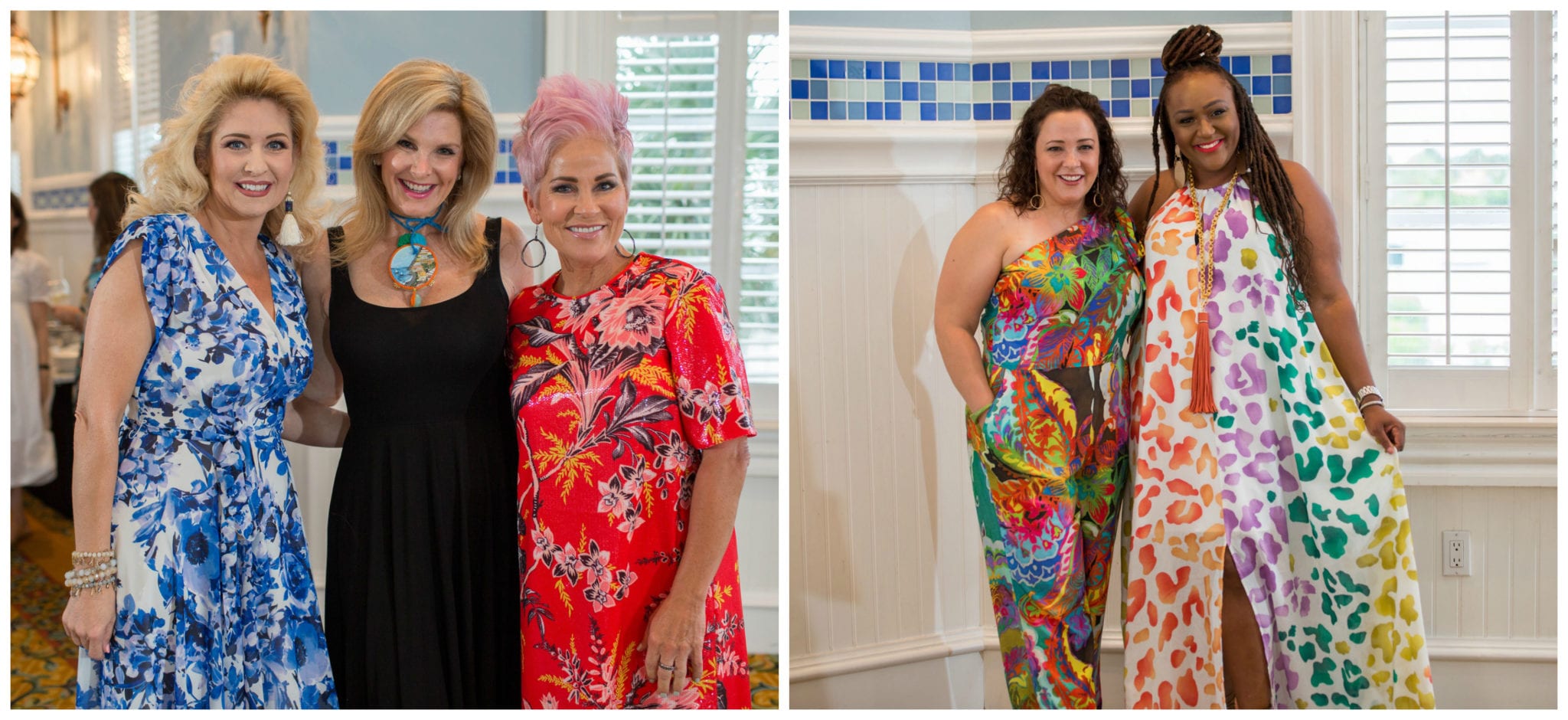 SUNSET CRUISE
Topping off the evening with the most amazing part of visiting this area. The sunsets have made a mark in personal photos, publications, and memories. This night we made more memories and captured some amazing photos while cruising around Sanibel and out into the Gulf of Mexico. Be sure to see all of the phones out throughout. Pretty funny….. We are definitely the definition of an influencer.
MY OUTFIT DETAILS
My dress was a boutique find from my old store that I used to own named SheShe Boutique in Montrose, CO.| earrings by Tuckernuck | Sandals by Elaine Turner |
DAY 3 | YOG ON THE BEACH

Yoga on the beach was such a treat! I have done a little yoga but never on a beach. We were all so tired but SHOWED UP and boy was it a great send off. Being over 40, 50 and over 60 years old meant we were all at different levels of fitness, but our yoga instructor led a very relaxing but physical yoga exercise that worked for all of us. There was a light breeze in the air that made the experience most enjoyable.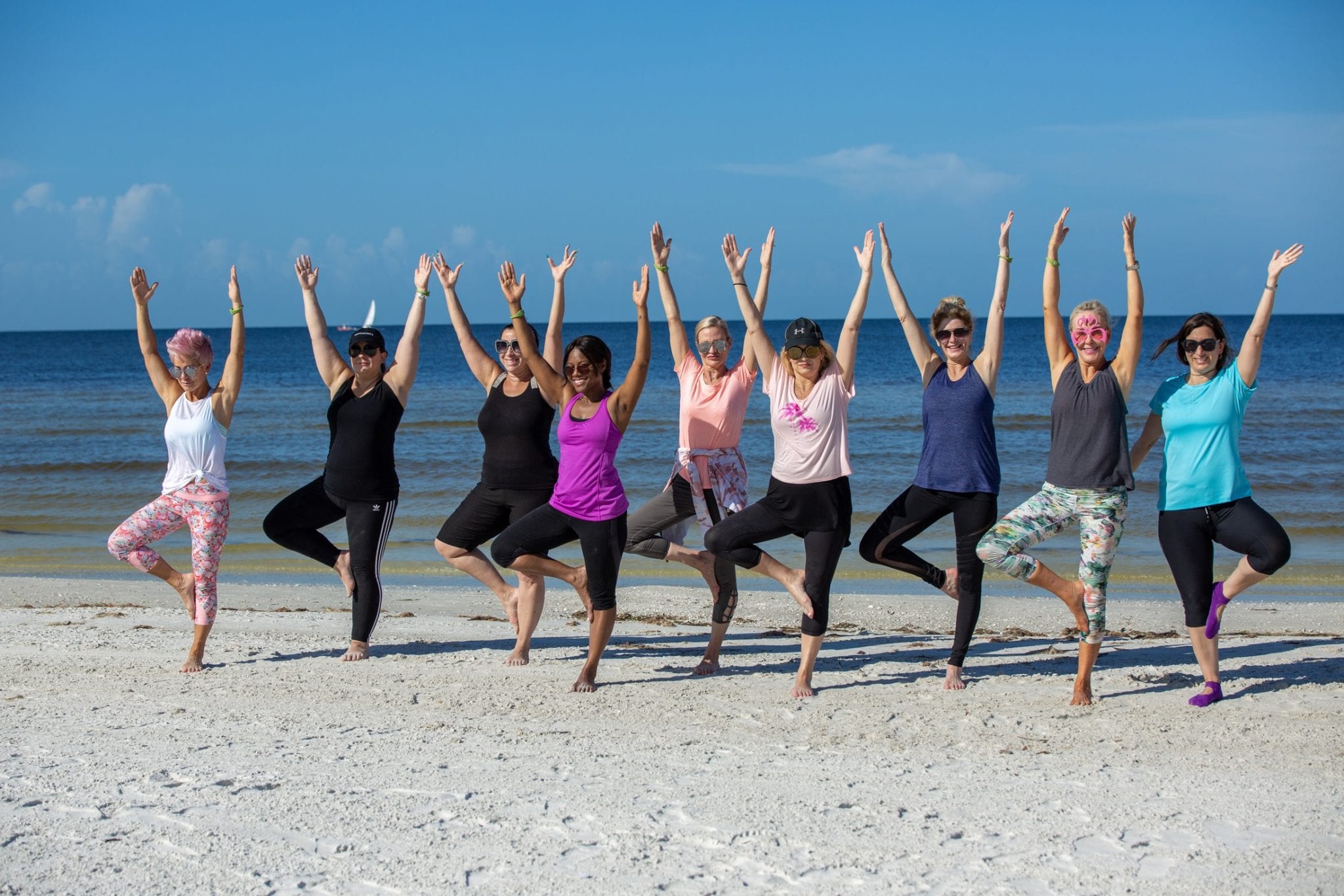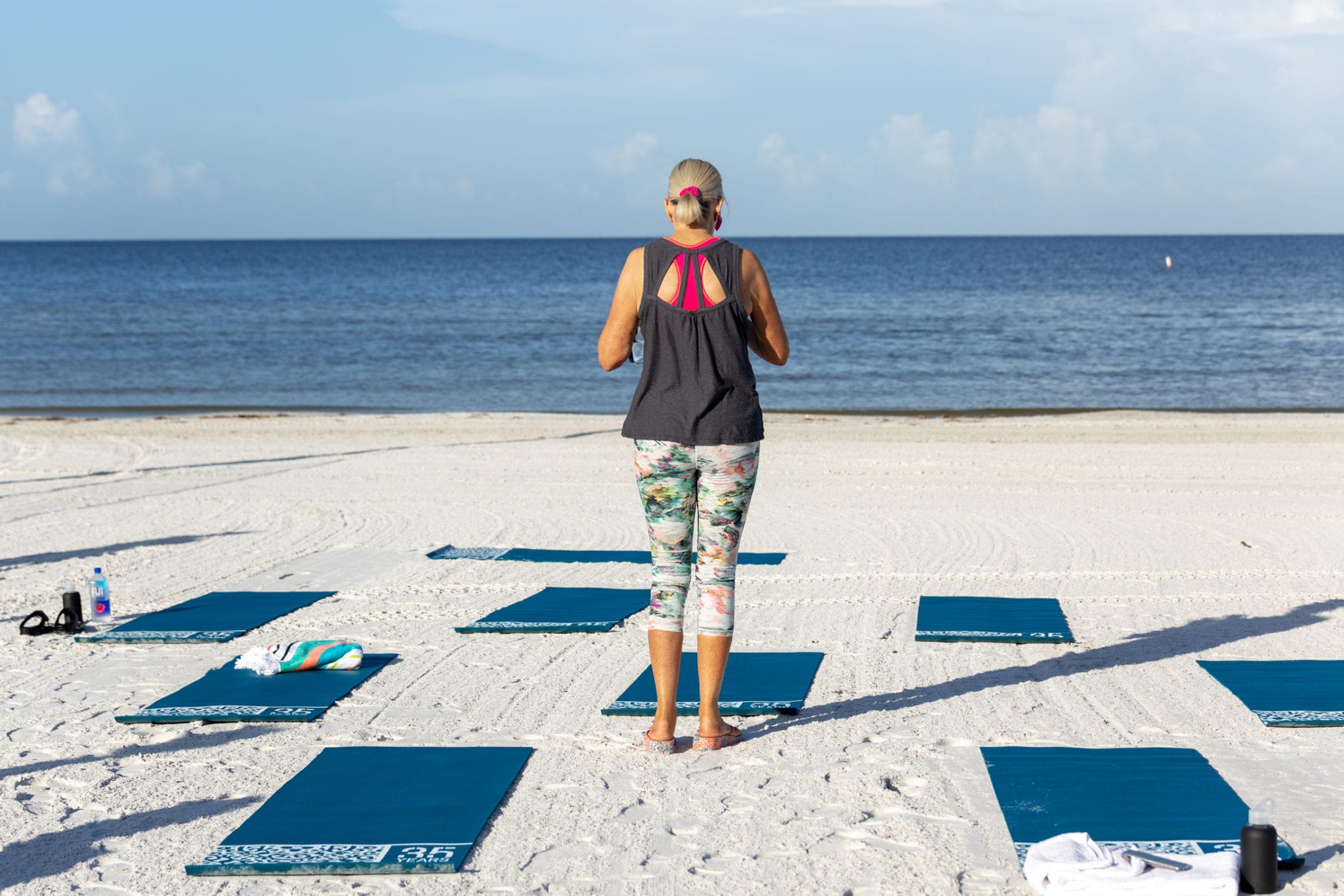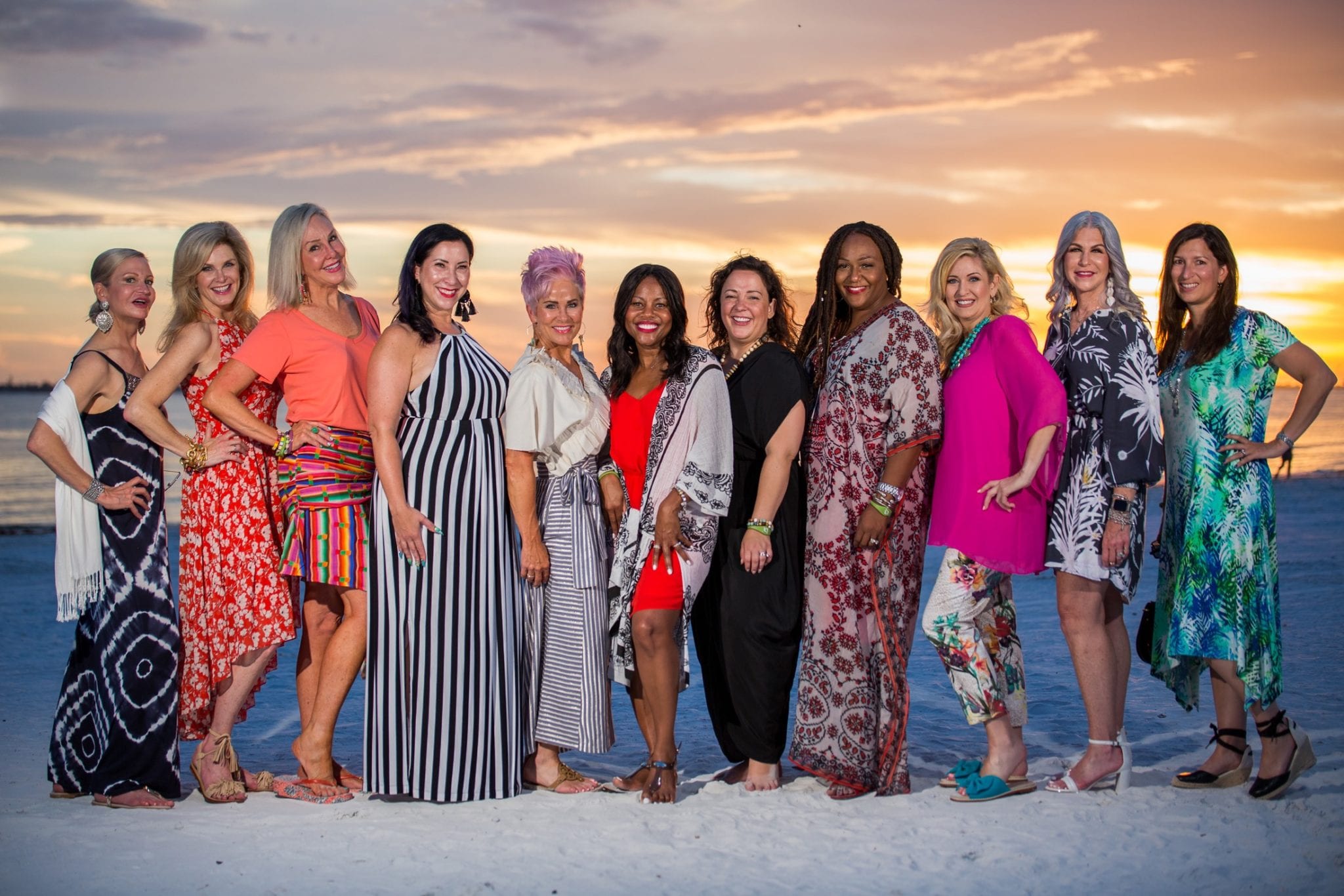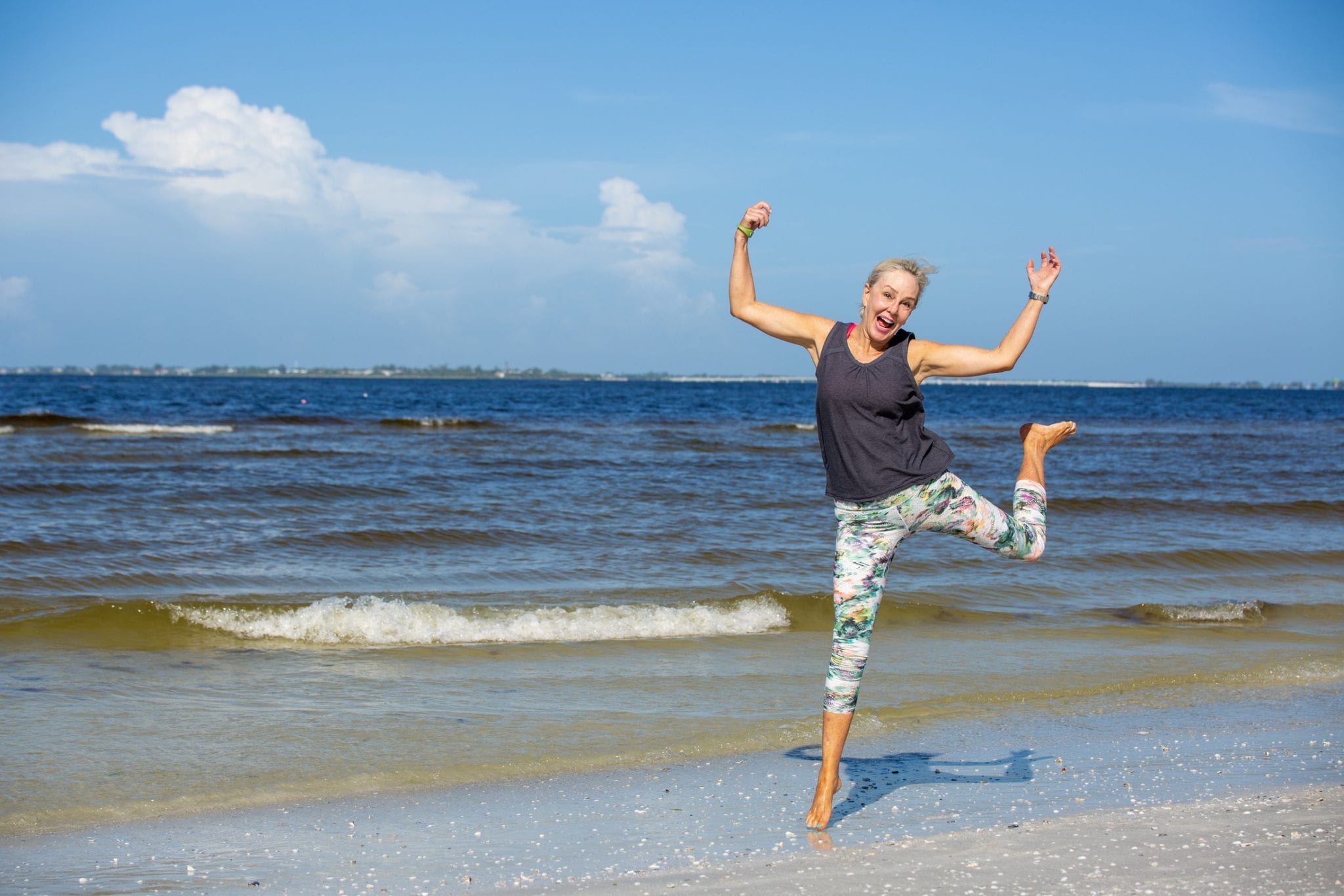 IN CONCLUSION
First of all, a big THANK YOU to CHICO'S and all of the Chico's team for their hard work in making this trip so special for us all. I left with new friends, a bigger belly and a new appreciation for all that Chico's does to bring the best fashion to fashion lovers.
HAPPY BIRTHDAY, CHICO'S….. CHEERS TO 35 MORE YEARS!!
Outfit Details | Yoga Wear
SHESHE'S TIDBITS
Next up…..a brand review on great denim at budget prices!!
Gala's, weddings, graduations, holidays or just everyday wear…..we have fashion suggestions for you, so stay tuned. Be sure to check out ShopSheShe tab at the top in the menu bar. Hover over and choose the category in the drop down. We try to keep it up to date with the latest and greatest for all budgets. Subscribe here and then you won't miss a post. Simply enter your email in the pop-up box when you come to this site or at the top of this page in the subscribe box.
WELCOME new readers. We are a fashion/travel/lifestyle blog. We talk about anything and everything, from fashion, travel, health issues to even an occasional recipe. If there is a topic that you are interested in, then let us know. We will do our best to bring that story to you. Have a great week sweet friends and thank you for following along. Without you, we could not continue on this crazy fun journey!