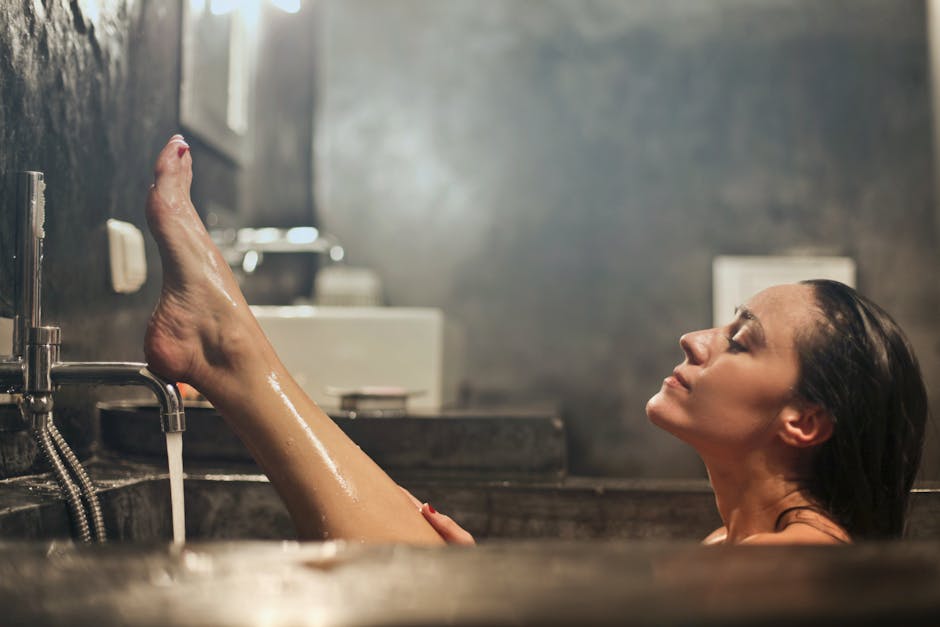 Our friend Abby Quillen at Health Perch recently published an incredible article called "Bump Up the Health and Beauty Powers of Your Bath." We wanted to highlight her findings today, as we ease into the cooler weather and desire for allll the warm baths. 
Warm-Water Cure
"Could a long bath be as healthy for you as a workout? It sounds too good to be true, but a small study suggests an hour-long soak in 104-degree water may provide some of the same health benefits as moderate intensity physical activity. In the study, 14 men were randomly assigned to cycle or take a bath. Cycling burned about twice as many calories, but the bathers had lower overall blood sugar afterward. Both cycling and bathing produced a similar anti-inflammatory response."
Research also suggests other health benefits, such as:
Muscle damage
Relieving pain from arthritis and fibromyalgia
Improve circulation
Lower blood pressure
Enhance sleep quality

"Taking a warm bath about 60 to 90 minutes before bed may enhance the quality of your sleep. That's noteworthy because every year, 60 million Americans suffer from sleep disorders; remember that restful sleep is vital to good health. And it's called beauty sleep for good reason: Getting seven to nine hours of sleep improves complexion, reduces swelling and dark circles under the eyes, and improves the health and fullness of hair."
How to Take a Therapeutic Bath
According to the article, baths may not be for everyone. "Sitting in a hot bath strains the heart and may be harmful if you have a heart condition. If in doubt, talk to your doctor first.
In general, it's best to keep your bathwater warm but not too hot to prevent injuring the outside layer of your skin. Keep your head, hands, or feet out of the tub while you're bathing to allow your body to release heat, and drink water while you're in the tub to prevent dehydration."
Photo credit: Little Power Yoga
How to Boost a Bath
So how do you arrange the perfect bath? The following tips might help:
1) Epsom salt
"Soaking in bathwater infused with Epsom salt may help boost magnesium levels in your body, according to a small, non-peer-reviewed University of Birmingham study in the United Kingdom. Magnesium is crucial for neuromuscular health, which may explain why so many people credit Epsom salt with relieving aches, pains, and other complaints. Add two cups of Epsom salt to your bathwater to give the water a silky feel."
2) Sea salt
"Sea salt contains up to 82 trace minerals. Sea salt bath water may also be helpful for psoriasis osteoarthritis, and acne. Add a quarter cup to a cup of sea salt to your bath."
3) Oats
"I know what you're thinking…oats? But oats have been used "topically to heal skin disorders and burns for centuries, and they're a key ingredient in numerous body and bath products. To make an "oatmeal bath" (can we add- perfect for all!), ground a cup of rolled or quick oats in a food processor or blender until it turns into a fine powder. Mix this powder into your bath while the water's running."
4) Baking soda
"A half cup of baking soda dissolved in a bath may help heal an itchy or irritated skin rash or dry skin."
A huge "thank you" to our friends at Health Perch for the amazing advice. Now if you'll excuse me…I'm going to jump in the bath! 
SHESHE'S TIDBITS
We have updated most of the Shop SheShe categories located at the top in the menu bar. Simply hover over and click on the category you are interested in.
Next week more fall fashion and still working on an Austin City Guide. Thinking about My Favorite Things too……
Gala's, weddings, graduations, holidays or just everyday wear…..we have fashion suggestions for you, so stay tuned. Be sure to check out ShopSheShe tab at the top in the menu bar. Hover over and choose the category in the drop down. We try to keep it up to date with the latest and greatest for all budgets. Subscribe here and then you won't miss a post. Simply enter your email in the pop-up box when you come to this site or at the top of this page in the subscribe box.
WELCOME new readers. We are a fashion/travel/lifestyle blog. We talk about anything and everything, from fashion, travel, health issues to even an occasional recipe. If there is a topic that you are interested in, then let us know. We will do our best to bring that story to you. Have a great week sweet friends and thank you for following along. Without you, we could not continue on this crazy fun journey!