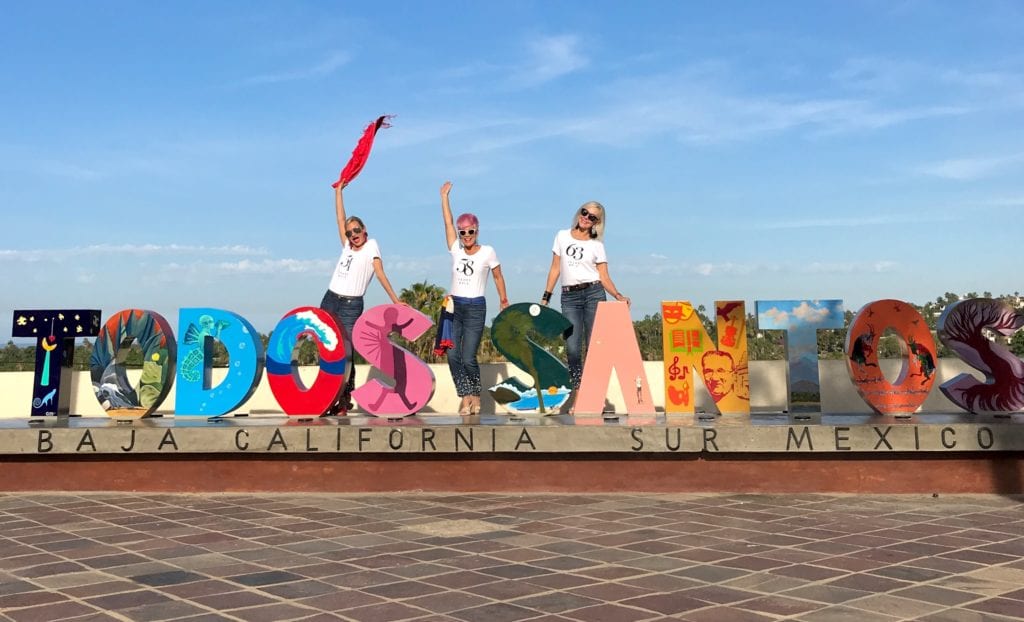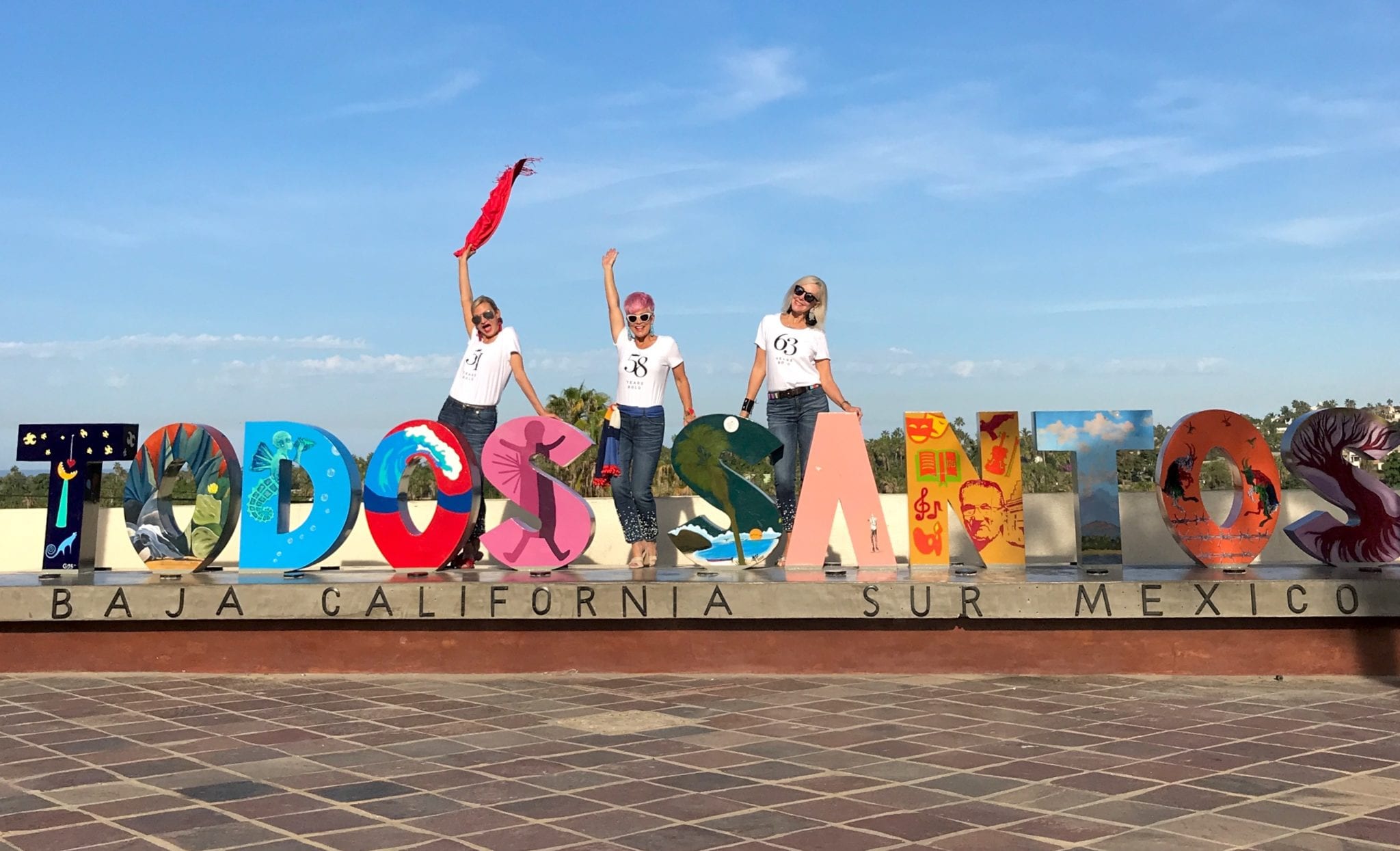 This post was sponsored by Nina Orstein, The Paradise Story and participating clothing & accessory brands mentioned below
Hi sweet readers. I am so excited to share my most recent girlfriend vacay in the Baja of Mexico. Because of the amount of content, I will be breaking it up into 3 parts starting with Todos Santos. This quaint artistic little town located about and an hour north of Cabo San Lucas is as charming and safe as they come. I will be going over where we stayed, where we dined, cultural highlights as well as what we wore.
DAY 1
I flew nonstop into San Jose Del Cabo Airport on United Airlines from Houston, TX. arriving before lunchtime. Our travel producer Nina and her mom Nancy picked me up and took me to The Hotelito in Todos Santos where I settled in while we waited on my co-travel babes (Shauna @chicover50 and Jamie @moreturquoise) to arrive later in the afternoon. If you have followed me this year then you know that we have traveled to Canyon Ranch and to Santa Fe, NM together making a great travel threesome.
I was first to pick one of the 4 free standing suites. I chose pink, of course. All of the rooms are lovely. You can also rent Hacienda de Chilicote, a private 4 bedroom home on the site. Nina gifted us with a delightful goodie bag filled with a sun visor from InLakesh, cool sunnies by Wyeth Eyewear and travel size lash serum & mascara by Vegamour. It wouldn't be a goodie bag without some snacks. We loved the organic/vegan treats by Sun and Swell Foods.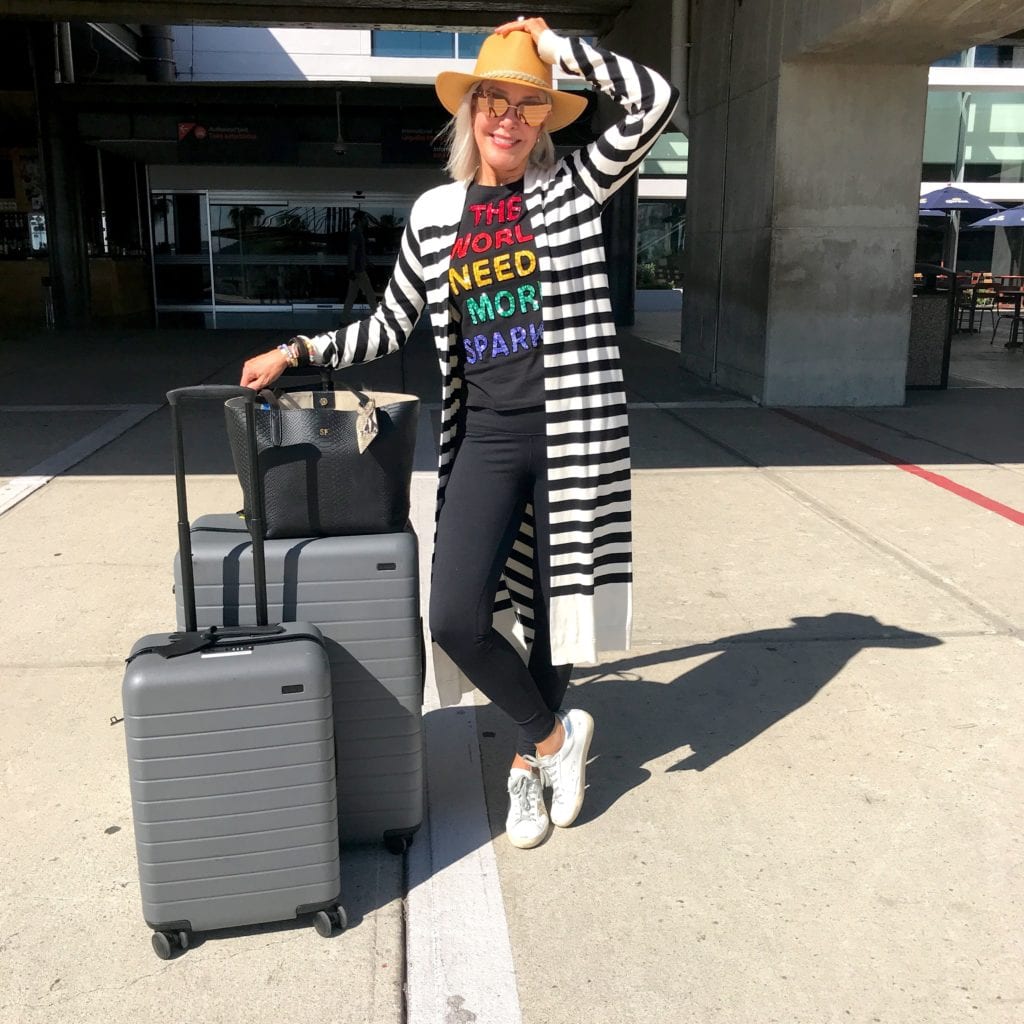 My suitcases by Away Travel are the latest craze with a moderate price tag. My roll-on bag has a removable battery charging pack for charging phones & etc. I love my Gigi New York tote bag, cosmetic bag, and travel accessories. I have several of their great leather products. I most always travel wearing a cardigan and my favorite high waisted leggings.
When the girls arrived around 5 pm, I met them with big hugs and we headed to the charming outside bar where Wendy, our best girl at the hotel made us complimentary margaritas and limonada for the non-drinkers. She was so in awe of what we do and shared that she aspired to one day own her own boutique.
After a quick change, we headed to a cute local restaurant called El Zaquan where we dined on delicious ceviche, mole, guacamole, carpaccio, Pollo con salsa poblano. Did you know that there are some great Baja vineyards? Sampling wines from the Valle De Guadalupe were so fun!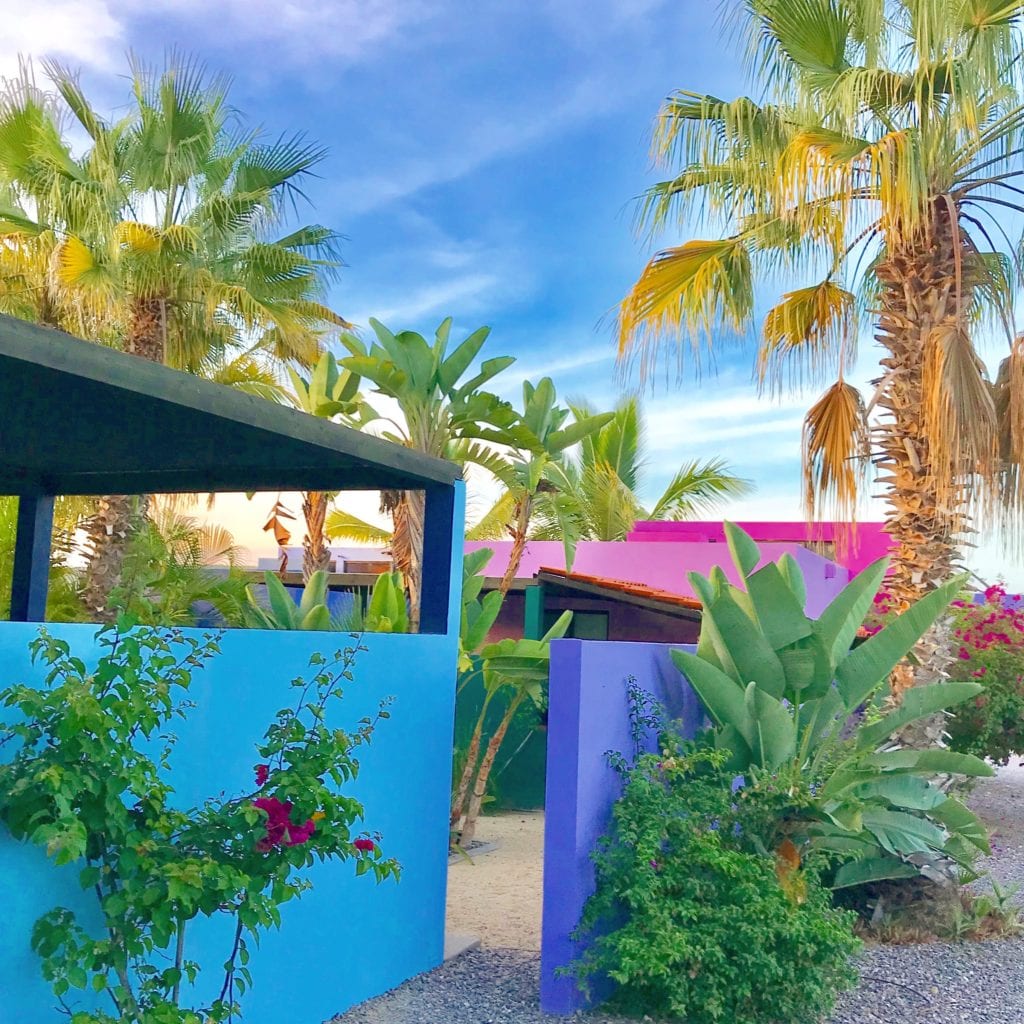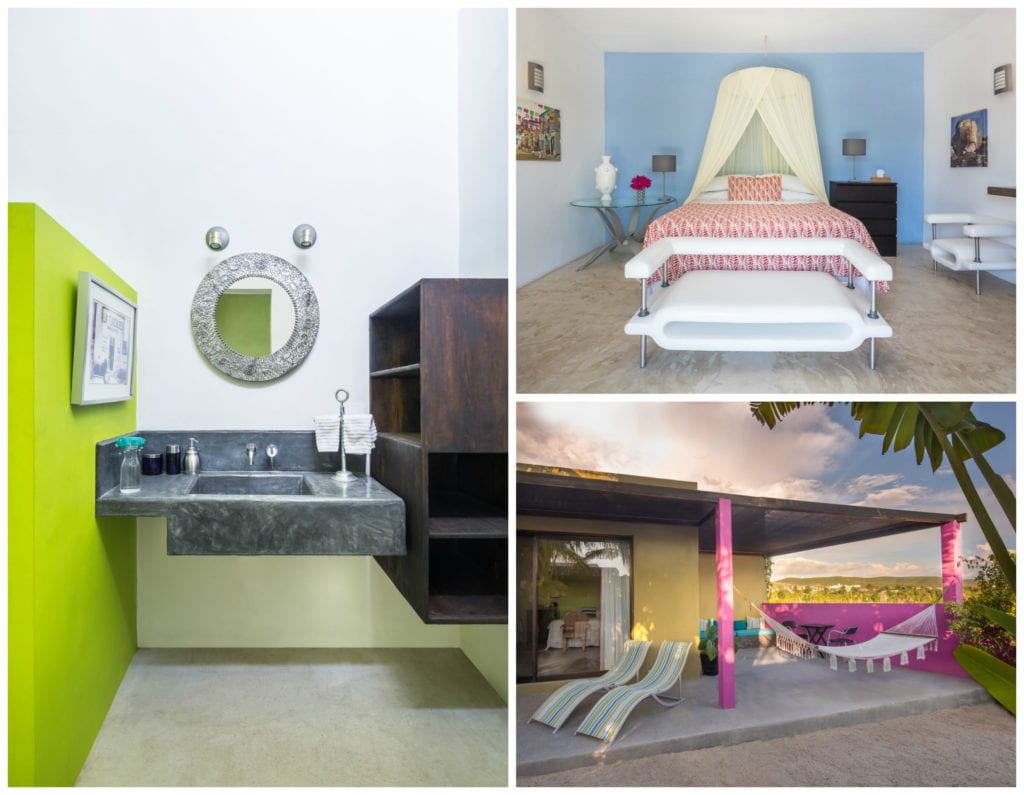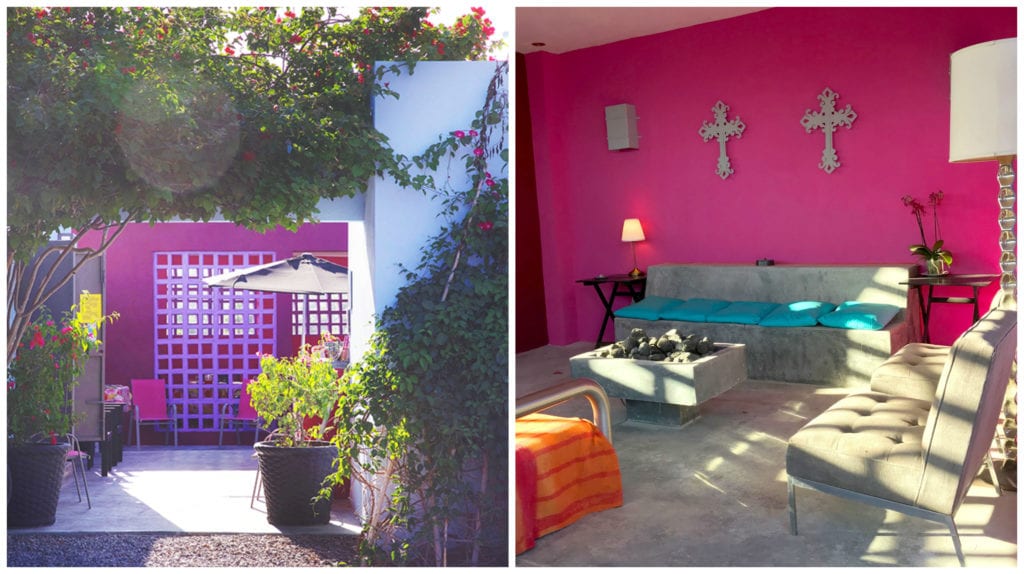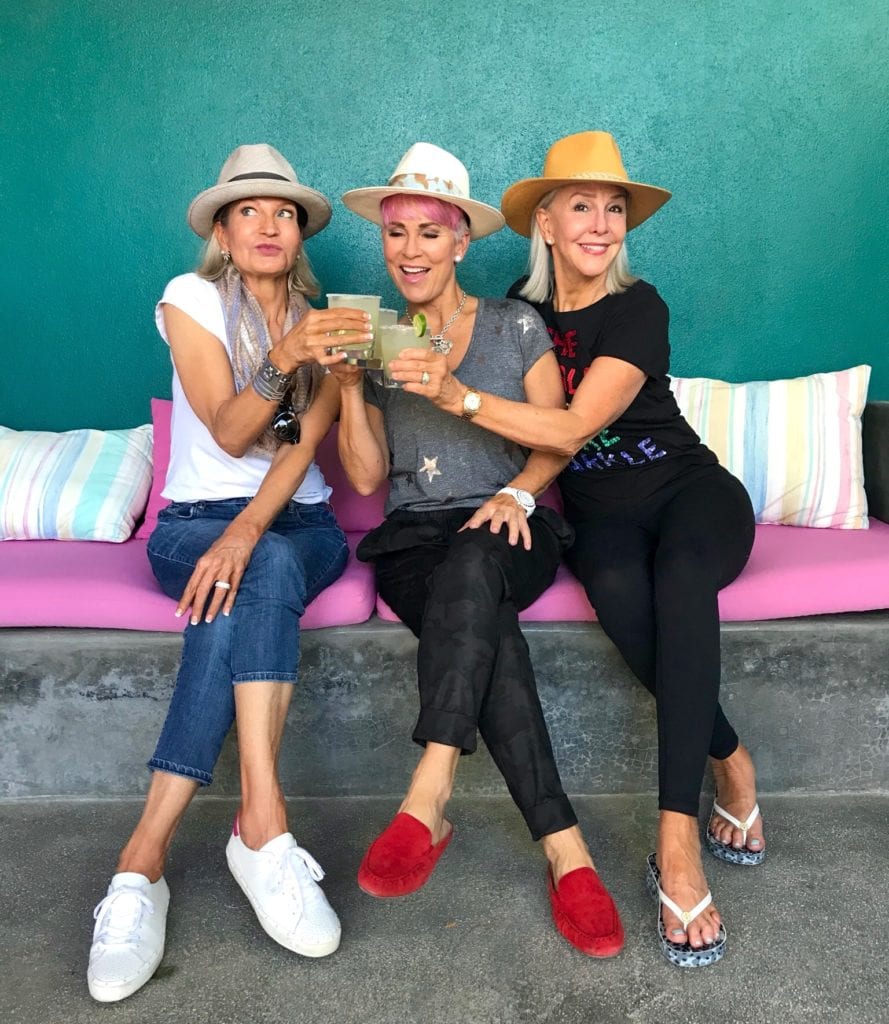 DAY 2
While the light was perfect, we headed to the saltwater pool to do a photoshoot in our Lime Ricki swimsuits. These suits are all very well made with full coverage but yet are very stylish and fit most body types. Click here–> my suit c/o, Jamie's blue suit c/o, and Shauna's two-piece purple suit top & bottom c/o.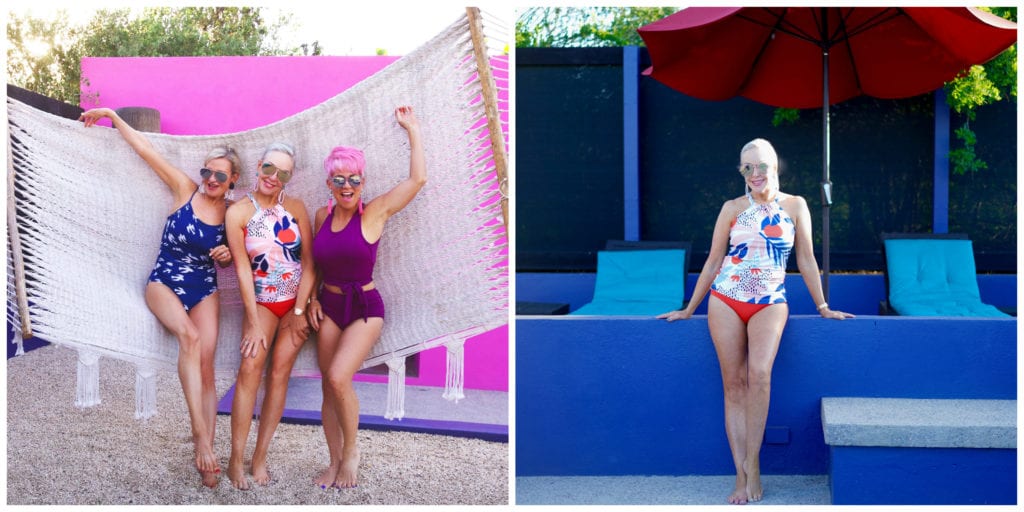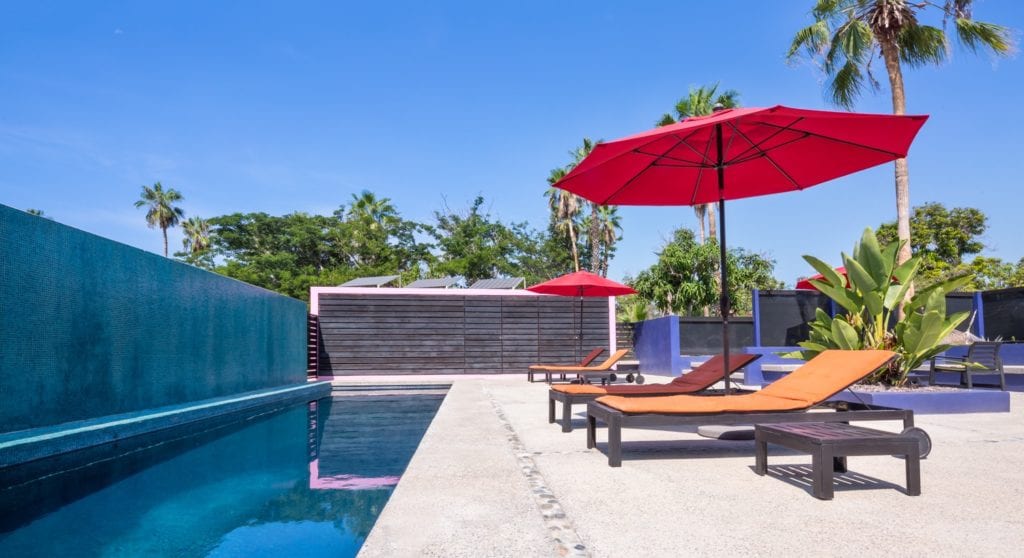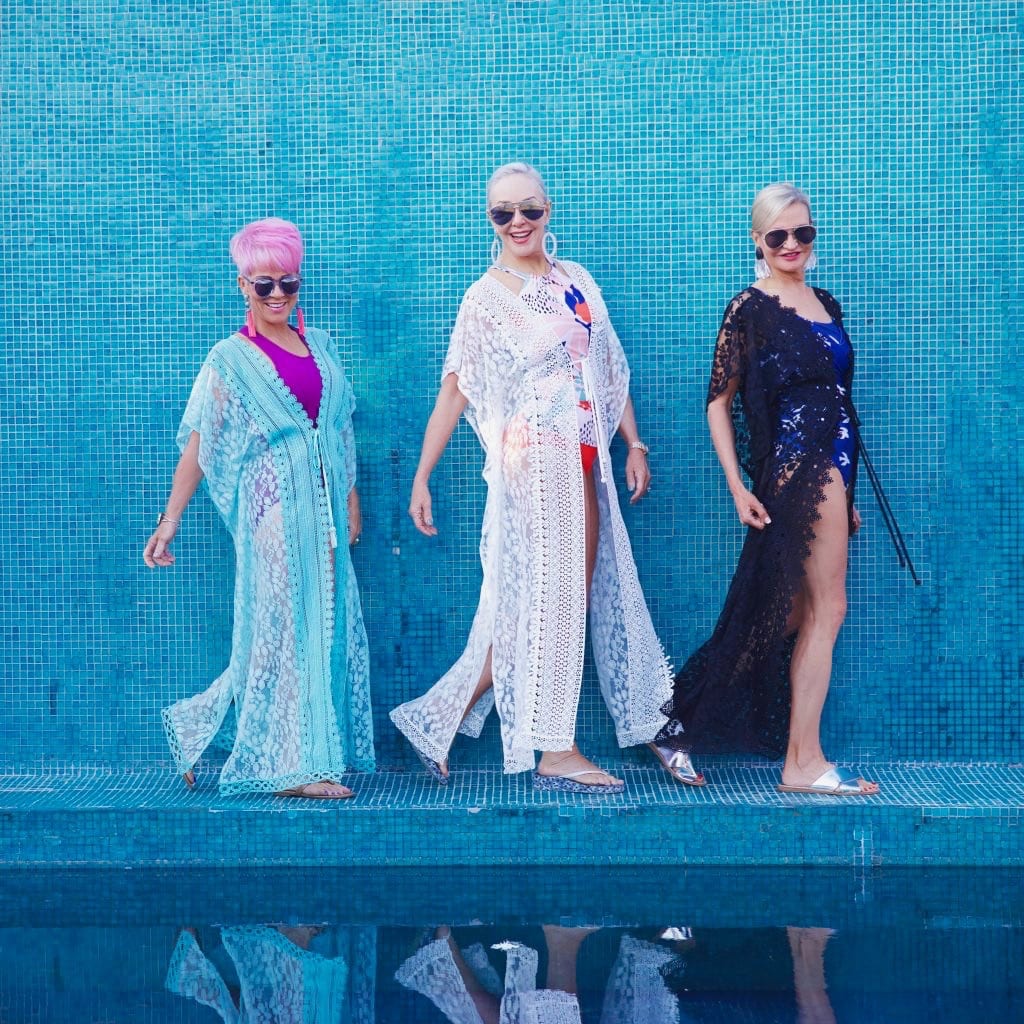 I absolutely loved our coverups by The Colombian Marketplace. We will be showing how to style them totally different in our next blog post. Get 20% off your order of $70 or more…..Use Code: alwayschic
Before the temps got too hot we wanted to get to Playa Las Palmas beach for some fun. We found so many photo opportunities that were so great for our Baja review. We first started where we parked our car and shot our Soma cardigans over our denim shorts worn with our Tenth Street cool Baja hats by an old abandoned sugar cane factory. Did you know that Todos Santos was once the sugar cane capital of the Baja? In the 1950s this spot was once a family retreat for the Las Cruces family.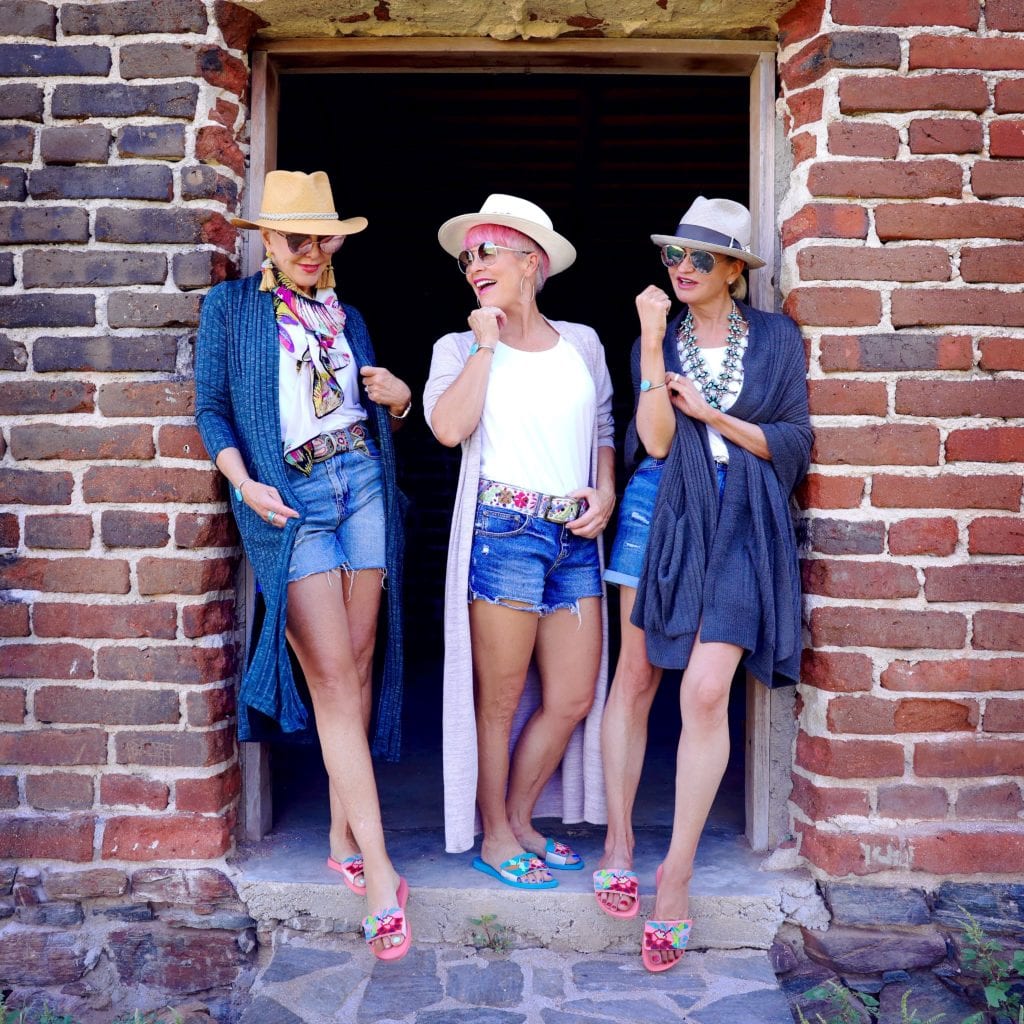 Love my earrings by NSide A Divas Closet c/o I will be wearing with all of my boho looks.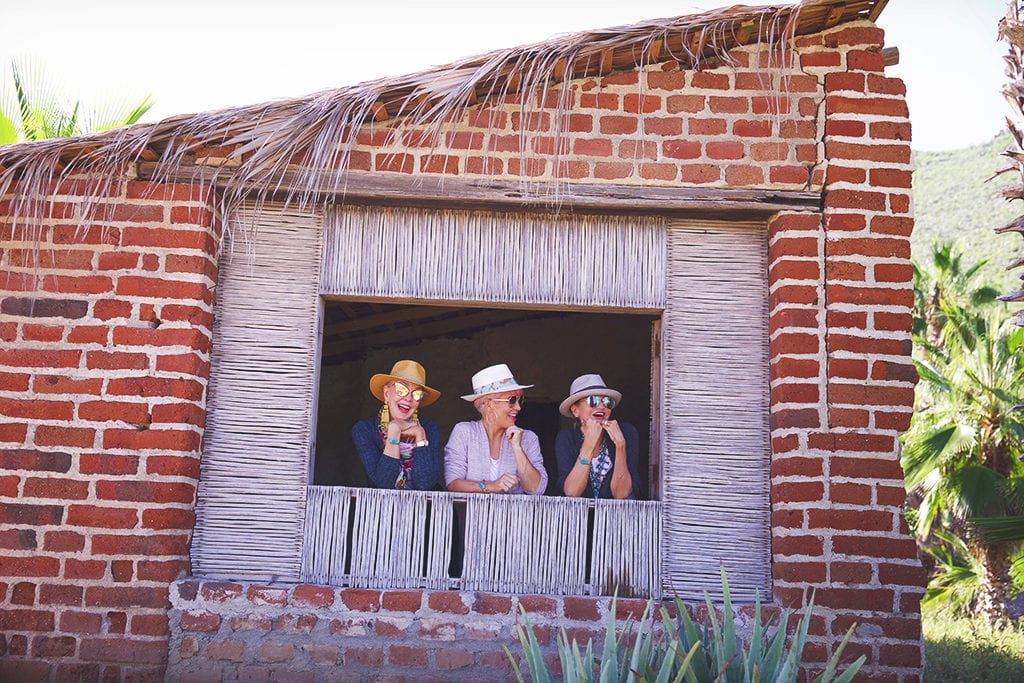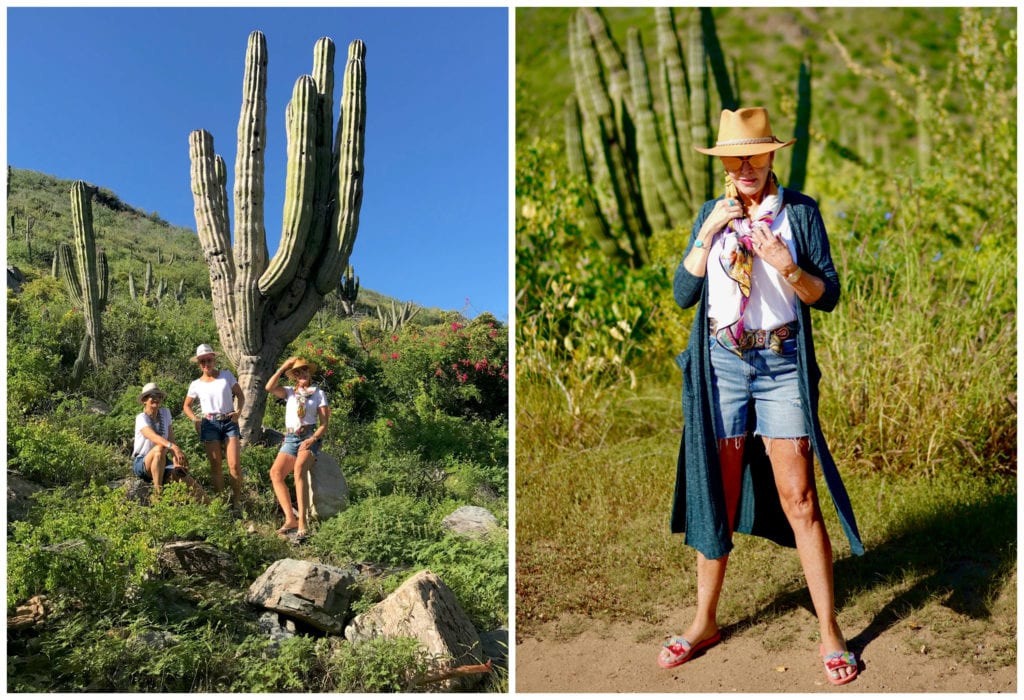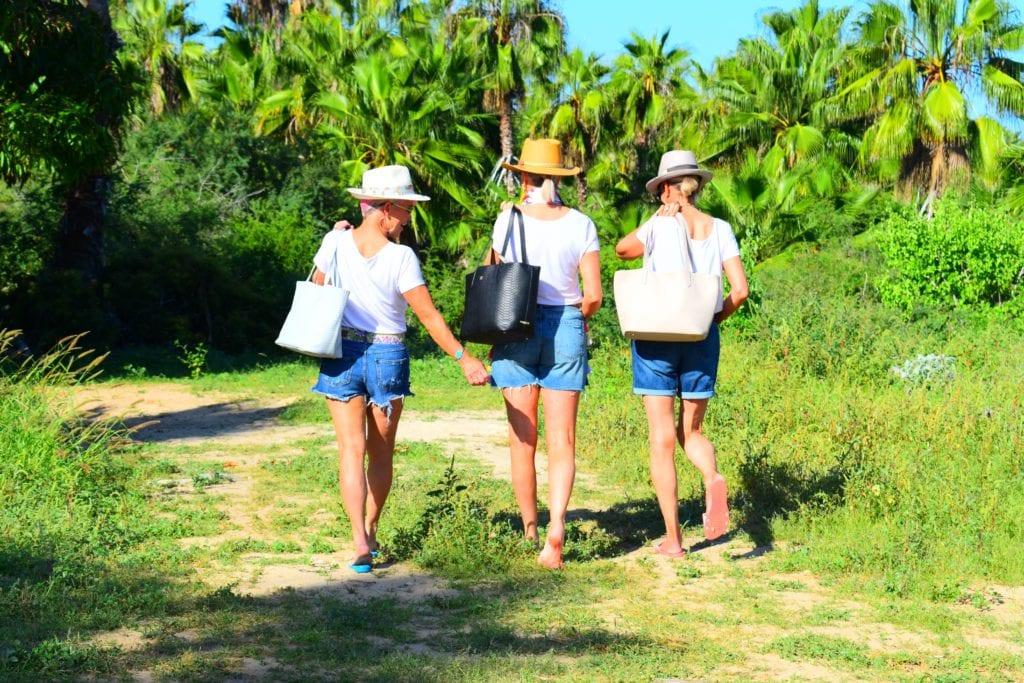 Walking to Playa Las Palmas carrying our Gigi New York tote bags c/o, that comes in several colors. Their quality is beyond good! They make the perfect travel companion for any trip! Also, they made my beautiful passport holder and luggage tag. You can actually get this set at 70% off right now and they make the perfect gift for anyone. Go here.
(Below) Nina's husband gave her a drone so she was still trying to perfect the flight. We had the best time and now I think I need one of these gizmos…. Just one more thing for me to learn, right?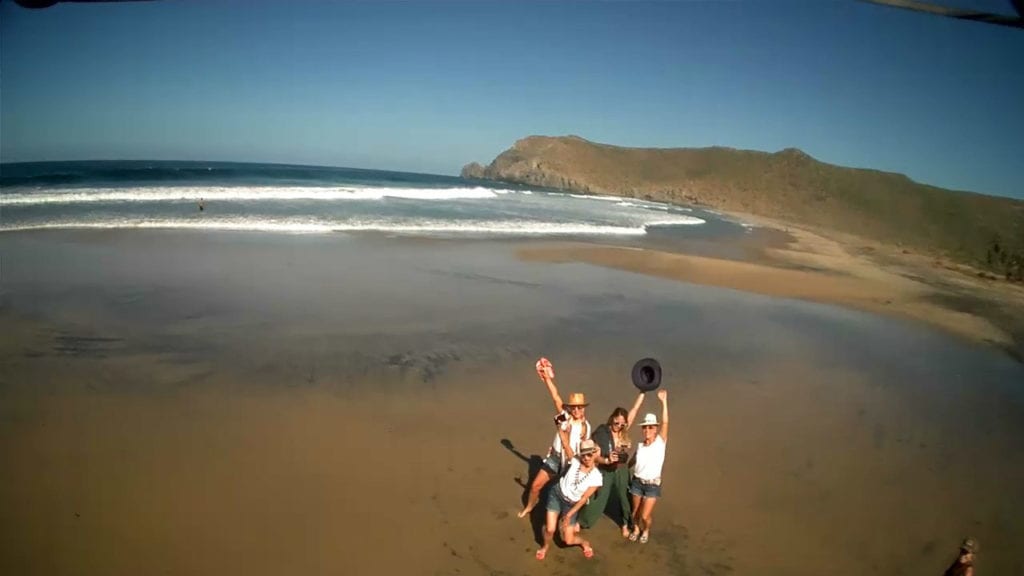 BELOW: Our GraycGlass   turquoise bracelets c/o were just the right accessory for our casual Baja looks. The wild horses frolicking around us were so beautiful to see them free and loving their environment and lastly, we proved we could still jump for joy!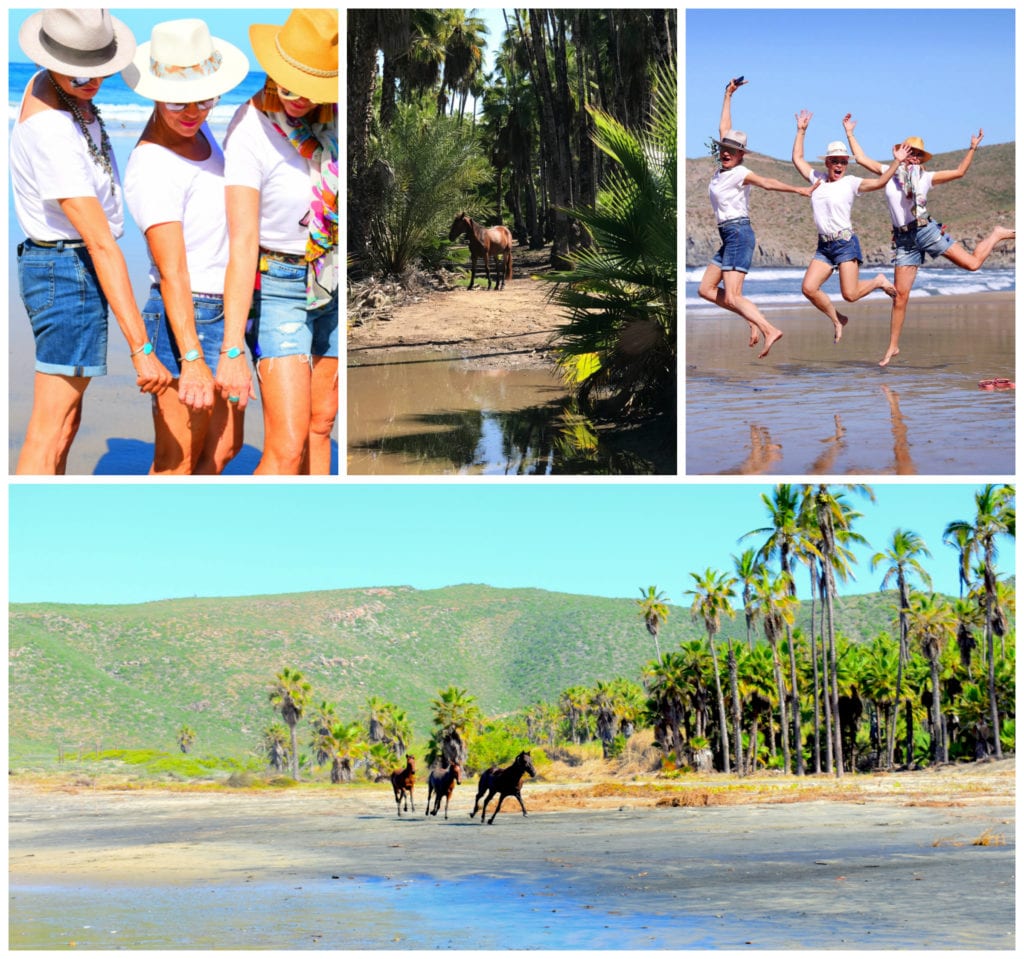 After a funfilled morning, we headed back to The Hotelito for an amazing brunch cooked by Maricela that included the delicious locally grown fruit (mango, passion fruit, papaya, and melon) as well as my favorite Mexican style eggs Huevos ala Mexicanos. More coffee, please!!
Of course, a special guest on this day was El Chapo. He didn't consider himself a guest or an animal for that matter. I will fill you in later about Jenny's animal rescue.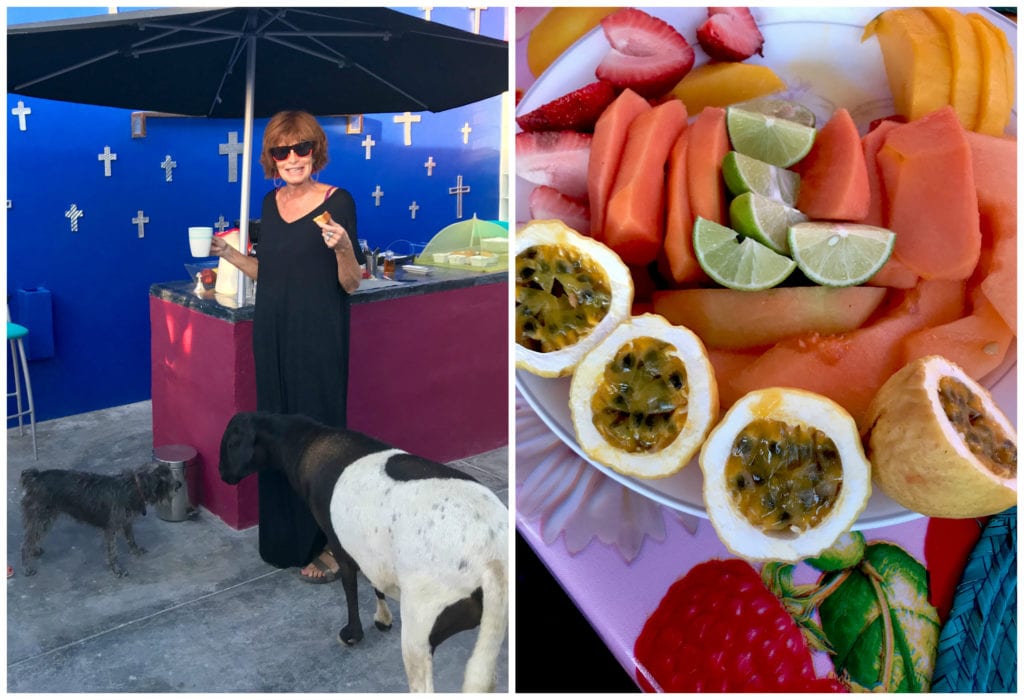 Nina was so great to plan some R & R in our trip so we decided to chill out and pamper with MBK Skincare  who is giving all of you 40% off everything on their website with the Code: SheShe40 from now thru Dec 31, 2018. My microdermobrasion is amazing!!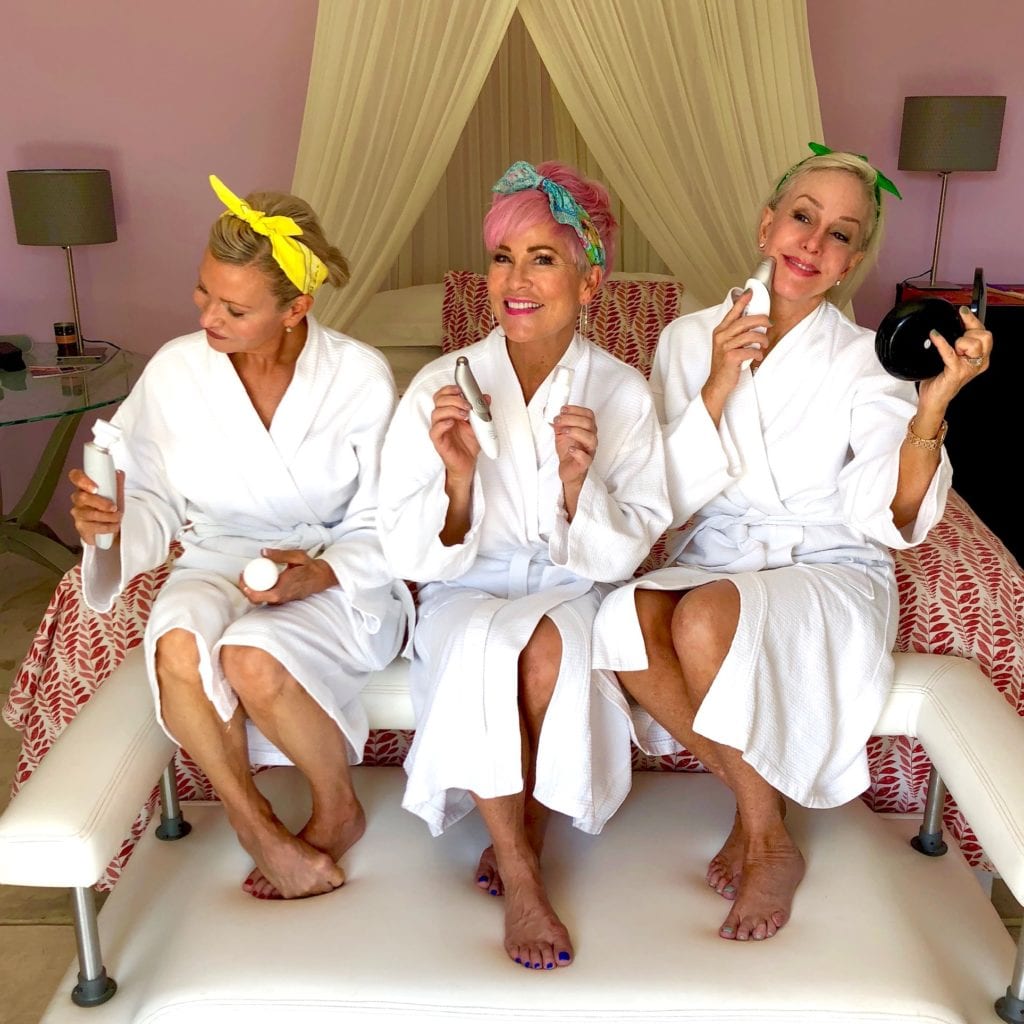 We all needed some downtime and our Soma pajama's were the perfect thing to slip into before we started our next gig. I also enjoyed my flamingo leggings when I had a second to relax in the outdoor area by my bedroom suite.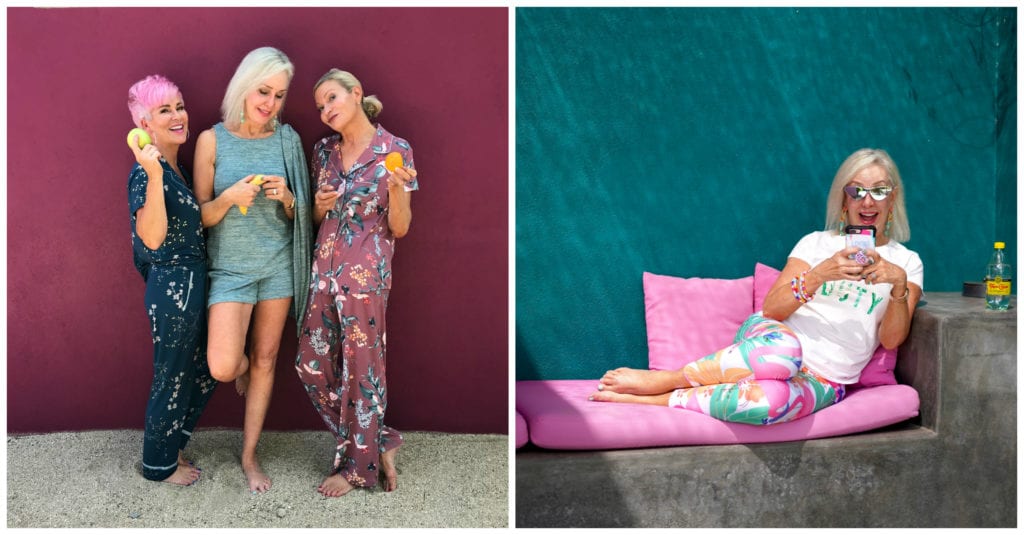 One of my favorite things about this trip is bonding with Shauna, Jamie, and Nina. I am so grateful for my girlfriends!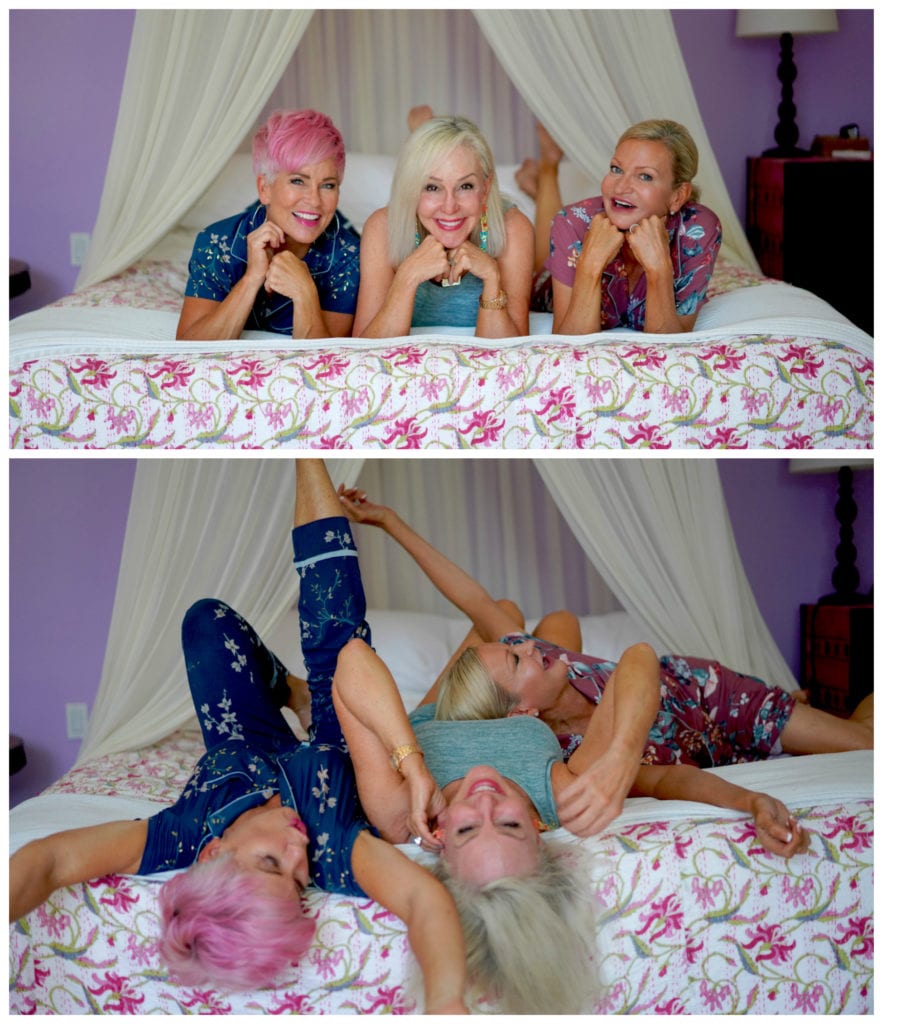 After our rest, play and clean up we headed to tour the farm with Javier, the Resident Rancher at The Hotelito.  El Chapo the sheep, Valentin the horse and the baby rescue donkey Doris is the newest member. She had the cutest fuzzy ears! Jenny started a shelter for abandoned animals kind of by accident by giving these animals love and care, but now it has become a part of a bigger rescue mission. She loves to show off all of her brood to her guests. The hotel bar is on the honor system and they use the money to cover some of the expenses to care for all of the animals. That really touched me so I gave more than I drank up.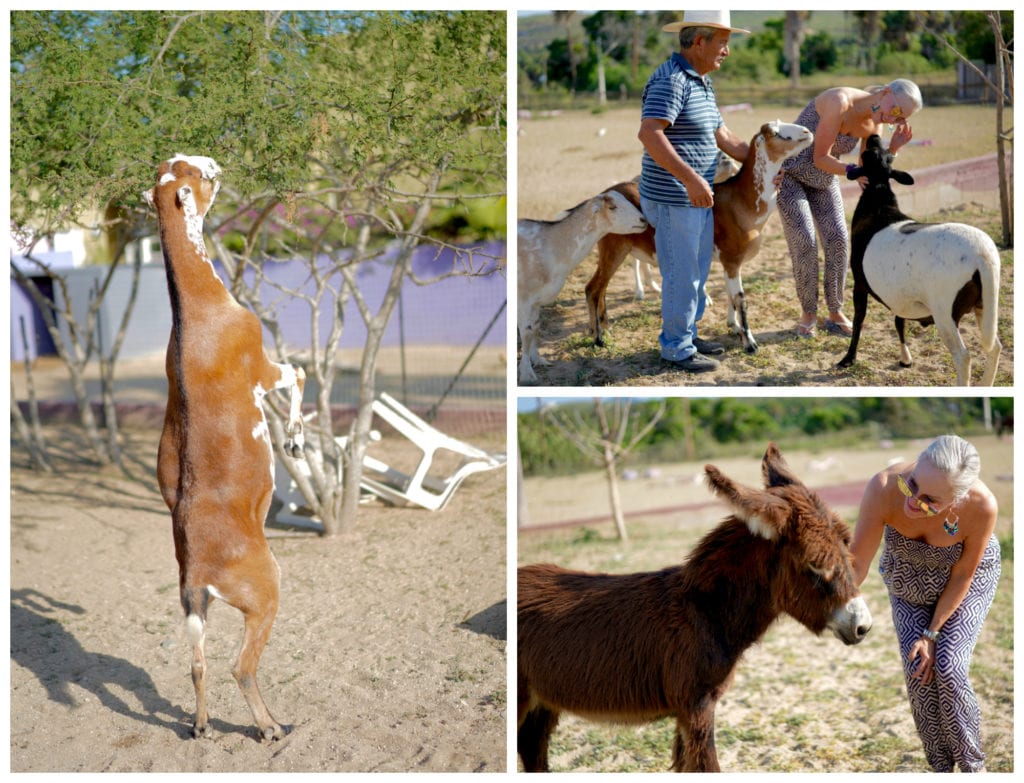 Here we are in the gathering area of the hotel with Javier and Wendy. Our sweet Wendy loved having us around because she would love to open her own clothing boutique someday. We told her to keep her dream alive and that she can do it!!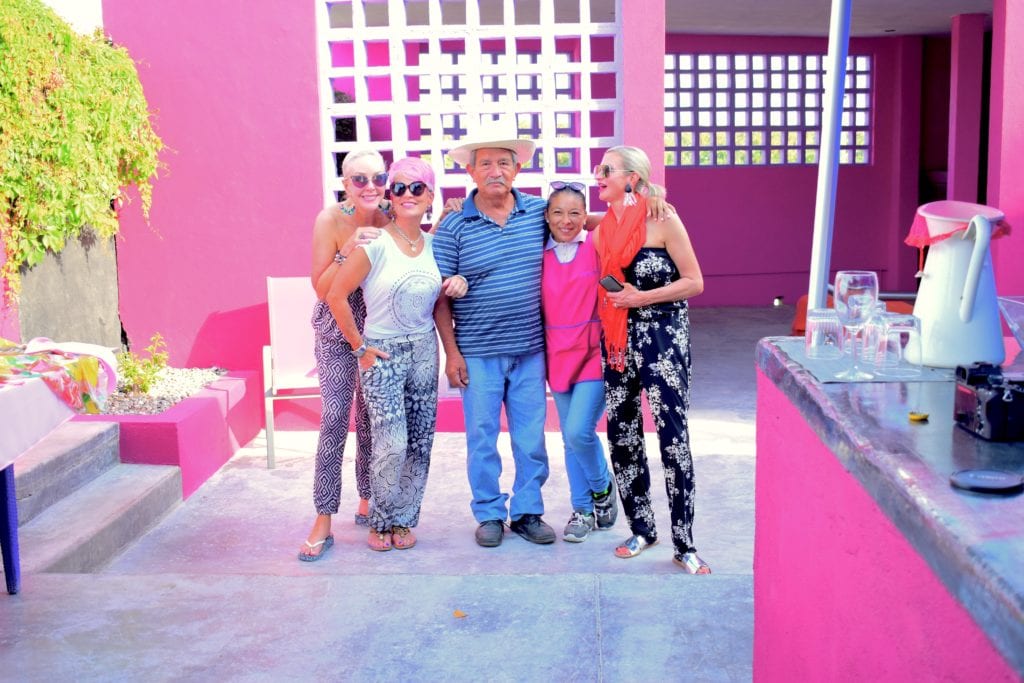 Below we are showcasing 2 of our clothing sponsors. Lascana provided us with 3 really cute beach style outfits that were perfect for our afternoon with the rescue animals and then later at the turtle release. Our Sharif handbags were the perfect bags to go with our outfits.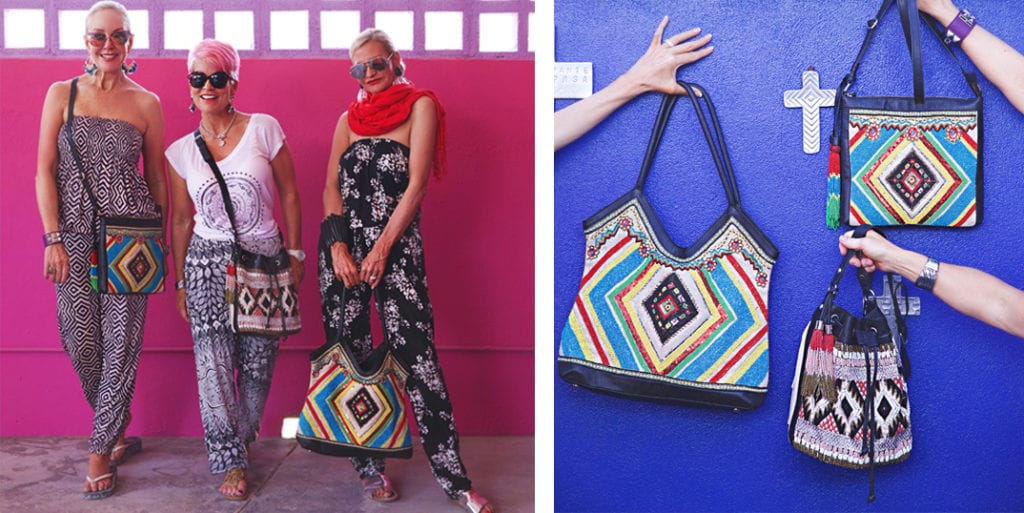 After our barnyard visit, we headed for our evening excursion to see the Olive Ridley turtle release. It was an amazing experience that I will share with you in another post. In the photo below (right) you can see the baby turtles headed for their new home. Also, my sweet friend Nina and my Baja Babes sharing with me the beautiful Baja sunset.
We then headed to Miguel's restaurant in the center of town where we gulped down the best margaritas and ate delicious Chilies Rellenos.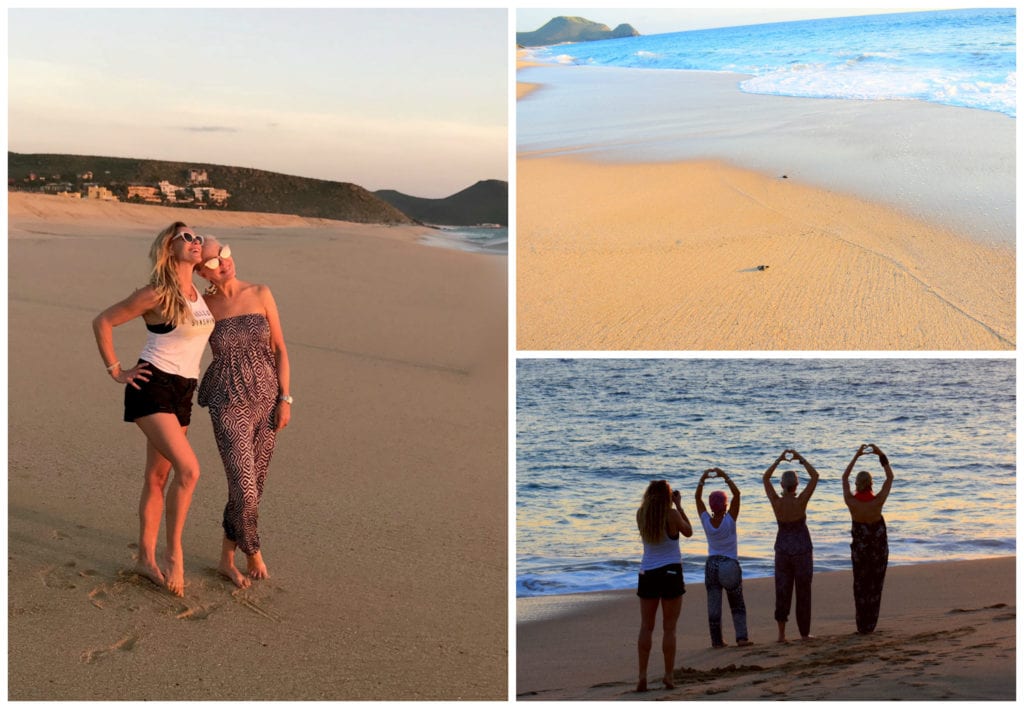 DAY 3
Up early again and off to tour the town of Todos Santos. You will fall in love with this very artsy and historical town. Silvia was the best guide sharing so much wonderful history. She took us to the mission church, the colorful street where many celebrations happen, the Day of the Dead mural and the Mayan mural plus the famous Hotel California. Were you an Eagles fan? They are my favorite group of all times. No one seems to know anything more about this famous hotel.
Historical Facts:
Todos Santos translates to "All Saints" in English. This mission that is now Todos was founded in 1723 by Jaime Bravo and in 1724 it was renamed Nuestra Señora de Pilar. This is the church located just west of the small plaza in town and contains the statue of the Virgin of Pilar.
During the Mexican American War the Skirmish of Todos Santos, the last battle of the war, was fought near the town on March 30, 1848.[ 2]
During the 19th century following the secularization of the missions, Todos Santos thrived as the Baja sugarcane capital, supporting eight sugar mills at the end of the 19th Century. Only one existed by the time the town's freshwater spring dried up in 1950 and that last mill closed in 1965.
Todos Santos faced a bleak future until the spring came back to life in 1981 and the Mexican Government paved Highway 19 in the mid-1980s. The highway brought tourists and the rich farmlands have been revived. Todos Santos is now a popular surf destination and has a vibrant art scene. The town now prospers from farming organic produce; as well as from fishing and ranching
Todos Santos, Baja California Sur, was named a " Pueblo Mágico " in 2006.
Todos Santos is all about events. Check out their calendar of events that is basically replicated every year. The film festival, music, gastronomy & wine, historical homes, gallery tours, mango festival, town fundraisers for local education at "The Palapa Society", a 5K run and more are among events you can be a part of.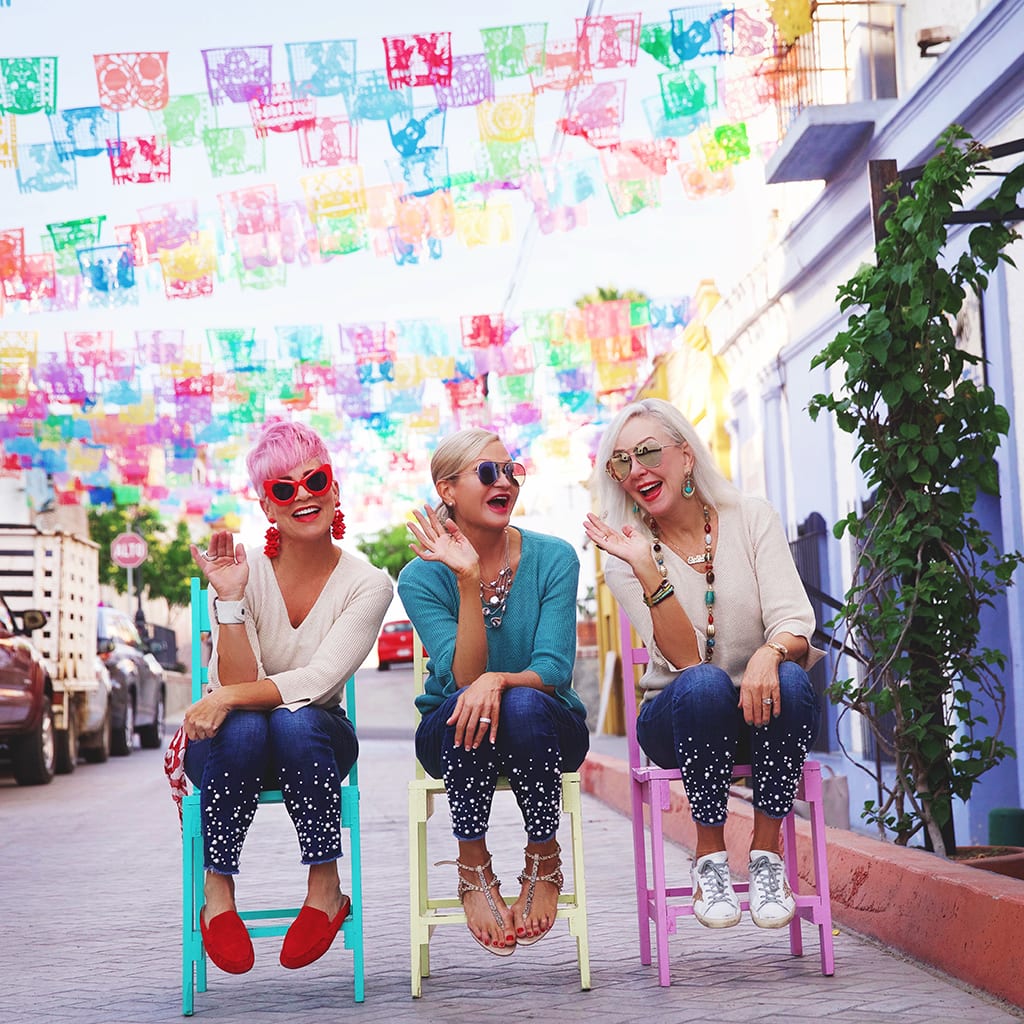 So what do you wear while in Todos Santos? I say take a peek at Chicos.com. Their beginning starts in the heart of Mexico and the influence is still prevalent. Our cute outfits were perfect for a day of touring. You can shop our looks below.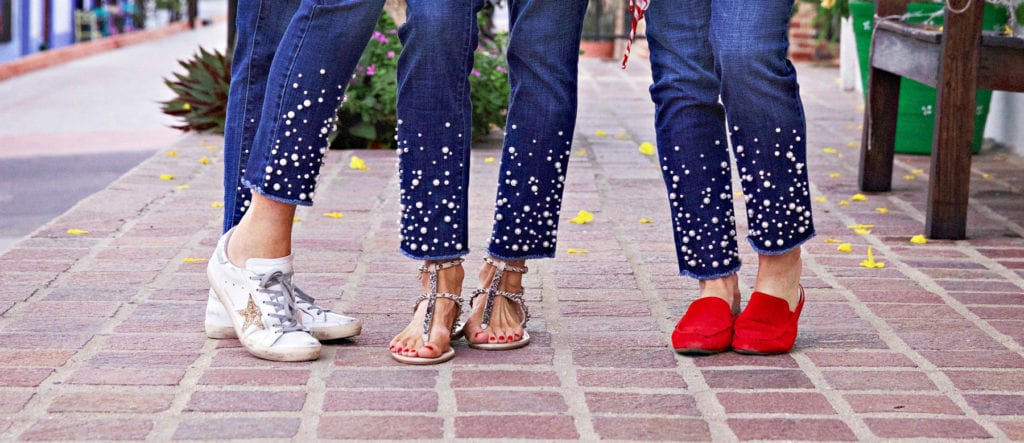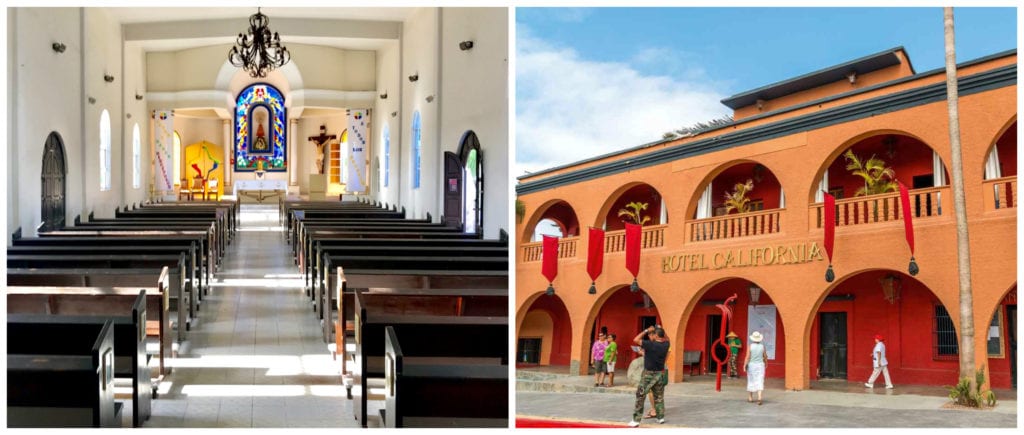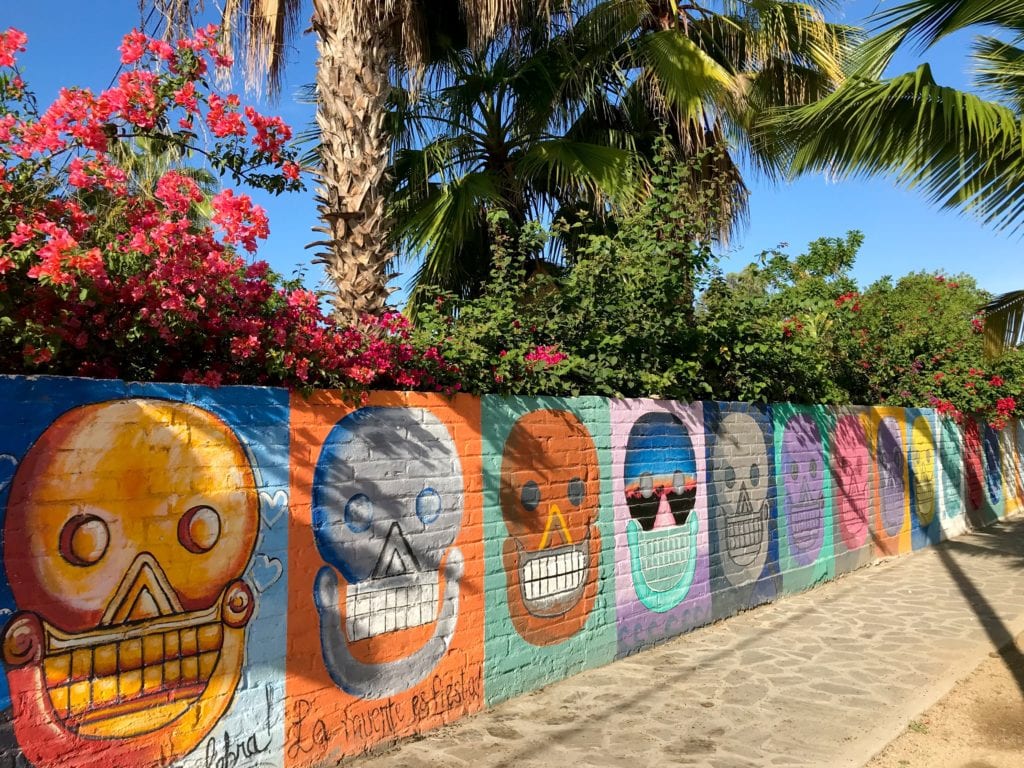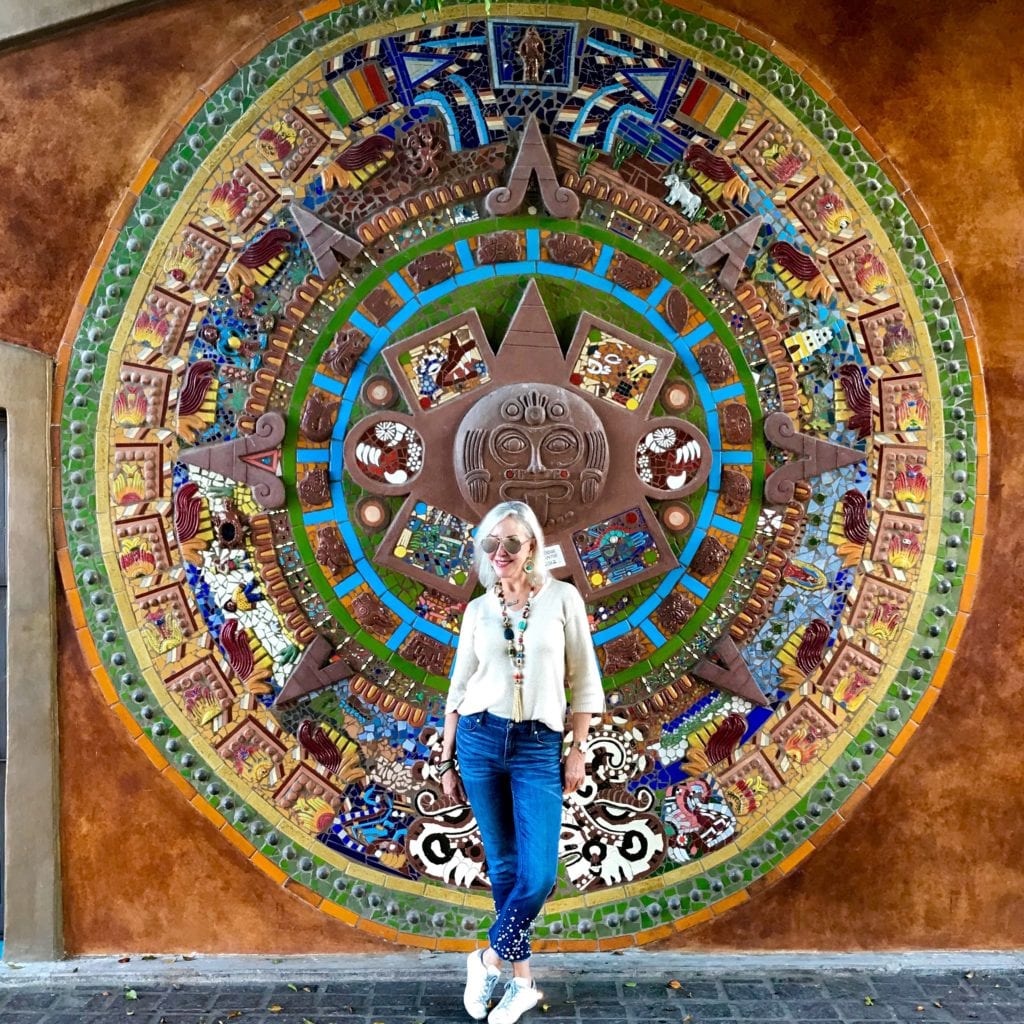 After a full morning, we had another little break before heading out to our cooking class with Cristina at La Palapa de Sabor restaurant. We all shopped our closets for our outfits with the exception of our cute chic clutches by Modusrio. I am wearing a colorful artsy bracelet from Sylca Designs c/o. They make the most unique fashion jewelry.
Before heading out we took a tour of Jenny's private home where we had the most beautiful view from her rooftop.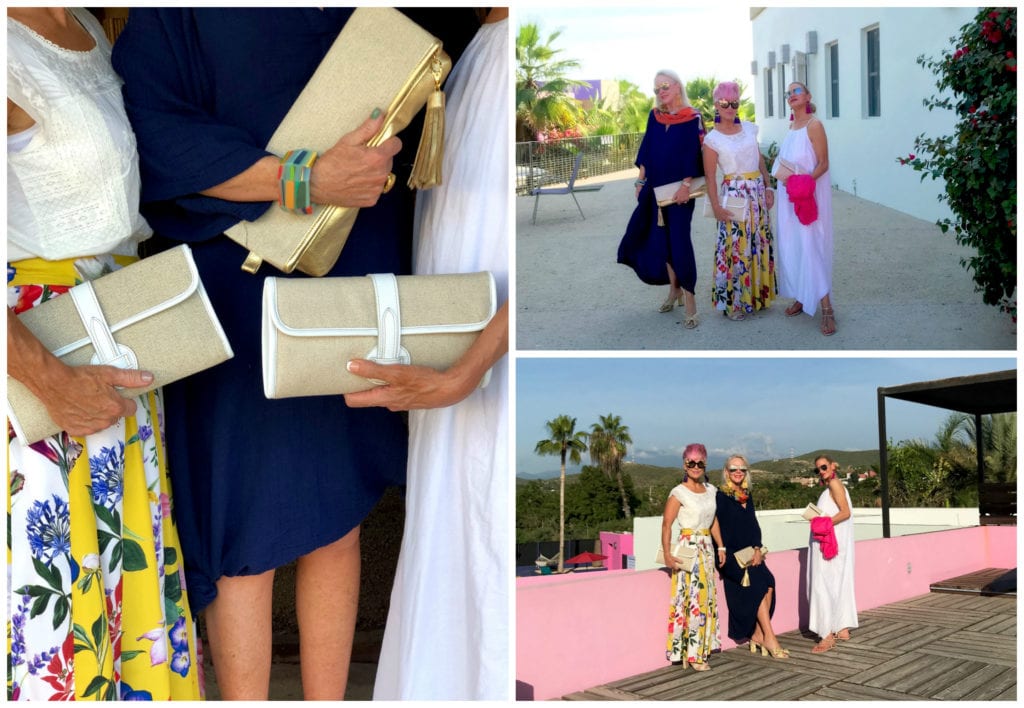 Finally, the best for last! We were hosted by Cristine the owner of La Palapa de Sabor to experience a cooking class tasting the exotic flavors of Mexico. I had an immediate connection with Cristina because she was once a commercial pilot before health reasons grounded her. After some time she pursued her second dream and found Todos Santos to share her love of Mexican food.
This restaurant is a must for sure! Mention The Paradise Story & receive free "Paco-Mole" guacamole with your drinks or meal.
For reservations, or to inquire about cooking classes, private catering, and the new Mariachi Saturday night events, contact Cristine by phone at +011.612.145.2055 or by email to crismadabas10@gmail.com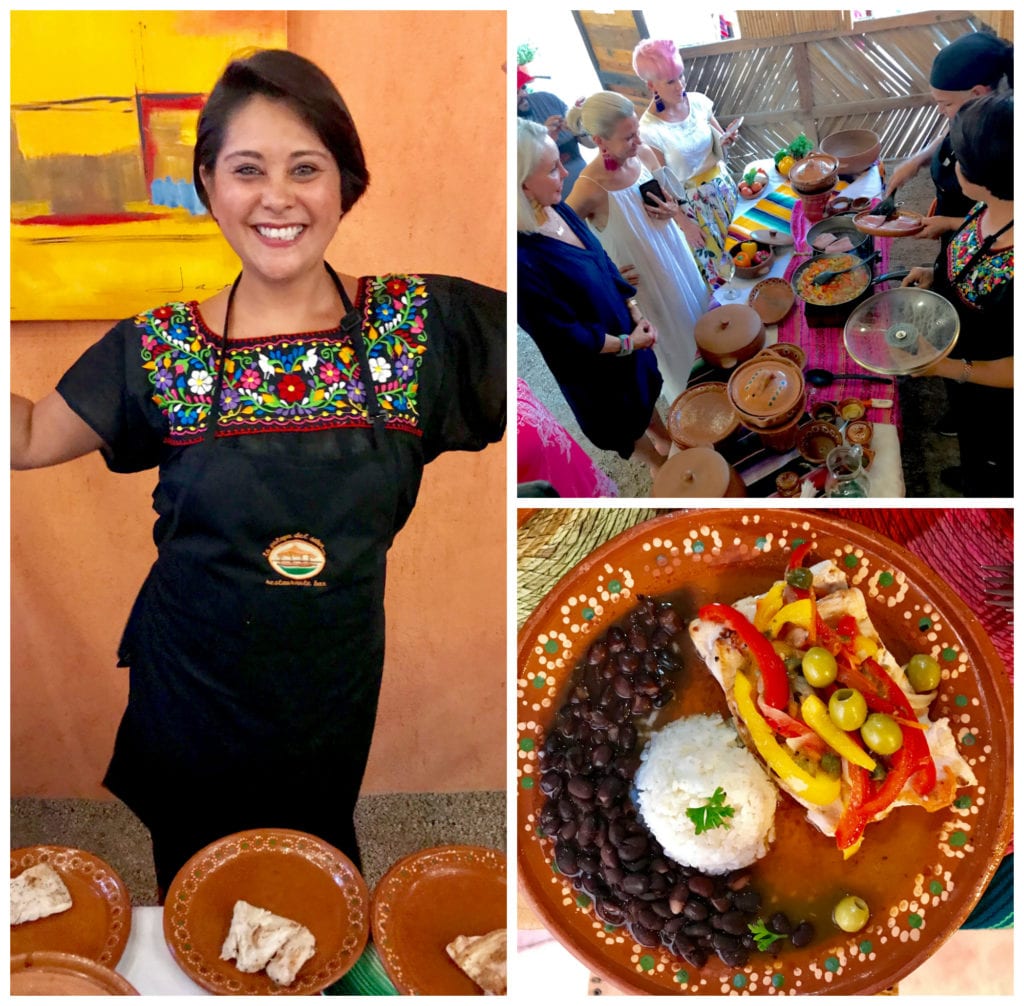 As the lights went out on our last night we all reflected on the amazing 3-day experience in Todos Santos and The Hotelito. Thank you, Nina (The Paradise Story) for making this experience so special. Your love for what you do as a travel planner/producer reflects in all the details that you provide for your guest. I will be back for more of Todos Santos.
IN CONCLUSION
To book your personalized trip to Todos Santos contact Nina Ornstein
  @NinaOrnstein
  @TheParadiseStory
  nina@theparadisestory.com
  +13109932552
  Theparadisestory.com
NEXT STOP ~ LAS CRUCES