The Golden Globes were held last night in sunny California, where we got to watch out favorite stars grace the red carpet for one of the first times this award season. Films like "Bohemian Rhapsody" and "Green Book" were the big winners, and our favorite celebrities (as always) gave us a few memorable moments. Sandra Oh, who co-hosted the awards, became emotional when she herself won during the night's festivities, and Glenn Close gave a speech that had most of the room in tears. Jeff Bridges was awarded for his lengthy career, and Lady Gaga received accolades for her hit "Shallow" from "A Star is Born."
But, as always, we were almost too distracted by the fashions of the night to even focus on the awards at hand. Below is a review of the dresses from our fashion and tastes perspective from this year's Golden Globes but we have to know…do you agree with our picks? Let us know in the comments below!
#1 FAVORITE hands down!!!!!
We could have done without the blue hair but other than that, Gaga had it all style, color and glam.
Lady Gaga
"A Star is Born"
Saoirse Ronan….. a close second!
Who could wear this Gucci dress like Saoirse? Every detail resonated with us from the gorgeous Chopard jewelry down to the clean, simple hair.
"Mary Queen of Scots"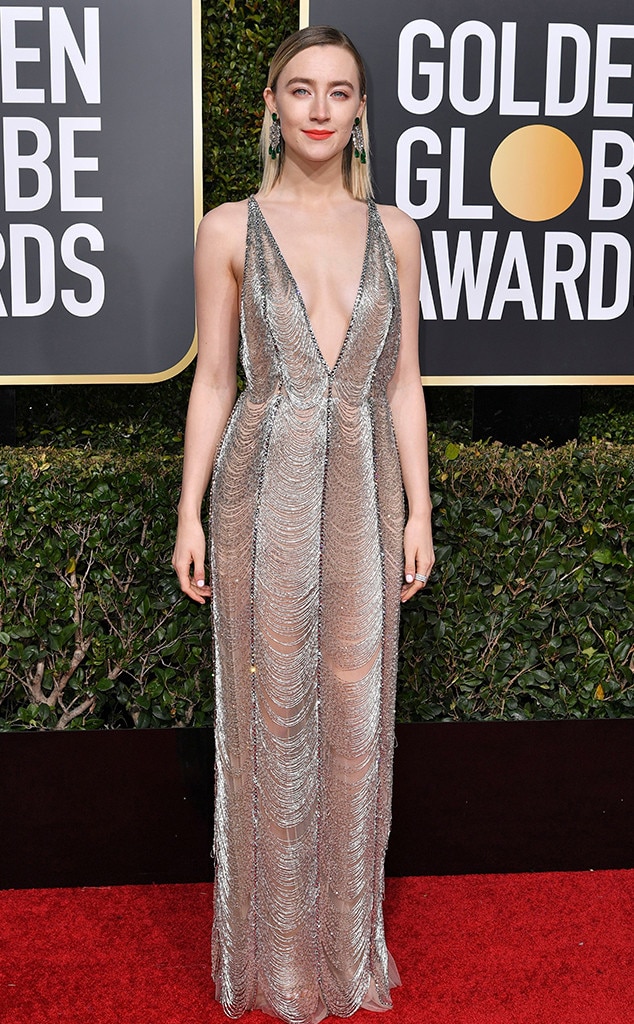 Lili Reinhart…..another gorgeous gown!
"Riverdale"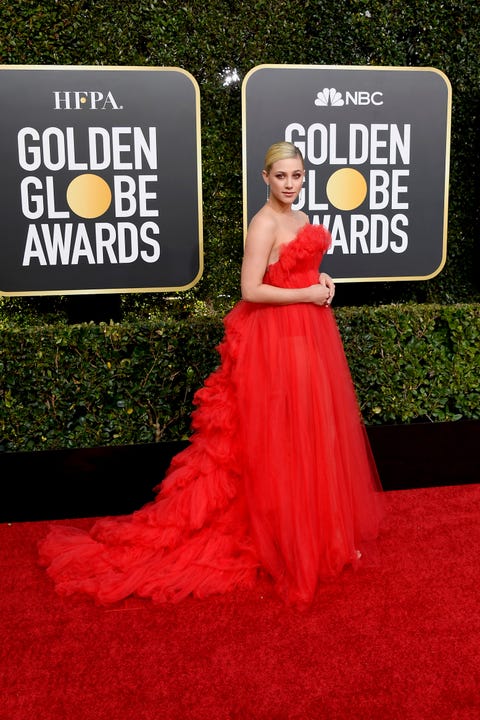 Camila Belle
I absolutely love the colors in this gown. The sweetheart neckline is flattering on so many ladies.

Blush, nude & pale pink ruled color.Worn here by Emma Stone, Emmy Rossum, and Kiki Layne.  Also, Giuliana Rancic, Emily Blunt, Kristin Bell, Julia Roberts and the beautiful Regina King made their presence in these hues.
Julia Roberts…..she rarely disappoints!
 "Homecoming"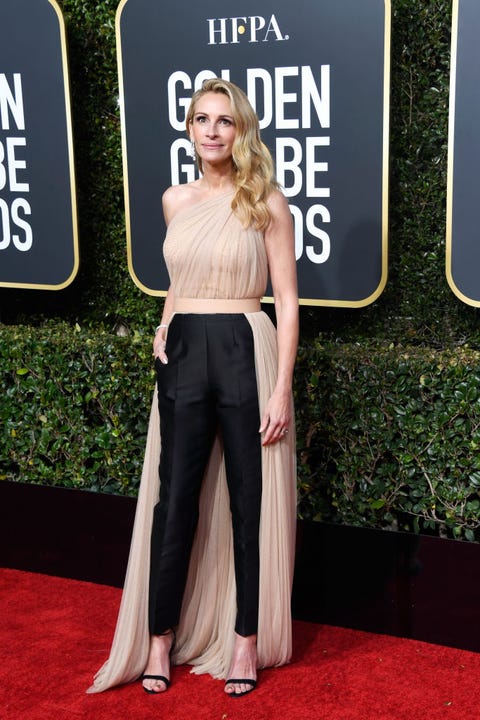 Emily Blunt
Mary Poppins
Kristen Bell
Regina King
Simple, Sparkle elegance makes Regina a standout! She looked like an exotic sea creature. Mermaidesque……. The simple jewelry kept the focus on this beautiful sequin column gown.
If Beale Street Could Talk
Keri Russel
"The Americans"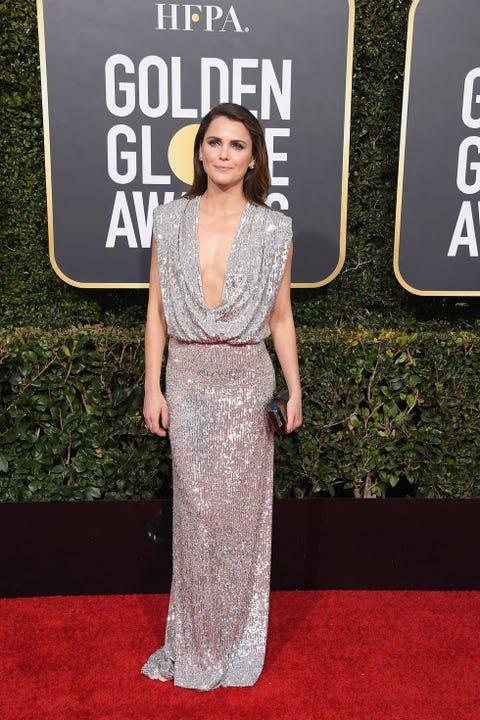 Lupita Nyong'o
Lupita is such a style icon. She was smashing in this electric blue gown.
"Black Panther"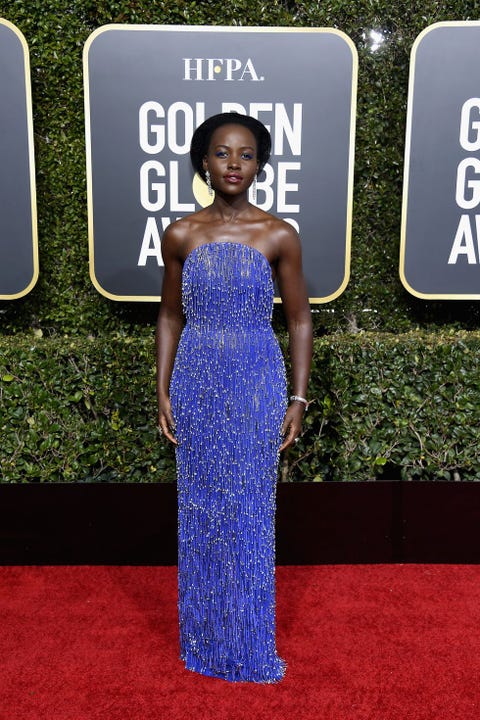 Nicole Kidman
We are always anticipating what direction Nicole goes in for a red carpet look. She is never afraid to take chances but most always she is dead on. This merlot color not only looks amazing on her pale skin but totally flatters her long lean body.
"Destroyer"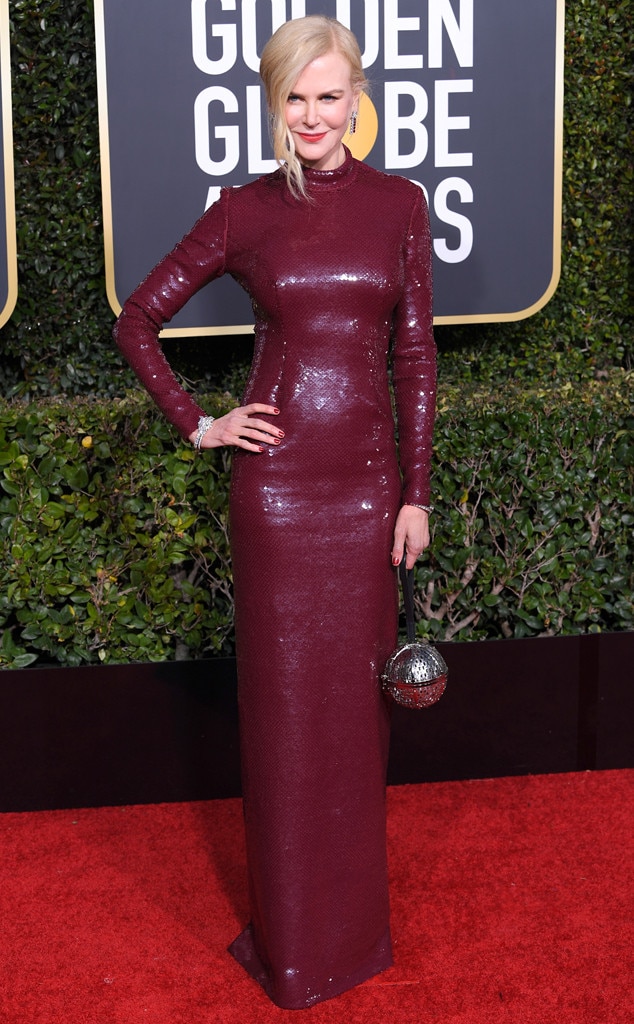 Charlize Theron and Halle Berry
These ladies never disappoint. With their different (lean & curvy) but amazing bodies always wear their dresses so beautifully!
                                    Charlize in "Tully"                                                                             

Off the Shoulder Gowns 
Allison Janney "I, Tanya" and Amy Adams HBO made for TV "Sharp Objects" totally rocked the off the shoulder look. We love both of these gowns so much. Allison just popped the red carpet with this gorgeous aqua dress. Her necklace was perfect with it! Even though Amy's is plain and subdued, it really spoke to me. I would have loved a linear pair of diamond earrings to go with the column style of the dress but that is all in personal taste.
White Gowns
I love how Jamie Lee Curtis "Halloween 2018" has embraced her age by letting her hair go white. Mine is not all white yet but I am going more platinum while my silver/white start growing out. We will see…….  Sandra O "Greys Anatomy" looked stunning in her white gown. A great contrast with her very dark hair.
Sratching our Head on these red carpet choices….
We just can't figure out these dresses. I just don't think the Golden Globe's is the place to try something new unless you are just trying to get attention. This is not the attention I would want. These ladies are so lovely and could have made so many other better choices that would have gotten the right kink of attention they so deserved.
Worst Dressed
I know that we all have our individual tastes and style but again, so many other ways to stay off this list. Claire Foy's dress was a really pretty dress but the style did not fit her body at all. Her petite breast got lost in the bodice. It looked to me like she was playing dress up with old vintage clothes. The black dress just looks like a Halloween costume to me. Think Elvira…..
In Conclusion
What do y'all think? There were so many other great dresses that did not make our list because the list just got so long I the trends for the night were definitely tulle, sparkles, nudes, pink, silver….and I'm not complaining one bit!
SHESHE'S TIDBITS
I have had a really good break from the blog and social media. I need to do it more often!!! For now, WE ARE BACK…… with a lot of different types of content as usual. Here at SheShe Show we love to bring the unexpected!
Gala's, weddings, graduations, holidays or just everyday wear…..we have fashion suggestions for you, so stay tuned. Be sure to check out ShopSheShe tab at the top of the menu bar. Hover over and choose the category in the drop down. We try to keep it up to date with the latest and greatest for all budgets. Subscribe here and then you won't miss a post. Simply enter your email in the pop-up box when you come to this site or at the top of this page in the subscribe box.
WELCOME new readers. We are a fashion/travel/lifestyle blog. We talk about anything and everything, from fashion, travel, health issues to even an occasional recipe. If there is a topic that you are interested in, then let us know. We will do our best to bring that story to you. Have a great week sweet friends and thank you for following along. Without you, we could not continue on this crazy journey!