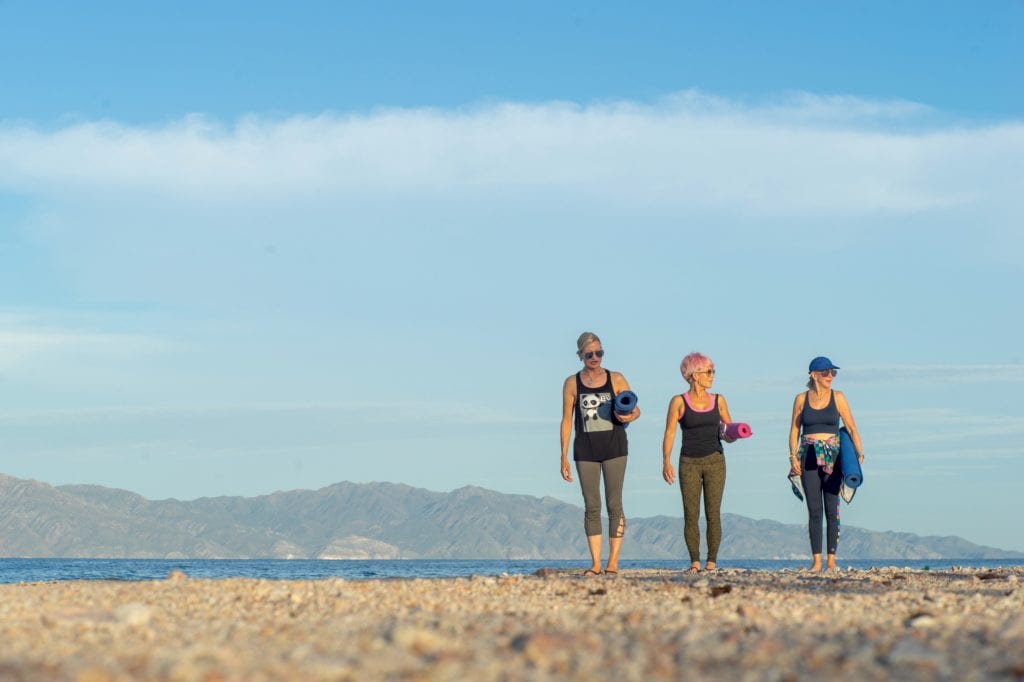 Every January influencers, brands and our readers are all talking about a new year, new fitness goals and new workout clothes. There is no finish line when it comes to staying fit, so ladies let's just accept it and get to it for your healths sake. Today we have curated a variety of workout clothes and fitness accessories that will make you feel really good during your workouts. We also have some great tips to follow that will help keep you motivated and stay on track.
Most of us start our fitness goals in January like a rocket and then without a booster, that rocket falls out of the sky almost as fast as it went up. Raise your hand if you are guilty. I am not here to give you the magic to be excited and motivated about getting and staying fit. That will all depend on you, but if you want to have the best possibility to live a longer healthier life then here are some tips that will help keep you motivated.
Tips To Reach Your Fitness Goals
Change your mindset. If you are basically a bystander and cannot imagine working out and finding excuses along the way then try imagining yourself as an athlete. Cut out pictures the way that might look and look at them every day.
Start slow when setting your goals. Small steps….. If you expect too much then you are setting yourself up for failure. Do a goal chart with a long term goal, 6-month goal, 3-month goal, 1-month goal, and weekly goals.
Reward yourself when you reach a goal.
Rules are made to be broken so if you miss then just start again.
Go buy a couple of new workout outfits and a new pair of trainers that fit the type of workout that you are interested in. Look good, feel good!
Choose a workout that is right for you. At over 60 and neck issues, I can no longer do boot camp, boxing or Orange Theory. I am loving pilates and yoga 3-4 days a week that I started back in October. I am already seeing changes in my body. Just choose a workout that has variety and is fun.
They say to stay on a regular schedule, but that does not work for me. Fortunately, Club Pilates opened near my home and I can book my workouts on their app with a time slot that fits my crazy schedule. I book it like a business meeting and if I miss I still get charged. I don't like being charged for something I didn't get.  Love it sooooo much! It is a chain of clubs so check to see if there is one in your area.
I tend to be competitive so I am always trying to be as good as the 30-year-old next to me. Many times I am. A little friendly competition never hurts.
Workout with a friend or in a group. This can be really helpful because you can hold each other accountable. Again, it doesn't work for me but I have met some ladies at Club Pilates that I enjoy seeing at my workouts.
*****STOP MAKING EXCUSES ABOUT HOW YOU LOOK AND JUST MOVE***

Workout Outfits & Necessities
SALE ALERT
NOW – Monday, 01/21 – Buy One, Get One 50% Off
Mix & match your favorite Colleen Rothschild products!
Thursday 01/24 – Sunday 01/27 – FREE Restorative Hand Cream with $95+ Purchase
Spend $95+ site-wide and receive a FREE Restorative Hand Cream ($28 value) for FREE!
Extra 70% off select styles
25% off full price styles Use Code: GOFORIT
Save up to 70% when you take an extra 20% off sale and clearance items labeled BIG BROWN BAG SALE for a total savings of 35-70% ends 1/21
SHESHE'S TIDBITS
This week we will share part III of our October Baja trip, so you will not want to miss this one. We also have talked about the track pants and sets that are trending big time for casual or with your favorite pumps.
Gala's, weddings, graduations, holidays or just everyday wear…..we have fashion suggestions for you, so stay tuned. Be sure to check out ShopSheShe tab at the top of the menu bar. Hover over and choose the category in the drop down. We try to keep it up to date with the latest and greatest for all budgets. Subscribe here and then you won't miss a post. Simply enter your email in the pop-up box when you come to this site or at the top of this page in the subscribe box.
WELCOME new readers. We are a fashion/travel/lifestyle blog. We talk about anything and everything, from fashion, travel, health issues to even an occasional recipe. If there is a topic that you are interested in, then let us know. We will do our best to bring that story to you. Have a great week sweet friends and thank you for following along. Without you, we could not continue on this crazy