.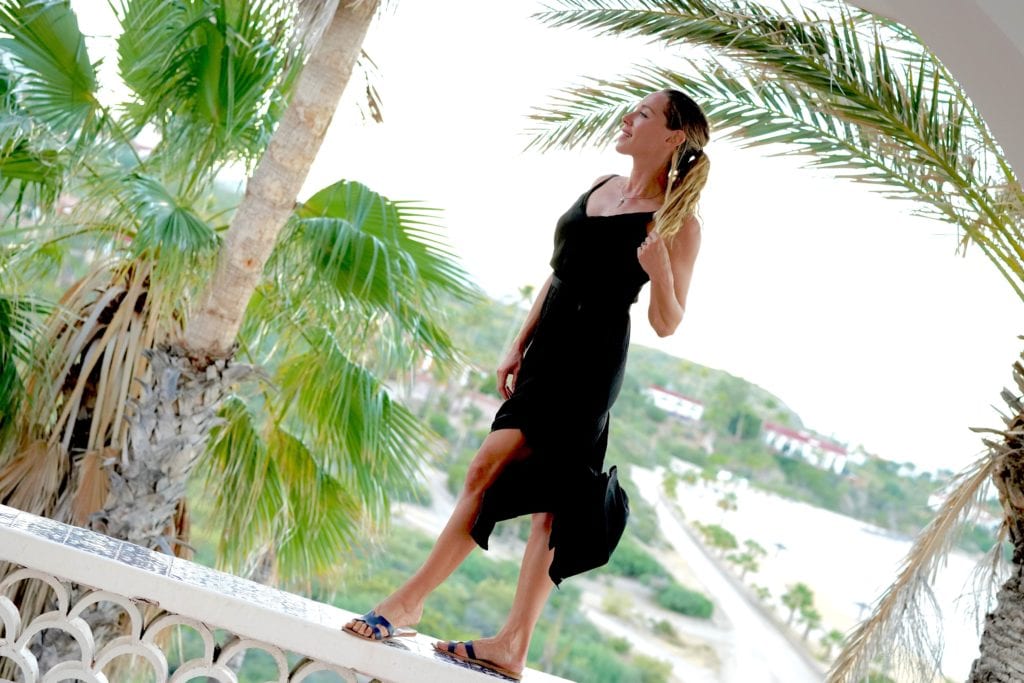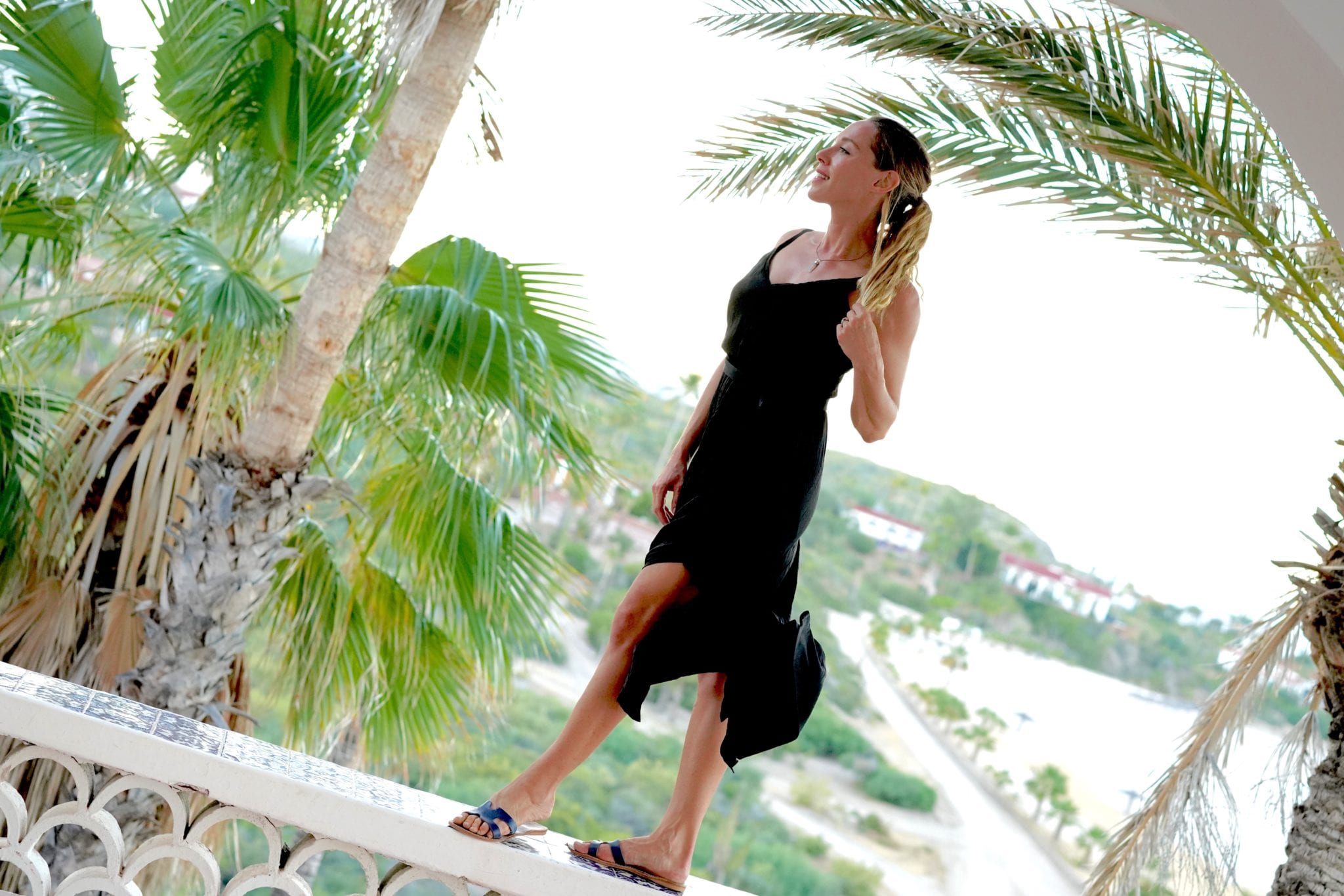 Have you ever used a travel expert to plan an itinerary for your trips? I know many of you have used a travel agent but now there are so many other companies or agencies that can plan the very best experience. Today we are letting you in on a little secret on how to customize your dream trip. You recently read about Part I, Todos Santos and Part II, Rancho Las Cruces of my Baja Mexico trip. Today, Part III and final post about how our fabulous trip was made possible for me and 2 of my blogger friends.
Let me introduce you to Nina Ornstein, the founder of The Paradise Story. As a travel producer, Nina can deliver once in a lifetime experiences that will create lasting memories with her unique itineraries that are customized to your budget & goals! If you have been following along you couldn't help to see how much fun we had on this 5 day trip.
How We Met
Instagram
I was doing some travel blogging for a couple of years and really wanted to find that open door for more sponsored travel opportunities. Well, an answered prayer because Nina found me on Instagram. After initial contact and direct messaging in the fall of 2017, we finally got on a call in January 2018. At first, I was a little leary but as we continued the conversation there was definitely a strong connection and friendship being developed. It was then we started collaborating on possible travel itineraries and she also wanted to bring on a few more ladies for the experience. I knew just who to include….Shauna, Chic Over 50 and Jamie, More Than Turquoise.
It was not until we got to Mexico that I realized that Nina had planned a most unique travel experience for us. It became more clear every day how passionate she is about what she does. I especially loved how she turned each day into a travel story. All of her passion and knowledge made it in living color for us to experience.
Nina's specialty is putting together DREAM vacations for small groups especially Girlfriend and Bachelorette vacations. Even though our days were filled with unique activities she still knew that we would need some time to rest and recharge. Attention to every detail and all of our needs were met with nothing but enthusiasm.
I will say that I could have never planned what we did myself. I would have been at some touristy hotel in Cabo doing the same old thing every day…..go to the beach and eat! Not to say that is a bad thing but if you love learning about a culture and seeing the real beauty of a country then The Paradise Story is the way to go.
Two Special Experiences
The Turtle Hatch: Having a new home on Sanibel Island I have learned a little bit about sea turtles, but I have never been seen or been part of a turtle release. In Todos Santos, Mexico there is is and environmental conservation called Tortugueros Las Playitas A.C. It's mission is to protect, conserve and replenish the fragile marine eco-systems of Baja California Sur, Mexico. They also strive to protect these turtles from predators, including humans (ATVs and poachers) along with birds, dogs and other wildlife.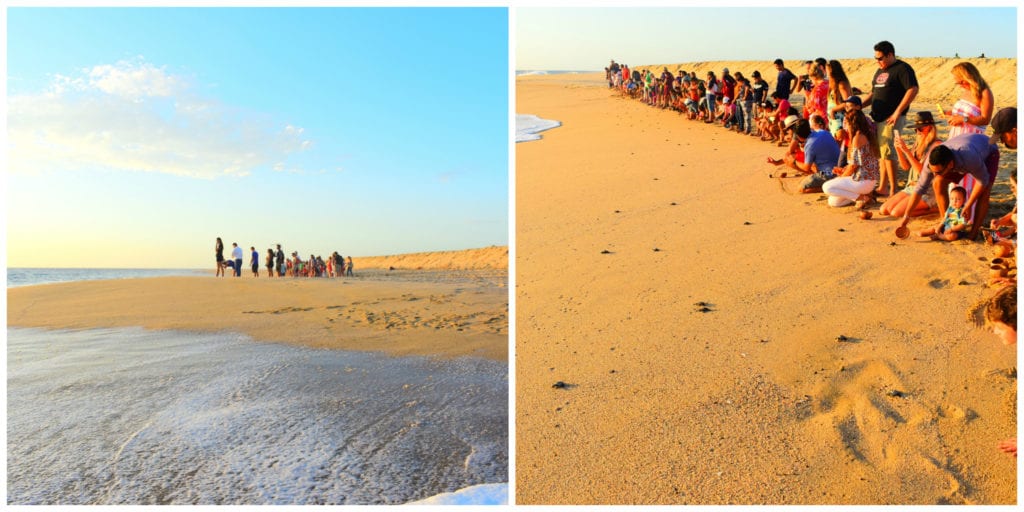 People come from all over to participate. These cute little turtles hatch daily and volunteers run organized releases for only a 50 pesos donation.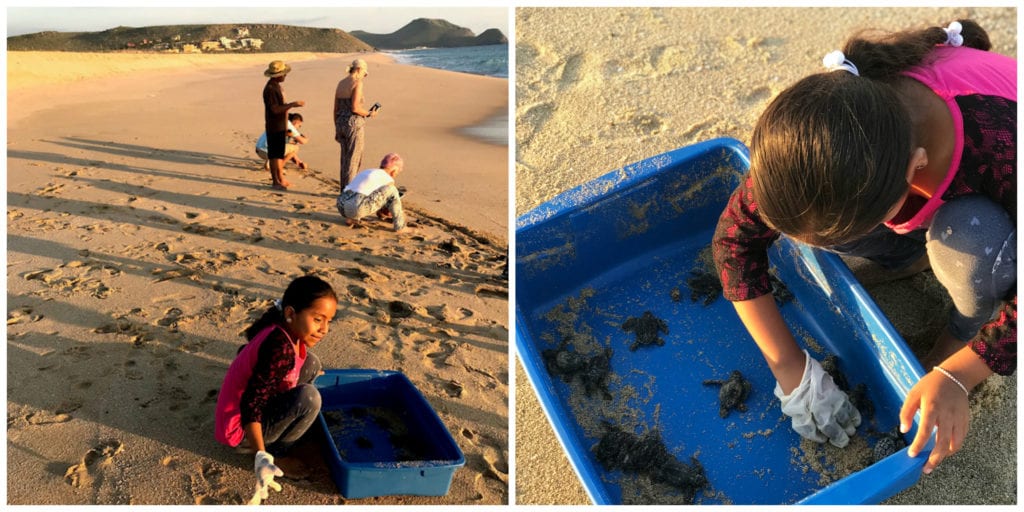 You can name your turtle and then release your turtle …. I named mine Jimmy, after my dad.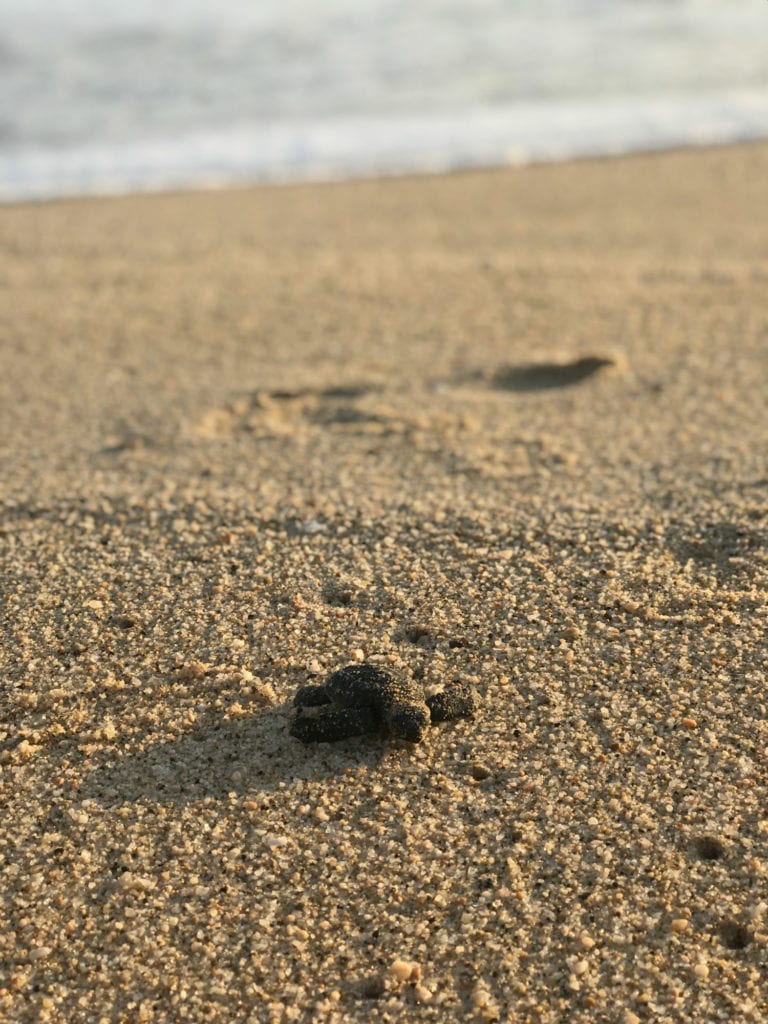 It was amazing to watch them once I sat my coconut down on the sand. As they slowly crawled out onto the beach they knew exactly what to do. Every one of them headed straight to the surf, but the sad part is that only 1 in 100 will survive. Cheering for our turtles was so so fun……but in the back of my mind I was praying that my turtle would survive.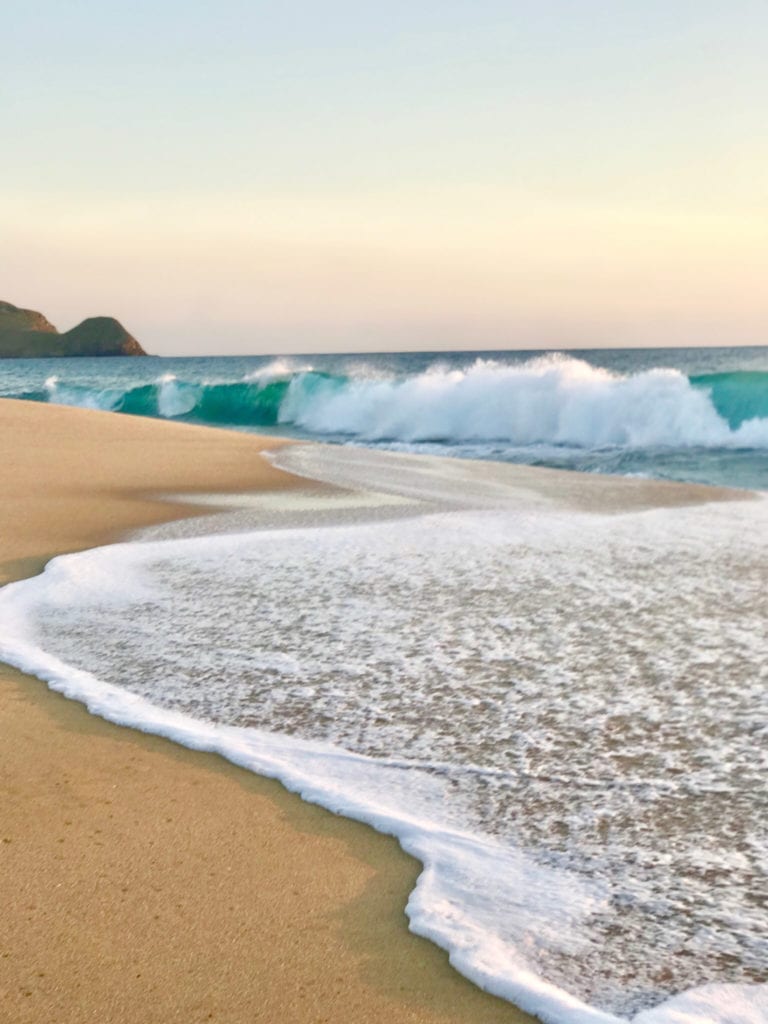 Oh and we got nailed by a big wave. The Pacific Ocean is so powerful so you must be careful at the waters edge.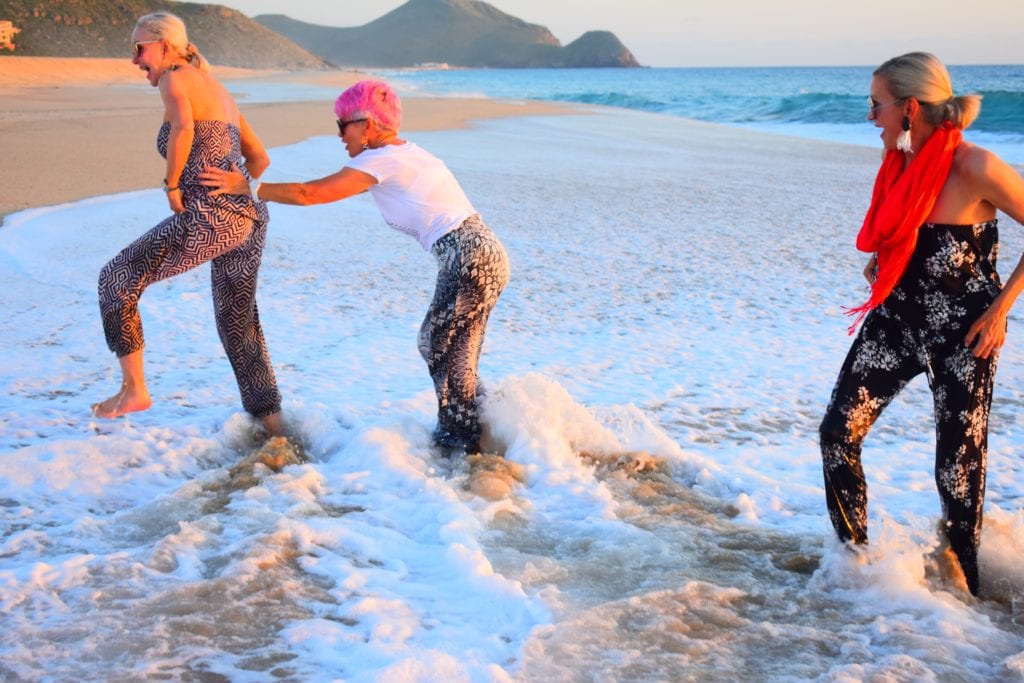 At the end of our turtle release experience we just enjoyed our friendships and the beautiful Baja sunset.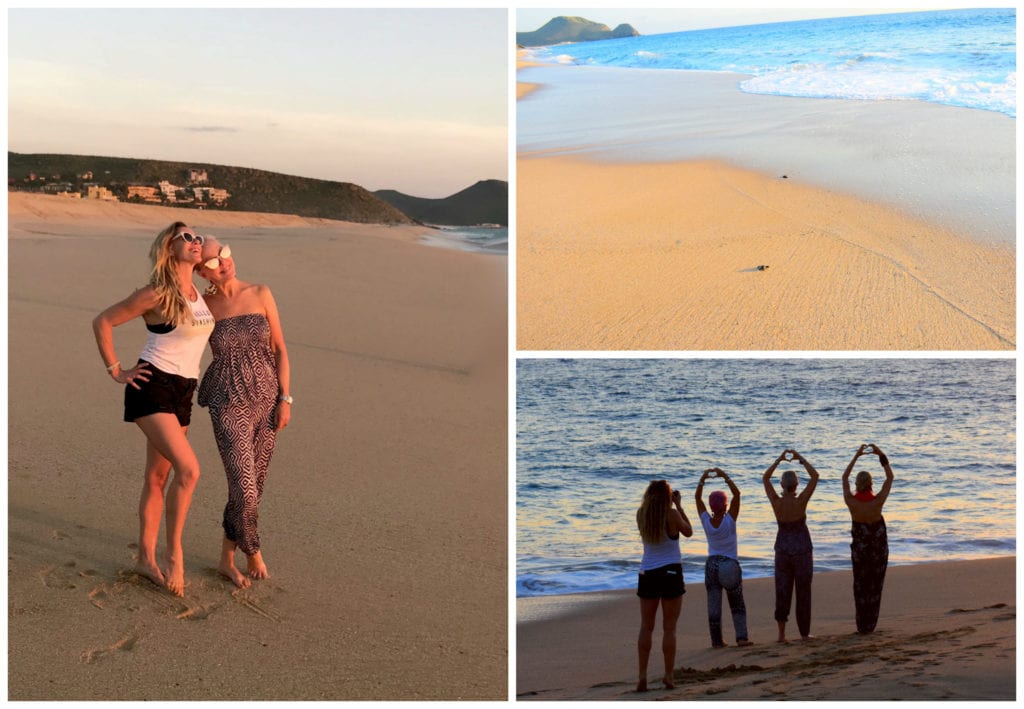 Cooking Class
Another curated event planned by Nina, was a cooking class at the La Palapa del Sabor, in Todos Santos, with the owner lovely Christina Madabas. I actually connected with Christina not only for her passion for food but because she was a commercial pilot. In recent months Christina decided to take the leap and leave her aviation career and open her own restaurant. #bosslady
She was so welcoming and happy to have us. Along with Paco her bartender and Dora her head chef our evening was a total learning and fun dining experience. It is not hard to tell how much Christina loves what she does.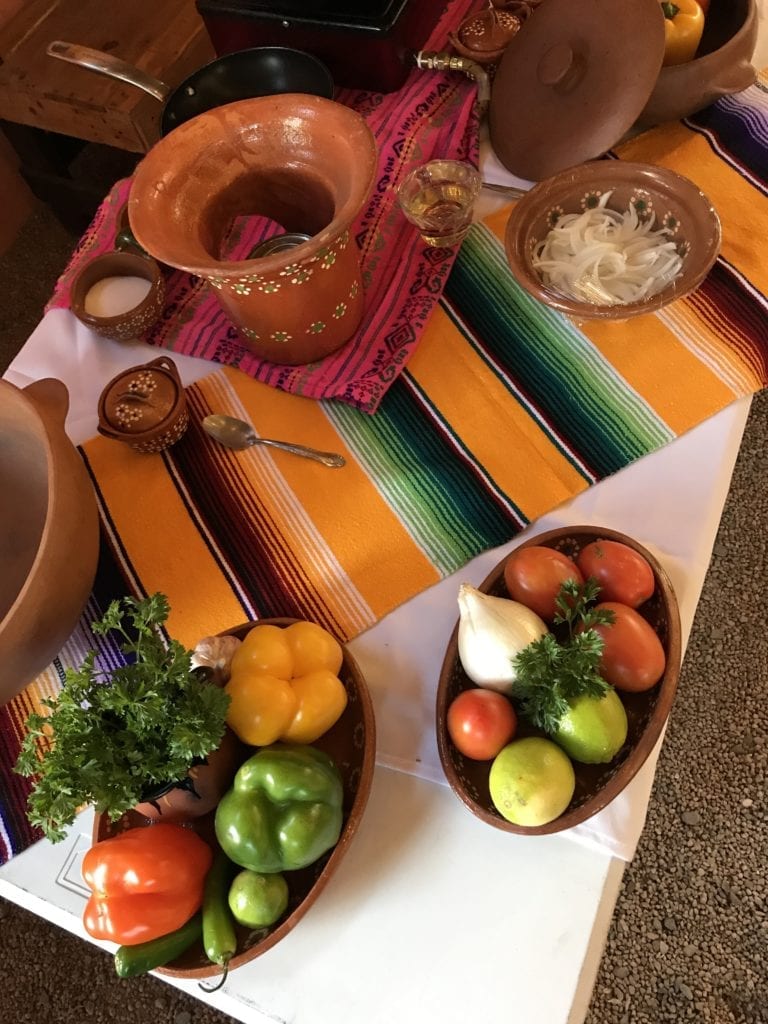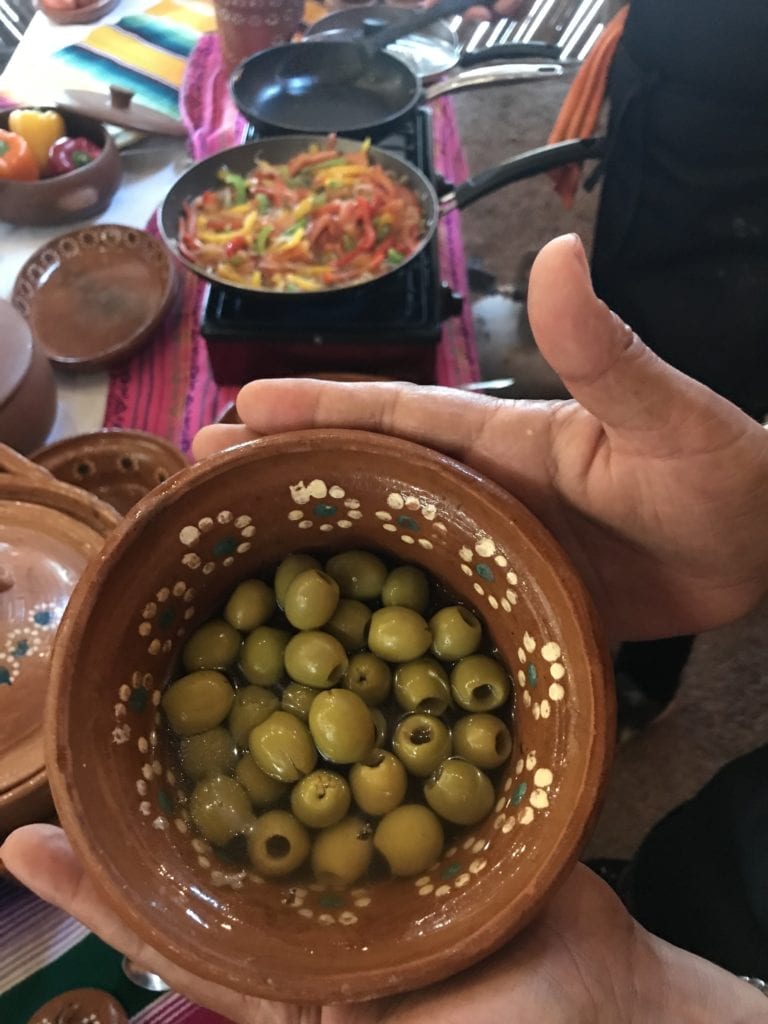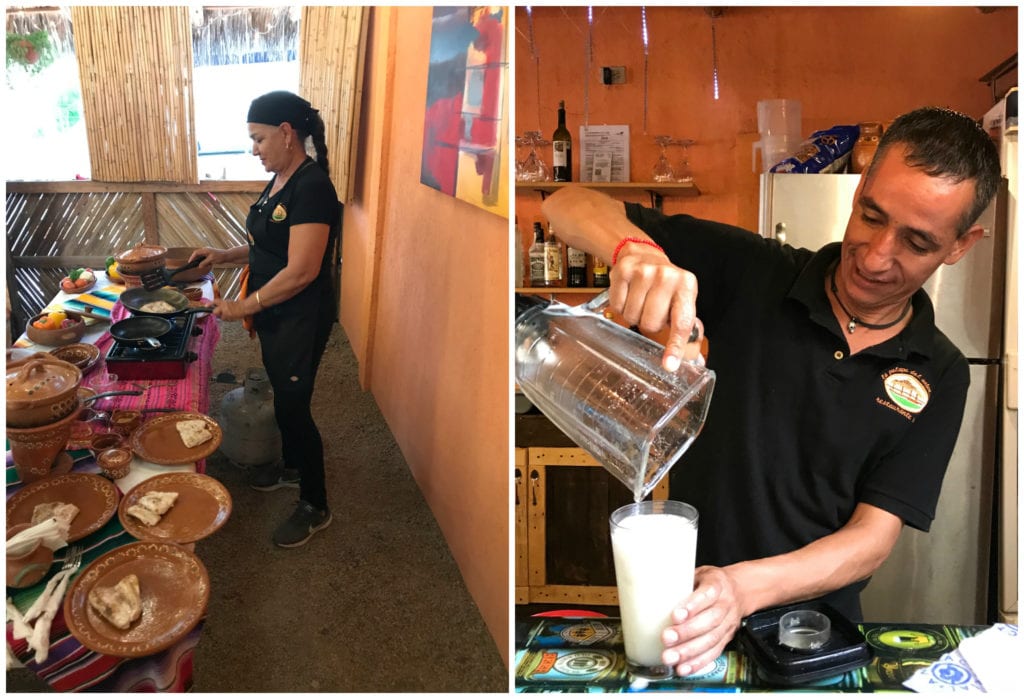 On the menu Dora taught us how to make Pescado Veracruz using fresh from the ocean yellow tail fish and served up with black beans and rice. While we watched the presentation Paco made up and served us some amazing crafted cocktails. He later became the life of the party. The meal was colorfully presented and oh so yummy. Everyone had way too much fun!!
Tidbits:
If you mention The Paradise Story while you're there you'll receive a free "Paco-Mole" guacamole with your drinks or meal. 
Besides serving up yummy meals to her patrons and cooking lessons for groups, Christina is available for private catering.
The restaurant hosts live Mariachi music on Saturday nights!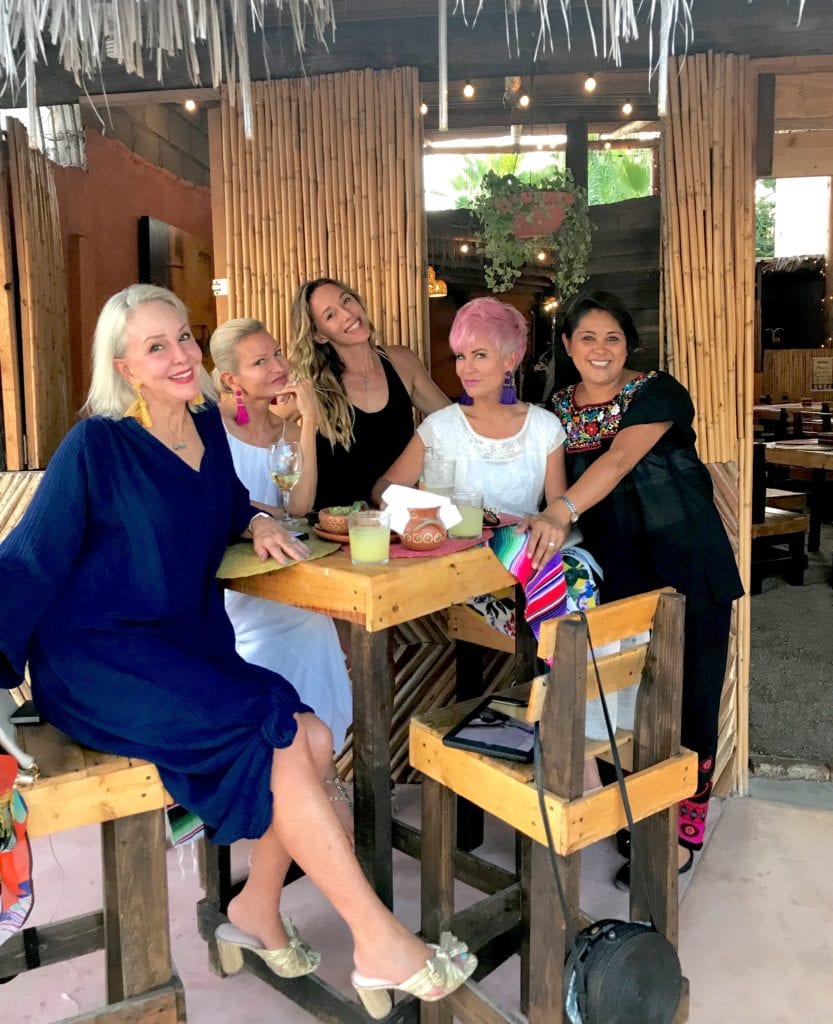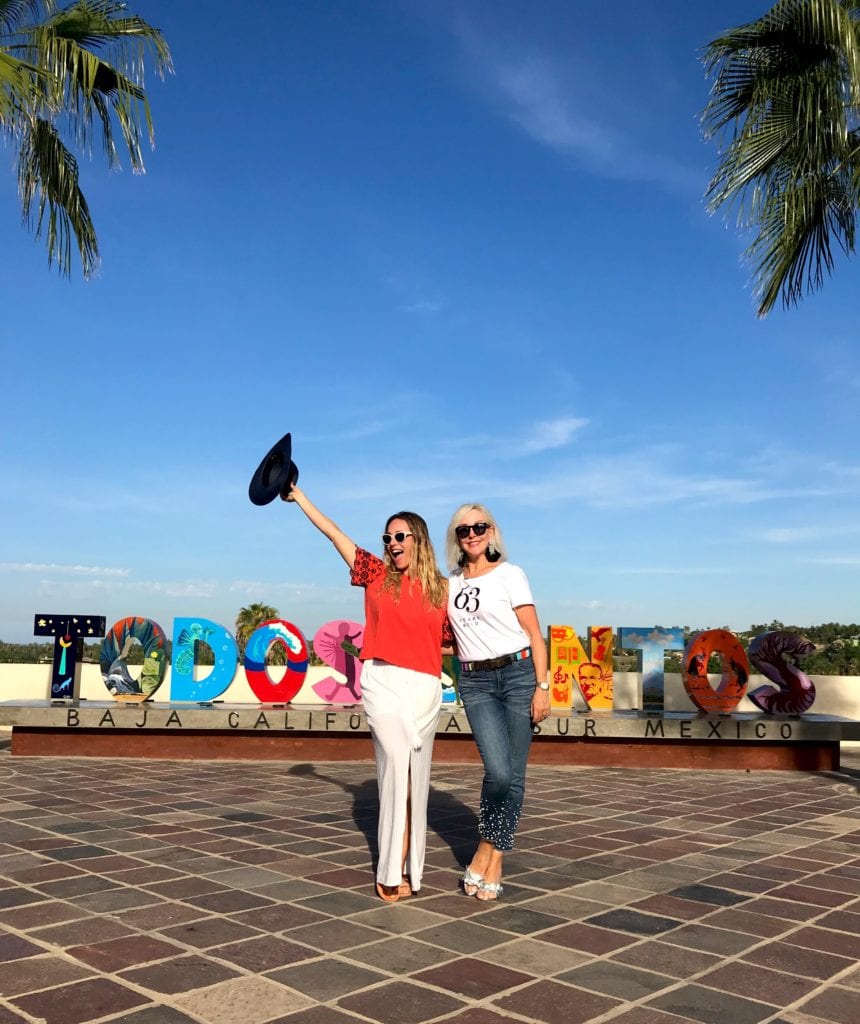 IN CONCLUSION:
So, after all you have seen and read in Part I, II and III surely you can see why working with The Paradise Story would add so many memories and special experiences to a trip on your bucket list. Just make contact with Nina here and decide on a place and date, then let her do everything else. Now that is my kind of trip!! I will never be able to travel again without her expert planning for me. Besides that, Nina is now my friend and earned her place as a #bajababe #4.
To book your personalized trip contact Nina Ornstein.
  @NinaOrnstein
  @TheParadiseStory
  Questions, Email: nina@theparadisestory.com
  +13109932552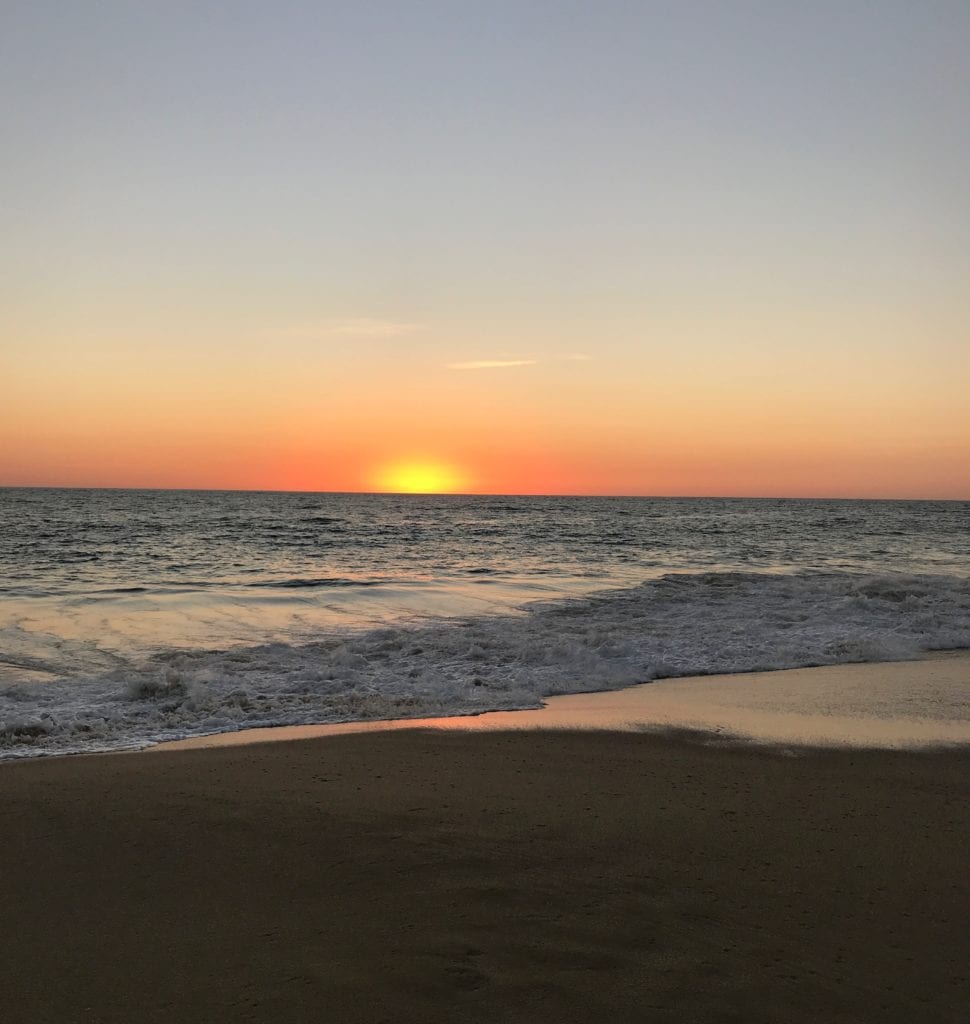 SHESHE'S TIDBITS
This week we are starting up some fashion posts transitioning into spring as well as a look into our master bedroom update.
Gala's, weddings, graduations, holidays or just everyday wear…..we have fashion suggestions for you, so stay tuned. Be sure to check out ShopSheShe tab at the top in the menu bar. Hover over and choose the category in the drop down. We try to keep it up to date with the latest and greatest for all budgets. Subscribe here and then you won't miss a post. Simply enter your email in the pop-up box or below.
WELCOME new readers. We are a fashion/travel/lifestyle blog. We talk about anything and everything, from fashion, travel, health issues to even an occasional recipe. Let us know if there is a topic that interests you. We will do our best to bring that story to you. Have a great week sweet friends and thank you for following along. Without you, we could not continue on this crazy fun journey.