A few months ago I was so excited to get the invite to join Chico's marketing team at Palm Springs Fashion Week El Paseo for a fun filled 3 days. Joining me on this trip were four other influencers from around the country. pictured left to right Emily Larsen (w/Chico's), Dawn Lucy Fashion Should Be Fun, Jamie Lewinger More Than Turquoise, me SheSheShow, Tonya Parker of The Real Chic Life, Alison Gary Wardrobe Oxygen , and Michelle Lerner (w/Chico's) as well as Jennifer Girven (not pictured). Needless to say we had the best time and it was the best mix of amazing women to hang out with, so follow along as we recap our amazing adventure.
I was not paid or required to write this post but our trip, hotel and food was paid for by Chico's. Also I have affiliate links in this post; if you click on a link and make a purchase I may receive a small commission. It is one way that helps support all of the cost affiliated with running a blog.
Day 1
I was up bright and early and headed to the airport in a black car provided by Chico's. Feeling like a rock star……So thrilled that my flight was uneventful just the way we like it……right? Traveling in very comfortable clothes is my vibe but on this day I kept it comfy but elevated it a bit because I knew I would be joining everyone for lunch upon my arrival. The photo below is the outfit I wore but instead of pumps I went with a cute blush/pink sneaker.
Outfit Details

Hotel
Before I could even check into the oh so chic Sands Hotel & Spa my driver dropped me off to meet all the babes for a delicious lunch. After catching up with the group we headed back to the hotel where I had a couple of hours to unpack and get settled in. I then started getting ready for our evening of events and thank goodness I already knew what I was going to wear.
Our hotel was so cool. Every where you looked was a place for a great Instagram shot. Not a big place but certainly the hipster spot that also had a very good restaurant, spa and pool. We even spotted a couple of STARS enjoying the weekend flying under the radar.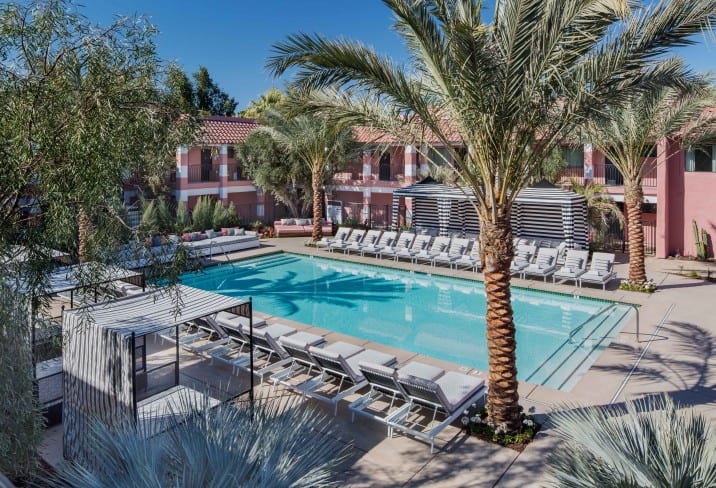 On my bed waiting for me was the cutest swag bag from Chico's team. They made sure that we had all the necessities for our 3 day activities and just so you know, you too can have this bag (empty of course). It is currently part of their spring accessories collection. Super cute!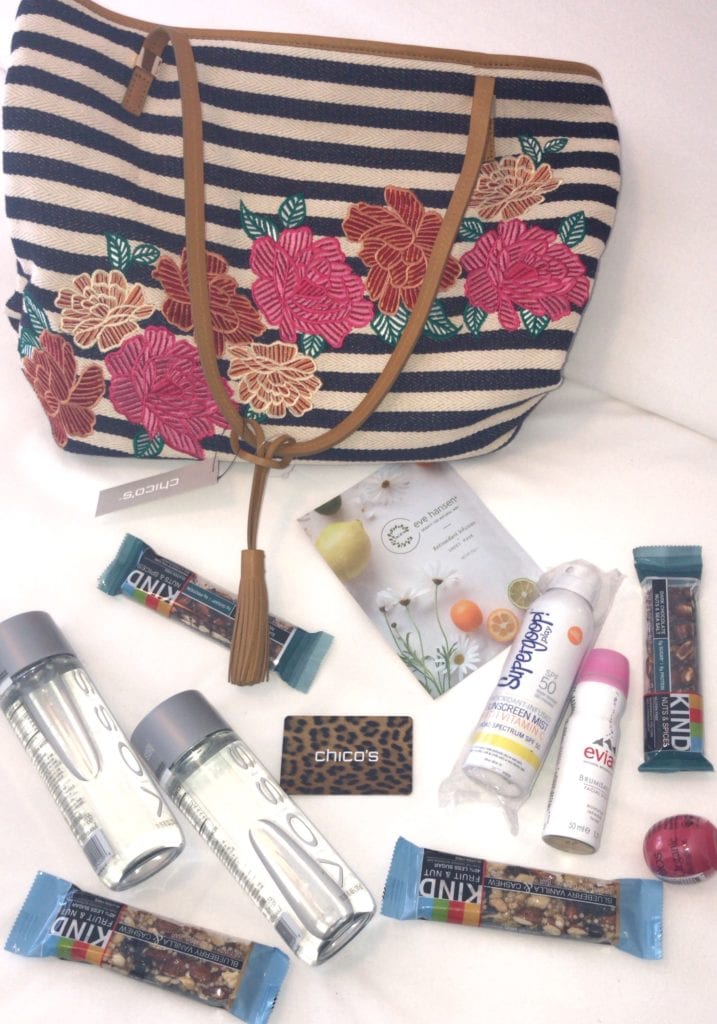 Visit to Chico's
First up for the evening was a stop at Chico's El Paseo, their largest store in their chain of over 600 stores. El Paseo is a long boulevard full of upscale shops & restaurants and is definitely the place to go for shopping when in Palm Springs. It is often referred to as the Rodeo Drive in the Desert.
The next couple of hours was spent eating some good bites, sipping on champagne, and of course what else but shopping with our gift card that was in our swag bag. I love Chico's because they offer so many sizes, offer up the latest trends, and they make quality clothing for great pricing. Their sales are great too!
If you are not familiar with the brand Chico's then I must also tell you about their awesome jewelry collections. Check out the turquoise necklace above…..can you believe the it is priced under $80 and this is just a small sampling of their jewelry. I have so many great pieces from Chico's over the years, in fact the necklace that I am wearing is from Chico's about 2 years ago. So, I always love scoping out my latest must haves when I get the chance and this visit to Chico's El Paseo was no exception.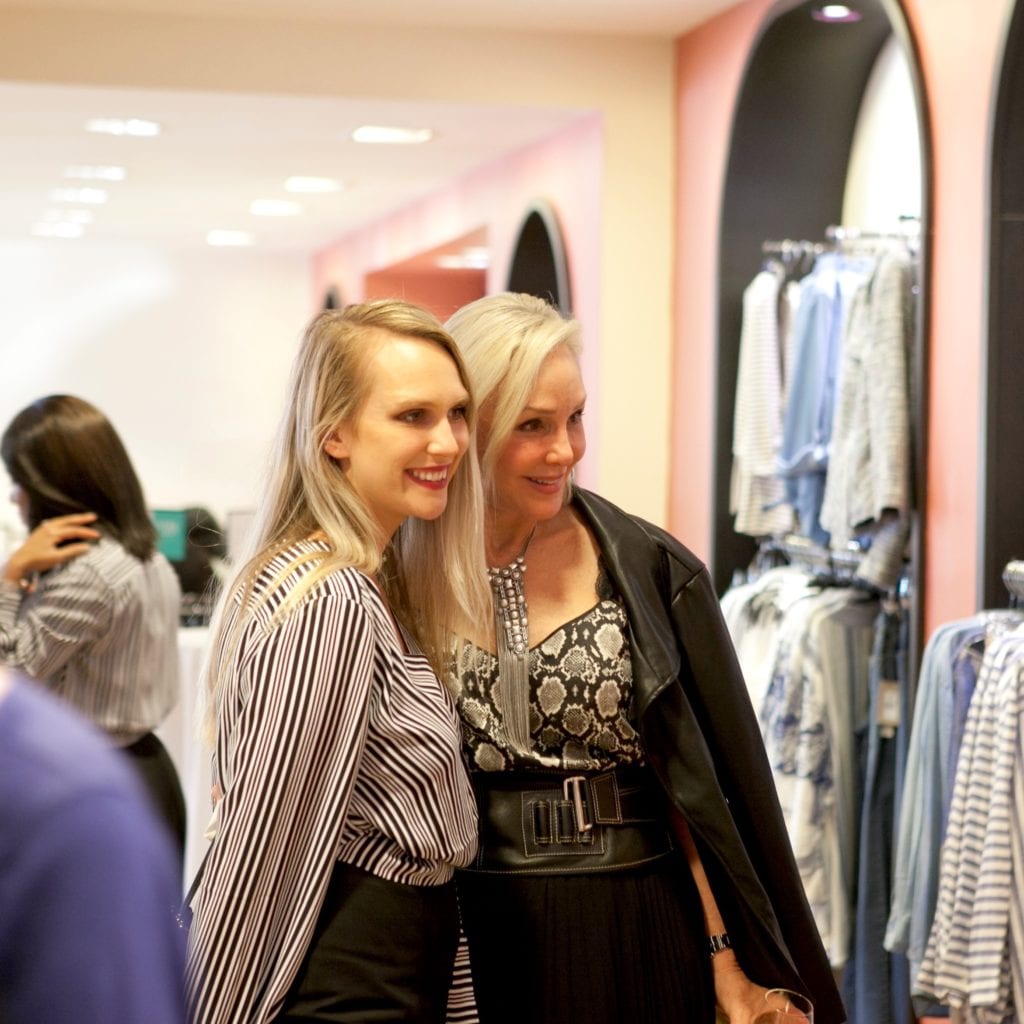 After they had enough of us, we crossed the street to the best sushi restaurant called The Venue, another great place to eat located on El Paseo. They offered the most delicious and fresh sushi but also alternatives for the not so bold girls. Michelle and I dove into the Ikura. Yummy!!
Opening Night Fashion Week El Paseo
It was so exciting to enter the venue and of course our first stop was our RED CARPET group photo. My gosh, just put 5 over 40, 50, 60 bloggers together and watch the cameras's flash!! Seriously the younger girls could take some lessons. Everyone was asking about us……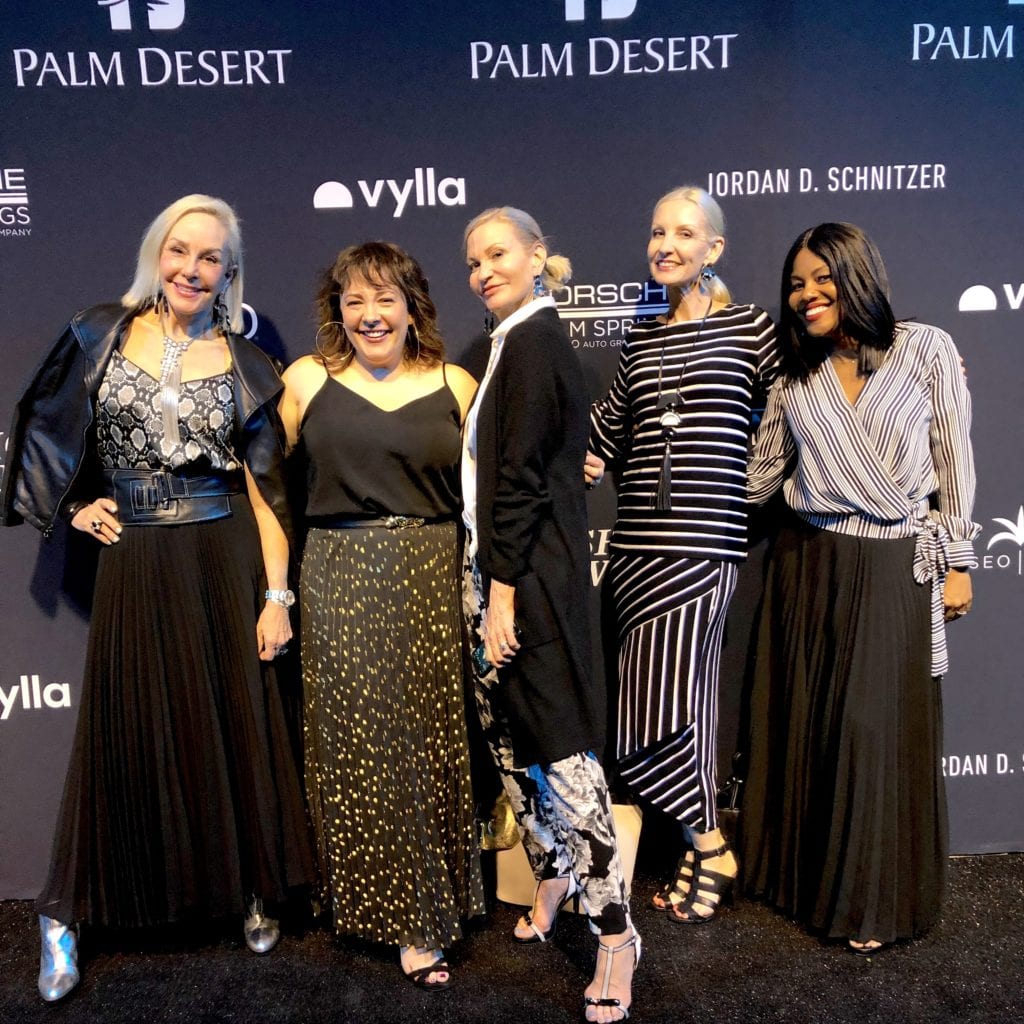 Outfit Details

Right after the paparazzi, we ran into Ari Seth Cohen founder of Advanced Style. He is also author of several books featuring ladies and gents in their more advanced years including his latest book Advanced Love that is getting rave revues. Ari has been following me and chatting for some time now on Instagram. It was a thrill to get to meet him and some of his fierce fashionistas.
Outfit Details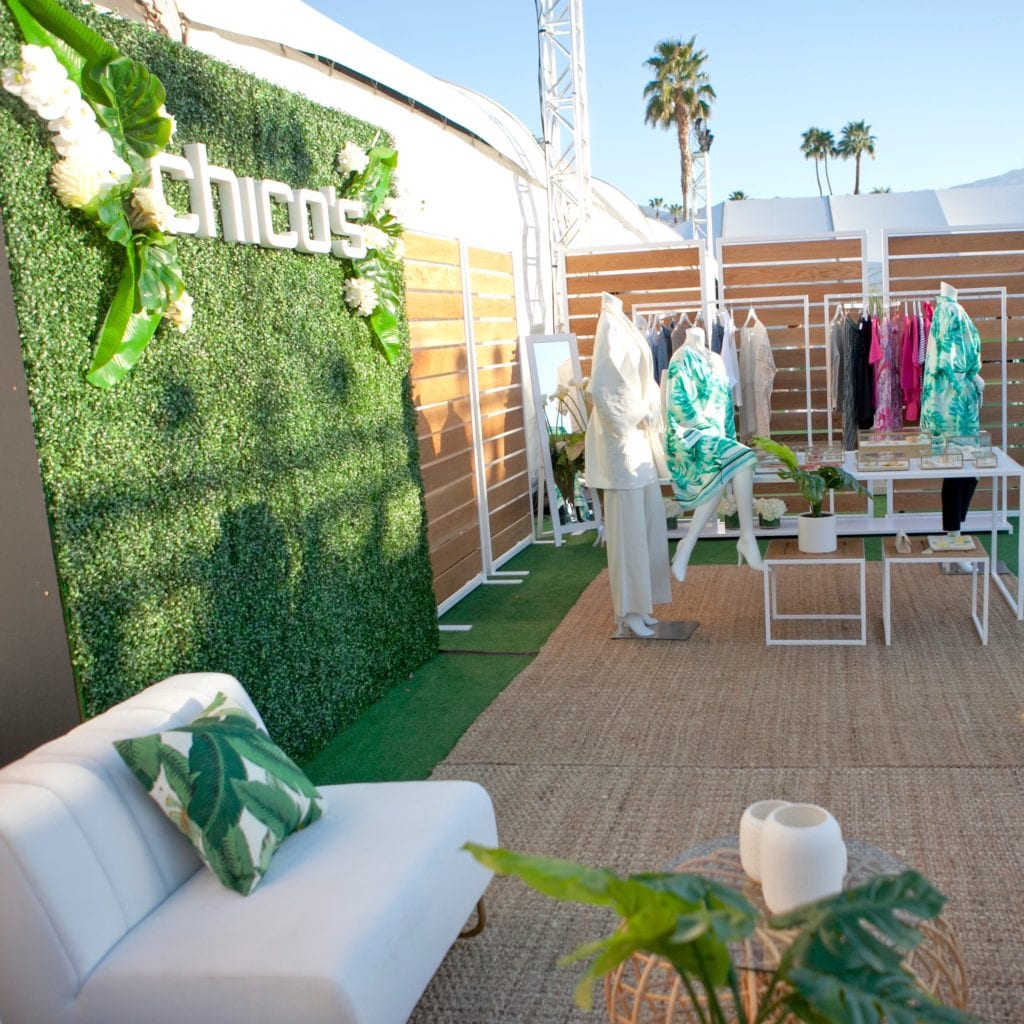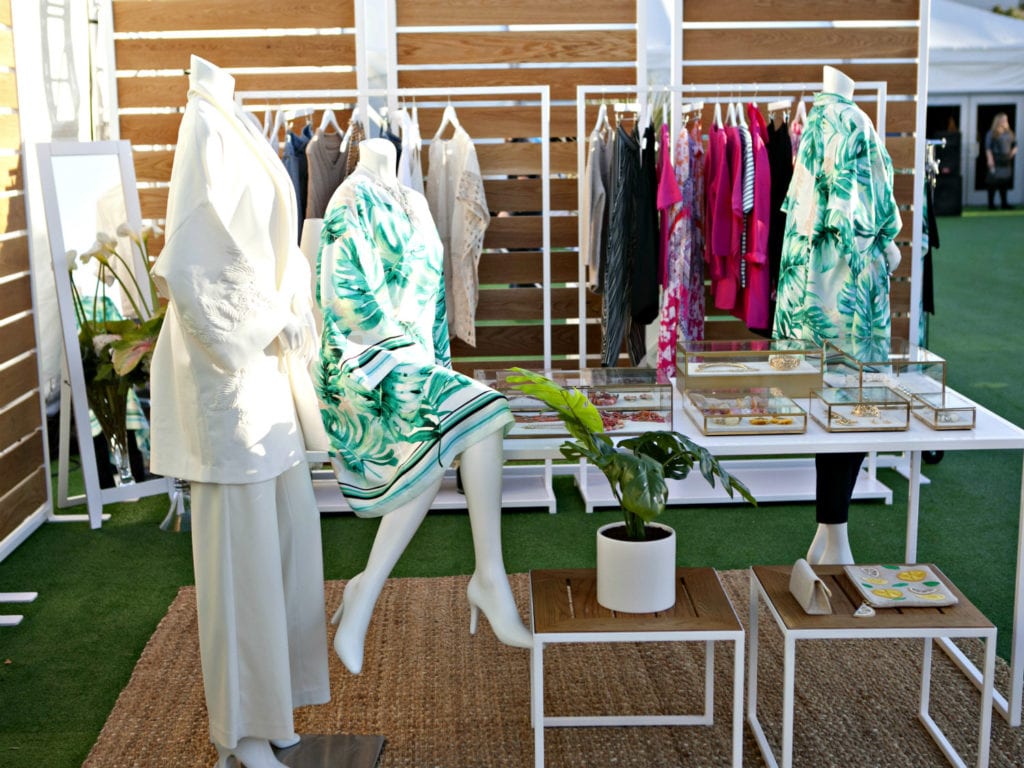 Not only did Chico's bring us to Fashion Week El Paseo, but they brought thier Pop Up Shop too. It was so so Palm Springs with decor that felt like the old mid century Palm Springs. They brought their latest spring collection that just dropped online last week. I will be having some of that palm print to wear on Sanibel Island for sure. Also, I drooled over the white kimono style jacket (pictured above). There were so many other great items that I can use this spring.
After we had some cocktails, took more photos and shopped the latest Chico's collections we headed into the tent to take our seats. For OPENING NIGHT Fashion Week El Paseo we saw 3 designers. I was thrilled to see Zandra Rhodes back in the spotlight as one of the featured designers. She goes back to the 80's when I was in my late 20's dressing the likes of Bianca Jagger and Princess Diana. I actually got to walk her show at Neiman Marcus when I modeled back in the day.
DAY 2 JEEP TOUR
No rest for the weary…..the alarm went off, breakfast with the babes at 8am. Off we went to a Jeep tour of the San Andreas fault area with Desert Adventures. Let me just say that now we are talking everything SheShe when in a covered open air jeep for a morning ride. I might appear to be the girl in the glass castle but get me in the great outdoors and I am a happy camper. All I need is my sun screen, zebra jeans, sneakers, t-shirt and cap
This tour on this day and this time of year was so very special. We got to see fields and mountain meadows full of flowers. This area had more rain over the winter months than they have had in several years producing a rare crop of beautiful desert flowers. We had the best guide showing us a variety of flowers still blooming. His name was Rick and you could tell that he was so passionate about what he does. What a special day!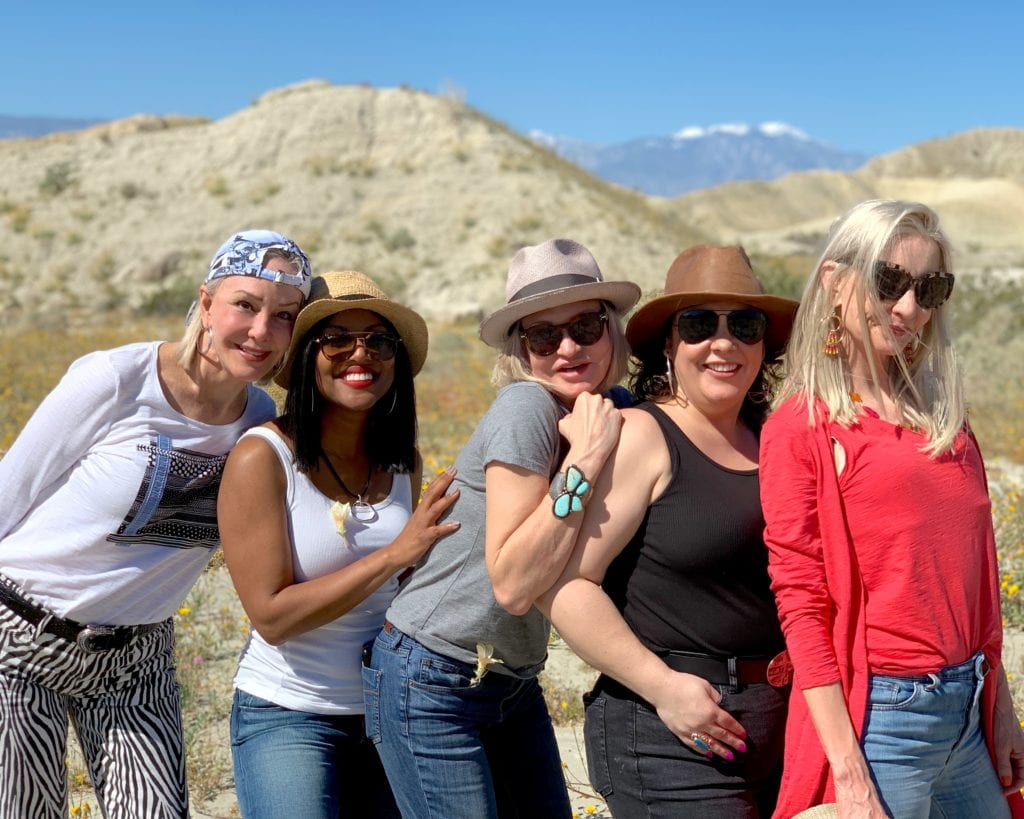 After our beautiful fun day we had a couple of hours of down time. It was just enough time to dust of the grit and sand, shower and get all dolled up again for night 2 of Fashion Week El Paseo. I must say that I had so much fun putting my outfits together. One thing for sure is that you cannot over do it for fashion week. My look was above the norm for me, but I was thrilled with all of the compliments.
I just want you to know that I bought my black Travelers dress (below) from Chico's the week before we left for this trip. I also bought the cool statement jewelry from Chico's because it matched my fun fringy jacket that I found in my closet. Just added red booties, yellow bag and voila…..Insta Fashionista ready!!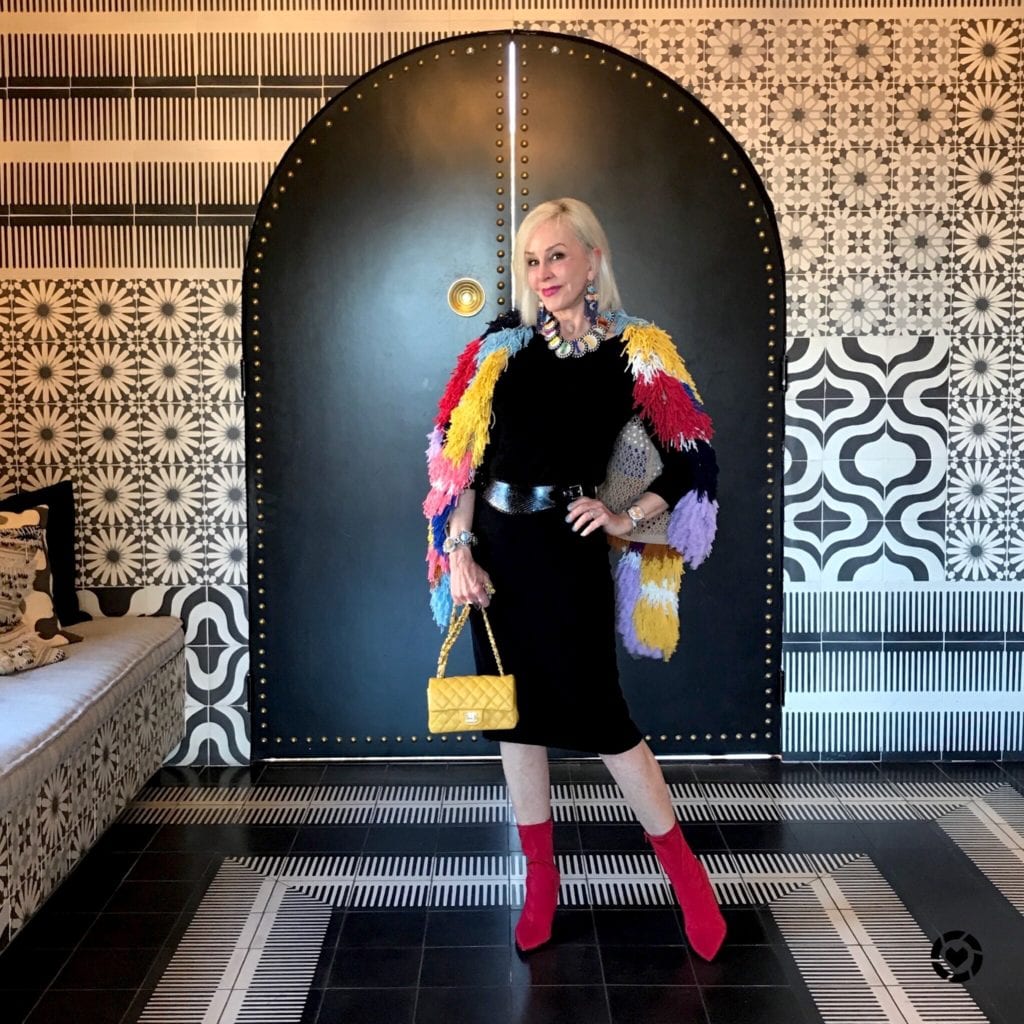 Outfit Details

This show was all about the dogs. We had V.I.P. tickets, and access to the V.I.P. Lounge, before enjoying the best doggie fashion show that I have EVER seen. This show called Le Chien benefits the Animal Samaritans, a no-kill shelter for dogs and cats. It was obviously a crowd favorite and all involved were super into it!! These polished petfluencers and their fashion-forward style put their best paw forward for a good cause. It was the best way to finish out our whirlwind 3 days. Yeah to to doggies.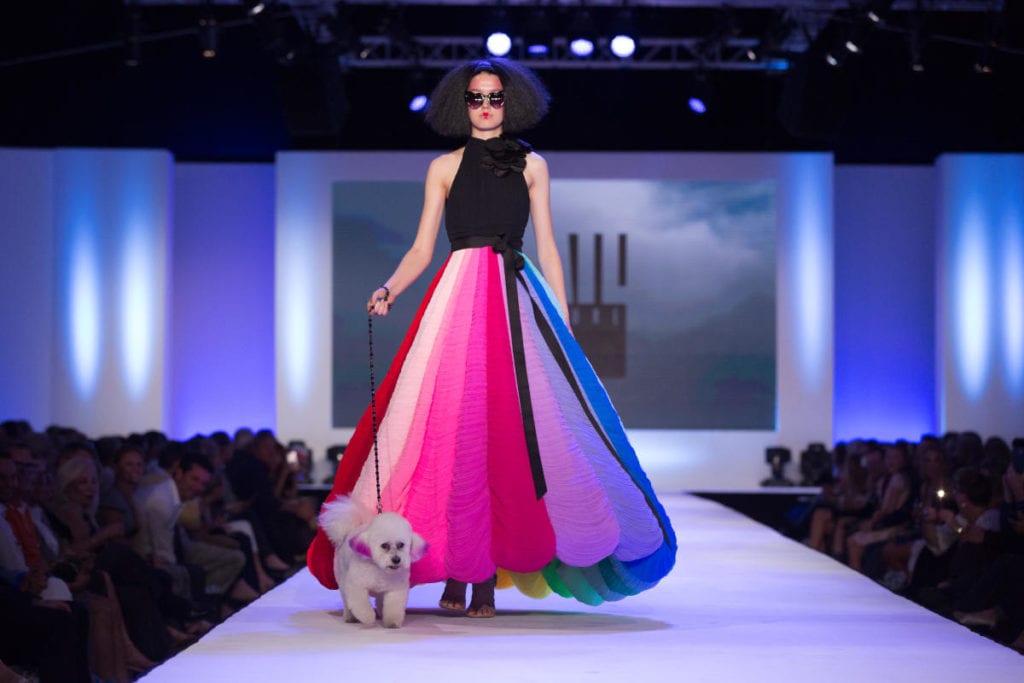 IN CONCLUSION
Yes, I have been really blessed to get to do some amazing things as an influencer but it hasn't come without a lot of hard work. Even on the trips, we work hard while we play. There are photo shoots, early mornings, taking notes, writing, doing Instastories and so on and so on. When a brand spends their money on me then it is my job to let you, my reader know about things that you might not know about their brand. I do hope you enjoy this crazy new way of delivering information.
I would also like to send a big THANK YOU to Chico's and their marketing team for the opportunity to be at the forefront of their brand. It is an honor to say the least!
SHESHE'S TIDBITS
Easter is on it's way….Here comes Peter cotton tail, hoppin down the bunny trail…. I will forever remember that Easter tune. It puts a smile on my face. I loved and still do love picking out a new spring frock for Easter and other spring occasions. This week we will have a parade of spring dresses for you at several price points so stay tuned…..they are soooo pretty!!
Gala's, weddings, graduations, holidays or just everyday wear…..we have fashion suggestions for you, so stay tuned. Be sure to check out ShopSheShe tab at the top in the menu bar. Hover over and choose the category in the drop down. We try to keep it up to date with the latest and greatest for all budgets. Subscribe here and then you won't miss a post. Simply enter your email in the pop-up box or below.
WELCOME new readers. We are a fashion/travel/lifestyle blog. We talk about anything and everything, from fashion, travel, health issues to even an occasional recipe. Let us know if there is a topic that interests you. We will do our best to bring that story to you. Have a great week sweet friends and thank you for following along. Without you, we could not continue on this crazy fun journey.