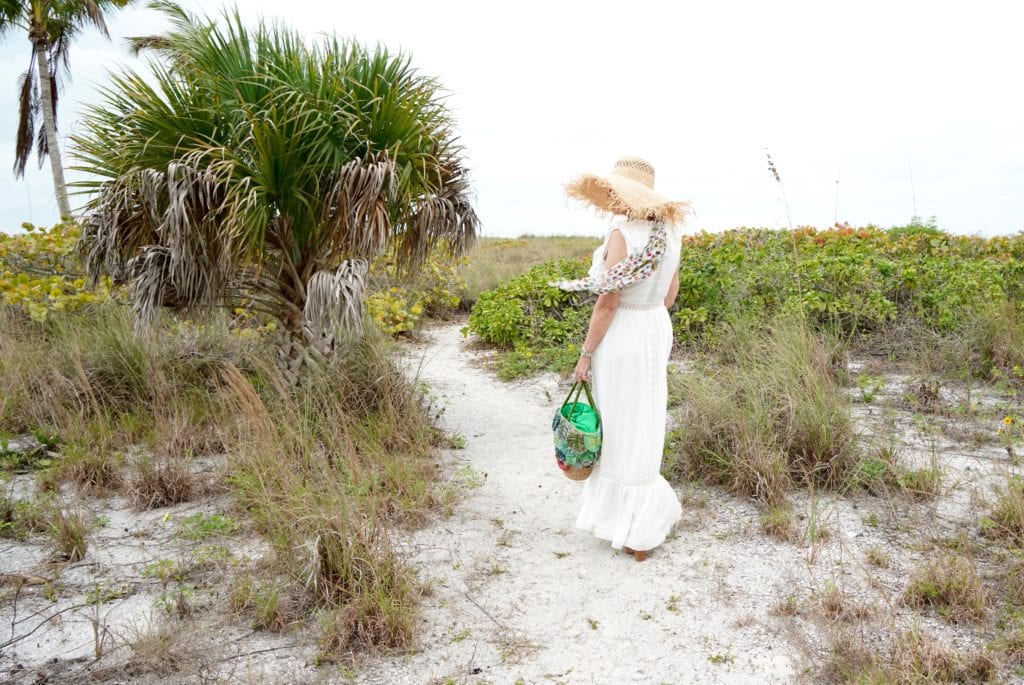 Wearing white after Labor Day or before Memorial Day has long been iffy in the fashion industry and was a huge thing in the early-mid 1900's. Fashion has come a long way since then and traditions change or can be forgotten about. This weeks fashion blog will be on how to wear white! I'll give you a little history on why we wear white and some tips on how to wear white!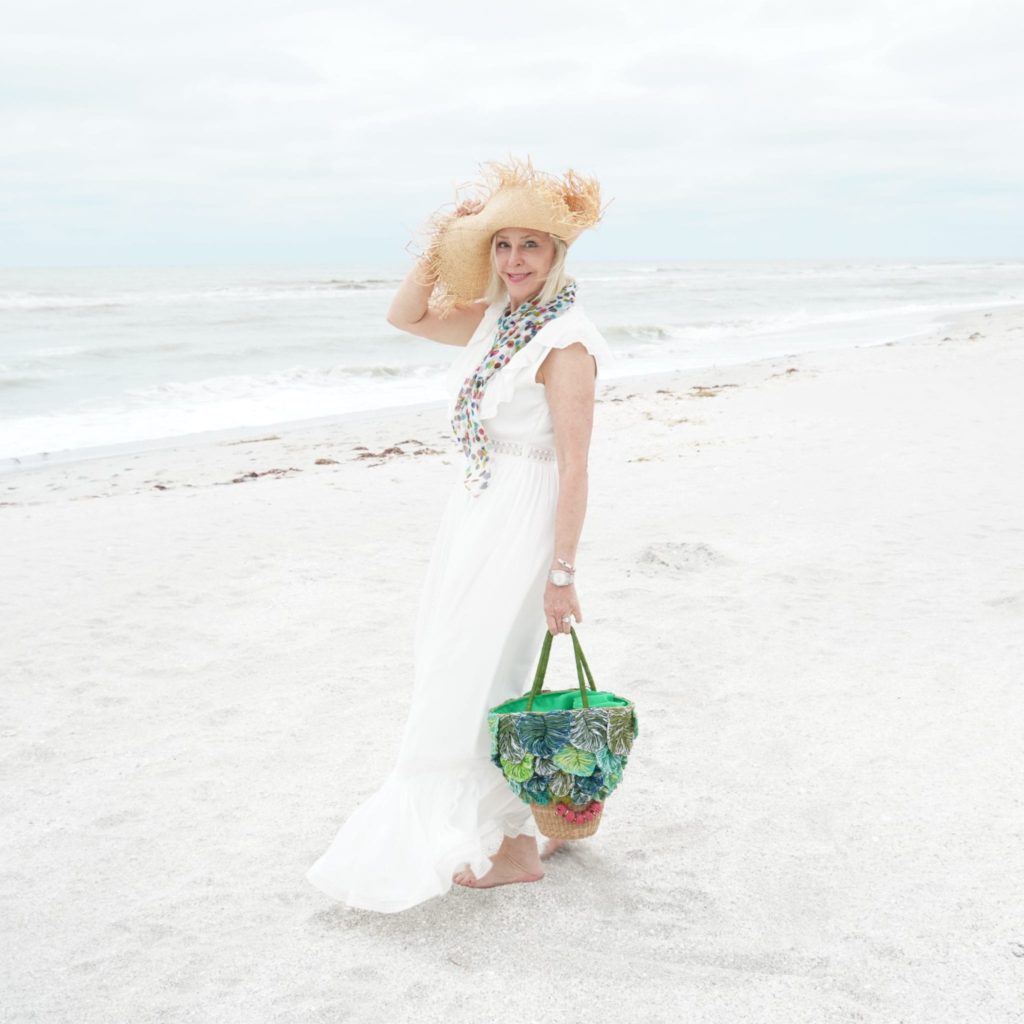 WHITE FASHIONS IN HISTORY
When, where, how, and what time of year to wear white has always been a major debate. Even as a child I remembered we never wore white until after Easter. The tradition is assumed to have started in the 1930's when the wealthier wore white to symbolize that the warmer seasons were happening. It meant lawn games were happening and a lot more relaxing would happen.

My favorite tidbit about white fashions in history is how women used it in politics! Very interesting story dates back to 1908 involving the Women's Social and Political Union (the leading force behind the suffrage movement). These strong women rallied across the United Kingdom and wore white (for purity), green (for hope), and purple (for dignity). In America white, purple and gold are the colors for the National Women's Party. Green and purple or purple and gold, are acceptable for smaller gatherings but for the larger ones white is the preference. Thousands of women protest in white as a means to appear more feminine and gain respect. Being a woman I find the color to not only be beautiful, I find it empowering!

So, you can look at the debate in several different angles. Having a home in Sanibel Island I find it easy to beat the heat when I wear white! The details of my outfit and tips on how to wear white yourself will be below!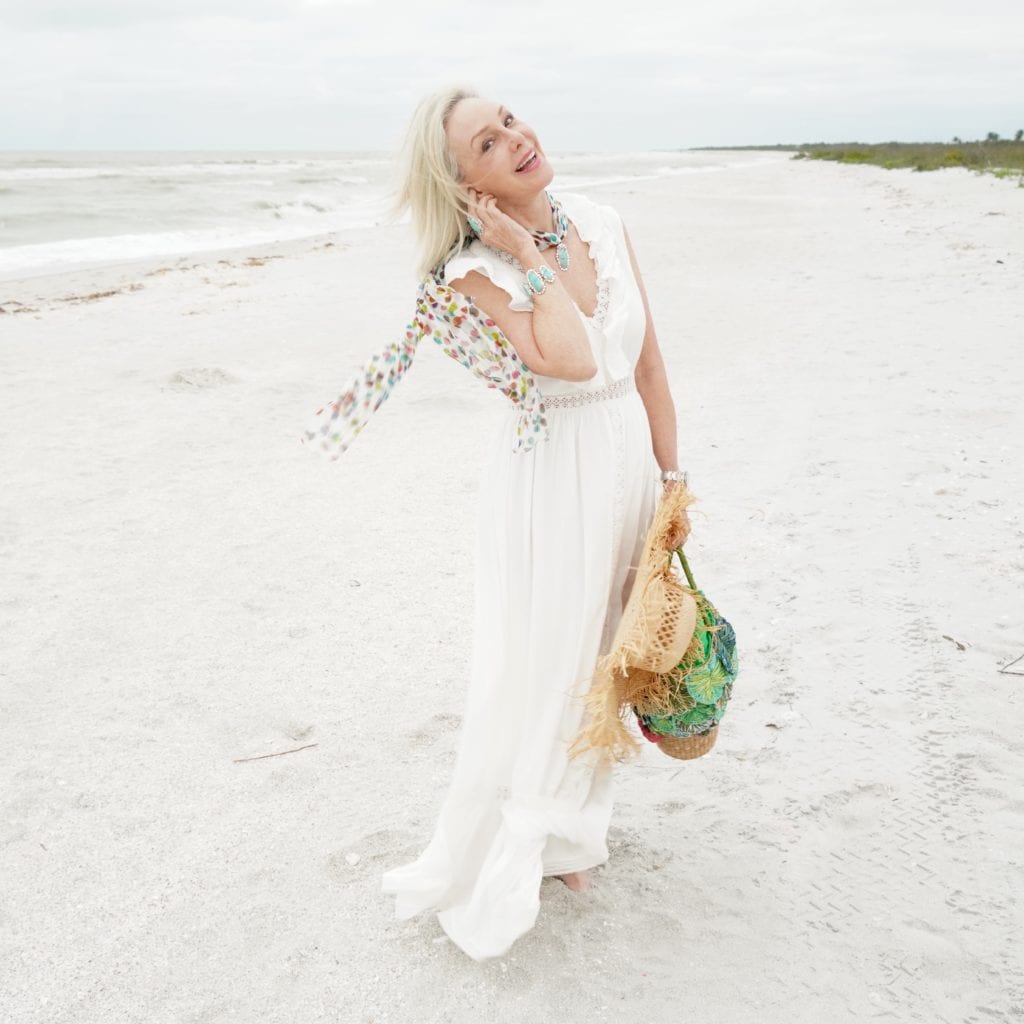 WHITE DRESSES
So pictured here is my ever so breezy Mora Dress. It's lightweight and has such beautiful and feminine details to it with the ruffle hem, eyelet and crochet lace trim. It has a full liner so no need to worry about the common issue with white. Being see-through. It's definitely a quality dress. This is a dress I like to casually wear. I have many other options for you whether it's super casual, dressy, conservative, or cocktail.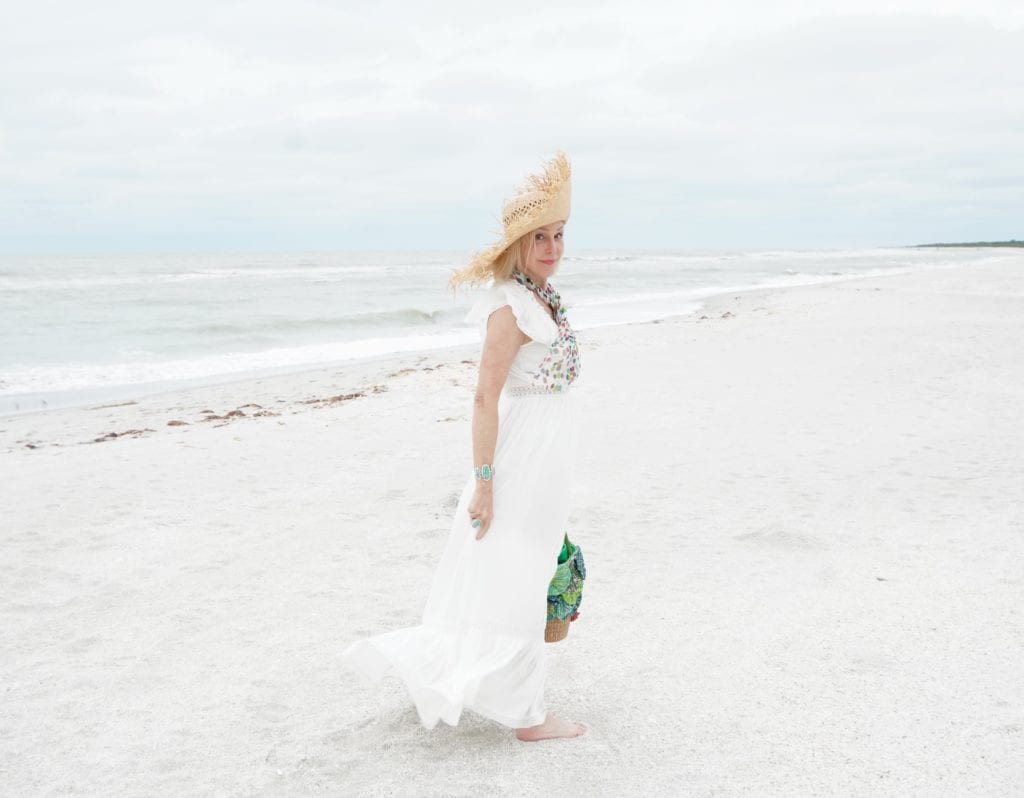 HOW TO PAIR
I paired my dress with a straw hat, fun bucket bag, some stunning turquoise jewelry and a colorful scarf. I have found the best way to add a pop to white is to use some beautiful bright accessories. You could always add a fun duster depending the occasion or if you went with a more business professional white dress you can add a colorful blazer to your look. I'm a huge accessory fan and so white is one of my favorite colors to wear because of the opportunities. I am barefoot in these pictures, but I do have some tips on footwear. When wearing white in a professional surrounding I prefer a more neutral and dainty footwear. A huge chunky black platform stiletto would just ruin the outfit entirely. With that said, there is no reason to be scared to add colorful shoes to your pretty white dress.

In the widget below you can find some cute shoe options!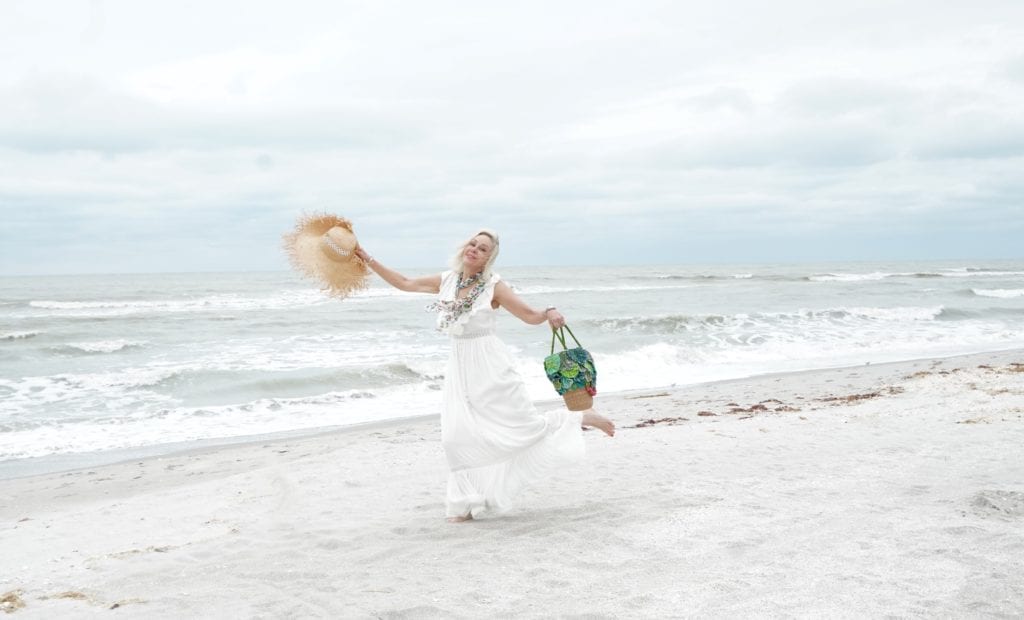 ACCESSORIES
HANDBAG – an adorable funky bucket bag named Camille from Láro . Can easily hold a book, your phone, and a water! You may notice I have a sweet spot for this brand and also may remember seeing one of their other bags in this post. Part of their proceeds go to combating human trafficking. So if you would like know more check it out here! The picture below has close ups of the details.
HAT – I have a fabulous straw fringe beach hat. We must protect our skin from the sun ladies.
SCARF – Look at these little pops of color in this scarf bringing so much energy to my outfit! A scarf can be a fun way to add to any look or any type of occasion. Whether around the neck or in your hair its a perfect and versatile accessory.
JEWELRY
I could go on and on about how stunning this jewelry is. It is Chaco Canyon and the colors not only brighten my day but add the perfect amount of color to my white dress. This set also comes in rare Kingman blue turquoise which when sold out will not be available again.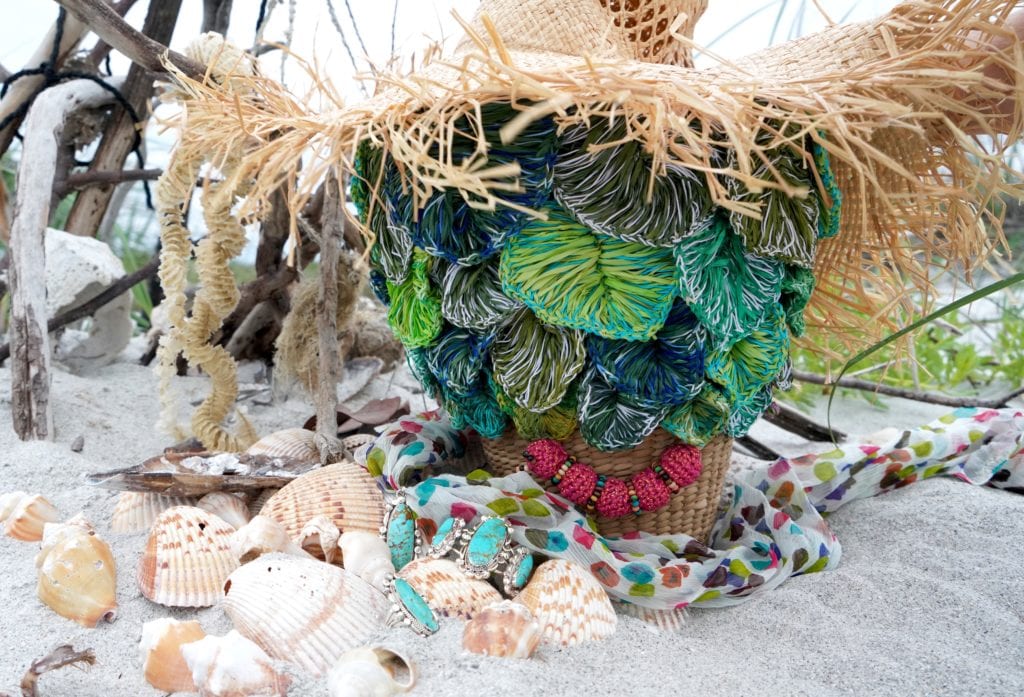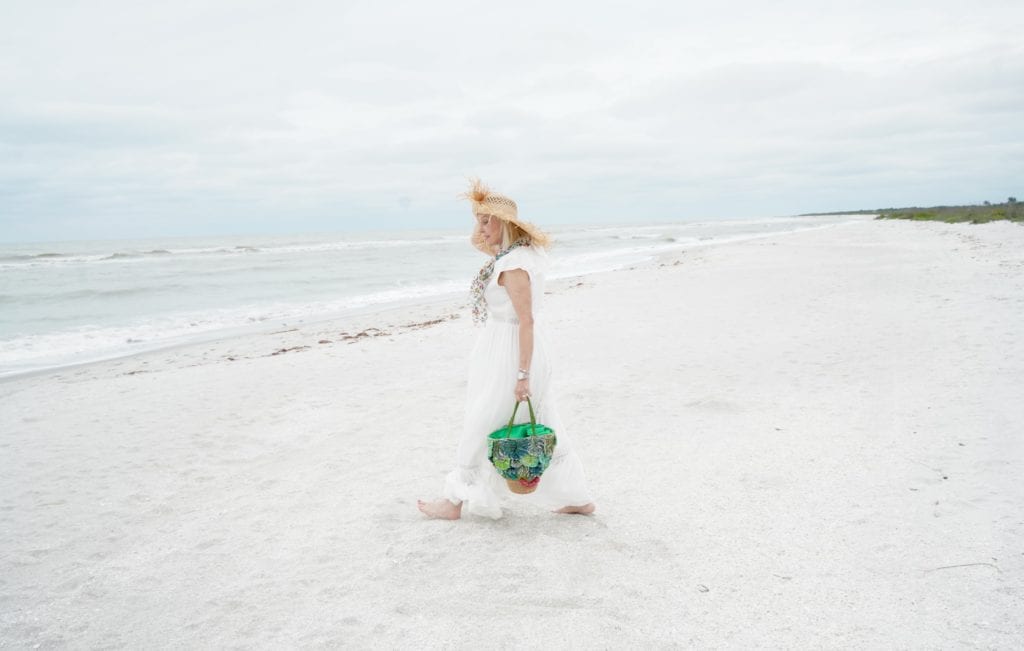 IN CONCLUSION
Done right and with the appropriate occasion white can be worn year round! You just need to accessorize correctly and paired with the right shoe it can be a knockout outfit. White is a staple in every womans wardrobe. I hope my tips were helpful. How and when do you wear white?
SALE ALERT
SHOPBOP – BIG SALE 3 days Take 20% off orders under $500 or 25% off orders of $500 or more with code EVENT19 Ends April 12th at midnight.
SHESHE'S TIDBITS
We are back on Sanibel and had dinner tonight with some friends and had a surprise friend join us that I haven't seen in a while all the way from Montrose, CO. Love my girlfriends!!
Gala's, weddings, graduations, holidays or just everyday wear…..we have fashion suggestions for you, so stay tuned. Be sure to check out ShopSheShe tab at the top in the menu bar. Hover over and choose the category in the drop down. We try to keep it up to date with the latest and greatest for all budgets. Subscribe here and then you won't miss a post. Simply enter your email in the pop-up box or below.
WELCOME new readers. We are a fashion/travel/lifestyle blog. We talk about anything and everything, from fashion, travel, health issues to even an occasional recipe. Let us know if there is a topic that interests you. We will do our best to bring that story to you. Have a great week sweet friends and thank you for following along. Without you, we could not continue on this crazy fun journey.