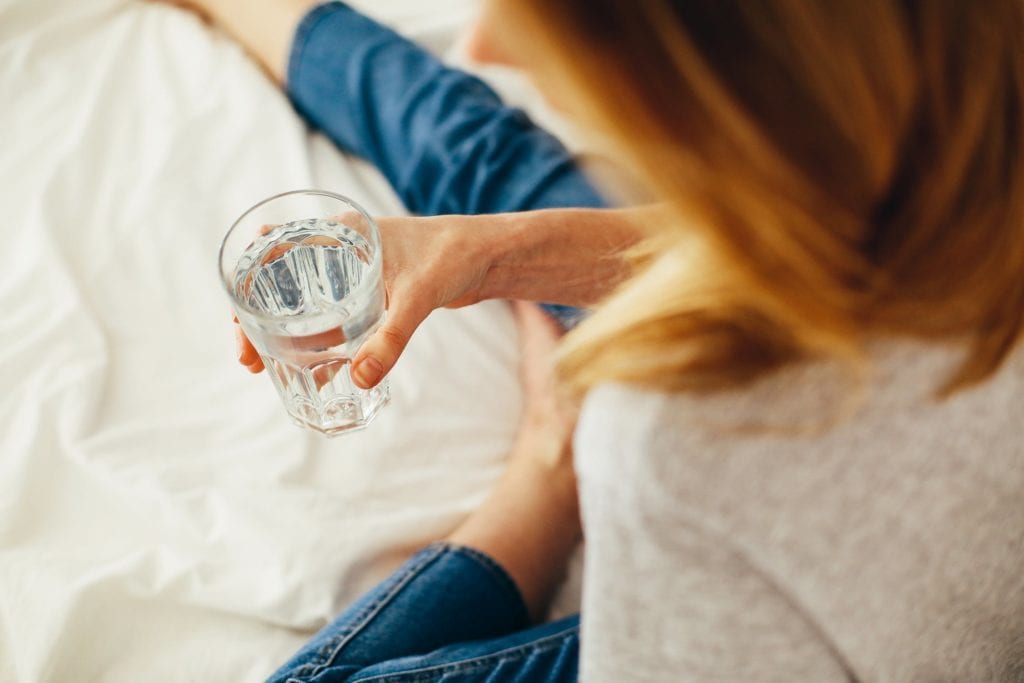 While it's felt like summer for months now…the season officially began today! We've been talking about all the fun parts about summer for a couple of weeks now, but today we're talking about a more serious topic…staying hydrated.
I reallllly struggle with this. Staying hydrated has always been hard for me, because I just don't feel thirsty often. However, I've learned that feeling thirsty and being thirsty are too entirely different things…because are bodies (or at least my body) is almost always in need of more water.
So today's we're talking about a few different topics: water filtration systems for your home and on the go, chic bottles to store H2O, water additives, and tools for keeping your skin hydrated. Keep reading for more info about all of these topics, and some products to help you drink more water than ever this summer.
Water Filtration
Sometimes we don't drink water because it's not readily available. Whether it's your Brita bring empty, a public water fountain tasting funky, or just not wanting to drink from the tap when you're on the go…filtering water is super important to make sure our liquids are clean.
I love this ready-to-pour water filter for hosting big groups and need to remember to pick up the Brita filter replacements that I seem to always forget. Also, can we talk about how cool this self-filtering water bottle is?! Check out more products below!

Water Bottles
We all know that all water bottles are NOT created equally. Similar to wearing a good outfit, having a good water bottle on hand seems to make my day go better.
I think I might need this gorgeous water bottle from Nordstrom, that has an "interchangeable gempod base filled with a selection of hand-picked gemstones." That has to make the water taste better…right? I also love the Swell bottles because they keep my water freezing cold all day, which is just how I like it!

Water Additives
Like I said earlier, drinking water is not something I excel in. And sometimes, I need something to spruce up the normal H2O into something more exciting to drink. Plus, there's actually a lot of products that can actually add healthy components to your water, while also making it taste better.
I love this on-the-go water bottle with a fruit infuser built right in, and these liquid IV packets that actually make your water even more hydrating. I'm also a sucker for sparkling water, so this water carbonator from Williams Sonoma might have to go in my shopping cart.

Water for the Skin
I think the most important step for maintaining/improving your skin is making sure you're drinking lots of water. But once we've used the tools above to get there…our skin might still need a little work. Dry skin, especially in a season which requires you to show more skin, is my worst enemy.
I love any kind of under-eye hydration like this cream from Sephora, to help puffiness and also prevent lines and wrinkles. Hydrating face cream and body lotion are incredibly important, to help skin feel smooth all over. Lip balm like this one is another opportunity for extra hydration, to prevent cracks and help us get those glossy, full lips we all love.

What are your best tips for staying hydrated? Let us know the comments below!
SHESHE'S TIDBITS
Hi sweet readers. I have been quiet and did not have a post this week so I apologize but sometimes life interrupts normal routine. I had one of the toughest weeks!! First, my computer locked up all of my photos to where I could not edit them or move them until I freed up some space. I had 0 GB left….. argh. To make matters worse a very very close friend suddenly passed away on Tuesday so I was all out of focus for sure!! My computer is back in business and we celebrated my friend's life so I am looking forward to a quiet weekend catching up.
Gala's, weddings, graduations, holidays or just everyday wear…..we have fashion suggestions for you, so stay tuned. Be sure to check out ShopSheShe tab at the top in the menu bar. Hover over and choose the category in the drop down. We try to keep it up to date with the latest and greatest for all budgets. Subscribe here and then you won't miss a post. Simply enter your email in the pop-up box or below.
WELCOME new readers. We are a fashion/travel/lifestyle blog. We talk about anything and everything, from fashion, travel, health issues to even an occasional recipe. Let us know if there is a topic that interests you. We will do our best to bring that story to you. Have a great week sweet friends and thank you for following along. Without you, we could not continue on this crazy fun journey.