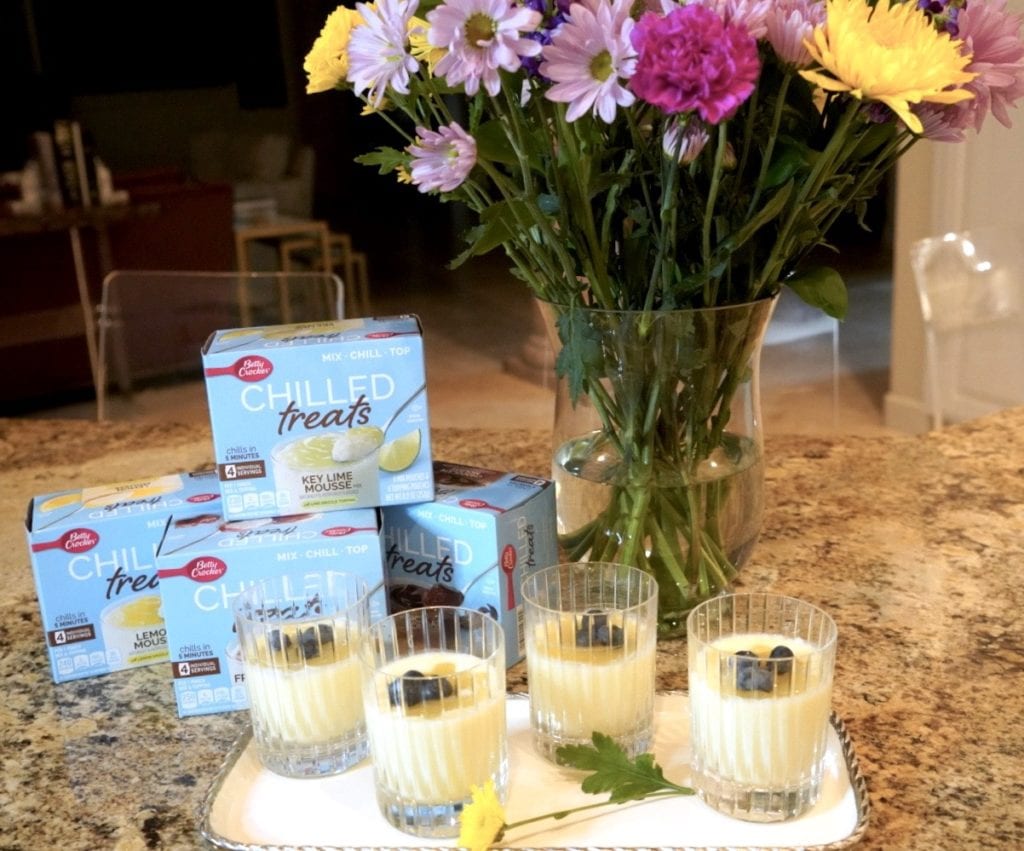 This post has been sponsored by Betty Crocker. I received product and compensation, but all opinions are my own.
Hello sweet readers!! If you don't know by now then let me just say that I was a certified Home Ec teacher back in the '70s but I do not like to cook!! Go figure….. Unfortunately, I do have to get in the kitchen for special events, family gatherings and an occasional meal for Norman and I. When I must, I am a really good cook, but I would rather be in my yard pulling weeds than in the kitchen. I am always looking for the easy way out for meals and when I have to entertain. That means finding simple, fast, and delicious meals and desserts that will make me look like Betty Crocker in the kitchen. Today, we are introducing you to Betty Crocker's Chilled Treats that is soooo delicious and easy to make. The kids, as well as the adults, will love this treat!!
Summer is here in Houston, so if I must cook, I do not want to turn on the oven and I am craving something cool in my mouth. The quickest and easiest recipe for a really tasty cool summer treat is Betty Crocker Chilled Treats. My friends that sometimes drop by will be super impressed if they are lucky enough to get one of these delicious treats made by me!
In this post, I am going to share a flavor that I love and show you how easy it is to make. Simple as 1, 2, 3!! With 4 flavors to choose from, I am stirring up the Key Lime Mousse with Lime Drizzle! Yes indeed and boy oh boy is it goooood!! Below are other flavors that you might love as well.
Flavors
*French Vanilla Mousse with Salted Caramel Drizzle
*Chocolate Mousse with Chocolate Ganache
*Lemon Mousse with Lemon Drizzle
*Key Lime Mousse with Lime Drizzle
How To Make Chilled Treats
This treat is perfectly proportioned for one however, I would make 2 servings out of 1 because I want a sweet treat but not big portions, so this serving is enough to make that option available. Prepared in the refrigerator and ready in about 5 minutes, Betty Crocker Chilled Treats takes the hassle out of snacking with NO MESS to clean up. Just mix, chill and top it.
Grab an 8-10 ounce-size cup or glass
Empty in the mix of your choice
Add milk & stir
Chill
Top
One thing I do know about whipping up a recipe is to read the directions first and make sure that you have all of the ingredients as well as mixing and serving pieces available. In this case the 8-10 oz glass, a spoon to stir and milk… That's it!!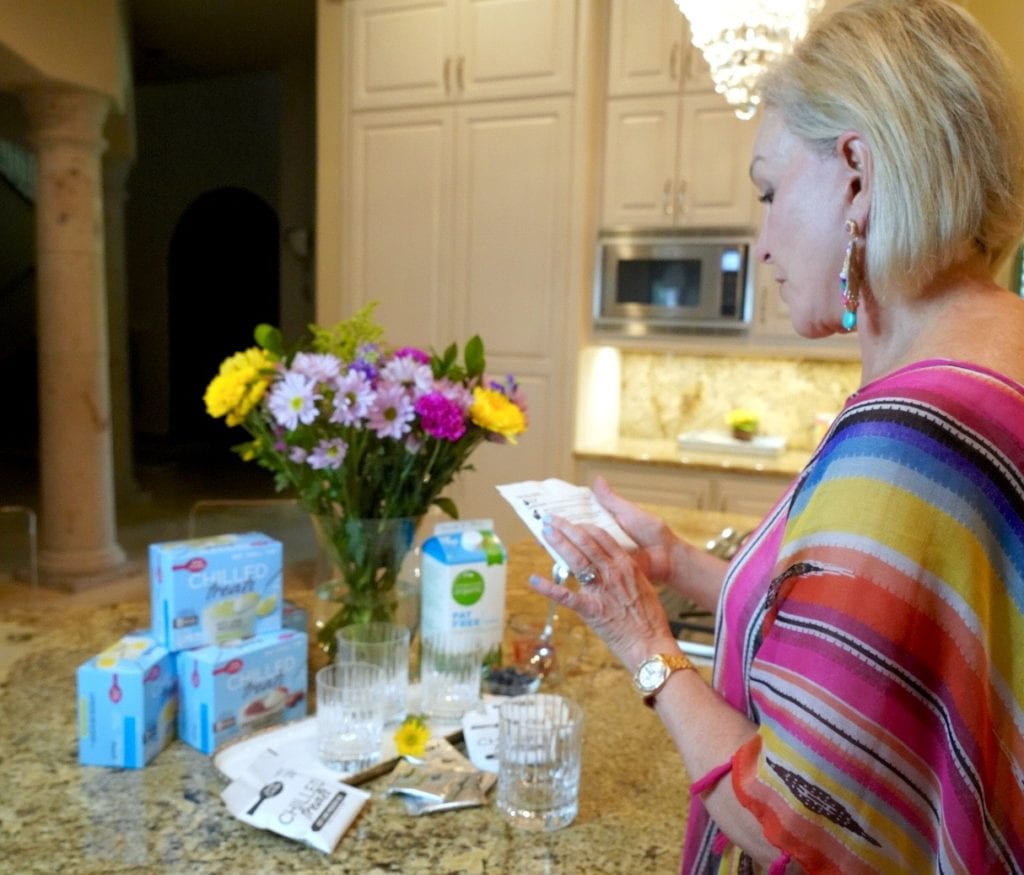 Open the packet and pour into your glass
Add milk (we use non-fat or 1% ) Your choice.
Put in the refrigerator to chill for 5 minutes. I always break the rules so I put it in the freezer for about 3 minutes. It was the same or better. Don't leave in the freezer longer than that though.
Stir again for about 2 minutes. The directions are right on the box and the packets
Open the topping by cutting the corner of the package and then drizzle over the top of the mousse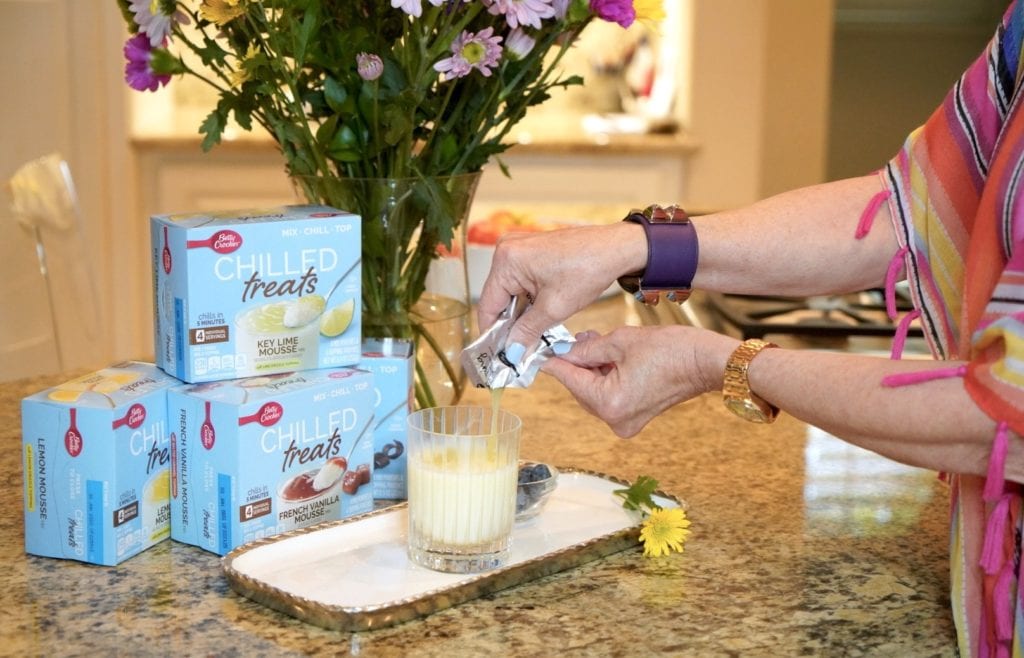 The recipe did not call for a garnish but if I am going to make something then it must look pretty. I had some fresh blueberries, so they were perfect to add some color and texture to my treats. You could also do a lime or lemon zest, a strawberry quarter or any fruit of your liking.
And then VOILA!! In about 5 minutes I have a beautiful treat to serve a king, a friend, the hubs or sneak a treat for myself without taking up too much time and without making a huge mess. My kind of cookin'!!
PERFECT FOR OUTDOOR ENTERTAINING
YUMMY……. Hmmmmm, delicous!!
IN CONCLUSION
So this summer when you are cooking a meal on the grill or you just want an afternoon sweet indulgence then go no further than the bakery aisle at retail stores nationwide for your Betty Crocker Chilled Treats. The MSRP for this product is only $2.99….a no brainer for sure! I know that you will put a smile on someone's face!
SHESHE'S TIDBITS
I had yesterday at home and today Norman and I are off to Florida. Unpack, pack, unpack, pack…..tis my life. We have a mini trip to Useppa Island to celebrate the fourth. Head over to Instastories for Insta fun with SheShe. Have a great week sweet readers!!
Gala's, weddings, graduations, holidays or just everyday wear…..we have fashion suggestions for you, so stay tuned. Be sure to check out Shop SheShe tab at the top in the menu bar. Hover over and choose the category in the drop down. We try to keep it up to date with the latest and greatest for all budgets. Subscribe here OR in the box located in the sidebar and then you won't miss a post.
WELCOME new readers. We are a fashion/travel/lifestyle blog. We talk about anything and everything, from fashion, travel, health issues to even an occasional recipe. Let us know if there is a topic that interests you. We will do our best to bring that story to you. Have a great week sweet friends and thank you for following along. Without you, we could not continue on this crazy fun journey.