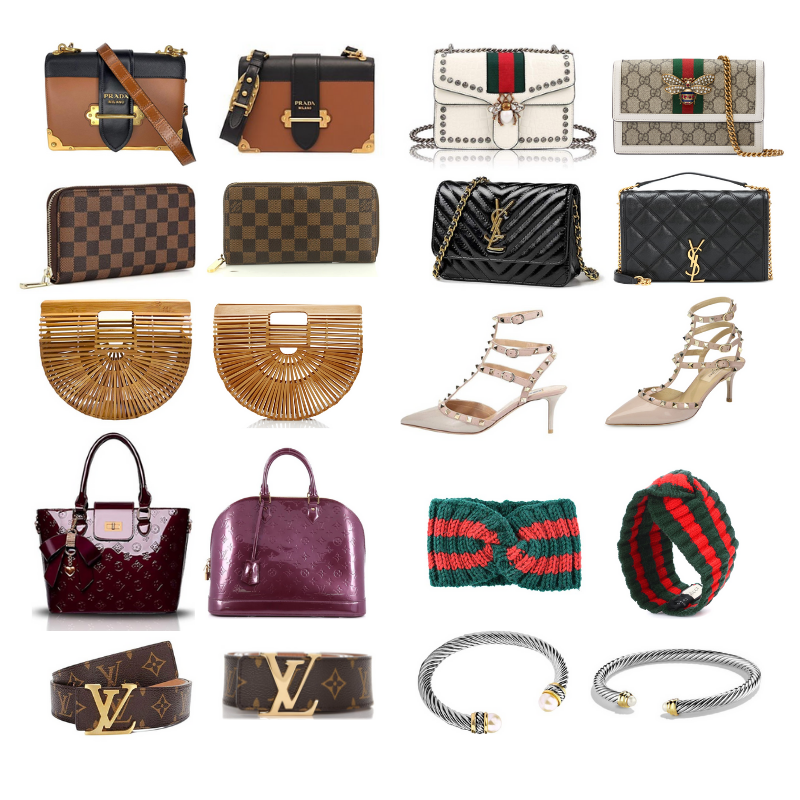 Being an influencer obviously, I have eyes and love for the finer things…..meaning gorgeous handbags and just about anything designer. Well, I have found some incredibly budget-friendly designer dupes and almost as good as the real deal. Just a few missing details and can you even tell? Read on below to find all of the best designer dupes and the real deals!
HANDBAGS
As you guys are well aware that I love handbags! Can't go anywhere without one. We all know about the great LV handbags everywhere, Chloe and so much more. I adore both brands and many more that a similar type is featured in this post. When featuring these bags I want you all to also be aware of the disclaimer at the end of this blog!

SHOES
Shoes are a girl's best friend and so special in our closets! It's not always easy dropping thousands on a pair of shoes and these fab designer dupes are quite close to the real deal!

ACCESSORIES
With jewelry, there will be no competition between real and fake, obviously due to quality. However, the fake is fabulous to travel with to avoid theft, loss, or misplaced go with the lower end jewelry.

OUR FAVORITES
Below are some of our favorite designer-inspired items! Can you tell the difference? Some are so hard to tell it's fabulous. Which one is your favorite? Hover over any item, click and be stunned at how affordable these pieces are.
ONE//TWO/THREE//FOUR//FIVE//SIX//SEVEN//EIGHT//NINE//TEN//ELEVEN//TWELVE//THIRTEEN//FOURTEEN//FIFTEEN//SIXTEEN// SEVENTEEN//EIGHTEEN//NINETEEN//TWENTY
DISCLAIMER
I support and own lots of real designers myself. Investing in designers is a great thing but I understand and appreciate wanting the look without paying for it, some handbags cost as much as a new vehicle or downpayment for a house! I get that's not always affordable. Hopefully, this post has helped you find your designer look without the designer price!

IN CONCLUSION
Fashion can be affordable and you can follow the trends without breaking the bank. There so many great brands that I adore but I also enjoy a great deal. Most of these designer-inspired items are so close it's hard to tell the difference. Which one was your pick? Share with us in the comments!

SHESHE'S TIDBITS
I am headed back home today for a few more days before heading back out to Colorado! Lots of traveling has happened this year and I'm excited for it to slow down for a bit with football season starting!
Gala's, weddings, graduations, holidays or just everyday wear…..we have fashion suggestions for you, so stay tuned. Be sure to check out ShopSheShe tab at the top in the menu bar. Hover over and choose the category in the dropdown. We try to keep it up to date with the latest and greatest for all budgets. Subscribe here and then you won't miss a post. Simply enter your email in the pop-up box or below.
WELCOME new readers. We are a fashion/travel/lifestyle blog. We talk about anything and everything, from fashion, travel, health issues to even an occasional recipe. Let us know if there is a topic that interests you. We will do our best to bring that story to you. Have a great week sweet friends and thank you for following along. Without you, we could not continue on this crazy fun journey!