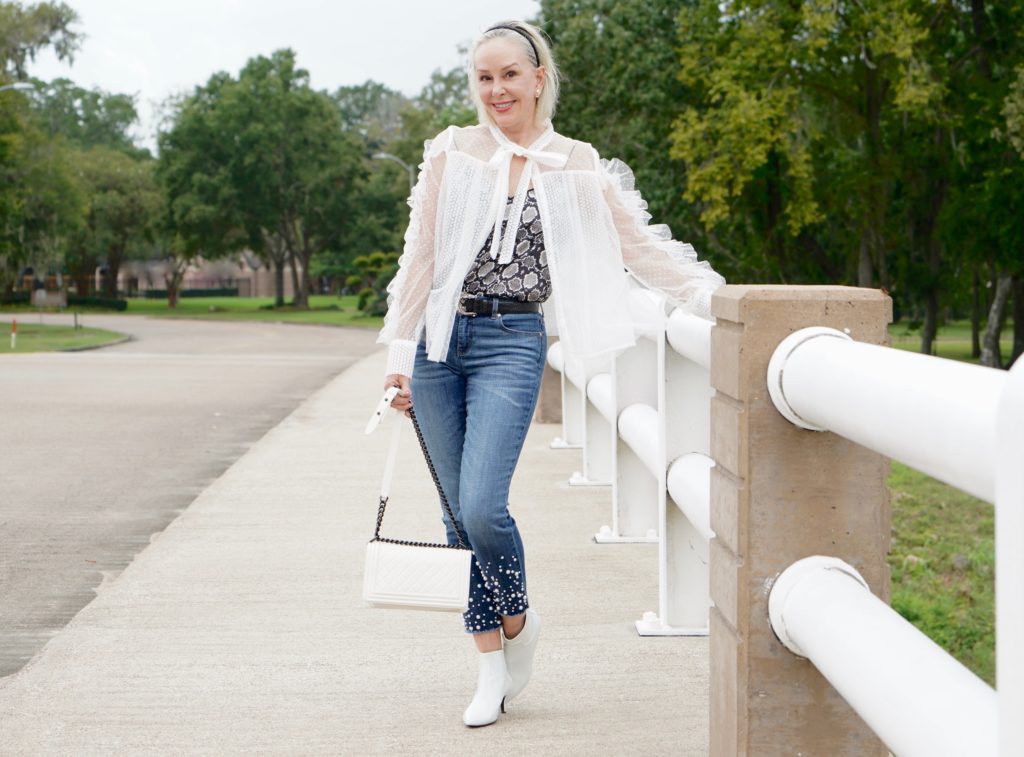 White blouses, tops, t-shirts are all closet staples but what about a white blouse with that extra something? This season we are seeing a resurgence of the Renaissance and Edguardian period in, so today we are talking all about trending ruffle and lace white blouses.
I know that right off the bat I am going to get asked about my white top. Well, I am sorry to say that I can't link it for you because I purchased it at the Chole Dao Boutique located in Houston. Do you know who Chole Dao is?
CHLOE DAO
Chole Dao is a Houston fashion designer that won Season II of Project Runway. That is huge!! I have been chatting with Chloe through direct messaging on Instagram for a few years now but we have never been able to meet. Recently though she invited me to stop by her boutique in Rice Village to meet her and shop her annual Birthday Sale. It fit my schedule so I stopped by but unfortunately Chloe had to take care of some unexpected business the last minute at her studio and we didn't get to meet…..again!
That didn't stop me from shopping her great sale. I picked up this adorable white mesh & ruffle top that I am wearing in our photos today, this gorgeous marigold yellow dress that I wore at the Soma Anniversary party in Florida last month and a couple of other cute tops. Her boutique is stocked with moderately priced brands as well as a few of her beautifully curated Chloe Dao designs. She has a wonderful helpful staff as well. If you are ever in Houston then please stop by and check out her cute boutique located at 6127 Kirby Drive, Houston, TX 77005. Go to CholeDao.com for more on this great talent and wonderful young woman!!!
If you are in need of a special gown or special occasion dress then she would be wonderful to work with to fulfill your expectations!!
FEMININE WHITE TOPS
Depending on the style, white tops go with just about everything and you should have a few different styles in your closet as staples. A feminine white blouse goes great with jeans or makes it dressy cocktail look with a beautiful pair of black pants or skirt. I can also see it with a print maxi skirt. We will be talking closet staples very soon but you can rest assured that a few white tops will be at the top of our list.
This season I keep seeing hints of period styles like Edwardian and from the Renaissance Period. Also the 1980s did a lot of blouses with the empire, high ruffle collars, puff sleeves, sweetheart necklines, and ruffle sleeves that took note from these periods. I also love the romance that they often bring.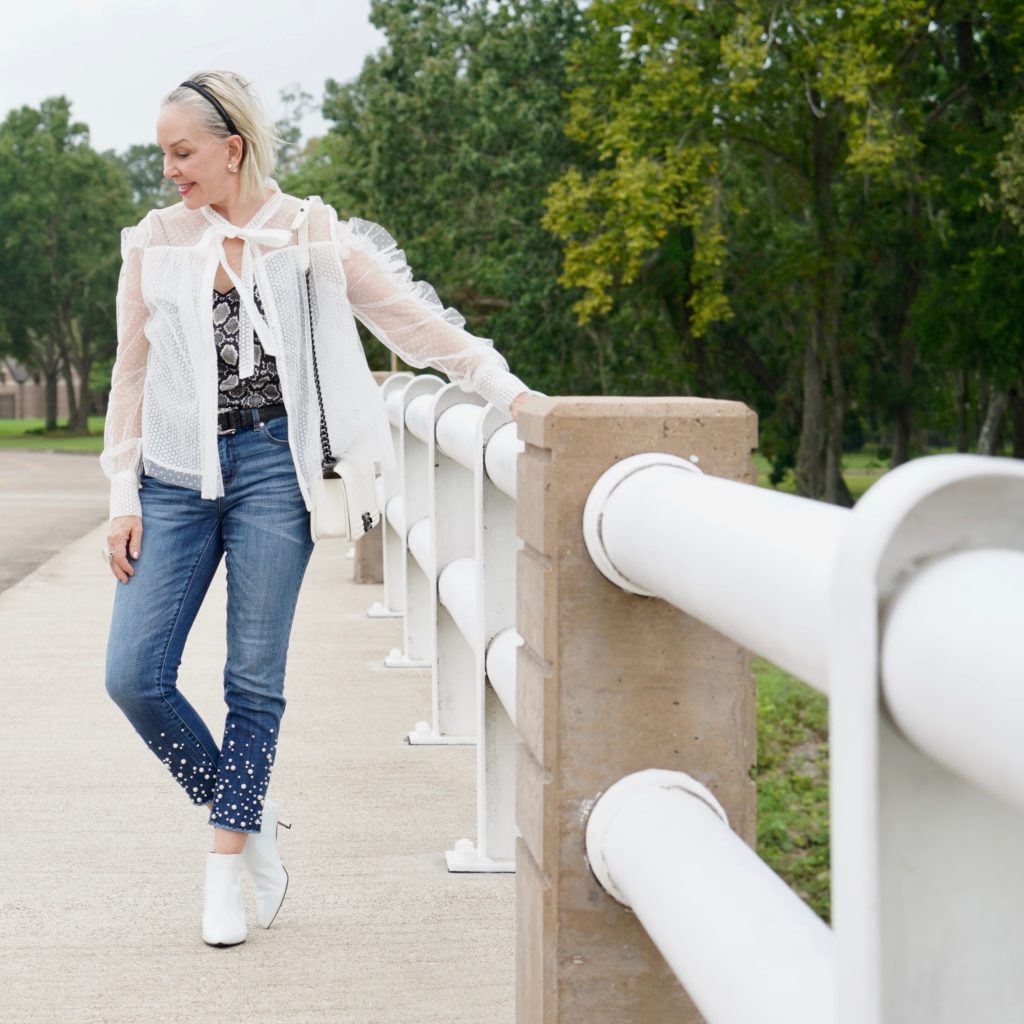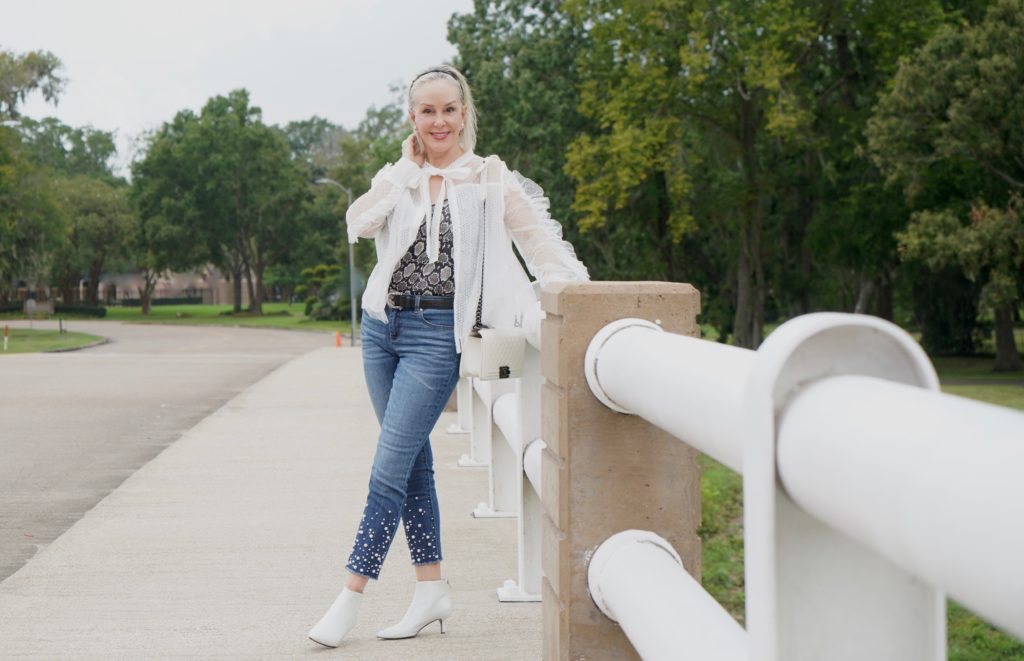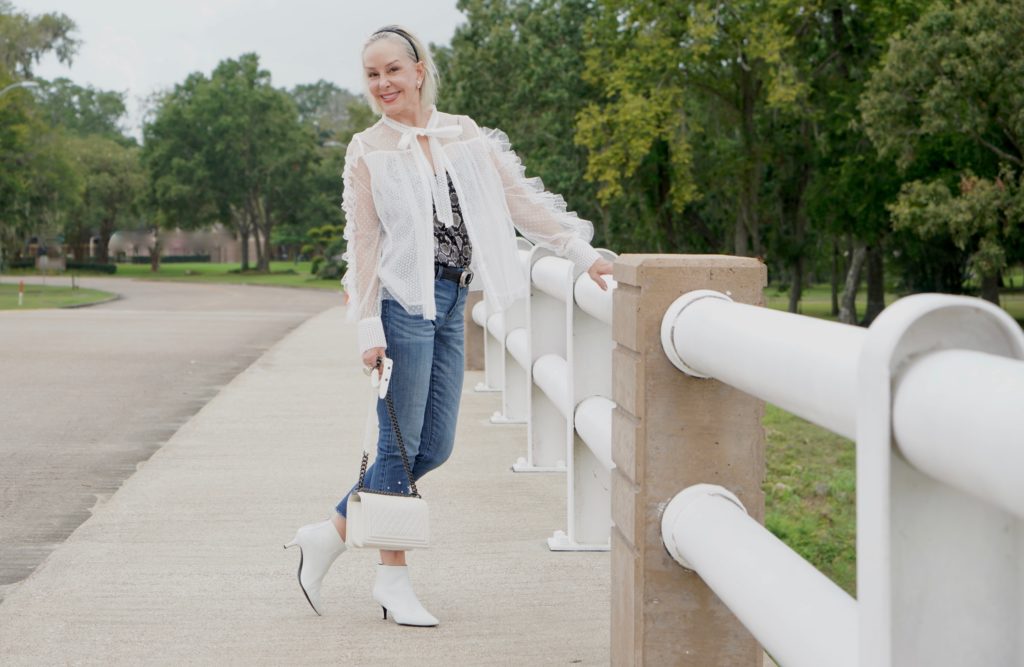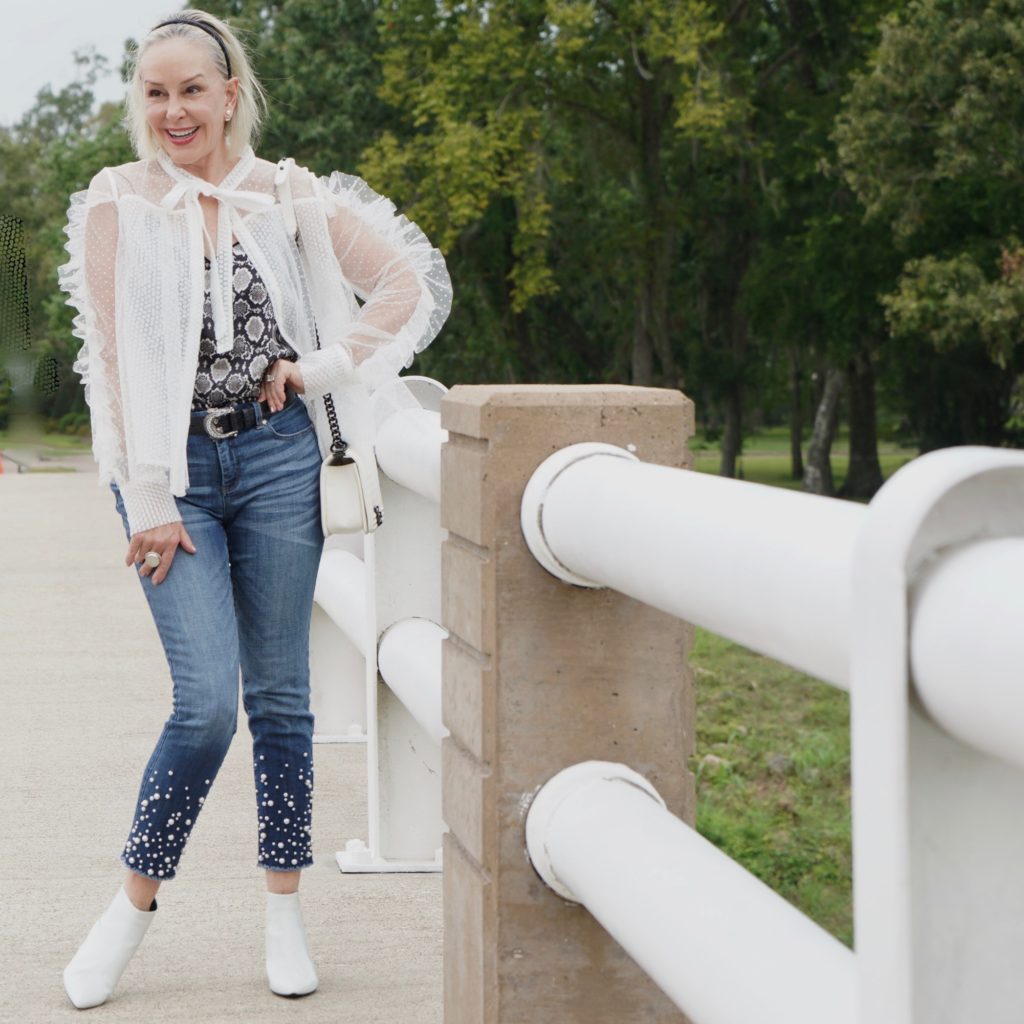 OUTFIT DETAILS
White mesh top here Chloe Dao boutique, similar here | camisole, sold out but similar here | jeans sold out, similar here and here | white booties | double pearl earrings | belt, old, similar here and here
IN CONCLUSION
If you are looking to build a great working wardrobe then be sure to add several white tops and to elevate your look a white top with ruffles and lace details will certainly do the job.

SHESHE'S TIDBITS
We are back in Houston for the month of September with the exception of a couple of weekend trips to Austin for Longhorn football games. Home is always a good place. Today we are preparing for an accessories program this Thursday for the ladies at my local country club as well as a lot of brand-sponsored posts that I think you will find very interesting. We are working hard to bring you the kind of content you want. If there is something in particular that you would like to see then let us know in the comment box below.
Gala's, weddings, graduations, holidays or just everyday wear…..we have fashion suggestions for you, so stay tuned. Be sure to check out ShopSheShe tab at the top in the menu bar. Hover over and choose the category in the dropdown. We try to keep it up to date with the latest and greatest for all budgets. Subscribe here and then you won't miss a post. Simply enter your email in the pop-up box or below.
WELCOME new readers. We are a fashion/travel/lifestyle blog. We talk about anything and everything, from fashion, travel, health issues to even an occasional recipe. Let us know if there is a topic that interests you. We will do our best to bring that story to you. Have a great week sweet friends and thank you for following along. Without you, we could not continue on this crazy fun journey.