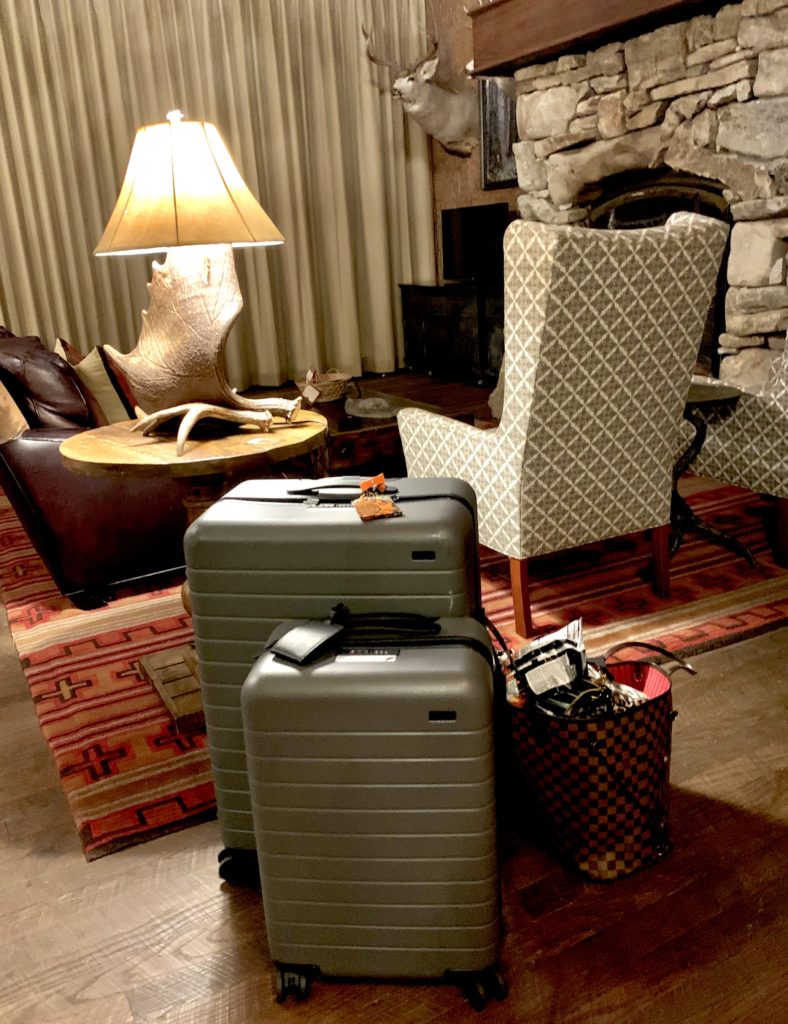 As you all know I am a traveling girl! I enjoy all things travel and so blessed to have seen so many beautiful parts of this world and I definitely have no plans of slowing down. With that being said I have 20 of my top gift ideas for the traveler in your life.
OUR TOP 20 GIFT IDEAS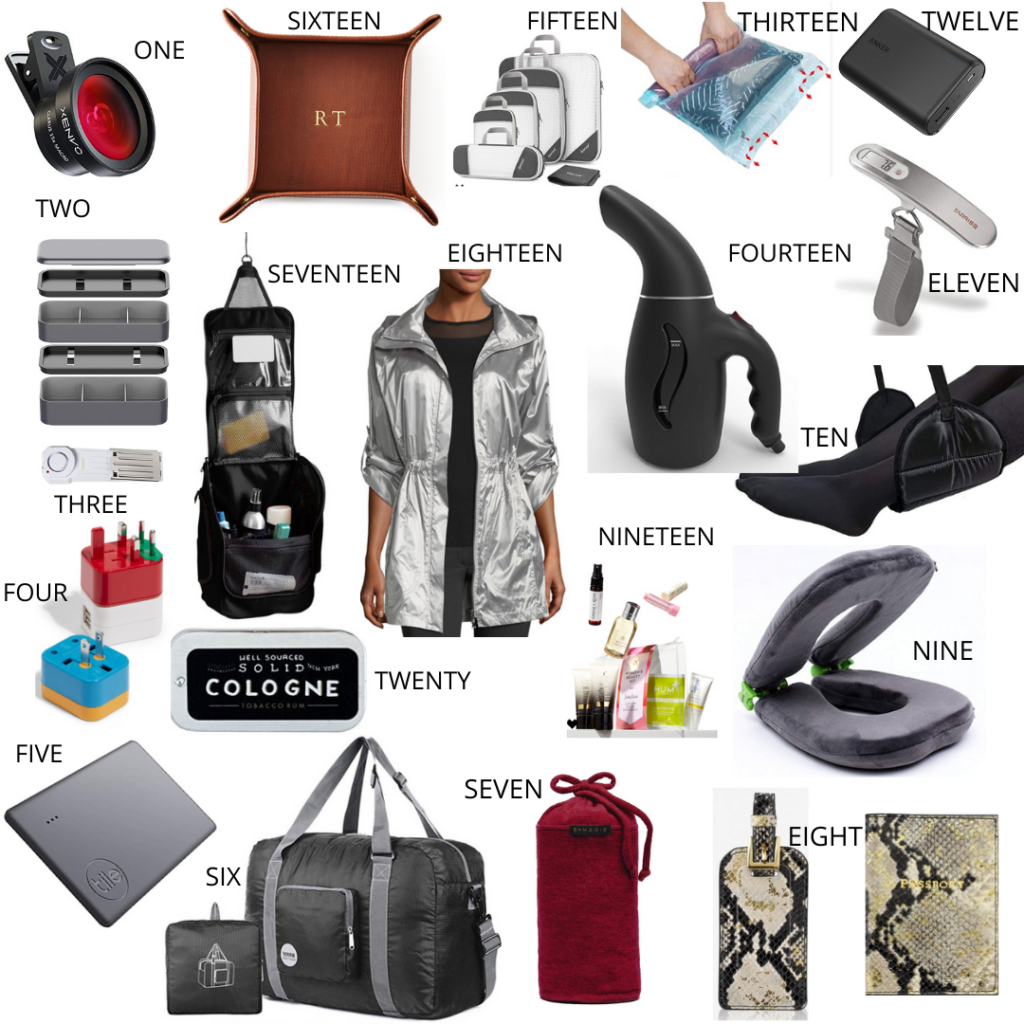 ONE//TWO//THREE//FOUR//FIVE//SIX//SEVEN//EIGHT//NINE//TEN
ELEVEN//TWELVE//THIRTEEN//FOURTEEN//FIFTEEN//SIXTEEN//SEVENTEEN//EIGHTEEN//NINETEEN//TWENTY
Xenvo Pro Lens Kit

This is a perfect gift for the traveler who loves taking photos while traveling and even your selfie lover! The top-rated Xenova Pro Lens turns any phone's built-in front or rear cameras into wide-angle and macro 15x lenses. It's compatible with all iPhone, Android, Samsung, and Google phone models. Another great perk to this tiny lens cover set is that it weighs under 5 ounces!
BentoStack Travel Case

How cute is this BentoStack travel case? It is perfect to fit all things for your phone and all of the goodies we tote around with it. One of my favorite things about this box is how small it is! It keeps all of my cords from getting tangled and holds all of my phone and tablet accessories. It's the perfect tiny box that packs snuggly into your suitcase or carry-on and is a great gift ide for the traveler!
SABRE HS-DSA Wedge Door Stop Security Alarm

Safe travels are always important and making sure our hotel rooms or other places we stay when traveling are safe. You simply put this doorstop wedge under the door and if the door tries to open it will sound an alarm. It may be small in size but your neighbors will definitely hear this little guy. Perfect for the traveler!
TILE | GREAT GIFT IDEA FOR THE TRAVELER

You may have seen the small TILES in our Gift Guide For The Techie. This applies to tech lovers as well. But my use for this product is perfect to attach to a laptop, insert in a wallet or even the pocket to your purse or backpack. If any are misplaced or you lose one of them, all you need to do is open the app and find your misplaced item.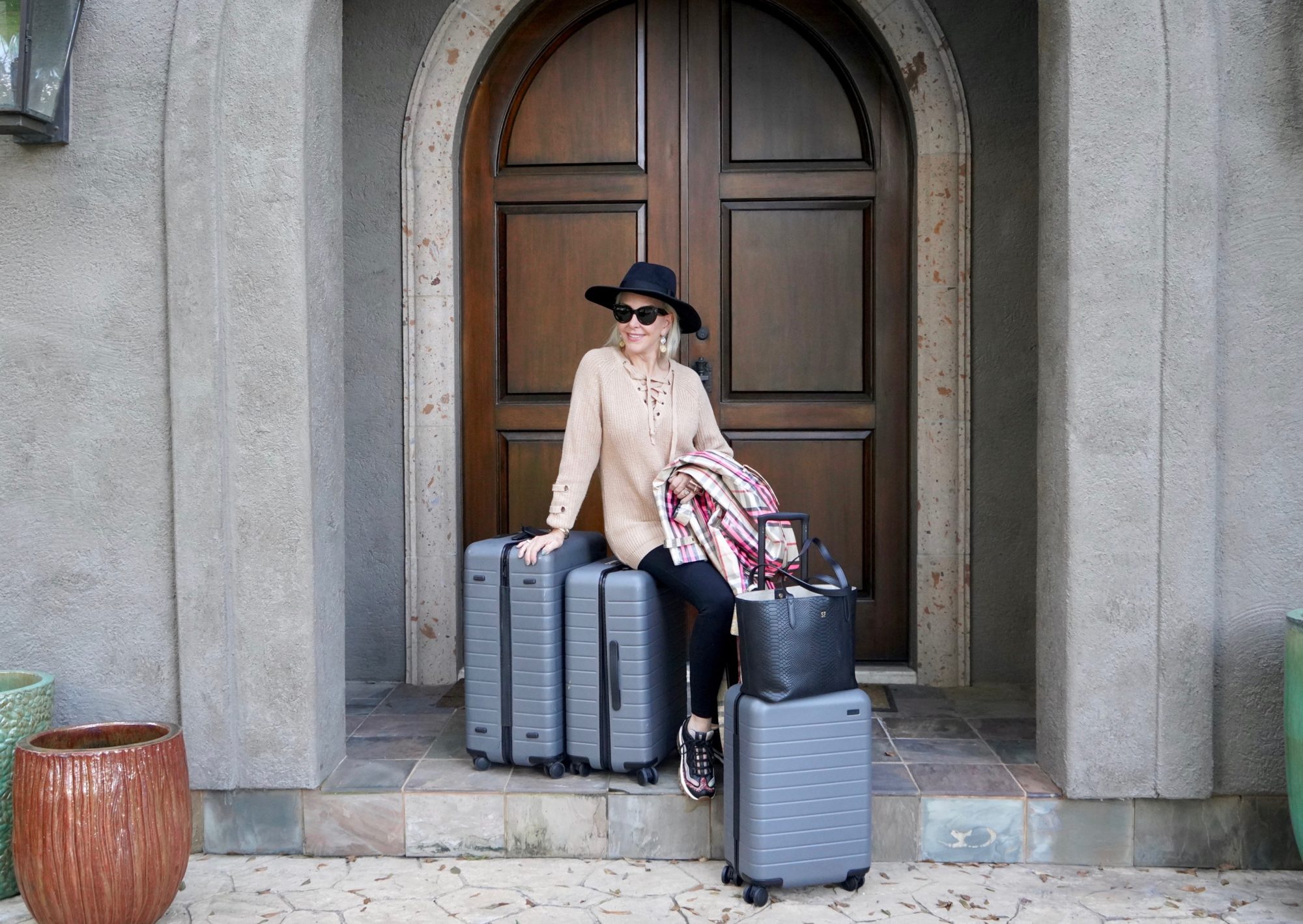 Wandf Foldable Duffel Bag for The Traveler

On my recent trip to New York for Oprah's Favorite Things, I was so blessed to receive so many wonderful gifts. But there was one obstacle, I did not have any room in my suitcase for all of my gifts! Then I found this packable duffel bag which was made perfect for when you buy too many souvenirs. This will go with me on all my travels. Oh, and it's water-resistant?!
E Marie The Everything Blanket | Traveler Love

By "The Everything Blanket" they really mean this blanket has a practical use for everything while traveling. A pillow, blanket, scarf, or wrap this plush blanket has so many uses and I could just go on and on about how soft the material is. It is usually $100 it is now $88 here! You may have also seen The Everything Blanket on Oprah's Favorite Things and I can truly see why Oprah adores this product. It's a must-have for your traveler.
FaceCradle Travel Pillow | #1 Traveler Favorite

I was on a search for a better travel pillow when I found such great reviews and how high on demand the FaceCradle was. So I purchased it and I am in love with it! The FaceCradle has a travel strap to wear like a crossbody instead of carrying it or constantly picking it up from falling off of your luggage through the airport. It is a nice size and oh so comfortable with its many different ways to use!
Compression Packing Cubes | A Traveler Favorite

Something tells me I'm not the only one who always packs like I'm going away for months. Am I right? Or maybe you know someone who's that way! These compression packing cubes are perfect for that special person.
The Traveler Loves GIGI New York Luggage Tag + Passport Holder

This is a perfect stocking stuffer and every year I like to give out a few. I love the Gigi NY brand and have for some time now. The quality and longevity are hard to pass up and many of their items can be monogrammed.
Lemontec Portable Travel Garment Steamer

I try to fold my clothes as nice as I can when packing but let's face it, they still get wrinkled! With this small steamer, it's perfect to pack and not take up all of your space! Your traveling fashionista will no doubt appreciate one of these.
O'Douds – Natural Solid Cologne

Long flight or maybe you are just nervous and perspiring on the plane and need to freshen up? This little stocking stuffer is your go-to. The major perk to this is it meets all TSA requirements to carry-on. Would you have ever thought about how great this would be for the frequent traveler who travels on long flights often?
Tarriss Jetsetter Digital Luggage Scale
Small but mighty, is this luggage scale. Tarriss Jetsetter Luggage Scale will let you know exactly how much your luggage weighs and you can avoid those awful extra fees for luggage. Stuff in a stocking or add to a gift bag and watch the traveler in your life feel stress-free.
Sleepy Ride

This airplane footrest is made with premium memory foam. It has been tested and proven to prevent swelling and soreness. Not only that but this footrest for sure provides relaxation and comfort. There's a reason for it being a #1 best seller on Amazon.
9 Travel Space Saver Bags by StoragePro

This set comes with 9 space-saving bags for all of your clothing. They are also water-resistant and do not need a vacuum to suction out the air! Simply pack, roll, and go! Any traveler would love this pick!!
Personal Travel Organizer Toiletry Bag

Who doesn't bring their own favorite toiletries when traveling? I do, and I for sure like to keep them organized from the beginning of my trip to my return. This organizer by L.L. Bean is beyond everything needed! It even has a hanger!
Women's NM Curated Travel Bag

This kit has everything a girl could need when traveling and is in the appropriate ounce amount!
Set Includes:
Oribe Gold Lust Shampoo, Travel Size
Oribe Gold Lust Conditioner, Travel Size
Molton Brown Orange & Bergamot Body Wash, Travel Size
Kiehl's Butterstick, Travel Size
Hum Nutrition Flatter Me Deluxe, Travel Size
milk + honey Hand Sanitizer, Travel Size
Supergoop! Sunscreen, Travel Size
Merika Water-Resistant Travel Jacket

Easy to pack and take along with, this water-resistant travel jacket is rich in color and super stylish! Be sure to check it out in navy and black.
GRAPHIC IMAGE PERSONALIZED LEATHER VALET TRAY

I just love this little tray as it has so many purposes! You can use it to keep jewelry, spare change, keys, etc. in it! This leather tray can be used when traveling or even at home. The best thing about it is that the tray pops open and flattens to maximize your packing space. Don't forget to get it monogrammed!
5-in-1 Universal Travel Adapter

With five different plugs, including a USB port, finding the right plug for the right location (works for more than 150 countries!) is as simple as matching the colors with this adapter.
Anker PowerCore 10000 Power Bank for the Traveler
This is under $30 and is one of the smallest and lightest 10000mAh external batteries on the market. This muchly needed battery is also Amazon's Choice for top travel batteries!

SHESHE'S TIDBITS
Norman and I are in Tennessee already on a foodie adventure!! Oh my heavens, where are my Spanx!! It is wonderful to be with my sisters and their families. We just shopped til we dropped!! I am almost finished shopping for this side of my family. Norman's side all love money or gift cards so that will be easy!
Gala's, weddings, graduations, holidays or just everyday wear…..we have fashion suggestions for you, so stay tuned. Be sure to check out the ShopSheShe tab at the top in the menu bar. Hover over and choose the category in the dropdown. We try to keep it up to date with the latest and greatest for all budgets. Subscribe here and then you won't miss a post. Simply enter your email in the pop-up box or below.
WELCOME new readers. We are a fashion/travel/lifestyle blog. We talk about anything and everything, from fashion, travel, health issues to even an occasional recipe. Let us know if there is a topic that interests you. We will do our best to bring that story to you. Have a great week sweet friends and thank you for following along. Without you, we could not continue on this crazy fun journey.