MERRY CHRISTMAS TO ALL!!
For years Norman and I sent out several hundred Christmas cards every Christmas but since I have been blogging, I have just not had time to keep up. About 3 years ago, I decided to change it up, so here is our 2019 Christmas message to you in the e-card format.
Our year at a glance……
January through April
Norman did some quail hunting while I went to our home on Sanibel Island, Florida. My sisters and nieces came down to do some shelling. The weather was terrible but the shelling was great. They loved it!!
In April, I started a whirlwind of influencer travel that continued all year long. My first trip was to Sonoma Valley to Vinter's Inn and the Ferrari Carano Winery. You can read all about it here.
MAY THROUGH AUGUST
Early in May, I had the awesome opportunity to visit Coastal Mississippi with 5 journalists. I was the only blogger. If you have never been to that area then check out this post that just might make it your next destination spot.
Mid May our grandson Clayton married Gabrielle. Weddings are so much fun!!
At the end of May and the first week of June, I went to Rome, Florence, Solomeo and Assisi, Italy. I loved every city for different reasons. I did 2 blog posts that cover all the deets. Click here for Rome and Florence and here for Solemeo and Assisi.
Right after I returned from Italy, Norman and I flew to Princeton, N.J. where Owen, another grandson married Laura. Owen sang a song to Laura. It was such a sweet ceremony. What groom does that? It was so romantic.
In July Norman and I headed back to Florida for a while before heading to cooler temps in Colorado. We spinner fish in Florida and fly fish in Colorado. We are blessed to have these 2 special places to spend time with our friends and families.
SEPTEMBER THROUGH DECEMBER
Do you know what September brings for the Frede's? Yes, Texas Longhorn football. Of course, that means weekends in Austin. The Horns started out slow but ended up with a bid to the Alamo Bowl.
In October I headed to Paris. Norman doesn't like to cross the pond anymore so I took my 24-year-old grandson Carson with me. He knows how to do all of the blogger stuff that is required so he was a big help to me on this trip. If you have Paris on your bucket list then be sure to read this post about Paris.
In late October I headed to Memphis, TN and what a great trip that was. I am here to tell ya, you need to go to Memphis. The food, music, history and more make it a very entertaining and educational experience. Read all about it here.
November 11th I flew to New York City where I attended Oprah's Favorite Things party at Hearst Tower. Did you see that I was featured on the inside back cover of Oprah Magazine this month? I just found out that I have been invited again to be an O Magazine Insider? I can't wait to see what's in store for 2020.
Thanksgiving is always the time Norman and I head to East Tennessee where I am from. We love hanging out with my family eating, taking in a Tennessee Volunteer football game and a traditional Black Friday outing with my nieces and sisters. Oh, what fun……
I had a week home then I was off to Quebec City Canada to explore a beautiful historical old city and then into the countryside of Charlevoix. I had no idea that Canada was so beautiful. This French-speaking territory was full of surprises. Our post will be out in early January so stay tuned.
ABOUT OUR FAMILIES
Thank goodness our family is still in tack and basically no serious illnesses. Two of our grandchildren got married this year.
GRADUATIONS
Carson and Louisa graduated from college this year. Carson got his Economic and Finance degree from Texas Tech and Louisa just graduated from SMU in Dallas with a BioScience degree. 5 of the 6 are out in the world now and Clayton will graduate next December. It is so hard to believe how fast these kids have grown up.
MISS PIPPA
Pippa, our 7 pound Toy Fox Terrier will be 8 years old Dec 31st. She is so sweet and is a big part of our family. I know if you are a doggie lover then you know what I mean.
SHESHE SHOW
We busted loose this year. After 6 years of blogging our ship finally sailed in. I am having to make some changes in 2020 so I can keep a balanced life. One must be careful what they pray for because they just might get it.
Please head over SheShe Show and subscribe so you won't miss a thing. We talk about fashion, travel, beauty, home, health and wellness and a little food.
IN CONCLUSION
Overall, we had a great year. Number 1, we are healthy and happy and feeling so blessed that we can keep sharing our active lives with you! We love your letters and emails so send them on. If you are reading this then you have no excuse!
We love you all so much and so thankful to call you our friends. Wishing you a Merry Christmas and a Happy & Healthy 2020.
Sheree and Norman
OUTFIT DETAILS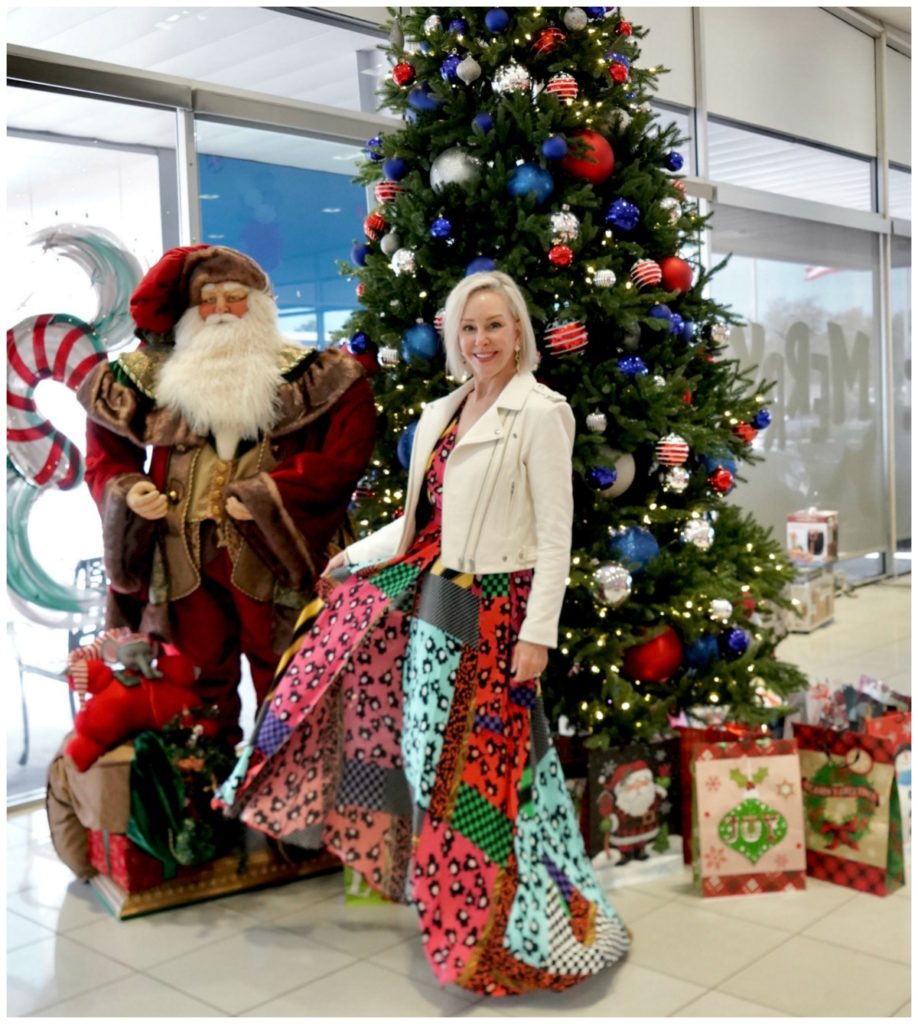 SHESHE'S TIDBITS
Today is Christmas Eve and we hope that you are going to be with the people you love. We will be back soon for end of year stuff.
Gala's, weddings, graduations, holidays or just everyday wear…..we have fashion suggestions for you, so stay tuned. Be sure to check out the ShopSheShe tab at the top in the menu bar. Hover over and choose the category in the dropdown. We try to keep it up to date with the latest and greatest for all budgets. Subscribe here and then you won't miss a post. Simply enter your email in the pop-up box or below.
WELCOME new readers. We are a fashion/travel/lifestyle blog. We talk about anything and everything, from fashion, travel, health issues to even an occasional recipe. Let us know if there is a topic that interests you. We will do our best to bring that story to you. Have a great week sweet friends and thank you for following along. Without you, we could not continue on this crazy fun journey.