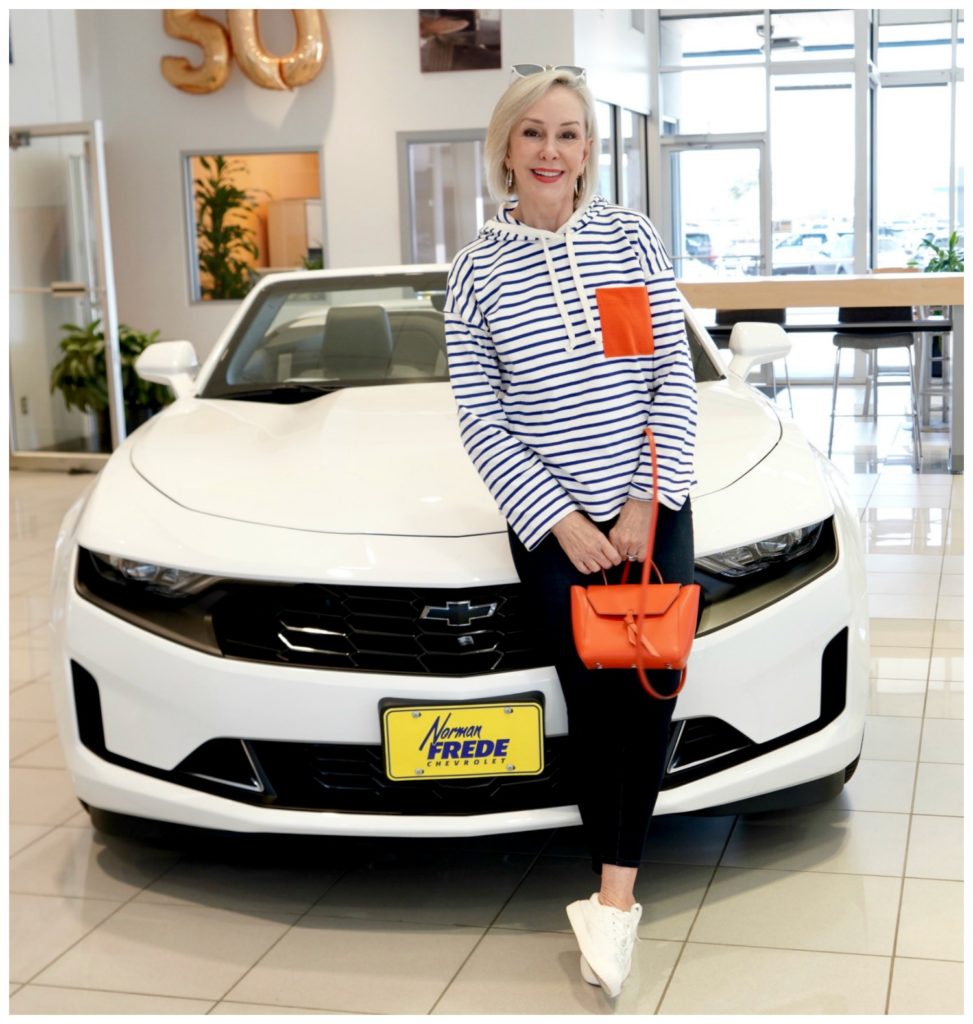 Stripes are so much fun and especially this time of the year! There's something in stripes that bring a smile to my face and make the day seem brighter. We've always heard stripes aren't figure flattering or we shouldn't wear them if we are "older", but all of those things are MYTHS! Today we are featuring all of our favorite stripes and our tips on how to wear them. Ladies, you rock those stripes!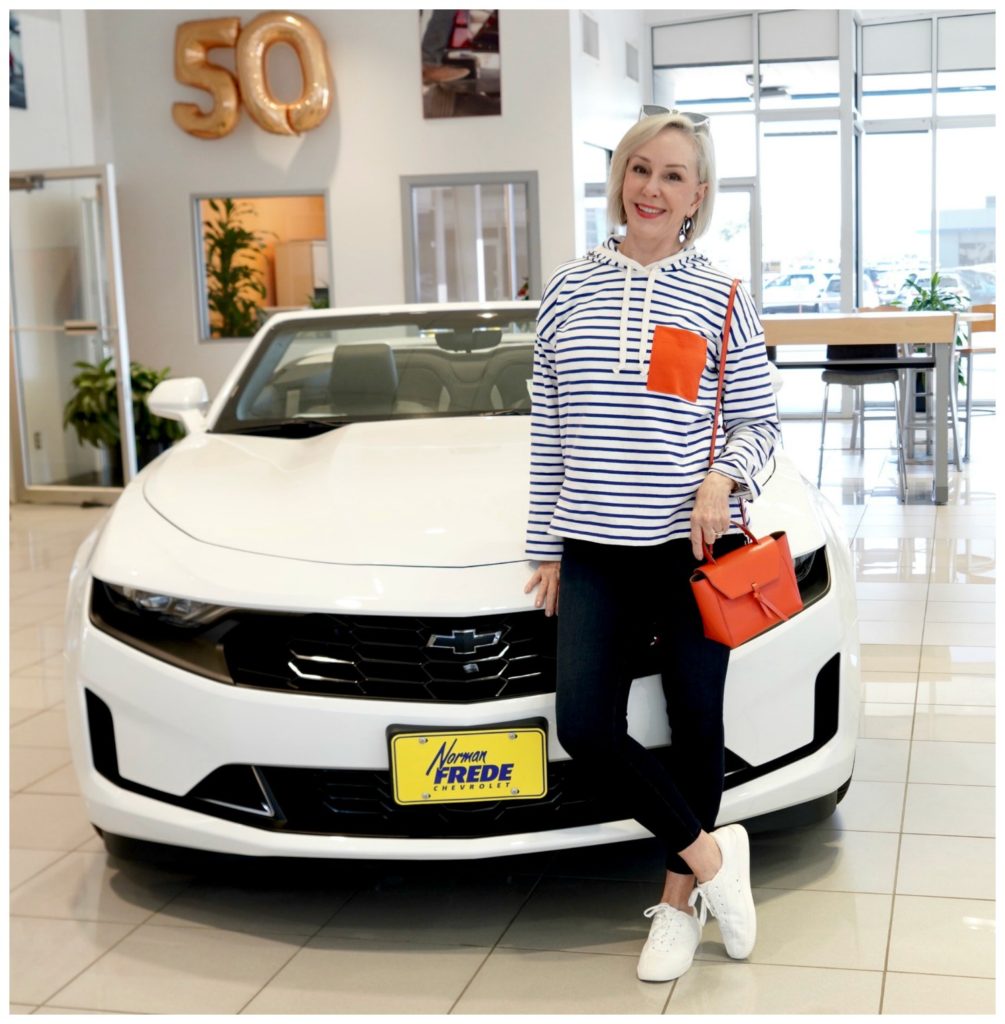 How To Wear Stripes
JEANS
Pairing a striped blouse or any other top with a pair of jeans is always trending and gives you that chic and classic look.

BLAZER
Wearing a blazer with your stripes definitely adds a classic feel to your outfit.

CARDIGAN
The cardigan is pretty simple and basic, perfect for cooler, air conditioned spaces, afternoons or windy days!

VERTICAL
Ladies, wear vertical stripes with your bottoms and skirts, especially if you are on the shorter side! For the curvier woman it slims the legs and elongates the body. So whether a dress or bottoms you can't go wrong with vertical stripes.

MIXED PATTERNS
Go on ahead and mix up your stripes with other patterns. Whether it's with florals or blocked colors, mixing patterns gives you that edgy runway look.

THIN STRIPES
A very basic way to start rocking your stripes is to wear thin stripes. Not only is it more flattering but it is a subtle way to introduce stripes to your wardrobe.

SKIRTS
Any skirt goes well with your stripes! Whether denim, a pleated, or even a satin midi skirt, skirts are perfect for a fun and chic look.

1 TOP 4 WAYS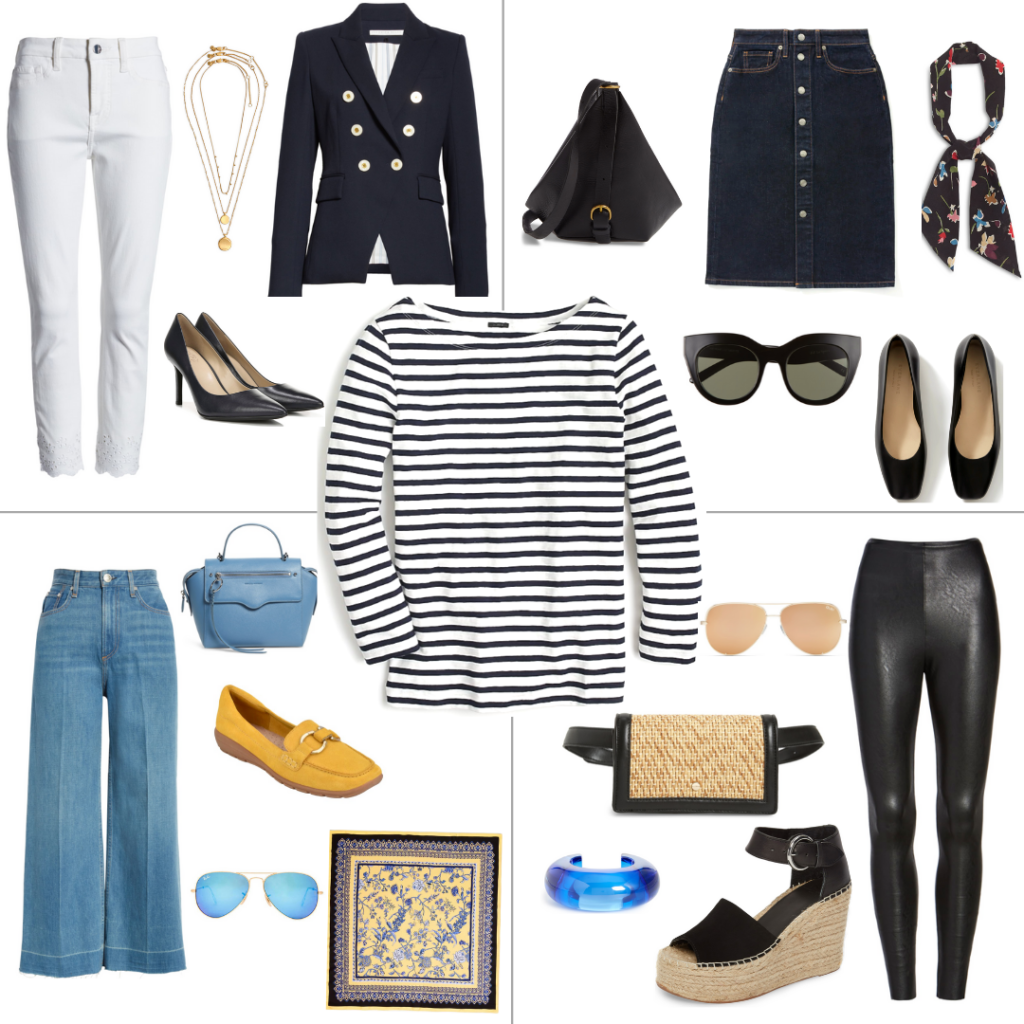 THE TOP

Top Left: BLAZER | BOTTOMS | NECKLACE | HEELS
Top Right: SKIRT | FLATS| SCARF | SUNGLASSES | HANDBAG
Bottom Left: JEANS | LOAFERS | SCARF | SUNGLASSES | HANDBAG
Bottom Right: LEGGINGS | ESPADRILLES | SUNGLASSES | BELTBAG | CUFF BRACELET
SHESHE'S TIDBITS
Well, sweet readers after a very foodie birthday weekend I am now doing the Keto Diet. I am not good with diets but I am in the danger zone on the scales. Do any of you know what I mean? argh….
Gala's, weddings, graduations, holidays or just everyday wear…..we have fashion suggestions for you, so stay tuned. Be sure to check out the ShopSheShe tab at the top in the menu bar. Hover over and choose the category in the dropdown. We try to keep it up to date with the latest and greatest for all budgets. Subscribe here and then you won't miss a post. Simply enter your email in the pop-up box or below.
WELCOME new readers. We are a fashion/travel/lifestyle blog. We talk about anything and everything, from fashion, travel, health issues to even an occasional recipe. Let us know if there is a topic that interests you. We will do our best to bring that story to you. Have a great week sweet readers.
SHESHESTYLEMAR 8, 2020