Now more than ever, we need all the at-home tips we can get. I don't know about you, but anything that makes me feel more myself when I can't leave my own four walls is highly valuable. So today we're talking everything you need to know to give yourself the best at-home manicures and pedicures money can buy!
We'll mostly be sticking to tips/tricks we've learned, but we are going to be linking a few products that will help you turn your bathroom into your favorite nail salon. We realize that during these times, purchasing products can be hard for a myriad of reasons. A lot of storefronts are closed, but luckily plenty of e-commerce is operating normally –so we'll be linking to online retailers.
Even if you're at home self-quarantining…it's important to treat yourself when you can. So keep reading, and start polishing!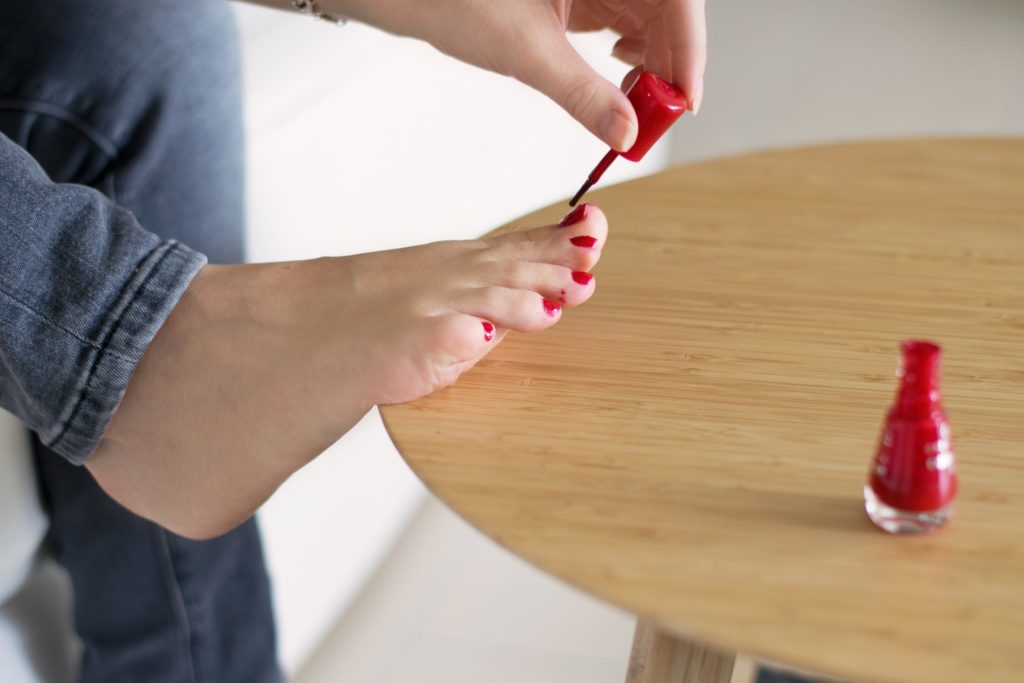 How to Start Your Manicure or Pedicure
A good mani/pedi is allll about the prep work. Am I right?
Clean it Up: The best way to start a manicure or pedicure is with clean nails. Use nail polish remover to get any remaining polish off. Have on gel or shellac? Try soaking your fingers in warm acetone to get these polishes off.
Shape it Up: Now it's time to clip and file. For toes, this is pretty straight forward. But with nails, you can have a little more fun.
Right now, it seems like almond-shaped nails are all the rage. Need some more inspo? Check out some nail shape ideas from Cosmopolitan.
Smooth it Out: Now it's time to buff your nails allll over. This removes any remaining inconsistencies and dead cells. After you buff, soak your nails in warm water to add some moisture. Then, get ready to cuticle!
Cuticles Out: Slather cuticle oil alllll over your cuticles and get to work! Most professionals recommend pushing your cuticles instead of clipping, since clipping can remove more than necessary. Either way–get those cuticles OUT before you start polishing.
Pro tip: Use nail polish remover one more time at the end of this routine. This helps clear the nails of any leftover moisture or oil, to fully prepare them for polish. (EveryGirl)
More Moisture for Your Manicures & Pedicures
I feel like the answer for everything…is to moisturize. Obviously, this applies to nails too.
In these crazy times, we're watching our hands a ton (which we should be!) but this can lead to incredibly dry skin on our hands. I've already noticed this on my hands, and feel like it'll only get worse!
Check out the products below for some of our favorite hand/foot moisturizers AND heel scrapers (you know you need it!)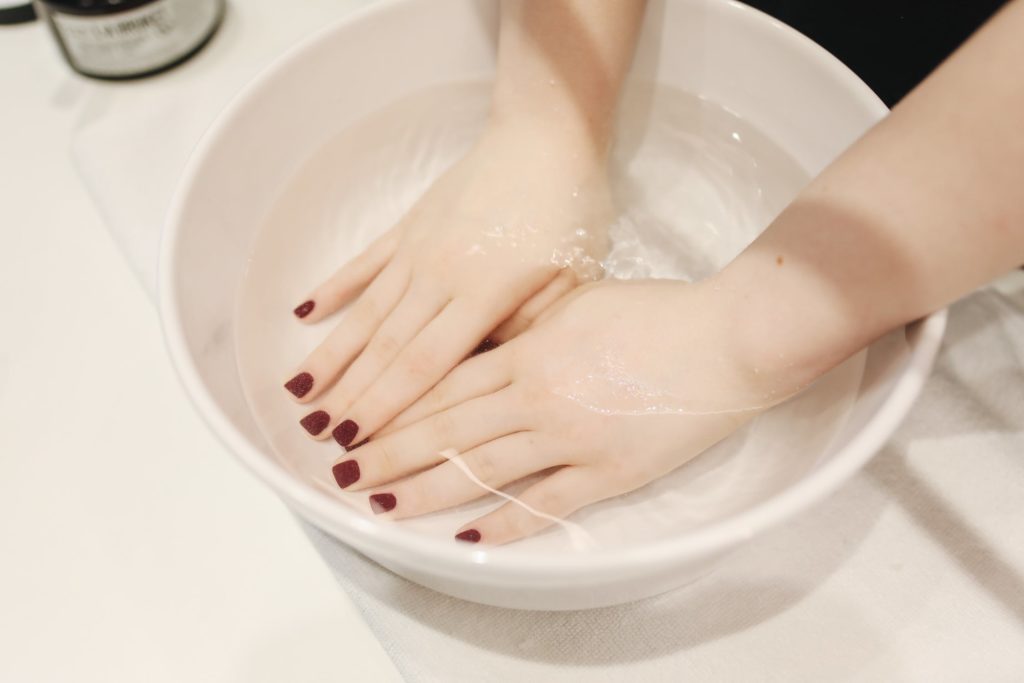 Hot Tips and Tricks For Your Manicures & Pedicures
Use a paintbrush: No matter how many times I paint my nails, I still end up coloring outside of the lines. Try dipping a small paintbrush in remover and using that to remove nail polish that makes it on the skin. I also use a toothpick to clean of the edges.
Vaseline cuticles: Out of cuticle oil…or didn't have any to begin with? I'm guilty of the latter. Use vaseline as a substitute!
Rubber base coat: Want your nail polish to stay on longer? I mean who doesn't? Before putting on your colored polish, always use a base coat. A lot of people think a base coat is the same as the clear top coat, but it's completely different. Base coats will be clearly marked as such on the label.
Want to step it up a notch? Try using a rubber base coat (linked below). This helps the polish stick on longer than "normal" base coats.
Multiple thin coats: This one seems obvious, but it's really made a difference in my nail game. Really try to just do one "swipe" at a time, let the layer dry (this is important!), and then repeat.
Need some nail color ideas? Check out this blog post from last spring?
Always use a top-coat: Always use a top-coat for extra shine and longer lasting polish. And most importantly…no chipping! Check out this article from Byrdie for all the best top-coats available now.
Cold water for drying: Sick of waiting forever to let your nails dry? After 10-15 minutes(ish), stick your hands or feet into cold water to help polish dry faster.
NAIL COLORS FOR SPRING 2020
Now you have your manicures and pedicures done, what else can you do for a little self love? Next week we have comfort clothing. Give us all your at-home mani/pedi tips in the comments below!

SHESHE'S TIDBITS
Well, what a difference a week can make in this world, right? For maybe the first time ever in my 65 years I am at a loss of words. I am praying, being diligent and trying not to panic. Stay safe and try to keep calm! This too will pass…….. but we just might have a new normal when it is all over.
Gala's, weddings, graduations, holidays or just everyday wear…..we have fashion suggestions for you, so stay tuned. Be sure to check out the ShopSheShe tab at the top in the menu bar. Hover over and choose the category in the dropdown. We try to keep it up to date with the latest and greatest for all budgets. Subscribe here and then you won't miss a post. Simply enter your email in the pop-up box or below.
WELCOME new readers. We are a fashion/travel/lifestyle blog. We talk about anything and everything, from fashion, travel, health issues to even an occasional recipe. Let us know if there is a topic that interests you. We will do our best to bring that story to you. Have a great week sweet readers.