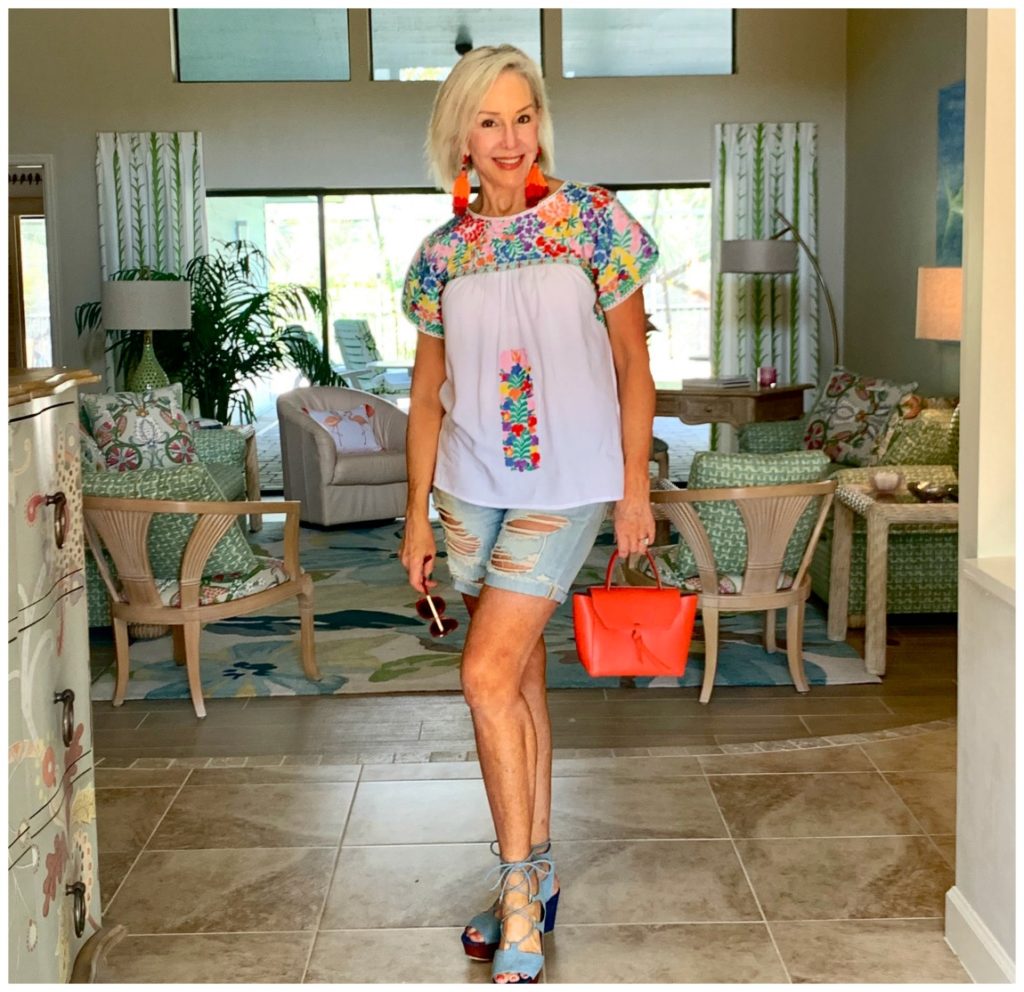 Summer is right around the corner and with being home so much I am enjoying getting a little sun in my evenings! As you all know I am a major fashionista, I am now getting creative and using my walking time as an excuse to not look so….homely! With that being said I am pulling out my Summer tops and my cutest denim shorts. Below I have featured all of my favorites and most are budget-friendly!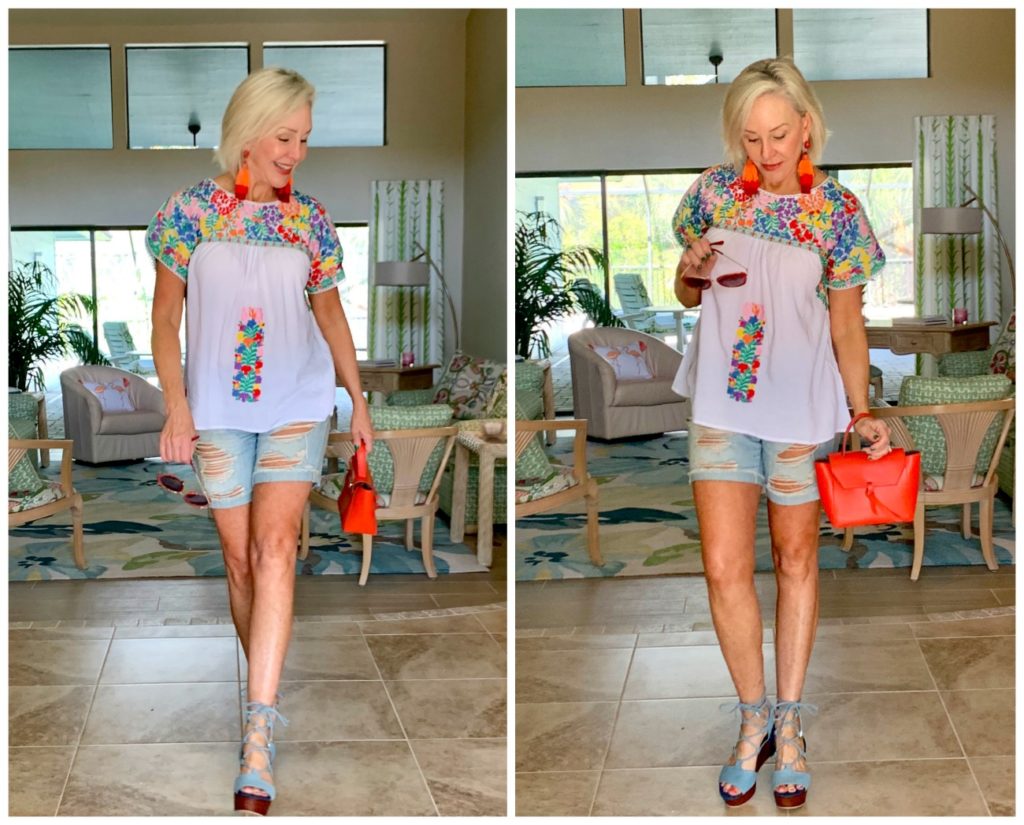 Tops + Top Trends
I know keeping up with the trends may seem pointless right now, but I am finding myself getting more and more creative in my closet and shopping. I am continuing to follow the trends and even noticed some old trends happening again. The biggest trends for Summer tops are listed below. What do you think?
Oversized Puffy Sleeves

I am LOVING all of the puffy sleeve blouses this Spring/Summer! What's great with the puffy sleeves are their voluminous style, which adds a statement to any outfit. Pairing this puffy sleeve top with these denim shorts and chunky sneakers are for sure to turn heads!
Victorian Necklines

The Victorian neckline is back and so romantic! Most of these blouses have lace, crochet or are floral and add so much class or edginess to a look. All depending on how you style it! I like to pair this top with these denim shorts! These tops are so feminine and very versatile.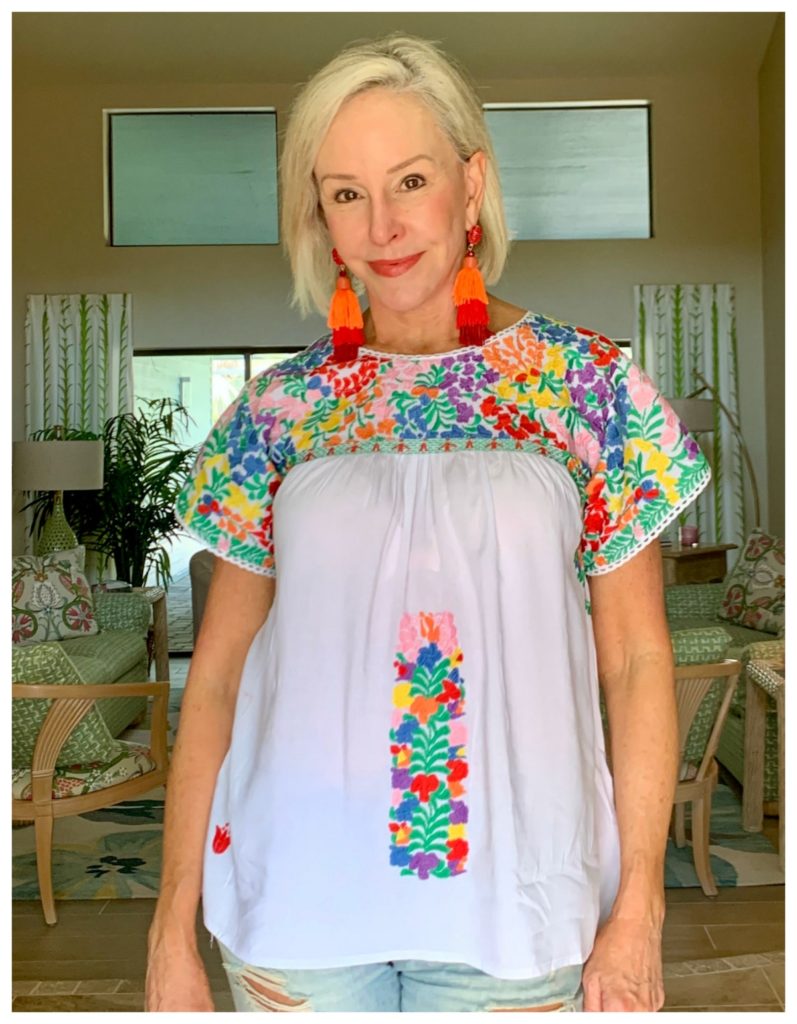 Floral Tops

Florals are all about having fun with fashion and embracing the joy and romance of summer. Soft floral prints offer a touch of femininity to warm weather style so you can bring out your girlish charm with every outfit and accessory you wear.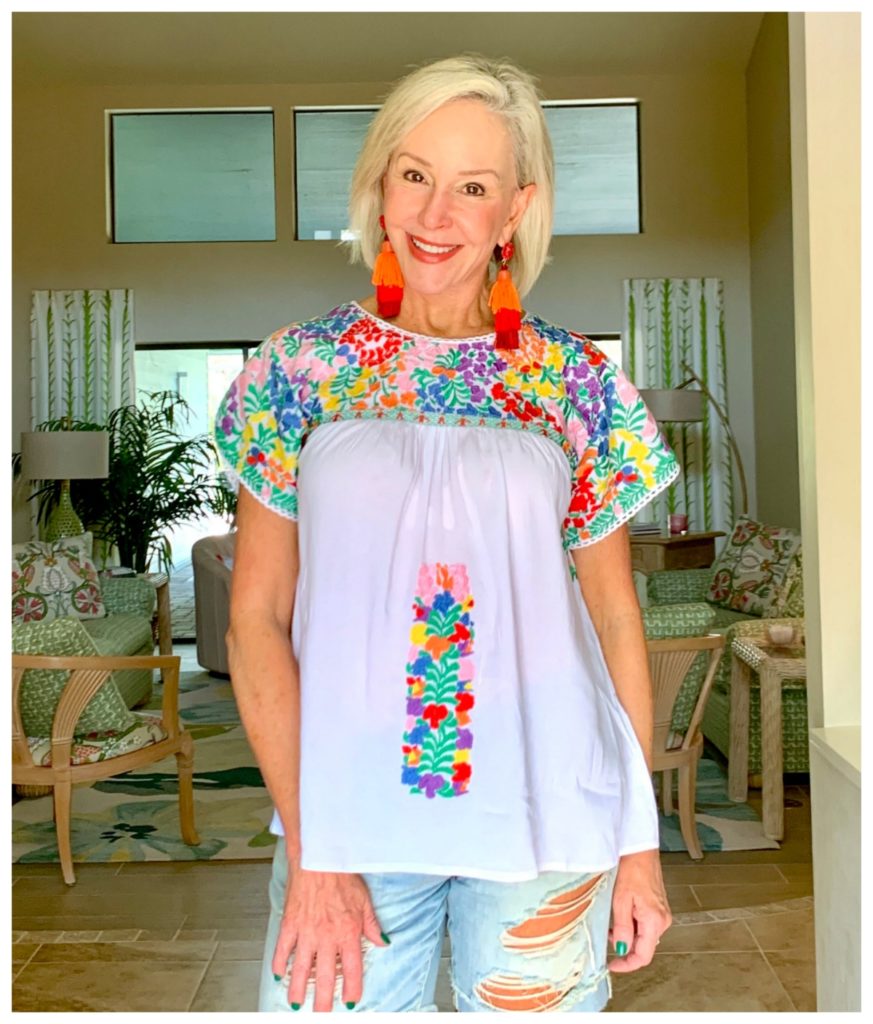 Embroidered Tops

I have always been a major fan of embroidered fashion. Luckily, embroidered tops are all the rage this season and if you live in Texas they never go out of style. If you notice we are seeing a lot of embroidered tops that also have fun little tassels on them! Embroidered detailing gives any outfit a boost of effortless, whimsical flair.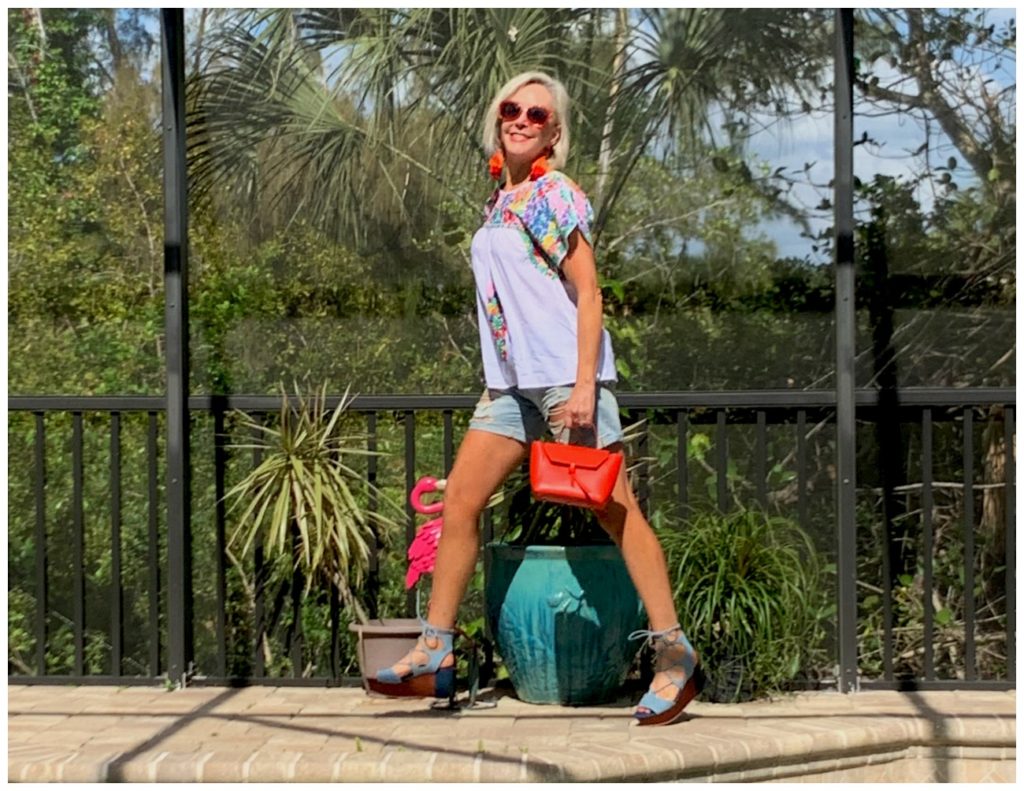 Tropic Thunder Tops

What a better time to embrace the outdoors? I think we can all agree that a little sunshine is going a long ways these days. One huge trend that puts a huge smile on my face is all of the sunset, tropical, palm fronds, exotic flowers, and seaside sunsets in fashion. It gives me a visual reminder of what means the most, taking time to enjoy life and keeping our planet beautiful!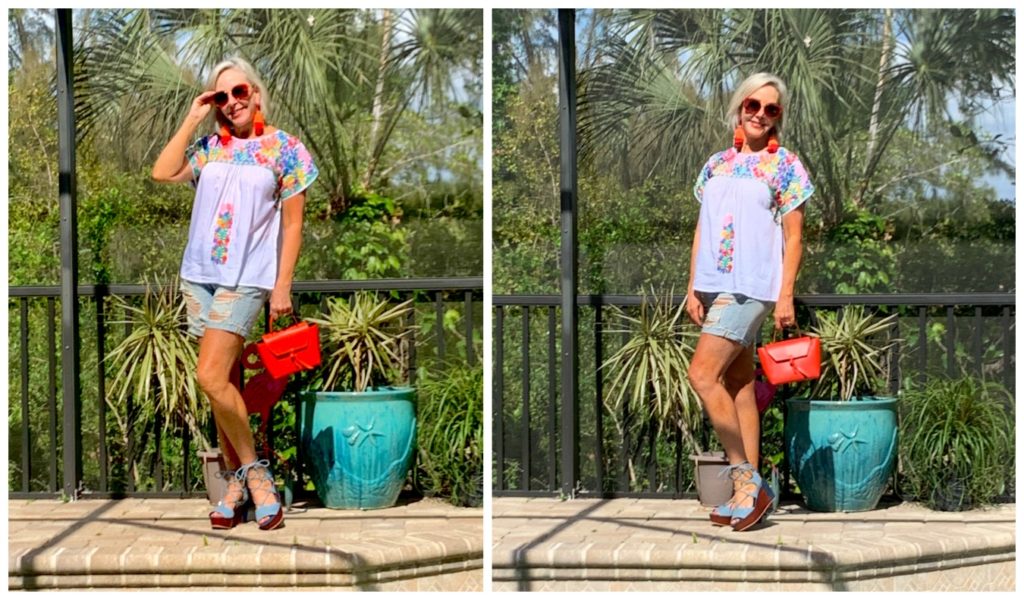 Denim Shorts + How to Wear
Wearing shorts or denim shorts does not have to be as stressful as we make it. The right length for your body is the key here! I have a few tips for what I find helps me to look and feel my best in my denim shorts. We've also put some fabulous outfits together for you!
Choose The Right Length

You don't have to be stuck wearing long baggy maw maw pants if you're over 50! I will say, length is crucial when choosing the type of shorts that will look best. The medium and longer length shorts are more flattering, and slimming. I love the 7″ length chino shorts that J Crew has in their shorts lineup. They are hit the pretty part of the thigh, but they also do longer shorts.

Pair Them Properly

The way you pair your shorts can determine whether you look classy or trashy. Choose the right top to go with your shorts. Avoid short, skimpy tops and go for something that offers a little more coverage, our tops above are perfect to rock with your shorts.

Avoid Shorts That Are Too Tight

Ladies, same goes for shorts that goes for all fashion, avoid wearing shorts that are too tight!! Pick a loose-fitting style that is more forgiving around your thighs which may have a lost a little bit of their youthful elasticity. We are trying to look and feel our best and forcing our bodies into shorts is not going to do the trick!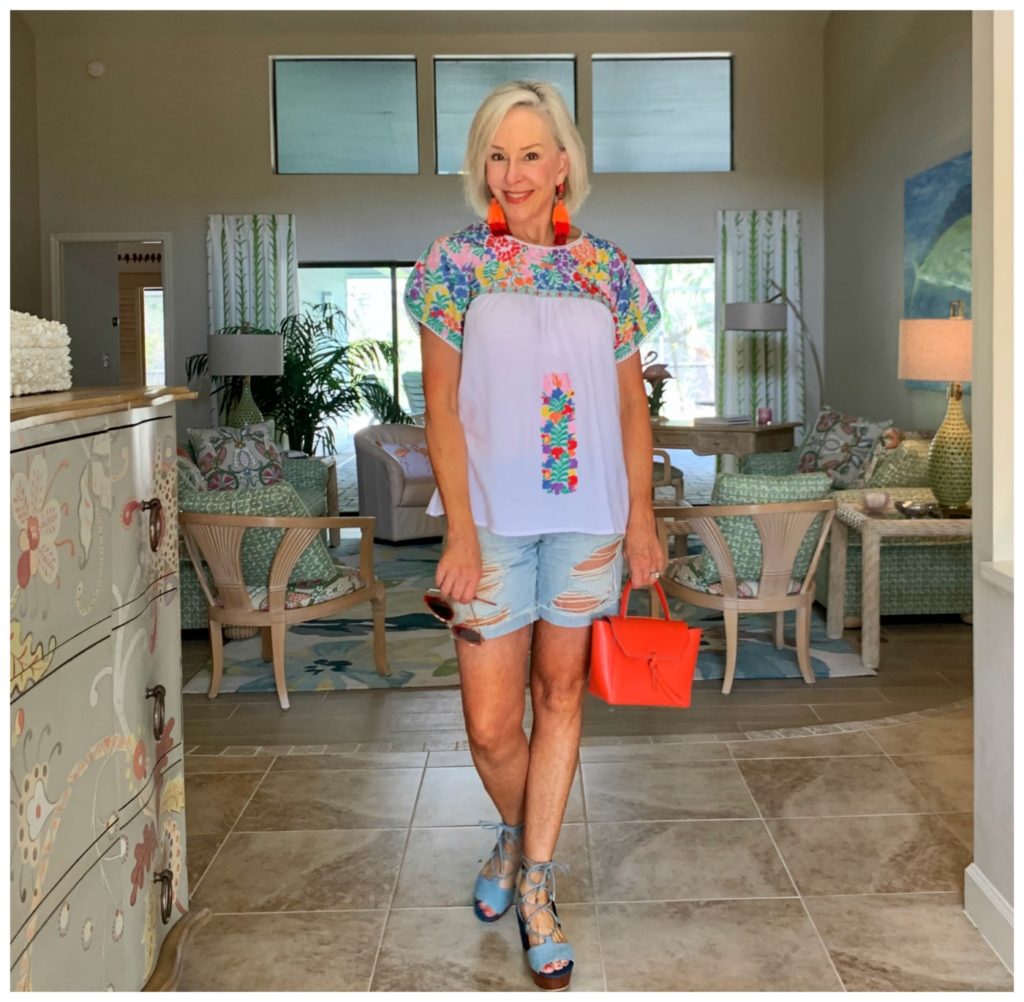 Slim Down

A trick I have learned for looking slimmer is to add a pretty heeled sandal or small wedge! Just a small heel will do the trick. Everyone has a personal preference and I personally do not think wearing a huge wedge or heel while in short shorts is very ladylike! So keep in mind the length of your shorts when you are pairing your shoes!

THE BOUTIQUE


SHESHE'S TIDBITS
How are you guys doing? We got a break this weekend and flew in a private airplane up to our ranch in north central Texas. Don't worry, we took every precaution. Besides the grocery store, we only saw one other person. Anyway, nothing like the great outdoors! I actually got Norman to shoot a few photos for me. Back to Houston later today.
WELCOME new readers. We are a fashion/travel/lifestyle blog. Be sure to check out the ShopSheShe tab at the top in the menu bar. All of your shopping research is done for you there. Hover over and choose the category in the dropdown. We try to keep it up to date with the latest and greatest fashions for all budgets.
Subscribe here and then you won't miss a post. Simply enter your email in the pop-up box or