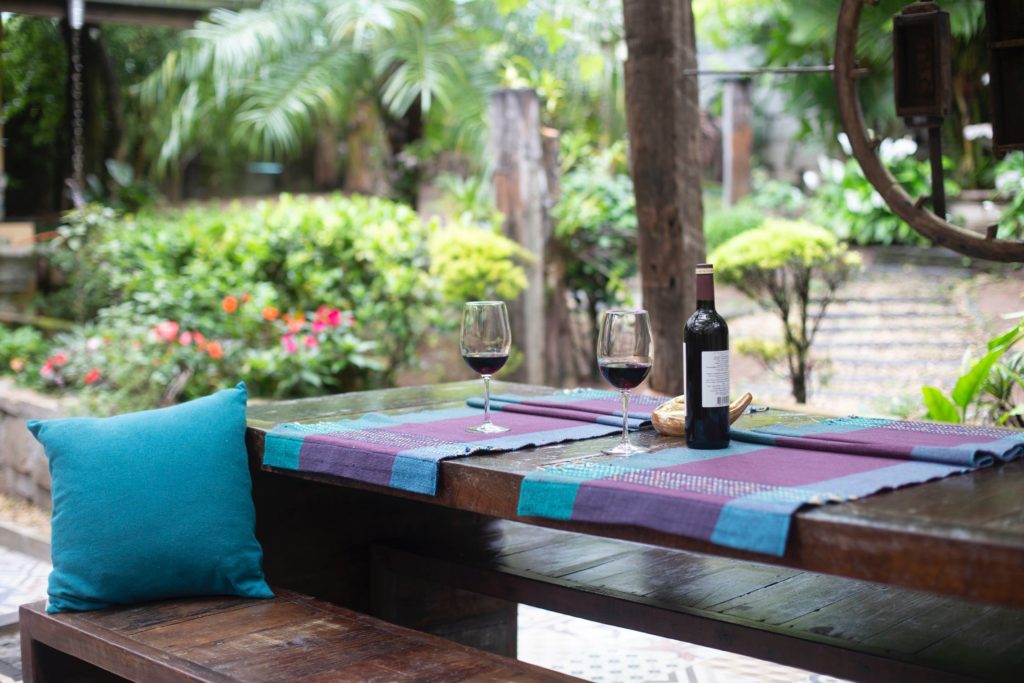 When life gives you lemons you get lemonade and when you can't go on a vacation…you go on a staycation!
So what exactly is a staycation? You guessed it…a vacation in your home! Skip the traveling and packing, and instead make a couple of changes within your very walls to renew, relax, and restore.
Like all things around here: if you're going to do something we're going to help you make it the best it can be. And that includes today's topic too.
Keep reading for a few tips on turning your home into the ultimate destination!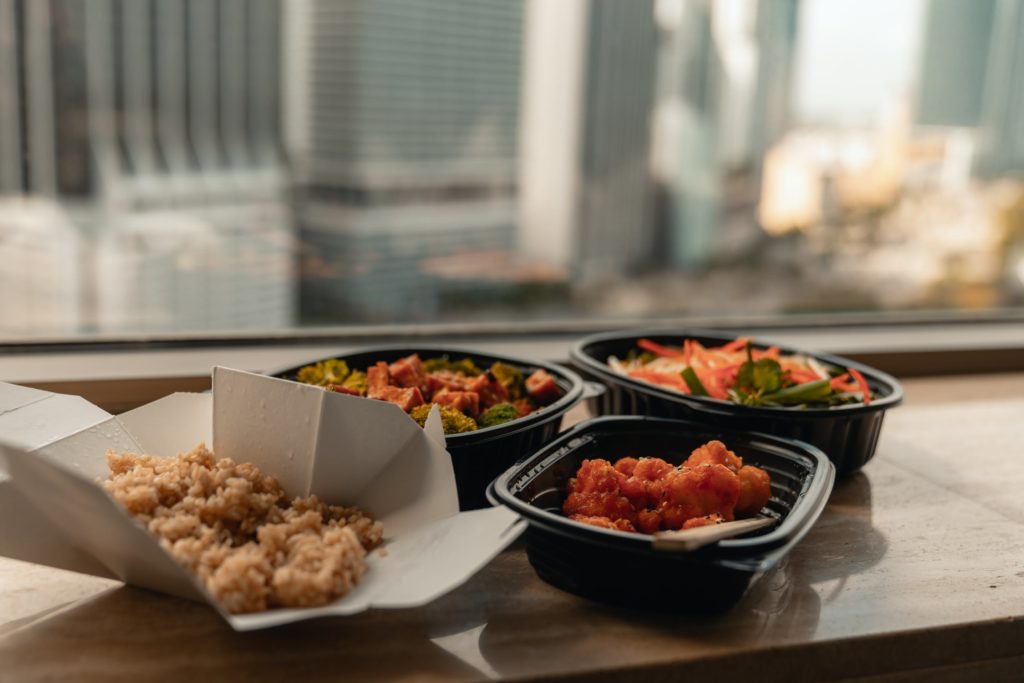 Eat Out
This one's pretty simple. EAT OUT or ORDER FOOD so you don't have to cook!
Now–if cooking is something you like to do for fun, you can disregard this. But for most of us: cooking can be a burden. And when we cook, it ends up being the same meals over and over again.
So treat yourself to your favorite restaurant (either in person or take out) and don't EVER worry about dishes.
Pro tip: getting take out? Dress up anyways and eat each course one by one. It'll make you feel like you're out!
Get Outside
Even though the heat is unbearable sometimes–I do love a staycation in the summer. Why? Because you can have a relaxing pool day in your backyard!
I know what you're thinking: what if I don't have a pool? Fear not…we've got you covered. Keep reading for our favorite inflatable pools and pool floats…and as always, make sure to wear sunscreen!
Inflatable Pools

Pool Floats

Move the Mattress
Okay…maybe not literally.
But sleeping somewhere new in your house can be a nice way of making it feel like you're on vacation.
Whether you make the guest room your own or go camping in your living room…do something to make it feel different than any ordinary night.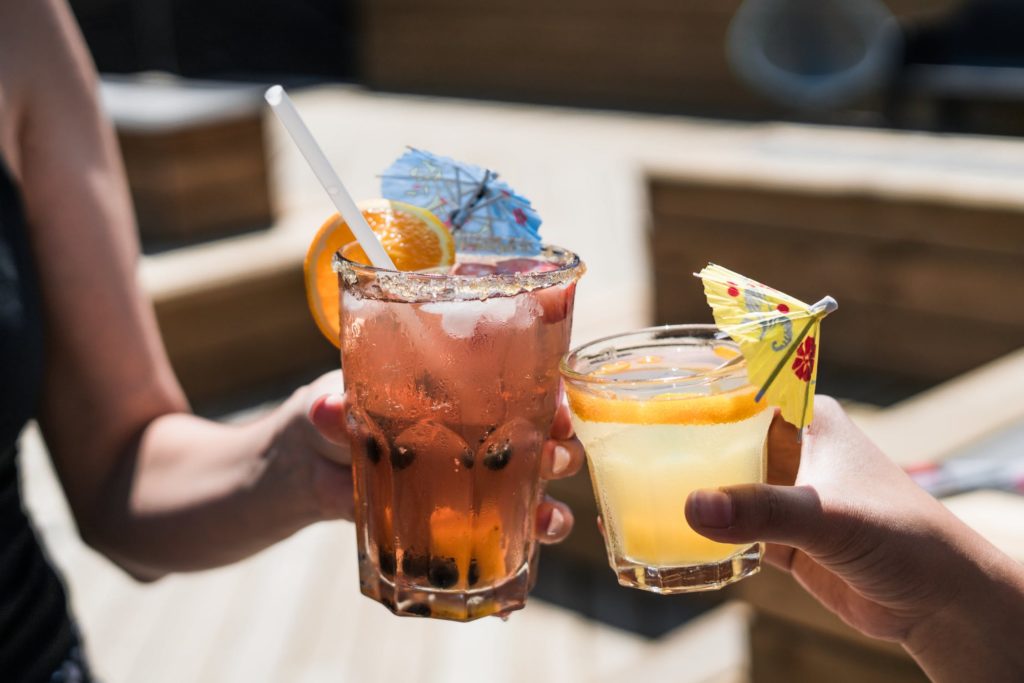 Mix it Up
To me, a staple of vacation is cocktails. It's the perfect way to loosen up and relax…and indulge more than you would in the middle of an ordinary week.
Instead of sticking to your normal beer or wine–try making new cocktails during your staycation.
This can help elevate the experience into your very own version of a hotel bar!
Need to keep these drinks cold on your pool day? Check out our favorite coolers below.

Unplug
Have you ever spent the entire day on the beach, in the mountains, or running around a new city without checking your phone? If you have, didn't it feel great?
Staying off cell phones is a great way to decompress, and connect with whoever you're with (even if you're with yourself).
Plus, getting away from screens can also help you catch up on some sleep. According to the National Sleep Foundation, the use of electronic devices, especially at night, can significantly affect your sleep cycle. The blue-colored light from screens can disrupt your body's production of the sleep hormone melatonin. Using devices late at night also can trick your brain into trying to stay awake longer. (Copper Springs)
Read a book
Take a nap (turn off your phone)
Create a Spa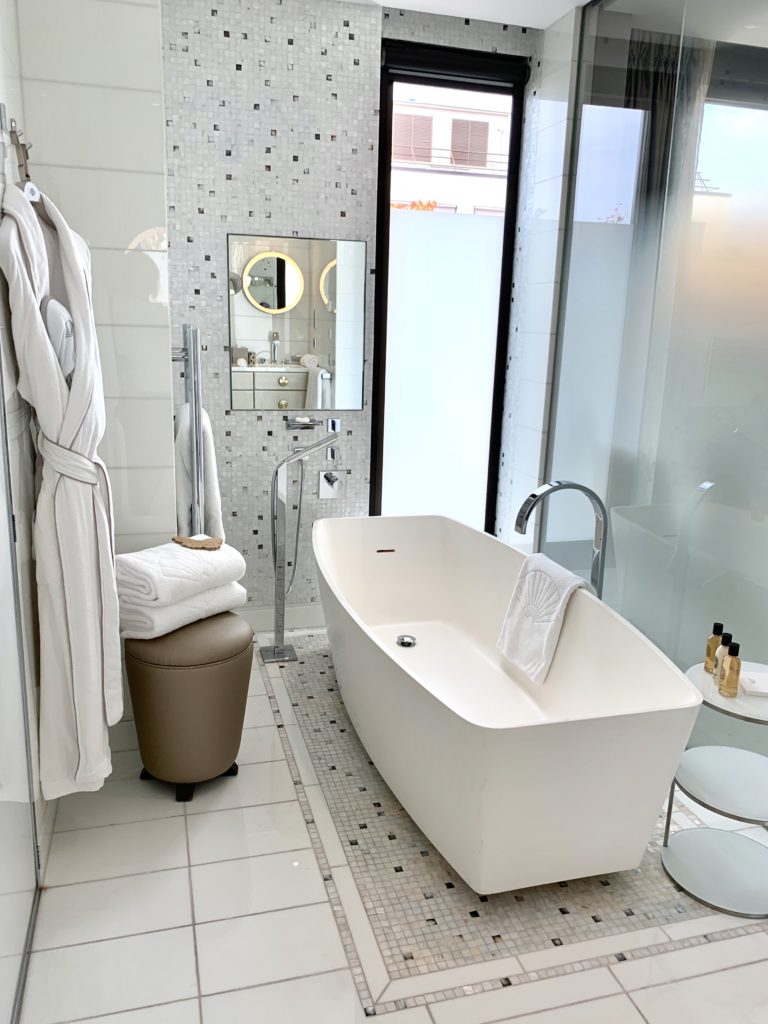 What you will need for your spa

Order new robes for you and your bestie
Have bath salts, body oils and bubble bath lifting and hydrating face masks set out in your bathroom.
Take turns giving a message with your bestie.
Now lights out and sweet dreams. You have just had the best and most affordable staycation ever!!
What does your perfect staycation entail?
SHESHE'S TIDBITS
We just got back from Key West. We cut out a day of our stay because of the threatening storm in the Atlantic. It actually moved East so the US mostly missed it. We knew the weather would probably not be good so we made the call to head on back to Sanibel. We still made the best of our 3 days in Key West! Stay tuned for our complete blog post on where to stay, what to do, where to eat and more.
Gala's, weddings, graduations, holidays or just everyday wear…..we have fashion suggestions for you, so stay tuned. Be sure to check out ShopSheShe tab at the top in the menu bar. Hover over and choose the category in the drop down. We try to keep it up to date with the latest and greatest for all budgets. Subscribe here and then you won't miss a post. Simply enter your email in the pop-up box or below.
WELCOME new readers. We are a fashion/travel/lifestyle blog. We talk about anything and everything, from fashion, travel, health issues to even an occasional recipe. Let us know if there is a topic that interests you. We will do our best to bring that story to you. Have a great week sweet friends and thank you for following along. Without you, we could not continue on this crazy fun journey.