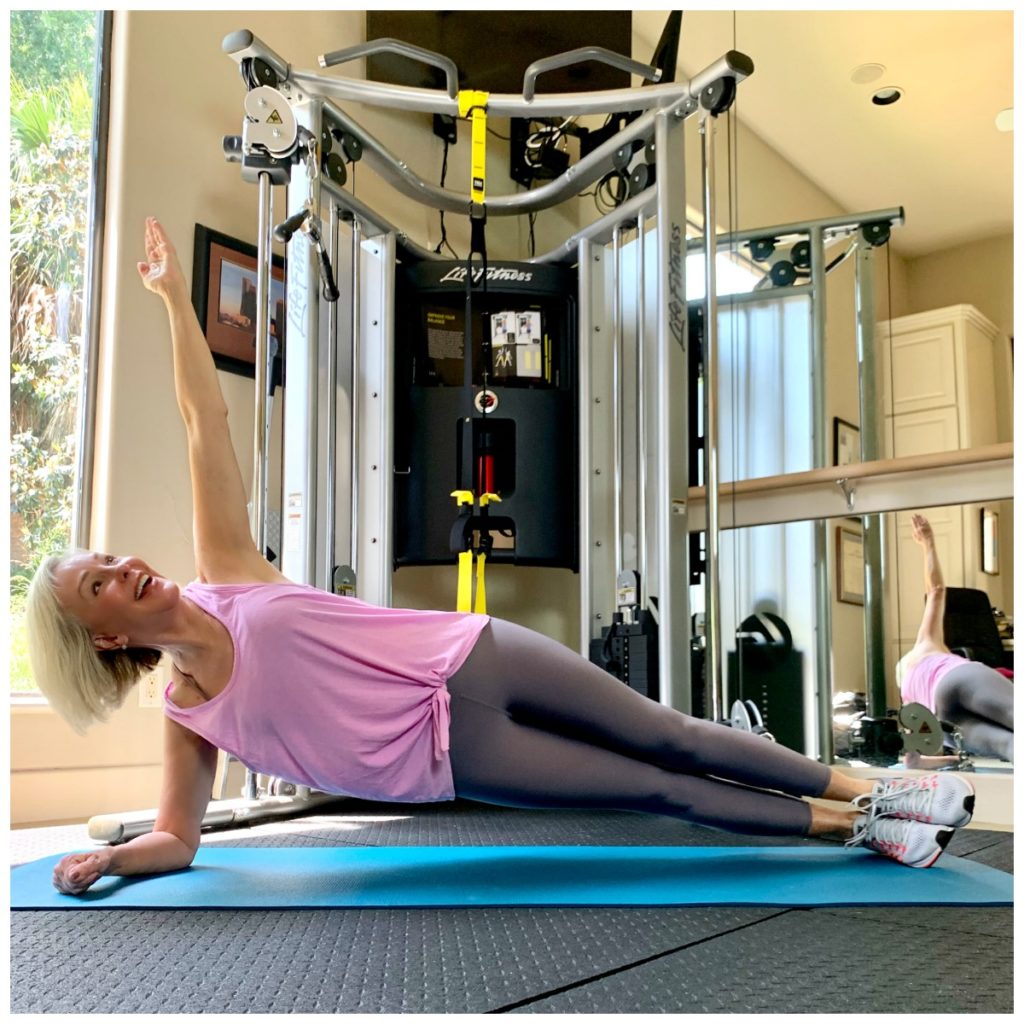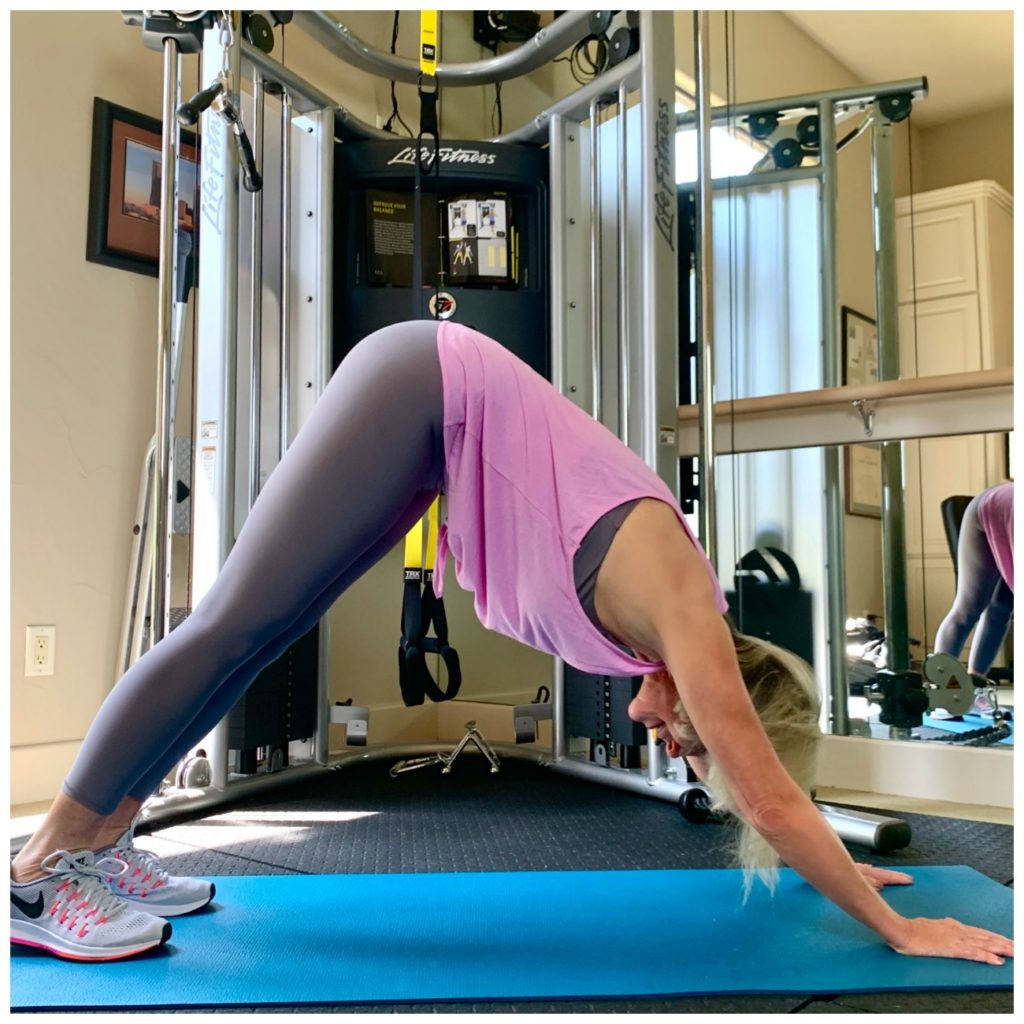 Recently, I have come to love Mat Pilates. Since COVID-19, it has become a staple of my fitness routine, because it's so easy to complete right at home or virtually anywhere.
So what is Mat Pilates? Essentially, Mat Pilates is a strengthening and lengthening form of exercise that focuses on your core (trunk) muscles while also training your arms and legs. (Pilates Anytime)
It came to be in the 1920s when Joseph Pilates devised more than 500 moves – of which 34 were mat-based exercises. (Women's Health)
For those of you who have done Reformer Pilates before–Mat Pilates is very similar, just without the giant reformer machine. In fact, you can do a lot of the classic Mat Pilates exercises without equipment.
To cover this topic fully we're going to discuss a few things: equipment you might need, classic moves, and our favorite (virtual!) instructors.
Let's get started!
Equipment
Yoga Mats

Ankle/Wrist Weights

Pilates Rings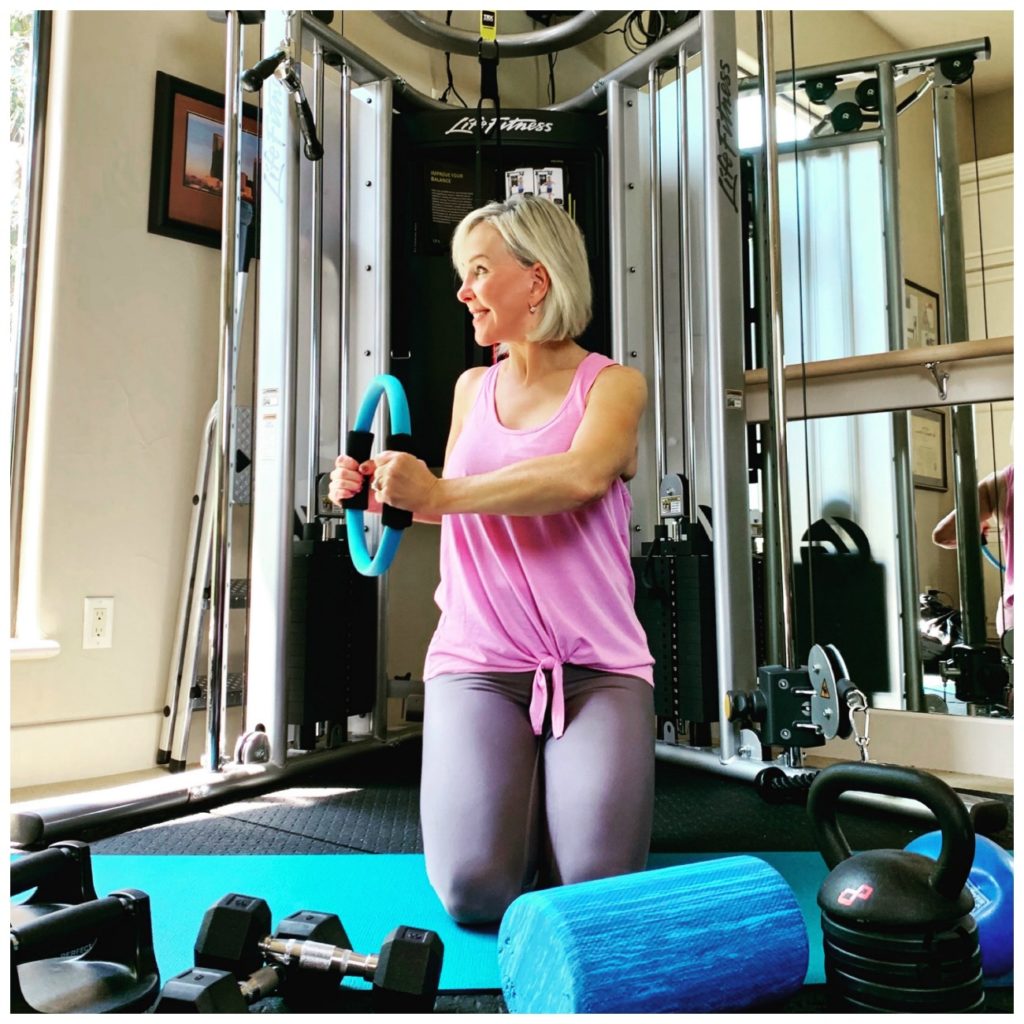 Water Bottles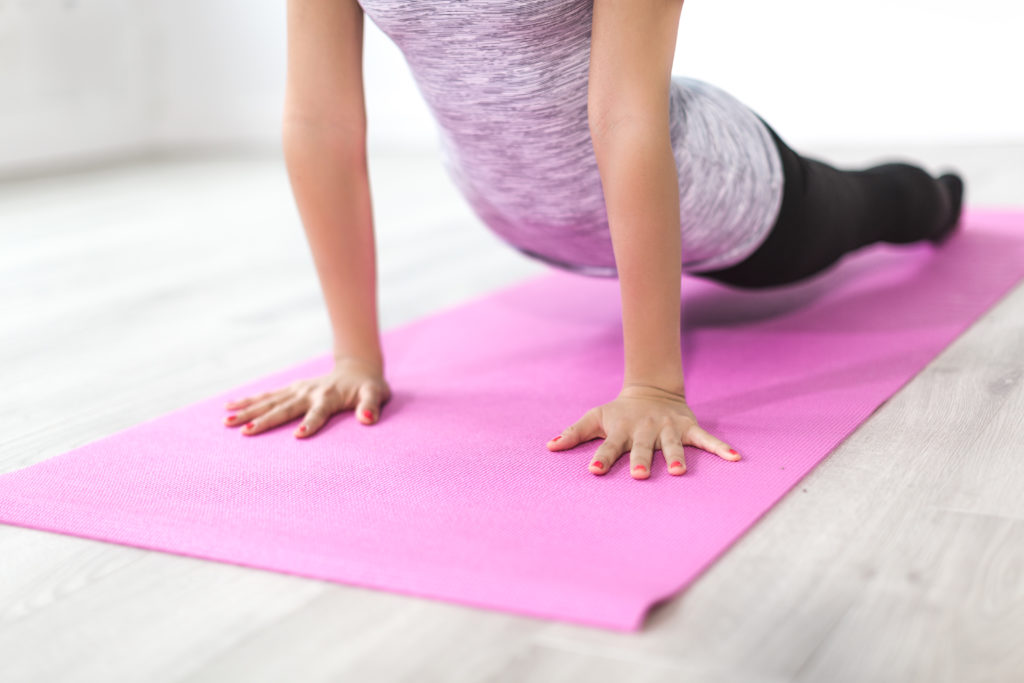 Pilates Routine
My favorite part of Mat Pilates is how low-impact movements can tone and tighten ALL muscles (including those we usually ignore). We scoured the internet for some classic Mat Pilates moves to try if you're getting started with Mat Pilates.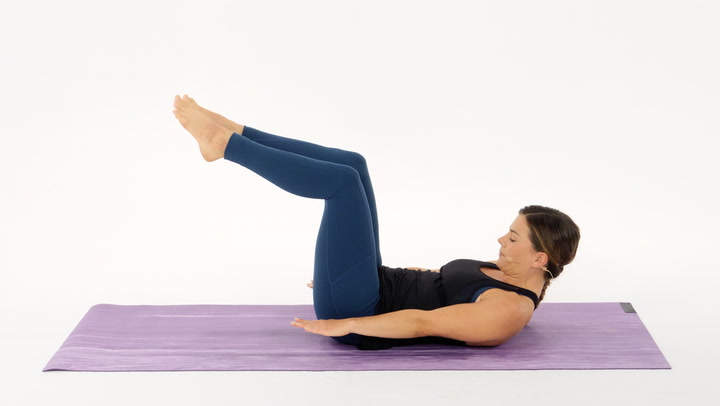 The Hundred (Abs)

Lie on your back with your arms reaching long by your hips, and your legs long and together. Curl up to the tips of your shoulder blades, and then extend your legs to 45 degrees. Pump your arms up and down, as you inhale for 5 counts, and then exhale for another 5 counts. (Pilates Anytime)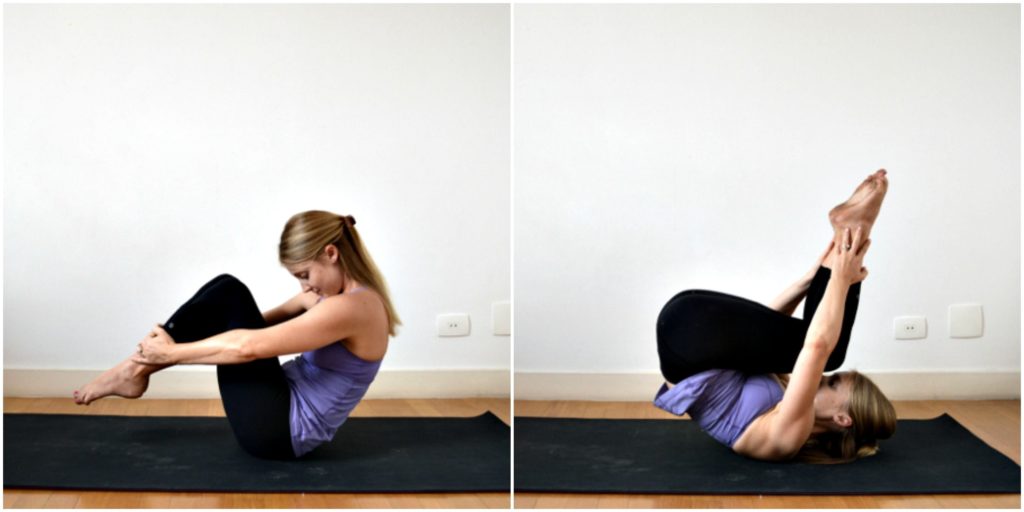 Roll Like a Ball (Abs)
Sit with your heels as close to your buttocks as possible, squeeze your heels together, and hold onto your ankles with your hands. With your knees as wide as your shoulders, your head between your knees and spine in a tightly rounded position, slowly roll back until you reach the tips of your shoulder blades, and then rock back to start with control. (Pilates Anytime)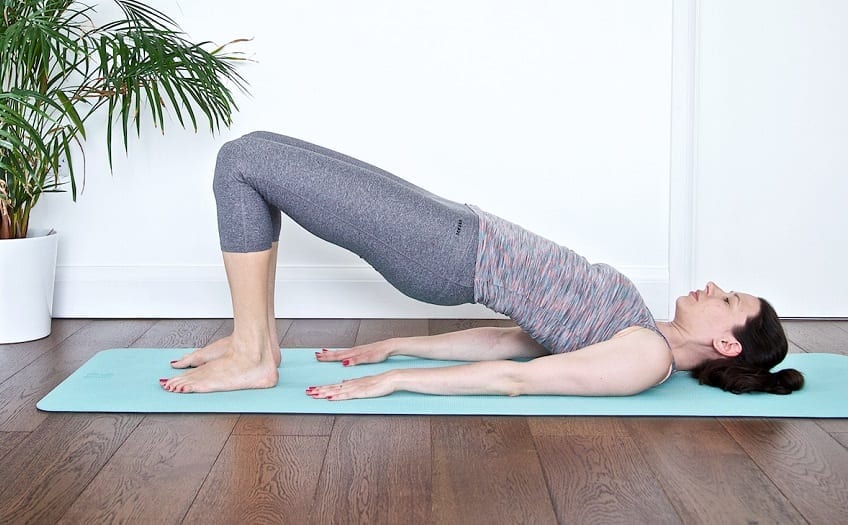 Shoulder Bridge (Glutes)
Lie on your back with your knees bent, feet sit bone–width apart on the floor close to your pelvis, and arms pressing into the mat by your sides. Curl your tailbone under, and roll your spine off the mat sequentially. Slowly roll back to start. (Pilates Anytime)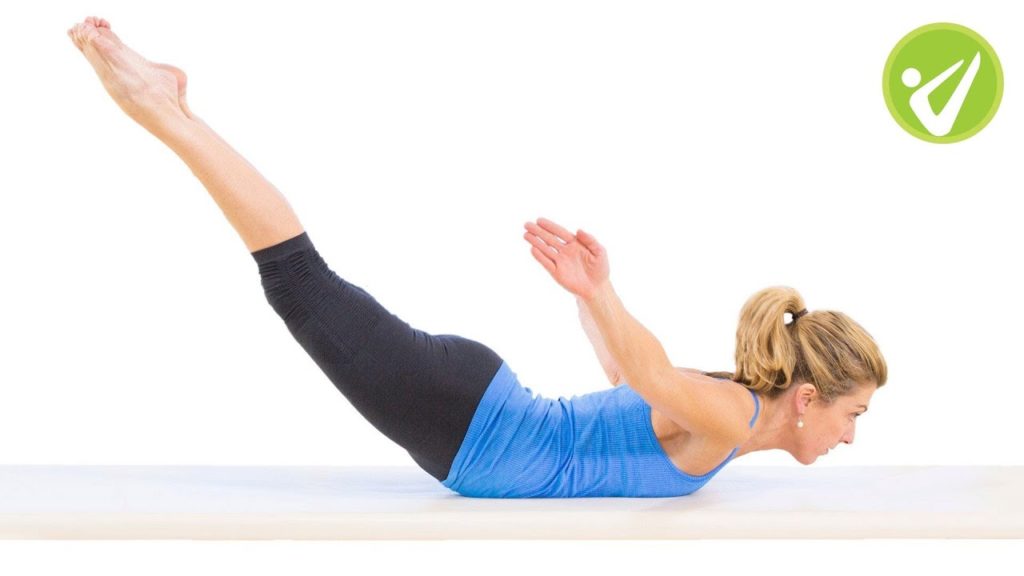 Swan (Glutes, Abs)
Lie facedown with your legs together and arms by your sides. Stretching out in all directions, lift your head, chest, arms, and legs. Continue to lengthen (it's a small lift), and then return to start. (Make it easier by spreading your legs to hip-width.) (Pilates Anytime)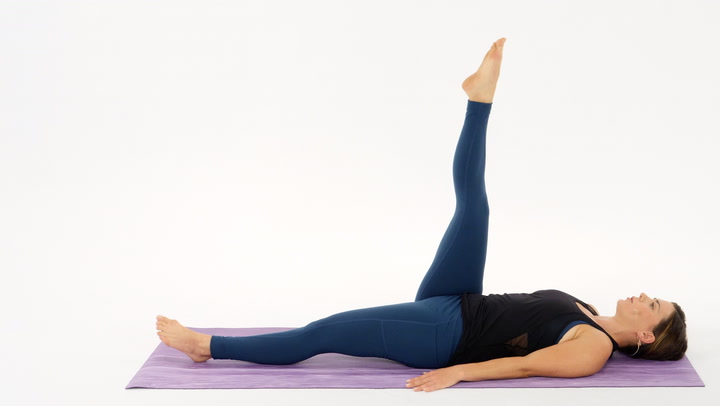 Single Leg Circle (Legs, Abs)
Lie on your back with your palms pressing into the mat. Extend one leg long on the mat, foot flexed, and your other leg toward the ceiling with your thigh turned out. Circle your leg toward your midline, and then around. Reverse the direction. (Pilates Anytime)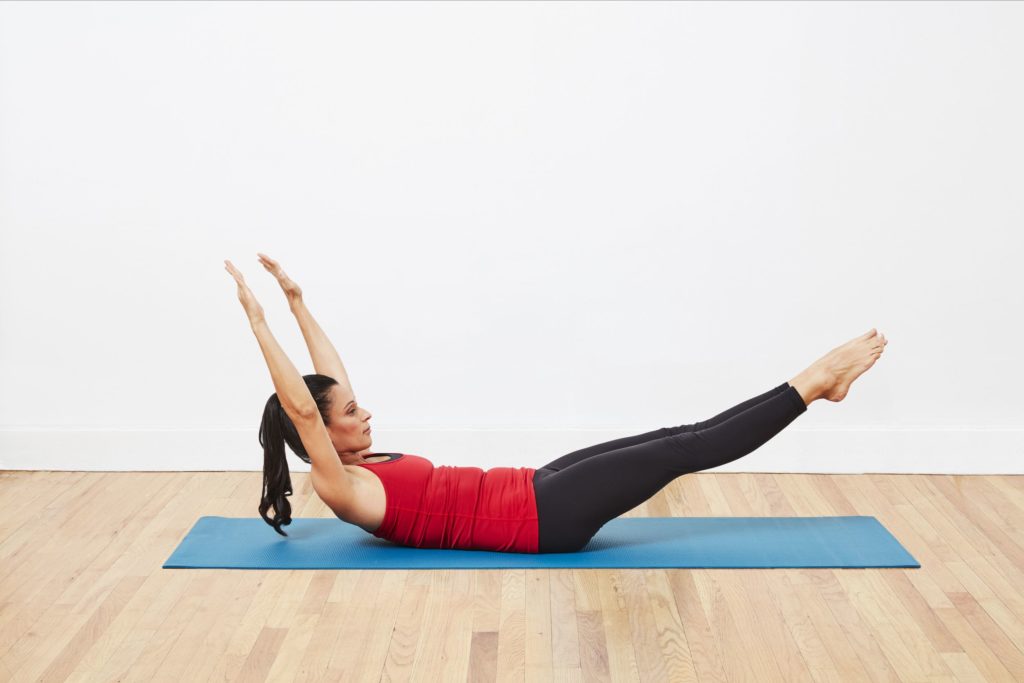 Double Leg Stretch (Abs)
Lie on your back with your knees into your chest and hands around your ankles, and then curl up to the tips of your shoulder blades. Extend your arms by your ears as you simultaneously extend your legs forward, reaching in opposite directions. Return to start, hugging your knees in tight. (Pilates Anytime)
Instructors
If you don't want to start from scratch, finding a virtual instructor is a great way to practice Mat Pilates.
Who remembers when we covered Melissa Wood Health's app in this post from earlier this year? She is our favorite Mat Pilates instructor by far and has a great (and cheap!) app that lets you take her practice wherever you go. Sign up for her program here.
Need some other ideas for Mat Pilates instructors? Check out this list:
Are you adding Mat Pilates to your workout routine?
SHESHE'S TIDBITS
Now that the Nordstrom Anniversary Sale is finally over, we can start sharing some other great websites and brands that are moving out summer fashions to bring you the latest in fall styles. I am seeing a few new trends for fall and we can't wait to share them with you. Stay tuned sweet friends as fall fashions begin.
Gala's, weddings, graduations, holidays, or just everyday wear…..we have fashion suggestions for you, so stay tuned. Be sure to check out the ShopSheShe tab at the top in the menu bar. Hover over and choose the category in the dropdown. We try to keep it up to date with the latest and greatest for all budgets. Subscribe here and then you won't miss a post. Simply enter your email in the pop-up box or below.
WELCOME new readers. We are a fashion/travel/lifestyle blog. We talk about anything and everything, from fashion, travel, health issues to even an occasional recipe. Let us know if there is a topic that interests you. We will do our best to bring that story to you. Have a great week sweet friends and thank you for following along. Without you, we could not continue on this crazy fun journey.