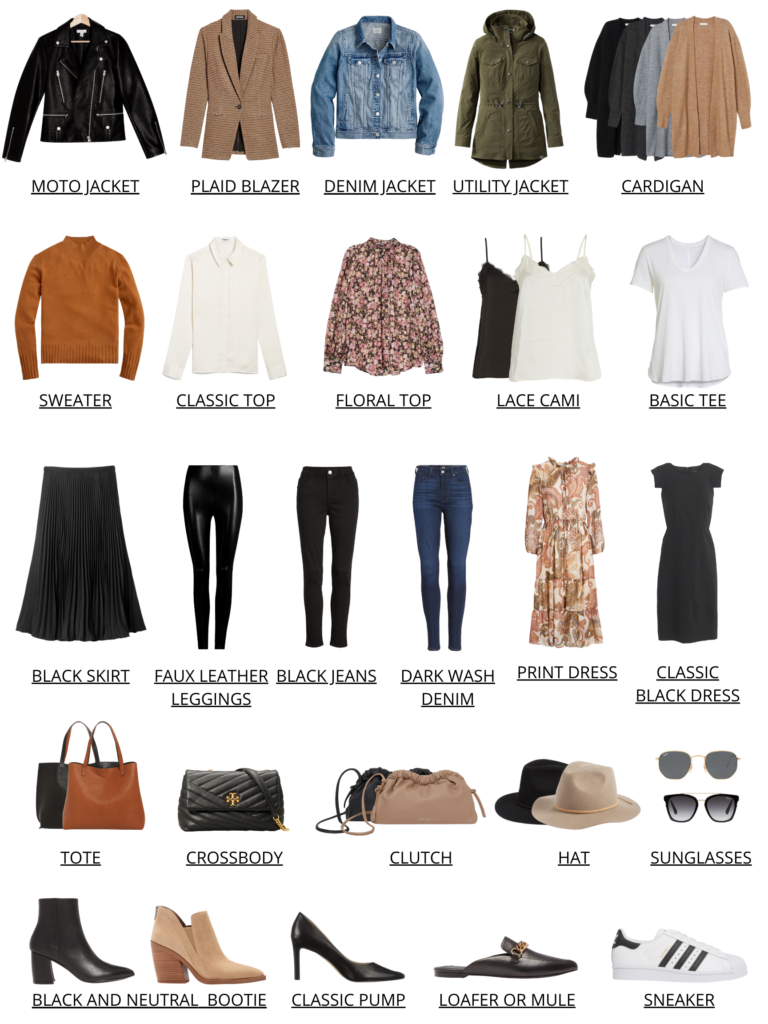 A fall wardrobe capsule…we've had several of you ask for one and here it is! We've done a basics wardrobe for you last year and this is our FIRST fall wardrobe capsule EVER! We are so excited to share the versatility of all of these pieces with you. We are all about versatility within our wardrobe. With these few pieces, you can go from the comfort of your home, then add some cute accessories and head out the door for a night on the town.
The Fall Wardrobe Capsule
You can download the entire capsule below!
Staple Pieces
Fall Blazers + Cardigans + Jackets
*Click on any item above to shop!
A few main key-pieces of your fall wardrobe are definitely going to be a blazer, cardigan, moto, denim, and utility jacket. With these pieces, you can make a look casual to dressy!
The plaid blazer has been a trend for a couple of years now and I am loving it. As you can see in the capsule it goes with anything and everything. As for a denim jacket, we have LOVED this one from J. Crew. It never fails and trends year after year. The moto...okay ladies, as for the moto we have a basic moto jacket that will never go out of style. You all have seen me pair SO MANY different looks with a moto jacket and this one is a staple for every woman's closet.
Tops
*Click on any item above to shop!
These tops for fall are essential to every woman's closet. The camisoles, t-shirt, and blouse are perfect for all seasons and year-round! Now the floral and mock neck shout fall! This mock neck is cashmere and perfect for the cooler temps! Also available in 10 colors!
Bottoms
Year after year the most important pieces for your fall wardrobe stay about the same! We have here our favorite faux leather legging, black jean, dark wash, and skirt! I really like the legging and skirt. You can do a half-tuck with your sweater, go cool and casual with a t-shirt, or glam them up with a pretty blouse and jacket.
*Click on any item above to shop!
Fall Dresses

*Click on any item above to shop!
Now here we only have two dresses! Yes – only two, but the thing is between these two dresses it's all about you need for fall. This beautiful paisley dress can be dressed up and down, whichever you are feeling! Of course, this LBD is perfect for all seasons and occasions. Did you see how we even made it super casual in the capsule?
Shoes + Accessories
*Click on any item above to shop!
For shoes and accessories, we are staying with the basics again! These shoes will never go out of style and have trended for decades! This tote is a must-have and it's a one and done bag. Flip it inside out and you have either brown or black AND it's UNDER $50!
Download The Capsule
You can download the entire capsule below! So everything you see below we have made a "book" of all of these looks and ways to wear!
Shop the Capsule

SHESHE'S TIDBITS
We hope you find this capsule wardrobe helpful. Should you need to add any of these suggested items to make your own capsule wardrobe we would so appreciate you shopping our links. We make a small commission for everything you purchase when clicking on our links and widgets in our blog posts. This is one way you can help us support our cost of running our website and office help to bring you posts that you love. Thanks to those of you who have been shopping with us for a while! It means so much!
Be sure to check out the ShopSheShe tab at the top in the menu bar. Hover over and choose the category in the dropdown. We try to keep it up to date with the latest and greatest for all budgets. Subscribe here and then you won't miss a post. Simply enter your email in the pop-up box or below. Also, download the LiketoKnow.It App, follow @shesheshow to shop all of our daily outfits, home, beauty, and more. Go here for our LiketoKnow.It tutorial.
WELCOME new readers. We are a fashion/travel/lifestyle blog. We talk about anything and everything, from fashion, travel, health issues to even an occasional recipe. Let us know if there is a topic that interests you. We will do our best to bring that story to you. Have a great week sweet friends and thank you for following along. Without you, we could not continue on this crazy fun journey.