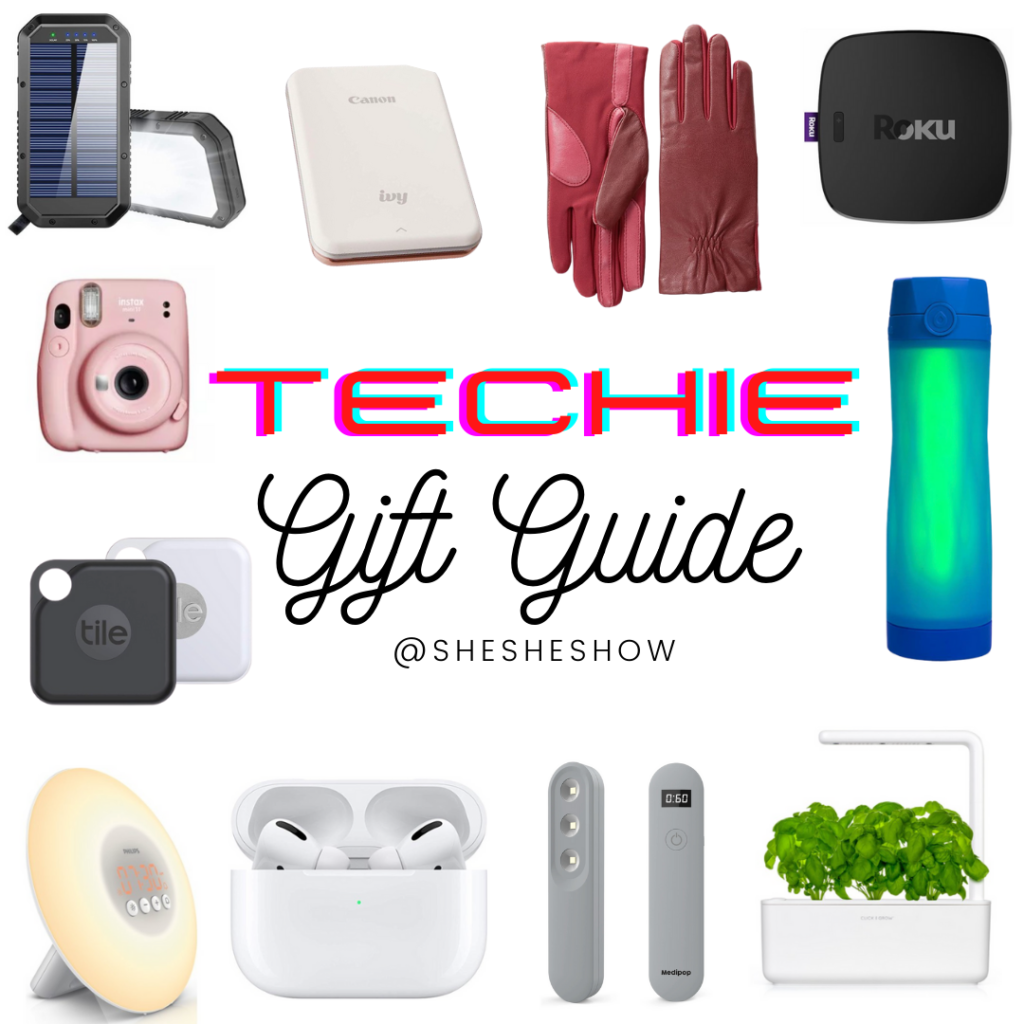 We all know a techie! There are so many types of techies, whether beauty, outdoors, fitness, or just loves their electronic devices. These gifts are perfect for your tech junkie!
Apple AirPods Pro
The latest version of Apple's best-selling wireless earbuds now come with interchangeable soft tips so you can customize their fit, plus noise canceling for when you want to block everything out. Latest update is a transparency mode that lets you hear the sounds around you. Most people have iPhones now and AirPods are a hit!
Battery Solar Power Bank
I think this is a must-have, for travelers, outdoorsy people, and to have around the house in case of power outages. The ES-982 solar power bank supply meets all your techie's needs. This product can be charged by DC5V/2A and solar energy, especially great for users who enjoy outdoor sports or travel. And there are three USB ports that can charge three devices at the same time, both for yourself and your friends. Additionally, 36 LED high-illumination lights make it easy to deal with power outages or nights.
Mobile Mini Photo Printer
From birthdays and special occasions to nights on the town, this mini photo printer can print 2×3 photos that are smudge-proof, tear-proof and water-resistant, with a peel-and-stick back. Perfect for capturing and KEEPING those picture perfect moments.
Techie Touchscreen Gloves
It is so frustrating having to take off your gloves to use your cellphone, tablet, etc., these genuine leather winter gloves give you the power to still use your devices! Equipped with smarTouch touchscreen technology in the thumb and pointer finger enables smartphone and tablet use with pinpoint accuracy. Allowing you to tap and swipe with precision and ease while keeping hands warm in the cold weather! Available in 5 colors.
Techie Smart Water Bottle
A smart water bottle?! Yes, you heard that right. This is a NECESSITY for your techie lover. Prioritize your everyday health and wellness by keeping up with your hydration goals! Sensor technology tracks your water intake and syncs your progress to our free hydration tracker app via Bluetooth. Wondering why this water bottle appears to be glowing? This bottles' glow illuminates the entire bottle to remind you to drink more water, either at regular intervals or when you are behind on your daily water goal; Choose from 3 exciting light patterns. This bottle is available in six beautiful colors.
Wake-Up Light with Sunrise Simulation Alarm Clock
Inspired by nature's sunrise this alarm clock is mind-blowing! Light gradually increases from 30 minutes before your set wake up time, gently preparing your body to wake up. At your set wake up time a gentle beep will ensure you are awake. Developed with Philips? Clinical Sleep & Respironics knowledge and 100+yrs of Lighting expertise.
Fujifilm Instax Mini 11 Camera
Expressing yourself has never been easier with the Mini 11! Shoot a picture and make a beautiful color print on the spot. Here are some specs about this modern yet old fashion way to keep your memories!
Slim body size with transparent lens ring
Automatic Exposure – The Mini 11 automatically selects the optimal shutter speed in any environment.
Mini 11 captures bright backgrounds and bright subjects even in dark scenes
One-touch Selfie Mode – the Mini 11 has built-in macro mode and selfie mirror for the perfect selfie. Just pull out the lens barrel until the "Selfie Mode" mark appears
Two shutter button accessories are included – Jewel button and a Glow button – to customize your camera!
Available in SEVERAL cute colors! Influencers are loving this!!
Smart Garden 3 Self Watering Techie Indoor Garden
This is a top seller! No matter how little space you think you have, you have room to grow your own fresh herbs or vegetables in this self-watering indoor garden. The kit includes the planter base, which features a built-in water reservoir that holds a month's worth of water, an LED lamp arm to provide vital light, and three basil starter pods, so you can get growing right away. The proprietary soil mix is inspired by NASA research and contains nutrients released in sync with the plant's life cycle, keeps soil pH balanced, and employs tiny oxygen pockets to guarantee plants get ample breathing room and nutrients even when the soil is wet.
Portable Sterilizer
Keep your phone, tablet, laptop, and other items virus- and bacteria-free with this compact stick that sterilizes and disinfects using ultraviolet light. Push-button operation and a countdown timer make it easy to use, and a USB charger cord lets you charge the device up practically anywhere. I think techie lover or not we ALL NEED these little devices!
Techie Giftshop

SHESHE'S TIDBITS
I will be packing this weekend preparing for our annual trip to Tennessee for Thanksgiving. We will not be staying as long as there will so little for us to do outside of Thanksgiving dinner. Weather permitting, we will be at my sister's lake house outside for our get together. I doubt we will do our tradition of shopping Black Friday with my sisters and nieces. Fingers crossed…. Makes me so sad…..
Be sure to check out the ShopSheShe tab at the top of the menu bar. Hover over and choose the category in the dropdown. We try to keep it up to date with the latest and greatest for all budgets. Subscribe here and then you won't miss a post. Simply enter your email in the pop-up box or below. Also, download the LiketoKnow.It App, follow @shesheshow to shop all of our daily outfits, home, beauty, and more. Go here for our LiketoKnow.It tutorial.
WELCOME new readers. We are a fashion/travel/lifestyle blog. We talk about anything and everything, from fashion, travel, health issues to even an occasional recipe. Let us know if there is a topic that interests you. We will do our best to bring that story to you. Have a great week sweet friends and thank you for following along. Without you, we could not continue on this crazy fun journey.