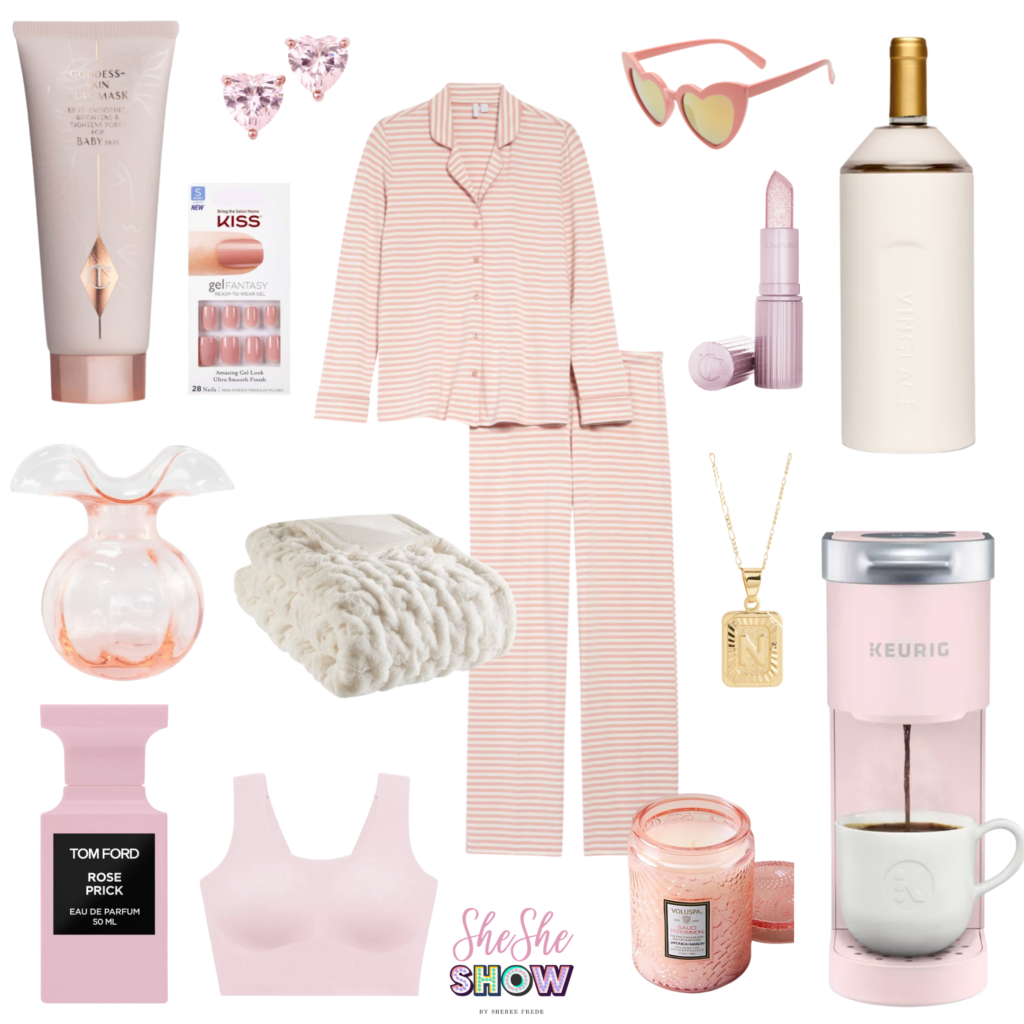 Valentine's Day is the perfect day to share love and gifts! We know all about the perfect gift for her. So read along and shop away for her, or yourself!
Valentine's Day Gifts
Below we have all of our favorites and top trending gifts for her!
Jewelry + Accessories


This initial necklace has been trending for gifts for over 2 years now and never fails! We love these designer inspired heart sunglasses that are a total must-have for spring. While we're on the subject of accessories, these heart stud earrings are perfect for any girl!
Kitchen + Home


We all know someone who loves their kitchen and kitchen gadgets. This pink single-serve Keurig is perfect and absolutely adorable. Speaking of one who enjoys beverages, this wine chiller is a best-seller and a necessity! Go anywhere and keep your wine chill! I have had this bud-vase for years and every year it sells out! It is still available so snag one before it sells out!
Beauty + Self Care


Charlotte Tilbury is a fave of mine, and she has released a limited edition Glowgasm Glass Balm and it a custom gift for any woman. This balm is a color-morphing, hydrating lip balm that reacts with the natural pH of your lips to bring out their natural hue for a personalized shade. How cool is that? She also has this Goddess Skin Clay Mask, a clay mask that hydrates, repairs and purifies for flawlessly new, babylike skin in just 10 minutes. I am also OBSESSED with these Kiss Gel Fantasy False Nails. Glue them on and you look fresh out of the nail salon! I am currently addicted.
Cozy Valentine's


Here at SheShe Show, we are all about cozy and comfortable! These striped PJs are perfect for lounging! These slippers are trendy, cozy, and affordable! Now that you have a whole cozy look, grab this blanket and relax. I have a similar one that was over $200 and this one is almost exact to it and UNDER $30! Thank you Target! Psst, don't forget a candle!
Also, did you catch the post A Soma Valentine's? It has some great pajamas, panties, and bras. Go here to read. This post published last week is so fun and full of goodies that you will love and how about a giveaway. It is so easy to enter and you just might win a $1000 gift card or PayPal cash. Go here to enter.
It's hump day so have a great rest of your week!!
Valentine's For Her Shop

SHESHE'S TIDBITS
Norman and I had our second COVID (Moderna) vaccine Monday afternoon. I felt terrible yesterday with aches and chills. Norman had no reactions to the shot at all. Go figure….. We are so glad to now be protected but we will still be masking and doing all the recommended safety protocol. We can still carry and spread the virus without knowing. If you have any questions regarding the vaccine then let me know. I will be glad to offer information about my experience.
ABOUT SHESHE SHOW
WELCOME new readers. We are a fashion/travel/lifestyle blog. We talk about anything and everything, from fashion, travel, health issues, skincare tips, to even an occasional recipe. Let us know if there is a topic that interests you. We will do our best to bring that story to you. Have a great week sweet friends and thank you for following along. Without you, we could not continue on this crazy fun journey.