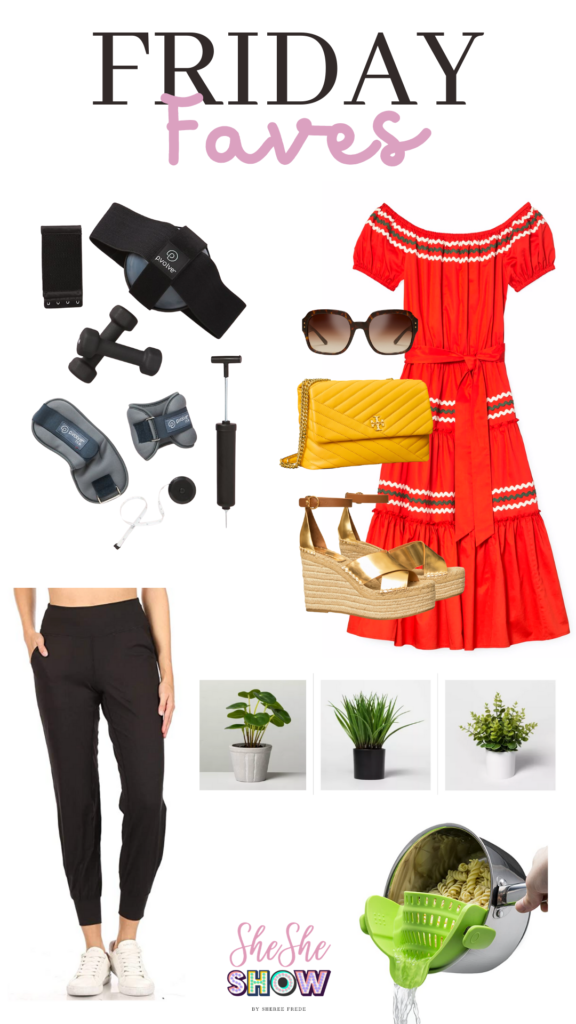 It's Friday and we are sharing all of our favorites from the week. You can find everything here from, home, lifestyle, fashion to beauty.

Friday 02|26|2021


Home


One Size Colander – This colander is a space saver and fits every pot! One-stop pot top!
Greenery – Target has the cutest greenery to add to your space starting at $6! If you're like me and do not have a green hand then these are perfect! No maintenance is better than low or high!
Health

Beginner Fitness Kit – In these times home workouts are becoming more of a thing, with tools for both resistance and strength training, this kit includes everything you need to get started on your at-home workout routine!
Includes P.ball, strap, pump, and tape measure; one set of 1.5 lb. ankle weights; and one set of 2 lb. hand weights
Fashion


Affordable Joggers – These joggers are the #1 joggers on Amazon for a reason! They are super similar to Lululemon and higher-priced brands and under $20. For me, the only difference is the logo!
Tory Burch Secret Sale – Click here to access the secret sale! We love this fun summer dress and this bright yellow handbag!
Friday Fave Shop

SHESHE'S FRIDAY TIDBITS
Happy Friday sweet friends! We are almost back to normal from last week's winter storm in Texas and we are almost caught back up here on SheSheShow after having no internet for 4 days. So glad that is behind us. It was 75 today…. crazy!! Norman went to the ranch this weekend and I am hanging out with friends. It will be a quiet weekend here. What are you up to?
ABOUT SHESHE SHOW
WELCOME new readers. We are a fashion/travel/lifestyle blog. We talk about anything and everything, from fashion, travel, health issues, skincare tips, to even an occasional recipe. Let us know if there is a topic that interests you. We will do our best to bring that story to you. Have a great week sweet friends and thank you for following along. Without you, we could not continue on this crazy fun journey.
Be sure to check out the Shop SheShe tab at the top of the menu bar. Hover over and choose the category in the dropdown. We try to keep it up to date with the latest and greatest for all budgets. Subscribe here and then you won't miss a post. Simply enter your email in the pop-up box or below. Also, download the LiketoKnow.It App, follow @shesheshow to shop all of our daily outfits, home, beauty, and more. Go here for our LiketoKnow.It tutorial.