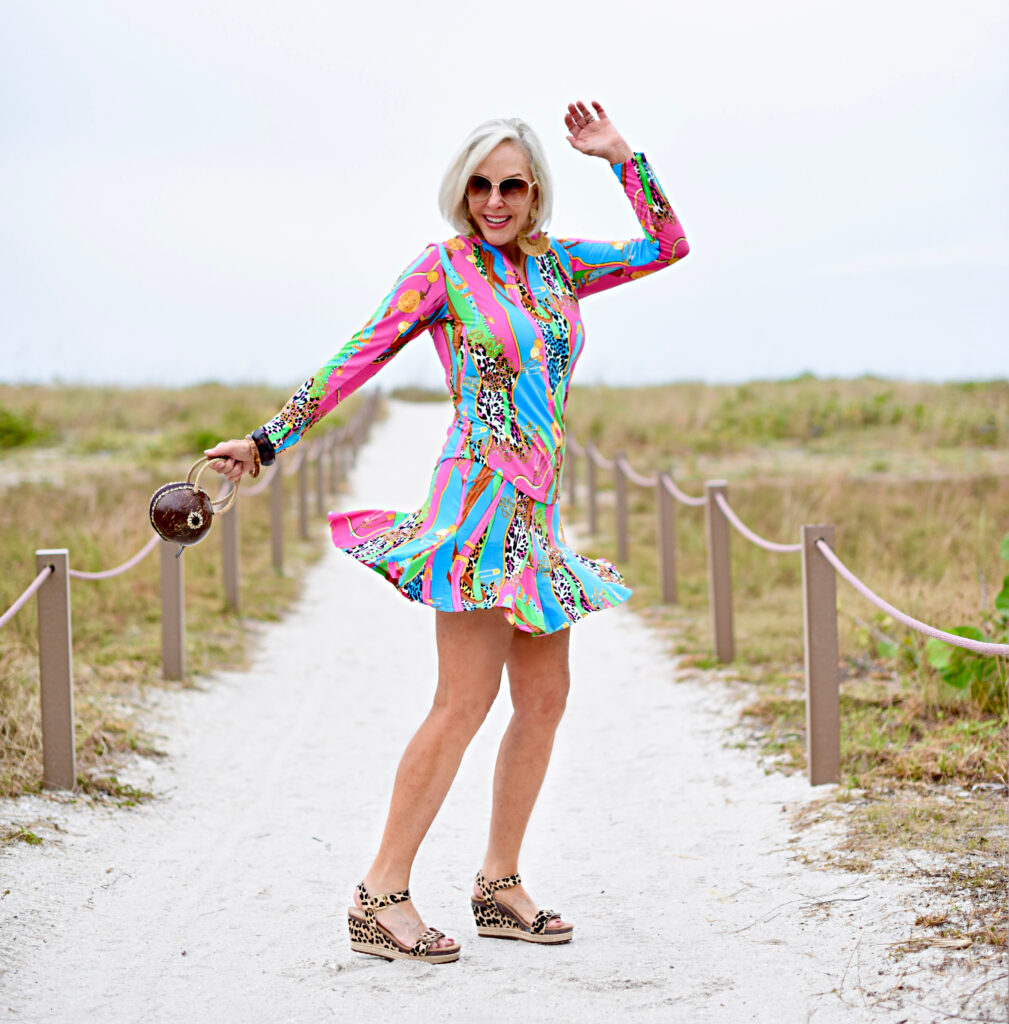 Hello from sunny South Florida! Today, I am so excited to introduce you to Anthony's of Florida, a family-owned chain of stores for women that was founded in 1884 by A.P. "Gus" Anthony. I know that those who are able and/or willing to travel right now, most likely you would love to know what to pack if you were headed to Florida or anyplace warm and a beach. So, we thought it would be fun to show you the cutest outfits and ideas for your warm-weather get-a-way.
This post is brought to you in partnership with Anthony's of Florida. All opinions are my own.
ABOUT ANTHONY'S OF FLORIDA
For a business to last over 120 years you know that that must have gone through so many ups and downs and changes. It all began in West Palm Beach, Fla and is still headquartered there today. It started as a shoe and clothing store having big growth periods between 1904 and 1914 as well as in 1959 when they bought out the Bradley & Taylor stores in Fort Lauderdale. In between these years Anthony's made it through a devastating hurricane and World War II.
By 1974 Anthony's had grown to 11 stores with the original store still selling men's clothing. Now, Anthony's is only women's clothing with 13 stores all across the state of Florida and they have a growing online business that is great especially since COVID-19. There are so many more historical facts about this family-owned business that I find fascinating. Go here to read the entire timeline of their business from 1884 to the present.
WHAT TO PACK FOR FLORIDA
One thing I think I am an expert on is travel and packing. Just let you know, that I can teach it but I am not very good to practice what I preach. Just can't help myself when I want to take everything including the kitchen sink. Accessories are key to making several looks with a couple of pieces and the accessories that I am wearing are my own. The clothes are all compliments of Anthony's of Florida.
CASA YBEL RESORT | SANIBEL ISLAND FLORIDA
Norman and I bought a house on Sanibel Island, Fla 2 years ago. When Anthony's decided to shoot their Spring/Summer Catalog in Sanibel and Captiva they reached out to me to help them out. I suggested one of my favorite places Casa Ybel Beach Resort.
LOOK #1
When thinking about clothes, I am the first to look for colorful options. Even though I do love neutrals and monochromatic looks, you will get your eyes full of color in this post. It is who I am!
This bright royal blue miro fiber top is so comfortable and it comes in 8 pretty colors including black and white. I am wearing a small, but I am exchanging it for a medium. This small fits ok but I prefer a little more room. That being said I think it runs TTS (true to size) so choose your size based on how you like your clothes to fit. This top is a basic so you could stock up on a few colors and it would work with so much of your wardrobe,
What do you think about these Krazy Larry Circle pants? Slim, tailored, and stylish, this best-selling stretch ankle pant features your favorite bengaline fabric in a pull-on silhouette that is as comfortable as it is chic! You can wear a denim sandal similar to mine or wear any of the other colors including maybe even a sneaker. I never forget my earrings so I added a statement pair that is so fun. Mine are sold out but I do like these that come in many colors and are under $15.
**These pants run TTS and come in several prints. This style by Krazy Larry is a top seller.
We must protect our skin from the sun so I added this chic hot pink hat that is under $25. If you need an inexpensive stylish white bag then check out this one.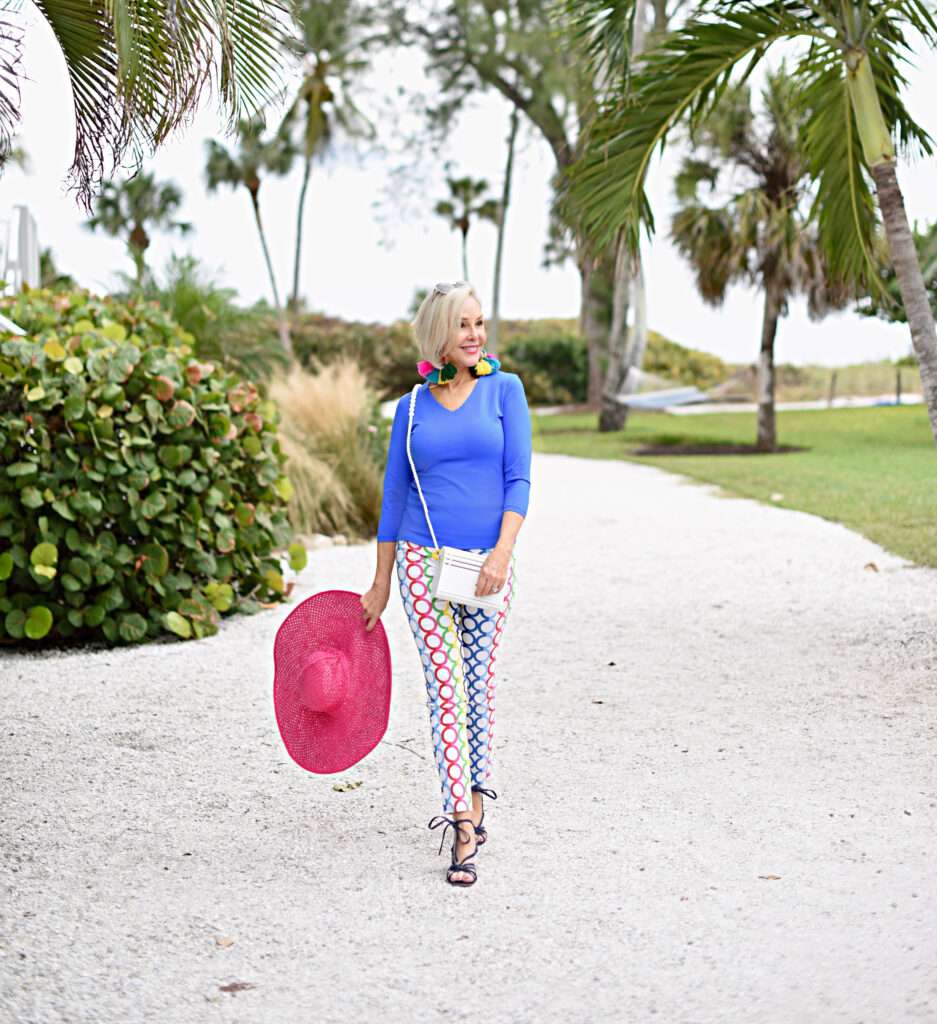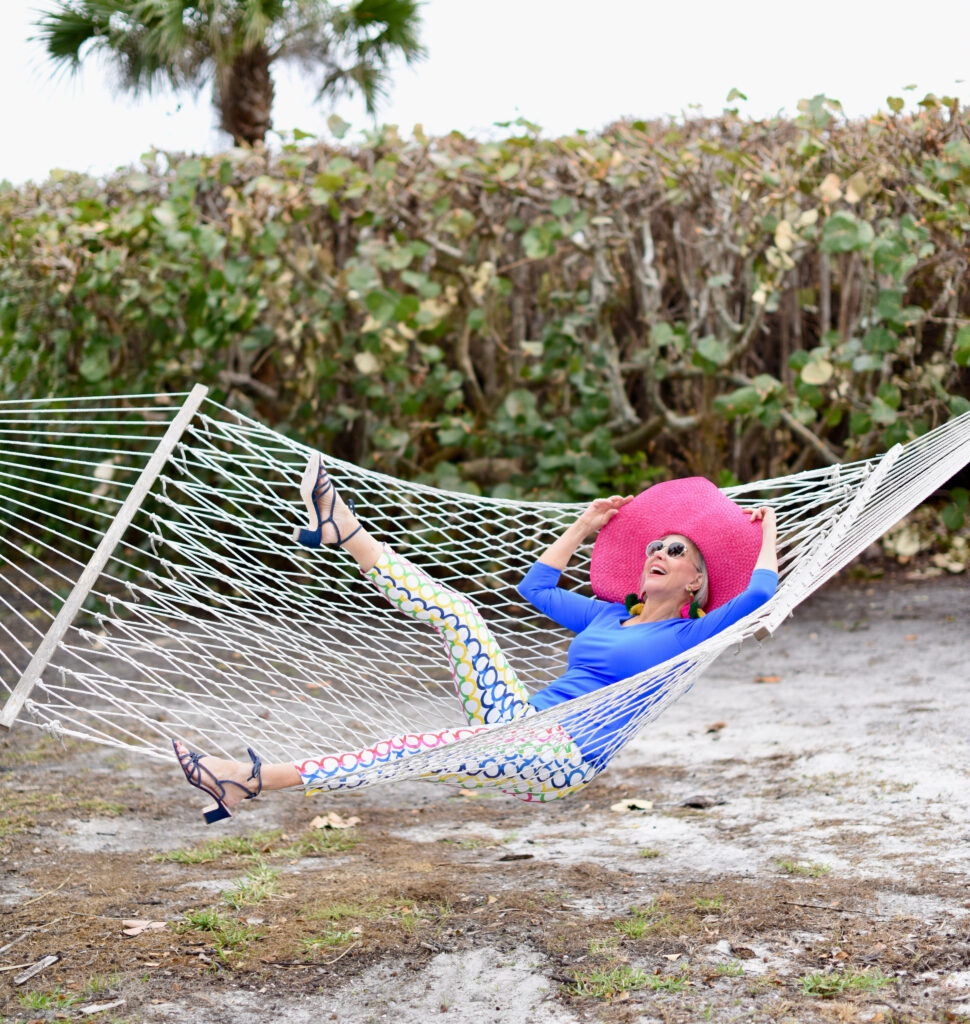 LOOK #2
When at the beach or pool, a cute swimsuit is a must. I know that we are all a little self-conscious of our bodies especially if you are over 60 like I am. I still wear a swimsuit because I love the beach and we do a lot of fishing, so I look for comfort as well as style. Anthony's has a nice variety of swimsuits for all tastes and body types. I prefer a one-piece most of the time and this turquoise Anne Cole one-piece hit the mark. The ruching at the tummy helps to disguise any lumps and bumps. A swimsuit can be so slenderizing if you choose the right style. I usually go up one size in a one piece suit because I have a long torso.
Like I said, I like my hats to protect my skin from the sun. I think that this one does the trick, don't you? This oversized hat is foldable, also comes in black, and is under $50. It is a copy of a designer hat that is $600.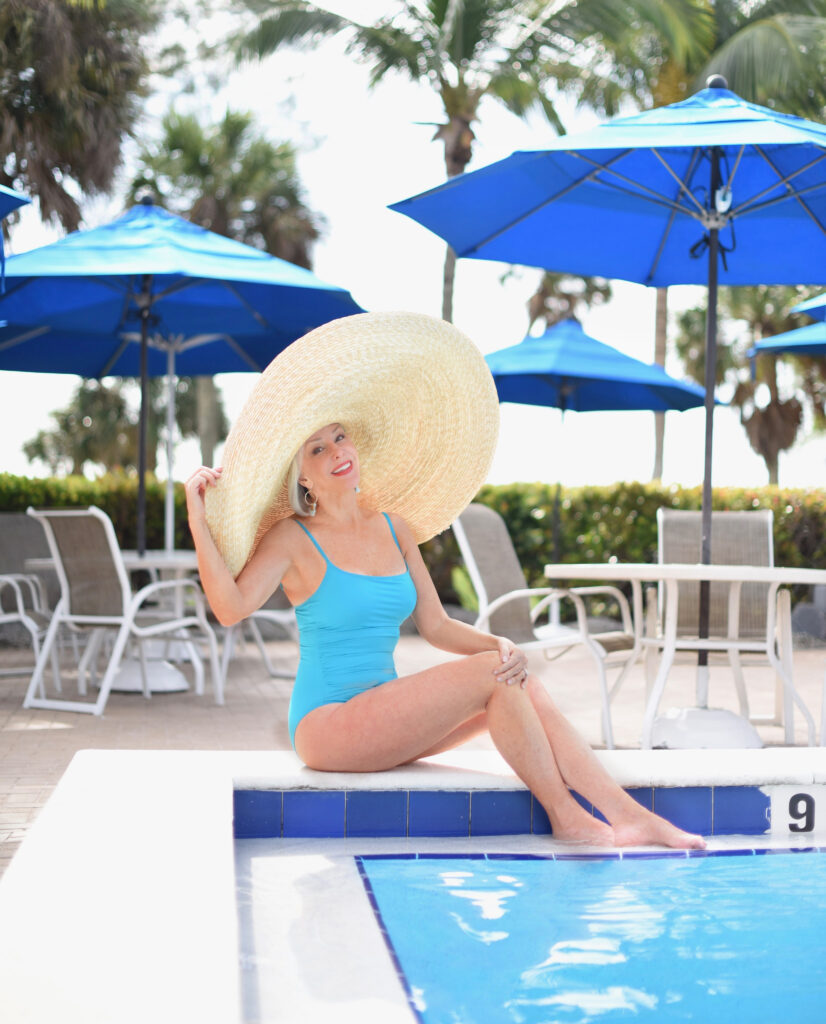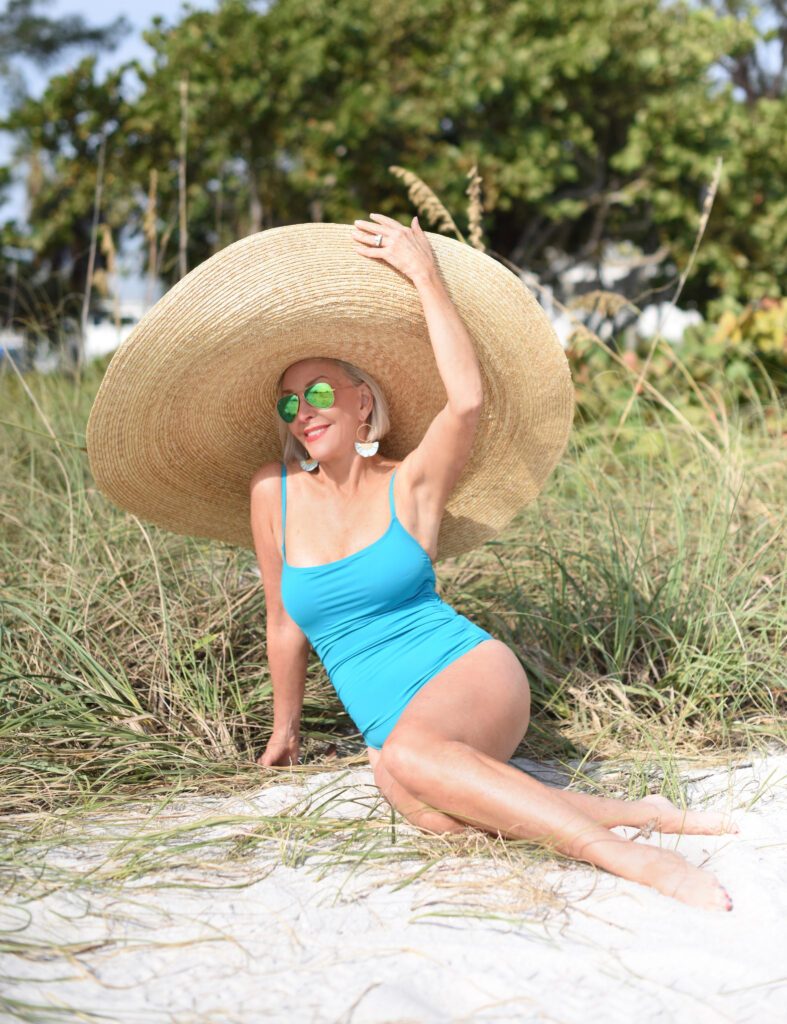 LOOK #3
I have many coverups. Sometimes they come in the form of a shirt dress, t-shirt dresses but my favorite styles are caftans, short or maxi length. This pretty, lightweight colorful caftan by Bleu by Beau Rod Beattie is so versatile. You could also wear it over a camisole and crop pants or bermuda shorts. Try to always think how you can re-style an item.
I have had this pink wide brimmed hat for a long time and you can see how versatile it is. I try to always wear sunglasses to protect my eyes and it is hard to beat a good pair of Ray Ban's. These green mirrored Ray Ban's have been in my possession for about 5 years which is a miracle. I lose or break so many pairs of sunglasses. So frustrating…..know what I mean?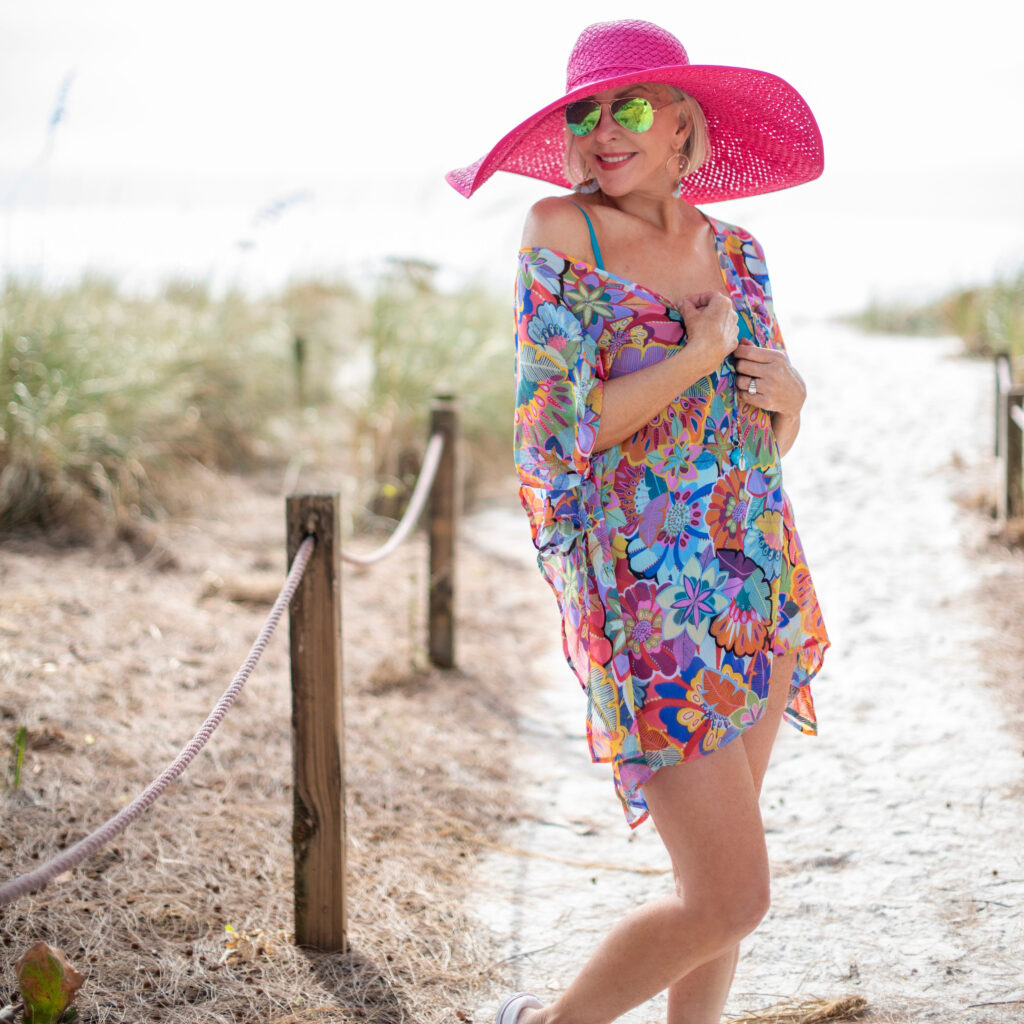 SUMMER HATS

SUNSCREENS
Always, always use sunscreen!!!! The sun is the one thing that I love but it is the most damaging and aging to our skin. Super Goop is my favorite brand but there are some others that I love too. I always take this spray with me when outside. It is easy to apply and also give you a nice refresh. This one a has a moisturizing element to it.

SANIBEL FLORIDA LIGHTHOUSE
The lighthouse is located on the east end of Sanibel. It is the top destination on the island because of it's history and there is a beautiful public beach right there. It is not your typical lighthouse as you can see but it still works every night.
LOOK #4
Anthony's also has a line of their own resort wear. This beautiful Knotical Coral Mock Neck top has UPF50+ I love that we have cute styles that still have a purpose. This collection runs TTS. It looks so crisp with these white crop pants.
If you don't have crisp white crop pants in your wardrobe then put them on your list. They are a summer go to for sure and Anthony's has a few to choose from. This pair and this pair by Krazy Larry is their best seller.
A pair of white sandals, slides, or sneakers would be perfect. A belt bag that can be converted into a crossbody is so great for travel. This one is similar and would be so good for your trip.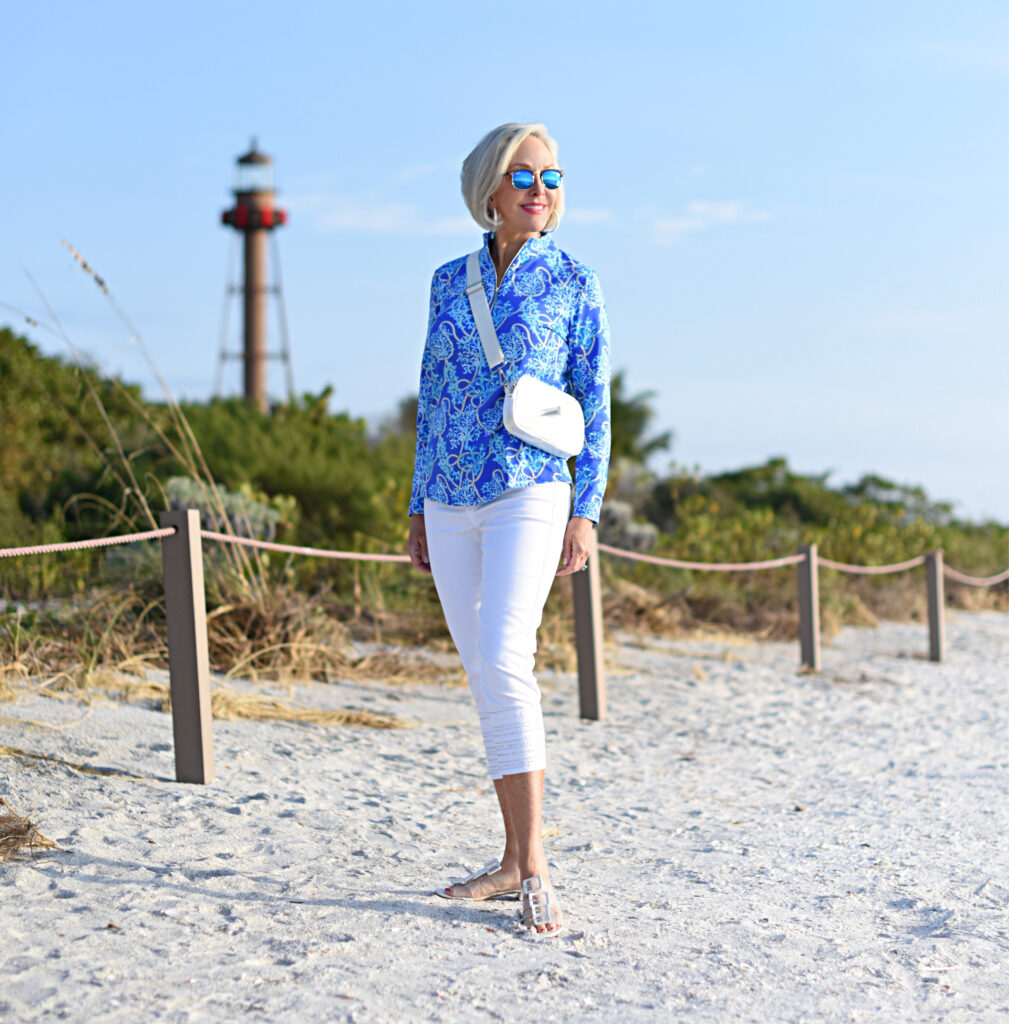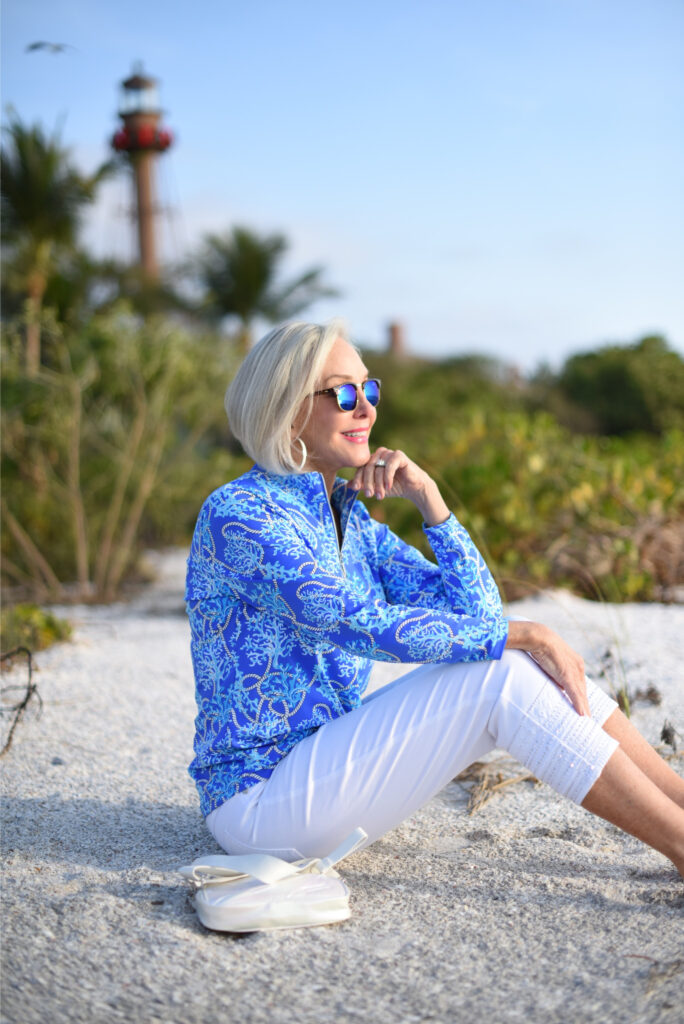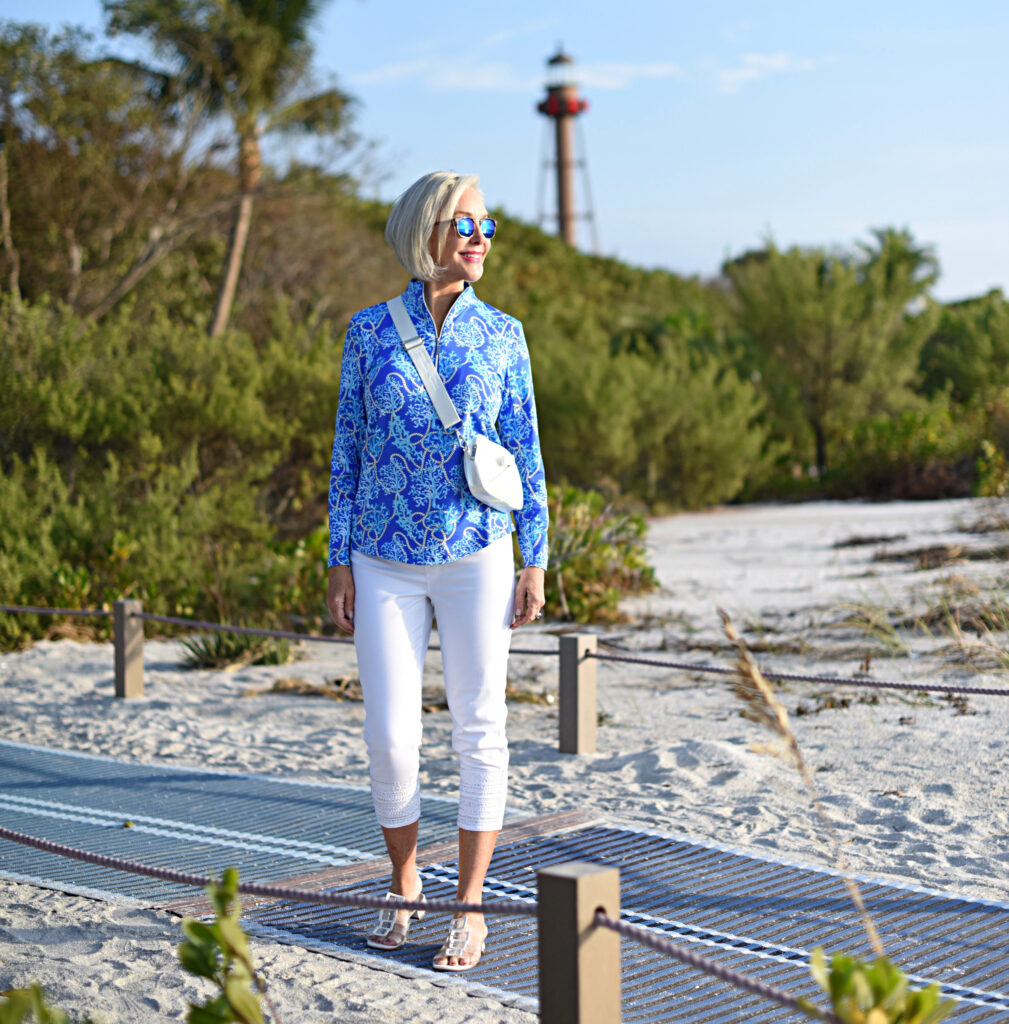 LOOK #5
Like all of these pieces this dress makes for easy packing and can take you to the beach, grocery story or out for a bite to eat. I love the zip front polo style neckline and the A-Line shape looks good on most body types. Check out the entire Anthony's Resort collection.
This white hat comes in many colors and under $50…..I order a new color every year. I must have about 8 or 10 wide-brimmed hats.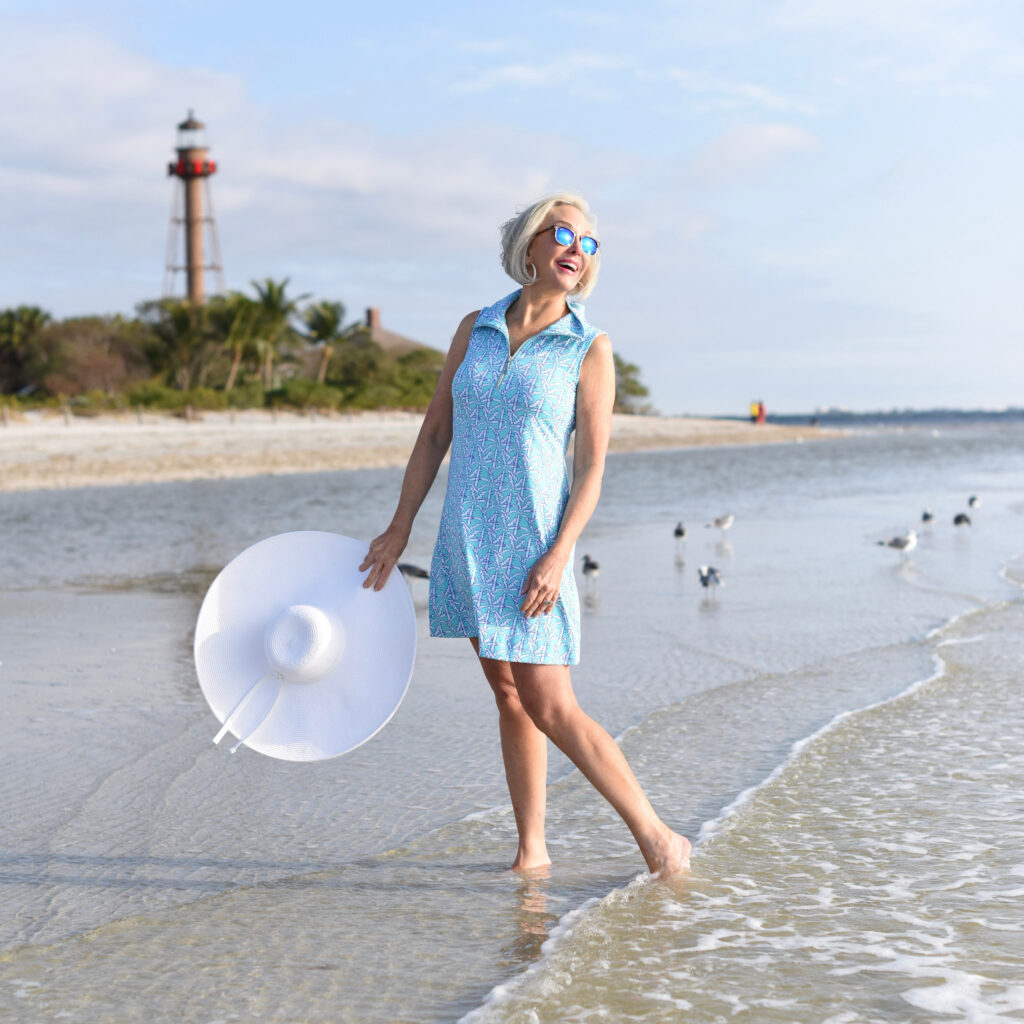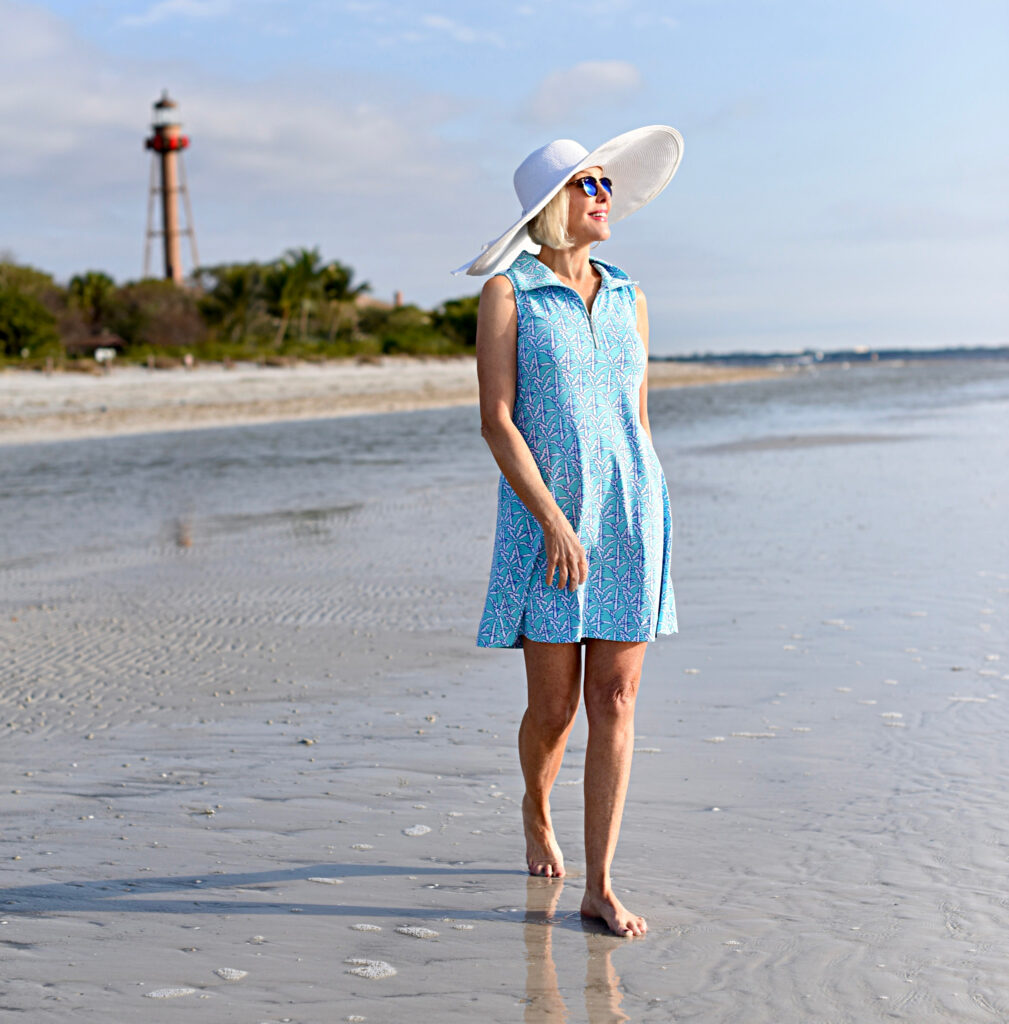 SANIBEL MARINA | FLORIDA
If you are a boating enthusiast then Sanibel Marina is on the east end of Sanibel. There is also, a great restaurant there called Gramma Dot's. They have the best grouper sandwiches.
LOOK #6
One of my favorite UPF clothing brands is Cabana Life. I have posted their clothes for 4 years now. Anthony's loves them too so I got to wear this cute dress that has tassels around the hem. I am between sizes with Cabana Life so I usually go with the medium over a size small. This dress would be great for a lunch out, on a boat or by the pool. A nautical feel screams vacation to me! This look reminds me of the movie Overboard with Goldie Hawn and Kurt Russell. Do you remember that movie? It is just the cutest show!
I added a navy boater hat, white earrings, navy sunnies, nautical print scarf, and these converse sneakers to complete the look.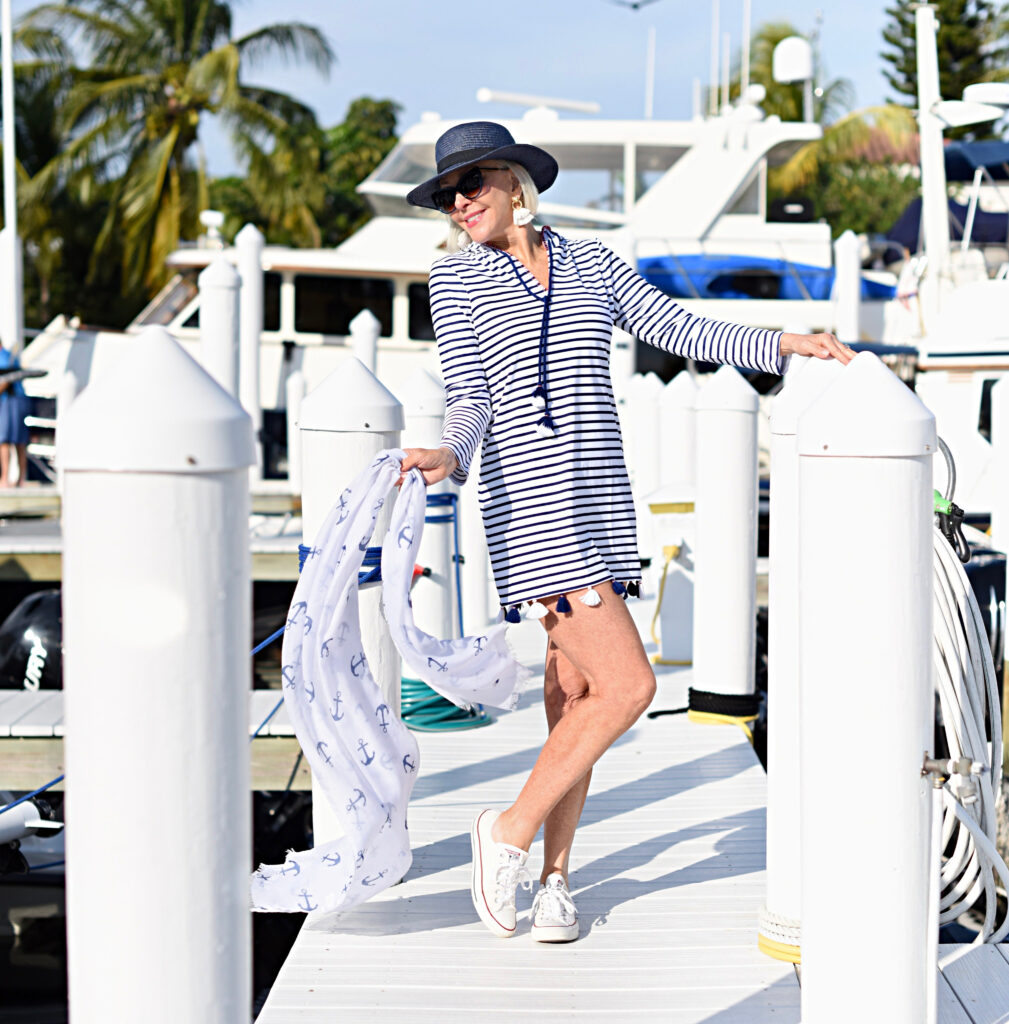 WEST END BEACH | SANIBEL FLORIDA
We stopped off by my house located on the west end of Sanibel and took the west private path to the beach for these photos. This is a beautiful path because there is a walking bridge over the little back bay that we crossed over to get to the beach. A lot of home owners have their kayaks and paddle around fishing and looking at fish and wildlife. Sanibel is a nature lovers paradise.
LOOK #7
I will say that out of all of the looks in this post, this is hands down my favorite. By well known swimsuit maker Gottex, this set has the color that I love, UPF50+ for skin protection and attached shorts under the skirt making it great for bike riding. You can shop the top here and the skort here. There are also other styles in this print that you can find here. If the 2 prints together are too much for you then wear a solid colored top with the skort and wear the top with white pants or jeans.
Sorry to say that my little coconut bag is a treasure from a trip to Jamaica. I have had it for years, but it is timeless. Coco for coconuts!! My leopard print sandals are sold out from last year but they worked great with this print. there are so many styles and colors that would work with this look.
** You can see the attached shorts under the skirt in the photo below.
My fringy straw hat is so cute. I paid a fortune for it 4 years ago but I found a look a like for $25 here.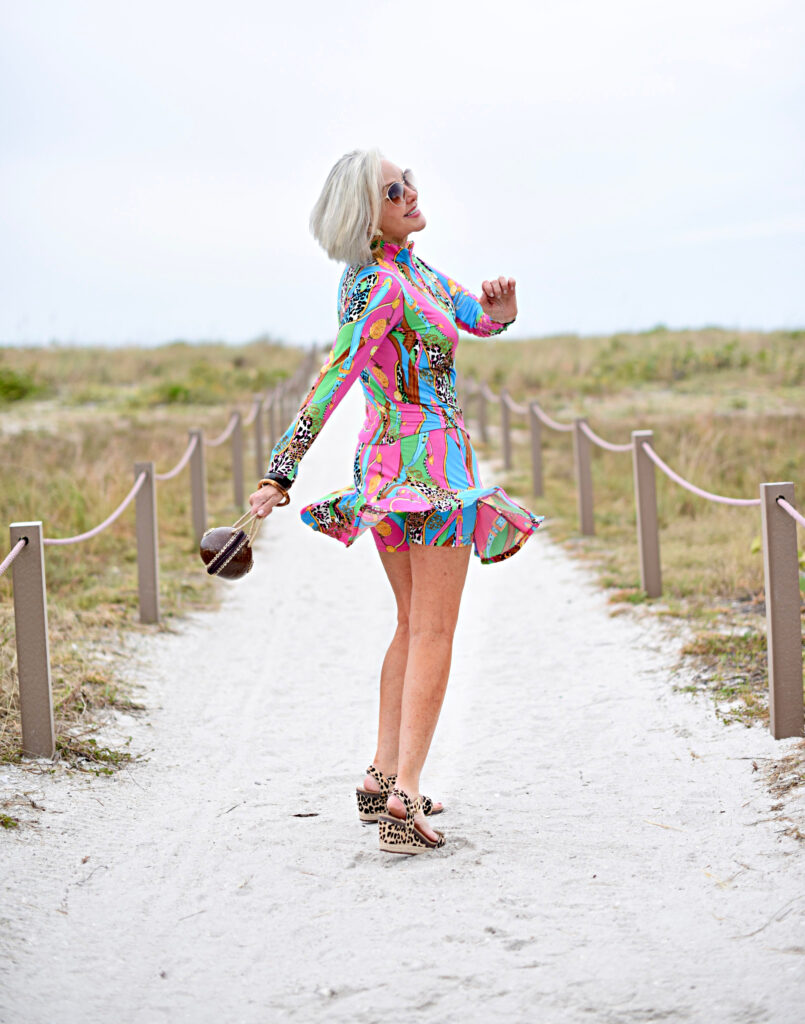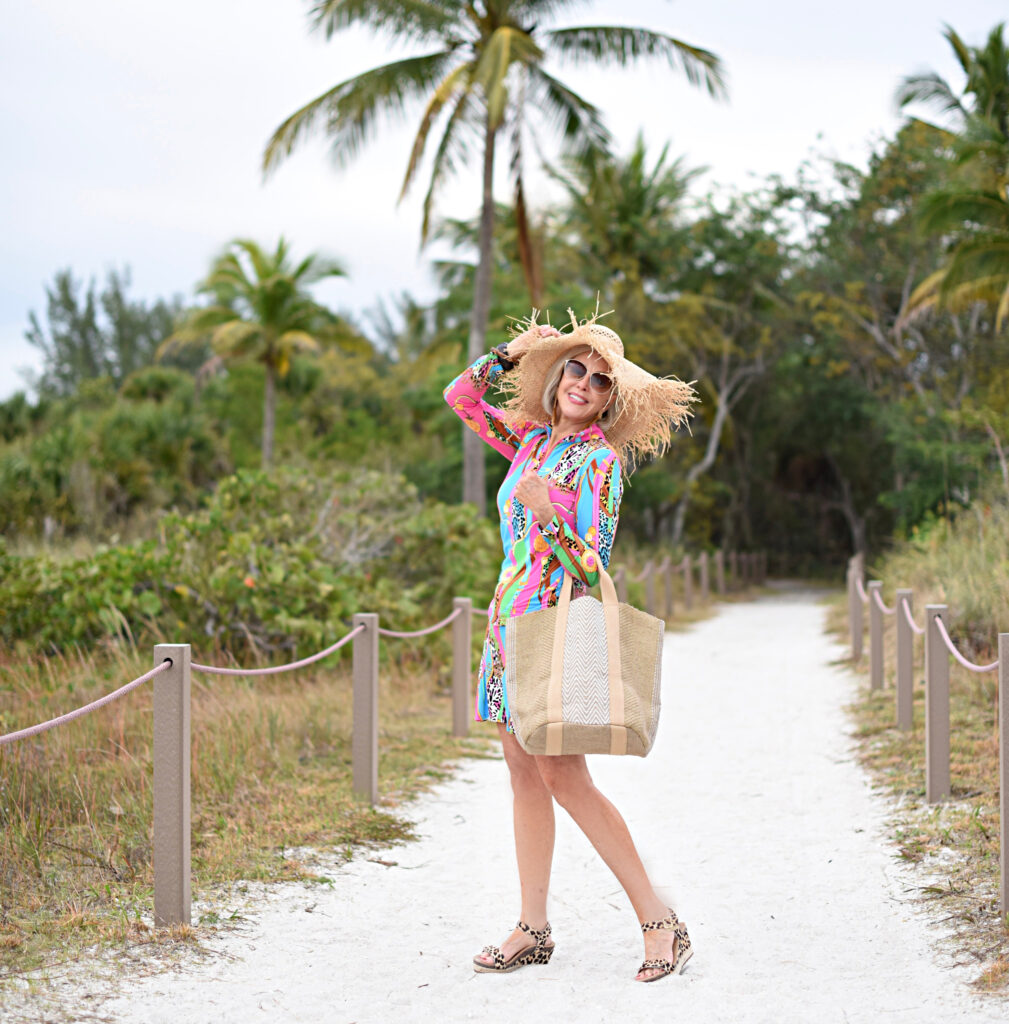 MY ORANGE ISLAND RIDE IN FLORIDA
This cool ride is a must on the island! We have a Tahoe there too but Norman and I fight over who gets to drive the jeep. Still in my neighborhood you can see how tropical and lush it is on Sanibel Island. The only thing I don't like about Sanibel is that the no-seums will chew you up. they come out in the morning and evening. A good spray is a must!!
LOOK #8
This last look is so islandy. Would you agree that these painted jeans are the cutest ever! I can style them in so many ways. They run TTS. My lightweight orange top by Coconut Row works perfectly to keep me cool while driving around the island! Of course, I have to match my ride!!
I know you ladies will want to know about my sandals. They are from Cecelia New York and they come in several colors.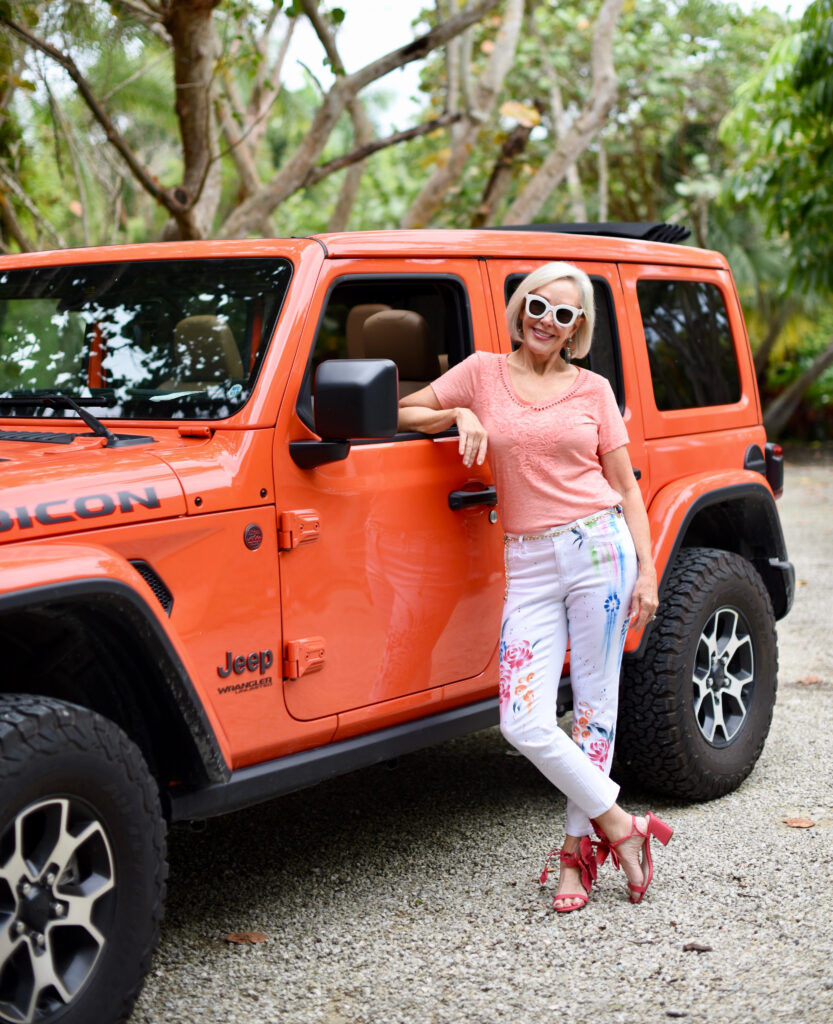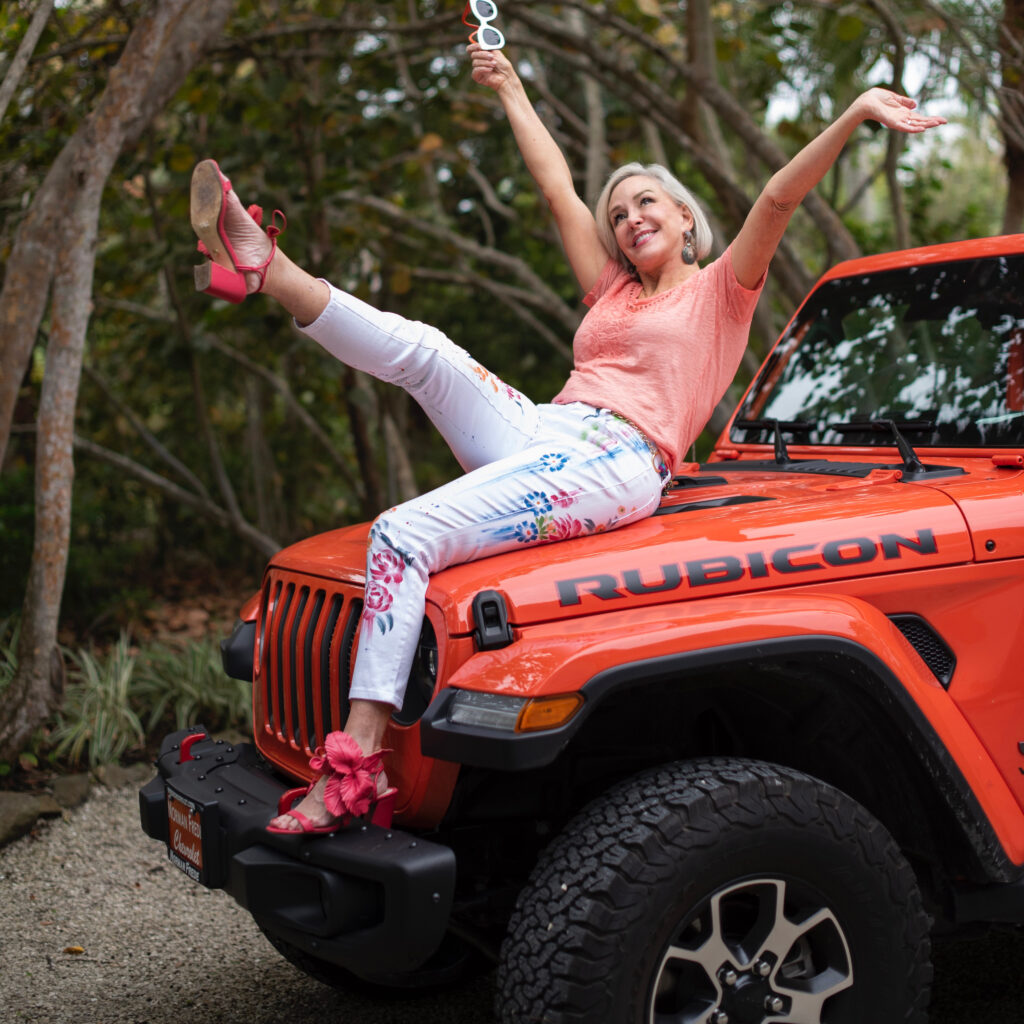 SUNGLASSES

HANDBAGS

STRAW BAGS

IN CONCLUSION
For all of the clothes in this post you can also find them in this link as well as click through the highlighted links. We hope you like this post and look foward to sharing a detailed Sanibel/Captiva Island Guide coming soon.
**For free shipping on any of your orders use code SHESHESHOW
Also, Anthony's highlighted their favorite over 50 fashion bloggers in a post on their website. Yep, I have a highlight so you can go here to read the post. Thank you Anthony's!!
Have a GREAT week my friends! XO, SheShe
SHESHE'S TIDBITS
Is it already Sunday? Dang, this weekend went by fast. I spent most of the weekend hammering out this post. We covered a lot of content here. I did get out Friday night and took my grandson, Wyatt out to dinner for his birthday. We had a lovely time enjoying some really good food and having some one on one time which never happens.
This week we will be hammering out a bunch of content so that I can leave town soon with most of our projects done. As always we appreciate your comments. It is the only way to know if you are enjoying our content.
Have a GREAT week!!
ABOUT SHESHE SHOW
WELCOME new readers. We are a fashion/travel/lifestyle blog. We talk about anything and everything, from fashion, travel, health issues, skincare tips, to even an occasional recipe. Let us know if there is a topic that interests you. We will do our best to bring that story to you. Have a great week sweet friends and thank you for following along. Without you, we could not continue on this crazy fun journey.
Be sure to check out the Shop SheShe tab at the top of the menu bar. Hover over and choose the category in the dropdown. We try to keep it up to date with the latest and greatest for all budgets. Subscribe here and then you won't miss a post. Simply enter your email in the pop-up box or below. Also, download the LiketoKnow.It App, follow @shesheshow to shop all of our daily outfits, home, beauty, and more. Go here for our LiketoKnow.It tutorial.