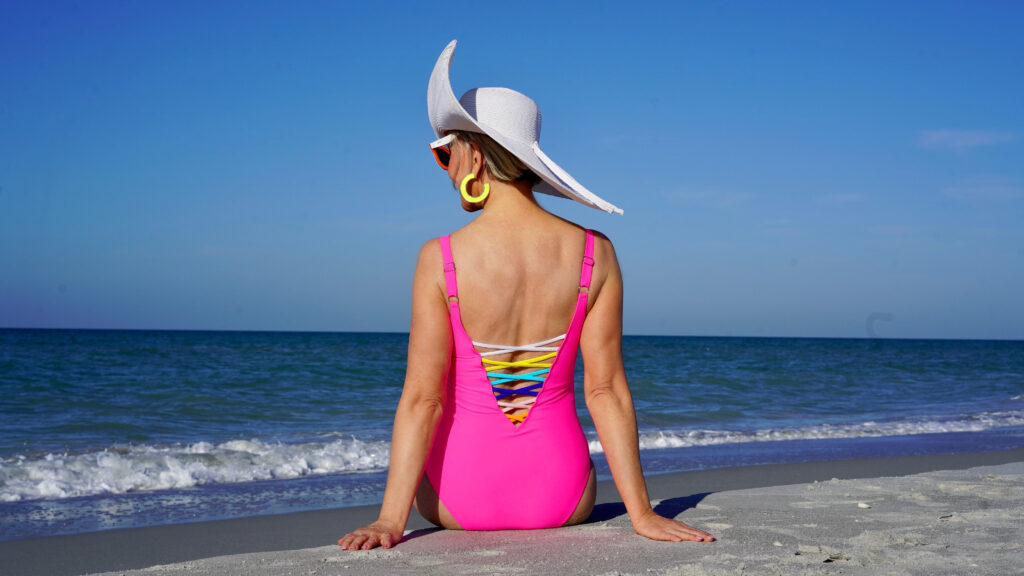 Swimwear for over 40 does not need to be difficult or stressful! As we get older our bodies change and can make beach season uncomfortable because we hate how we feel in a swimsuit. Old ways of thinking once meant a "one-piece suit looked like what grandma would wear, plain and unflattering. I love how swimsuit designers are finally creating styles that are perfect for our ever-changing bodies and are really not maw-maw at all. Read below for my tips and my picks for swimwear for women over 40.
SHOP FEATURED SWIMSUITS

How To Plan Your Swimwear Shopping Experience
First of all, put your best self under the horrible fluorescent lighting in the dressing rooms. Make sure to wear your makeup, fix your hair and get a spray tan. You know that spray tans give the appearance of looking slimmer. Think light expands and dark recedes.
My advice is to order your swimsuits online where you can try them on in the comfort of your own dressing area. Order 3 or 4 styles in 2 sizes and send back what doesn't work. Make sure they offer free shipping and free returns. Don't remove tags and return within the time period. It's usually 30, 60 and sometimes 90 days. Make sure you know what the retailer's return policies are before you order, especially when it comes to swimsuits.
Body Types
Hour Glass- An asymmetrical style would be so cute or any suit with cut-outs at the waist. Opt for bold colors and color blocking. Stay away from prints or mix and match.
Pear- The goal here is to give the allusion of balance taking the focus off the bottom and draw the eye to the top. Try ruffles, skinny straps or halter tops.
Rectangle- When you are built like this then you don't have much of a shape, so let's create some curves. Try ruffles, bows, strings, and embellishments on the top or the bottom. You can create the illusion of curves by choosing a suit that has a darker color in the waist area.
Inverted Triangle- So you don't have boobs and your booty has blossomed. Don't feel bad, this is a common figure type. First, don't wear bandeau tops. It will flatten your girls more. Choose tops that will add volume like V-Cut tops, prints, ruffles, and bows.
Round- So you are full figured. Whatever you buy, try to stay away from tube style tops. Choose a suite with wider straps to give the girls more support and go with a high waist, solid and darker colors on the bottom.
Busty- Choose a swimsuit with wider straps and a built-in bra to support the girls. Also, a v-neckline helps minimize larger busts.
Small Bust- If you want to add a cup size to a small/petite bust, go for an underwire or padded top. Ruffles, embellishment or bold prints on top and solids on the bottom will give the illusion of a more balanced body.
UPF Swimwear
First of all, you guys must know by now that I am obsessed with protecting my skin from the sun and you should be too. My favorite brand that I turn to that is made with UPF is Cabana Life. They have really cute suits, rashguards, and coverups. I have been adding items from their collections for the last 4 years. Below are a few of the favorites that I currently own or on my wish list. Go here for much much more.
We recently did a comprehensive blog post all about skin cancer and ways to protect your skin. Go here to read the post.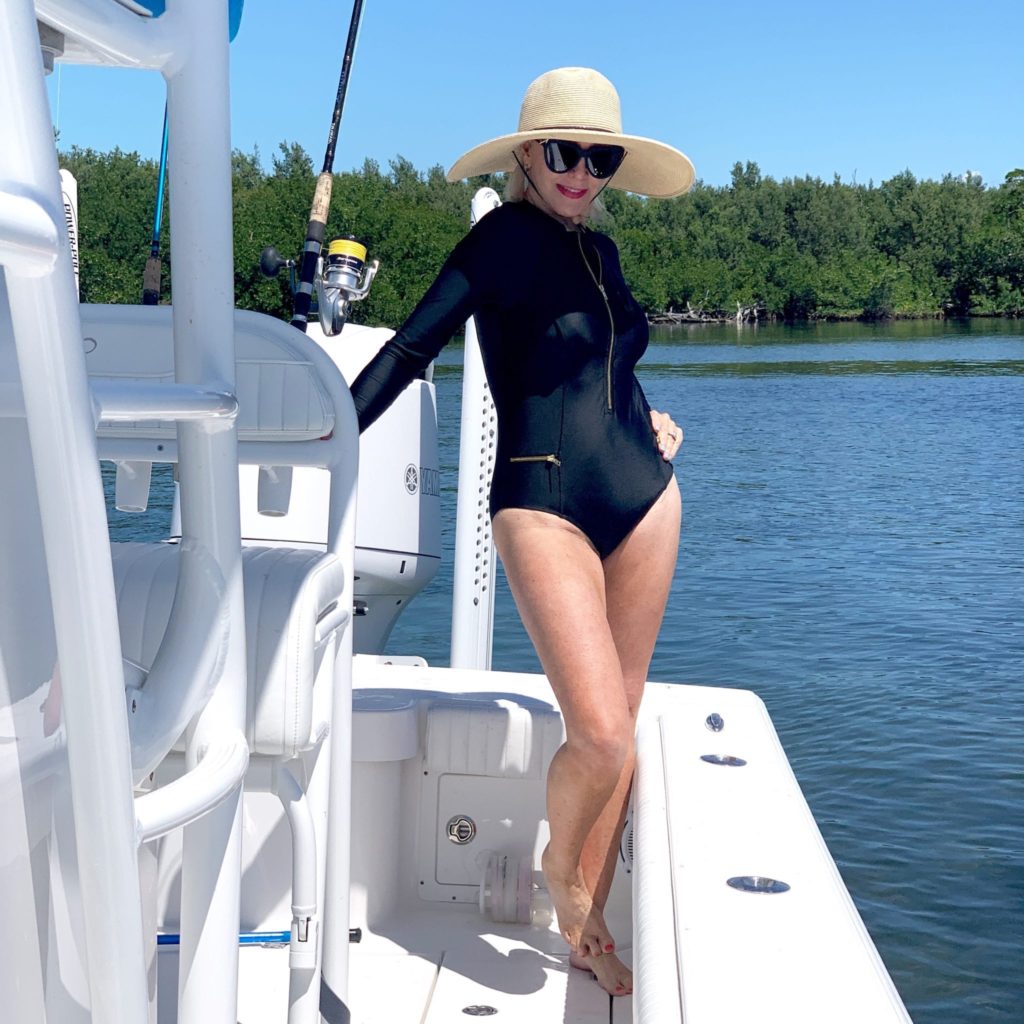 More Coverage – Most one-pieces have enough coverage but if you need just a tad more I currently have this suit by Cabana Life and it's one of my most used and favorites. The fit is incredible, is a UPF suit, and has a supportive bra cup.

ONE PIECE
A one-piece does not always have to be boring, I have several of my own that are chic, sexy. and fun! The great thing about one-piece swimwear is that it can hide certain body features that we are not fond of. Often times one-piece suits can have too much tummy control and you find your arms bulging out and your back spilling out, there are actually several one-piece suits that are pretty and flattering.
The next suit I am wearing in the photos below has been a huge hit this year. It is super sexy with a sheer illusion that is also so flattering.
When shopping for your one piece I recommend sizing up, especially if you have a long torso! When choosing a one-piece do not just think about what you want to hide but also think about the features you do like! To elongate your legs a high-cut swimsuit will do the trick! Be careful with the high-cut leg suits, make sure they have modest seat coverage. For a little more coverage and tummy control go for something like the MiracleSuit , which has firm control. These suits lift, smooth, and contour your curves in the most flattering fashion. The list below is a few of my favorite one-piece suits.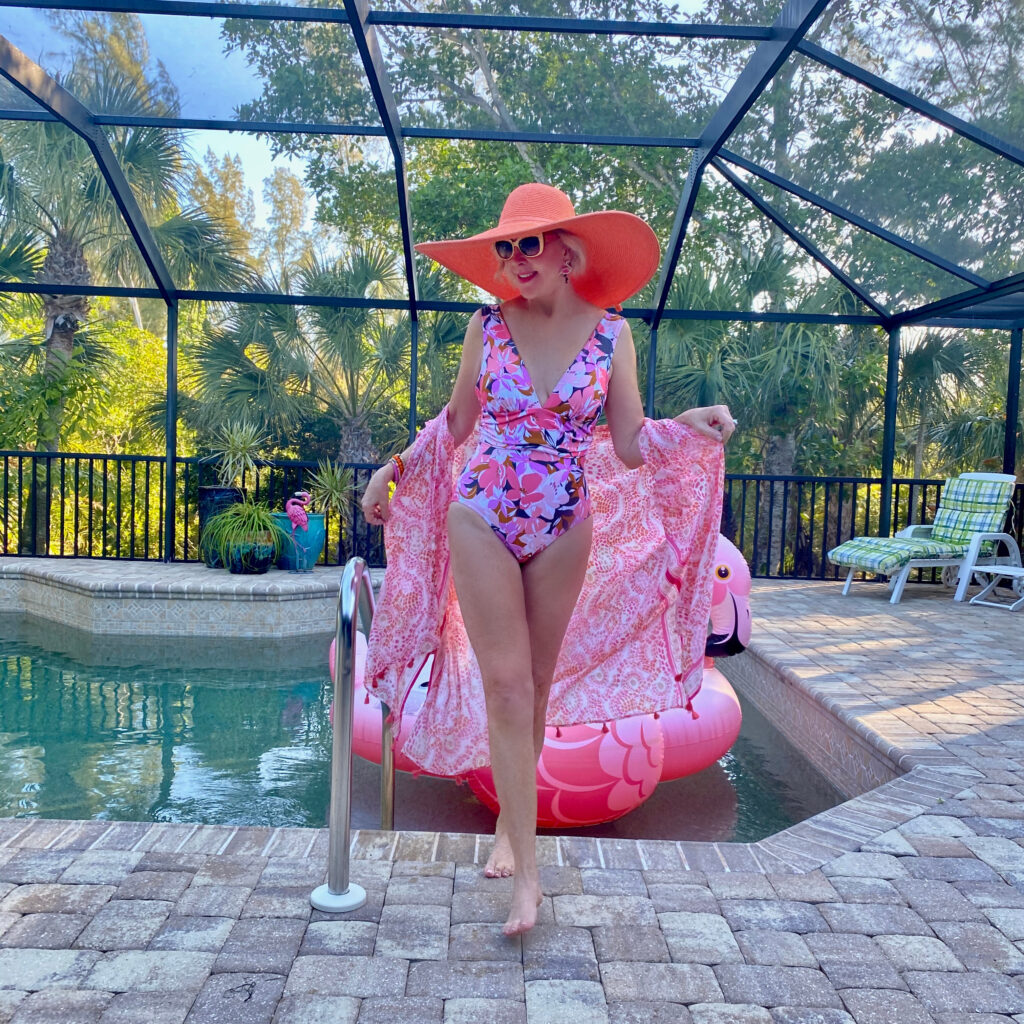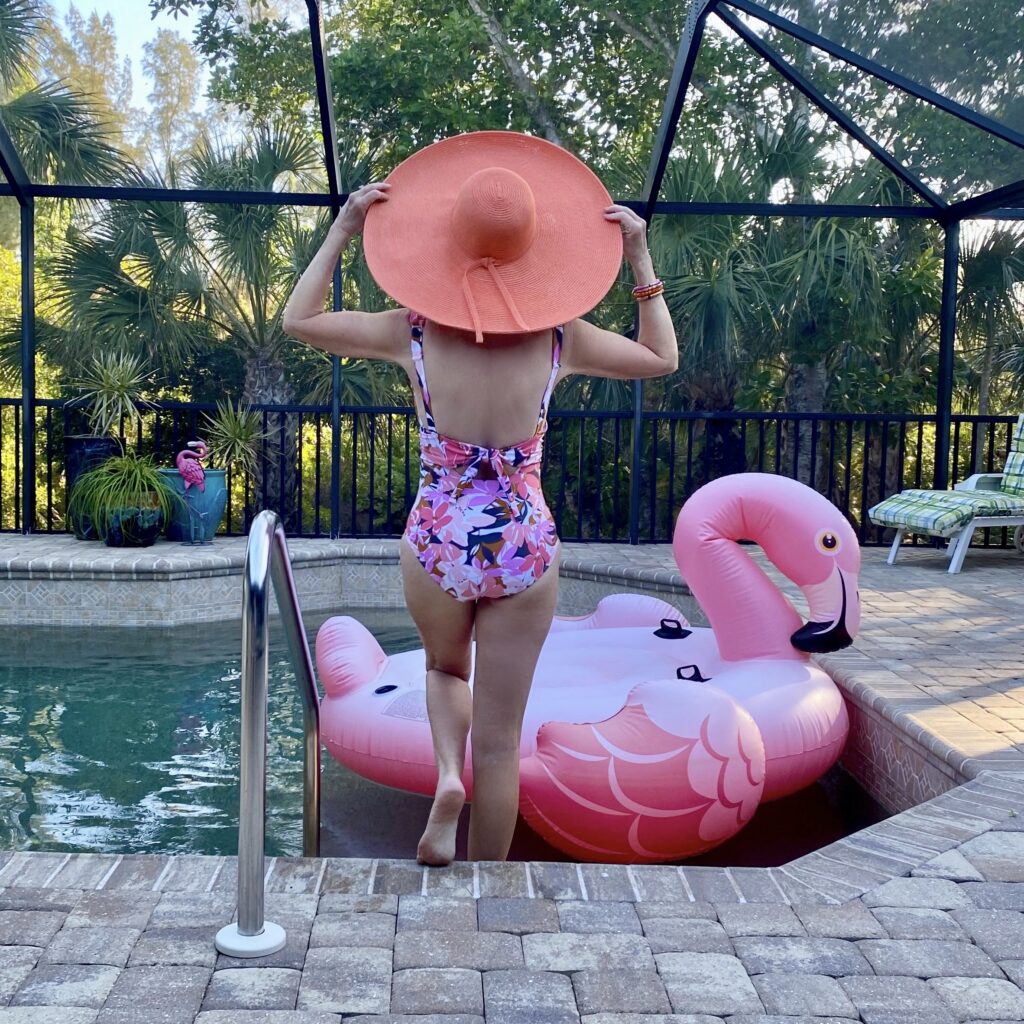 Colorful – This is SUCH a flattering suit!! It has the cutest colorful details! One of my favorites thus far! Also available in black. UNDER $20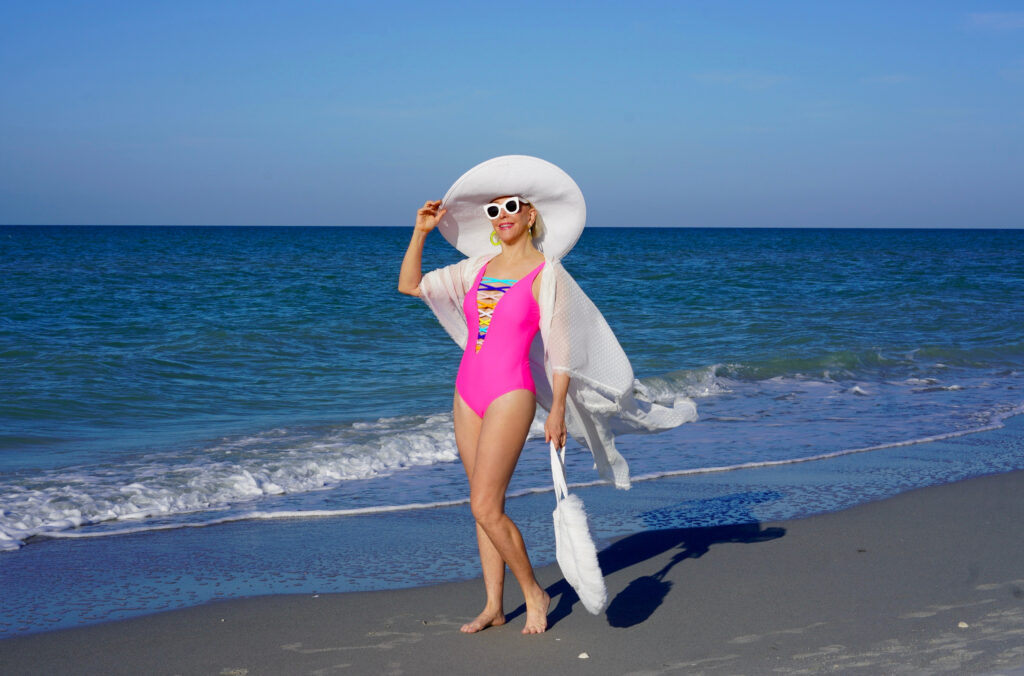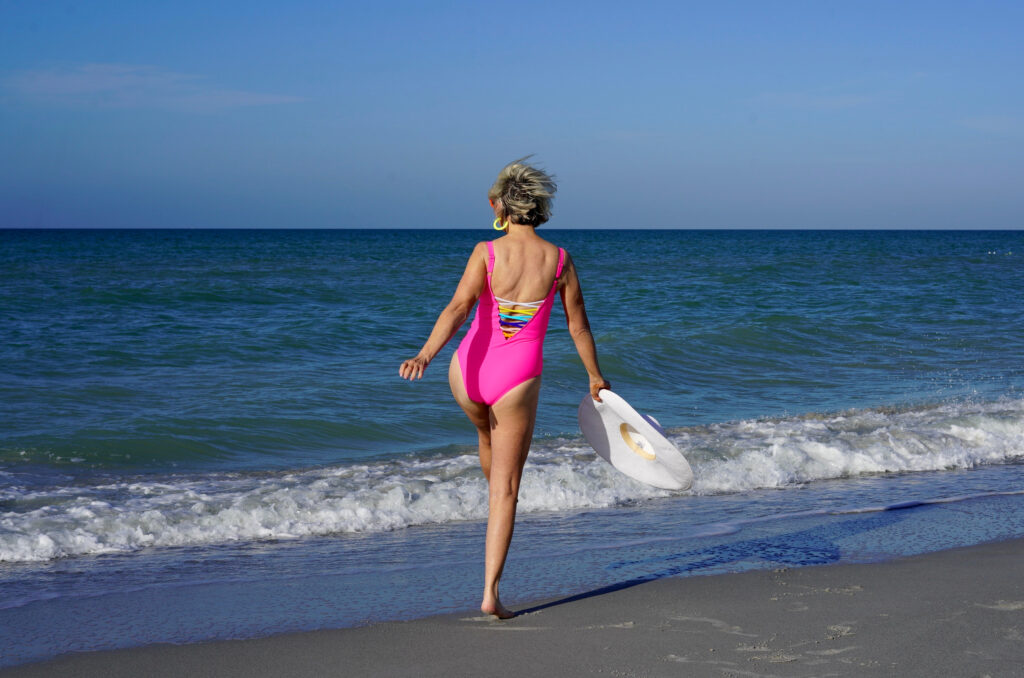 Extra Support – Bustier ladies! How cute is this suit? I love it and it has the support needed. The pattern also is great for camouflaging those stubborn areas.

Classy – For a more simple look I love an easy yet classy black one-piece. This one is perfect and makes me feel like I'm ten pounds lighter. Did I mention it is a romper?!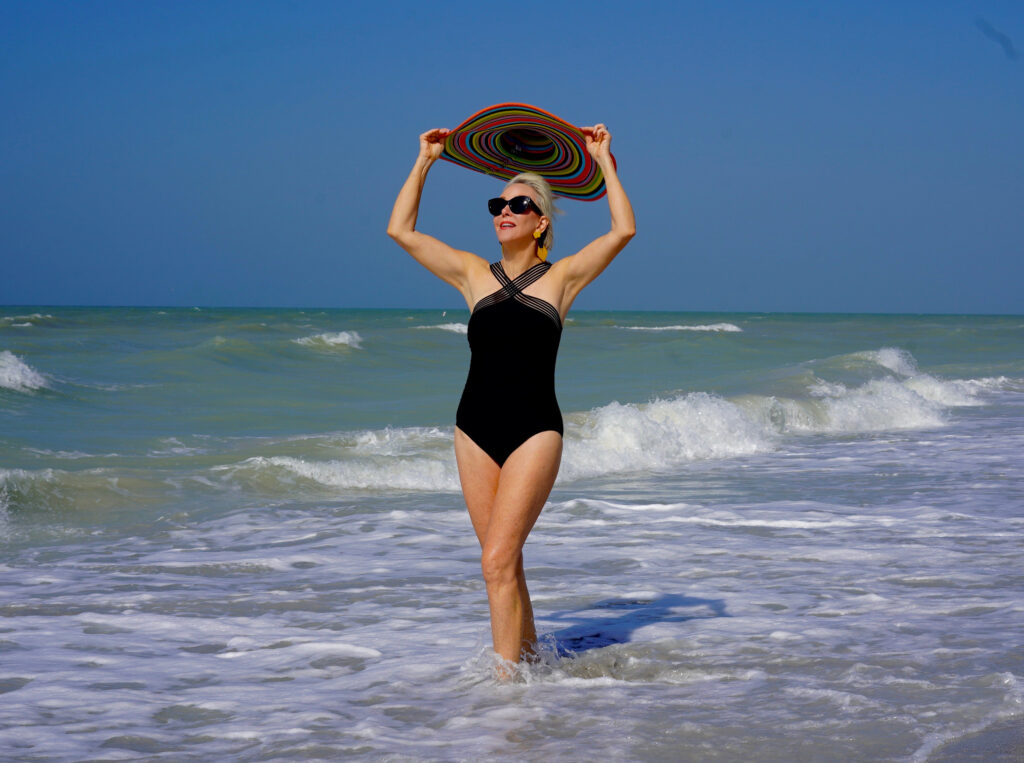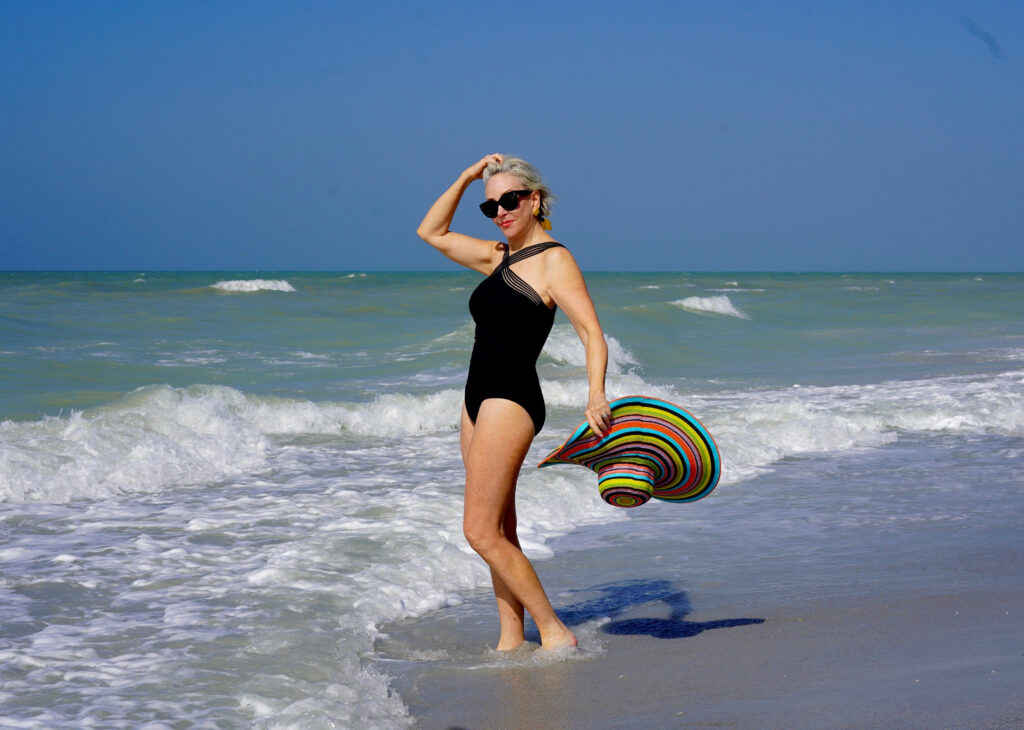 Fashion
Then there are swimsuits to prance around the pool in. I love the ruffle off the shoulder of these suits below.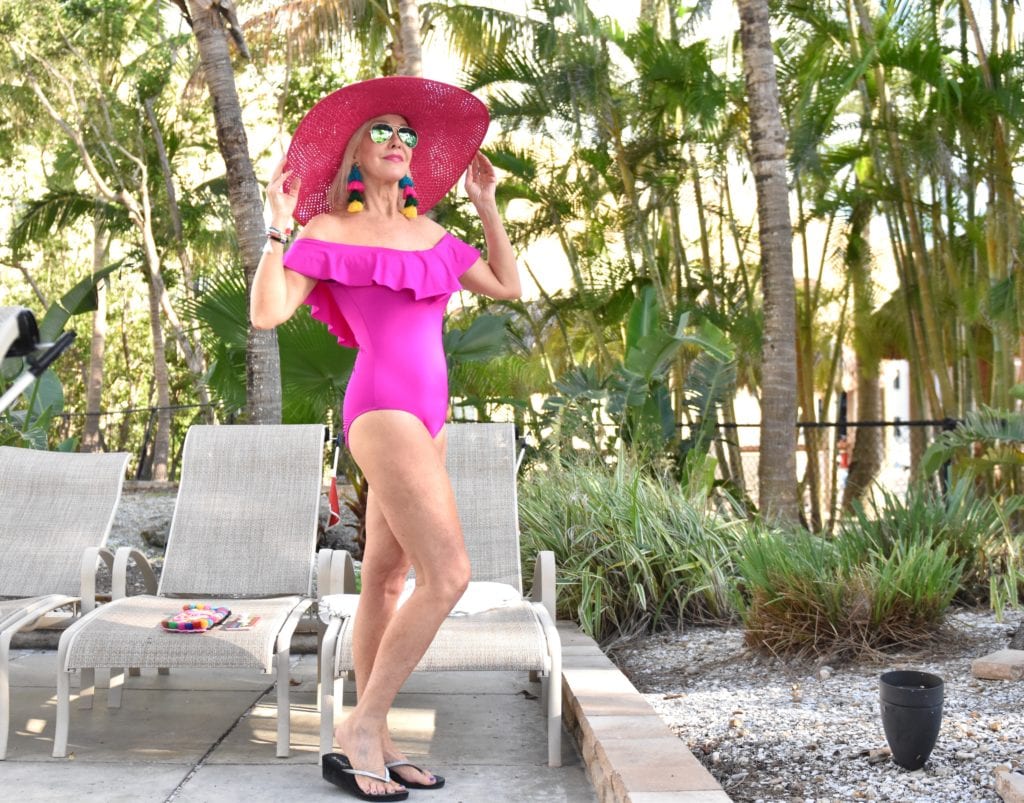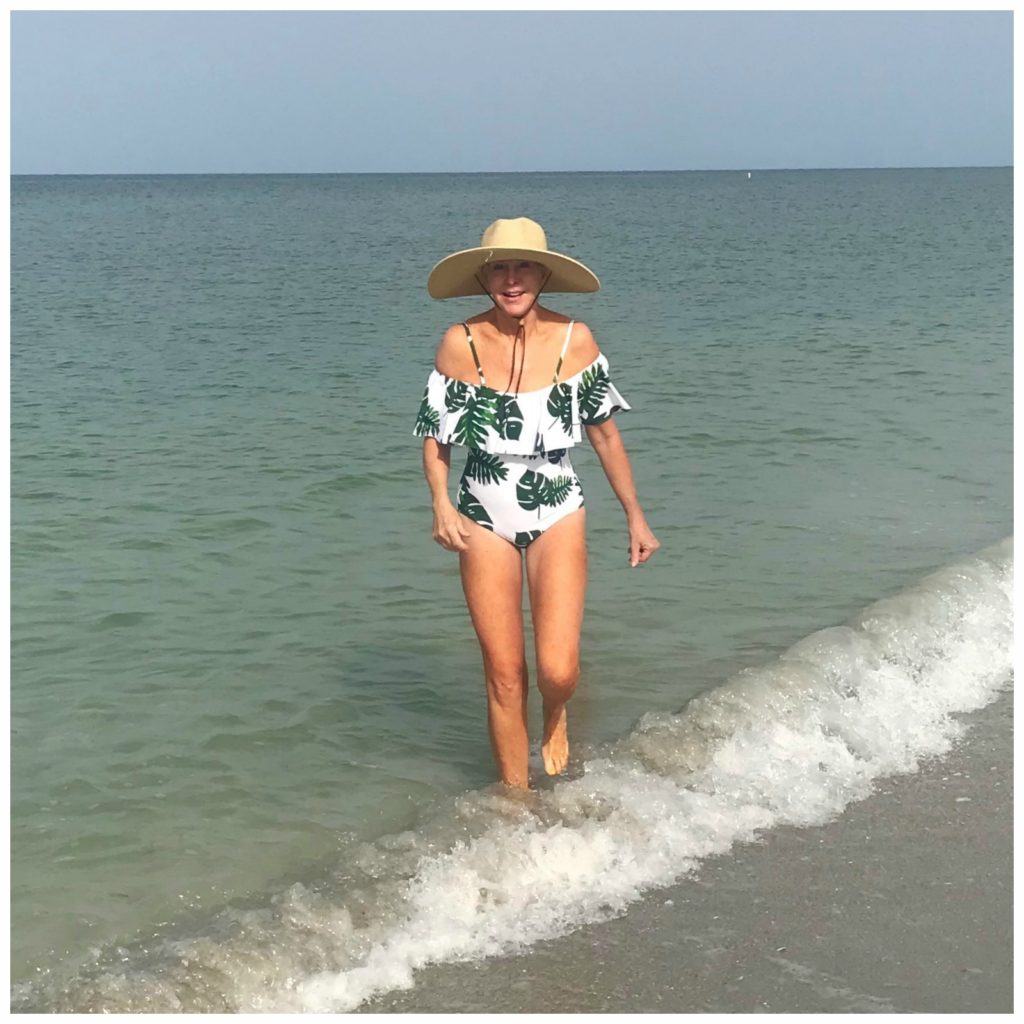 TWO PIECE
The two-piece can be scary sometimes, but fear not I have some great tips and suits for every woman and everybody! A lot of times we can steer clear of the two-piece as we get it confused with the bikini. The difference between the two is that the bikini is much smaller, has a lower rise, smaller strings (is stringier in general), and has less support. A two-piece has a higher rise, control, more support for the breasts, and definitely a better seat coverage. Below is a list of a few of my favorite two pieces.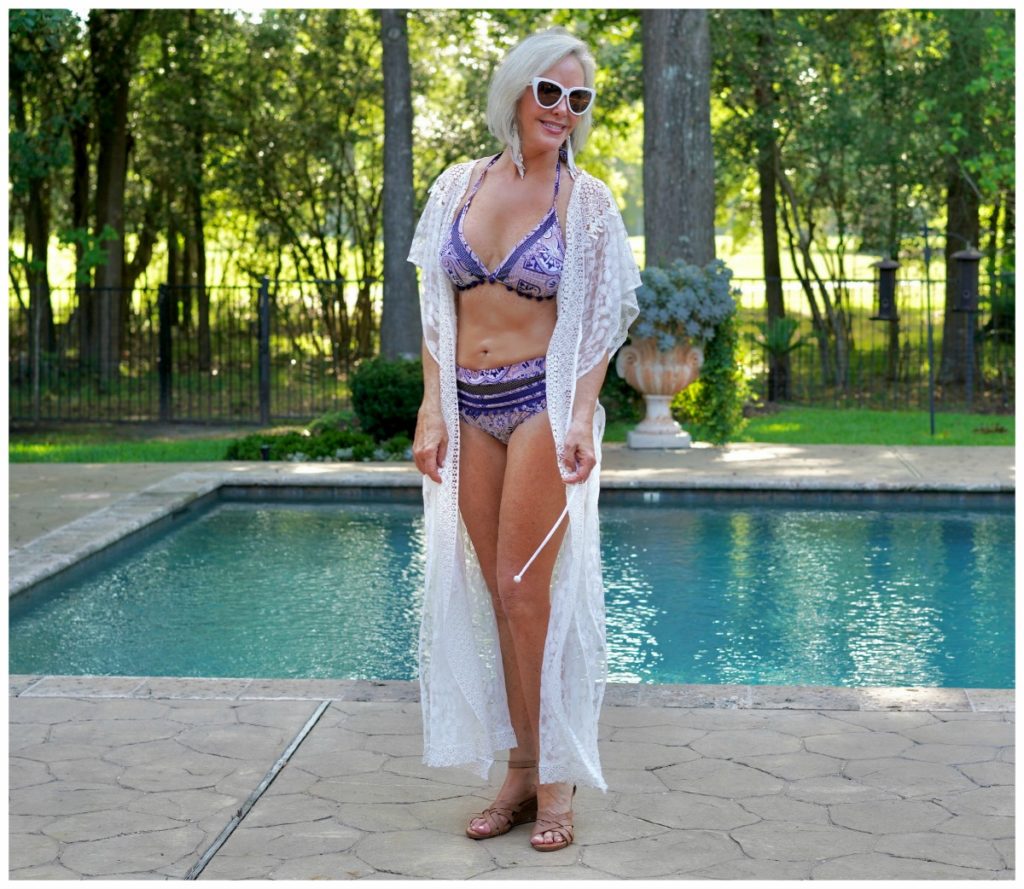 Colorful – Aren't you just loving this pink two-piece? I sure am, especially with all of the little details. I have this in another color and I am debating on this one!

Larger Bust – For the larger bust these suits are amazing. Even goes up to size 3xl while still being classy and sexy! ASOS has lots of swimsuits to choose from for the bigger busted babe!
Classy – I'm loving not only the color of this suit but the fun and lively print!

More Coverage – For more coverage with a two-piece your best bet is to go high-waisted. You can even find some high-waisted with tummy control as well.

TANKINI
The tankini is definitely not my go to suit. If I'm not wanting a two piece but needing more coverage. then I prefer to do a rash guard and bottom. The reason for me not being the biggest fan of the tankini is because it's supposed to mask and have coverage, but lift your arms or bend over and the tummy still shows! So, I prefer the longer tankini and ones that aren't as tight. With that being said, there are a few cute ones that I am a fan of! I have also thrown in some swim dresses in case you too are not so big on the tankini but like the idea and want more coverage!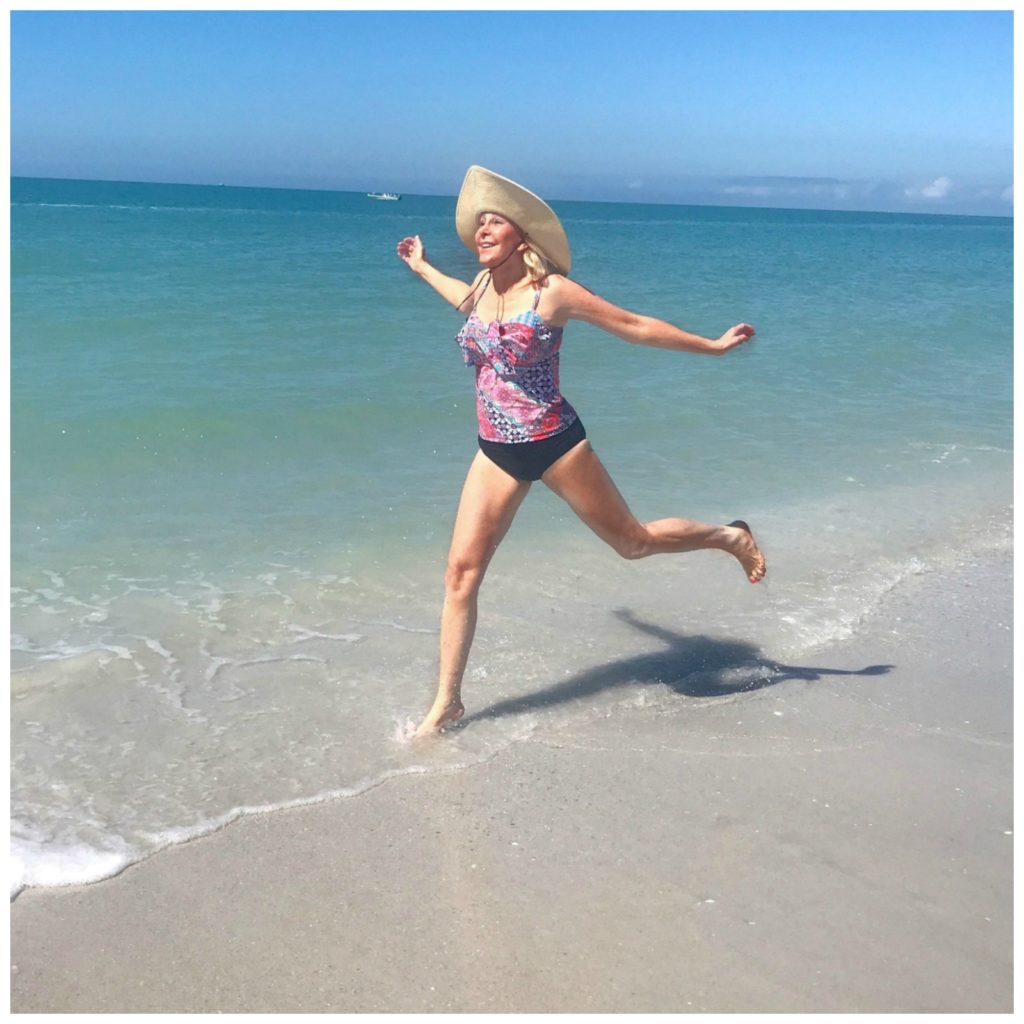 Colorful – Who says a tankini cannot be bright and fun? Well, here's a super cute and fun tankini.

Classy – I think this is a gorgeous tankini. So sophisticated yet feminine.

More Coverage – This tankini looks more like a camisole, perfect to stay in your comfort zone.

SHOP THE BOUTIQUE

SHESHE'S TIDBITS
Today is Palm Sunday and as a Christian, it has so much meaning. I love this time of year for so many reasons…….It is a season of hope for sure! Yesterday we went out on a boat with friends and had lunch at the Boat House in Naples, Fla. Very good food I might add. This week is my last week here on Sanibel and I really would love to stay longer but I have several commitments back home in Houston coming up. I am squeezing in a few more adventures before I go home! Always in discovery mode! Have a great week sweet friends!
ABOUT SHESHE SHOW
WELCOME new readers. We are a fashion/travel/lifestyle blog. We talk about anything and everything, from fashion, travel, health issues, skincare tips, to even an occasional recipe. Let us know if there is a topic that interests you. We will do our best to bring that story to you. Have a great week sweet friends and thank you for following along. Without you, we could not continue on this crazy fun journey.
Be sure to check out the Shop SheShe tab at the top of the menu bar. Hover over and choose the category in the dropdown. We try to keep it up to date with the latest and greatest for all budgets. Subscribe here and then you won't miss a post. Simply enter your email in the pop-up box or below. Also, download the LiketoKnow.It App, follow @shesheshow to shop all of our daily outfits, home, beauty, and more. Go here for our LiketoKnow.It tutorial.