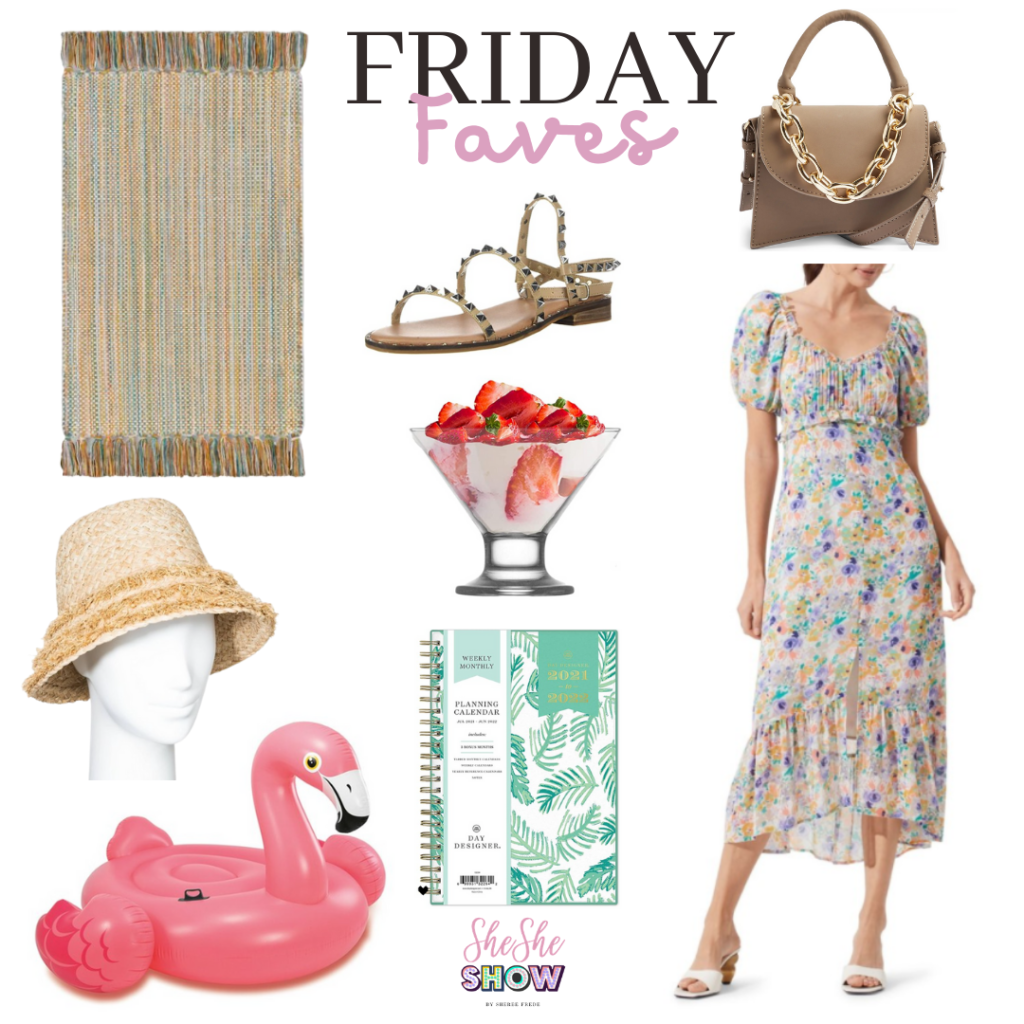 It's Friday and we are sharing all of our favorites from the week. You can find everything here from, home, lifestyle, fashion to beauty.
Friday 04|02|2021
Home
Planner – Are you a planner? I am, to a T. If it is happening in my world it goes in my planner. This one is my favorite and perfect for managing my work life and personal. It is not too big making it easy to fit nicely into my tote bag.
Dessert Cups – I recently had a lovely lunch with some friends and we had dessert served in these cups and knew I had to have them! Use these dishes to serve ice cream, chocolate mousse, yogurt and fruit parfaits, small snacks and candies, and even martinis. The beautiful cups add an instant touch of elegance to any occasion and make even the simplest dessert look fancy.
Woven Rug – Norman needed a new rug in his bathroom at the beach house and this was the one we found. I love the fringe detail and the pops of color. This rug is also machine washable.
SALE ALERT! Giant Pool Float – You may have seen Flo for quite some time now. Here she is in all of her glory and she's on sale!
Fashion
Perfect Spring Dress – Charm endlessly in this soft chiffon midi styled with puffed sleeves, frilly trim, and a dainty bloom print. It comes in XS-XLG and is under $100. So feminine and so chic!
Straw Bucket Hat – Bucket hats are trending and how cute is this one!? I have received so many compliments on it! Under $20.
SALE ALERT! Studded Sandals – These are some of the top-selling sandals this season and we love them! They make the perfect fit for every look. The spiky cone studs make a stylish, modern statement on this strappy sandal. So designer-ish…..
Mini Bag – This is such a classy bag for spring and summer. A bold chain adds bling to this compact crossbody bag with a sharp silhouette. Definitely, a transitional bag that can be carried throughout the year.
Friday Shop

SHESHE'S TIDBITS
Happy Good Friday! This day has so many meanings. As a believer in Jesus Christ, his death and resurrection God promises me eternal life with him. Now that is a great promise!! Have a wonderful Easter weekend! We are headed home to Houston today to be with friends and family for this special holiday.
ABOUT SHESHE SHOW
WELCOME new readers. We are a fashion/travel/lifestyle blog. We talk about anything and everything, from fashion, travel, health issues, skincare tips, to even an occasional recipe. Let us know if there is a topic that interests you. We will do our best to bring that story to you. Have a great week sweet friends and thank you for following along. Without you, we could not continue on this crazy fun journey.
Be sure to check out the Shop SheShe tab at the top of the menu bar. Hover over and choose the category in the dropdown. We try to keep it up to date with the latest and greatest for all budgets. Subscribe here and then you won't miss a post. Simply enter your email in the pop-up box or below. Also, download the LiketoKnow.It App, follow @shesheshow to shop all of our daily outfits, home, beauty, and more. Go here for our LiketoKnow.It tutorial.