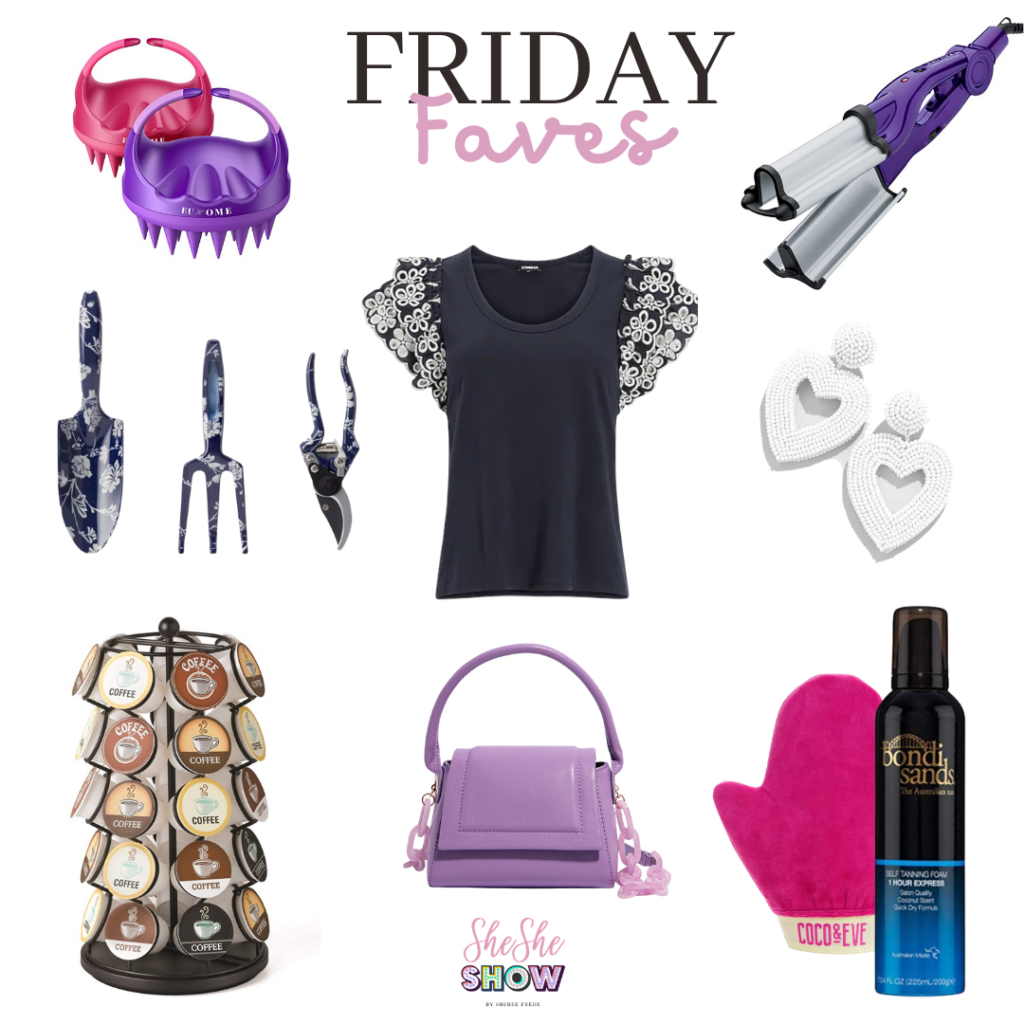 Sorry, this did not go out yesterday! I was traveling and it was just too much to cross every T and dot every I, but we are sharing all of our favorites from the week. You can find everything here from, home, lifestyle, fashion to beauty.

Friday Faves 05|07|2021
HOME + GARDEN
K-Cup Carousel

This Nifty carousel is compatible with K-Cups and stylishly showcases up to 35 of your favorite coffee pods. The lazy Susan base platform revolves and spins 360-degrees, which makes it simple and convenient to find and choose your preferred flavor.
Floral Garden Tool Set

Whether you're getting ready for growing season or seeking a gift for your favorite gardener, this Printed Garden Tool Set from Smith & Hawken™ is a great choice. Consisting of a small cultivator, a gardening trowel, and a pair of pruning shears, this set has all the basics, and they're outfitted in an allover blue floral print for a little added interest. The shears (or secateurs) work by a spring action and have a locking mechanism to keep them closed while not in use, and both the trowel and the cultivator are made in a one-piece construction to avoid a separation of the handle from your gardening implements. As functional as it is attractive, this set of gardening tools is sure to awaken any green thumb.
Friday Beauty
Scalp Massager Shampoo Brush

This two-pack of Scalp Massager Brushes is a must-have for everyone! My scalp has never felt so clean before. These brushes exfoliate the scalp and also are great to help with circulation. What a relief to use after having your hair in a ponytail all day as well.
Express Self Tanning Foam + Mitt


Bondi Sands is one of the most popular self-tanners on the market right now! Experience a sun-kissed Australian tan in just 1 hour with Bondi Sands 1-Hour Express Self-Tanning Foam. Infused with a scent of coconut, this ultra-lightweight aerosol foam will leave your skin glowing like a day on Bondi beach. This self-tanner is super easy and gives you a beautiful sun-kissed bronze!

If you use self-tanners, then you need a mitt! Seriously, it changes the game. A tanning mitt not only makes the application easier but also gives you a streak-free tan. It also protects your hands from turning orange!!
Ceramic Deep Hair Waver for Beachy Waves
Beach waves are super trendy right now and I love it! Messy beach waves are the best! This Hair Waver gives you those effortless curls we are dreaming of!
Friday Fashion
Lace Flutter Sleeve Scoop Neck Tee

This eyelet tee is in my cart as we speak!! A simple scoop neck and bold flutter sleeves combine in this comfy, feminine top. It's a great choice for dinner dates, work, or a night out.
Friday Fave Chic Crossbody Bag

Mini bags are in and so is purple! The House Of Want We Are Chic Vegan Leather Crossbody Bag is perfect for the season! I love that it is vegan leather AND Peta-approved!
Friday Shop

SHESHE'S TIDBITS
Hi friends, I have been getting things done at home so Norman and I can go back to my happy place on Sanibel Island. I am starting another home project that is way overdue. I have a plan for our outside loggia, laundry, and formal powder bath. Now I just need to start the hunt for outdoor furniture, paint colors, and sinks. It always is a job but gratifying in the end. Have you done anything around your home lately?
ABOUT SHESHE SHOW
WELCOME new readers. We are a fashion/travel/lifestyle blog. We talk about anything and everything, from fashion, travel, health issues, skincare tips, to even an occasional recipe. Let us know if there is a topic that interests you. We will do our best to bring that story to you. Have a great week sweet friends and thank you for following along. Without you, we could not continue on this crazy fun journey.
Be sure to check out the Shop SheShe tab at the top of the menu bar. Hover over and choose the category in the dropdown. We try to keep it up to date with the latest and greatest for all budgets. Subscribe here and then you won't miss a post. Simply enter your email in the pop-up box or below. Also, download the LiketoKnow.It App, follow @shesheshow to shop all of our daily outfits, home, beauty, and more. Go here for our LiketoKnow.It tutorial.