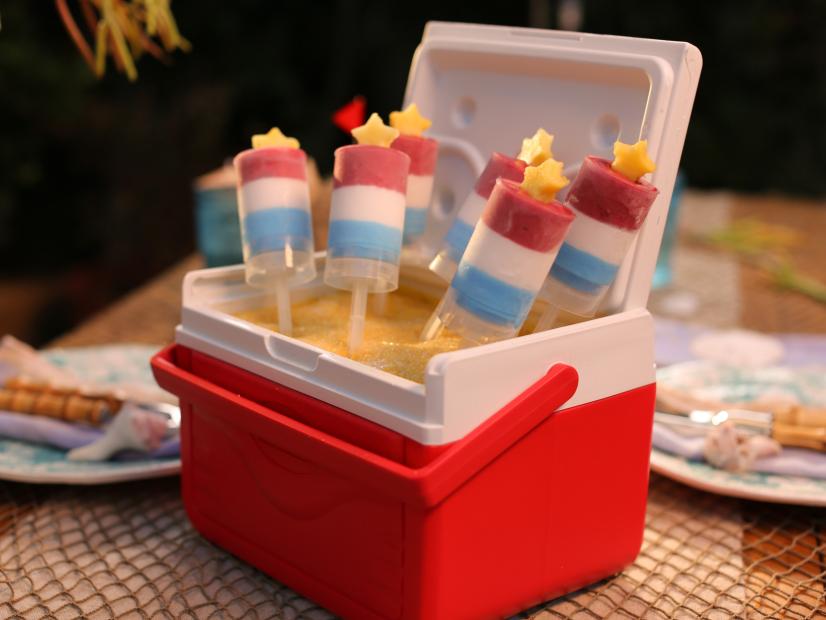 It's no secret that food is the centerpiece of any great Memorial Day weekend, which is true whether you're grilling at home, by the pool, hanging at the beach, BBQing lakeside. With all of your guests, sweet friends, and dear family members you're going to want to plan your menu ahead of time to be able to spend quality time with everyone! Today we are making your Memorial weekend a little easier with all of our top recipes!!
Jalapeño Popper Potato Salad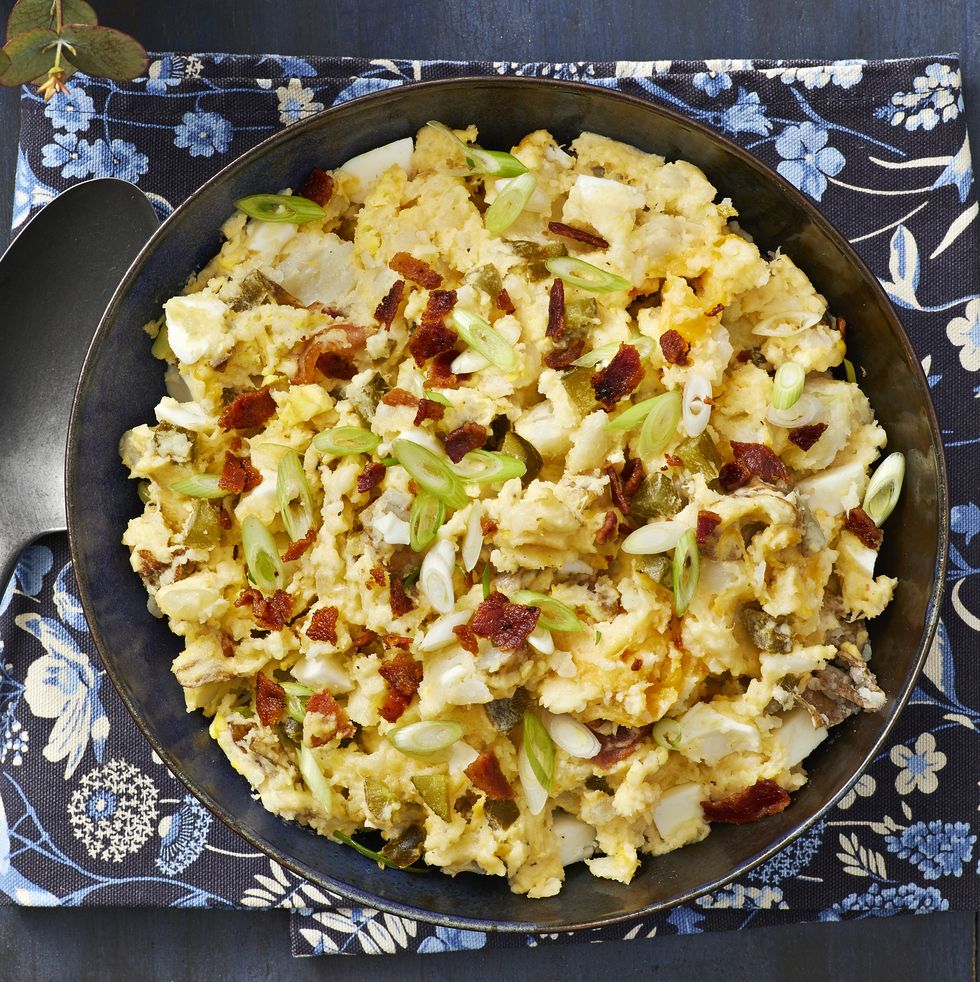 Ingredients
3 lb. russet potatoes (about 5 medium), chopped1/2 tsp.
kosher salt, plus more for the water
6 slices bacon
2 c. shredded cheddar cheese (about 8 ounces)
1 c. mayonnaise
1/4 c. chopped pickled jalapeños, plus 2 tablespoons brine
3 tbsp. yellow mustard
4 hard-boiled eggs, chopped
4 scallions, thinly sliced, plus more for topping
3 sweet gherkins, chopped (about 1/4 cup)
1/2 tsp. black pepper
Directions
Put the potatoes in a large pot and add enough water to cover by 1 inch. Season with salt. Bring to a boil over high heat and cook until the potatoes are fork-tender, about 15 minutes. Drain the potatoes and return to the pot, then mash with a potato masher.
Meanwhile, cook the bacon in a large nonstick skillet over medium heat, turning, until crisp, about 8 minutes. Drain on a paper towel-lined plate, then chop.
Scrape the potatoes into a large bowl. Add half of the bacon, the cheese, mayonnaise, pickled jalapeños and brine, mustard, hard-boiled eggs, scallions, gherkins, salt, and pepper. Fold everything together. Serve the potato salad warm or cover and refrigerate until chilled, at least 1 hour or overnight. Top with the remaining bacon and more scallions before serving.
Southern Fried Okra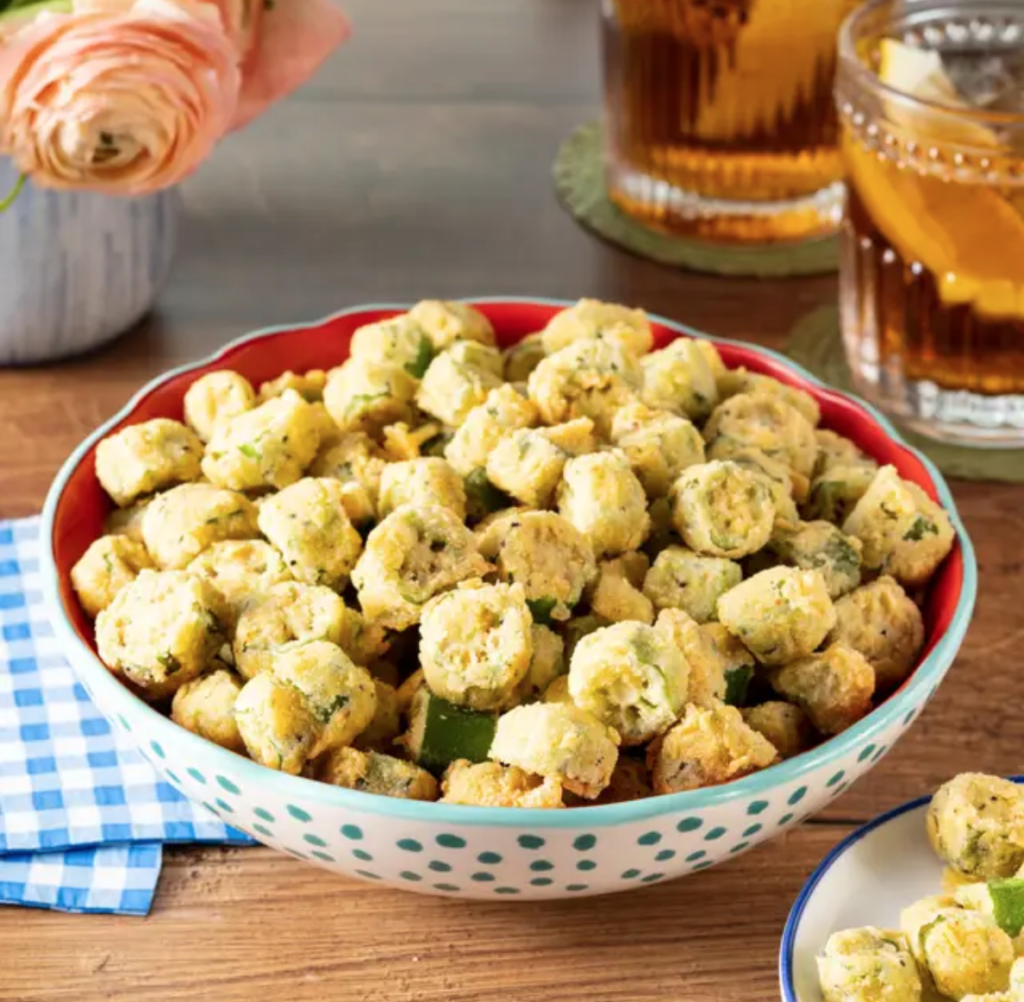 Ingredients
1 lb. fresh okra pods
2 eggs
1 1/2 tsp. kosher salt
Vegetable oil, for frying
1 1/4 c. yellow cornmeal
1/4 c. all-purpose flour
1/2 tsp. ground black pepper
1/4 tsp. ground cayenne pepper, optional
Directions
Trim the stems and thin tips from the fresh okra pods. Cut the okra crosswise into ½-inch pieces.
In a medium bowl, lightly beat the eggs with ½ teaspoon salt. Add the okra and mix well to coat with the egg. Let soak for 10 minutes.
Heat ¾-inch of vegetable oil in a large cast-iron skillet until a deep-fry thermometer registers 375˚.
Meanwhile, in a gallon-sized zip-top bag, combine the cornmeal, flour, remaining 1 teaspoon of salt, black pepper, and cayenne (if using). Seal the bag and toss to combine.
Once the oil is ready, remove the okra from the egg mixture with a slotted spoon, draining off as much egg as possible, and add to the bag with the breading. Seal the bag, trapping some air inside, and toss well to coat the okra. Working in two batches, add the okra to the skillet and fry until golden brown all over, 2 to 3 minutes. Use a slotted spoon or spider to transfer the okra to a paper towel-lined plate. Finish with a sprinkle of kosher salt, if desired.
Southern Style Pork Tenderloin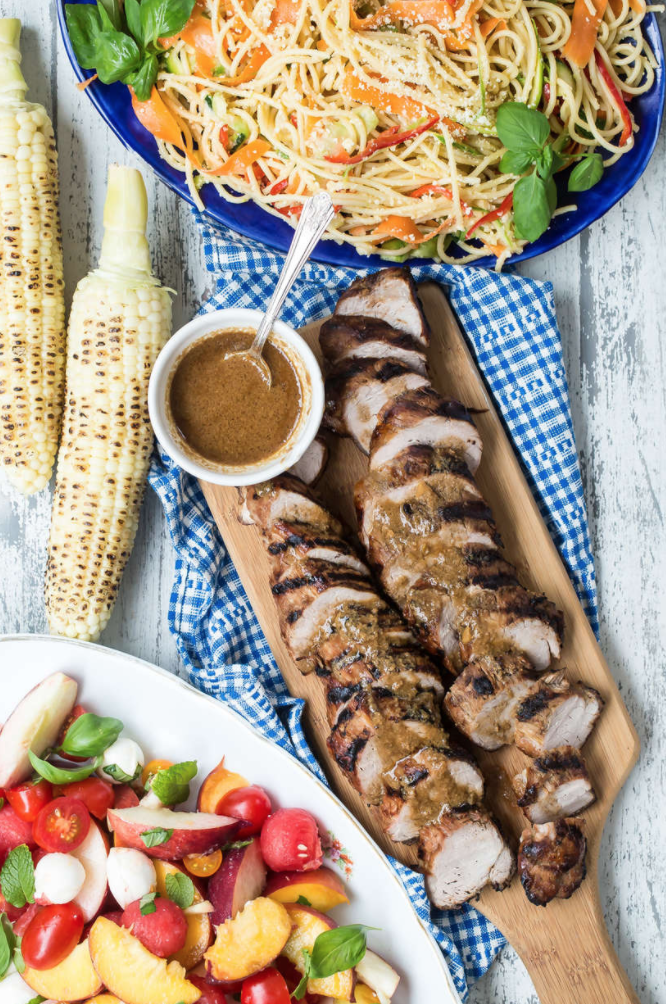 Ingredients
1/4cup bourbon
1/4 cups soy sauce
1/4cup brown sugar
1/4 cup dijon mustard
3 tbsp olive oil
1 tablespoon finely chopped fresh ginger
3 garlic cloves, minced
2 whole pork tenderloins, approximately 2 pounds total, trimmed
Directions
Place the first seven ingredients in a bowl and whisk to combine. Pour into a large zipper bag or glass container large enough to hold the pork tenderloins and marinate overnight or up to 2 days.
Preheat a grill to high heat, and oil the grates.

Remove tenderloins from the bag, reserving the marinade, and grill for 14-15 minutes, turning halfway through or until the internal temperature is 140°F. Remove from heat and set meat aside to rest for 5-10 minutes to allow the juices to rest and redistribute.

While the meat is resting, place the marinade in a small pan. Bring to a boil, reduce to a simmer and cook for 10 minutes.

Slice the tenderloin on a bias and serve with the sauce if desired.
Grilled Watermelon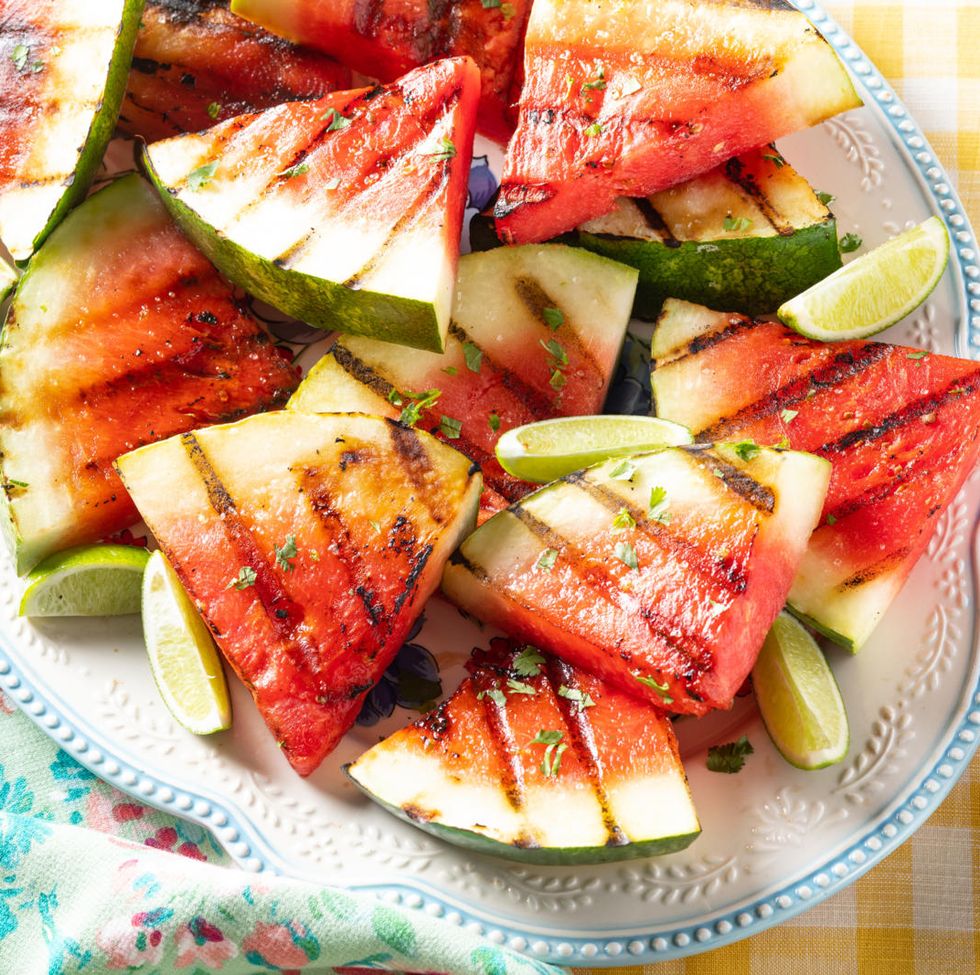 Ingredients
Vegetable oil, for grilling
3 tbsp. granulated sugar
1 1/2 tsp. kosher salt
Zest of one lime
1/4 large watermelon (about 5 lbs), cut into 1-inch thick wedges
Fresh cilantro and lime wedges for serving
Directions
Heat a gas or charcoal grill to high heat (about 450˚ to 500˚) and oil the grill grates with vegetable oil.
In a small bowl, stir together the sugar, salt, and lime zest. Pinch the mixture together with your fingertips to combine all of the ingredients.
Lay the watermelon wedges in a single layer on a sheet tray. Reserve 1 teaspoon of the salt mixture; set aside. Sprinkle half of the remaining salt mixture all over the watermelon wedges. Flip and sprinkle the wedges with the other half of the salt mixture. Place on a cooling rack set over a sheet tray and let rest for 15 minutes. Using paper towels, press firmly on the slices to remove excess moisture.
Place the wedges on the grill over direct heat and cook for 2 to 3 minutes on each side, until grill marks appear. Remove the watermelon from the grill and place it on a sheet tray or serving platter. Sprinkle with the reserved salt mixture and cilantro. Serve with lime wedges, if desired.
Cajun Macaroni Salad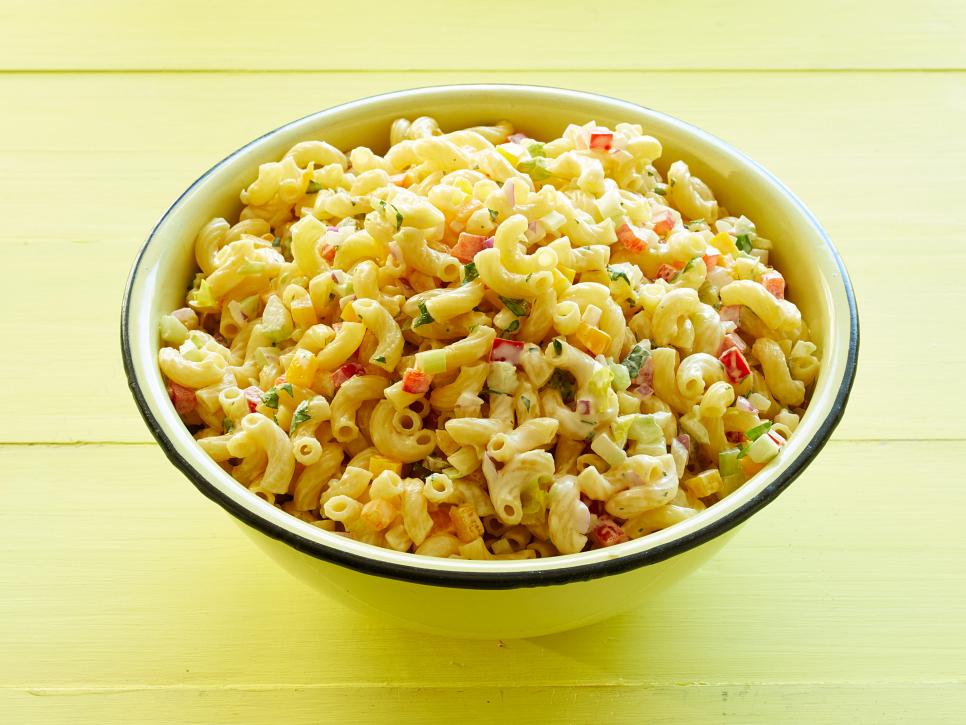 Ingredients
1 small red onion, finely chopped
Kosher salt
8 ounces elbow macaroni
1/4 cup milk
1/2 cup mayonnaise
1/4 cup sour cream
2 tablespoons Creole mustard
1/2 cup chopped pickled okra or pickled green beans, plus 1/4 cup brine
1 teaspoon sugar
1 to 2 teaspoons hot sauce
2 bell peppers (1 red, 1 yellow), chopped
2 stalks celery, chopped, plus 1/2 cup chopped leaves
1/4 cup chopped fresh parsley
Directions
Soak the red onion in a bowl of ice water for 15 minutes; drain and pat dry. Meanwhile, bring a large pot of salted water to a boil. Add the macaroni and cook as the label directs. Drain, transfer to a bowl, and toss with 3 tablespoons of milk. Let cool.
Whisk the mayonnaise, sour cream, mustard, pickle brine, sugar, hot sauce, remaining 1 tablespoon milk, and 1/2 teaspoon salt in a large bowl. Add the macaroni, red onion, bell peppers, celery, celery leaves, and parsley; toss to coat. Cover and refrigerate for at least 2 hours. Stir again before serving; season with salt.
Frozen Grape Sangria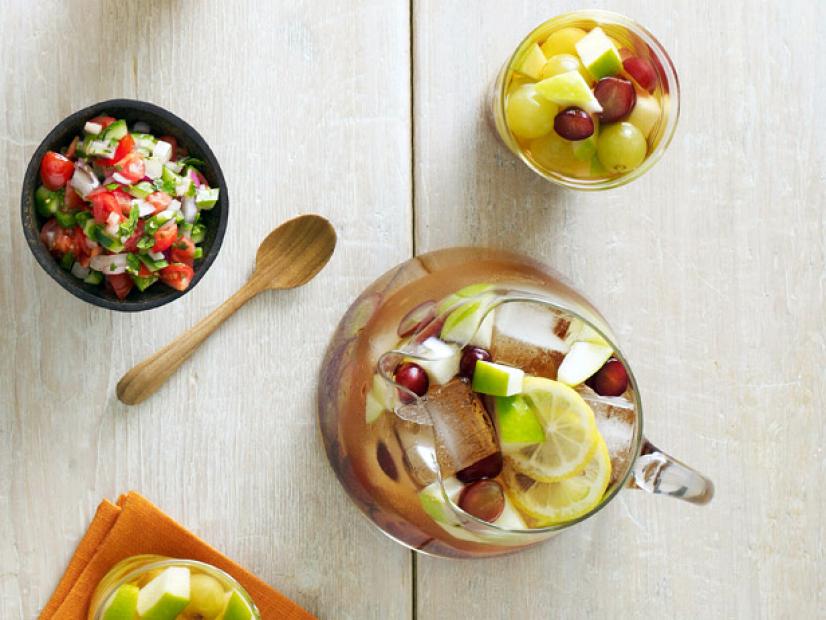 Ingredients
3 cups green seedless grapes
1 Granny Smith apple, cored and chopped
1 lemon, thinly sliced
1cup red seedless grapes – halved
1/4 cup superfine sugar
2 750-ml bottles dry white wine (preferably pinot grigio), chilled
1 cup white grape juice, chilled
1/2 cup vodka
Directions
Put the green grapes in the freezer about 2 hours before you want to serve your sangria.
Combine the chopped apple, lemon slices, halved red grapes, sugar, wine, white grape juice, and vodka in a large glass pitcher filled with ice. Stir to dissolve the sugar. Add the frozen green grapes to glasses and fill with the sangria.
Frozen Fireworks
Ingredients
2 pints coconut sorbet, softened
4 drops blue gel food coloring
6 slices fresh pineapple
1-pint raspberry sorbet, softened
Directions
Special equipment:

12 push pop molds; a 1 1/2-inch star cookie cutter
Transfer 1 pint of the coconut sorbet to a large measuring cup. Add the food coloring and stir with a fork until it is smooth and pourable. Pour the blue layer into the bottom third of each of 12 push pop molds and freeze until set, about 2 hours.
Meanwhile, use a 1 1/2-inch star cookie cutter to punch out 12 pineapple stars. Place them on a wax paper-lined plate and freeze until ready to use.
Stir the remaining pint coconut sorbet until it is a pourable consistency and fill the molds another third of the way. Allow freezing until set, 1 to 2 hours.
Spoon the softened raspberry sorbet to fill to the top of the mold, smoothing the top. Freeze for 1 hour, then place a pineapple star upright in the center of each pop. Freeze until ready to serve.
SHESHE'S TIDBITS
Well, I just finished up the best week ever. Very busy entertaining my influence friend Shaun (@chicover50). We explored Sanibel and Captiva doing fun photos as well as dining at some great restaurants. On Wednesday we had an all day jammed full calendar with Chico's. We did a live Instagram from the original Sanibel store sharing the history and special features of the store. Later in the day we went to Chico's headquarters in Ft Myers where we did a live styling session on their Facebook page. It is still there. I will give you all the details in a future post. Have a great weekend!!
ABOUT SHESHE SHOW
WELCOME new readers. We are a fashion/travel/lifestyle blog. We talk about anything and everything, from fashion, travel, health issues, skincare tips, to even an occasional recipe. Let us know if there is a topic that interests you. We will do our best to bring that story to you. Have a great week sweet friends and thank you for following along. Without you, we could not continue on this crazy fun journey.
Be sure to check out the Shop SheShe tab at the top of the menu bar. Hover over and choose the category in the dropdown. We try to keep it up to date with the latest and greatest for all budgets. Subscribe here and then you won't miss a post. Simply enter your email in the pop-up box or below. Also, download the LiketoKnow.It App, follow @shesheshow to shop all of our daily outfits, home, beauty, and more. Go here for our LiketoKnow.It tutorial.